What is an

FTP Client

? And Why Do You Need It?
FTP is File Transfer Protocol. It is a client that allows the user to upload, copy, delete and edit files from their computer to the web server (like WordPress). It acts as a fix for many errors when the user is not able to access the admin area.
FTP helps you do everything on your website without having to log in to the server.
It is a must for anyone and everyone who works on websites or runs a server.
In order to perform FTP functions, you'll need an FTP client, which is a PC application. But why to settle for less, when you can choose the best FTP client for your Windows PC. Stay tuned for more details.
---
How to Use an FTP Client?
It's a piece of cake to use an FTP client. It's that easy.
You just need an FTP username, password (to connect to your site), server (host) and remote directory. The host is usually the website's URL.
First, launch your FTP client and enter all required details, and then click on the connect button. FTP client will be connected through FTP protocol on port 21, if there's nothing entered in the port field.
In this article, we'll be discussing two FTP clients, namely Cyberduck and FileZilla, and who's the best FTP client amongst them for Windows.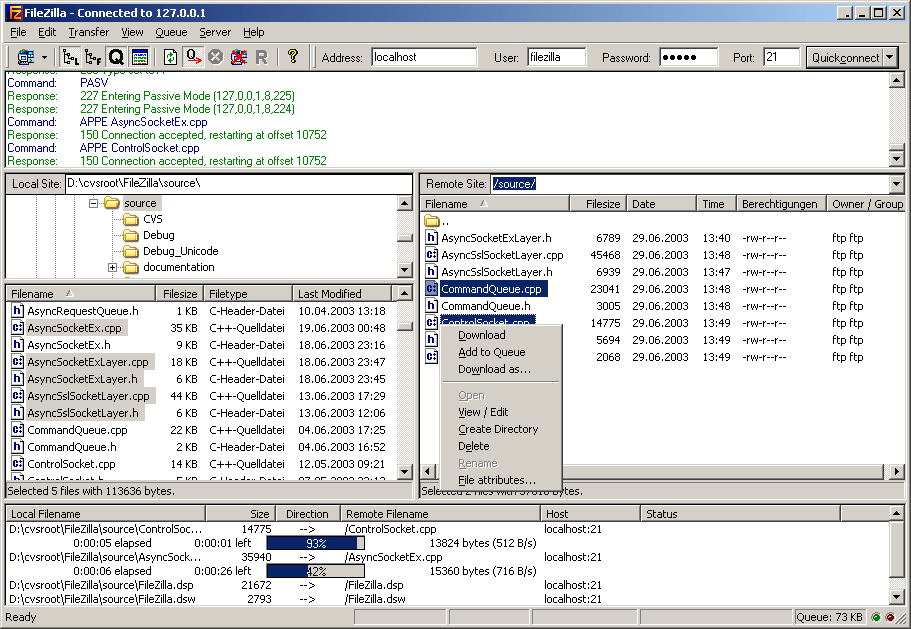 Image Source: FileZilla
---
Cyberduck
Cyberduck is an open-source and cross-platform FTP client with a minimalist user interface. It is compatible with both Mac and Windows. It is one of the best FTP clients as it is suitable for beginners as well as professionals. Unlike other FTP applications, it gels well with the inherent Mac environment and supports Mac features. It is even regarded as one of the best FTP clients for Mac.
It is popular amongst newbies because of its simple software and star quality features. Its uncomplicated interface makes it super easy to manage files. It is free to download as well.
Cyberduck smoothly incorporates with some of the biggest cloud storages including, Microsoft Azure, Amazon S3, and OpenStack Swift.
It seamlessly blends in with any text editor and offers Quick Look feature that lets the user preview files before downloading.
Drawbacks of Cyberduck:
Even though Cyberduck is touted as one of the greatest FTP clients on the planet, it comes with a set of flaws too. The major one of them is the lack of updates in the software that leads to a lot of bugs in its processing. There isn't any direct file sharing capability in the core FTP.
Also, one more irking thing exists in Cyberduck. It is the incessant donation prompts that pop up whenever the software is upgraded or updated.
Image Source: CyberDuck
Why Should You Opt for FTP Cyberduck?
Cyberduck has an amazing graphical user interface that makes browsing files super-easy. It has bookmarking and SSH functionality, a treat for the newbies.
Its best feature is undoubtedly its commitment to security. Cryptomator, a feature which encrypts files and directory names. It also clears directory structures, so when someone is intercepting your transfer, they can't see what you're transferring.
---
FileZilla
FileZilla is a renowned name in the world of FTP clients. It is open source and compatible with major platforms like Windows, Mac, and Linux. It is also completely free of cost and one of the oldest FTP clients in the market.
It comes with a ton of features including drag and drops file transfers, synchronized browsing, pause and resume option for transferring large files, bookmarks to start over where you left off and easy access to directories, filename filtering, remote options for file searching and editing, directory comparison, and custom directory listing filters. It also operates in many languages, making it easier for users worldwide.
FTP FileZilla supports FTP, FTPS (SSL) and SFTP (SSH) protocols, which means that the user's data and activities in FileZilla are encrypted and secure. There even exists a transfer queue for the users to see the status and progress of all the processes.
Drawbacks of FileZilla:
The major drawback of this core FTP client is that it mistakenly downloads and installs adware and malware in the system. The users might also face the issue of display ads.
Although there is a way out of it. There is a box that needs to be unchecked to opt out from adware, during installation itself. But because the user base is mainly beginners, they miss out on the checkbox and give out an invitation to crapware and adware on their computers.
Why FileZilla Should Be The One for You?
FileZilla is a favorite amongst many because of its interactive and tab-based UI and fast installation.
Not only is it free, but it comes with a more standardized interface than others. You can work on different operating systems. It offers plenty of regular updates and quality online support to the users.
However, FileZilla's greatest selling point is the thorough arrangement of documentation it comes with, which makes it simpler for newer designers to explore. Features such as filename filters and the ability to compare two directories make juggling a large number of files more manageable. Certain expert web engineers may look down on the constrained UI, however, this basic FTP customer is ground-breaking enough for most jobs.
Both of the FTP clients make great cases about themselves. Their features are almost similar, and they both have their own shortcomings. It is a very close competition.
That being said, one of them does come out as a winner.
FileZilla is a clear victor between them. Although Cyberduck is a favorite of millions around the world, it is better suited for Mac users, while FileZilla runs best in the Windows territory. It operates faster than Cyberduck and offers more regular updates. Filezilla is also equipped with a portable version, while Cyberduck is not.
Diksha Lalwani is an aspiring content marketer and a self-declared bibliophile. An English honors graduate, she likes to keep up with the recent happenings around the world and form an opinion. Her interest in anything and everything tech made her follow the path into becoming a technical writer.
Subscribe to Our
Newsletter

and stay informed

Keep yourself updated with the latest technology and trends with TechPout.
Related Posts