10 Best File Sharing Software for PC – Online & Offline Transfer Files

File sharing software can be great when they have the right features and offerings. To help you in finding the right software we have added some of the best options in 2021. Keep reading to know more about these software.
Files sharing software is one of the most important software or in other words, you can even consider this as the must-have software. irrespective of the job or work you have at some point you must have felt the need to share files or documents with others. In such scenarios, you would need to have these software.
Finding the best software can be tough as each and every individual has a different aim and working style. Keeping that in mind we have listed the 10 best file-sharing apps for PC that you can read and decide which app would be best for you. So without any further delay, let's start the list of file-sharing software for PC.
Top 10 File Sharing Software for PC in 2021
Here are some of the best file-sharing programs that you can use and share files easily.
1. Google Drive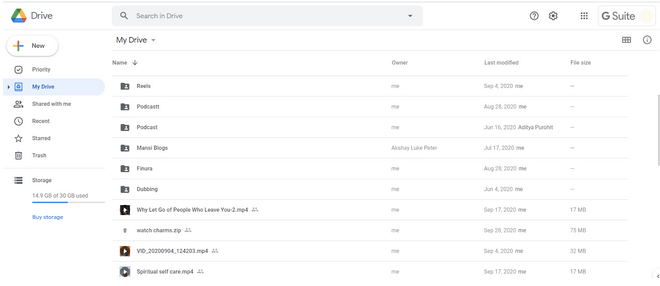 First software on our list of best file sharing software for Windows 10 is Google Drive. Google is one of the most popular and most trusted software development companies. The developers of this company have worked hard to provide users with the best solution for files sharing and string. Google drive is a must-have software that basically is a cloud storage platform that is compatible with each and every device.
Using the software you can easily store all your files and then share them using other third-party applications or platforms. You can easily share photos, videos, audio, or other types of files easily. It is a paid platform that needs a subscription according to the storage plan that you take. Apart from the paid plan, it offers 15GB of free storage to all users.
The best part about this software is that it is very easy to use, the interface is very simple, and can be easily adapted by anyone. All you need is a google account for signing in and that's it, you are good to share files using Google Drive.
---
2. Dropbox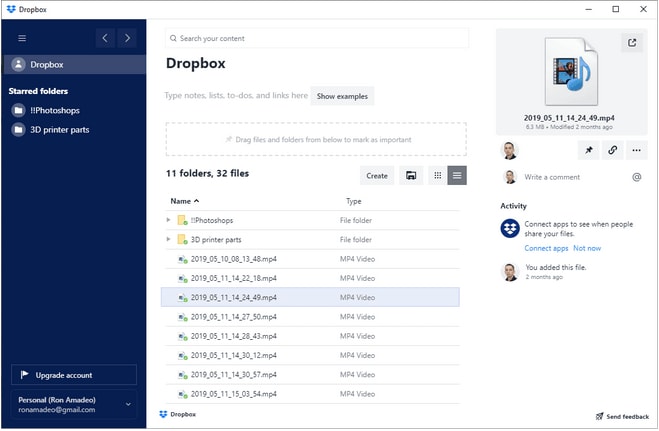 Dropbox is one of the platforms which is also considered as the best file sharing software for PC. The software has been in the market for a long time now and has been helping users in keeping their files safe. You can store each and every file in this software and no one can enter into your private storage area. The software uses its document scanner features and syncs all the files from your computer to the cloud.
This file-sharing software is available for all the devices that support the internet and web browser. You can easily access files from any device at any point of time. The software offers many features including password management, digital signatures, PIN-protected vault, and many others.
Also Read: 10 Best Alternatives to Google Drive in 2021
The interface of Dropbox is also very easy and the best part is that you can easily share all your files stored in Dropbox to anyone through any app or software. There is no boundation for sharing, you can share files the way you want.
---
3. Slack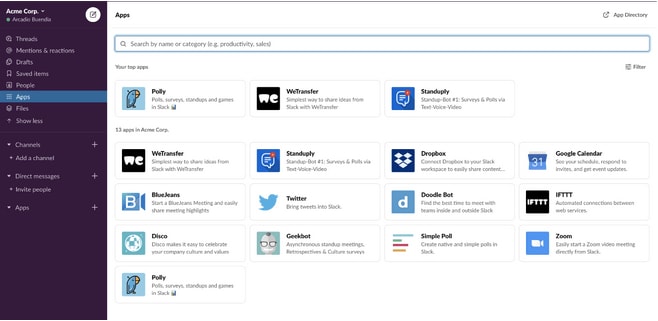 Next software on our list of best file-sharing software for PCs is Slack. This is an online communication platform that offers excellent solutions for file sharing online. The software is very easy to use and it takes no time to set up. It is very quick which means your work doesn't get hindered even if you are working with your teammates.
Using the software you can easily drag and drop all your files to save and share. The software lets you save photographs, videos, PDFs, and other media files. This is the best platform for file sharing as it takes very less time and supports all files.
Apart from this, the software has many other features too. The list of features includes instant messaging so that users can communicate with team members, file syncing capabilities, and other tools for improving the workflow.
---
4. WeTransfer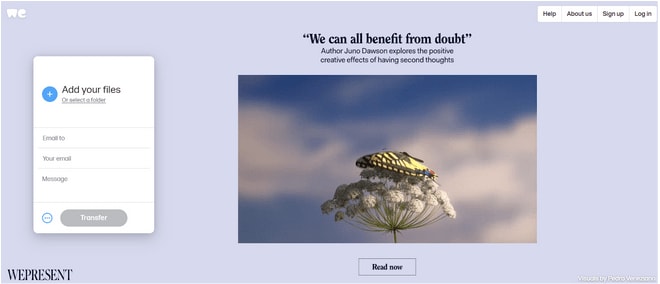 WeTranfer is another great file-sharing program that you can use. As the name suggests it has been developed to offer all the required tools for file sharing. Whether you have a business or you are using this tool for yourself, it can definitely help you resolve all the issues related to file sharing.
The software offers great features like email customization, aesthetic backgrounds, easy file transfer of up to 20 GB.  If you are one of those who don't wish to use the market leader then this is a great file sharing app for PC that you can try.
Also Read: 14 Best File Compression Software in 2021 [Top File Archiver]
It has a dedicated app for iOS, Windows, Mac, and Android platforms. Using this file sharing software for PC you can share password-protected files too.  Only the users or the person who knows the password can access the files which means all your shared data is protected.
---
5. ShareVault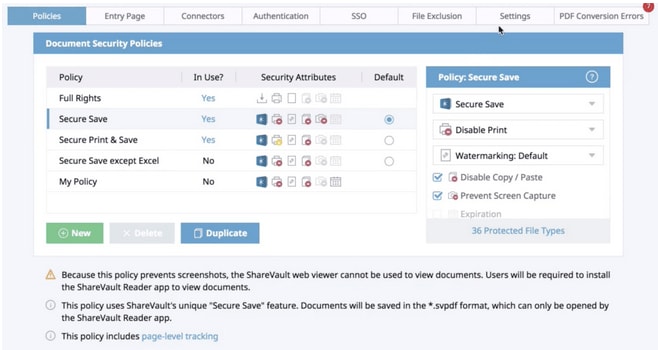 Next software on the list of best file sharing apps for Windows 10 is ShareVault. This is a great software that offers all the security features that you would require to protect your files and folders. Using the software you can easily keep all your files shared confidential and keep your data private, the files shared will only be viewed by the person to whom you have shared.
The software even offers a virtual private data room that can be used by businesses to share their private documents with only the people who are in the room. Apart from offering features that can make the process of file sharing easy, it also offers features that can make it easy to use and perform other actions.
The features list apart from sending it offers searching features that make it easy for you to find the files, dedicated options for quality document control, and other tools to make workflow management and collaboration effortless. You can easily chat with your teammates using the instant messaging feature and perform an action in real-time.
---
6. EaseUS Todo PCTrans Free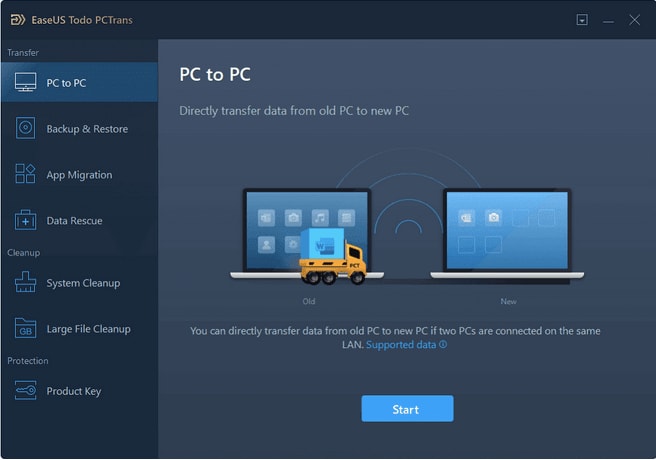 The name of this file-sharing app for PC can be tough but using it is very easy.  The software lets you easily share files from one PC to another in no time. This software not only shares files but it can share applications, accounts, and other heavy elements of the PC. Just like you use Bluetooth for sharing files the same way you can use this software. The only difference will be speed, the software takes very little time for sharing files.
if you wish to transfer an application you don't have to install it, you can simply share it with its supporting files. While using this best file sharing software for PC if you face any issue or trouble you can simply contact the technical experts and they will help you resolve all the issues. The technical team is available 24X7 for assistance.
Also Read: 8 Best Xender Alternatives for File Sharing & Transfer
The files sharing software for Windows has two versions available, you can choose anyone which you think would work best for you. The free version has limited files transfer option while on the other hand, the professional version which costs $49.95 offers unlimited transfer options.
---
7. pCloud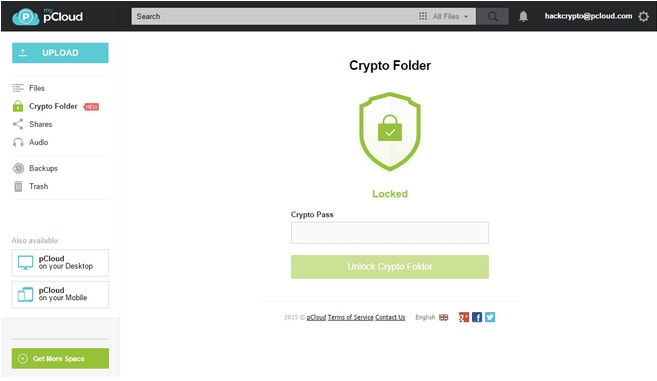 pCloud is a cloud storage platform that you can use as file sharing software. This platform is among the biggest and most popular cloud storage platforms which are trusted by thousands of users. Using this platform you can easily share and collaborate with other people. The collaboration features make it very easy to make real-time changes in the document and one of the best features for office or business use.
It does not just offer you a place to keep all your files but it also guarantees you full protection to all your stored files. It uses a high level of encryption to keep your files confidential and private. The reason why we have kept this software on the list of the best platforms for file sharing is its compatibility with all devices. Whether you have a laptop or phone you can use it easily, even if you want to save space then you can use the web version of this file-sharing program.
---
8. Box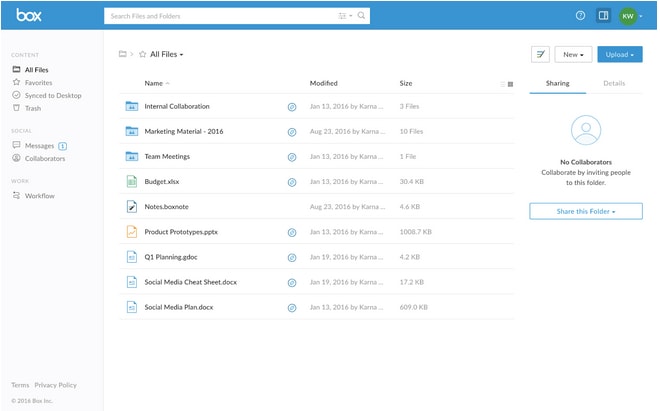 If you are running a small business or a large scale, Box can be the ideal software for you. The platform offers unlimited file storage irrespective of the file size, store it easily on the platform, and access it whenever you want from any device. It is compatible with every device which means you can easily open your files anywhere at any time easily.
Above all the software is very easy to use which makes it one of the best file-sharing software for PC. The software keeps all your files and folders safe as it uses the best encryption for storing and sharing files. It moreover is also integrated with all the other software like Microsoft Office 365, Google Suite, and many others.
---
9. Amazon Drive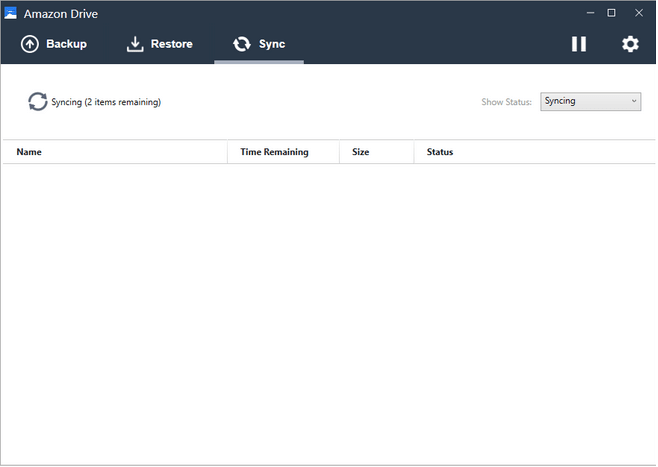 Amazon is one of the biggest brands in the World, being the most trusted brand there is a level which users expect with the software that Amazon creates. Amazon Drive stood on the level that has been built by the company. The drive offers cloud storage to every user using which you can easily save all your files and folders.
The work of this software does not end here, you can share the files that have been stored on the platform. The software can easily be downloaded on any platform and can be used remotely as well.
Also Read: 13 Best File Copy Utility Software for Windows PC in 2021
The reason for keeping this software on the list of best file sharing software is it sync, store, share and manage features. It offers all the tools that you would need for business use.
---
10. FileCloud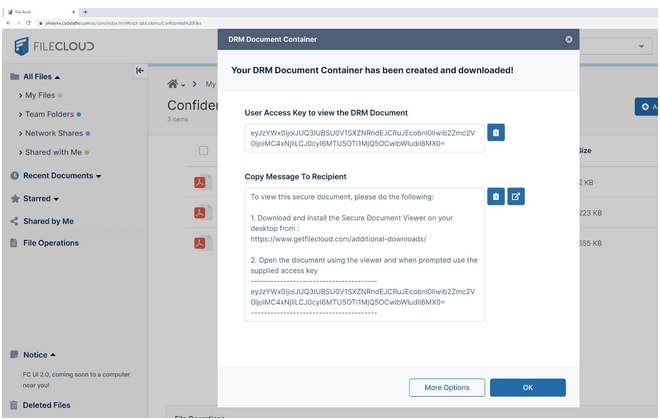 FileCloud is the number 1 enterprise files sharing software, the users have rated it the best for file-sharing use. According to the user review, 92% of them would recommend the software to their friend. The software offers an easy-to-use interface that is flexible and can be changed according to the requirements.
The software gives the user unlimited file storage space with which you can easily collaborate with others and edit those files in real-time. By collaborating you will also let others change the files according to their needs.
This file-sharing platform has unparalleled security and compliance which makes it risk-free and all your files secure. It has FileCloud Server and FileCloud Online, you can use any of the mentioned components according to the requirements.
---
Choose Your Favourite from the List of Best File Sharing Software
This list of best file sharing software for PC has all the software that you can use for every level. Whether you are an individual or running a large-scale business, you can choose the software which works perfectly according to your requirements and needs. Moreover, the software offers great security features to keep your files safe and secured from leaking and threats. We hope that we have delivered relevant knowledge through this article. If you have any suggestions regarding this article you drop them down in the comment section below and we will consider them.
Tanmay is a technical writer from the field of mass communication. He aims to communicate the best of the technology to the readers through his write ups. If not writing you can find him with his camera capturing nature and exploring the unexplored world.
Subscribe to Our
Newsletter

and stay informed

Keep yourself updated with the latest technology and trends with TechPout.
Related Posts