16 Best Free Duplicate File Finders & Removers For Windows 10, 11 In 2023

Searching for the best free duplicate file finders & removers for Windows 11, 10 PC? If yes, then you have come to the right place. Here you will find the 16 most dedicated programs that help you quickly find and delete duplicate files on your PC. Continue reading for more information!
Over time, duplicate and identical files will gather on your computer, clogging it up and eating up GBs of memory space. Duplicate files or even identical files directly impact the effective performance of your PC and make it vulnerable & slow.
There's a possibility that you may find and delete the dupes manually, but sadly, this method does not guarantee exact results. You will not have trouble locating and deleting duplicate files thanks to the abundance of duplicate file finders compatible with Windows 10 and Windows 11. These and other similar file finder software can be of great assistance in locating and deleting unnecessary duplicates of films, videos,  images, documents, and other types of files.
Therefore, in this post, we will discuss some of the most promising and best duplicate file finders and cleaners for Windows 11/10 in 2023. So, work your way down until you find the best tool!
List of 16 Best Free Duplicate File Finders & Cleaners in 2023
After thorough research & analysis, we have brought up a comprehensive list of a few most powerful duplicate file finders for Windows 10, 11. Using any of the below suggested
1. Quick Photo Finder
Are you looking for the quickest and simplest way to eliminate duplicates on a Windows PC? Then, Quick Photo Finder is all you need. Quick Photo Finder is an excellent option for locating duplicate images as well as files that are excessive and comparable. The most fascinating part about this software is, you can get rid of all duplicate photos with just one click of the mouse.
In addition to this, the software helps to keep your photo collection organized and also increases the amount of space available for storage. The removal of duplicate images not only clears up a significant amount of storage space but also guarantees that your photo library will be free of clutter.
Key Features of Quick Photo Finder:
Highly compatible with external or portable devices.
Uses cutting-edge algorithms that search for any traces of duplicates and even identicals.
Provides you with findings based on groups to assist you in arriving at an accurate selection.
Fully supports all the major formats that include, PNG, JPEG, GIF, BIMP, and more.

---
2. CCleaner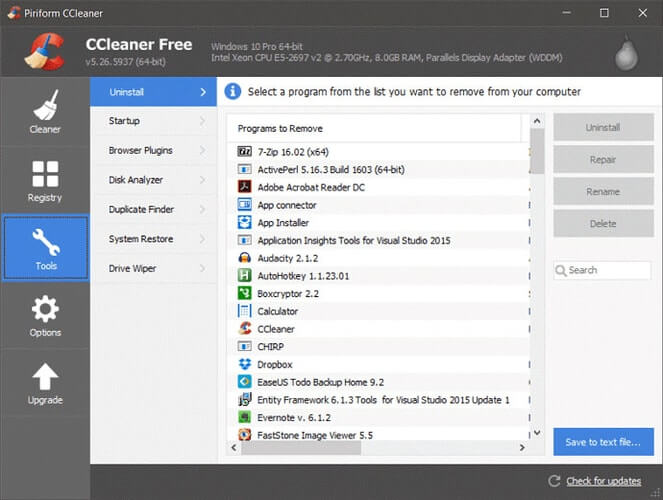 The next item on our list of duplicate file finders for Windows 11 or 10 is a really well-known piece of PC cleaning software CCleaner. It comes with a user-friendly interface that can eliminate duplicate files for you in a matter of seconds. In addition, the following are some of the features that make it one of the best duplicate file removers now on the market for the industry as a whole.
It is a comprehensive tool for maintaining your computer system that, in addition to removing duplicate files, assists you in removing temporary files, registry entries, cookies, and a great deal more. Additionally, it will manage the initial elements of your device so that it will load as quickly as possible.
Key Features of CCleaner:
The integrated Selection Assistant allows you to tailor your search to your specific needs. This indicates that you have the ability to select the files and folders that will be used as part of your search criteria.
Intuitive and friendly UI, powered by straightforward and uncomplicated navigation.
Before each scan, it generates a backup of the data in order to prevent any data loss.
This top duplicate file-finding software functions faultlessly on all platforms, including Windows, Mac, and Android in addition to Windows.

Read Also: Must-Have Programs for Windows 10
---
3. Duplicate Cleaner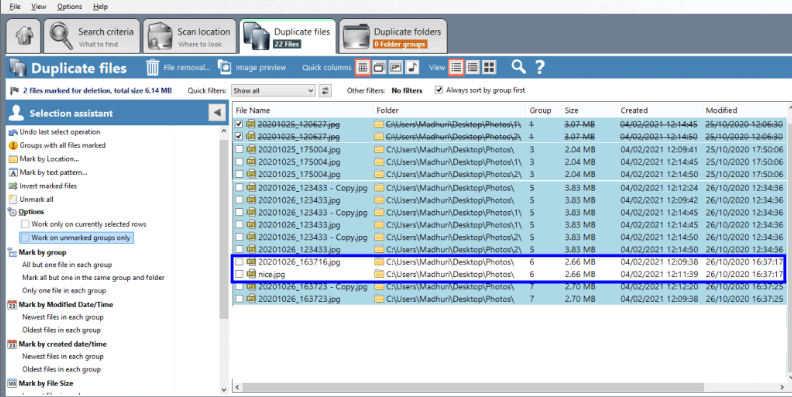 Duplicate Cleaner is yet another user-friendly application that can locate duplicate files on Windows 11 and Windows 10. It has a contemporary user interface in addition to a vast number of functions. You even have access to a Selection Assistant, which will assist you with the configuration and file search.
You can find and delete duplicate photos, music files, documents, ZIP files, movies, and videos. It doesn't matter if an image is edited, rotated, or resized; the program is able to identify similar files in a matter of seconds with ease. It does this by making use of metadata, tags, color depth, and other features in order to narrow down duplicate files effectively and precisely. There are free and paid versions of Duplicate Cleaner available, but for most users, the free version will be sufficient to meet their requirements.
Key Features of Duplicate Cleaner:
It is available in both free and paid versions, you can opt for the variant according to your needs.
You may choose the location of your drive or folder, as well as selection criteria, in order to locate all of the matching files that are using up disk space on your PC.
Uses advanced and smart algorithms to find dupes and even identical images.
---
4. Auslogics Duplicate File Finder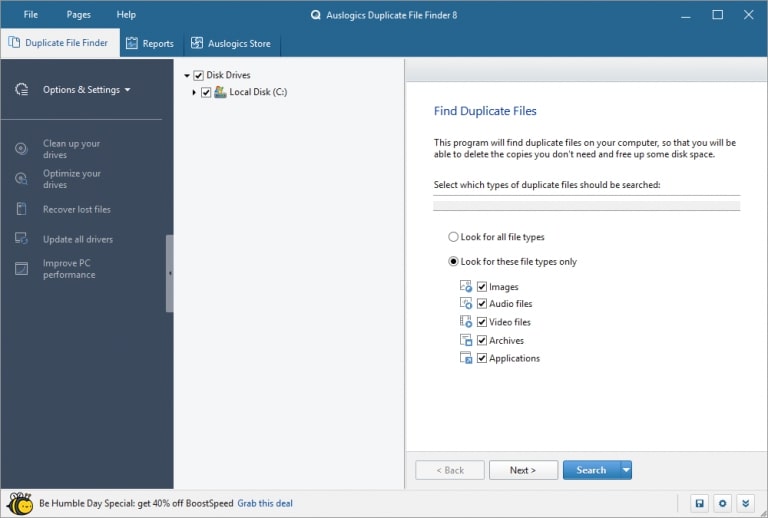 Auslogics is responsible for the creation of a variety of high-quality software for Windows. It is one of the straightforward applications that locates and removes duplicate files on a PC. It offers the most intuitive user interfaces, and it makes it very easy to identify and delete duplicate files on your own computer. It is able to identify and analyze the information of various file types, such as photos, music files, duplicate video files, and other file types, quickly and efficiently, thereby releasing valuable disk space on your computer.
In sum, the Auslogics Duplicate File Finder is an additional excellent tool for Windows users, and we strongly recommend that you give it a shot.
Key Features of Auslogics:
It has developed a clever and insightful algorithm that can match files by making use of a wide variety of search criteria.
You also have the ability to customize the program by setting specific file kinds, drive locations, tags, and other options.
The best thing is that this tool is completely free to use for both personal and business purposes.
---
5. Anti Twin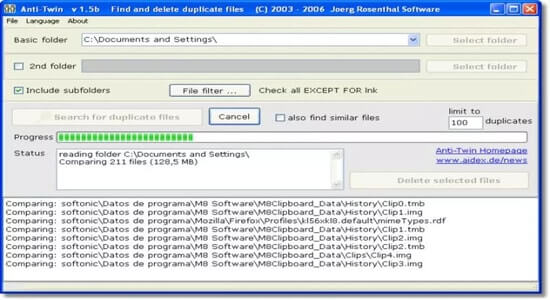 Anti-twin requires just a little storage space on your computer, which is wonderful because it will not hinder the performance of your computer in any way. The software will look for files on your device that are identical or duplicates, and whenever it finds one, it will erase both of them totally.
The fact that it is so simple to use makes it one of the most effective programs for finding and removing duplicate files in Windows. In addition to this, it has the capability of locating redundant data backups and file copies that aren't necessary.
Key Features of Anti Twin:
The user can effortlessly obtain free space on the hard drive by utilizing the tool that automatically finds and deletes unnecessary files.
The "Compare Files Content" option examines the contents of the files in great detail to determine whether or not they are the same.
Moreover, the software reveals the percentage of duplicates, which helps the user streamline their job.
---
6. Easy Duplicate Finder
Yet another best Duplicate file finder on our list is Easy Duplicate Finder. This is a useful tool that stands out from others of its sort since it possesses a number of qualities that set it apart from its competitors. The application has a variety of comparison and duplicate file checkers, which let users search for duplicate files and then select the appropriate course of action, which may include erasing the files, renaming them, or organizing them into groups, among other options.
The most useful function of this program is that it displays a preview of the files before deleting them, and it also enables you to recover files after you have destroyed them. Overall, this is an extremely useful application because it enables you to manage duplicate files and recover files that you have erased.
Key Features of Easy Duplicate Finder:
The fact that you are able to recover files that you may have erased inadvertently is this tool's most useful feature.
Because it only requires one click to use, this utility has made the user's work life much simpler.
This application is capable of searching a variety of file kinds, including music player lists.
Users are able to inspect the contents of files prior to deleting them.
---
7. AllDup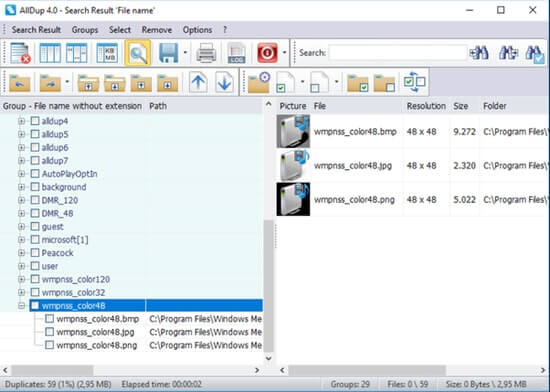 The next one here on our comprehensive list of free duplicate file finders is AllDup. Because it enables users to swiftly browse through the files and display the percentage of data that is repeated across many text files, this tool is both efficient and productive. As a result, you can combine the text files. Users of this program have the ability to search using many parameters under a variety of file kinds, which makes the working process significantly more expedient, efficient, and straightforward.
Key Features of AllDup:
Users are able to search through any number of files for duplicates, which is one of its many features.
Users of this software are given the ability to examine a wide variety of documents and texts in more detail.
It makes it possible to preview a variety of file types, which simplifies the search process.
---
8. Ashisoft's Duplicate File Finder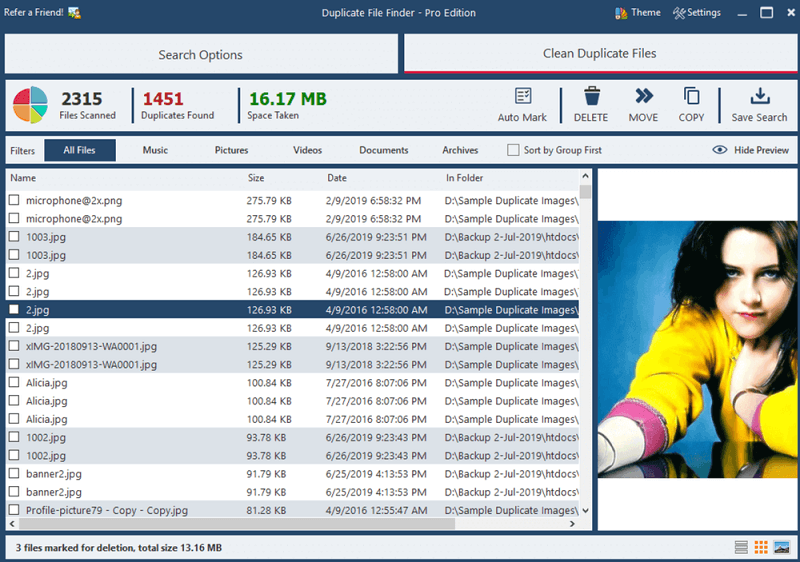 Ashisoft's Duplicate file finder is the next best free duplicate file finder. This program is helpful because it compares the contents of many files at the byte level in order to identify instances of duplicate data that may exist on the system. The fact that the reports are emailed to you and can only be accessed by users who have registered for this service is the best feature that it offers.
This program makes working with external disks simple, and it also has the capability of locating duplicate files in Google Drive.
Key Features of Ashisoft Duplicate File Finder:
It gives you the ability to group the files together before deleting them.
It gives you a sneak peek at the photograph before you remove it completely.
It functions very well with both external drives and systems that share files over a network.
Because of its technique, finding duplicate files takes significantly less time.
Read Also: Best Free Registry Cleaner for Windows 10
---
9. Fast Duplicate File Finder
Here comes another best duplicate file finder i.e Fast Duplicate File Finder. Users will find this tool helpful because it enables them to discover duplicate files using a binary comparison method on their computers. Additionally, it allows the system to operate more quickly and effectively. This program does not have any problems and has a straightforward user interface; as a result, it is very convenient and easy to use.
Key Features of Fast Duplicate File Finder:
Produces accurate findings through the use of binary comparison.
This utility will search for many duplicates of different files and then mark them.
Users are given the ability to recover files that were erased throughout the process.
---
10. Duplicate Files Fixer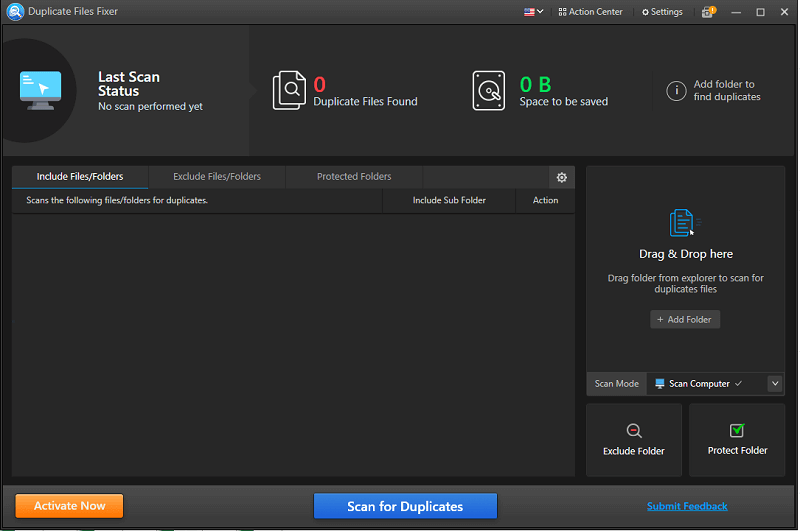 This program is useful because it enables you to search for different sorts of files stored on your system and create both an allowed file list and a blocked file list for specific file types. This utility makes it simple to identify duplicate files and locate them thanks to the streamlined working process that now consists of only seven steps. This tool's user interface is quite straightforward, which contributes to its portability and effectiveness.
Key Features of Duplicate Files Fixer:
It will automatically mark as duplicate any files or directories that it finds.
Before permanently deleting the files, this utility creates a copy of them in a safe location beforehand.
This offers a variety of parameter customization possibilities for locating duplicate files.
The exclusion function of this program also enables users to set an exception for specific file types.
---
11. Duplicate File Detective

Duplicate File Detective is the another best duplicate file finder and remover software. The user interface of this program is comparable to that of Microsoft Office, which contributes to the ease with which users may operate it. In addition, this application contains a number of features that simplify the process of doing work. Users are able to look for duplicate files more rapidly and make their computer system faster thanks to the powerful search algorithm and parameters.
Key Features of Duplicate Files Detective:
This program performs really quickly and is effective for working with text documents.
Functioning on the basis of byte content analysis, it is capable of searching for duplicate content.
It is responsible for delivering final reports to registered mail.
It does this by replacing any deleted files with a link to their original versions.
---
12. Wise Duplicate Finder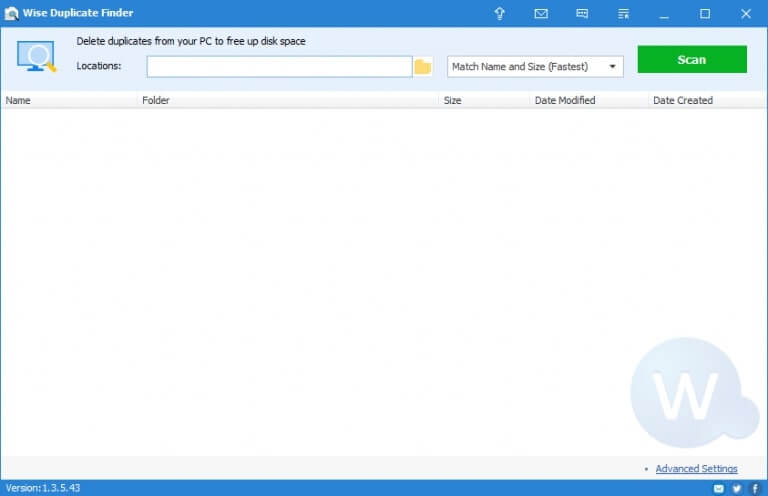 Wise Duplicate Finder is another best free duplicate file finder for Windows 10 and 11 that you can use. Because of its many parameters, it is able to perform deep searches, which in turn improves the user's experience while working. This application also includes other features, such as the ability to recover deleted files. The user interface of this application is rather intuitive, which makes it simpler for end users to move around the many functionalities available on the system.
Key Features of Wise Duplicate Finder:
The best part about this application is that it not only locates duplicate files but also locates empty directories and proposes eliminating them. Additionally, it locates empty files and folders.
You may quickly and easily automate the permission, and after that, you can eliminate files that are redundant.
It supports multiple languages and gives users the flexibility to operate in the manner that best suits them.
You are able to recover files that you have deleted.
Also Read: Best RAM Cleaner, Booster and Optimizer for Windows 10 PC
---
13. DupeGuru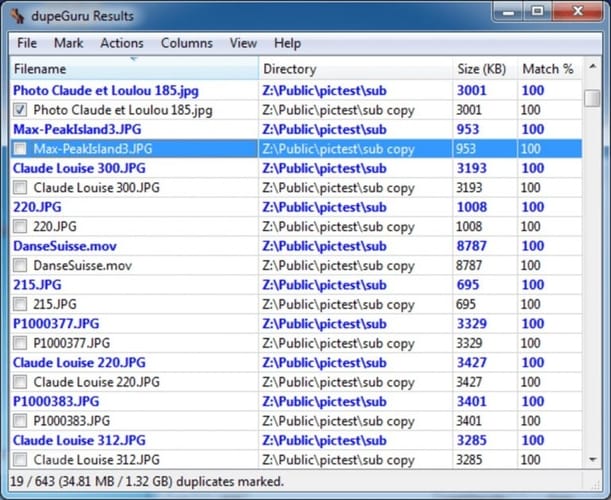 DupeGuru is the most valuable and advanced program that allows you to compare files and detect duplicates using a developed algorithm and a variety of factors. You may use this application to find duplicate files. You are able to improve the performance of the system as well as find the same record in several audio files thanks to the unique capabilities that this program offers. The sophisticated matching algorithm in it makes the search simpler, more expedient, and more effective.
Key Features of DupeGuru:
Among its many features is the fact that when comparing files, it makes use of complex criteria such as tags, attributes, metadata, and so on.
The users will have an easier time customizing the scanning procedure as a result of this method.
This one-of-a-kind music mode enables you to find and delete for duplicate music files in your collection.
Because of its fuzzy duplicate-checking algorithm, it is possible to discover duplicates quickly and easily using this tool.
---
14. Czkawka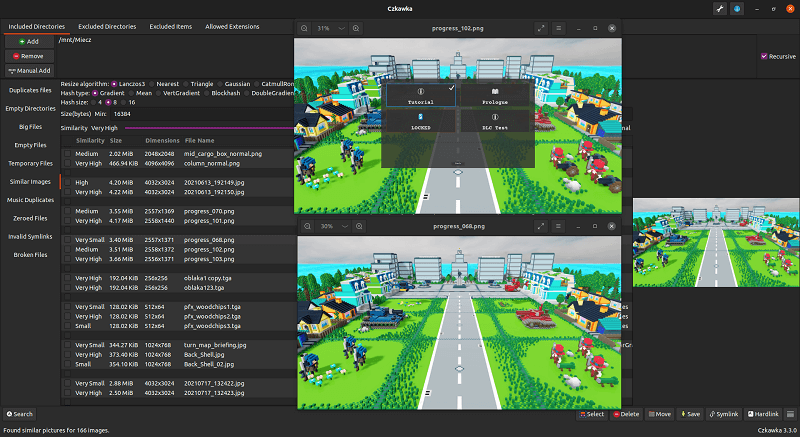 Czkawka is an outstanding application that can locate duplicate files on Windows 10 and Windows 11. It is totally open-source, unlike many premium products, and it supports various platforms, including Windows, macOS, and Linux. Additionally, it is completely free.
When it comes to functionality, this software has the ability to locate duplicate files on Windows for things like films, audio, and still photographs. Czkawka is, in a nutshell, one of the greatest duplicate file finders for Windows 11/10, and you really ought to look into it.
Key Features of Czkawka:
Czkawka is even capable of locating duplicate photos that have distinct resolutions and watermarks.
It can also recognize videos by matching visual similarities, which is a really cool feature.
It examines the files for duplicates using a variety of methods, including their names, sizes, and hashes.
The duplicate file finder is a completely free-to-use program.
---
15. XYplorer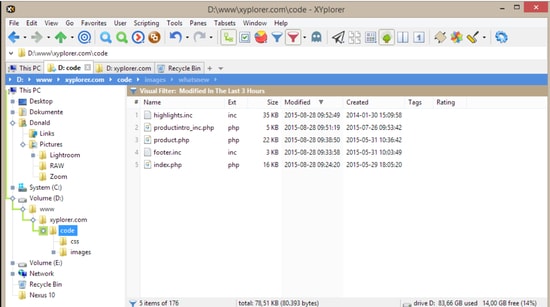 XYplorer is a duplicate file finder that gives users the ability to look for duplicate files on the system and conveniently handle various types of files. They will be able to conduct a comprehensive search and identify duplicate files on the system with the help of the duplicate detection tool that this application provides.
In addition to this, it makes it simpler for users to gather together different kinds of duplicates and conveniently manage them.
Key Features of XYplorer:
It is extremely user-friendly and users have the ability to personalize it.
It assists users in managing files as well as relocating and transferring such files.
This software performs comparisons bit by bit, which enables it to identify duplicate files.
It can fill a vacant spot in File Manager.
Also Read: Best Free Driver Updater for Windows 10, 11
---
16. Cisdem Duplicate Finder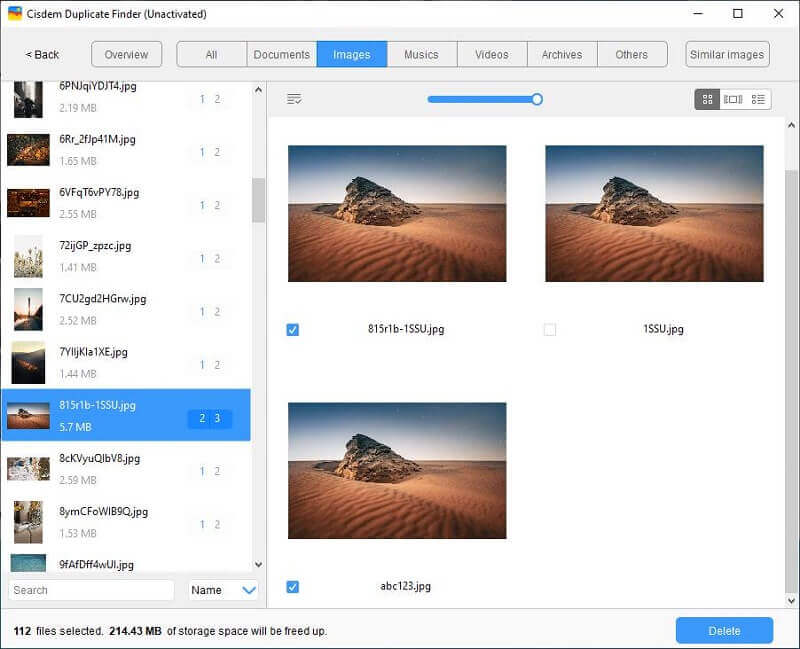 The last name on this list of the best free duplicate file finders is Cisdem Duplicate Finder. Cisdem Duplicate Finder is one of the most extensive and reliable tools that allow you to look for duplicates in various formats and extensions. From images to videos, from PDFs to other files, Cisdem supports all of these files.
Key Features of Cisdem Duplicate Finder:
The tool is available to use for both Windows and Mac OS.
The interface of the software is one of the best you will ever find.
You can use the tool to look for duplicates amongst various formats and file types.
The tool allows you to preview and compare the files before deleting them.
---
Duplicate File Finder & Remover for Windows 10/11 in 2023: Closing Words
These are some of the most influential and speedy duplicate file finders and removers for Windows 10, 11. All of the programs that were discussed before are really simple to put to use and are capable of doing miraculous feats with only a small amount of effort.
If you want to recover lost storage space and get rid of duplicate files, then refer to our list of the top free duplicate file finders and choose the application that works best for you. We hope you found the article helpful and informative. Please let us know in the comments below if you have any queries or further doubts.
For more tech-related information, you can subscribe to our Newsletter and follow us on social media.
Harshita Sharma is a technical writer with quite a distinct understanding of the tech realm. She is a tech enthusiast who believes that tech knowledge should reach one and all and tries to convert the sketchy knowledge into the simplest possible form for making people understand the tech world better. When not playing with words, she loves to travel and explore new places. And, is a coffee & cricket connoisseur.
Subscribe to Our
Newsletter

and stay informed

Keep yourself updated with the latest technology and trends with TechPout.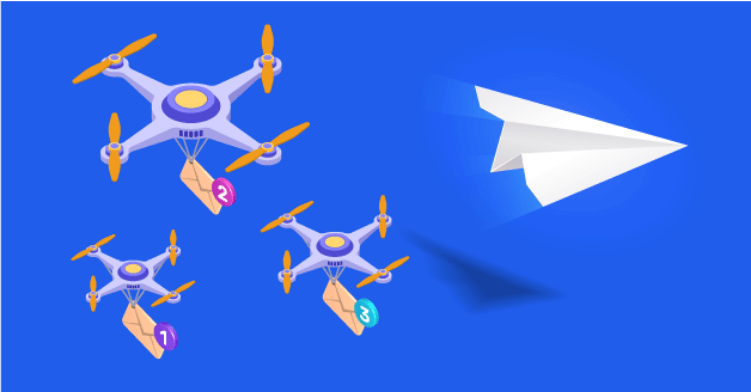 Related Posts