22 Best Free PC Cleaner Software For Windows 10 and 11 In 2023

A PC cleaning software offers an easy way to optimize your computer performance, prevent harmful malware, and ensure overall health and safety of your Windows system. It comes with a plethora of PC maintenance tools to remove unwanted and redundant programs and helps in enhancing the speed and performance of your computer.
Defragment your data, declutter your hard drive, and optimize the overall working of your Windows device with the best free PC cleaner software. Read ahead to check out our curated list of best PC cleaner tools for Windows 11, 10, 8, and 7 in 2023.


List of Best Free PC Cleaning Software for Windows 11, 10, 8, 7 in 2023
If you are annoyed with the slow and sluggish speed of your Windows PC, check out our list of best PC cleaners to clean system junk, optimize performance, boost speed, manage registry entries, and much more.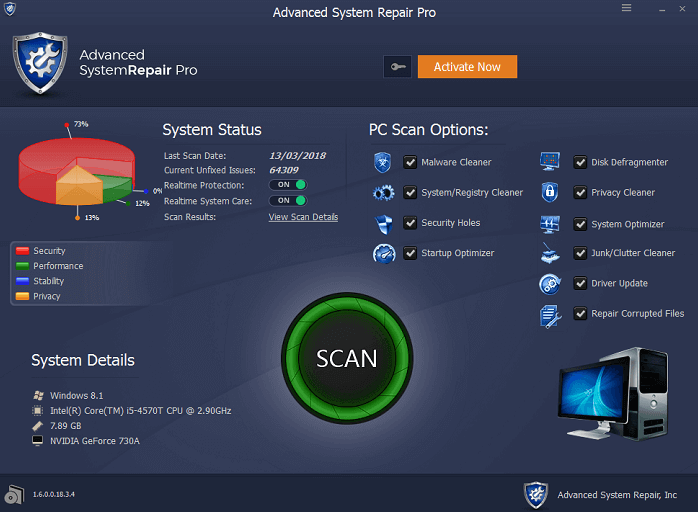 We kickstart the list of the best PC cleaning software for Windows 10,11 and other older versions with Advanced System Repair. It is one of the excellent tools for PC cleaning and tuneup. This tool is safe to use and provides various extensive features and functionalities to help users improve the overall performance of their Windows PCs or laptops. It takes only a few clicks of the mouse to clean and optimize the device to its peak performance. Apart from that, this PC cleaner has the ability to fully control the background running applications.
What we Love About Advanced System Repair?
The tool deeply scans your PC and removes all the junk permanently.
It comes with an in-built Privacy Cleaner that deletes your digital thumbprint and removes logs/tracks.
A single-click functionality of the tool will let you clean the Registry of your system.
Compatible with all versions of Windows operating systems.
In order to boost the performance of your system, the software automatically closes the required apps or processes running in the background.
Final Verdict on Advanced System Repair
In sum, Advanced System Repair is an ideal solution for PC cleaning. This software has everything that requires to enhance the PC's performance and make it run faster than usual.

---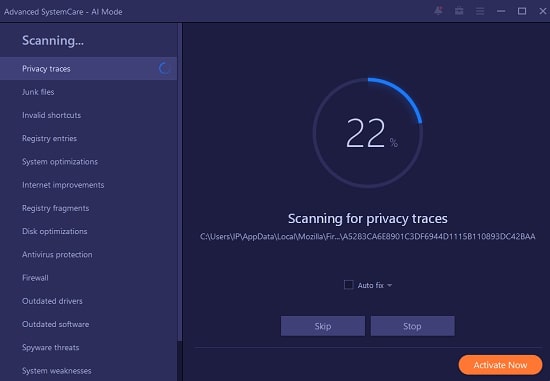 We kickstart the list of the best PC cleaning software for windows 11 and older versions with IObit Advanced SystemCare. Pick this best free PC cleaner software to speed up, clean, tune-up, and protect your Windows computer. Advanced SystemCare from IObit is one of the most appealing and well-organized PC cleaning utilities that helps you to free up RAM and manage the registry entries of your Windows device.
What we Love About IObit Advanced SystemCare?
It comes with a clean and convenient interface powered with easy functionality.
Thoroughly clean your PC with its incredible junk cleaning abilities. It can delete temporary files, system logs, APK files, system cache, and other unwanted files in a single click.
It also corrects all your hard drive related errors to boost system performance.
In addition to a free version, it is also available in a Pro version that comes loaded with advanced features like deep registry cleaning, real-time optimization, internet-speed boosting, privacy protection, and much more.
Final Verdict on IObit Advanced SystemCare
Anyone unsure about where to look for cleaning their PC should try out this best free computer cleanup utility.

---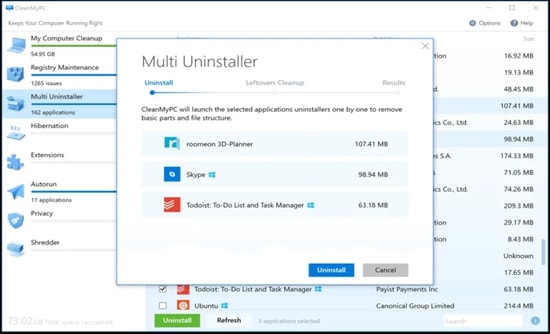 The second place on our list of the best PC cleaning software with MacPaw's CleanMyPC. It is an all-in-one software for cleaning and optimizing the speed and performance of the PC. The software keeps a track on performance and the factors which can affect the performance like adware,malware and ransomware. 

What we love About CleanMyPC?
CleanMyPC keeps cleaning the unwanted files from the PC like broken downloads, outdated caches and logs. 

The files which you would struggle to find, by using the PC cleaner software you can locate them with just one click. 

Not just locating and removing junk the software can help fix the problems of the PC.

The software is available in Windows and Mac
Final Verdict on CleanMyPC
For all those who are looking for software that can help in cleaning both Windows and Mac PCs, CleanMyPC is the ideal pick for you. It offers all the required features to make the process easier.
---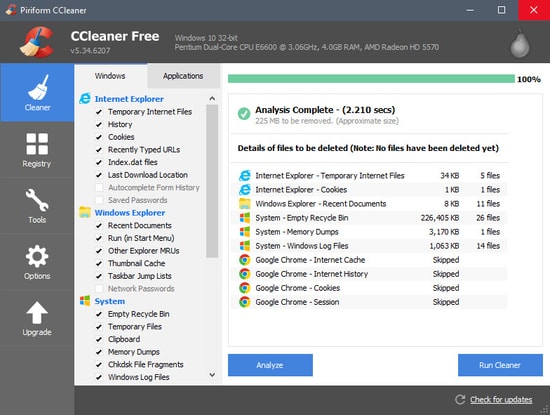 Pick this best PC cleaner tools goes to a globally renowned product known as CCleaner. Anyone who wants to clean and speed up a slow computer or laptop should, without a doubt, install this industry-acclaimed system cleaner for Windows 10 and older editions. Developed by Piriform, this tool comes in three versions: CCleaner Free, CCleaner Professional, and CCleaner Professional Bundle.
What we Love About CCleaner?
Intelligent cleaning modules to clear system junk, tracking cookies, and temp files.
Powerful registry cleaner to solve invalid registry entries and broken Windows settings.
Comes with a built-in disk space analyzer utility that helps find out which files or folders are consuming extra space on your computer.
Disables background running programs to help you make your Windows computer boot faster.
It also comes with a duplicate photo finder and cleaner utility that helps you get rid of similar photos, videos, and other redundant files.
Final Verdict on CCleaner
All in all, CCleaner is undoubtedly among the best free PC cleaner tools that you may use to speed up and clean your computer.

---

Known for its class-apart functionality and advanced features, AVG TuneUp takes the second place on our list of best free computer cleanup software for windows 11, 10, 8, and 7. Give your old PC more power and make it run just like a new machine.
What We Love About AVG Tune-Up?
It puts all unwanted and unnecessary applications to sleep with its incredible Sleep Mode Technology. This cuts down the boot time and enhances the response time of your device.
Deep clean your computer system to remove system cache, residual files, system junk, and other unwanted files.
Remove bloatware with its software uninstaller functionality.
Enjoy hassle-free and automatic software updates.
Enjoy lighter browsing with its Browser cleaner feature.
Fix system bugs and avoid crashing issues.
Final Verdict on AVG Tune-Up
If you want to clean disk space and elevate your PC performance, AVG TuneUp is the best cleaner for Windows 10 available in the current industry.
---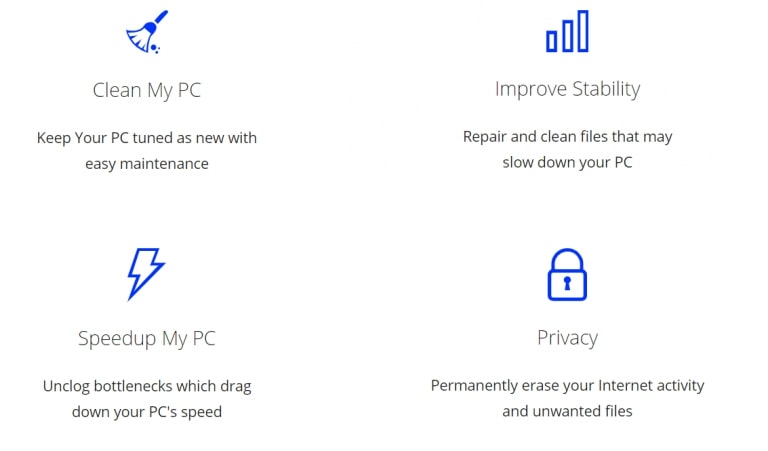 Optimize your computer and maintain its overall health with PC Booster, the best PC cleaner for Windows 10. It makes your machine run faster, frees up hard disk space, and deletes your browser traces.
What we Love About PC Booster?
It provides customization system cleanup options.
Tune-up your device for faster loading and response.
It repairs and fixes invalid registry entries which improve system stability.
It ensures complete online privacy and protection by deleting your browsing history and details on online activities.
Final Verdict on PC Booster
All in all, PC Booster is the best PC cleaning software for Windows 10 users seeking to get a faster and optimized Windows system.
---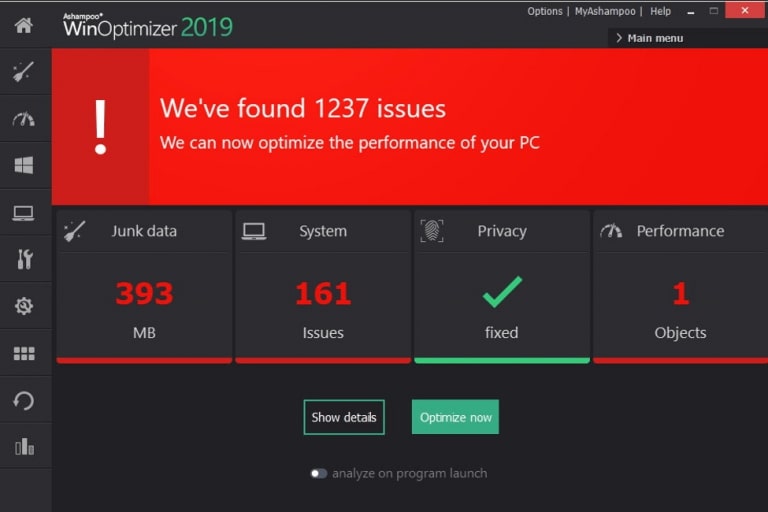 Ashampoo WinOptimizer is one of the best free PC cleaner utility software for Windows 11 and 10 that you can pick to fulfill your PC maintenance needs.
Read Also: Best Free Driver Updater Software For Windows
What we Love About Ashampoo WinOptimizer?
Super- Efficient PC optimization tool that collects and deletes digital waste from your device.
The computer cleaner tool is powered with a user-friendly interface.
It is best known for its deep protection, junk cleaning, and PC tweaks functionality.
It reduces memory hogs and optimizes the startup time of your device.
Defragment your hard disk space for better performance and speed.
It erases your browsing traces and tunes up your net connection.
Final Verdict on Ashampoo WinOptimizer
If you're looking for an intuitive and easy to use cleaning app for Windows 10, then you should consider using this best free PC cleaning software.
---
If you want to remove junk and clear disk space on your PC, pick this powerful yet easy to use best PC cleaner software. Symantec Norton utilities aims at enhancing your device performance to make it more fast and stable.
What we Love About Symantec Norton Utilities?
This PC cleaning utility for Windows scans your device for unwanted files, junk, system cache, and residual files to reclaim lost PC space.
It blocks all background applications to boost startup time.
It declutters your web browser and deletes cookies browsing history and temporarily to ensure your online privacy.
It repairs broken and invalid registry entries to speed up your PC.
This Windows 10 PC cleaner tool comes with a 30-day free trial period.
Final Verdict on Symantec Norton Utilities
Norton Utilities from Symantec comes with an array of PC cleaning modules, making it one of the best tools to cleanup Windows 10 and older versions.
---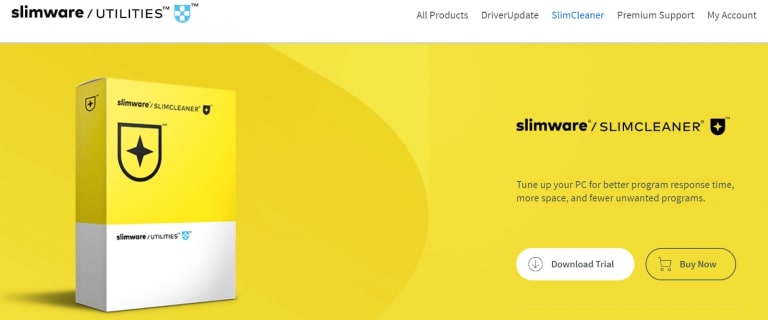 If you are looking for the best free PC cleaner utility tool that can help you to remove unwanted programs, clear hard disk space, and increase the response time of your device then SlimCleaner Free can be a great option. Below we discuss the notable offerings of this tool that make it the best PC cleaning software of 2023.
Read More: How to Remove Junk Files From Windows 10
What we Love About SlimCleaner Free?
One-click PC scanning and cleanup. Get rid of system junk, old, and large files in a hassle-free manner.
It is powered with a dedicated performance boost mode which aims at boosting the overall performance and speed of your device.
It alerts you about all unwanted startup items.
Efficiently manage the power used by your Windows computer with its power management mode.
This PC cleanup tool for Windows comes with a 7 day free trial option.
Final Verdict on SlimCleaner Free
In short, you can give this best PC cleaner tool a try if you want to speed up your computer and take its performance to a whole new level.
---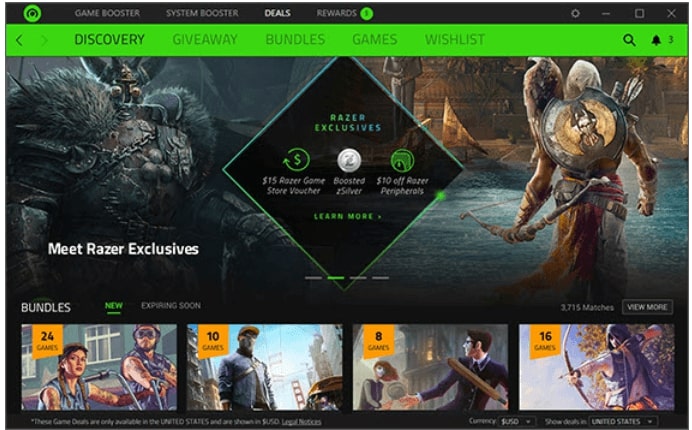 If you are a gaming enthusiast who loves to play graphic demanding games, Razer Cortex will make your gaming experience extra special. This best free PC cleaner for Windows 10 removes unwanted load from your system resources, defrags your hard drive, and clears out disk space to provide unmatched gaming speed.
What we Love About Razer Cortex?
It is compatible with several versions of Windows OS.
This free PC cleanup software offers smooth visual effects with astonishing performance developments.
It can automatically turn off unwanted background applications to ensure optimal resource utilization.
It also provides you with FPS statistics and data.
Final Verdict on Razer Cortex
This free computer cleaner is ideal for all gamers who wish to enjoy an uninterrupted gaming experience.
---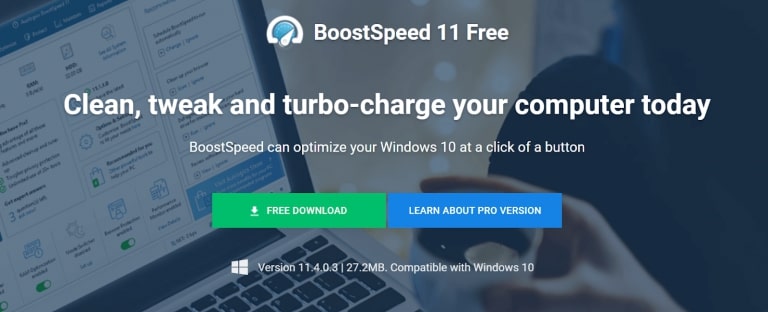 Another Best free PC cleaning software for Windows 11, 10, 8, or 7 that you can pick to locate and remove junk items, fix speed issues, and maintain the health of your device is Auslogics BoostSpeed.
What we Love About Auslogics BoostSpeed?
It can scan your device and delete web browser cache, temporary files, residual files, system junk within minutes.
It eliminates and erases your browsing history for enhanced online protection.
Detects and fixes system issues for better and uninterrupted performance.
This free PC tuneup software can also adjust your internet connection for faster downloading and smooth browsing.
Final Verdict on Auslogics BoostSpeed
Auslogics BoostSpeed PC cleaner free is an all-in-one package that can help in boosting the performance of the system.
---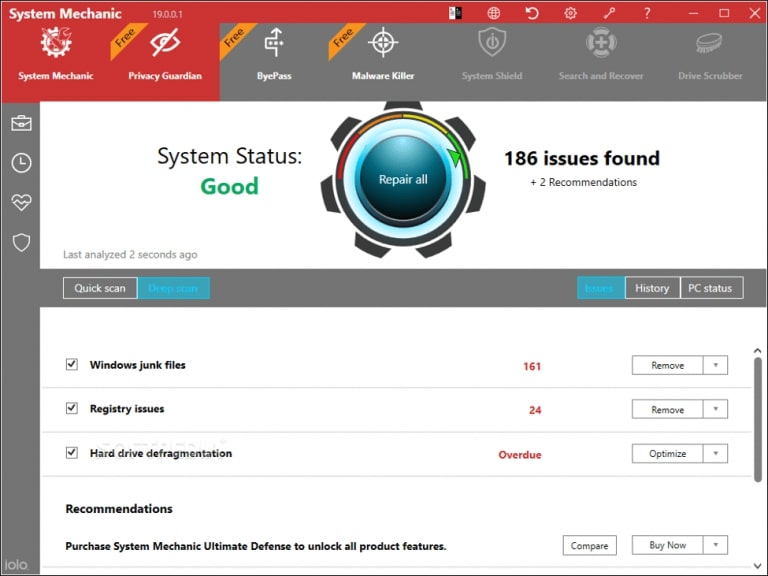 Iolo System Mechanic promises faster downloads, improved CPU speed, faster startup, and improved graphics. This best PC cleaner software is highly popular amongst the masses for fairly good reasons.
Read More: Best Encryption Software For Windows
What we Love About Iolo System Mechanic?
It disables and removes unwanted startup items.
It patches browser loopholes and deletes your browsing history to ensure online protection.
It can effortlessly remove junk and free up the hard disk space for better speed.
It cleans and repairs internet settings for faster browsing speed.
Final Verdict on Iolo System Mechanic
This computer cleaning software is ideal for improving the browsing experience other than just cleaning the system.
---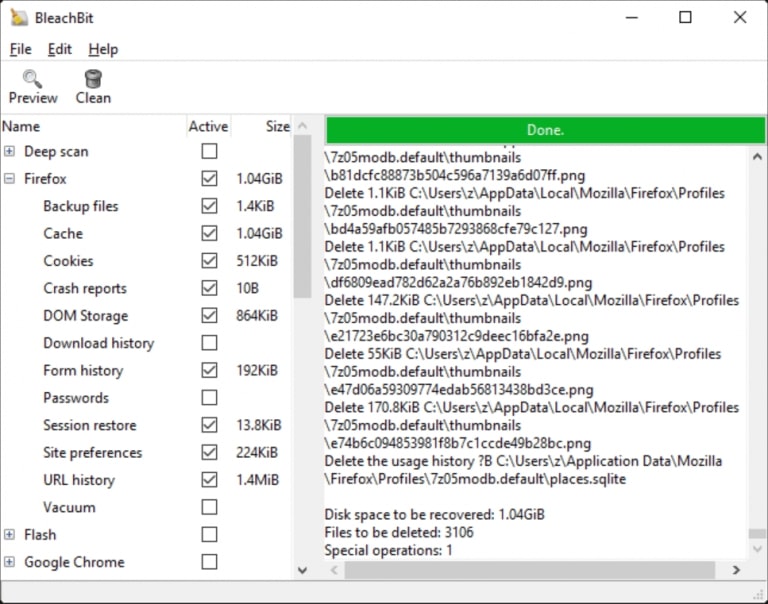 BleachBit is another incredible and efficient PC cleaning software that you can pick to tune up your slow and sluggish PC. Below are some of the praiseworthy features that make BleachBit one of the best free PC cleaner utilities to clear disk space.
What we Love About BleachBit?
It is a freeware PC maintenance and optimization tool.
It can swiftly recover lost memory space by removing junk, deleting cookies, removing system logs, cleaning browsing history, and removing the cache.
Improves your online system privacy.
Final Verdict on Bleach Bit
Bleach Bit is a free cleaner for PC which offers whole loads of features and customization options as per needs.
---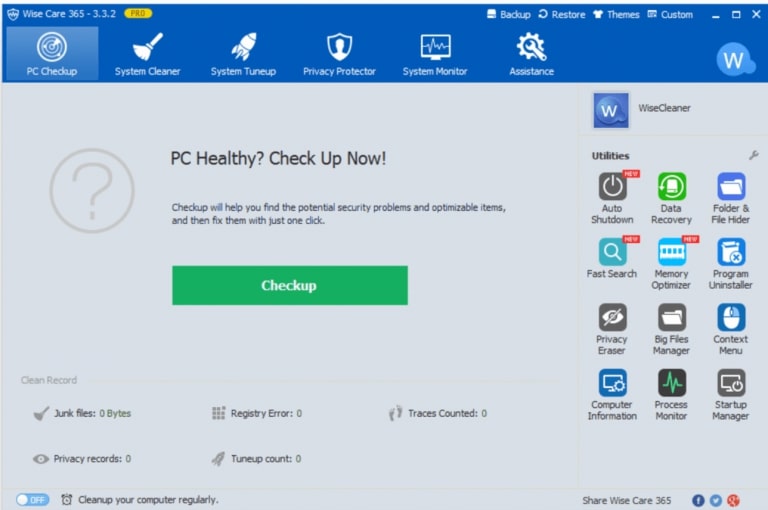 Make your PC responsive, junk-free, and fast with this stunning and best PC cleaner and tuneup software. Use it to improve the overall health and stability of your device.
What we Love About Wise Cleaner 365?
It optimizes Windows startup in a hassle-free manner.
It enhances the speed of your device by defragging your hard disk items and cleaning system junk.
It protects your online privacy by eliminating your browsing history and ensures that you don't leave any digital footprints.
Final Verdict on Wise Cleaner 365
If you're looking for the best PC cleaning software to clear junk files and recover lost disk space, Wise Cleaner 365 is strongly recommended.
---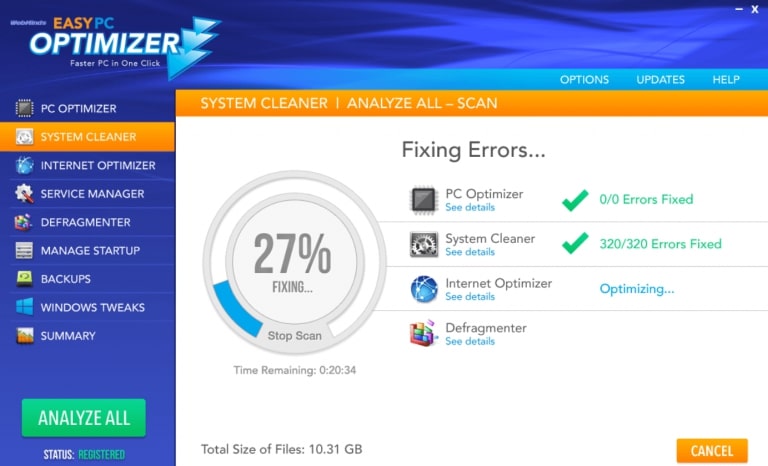 The next best free PC cleaner utility tool windows 11 on our list is called Easy PC Optimizer. This PC cleaning tool for Windows helps improve Internet download speed, boot time, RAM, and CPU performance.
What we Love About Easy PC Optimizer?
It can fix all Windows errors in a few steps.
It can effortlessly repair all broken and invalid registry entries. Additionally, it also keeps a backup to avoid any data losses.
It optimizes your device startup and eliminates all unwanted files and digital junk.
Final Verdict on Easy PC Optimizer
The software offers an overall solution for the PC to improve performance and productivity for the future.
---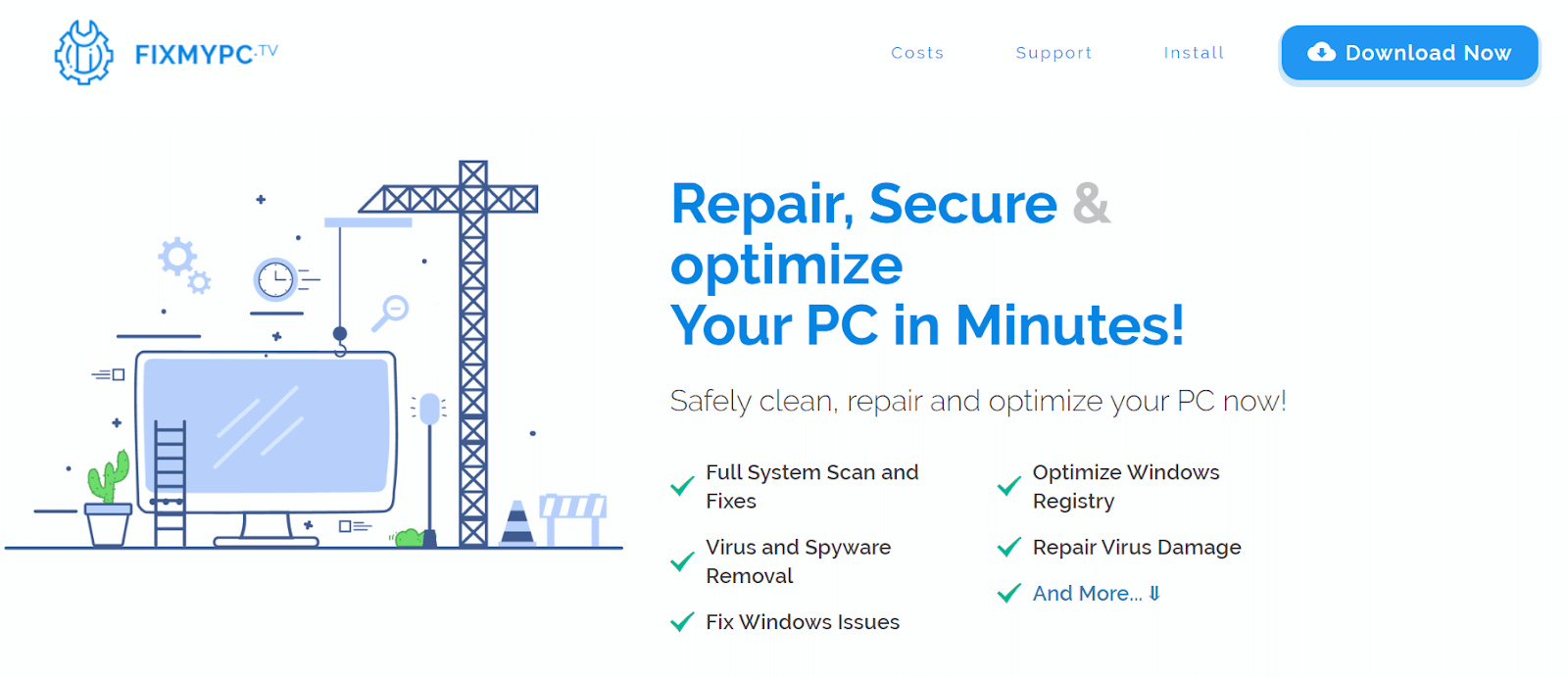 Next on our list of the best cleaning software for Windows PC is FixmyPC. Pick this feature-rich tool to fix and repair your device for all speed and performance-related issues. Let's have a quick at the prominent features that make it the best PC cleaner software of the town. Pick this feature-rich tool to fix and repair your device for all speed and performance-related issues.
What we Love About FixmyPC?
It can fix your Windows-related problems.
Disable background apps for better resource allocation and fast startup.
It prevents junk from cluttering your device.
It can scan your device for invalid registry entries making it more stable.
It offers one-click PC maintenance and tuneup functionality.
Final Verdict on FixmyPC
If you are looking for software that offers all the tools for cleaning Windows, then FixmyPC is the software for you. It offers solutions for repairing and optimization.
---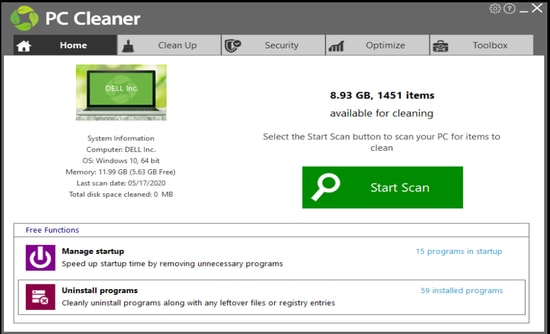 PC TuneUp Maestro is an easy to operate software with effective tools to help run your PC faster. It offers an advanced suite for PC maintenance with amazing tools. All in all the software provides the user with options to fix, clean and optimize PCs for best performance. 
What we love About PC TuneUp Maestro?
The software is best for new users as it guides them to install and download the right software for the PC.

By using the PC TuneUp Maestro user can also optimize the system's registry. 

With the inbuilt disk defragmentation tool the user can optimize the hard drives as well.

While the software is working it will keep only the necessary apps active which can help in speeding up the work. 

Regular updates make it more effective.
Final Verdict on PC TuneUp Maestro
For all those beginners who have never used PC cleaner software before, we recommend using PC TuneUp Maestro as it offers the easiest interface with loads of professional features.
---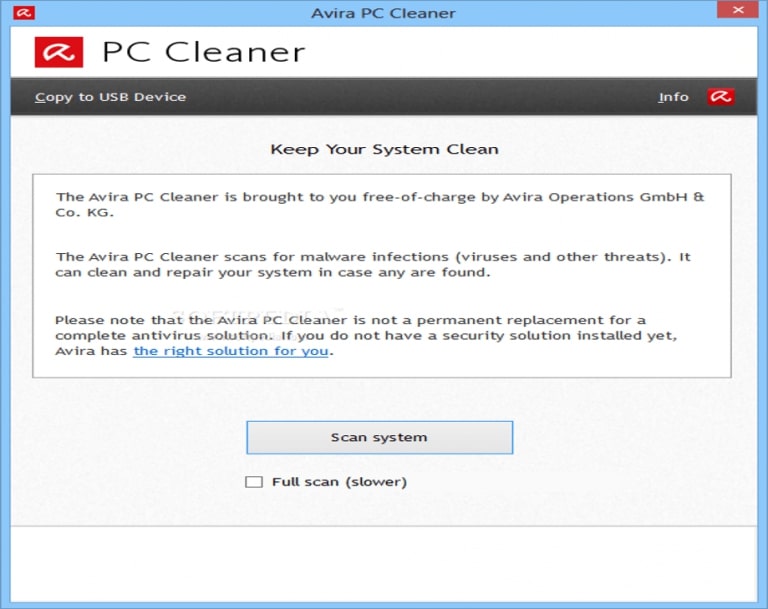 Our last pick for best free PC cleaner tool is Avira System Speedup. Wipeout your digital footprints and optimize your PC to enjoy safe and fast working.
What we Love About Avira System Speedup?
Delete system junk and unwanted files to keep your system clean.
Optimize your startup items and enhance their responsiveness.
Simple and clean interface with one-click PC cleaning tools.
Final Verdict on Avira
Avira is among the most trusted brands, so you can trust the software for cleaning and optimizing the process as it offers all the required features to make your PC better.
---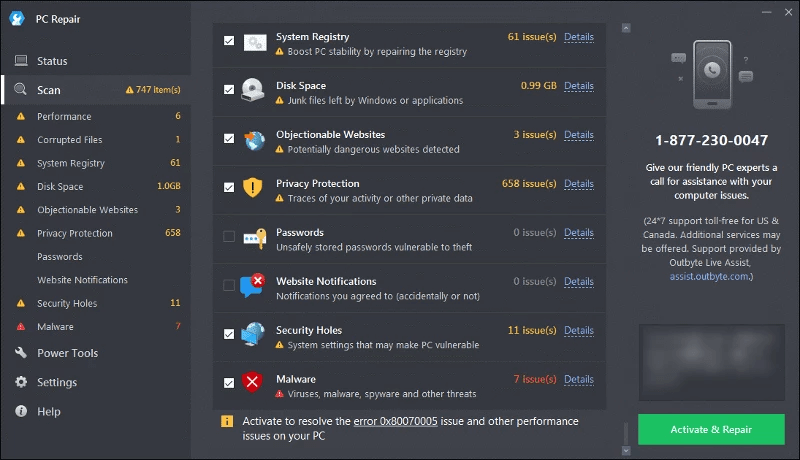 Last but not least, Outbyte PC Repair is another excellent PC cleaner software that you can use to speed up your Windows PC performance. The cleaning service quickly detects and fixes performance issues that can affect your PC's smooth functioning.
Outbyte PC Repair is a dedicated tool that frees up disk space, finds & resolves numerous stability issues, and executes several other optimization tasks on Windows PCs.
What We Love About Outbyte PC Repair?
It comes with the ability to resolve hundreds of common PC issues that help your system to perform at its peak performance. These issues include system malfunctions, invalid redirects, and more.
Outbyte PC Repair can remove all the tracking cookies in one or two clicks and also informs you about dangerous websites.
It comes with an in-built File Shredder tool that securely removes files from the Recycle Bin. This smart file removal feature prevents third-party apps from getting them back.
Compatible with Windows 11, 10, 8, 7.
Enhanced and improved PC performance.
With the help of this tool, you can also fix faulty drivers and update outdated drivers.
Final Verdict on Outbyte PC Repair
So, if you are searching for an easy-to-use cleaning utility tool for Windows 10/11, then Outbyte PC Repair is worth trying. It is an all-in-one solution that fixes common issues and takes your PC's performance to the next level.
---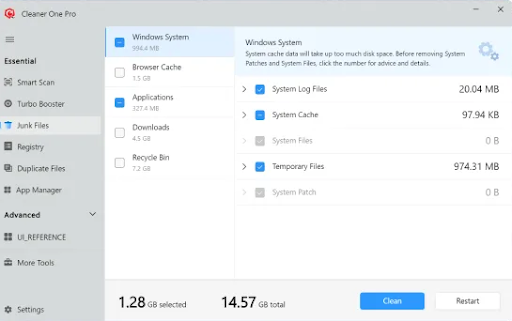 The next best free PC cleaner software for Windows 10 or 11 devices is Cleaner One RPo Windows. This all-in-one cleaner and optimizer will free up your disk space by deleting all unnecessary files. It can perform quick scans to display all the trash files from which you can sort and delete unnecessary data. Some notably advanced features of the tool include Startup Manager, Registry Cleaner, and App Management. The entire junk cleaning process is comprehensive and beginner friendly.
What do we Love About Cleaner One Pro Windows?
The most important feature of the Cleaner One Pro Windows is it helps users to stay safe from all potential security threats. The software can scan your PC to identify the vulnerabilities in the available industry-leading database of malware with potential threats. And the overall speed of your PC is also improved with higher responsiveness.
Moreover, it can also reduce the start time of your system and enables users to clean the registry easily.
Final Verdict on Cleaner One Pro
In All, Cleaner One Pro Windows is a one-stop solution to offer the best care to your PC. With No Junk and No lags, the tool provides the best tune-up to your device by cleaning all the unnecessary data.
---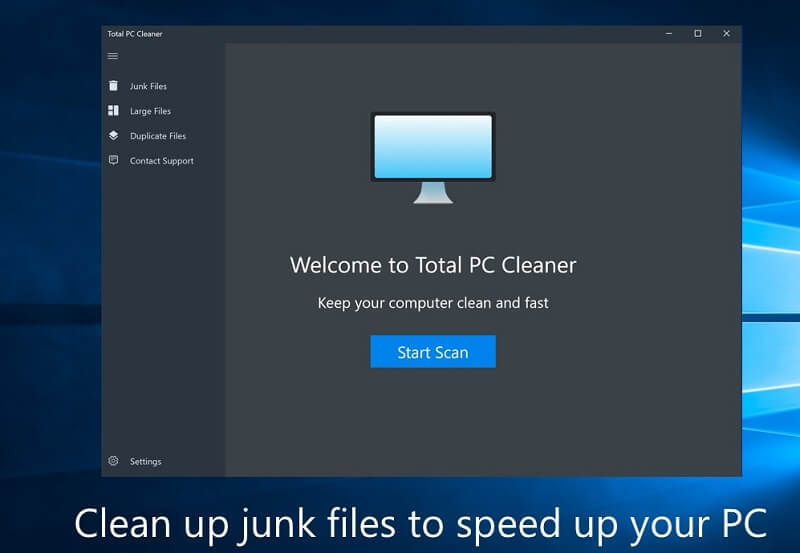 Microsoft's Total PC Cleaner lives up to its name and cleans all the wasted and junk files from your Windows PC in order to make the system clean and faster than usual. The software allows you to run your PC more efficiently without any system freezes or crash issues.
This best free PC cleaner for Windows optimizes the PC memory and improves the overall performance of your machine. The software thoroughly and deeply scans your PC and finds all the files that have not been opened for a long time and also occupy disk space without any reason.
What Do We Love About Total PC Cleaner?
Effortlessly finds and clears PC cache and large files.
Performs deep cleaning for junk files and the whole system, boosting overall performance.
Optimizes Windows memory and clears browser cache files.
Comes with in-built Ads cleaner.
Compatible with Windows 10 or above versions.
Final Verdict on Total PC Cleaner
Total PC Cleaner by Microsoft can quickly clean system caches, app caches, office caches, browsers, and mail caches. The software will deeply scan your system and gather all those files & folders which you haven't used for a long time. Lastly, delete them in order to free up space.
---
22. MyCleanPC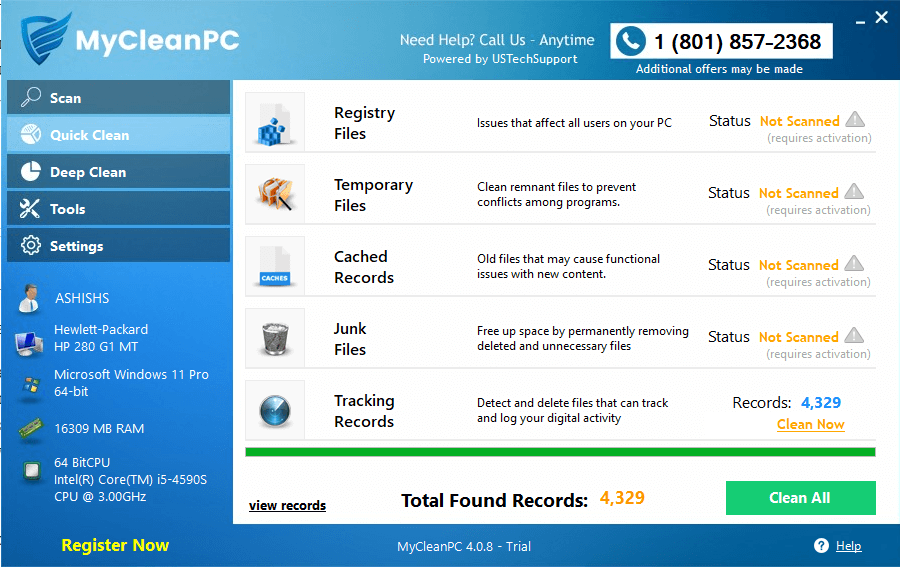 MyCleanPC is the next one on our list of best free PC cleaner software for Windows 10. The optimizer and cleaning software can save your system from multiple problematic files such as adware, temp files, cache, etc. Additionally, it can remove all the unwanted files collected over time. Use the Registry cleaner & privacy protector to save space on your system and improve the speed.
What We Love About MyCleanPC?
It has an easy and clean interface.
Powerful scanning algorithm to clean your device by removing unnecessary data and files.
Force stop pop ups and thus increase the security of your PC.
Simply start with the Free version and switch to Paid tool whenever required.
Final Verdict on MyCleanPC
To keep your system protected you must install MycleanPC cleaner. This optimizes the space but also improves the overall efficiency of your device.
---
Frequently Asked Questions
Below we address all the queries you and our other readers may have about the best software to clean your pc.
Q1. How often should I clean my computer and other devices?
Cleanness is essential to keep the PC in good working condition. Hence, you should perform regular PC maintenance and cleaning, preferably once every fortnight, to ensure smooth computer operation and avoid issues like Blue Screen of Death, etc.
Q2. Which is the best free PC cleaner?
All the PC cleaners shared in this article have unique characteristics, making them the best in their own way. However, below are some of our top favorites to clean our PC.
IObit Advanced SystemCare
CleanMyPC
CCleaner
Q3. Is there a default PC cleaner in Windows 10?
Windows 10 comes with Storage Sense to delete useless and temporary files and perform recycle bin cleaning. However, it is not as effective and feature-rich as the best PC cleaning software shared in this article.
Q4. How to perform PC cleaning for free?
There are two ways to clean a computer for free. You can perform PC cleaning using dedicated software automatically or by following the below ways to do it manually.
Use Storage Sense
Delete browser history and unnecessary extensions
Defrag the disk
Uninstall wanted software
Turn off unneeded startup applications
Q5. Is PC cleaner safe?
Yes, the PC cleaner tools are safe to use. However, it must be noted that you pick the software from a trusted brand as these tools have access to all your system data. Make sure you have an overview of users both professional and personal before you install a PC cleaner on your device. For your convenience, we have researched and listed the best free PC cleaner software in the article. Refer to the features of each and use the one that matches your requirements.
Q6. Is there a truly free PC Cleaner?
Yes, a bunch of totally free PC cleaners is available online. We have mentioned the 18 best free PC cleaner software for Windows 11, 10, 8, and 7 devices. However, if you really want to move to the absolute best pick the Advanced System Repair tool.
Q7. Is PC cleaner legit?
Yes, legit PC cleaners are available, you just need to make the right choice. These cleaners work by targeting the inefficiency of your device and cleaning all the clutter to improve the performance of your PC. Multiple tasks are performed such as removing cache data, limiting the background processes, etc. These tasks if performed individually can take a lot of time and effort, therefore PC cleaners make the process of cleaning smooth and efficient.
Q.8 Will a PC cleaner speed up my computer?
Yes, a PC cleaner can speed up your computer as it allows you to easily get rid of the space and memory hogging unnecessary files. Hence, allowing you and your system to get more space for working.
Q.9 Why do I really need cleaning software for my PC?
Yes, you need cleaning software for your PC as over time, many unnecessary files accumulate on your system, creating havoc. Hence, it becomes quite difficult at times to work. The cleaning software can help you use the PC in a better way.
Q.10 Does cleaning software really work?
Yes, cleaning software really works and allows your system to get more storage. These tools will scan your system deeply for unnecessary junk and get rid of the same with ease.
Q.11 What software can I use to clean my PC?
There are various best free PC cleaner software for Windows. Depending on your specific requirements if any you can choose any one of the software from the above list. However, if you are looking for a recommendation download the all-in-one Advanced System Repair for PC cleaning.
Q.12 What is the best and safest way to clean your PC?
To keep track of junk files, remove cache, and other unnecessary data from your PC you need the best free PC cleaner software. Since manual cleaning is time consuming and requires a lot of effort, switch to PC cleaner and optimizer. Read the above list and make the best choice for your Windows device.
---
Speed Up & Optimize Your Windows with Best PC Cleaner Tools (2023)
Computer systems and laptops form an integral part of our day-to-day life. PC cleaning software helps in maintaining its overall health and ensures smooth working. We hope the above article helped you in finding the best PC cleaner tool for Windows 11, 10, 8, or 7 devices.
Such a tool helps to remove junk files, fixes registry entries, eliminates issues resulting in slow PC speed and enhances its overall performance. In addition to this, they also take care of your online privacy. So, what are you waiting for? Refer to the above-mentioned best free PC cleaner software to clean, optimize, and speed up your slow Windows computer.
Prachi Dani is a technical content writer who specializes in areas of science and technology. She is highly up to date with technological transitions and transformations. Writing is not her passion but the only thing that carries satisfaction in life. If not writing, you may find her engrossed playing action games on her treasured smartphone.
Subscribe to Our
Newsletter

and stay informed

Keep yourself updated with the latest technology and trends with TechPout.
Related Posts