17 Best Free PC Cleaner Software for Windows 10, 11 in 2023

Fed up with a slow and sluggish computer? If yes, you can try the top 17 computer cleaners in 2023 to clean your PC deeply, speed up, optimize, and improve its performance. 
A new PC always performs faster than one can imagine. It gets everything done with a snap of the fingers. However, as days pass, the same leopard-fast computer becomes snail-slow. It appears it takes ages to execute even the simplest tasks, such as opening a file. Moreover, you start experiencing gaming and other glitches on an old computer. Have you ever wondered why? Well, the most common reason behind a PC's sluggish performance is the accumulation of junk. Hence, you need a PC cleaner and tuneup utilities to make your device clutter-free.
A computer cleaner optimizes and takes the device's performance to another level by removing corrupted registry files, cleaning the program cache, deleting temporary files, and performing many other tasks. However, the web is full of cleaners claiming to be the best PC cleaner software, and it becomes challenging to distinguish the truly reliable ones from the fake programs.
Hence, we dived deeper into the realm of Windows PC cleaners to compile a list of the programs that truly elevate your computer's performance for free. We created this list after thoroughly evaluating all the available software in terms of several factors.

Let us discuss these factors that make any Windows cleanup software the best tool to clean your PC before moving on.
What Is the Best PC Cleaner
A program with the following qualities is what you can call the best software to clean a PC.
One-click cleaning
Efficient junk removal
Optimizes RAM and cleans registry
Protects your privacy
Availability of additional features, like software uninstallation, startup manager, game booster, etc.
Let us now take a look at the best free PC cleaner software with all or most of the above features.
17 Best Free PC Cleaners and Tuneup Software for Windows 10, 11
Below are our top picks for the best free PC cleaners for Windows 11/10 in 2023.
1. WinRiser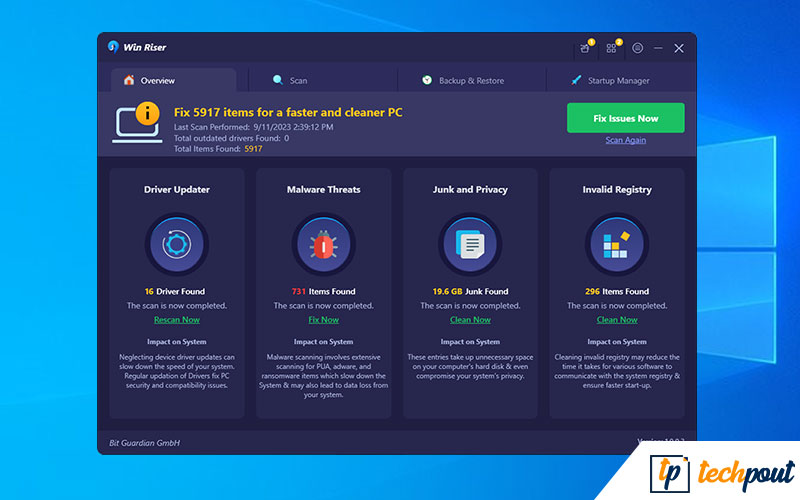 One of the best free PC cleaners and tune up software for Windows 11, and 10 computers on our list is Win Riser. The tool is well-known and popular among many Windows PC users worldwide. The program's robust features and cutting-edge functions are the main drivers of its appeal. With Win Riser, you may clean up clutter, fix registry issues, delete temporary files, and carry out other operations to enhance the device's overall efficiency. Above all it can also act as an automatic driver updater too and malware remover tool.
Key Features of WinRiser
You receive accurate system status information via deep scanning.
It has an integrated trash cleanup feature that carefully checks your system for transient logs and rubbish files.
Can search temporary logs, junk, and other files.
Ensures you get the latest and compatible driver updates for your system.
Can fix the malware issues on your device.
Offers one-click solution for various system problems
Improves the performance of your device
Around-the-clock customer support

---
2. Outbyte PC Repair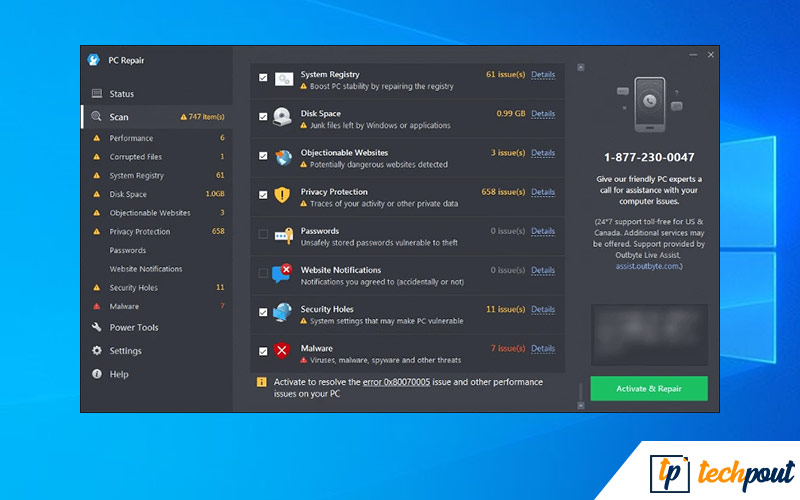 Let us first talk about Outbyte PC Repair. It is among the best PC cleaners for its quick computer performance overview, easy identification and solution of PC performance issues, and features like an in-built file shredder for safe deletion of files.
Moreover, a driver updater, registry cleaner, disk defrag tool, and the following features contribute to making Outbyte PC Repair the top free computer cleanup software.
Key features of Outbyte PC Repair
Scheduled automatic disk cleaning
One-click PC tune-up and junk/temporary files removal
Protects your device from spyware and malware
Identifies and removes unused cache or temporary files
Scans and helps you remove PUAs, i.e., Potentially Unwanted Apps
Real-time boost feature, allowing you to prioritize certain apps for CPU processor time
Deletes all tracking cookies and alerts you to potentially harmful websites
Disables telemetry features of Windows and automatically removes old browser history and cookies

---
3. Advanced System Repair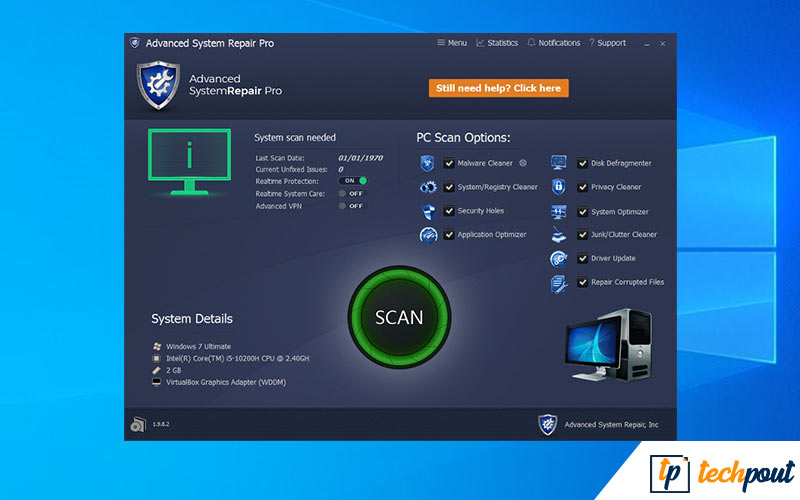 Lastly, we have Advanced System Repair to conclude our list of the best free PC cleaners and tuneup utilities for Windows 10 and 11. It is the ultimate toolbox with all the needed tools to clean, fix, protect, optimize, and boost your computer. Moreover, 1-click maintenance, junk cleaner, in-built application optimization feature, and the following praise-worthy features.
Key features of Advanced System Repair
Boasts a highly efficient junk cleaner
Finds and removes all kinds of harmful malware
1-click disk defrag
All-in-one privacy cleaner suite to protect your privacy
Cleans old and broken registry entries

---
4. CCleaner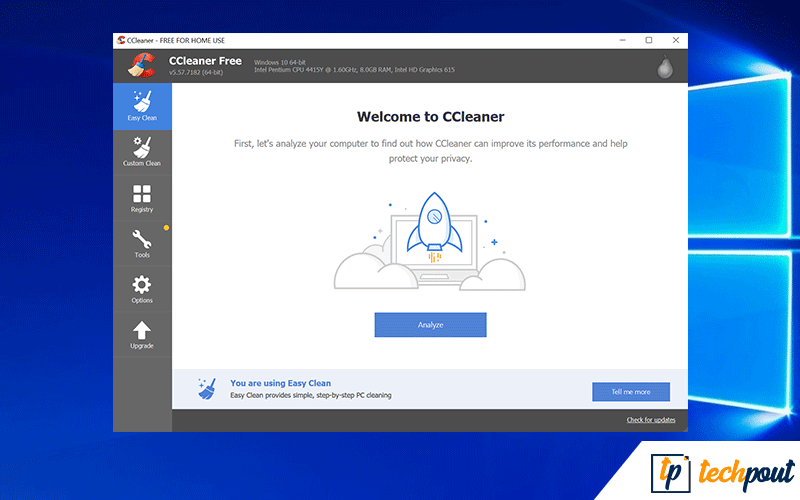 We have CCleaner in the seventh position on this list dedicated to the best free computer cleaners and the best PC tuneup software. It is among the most popularly used programs for cleaning PCs due to its powerful modules to clean system junk, temporary files, and tracking cookies.
Moreover, CCleaner boasts an in-built utility to analyze the disk space (it lets you know which folders or files are hogging up the disk) and the following beautiful features.
Key features of CCleaner
Registry cleaner to fix broken Windows settings and invalid registry entries
Disables programs running in the background to make your device boot faster
Duplicate photo finder and cleaner to find and remove space-hogging duplicates
Boasts a scan scheduler, internet connection speed booster, driver updater, and a disk defragger
Real-time PC monitoring with a one-click utility to tune up the computer's performance
Privacy protection with efficient handling of bloatware, malware, adware, spyware, and other security threats

---
5. iObit Advanced SystemCare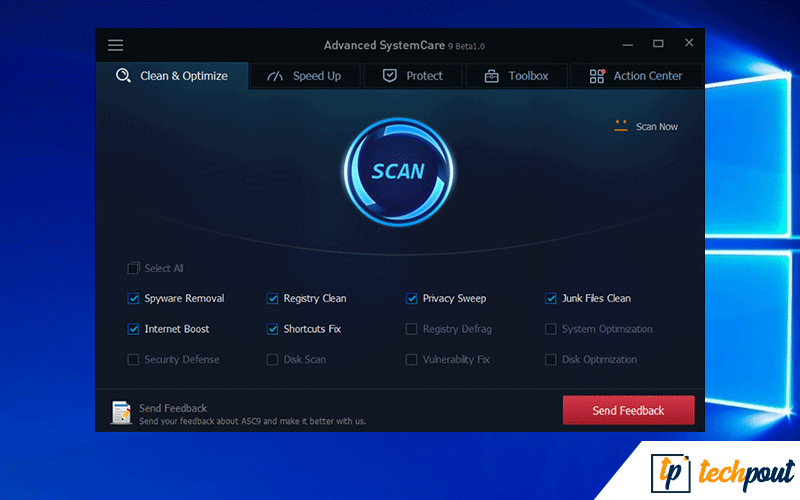 Advanced SystemCare from IObit is also one of the best PC cleaning tools and tuneup software you can use for free. It uses the power of AI (Artificial Intelligence) to clean, speed up, and protect your data privacy. We like Advanced SystemCare the most for its real-time RAM cleaning, actual-time PC performance tuneup, highly efficient large file cleaner, Firewall protection, and anti-tracking for private browsing.
Moreover, the correction of all hard drive-related errors and the following features are other reasons this software is among the best free PC cleaners in 2023.
Key features of iObit Advanced SystemCare
A driver updater that can update 3000000+ drivers
Protects your browsers and emails
Updates all essential software in real-time
Availability of many optimization tools such as uninstaller software and a hard-drive disk defragmenter
A health monitor dashboard showing a complete overview of your system status
One-click deletion of temporary files, APK files, system logs, system cache, and other unwanted files

---
6. CleanMyPC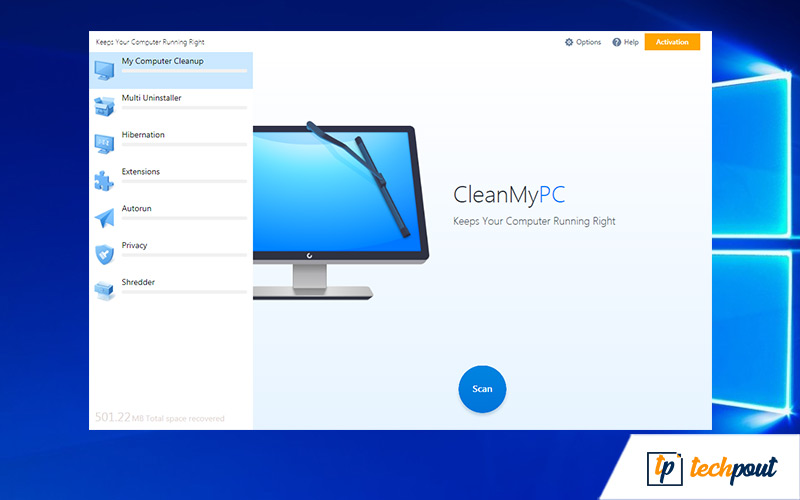 The next Windows PC cleaner you can download is CleanMyPC. It is a popular choice to clean up junk files, speed up your PC, and boost its performance. Moreover, its registry cleaner, application uninstaller, and startup program manager are its most likable tools. Furthermore, the following features are also some core factors justifying CleanMyPC's position as one of the best PC cleaners for Windows 10 and 11.
Key features of CleanMyPC
Allows you to quickly spot and turn off unneeded extensions
Cleans your browsing history, browser cookies, and login data
Boasts a file shredder to delete files securely
Lets you disable the hibernation file

---
7. iolo System Mechanic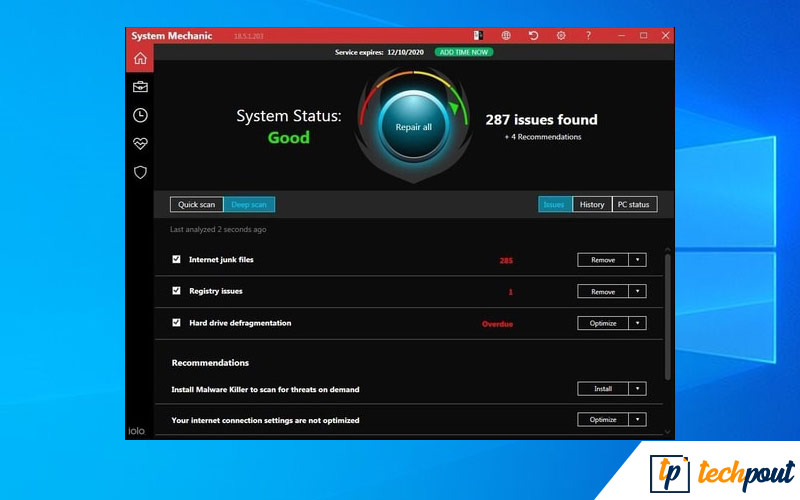 Next, we would like to introduce you to System Mechanic. This software from iolo significantly improves your internet and processing speed. Moreover, it is well-known for protecting your online privacy and security by wiping sensitive browsing history and patching Windows security vulnerabilities.
Furthermore, System Mechanic finds and fixes 30000+ computer problems, updates drivers, defrags disk, cleans the registry, cleans the disk automatically, and offers the following delightful features, bringing it to the list of the best PC tuneup software.
Key features of System Mechanic
Removes 50+ junk files from your computer
One-click PC tune-up
Speeds up your PC and protects it from bloatware, spyware, adware, and malware
Finds and removes unwanted startup programs that hamper your PC's performance
Also Read: Best Game Boosters and Optimizers for Windows PC
---
8. AVG PC TuneUp
AVG is a popular name in the antivirus industry. However, it offers equally good computer cleaning software. We like AVG TuneUp particularly because of its sleep mode (it puts resource-hogging programs to sleep), uninstallation of unneeded software, automatic update of outdated programs, and the following features.
Key features of AVG PC TuneUp
Availability of an automatic maintenance feature that removes tracking cookies, browser traces, program remnants, and cache files
Automatically detects and fixes bugs and crashes to ensure top-notch PC performance
Many optimization features, such as driver updater, registry cleaner, disk defrag, and scheduled automatic disk cleaning
Highly-efficient browser cleaner for safer, lighter, and faster browsing
Finds and removes malware, bloatware, adware, and spyware
---
9. Ashampoo WinOptimizer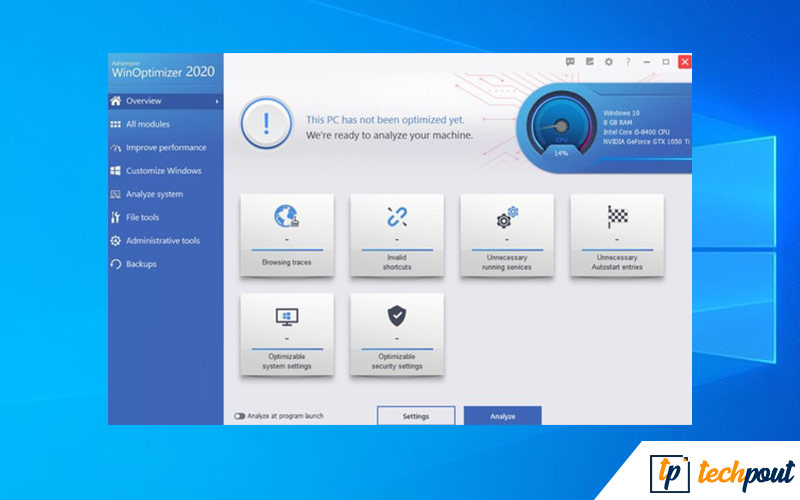 Let us now take a look at Ashampoo WinOptimizer. It is among the well-known Windows cleanup software for its uninstaller to remove unneeded apps easily, many system setting tools (such as Font Manager and File Associator), service and process manager to track Windows services and processes, and the following features.
Key features of Ashampoo WinOptimizer
Internet cleaning for comprehensive removal of cache and other junk created during browsing and downloading
Availability of all essential tools like registry optimizer, context menu, and much more
Internet connection booster boosts your computer's internet speed
Allows you to split up large files and restore accidentally deleted files
Boasts an ADS scanner to detect hidden data streams
Availability of more than 30 modules for a perfectly working computer
Boot sector optimization helps your computer boot faster
---
10. Fortect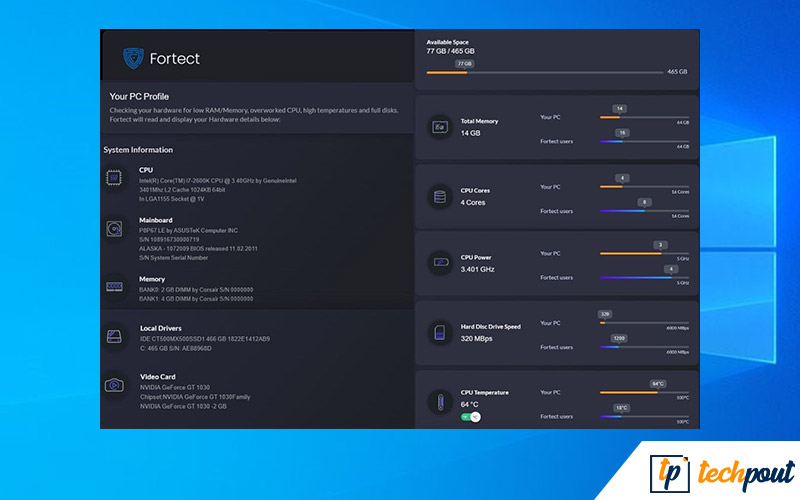 We have Fortect as the third-best free computer cleaner for Windows. You can use this software to find and eliminate malware and viruses even from the hidden PC corners and to keep your device junk free.
Additionally, features like browser history cleaning, removal of tracking cookies, and the following justify Fortect's position as one of the best free Windows PC cleaners.
Key features of Fortect
Repairs and replaces damaged/missing OS files
Monitors and protects downloads from malware and viruses
Optimizes and cleans Windows registry
Detects and repairs computer stability problems
Boasts a driver updater
Detects and alerts you about dangerous websites
---
11. Restoro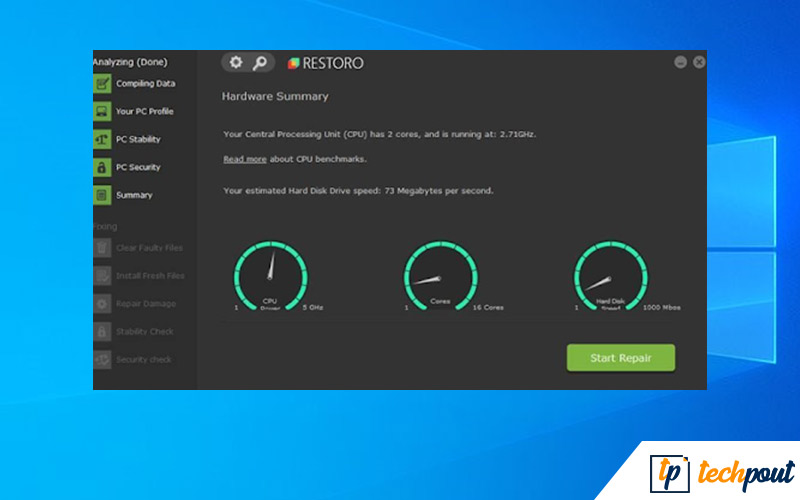 Talking about Restoro, it is the twelfth-best free PC cleaner for Windows 10 and 11 in 2023. In addition to free disk space, this software delights you with malware removal, detection of dangerous websites, and the following features.
Key features of Restoro
Detects and fixes system issues in real-time
Optimizes your computer's registry
Helps in Windows OS rebuilding
Improves system performance
Also Read: Best Overclocking Software For Windows
---
12. Microsoft Total PC Cleaner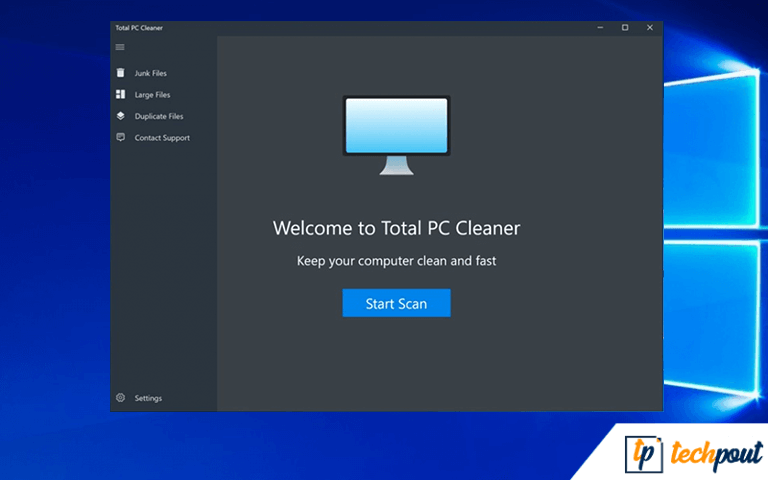 Talking about the Microsoft PC Cleaner, it is the ninth-best Windows cleanup software. It helps free up ample space on your device with its extremely powerful tool to clean large/unused files, remove duplicate files, and many other useful options.
As far as features are concerned, below is what makes Microsoft Total PC Cleaner a highly attractive free computer cleanup software.
Key features of Microsoft Total PC Cleaner
Removes junk even from the deeply hidden corners of your computer
Deletes the system, browser, mail, application, and office cache
Boasts an in-built ad cleaner
User-friendly interface
---
13. Easy PC Optimizer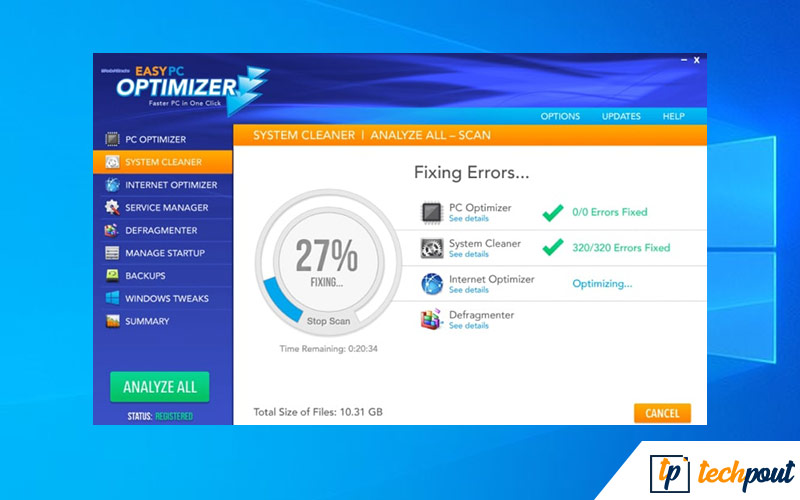 Here comes Easy PC Optimizer. It is among the best free tools to clean Windows 10 PC and a popular tuneup software for its disk defrag, registry cleaner, startup optimization, and plenty of other useful features.
Talking about features, below is what we like the most about Easy PC Optimizer, making it a part of this list sharing the best free Windows PC cleaners.
Key features of Easy PC Optimizer
Improves internet download speed, RAM and CPU performance, and PC's boot time
Fixes system crashes and manages system services
Allows you to tweak hidden PC settings
---
14. BleachBit
If you are looking for an open-source computer cleaner, you can try BleachBit. Boasting a simple UI, this one of the best tuneup utilities helps maintain your PC's privacy and security, along with keeping it junk-free. Below are some of the most fascinating features of this software.
Key features of BleachBit
Deletes app remnants
Removes traces of your browsing history
Cleans your computer deeply
Overwrites free disk space to hide previously deleted files
Portable application
---
15. Razer Cortex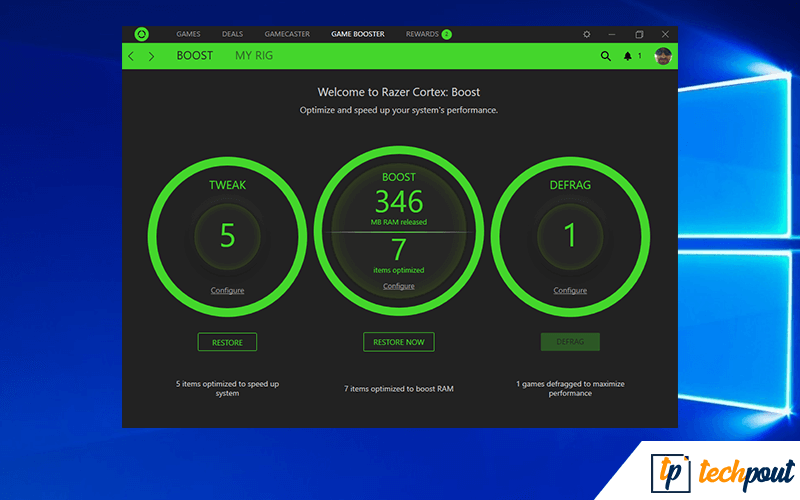 Razer Cortex can be the best computer clean up software if you wish to free RAM space for smooth gaming. It elevates your gaming experience by killing unwanted processes and resource-hogging apps not required when playing games on the PC. Moreover, below are some of the remarkable features of this software.
Key features of Razer Cortex
Auto boost functionality to enhance your gaming experience
Enhances your PC's FPS (Frames Per Second)
You can cast your gaming sessions
Regular software updates
Customizable game quality settings
Library to keep your games well-organized
---
16. Wise Cleaner 365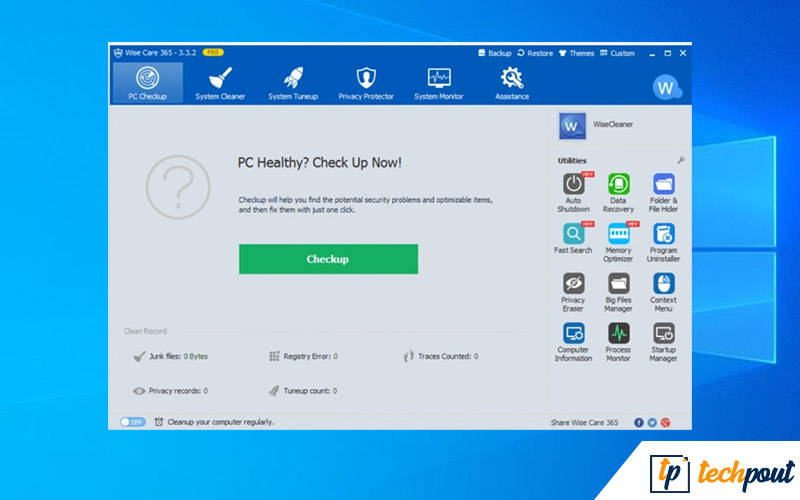 Let us now take a look at Wise Cleaner 365. It is one of the best PC cleaner software for its ease of use, disk defragging, and the following features that improve your computer's overall health and stability.
Key features of Wise Cleaner 365
Hassle-free Windows startup optimization
Availability of light and dark app modes
Cleans internet history and traces of your browsing activities
Scheduled automatic disk cleaning
Lets you manually choose the files you want to delete
---
17. Slimware Cleaner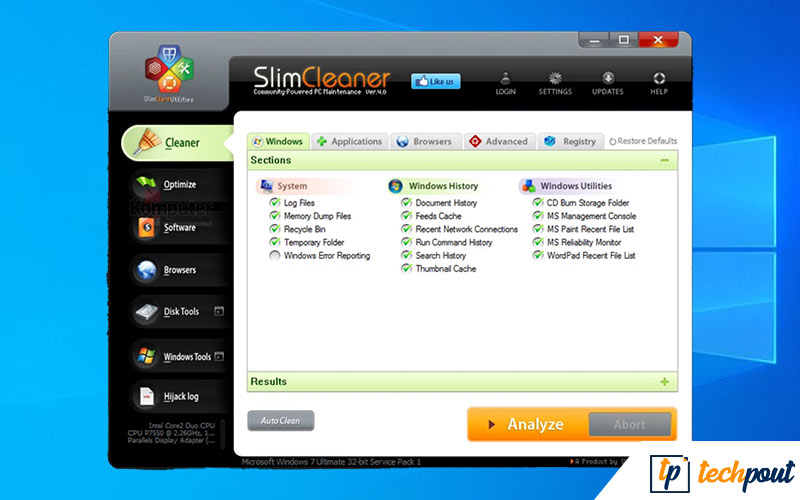 Yet another one of the PC cleaner software is Slimware Cleaner. This is one of the most amazing tools that has an easy-to-use interface for your convenience.
Key features of Slimware Cleaner
The tool can help you clean any PC.
You can remove junk in a single click.
The tool offers a multilingual UI.
Schedule tuneup sessions.
Search engine selection and browser cleanup tool
Also Read: Best Free Partition Manager Software for Windows PC
---
Summing Up the Best PC Cleaners
This article brought forward the best free PC cleaners for Windows 10 and 11 computers in 2023. You can go through all their features to pick the one that fits your requirements perfectly.
Moreover, if you think some other Windows cleanup software should also feature on the above list or have any questions about this article, kindly write us a comment.
Niharika is a passionate soul who finds immense satisfaction in putting all her thoughts in writing. Being a technology enthusiast, she loves learning new things about tech and making everyone technologically literate through her articles. When not composing tech articles, you can find her bringing characters to life in her fictional stories, reading something intriguing, or spending time with her near and dear ones.
Subscribe to Our
Newsletter

and stay informed

Keep yourself updated with the latest technology and trends with TechPout.
Related Posts