Computer systems form an integral part of our life and we use it for almost everything. We use it to do daily grocery shopping, pay online bills and visit other important websites. Apart from this, it is also used for other personal uses and entertainment purposes.
But have you ever imagined what happens when we use our PC for almost everything? Well, junk accumulates and affects its speed and performance, this eats away disk space making it slow and sluggish.
A good registry cleaner tool is the solution to such problems. Windows registry is crucial for optimal system performance, but any broken or outdated entry may affect its normal functioning and deteriorates its overall performance.
Before we move on to see some of the best registry cleaner tools, let's have a quick look at some of the advantages of cleaning registry entries.
Fix and repair all invalid and broken entries.
Gets rid of all residual entries from obsolete applications.
Improves system performance.
It improves its response time.
It avoids screen freezing and crashing issues.
So, without any further delay, let's check our roundup of best registry cleaner software for Windows 10/8/7 in 2020 that will repair and take care of all your windows registry related concerns.
12 Best Registry Cleaner Software For Windows in 2020:
Based on the features and user reviews, we have handpicked the 12 best registry cleaner software that one can find in the market currently. The tools mentioned below automatically removes various system entries including program shortcuts, empty registry keys, application paths, invalid class keys, file associations and much more.
Scan scheduler, startup manager, scan progress, run on startup, severity indicator and log files are few of the useful features offered by these tools. The main idea behind picking up these tools is based on their scanning and repair capabilities.
Here is the well-researched rundown for you.
1. CCleaner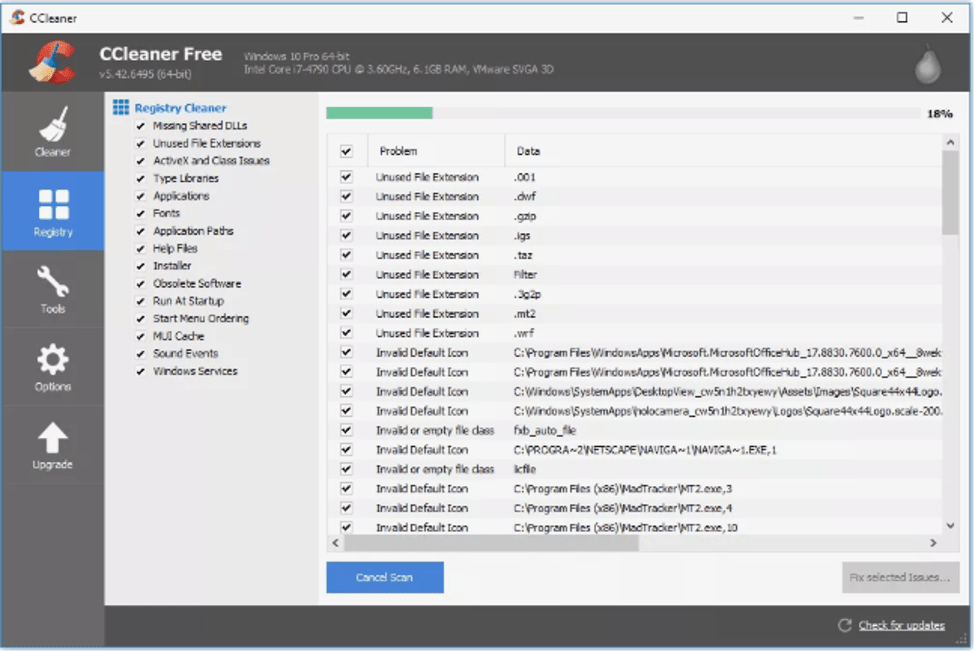 Well, our list of best Windows registry cleaner tools will be incomplete without this showstopper application which deserves a top place for several good reasons.
It works on almost all Windows versions and is completely free of cost. In addition to this, its simple layout and easy working make it even more useful. The feature that sets it apart from other similar tools is its portable format, which means you don't have to install the application to use it. You may also opt for its installable version.
More than just a registry cleaner software it is a system cleaner tool because of the vast basket of functionality it offers. It cleans junk files, cleans and repairs registry entries, makes your system more stable and enhances its performance.
With its advanced set of features, it can not only clean but also repair invalid registry entries including file extensions, application paths, DLL files, installers and many more.
Another best part about CCleaner is the complete backup options feature that it provides.
| Pros | Cons |
| --- | --- |
| Easy and fast installation. It comes in both portable and installable versions. | Its download pages are quite confusing. It looks as if the application is a paid one, which is however not true. |
| Loaded with impressive and outstanding features. | It may install a few other programs unless the permission is denied. |
| A small and handy application with just 1MB download size. | Although it's basic version is completely free. To enjoy advanced features and personal support you have to pay for its Professional Edition. |
| It creates a backup of files before repairing or deleting them. | |
| It can work on multiple Windows versions along with macOS 10.8 and 10.11 versions. Also available as an Android app. | |
Experience working on a faster computer with quick startup time and fewer errors with CCleaner.
Read More: 11 Best Disk Defragmenter Software for Windows
2. JetClean
Another best tool to Clean Registry in Windows PC is JetClean. With its advanced functionalities, it scans your system for invalid and broken system registry and repairs them.
JetClean comes in a simplistic design powered with a one-click user interface. Apart from this its ability to restore system and create backup files is one of its most-loved features.
Registry Defrag option is another useful feature that helps in optimizing the overall performance of the PC.
This lightweight tool comes in multiple languages including German, Russian and many more. It is available in 32 and 64-bit versions and can run seamlessly well on various Windows versions including 10/8/7/XP/Vista and 2000.
| Pros | Cons |
| --- | --- |
| Simple, convenient and intuitive User interface. | Portable version not available. |
| One-click mechanism. | It may install some unwanted toolbars during the installation process. |
| Performs regular and scheduled system maintenance and cleaning. Backups registry entries. | Advanced features are only available with its Professional Edition. |
3. Auslogics Registry Cleaner
Next on our list of best PC Cleaning Tool is Auslogics Registry Cleaner. It comes with a clean and convenient UI along with advanced PC optimization features. It scans and displays all problematic areas along with a severity rating to identify which areas need more attention.
With its system backup and restore options you can reinstall registry configurations from a particular point and avoid any data losses. It also offers its users to set an "Ignore list" to specific areas that should not be scanned.
The application is fully compatible with Windows 7/8/10 version of 32 and 64-bit along with a 32-bit version of XP and Vista.
| Pros | Cons |
| --- | --- |
| Automated registry backup and restore options. | It may install additional programs along with it. |
| You can pause and resume its functioning. | Advanced features come at an added cost. |
| One-tap cleaning and PC maintenance tool. | |
4. Glarysoft Registry Repair
If you are looking for an all-in-one tool that can scan your system and Optimize Windows Registry, then Glarysoft registry repair is a good choice to consider.
It's a free tool that offers at-par features as compared to other competitors in the market. It is a clean and safe software to use and automatically create backup files whenever necessary.
Its Export option is its highlight feature which allows you to store and save registry entries in a specified and dedicated folder.
5. Wise Registry Cleaner
If you are still looking for software that can fix DLL errors and repair registry entries then Wise Registry Cleaner will surely be of great help to you.
With time obsolete items get accumulated in the registry which can degrade your system performance and speed. Wise Registry cleaner effortlessly scan your system, detect all invalid registry entries and fix them to make it stable and fast.
Apart from this it also tunes up your sluggish pc for better speed and performance. All-in-all it answers all questions related to how to fix DLL errors and windows registry concerns.
It's a free tool, however, if you wish to enjoy advanced features you may opt for its pro version.
6. WinUtilities Free
WinUtilities is a freeware Registry Cleaner Software which offers almost similar features as any other tool on our list. However, one thing that sets it apart from its competitors is its ability to perform selection based cleaning and repair.
It can automatically backup registry entries before making any changes to them. It comes with an intuitive UI, is free of cost but does not support SSD defragmentation.
7. Registry Tuner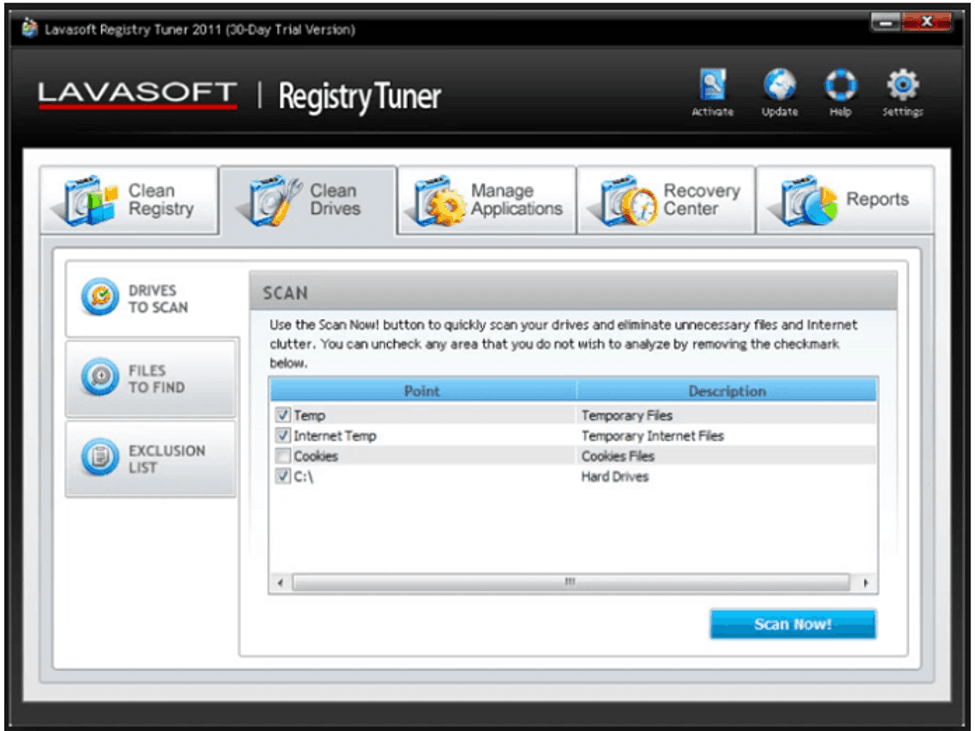 Set straightforward system goals with this registry cleaner tool. Its main aim is to fix and repair all invalid registry entries and offers multiple options to fit users' needs.
It is a paid application and offers fast registry cleaning features. Just set it up and let it do its work. It is a highly flexible tool with multiple registries fixing functionalities.
8. Comodo System Utilities
Next on our list of registry cleaner tool is this incredible tool with advanced and high-end features. Its ability to customize system scan is one of the highlights, apart from the backup option also makes it everyone's favorite.
Use this handy and simple tool and smoothly deal with broken registry entries. It is a one-click system clean-up software which does wonders to your system performance.
9. Slim Cleaner
Slim Cleaner offers a one-stop solution for all your system performance and registry data-related concerns. Its installation process is quite simple.
Clean your system registries with Slim Cleaner to enjoy peak performance and optimize system startup.
10. Easy Cleaner
This is one of the oldest Windows Registry Cleaner Tool that one can come across. Although its UI is quite outdated, it is still one of the most popular and robust registry cleaner software.
It is available in both portable and installer versions and works seamlessly well on various Windows systems.
11. Defencebyte Computer Optimizer
If you are looking for an advanced PC cleaning tool that promises high-end cleaning and system maintenance features, then Defence Byte can be a good choice for you.
It is completely free from ads and also offers a scheduled backup feature to avoid any data losses.
12. AML Free Registry Cleaner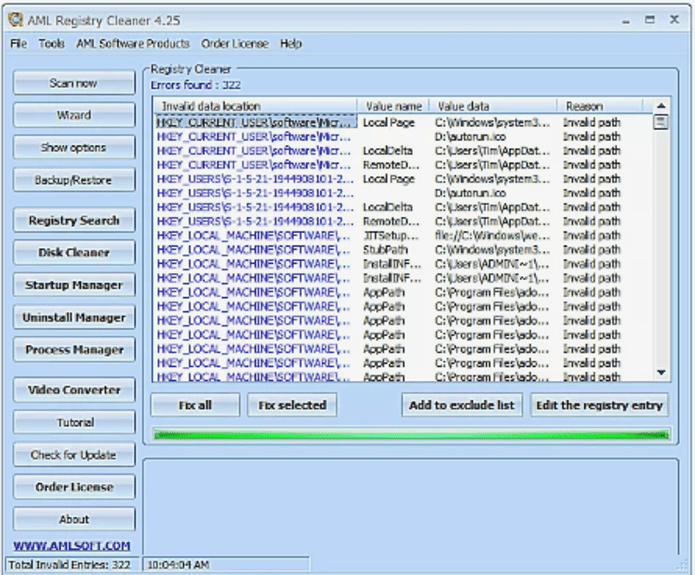 Last but not the least, AML Free Registry cleaner is known for its simple UI and superfast cleaning features.
It can create system backup and add restore points to avoid any data losses. It is compatible with various Windows systems.
Wrapping Up
So, these are some of the best registry cleaner tools for your Windows system in 2020. Clean and proper registry entries are crucial to a system performance, which makes it even more essential to deploy a good tool that can take care of all your registry related concerns.
Each of the tools mentioned above contains a unique set of features. Choose the best-suited software for a stable and speedy system.
Frequently Ask Question's
What is a Registry Cleaner Tool?

A registry cleaner is a third-party tool designed to detect and repair all broken registry entries and remove redundant items for uninterrupted system performance.

Why Is It Essential to Delete Registry Entries?

Unwanted and corrupted entries can affect your system health, hence deleting them from time to time is essential for fast and smooth system performance.

Does Removing Registry Entries Enhances System Performance? 

The answer is a sure Yes. With time our system gets loaded with several redundant and broken entries which increases system load and results in instability and crashing. 

Regular clean up will fix all related issues.

Is It Safe to Use Registry Cleaner Software For Windows? 

Yes, it is completely safe. These tools are specifically designed to improve your system health by repairing all broken and outdated system entries.