7 Best Free Partition Manager Software for Windows PC in 2020

Technological advancement has led to massive growth in the development of computer systems. Over the years, the software industry has grown immensely along with the amount of data computer hard drives can hold.
Managing this bottomless ocean of data manually with the Windows disk management software seems like an impossible task. A partition manager software can give you an easy rescue from this tedious task and help you manage your data efficiently.
Partition Manager Software For Windows 10 | Decoded
Partitions are separate locations on your hard drive used to divide data into logical sections. A partition manager application is an intelligently designed tool for optimizing and managing your hard disk space. It supports several functions like expanding, merging, dividing, resizing, splitting, and shrinking the partition of your hard drive.
So, if you want to keep your multimedia files in one partition and use the other one to store OS, we suggest you use a disk partition software. Want to keep your hard disk neat and clean? Pick the best partition management tool and enjoy added benefits.
Best suited for computer geeks, Windows 10 partition software can help you manage and organize your data quickly and easily. You can use it to store all your cloning software and other applications in C driver and use the other ones to store multimedia files, videos, photos, etc.
With the best partition manager software, you can also declutter your storage space. This will also save a lot of time that you would otherwise spend in looking for your required files.
It also improves its overall performance.
Apart from this, you can also create a separate partition to store your sensitive information using a partition manager software for Windows 7, 8, and 10 PCs. This helps you mitigate the risk of losing important and sensitive data.
They also give you an option to label your disk partitions that supports easy identification and reduces the access time.
The following are some of the most popular and best partition manager software that will help you organize and manage your hard disk partitions effectively in 2020.
---
Best Free Partition Manager Software for Windows 10, 8, 7 in 2020
Whether you are looking to shrink disk partition space, merge two partitions, delete an existing partition, or erase data from it, the below-mentioned partition manager software for free will surely come in handy.
So, without wasting any more time let's have a look at some of the most popular and best free partition management software. 
1. AOMEI Partition Assistant (Feature Rich & Free Partition Manager Tool)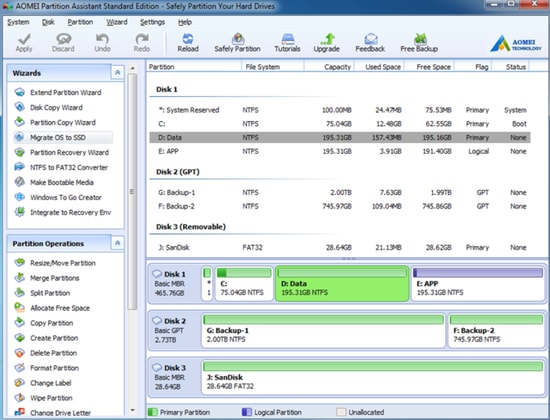 AOMEI is a popular name amongst the tech geeks and comes at no cost at all. In addition to this, it is also available in multiple other versions including the Technician, Professional, Unlimited, and Server edition. This adds on to its overall functionality and makes it a great option for both home and professional users.
With this free hard disk partition manager software you can resize, format, split, merge, create, and recover partitions with utmost ease and efficiency. Apart from this, you can also use it to build MBR and it lets you convert file systems from NTFS to FAT and vice versa.
This disk partition software for free is fully compatible with various versions of Microsoft Windows PC.
Pros
Feature rich application powered with an intuitive interface.
Can create bootable flash drives.
Supports Windows 10, 8.1, 8, 7, Vista, XP.
It can shrink, resize, extend, merge, create, format, delete and completely wipe multiple partitions.
Optimize space by allocating free space from one hard drive to another.
Cons
Some of the advanced features are packed behind the paywall and are only available with the premium version.
---
2. EaseUS Partition Master (Best Free Partition Management Software)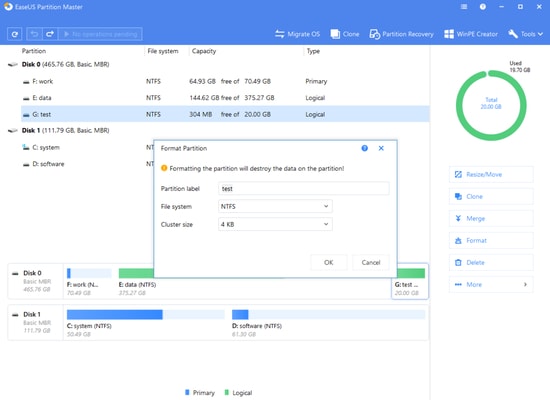 This interesting partition manager software for free earns our vote due to two main reasons. First, it works stunningly well on all Windows versions; Second, its basic version is completely free of cost and has a massive basket of features to offer.
You can use this disk partition tool to resize, merge, clone, move, format various partitions. What makes it even better is its simple working, just a few clicks and you are good to go. The graphic interface is another impressive feature that allows you to expand or shrink partitions as per your requirements. Moreover, the changes are made only virtually, so that you can review them before saving.
Hiding partitions, optimizing a drive, defragmenting hard disks, copying OS to different HDD are a few of its other notable features.
Pros
Well-designed and intuitive interface
Password protection.
Gives a preview option before making the final changes.
Regular and automatic software updates
Easy to use
Cons
The free version is limited to personal usage and Cannot be used for commercial purposes.
It cannot convert MBR to GPT and vice-versa.
---
3. Paragon Partition Manager (Top-Rated Free Disk Partition Software)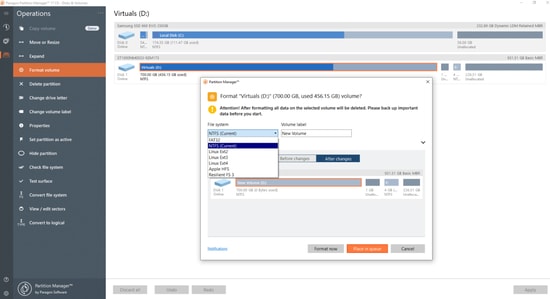 Paragon is a comprehensively designed hard disk partition software for Windows 10, 8, and 7 users. It is available in both free and paid versions.
If you want a tool that can help you accomplish all the basic disk partition work then this intelligent tool from Paragon is a great pick. With its free version, you can resize, format, hide or delete partitions and even convert MBR to GPT and vice-versa.
All-in-all the basic version of this free partition software is enough to get the job done swiftly and easily. However, if you wish to enjoy advanced features like converting dynamic to basic, NTFC conversion to FAT32, then we suggest you pick its premium version.
Pros
Comes with detailed walkthrough guidelines
Easy to use and intuitive interface
Supports all major Windows versions
Gives an option to undo/redo the changes
Cons
Free version comes with basic features
Free version is not available for commercial use.
---
4. GParted (Quick & Free Partition Management Tool)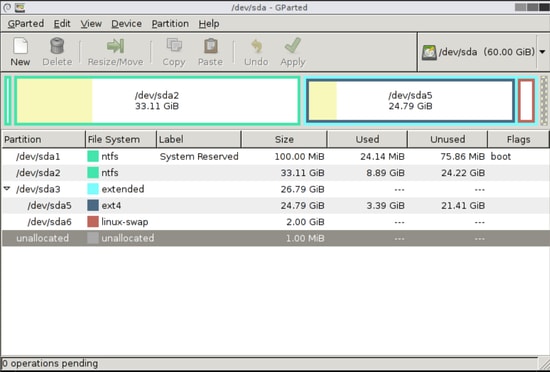 Here comes another free partition management software that can run from a USB/ bootable device and is free from all installation needs. Some of its basic features include resize, copy, delete, and hide partitions.
Besides this, you can also use this free disk partitioning tool to format partitions in different styles including NTFS, XFS, ETX/2/3/4, and FAT16/32. What adds to the beauty of this partition manager software is that there is no need to reboot your device to apply the changes.
Apart from this it also support drive error checking and can be used to change the volume labels.
Pros
Familiar and Easy-to-use graphic interface.
Portable design that does not need an OS
Queues all alterations and then apple the changes in one go
Cons
Bulky design of 300MB file size
It cannot be used ro redo the changes made.
---
5. MiniTool Partition Wizard (Multi-functional Disk Partitioning Program)
Next on our list of top-rated and reliable free partition manager software is Minitool. It's simple design and straightforward interface makes it a go-to tool for both beginners and professionals. Apart from the basic disk partitioning activities such as formatting, merging, resizing, creating, deleting it can also accomplish several advanced tasks effortlessly. Advanced offerings include partition alignment, checking of file systems for errors, data sanitization, and running surface tests.
You can use it to extend your existing partitions and recover data from previous partitions. Its Data Protection mode saves you from data loss due to sudden power failure while partitioning.
Pros
Supports all Windows versions
Allows to you extent the current partitions without rebooting your device
Easy to use program, suitable for beginners
Cons
This free partition software fails to deal with dynamic disks.
Advanced features are only available in premium edition.
---
6. IM-Magic Partition Resizer (Best Disk Resizer Software for Windows)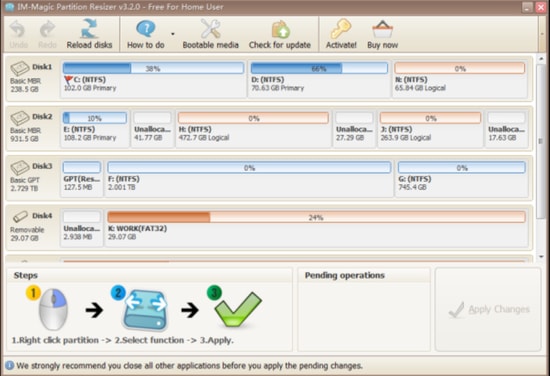 Yet another impressive and highly popular partition management software for Windows PC. With this feature-rich tool, you can effortlessly copy, resize, move your hard disk partitions. Additionally, it also gives you an option to change labels, check them for errors, erase data from the partitions, and conversion from NTFS to FAT 32.
The changes are done in real-time and once you are through viewing the final look you can hit the Apply Changes button to save the changes. All-in-all it's a great pick if you are looking for a top-rated and reliable partition manager software for Windows PC
Pros
Feature rich free partition software
User-friendly working
Option to preview changes before the final partitions are saved
Cons
Free version does not suit commercial requirements.
Advanced features are looked behind the paywalls.
---
7. NIUBI Partition Editor (An Impressive Software to Manage Disk Partitions)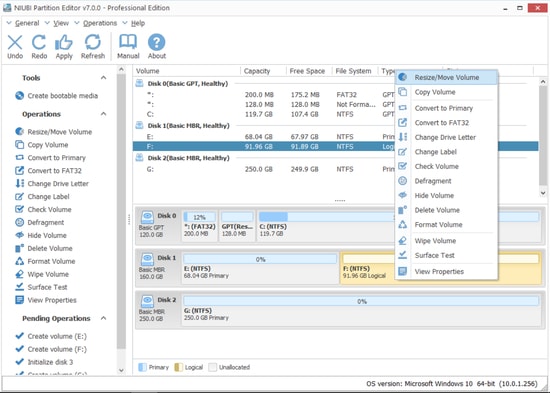 Image Source: CNET
Last on our list of free partition management software is this intelligently designed program. NIUBI allows you to create, delete, merge, resize, format, shrink and expand disk partitions. It optimizes your hard disk space and works comfortably well on all versions of Microsoft Windows.
Pros
Creates partition labels for easy identification.
Fast and smooth interface.
Ensure data security with features like earring data, hiding partition and setting read-only.
Cons
High-end features are available in paid plans.
---
Flexibly Manage Hard Drive Space With Best Free Disk Partition Software
There is a bottomless ocean of best free partition manager software that offers both basic and unique features. Some of them also come in premium versions offering advanced features.
If you have been struggling to manage your SSD and HDD partitions we recommend you refer to the above-mentioned free partitioning software and pick the best-suited one for yourself.
If you think that we have missed on any reliable option please leave your choices in the comment section below.
Prachi Dani is a technical content writer who specializes in areas of science and technology. She is highly up to date with technological transitions and transformations. Writing is not her passion but the only thing that carries satisfaction in life. If not writing, you may find her engrossed playing action games on her treasured smartphone.
Subscribe to Our
Newsletter

and stay informed

Keep yourself updated with the latest technology and trends with TechPout.
Related Posts