Are you feeling that your PC performance has gone down to a large extent over time? Then, overclocking is the only thing that you can do in order to level up your system's performance. 
All you need is only – a good overclocking software for your Windows 10 PC to boost. The core components like CPU, GPU, and Ram can be easily overclocked. Plus, HDDs don't have their own internal controllers, even they are controlled by the operating system. Isn't it so interesting? Probably, but only when you know every bit about Overclocking.
And, if you are new to this then you'll find it very tricky to deal with. But, no need to panic, let's read what is Overclocking, before moving ahead towards the best overclocking software!
What is Overclocking?
Basically, Overclocking is the operation of raising the component's clock rate, operating it at a higher pace than it was designed to run. Many users think that overclocking implement only on GPU or CPU, but it is a myth, other components can be overclocked as well. If a component's clock rate increases then you can execute more operations per second. But, it also produces extra heat accordingly. So, if your PC runs slow at speed, then by setting the higher clock rate you can speed up the CPU. 
An overclocking tool is the answer to all such issues and would make your PC work more smoothly and efficiently. Overclocking programs are specially designed to accelerate the clock rate of various components against their by default limits. With higher limits, the CPU and GPU of your system are forced to process more operations per second which boosts the speed and performance of your Windows PC. The obvious reason for using tools is to enhance PC performance, besides, they also aid better graphics and smoother action. 
Now, take a look at our list of the best GPU/CPU Overclocking software that will help you safely overclocking your system hardware in 2023.
Best Overclocking Software For Windows 10, 11 In 2023
Check out our well-researched list below to know about the top CPU and GPU overclocking software to speed up your PC without upgrading its hardware components.
1. MSI Afterburner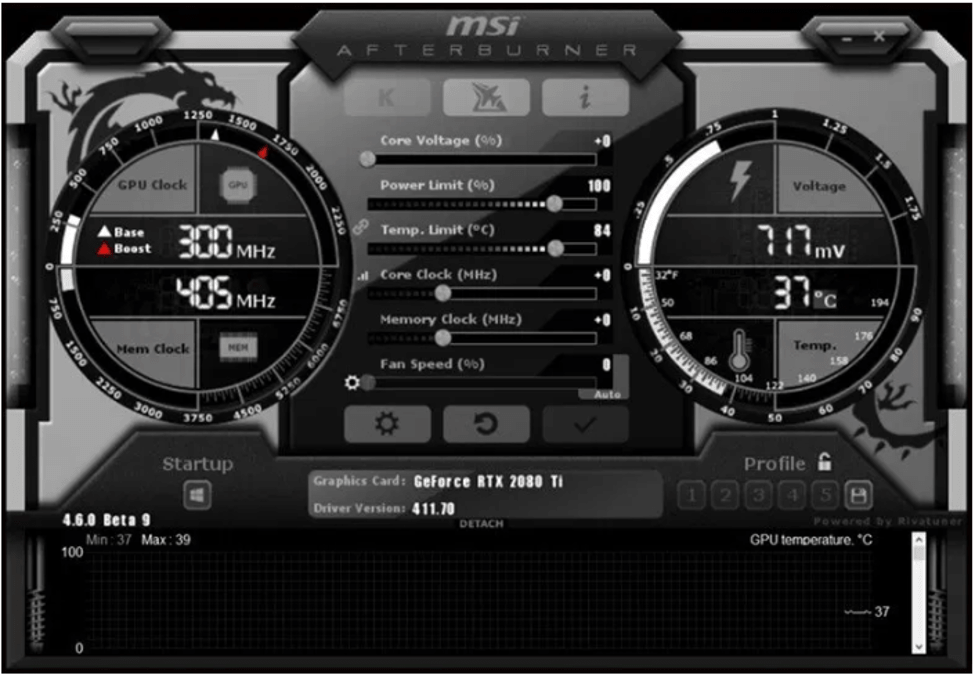 System Requirements:
Windows 7, Vista, and XP with full administrative rights (both 34-bit and 64-bit versions)

AMD Catalyst 9.3 or greater drivers with AMD RADEON HD 2000. 

NVIDIA GeForce 6 or above with NVIDIA Forceware 96 or greater drivers.
This power-packed software earns first place on our list for fairly good reasons. It is one of the Best GPU Overclocking Software with which you can explore the true limits of your graphic card settings. 
It is free software that comes with easy-to-use functionalities and a wide variety of features to offer. It works seamlessly well with most of the graphic cards available in the market and provides an elaborate report of all your system hardware. It also provides real-time numbers of voltage, GPU usage, temperature, and clock speed.
Apart from this, its custom fan profile feature aims at striking a perfect balance between enhanced performance and overheating. Enjoy full control of your graphic cards with this zero-pricing software.
Major highlights of MSI Afterburner in a nutshell:
Compatible with multiple graphic cards.
Free of cost.
Ability to adjust GPU voltage and fan speed.
It can provide real-time information about your PC hardware and its performance.
---
2. EVGA Precision X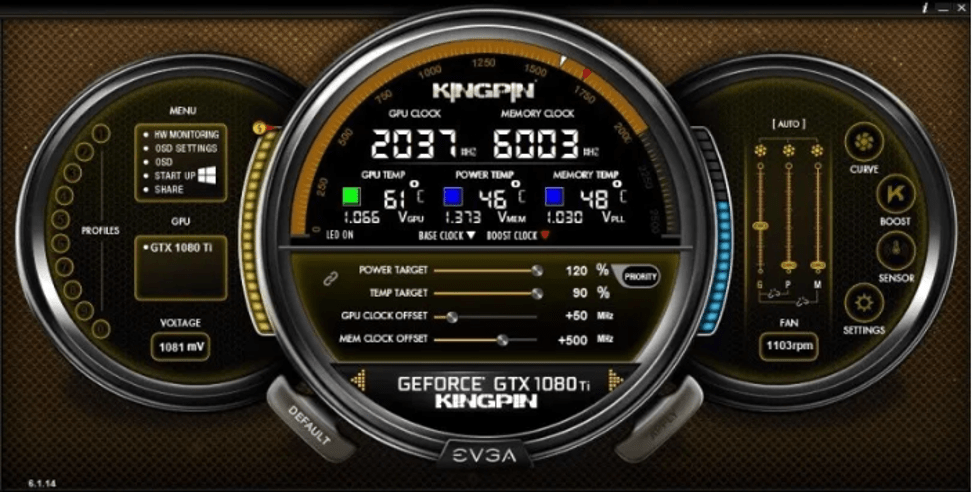 System Requirements:
Windows Vista, 7, 8, 8.1, or 10.

GeForce GTX TITAN, 900, 700 or 600
Next on our list of best GPU and CPU overclocking software for Windows 10 is EVGA Precision X. The software is compatible with various Nvidia graphic cards and aims at fine-tuning them with voltage, memory, and GPU controls.
Read Also: Best CPU Temperature Monitor Tools For Windows
It can support multiple system components and is powered with a modern yet easy-to-use interface. OSD interface powered with RGB color support, fan control with custom fan curves, and custom system profiling using Pixel Clock Overclocking or hotkeys are a few of its notable offerings.
Key Features of EVGA Precision X
It improves gaming speed.
It provides an easy mechanism to control and increase fan speed voltage.
It supports close to 10 different overclocking setups with easy switching.
---
3. CPU-Z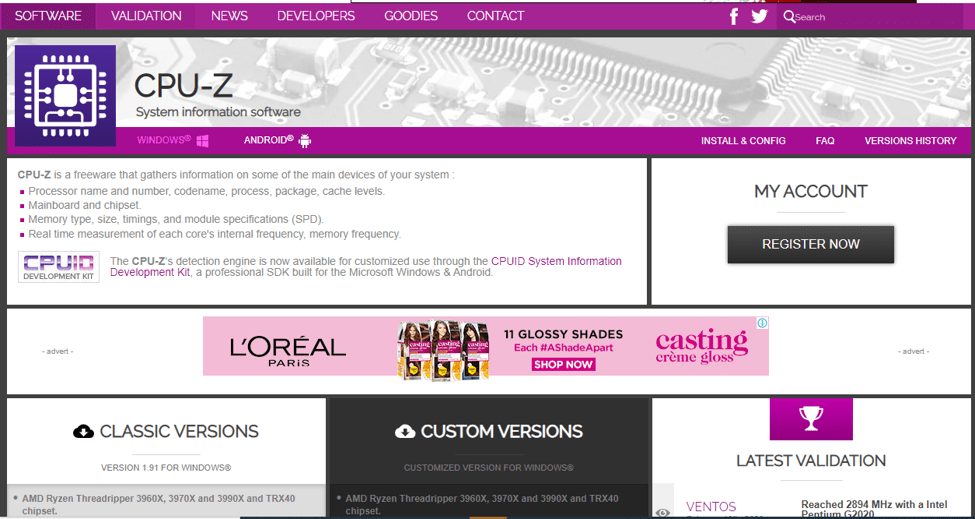 System Requirements:
Windows XP, Vista, 7, 8, 8.1, or 10 (both 32-bit or 64-bit version)

Full Administrative Rights
With an unbeatable capacity to tune and overclock NVIDIA, Intel, RAM, and other hardware components, CPU-Z deserves a place amongst the best CPU overclocking software. It works on a comprehensive approach and is completely free of cost.
It is designed to check and monitor some of the major system components including processor name, codename, cache levels, processes, and numbers. Along with memory size, Mainboard, chipset, module specifications, and real-time figures of memory frequency.
In addition to this, it also allows you to check the voltage, temperature, memory clock, fan speed, CPU load, and timing figures of your system. 
With all the given functionalities it offers a simple way to set and monitor the clocking speed of your system. Try this best CPU overclocking software today.
Key Features of CPU-Z
Real-time assessment of internal frequency and memory frequency.
It supports SPM memory.
It checks major components of the PC like processor name, cache level, and many others.
Using the software you can check the temperature for a better assessment of PC health.
---
4. GPU-Z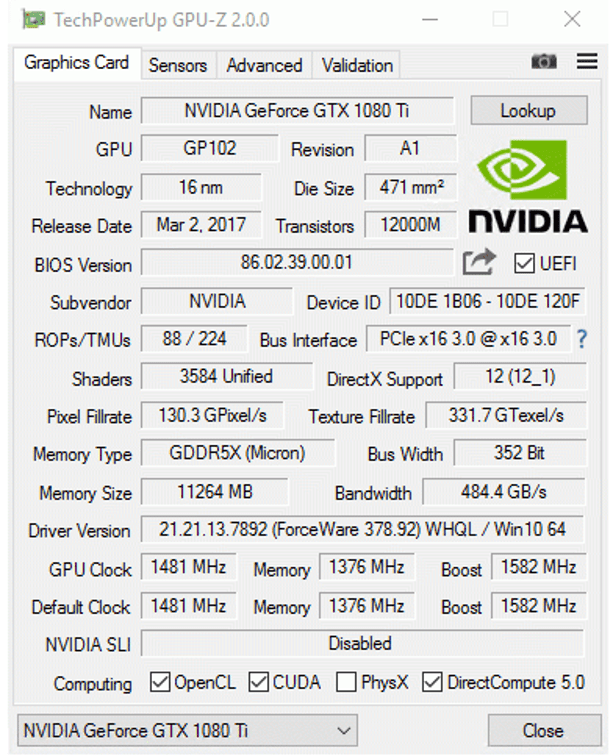 System Requirements:
Windows XP, Vista, Windows 2000, Windows 2003, Windows 7/8/10
Next on our list of best overclocking software for Windows is GPU-Z. It is specifically built to monitor graphic cards and document their performance. However, on the other hand, CPU-Z focuses on system RAM and CPU.
It supports almost all major GPU brands including ATI, NVIDIA, AMD, Intel Graphics, and many more. It maintains and checks graphical hardware configurations and observes the memory clock, size, GPU clock, and temperature.
It comes with a user-friendly interface and can create and back up your graphics card BIOS. The software works seamlessly well on various Windows versions and does not require an installation.
Key Features of GPU-Z
GPU-Z supports major graphics cards like NVIDIA, ATI, Intel Graphics, and AMD.
It displays overclock, 3D clock, and default clocks (displays available clocks).
You can use this software to create a backup of graphics card BIOS.
Takes no space on your hard disk as it does not require installation.
---
5. NVIDIA Inspector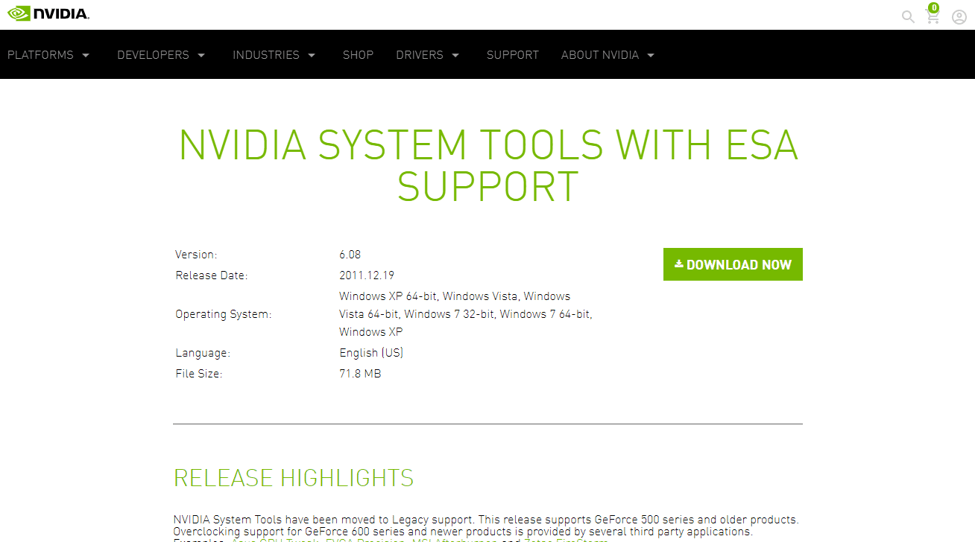 System Requirements:
Windows Vista 64-bit, Windows 7 32-bit & 64-bit, Windows XP 64-bit, Windows XP.
The underlying functionality of NVIDIA Inspector is to analyze and display information related to your graphic card, but it also works well as a GPU overclocking software.
Read Also: Best RAM Cleaner Software for Windows 10
The tool can be used to check the temperature, clock speed, GPU Clock, fan voltage and a memory clock of your system. The software comes with a user-friendly interface but has limited features to offer. 
You cannot use it to monitor the stability of your system.
Key Features of NVIDIA Inspector
The software is compatible with most of the operating systems.
You can monitor the temperature in real-time for GeForce GPUs.
It has a clean user interface that displays detailed information for monitoring.
The software supports Enthusiast System Architecture components.
---
6. ASUS GPU Tweak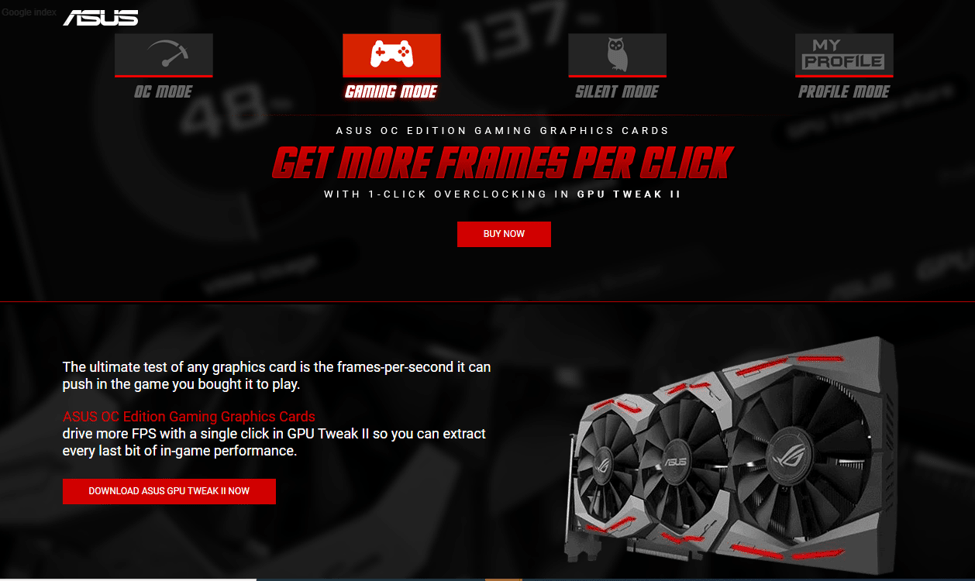 System Requirements:
Windows 7, 8, 8.1, or 10 (both versions 32-bit or 64-bit)

AMD 7000 series or greater GPU

NVIDIA 600 series of greater GPU
Next on our list of best GPU overclocking software for Windows is this feature-rich tool from the well-known brand "Asus". It comes with a user-friendly interface and offers serious functionalities. Use it to change and manage the core processing and memory of your graphic cards and voltage. 
However, if you wish to use it for managing the temperature and stability of your system, you will require software for it.
Key Features of ASUS GPU Tweak
The software offers customizable profiles in professional mode.
You can either set automatic turn off for system services or you can do that manually.
It helps you in memory defragmentations.
The 'Overclock Mode' lets you enjoy all the demanding games with max performance.
---
7. AMD Ryzen Master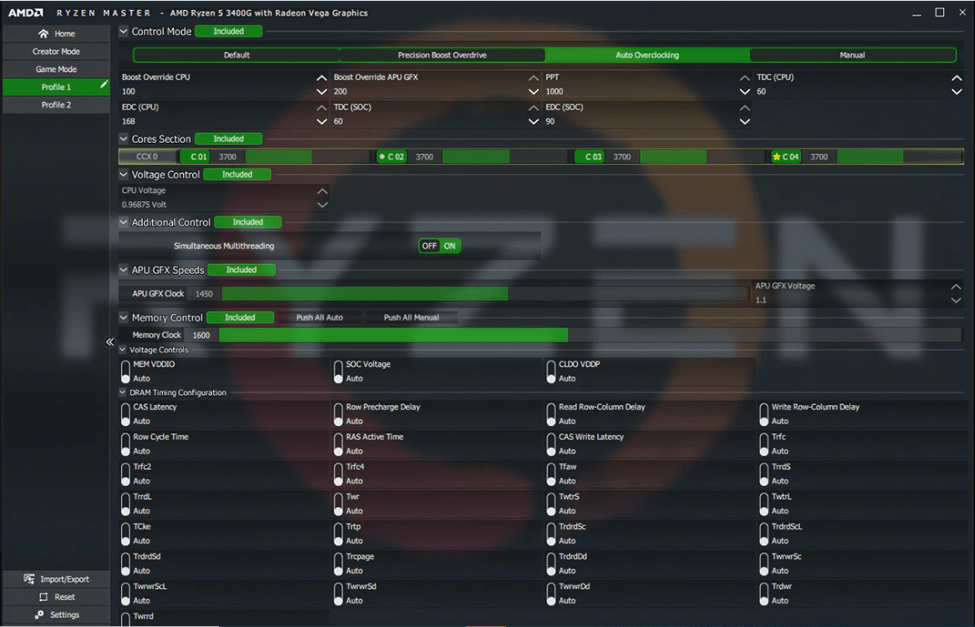 System Requirements:
Windows 10 or 8 (either 32-bit or 64-bit version)

X370, B350, or X300 chipsets on AM4 sockets.

Ryzen Threadripper CPUs on the motherboard TR4 socket with X399 chipsets
Ryzen Master is a product of AMD, specifically built to cater to the needs of its users. AMD product users can use it to monitor and manage the performance of their system GPU, CPU, and RAM.
You can use it to overclock the RAM and CPU cores for boosting system performance. Apart from this it's status monitoring functionalities also give real-time figures of system performance, temperature, voltage settings, processor clock and many more. 
Use this excellent Windows overclocking tool to customize and manage the system working as per your own will.
Key Features of AMD Ryzen Master
It has a very simple and clean user interface that can be adapted by any user.
You can change and adjust the performance according to your requirements.
It offers Radeon integrated graphics overclocking.
The software offers graphs and numeric representation to monitor the performance.
---
8. GMA Booster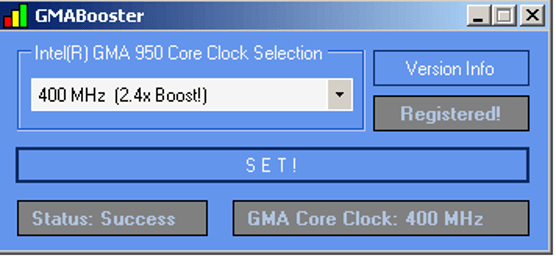 System Requirements:
Requires Windows 10, 8, 7 operating system (both 32 or 64-bit), Windows XP 32-bit, Windows Vista 32-bit.

900 and 950 GMA chipset
The next overclocking software for Windows 10 that you can pick to boost and optimize your GPU performance is GMA Booster. It comes with a user-friendly interface but limited functionalities. Presently it can only support 900 and 950 GMA chipsets. 
However, as per its developer, Intel will soon be able to support GMA X3100 and X4500 chipsets soon.
It is a free overclocking software and can additionally work on Linux and Mac OS devices.
Key Features of GMA Booster
It is a very lightweight software that takes only 1.3 MB of space on your PC.
Using the software you can easily double the performance without even restarting.
With new updates, the software gets compatible with more chipsets.
It is compatible with Windows XP 32 bit and newer versions.
---
9. ATI Tray Tools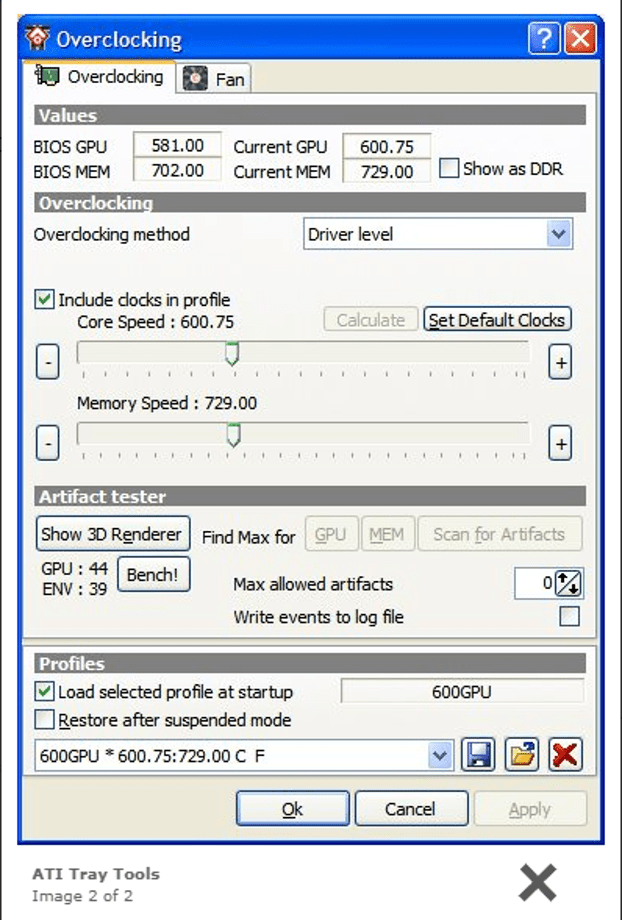 System Requirements:
Windows XP, Vista, 2000, 7, 8, or 10
ATI Tray Tools is designed specifically for ATI cards. It is a small and handy tool that sits quietly in the background and allows you to overclock your systems graphics cards.
Read More: Best Free CPU Benchmark Software For Windows
With this fantastic tweaker, you can monitor the temperature and enjoy automatic overclocking in a 3D mode. Use it to tweak multiple hardware components of your system for attaining optimal performance levels.
The pre-application feature is its major highlight which allows you to overclock figures against the preset profiles. Enjoy access to OpenGL settings overclocking, Direct3D settings and much more with this best overclocking software for Windows 10.
Key Features of ATI Tray Tools
The software supports MMC and HYDRAVISION applications.
You can easily monitor temperature and hardware low-level color.
It has to overclock with templates like FAN Control.
You can even monitor graphs of GPU, memory speed, main CPU usage, and many others.
---
10. Riva Tuner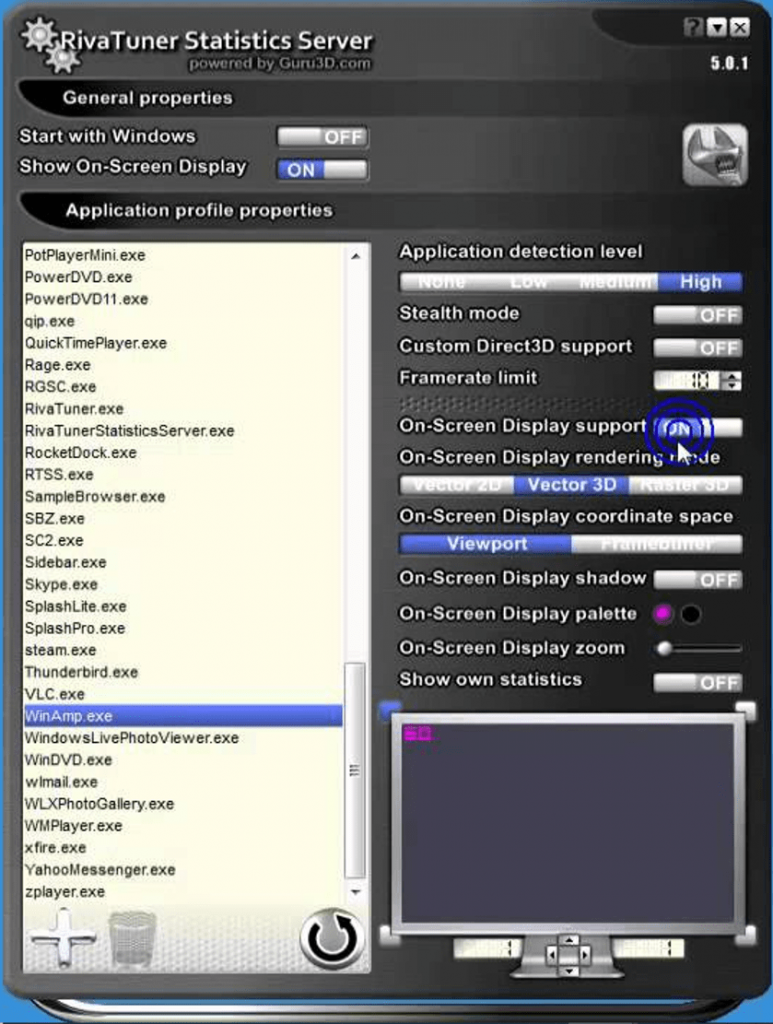 System Requirements:
Windows 2000, Windows 2003, Windows XP (both 32 or 64-bit), Windows Vista (both 32 or 64-bit) or Windows 7.

NVIDIA Forceware 96.xx or higher drivers.

NVIDIA GeForce 5.08 or higher drivers
Riva Tuner is an all-in-one overclocking software for all Nvidia and ATI graphic cards. Use it to tweak and manage your system's memory, fan speed and performance, and much more. 
It offers a good way to control system overheating and speed up overall PC performance. It comes with a massive profiling system with custom settings and real-time hardware monitoring features.
Key Features of Riva Tuner
You can make custom settings using Riva Tuner.
It offers unique diagnostics with real-time monitoring.
You get many powerful tools like a registry editor and patch script engine.
It has a proper guide that can help you with fan speed and overclocking.
---
11. SetFSB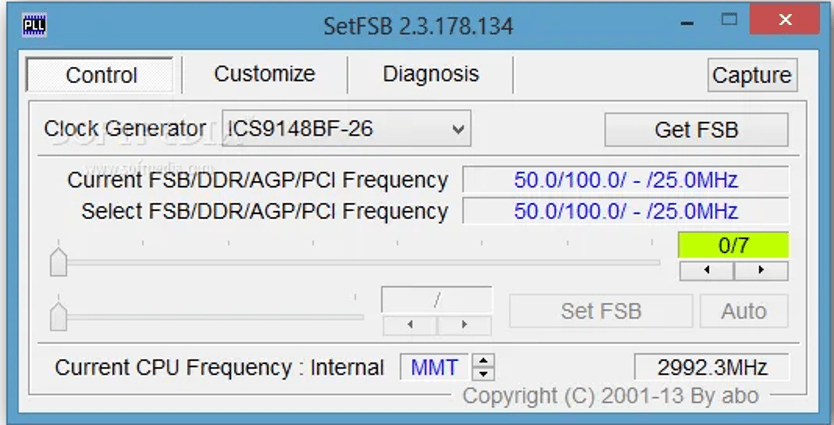 System Requirements:
Windows 7, 8, or 10 (32-bit or 64-bit)
With its ability to alter and adjust the FSB (Front Side Bus) settings of your system, SetFSB deserves a place on our list of best overclocking software for GPU and CPU.
FSB forms the main connection between your system memory and its CPU, which means any right alterations will boost system speed. A good speed means better system performance.
Key Features of SetFSB
This is free-to-use software that offers professional tools.
You can set FSB speed without even accessing the BIOS menu.
Irrespective of the restriction for hardware you can use the advanced system menus.
You can get detailed information about DDR RAM, FSB, AGP, and PCI cards.
---
12. CPU Tweaker 2.0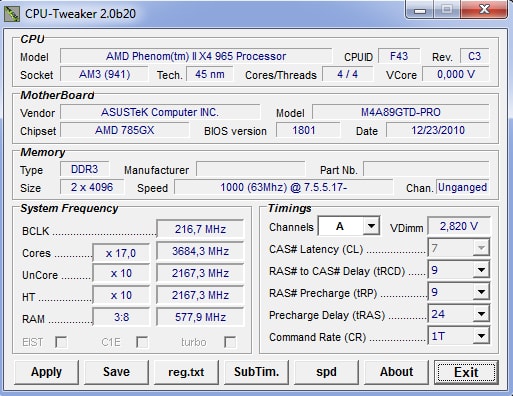 System Requirements:
Requires Windows 10, 8, 7, XP or Windows Vista (Either 32-bit or 64-bit version)
Anyone who wants to overclock processors, or increase the clock rate of hardware components to boost the overall system's performance should definitely install CPU-Tweaker 2.0. Being one of the best CPU overclocking software for Windows, CPU-Tweaker 2.0 focuses on improving the CPU timings to tweak your processor for better and faster PC performance.
An important point to note here is that CPU-Tweaker 2.0 works only for the central processing unit (CPU) or processors with an integrated memory controller (IMC).
Key Features of CPU Tweaker 2.0
It offers detailed information about most of the computer elements.
You can easily overclock the processor and increase the clock speed.
It helps in offering improved speed and performance.
The software is compatible with Windows Vista, XP, 7, 8, and 10.
---
13. Intel Extreme Tuning Utility (XTU)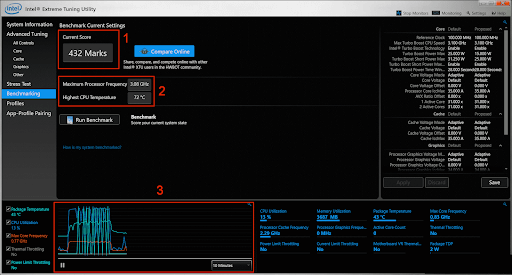 System Requirements:
Compatible with Windows 10, 64 Bit operating system
Next, we have Intel Extreme Tuning Utility (XTU) on our list of the best overclocking tools for Windows. You may use this software to overclock and tweak the performance of Intel CPUs. We liked this software, particularly because of its unique stress testing option that allows you to detect a stable range for overclocking the processor.
Moreover, there is no need to restart your computer when overclocking using XTU as it communicates directly with the BIOS of the motherboard. Furthermore, the following are other notable XTU features.
Key Features of Intel Extreme Tuning Utility (XTU)
Intuitive and easy-to-understand interface
Improves Intel Extreme Memory's performance
Monitors CPU's temperature
Displays CPU utilization readings
---
Final Words: Best Software to Overclock Windows PC (2023)
Are you still dealing with slow system speed? Improving its overall functioning and performance is only a few steps away with good overclocking software for Windows 10. This software are compatible with several graphics cards and support smooth and effortless system functioning.
What are you waiting for? Pick one as per your needs and maximize your computer's performance in no time.
Prachi Dani is a technical content writer who specializes in areas of science and technology. She is highly up to date with technological transitions and transformations. Writing is not her passion but the only thing that carries satisfaction in life. If not writing, you may find her engrossed playing action games on her treasured smartphone.
Subscribe to Our
Newsletter

and stay informed

Keep yourself updated with the latest technology and trends with TechPout.
Related Posts