22 Best Junk File Cleaner For Windows 10/8/7

If you want to get rid of junk files and trash from your system, then use a junk file cleaner and let it take care of your system trash. Junk files can horribly slow down your system and it's extremely frustrating to struggle through a slow PC.
The longer we use a system, the more it tends to accumulate junk files and the more it ruins your system performance. This is a common occurrence in all kinds of devices and across all platforms.
But did you know that a decent junk file cleaning app can save your day by recognizing and removing all trash components from your smart device or system? These tools can make your system run smoothly just like a squeaky clean new machine.
Therefore, in this blog, we have put together some top of the line junk remover software for Windows PC to help you deal with your system junks and trash files.

22 Best Junk File Cleaners For Windows in 2023:
Wondering which software to install for Windows PC to do away with temp files? Here are 22 top of the range PC junk cleaning tools that also offer a variety of advanced features to add to the benefit of using these applications.
1. Advanced SystemCare 15 Free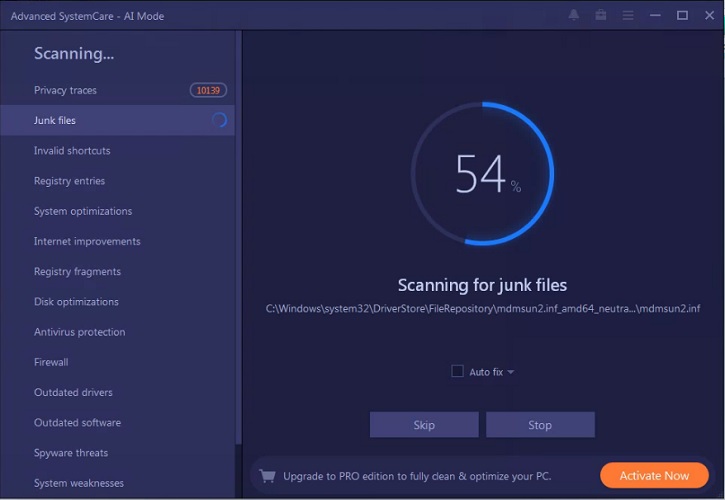 Essential Features:
Cleans junk files of the system thoroughly.
It also supports cleaning junk files for all accounts on the system.
The Turbo Boost feature optimizes the system by releasing the RAM.
This is an extremely useful junk file cleaner for your computer and that's why it is first on the list. It helps to sweep away temp files in just one click. It is also capable of removing privacy traces and other potential online threats in a single click.

Pros
Customizable interface.
Round-the-clock technical assistance.
Cons
The installer comes with extra software.
It doesn't offer any choice to exclude individual files.
---
2. CleanMyPC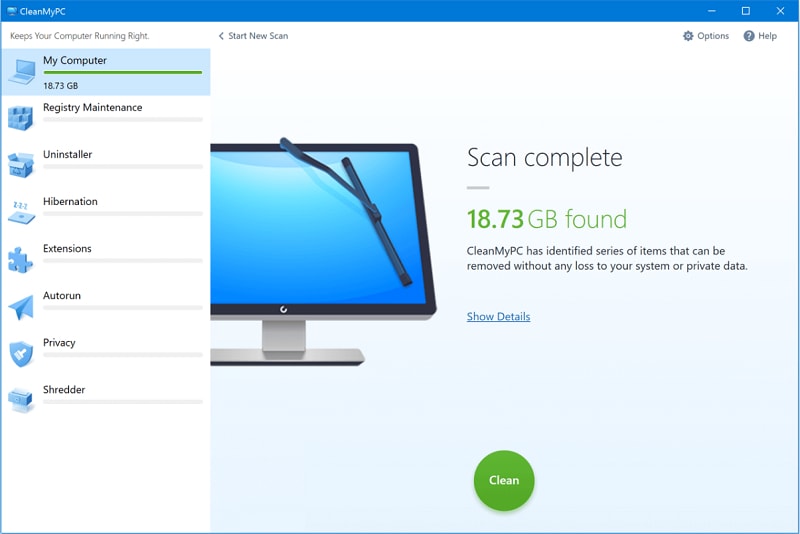 Essential Features
CleanMyPC is a one-stop solution for all your PC needs
It offers features that uninstall as well as remove its supporting files from the PC
The software does not take any data from your computer as it has strict privacy rules
It even protects the PC from threats that can damage files
It is a very popular and one of the most trusted software for cleaning PCs. You can definitely rely on this software as it will help you in improving your performance. Apart from performance, it solves all the issues, including registry, threats, and others.

Pros
Unlike other software, it offers accurate result in no time
The software has a free plan too
The software has a dedicated team to solve issues of the user, which works 24X7
Cons
Limited features to offer
Regular notifications can be frustrating
---
3. CCleaner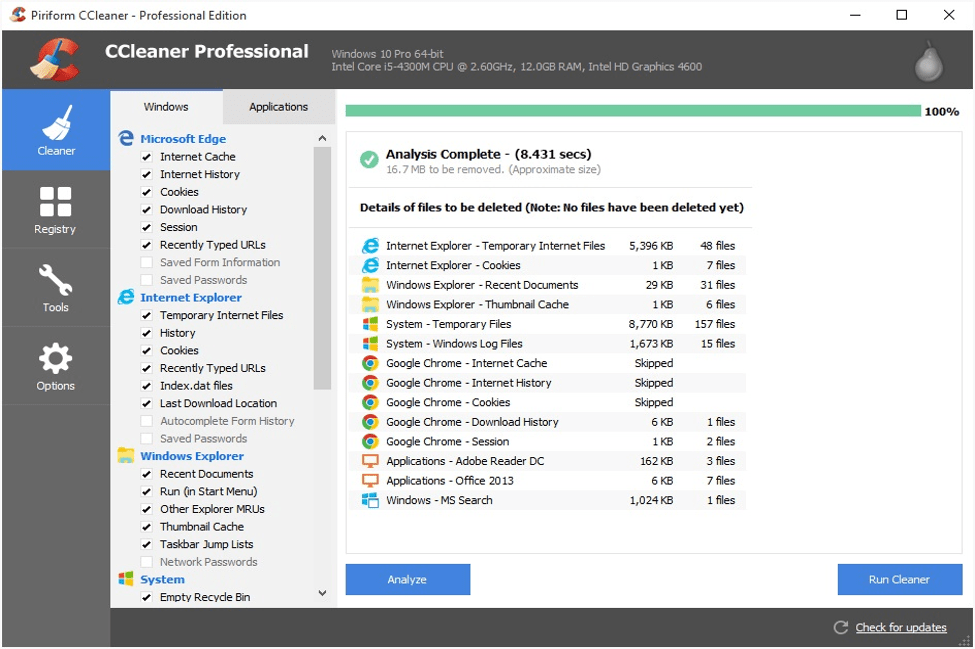 Essential Features:
Removes junk components of your system.
Easy to use.
Removes system restoration points.
Wipes out hard drive junk files permanently.
Scans the registry precisely.
The analyze drive feature identifies files consuming most of the space.
The integrated startup manager makes the PC boot 53% faster.
This is a remarkable junk file cleaner software, which not only makes your PC fast but also optimizes it automatically without any hassles. Did you know that it's been downloaded a whopping 2.5 billion times.
It helps to clean all forms of trash (temp files, clipboard contents, browser cache, cookies, storage contents, log files, event logs, DNS cache, disk fragments, etc.) in just one click from your system.

Pros
Secures your PC from malware.
Runs in the background silently.
Facilitates disabling unwanted apps.
Cons
Duplicates many Windows programs.
Cleanup scheduling is available only in the paid version.
Read Also: How to Remove Junk Files From Windows 10
---
4. Ashampoo WinOptimizer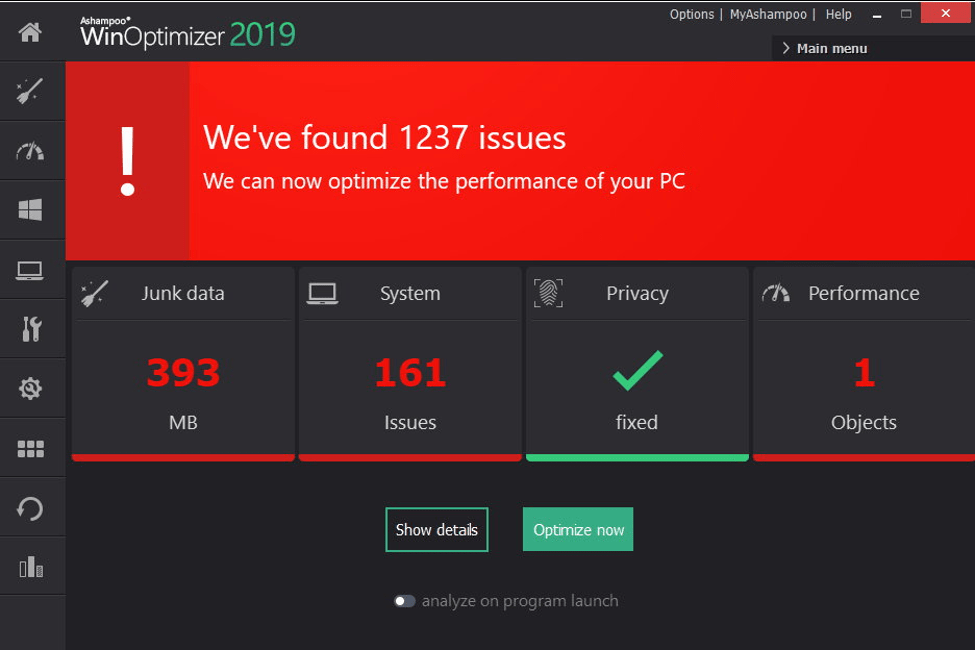 Essential Features:
Securely deletes trash files with File Wiper.
Erases files permanently from the recycle bin.
Offers 1-Click optimization with the One-Click-Optimizer feature.
Internet Cleaner, Drive Cleaner, and Registry Optimizer deal with respective elements for system maintenance.
Improves system performance with Internet Tuner, Startup Tuner, Process manager, etc.
A powerful tool in the category of junk file cleaner for PC, this program's USP lies in its flexibility. What's meant by this is that the tool lets you scan for junk files, browser cookies, and broken registry entries in one click and removes them in another.
Ashampoo WinOptimizer not only provides a detailed description of the identified issues but also provides suggestions about resolving those issues.
This junk remover tool for Windows 10 is compatible with all versions of Windows and offers a complete solution for your PC's performance-related problems.

Pros
Vivid user interface.
Comprehensive toolkit.
Cons
Adds store links to the PC.
---
5. AVG TuneUp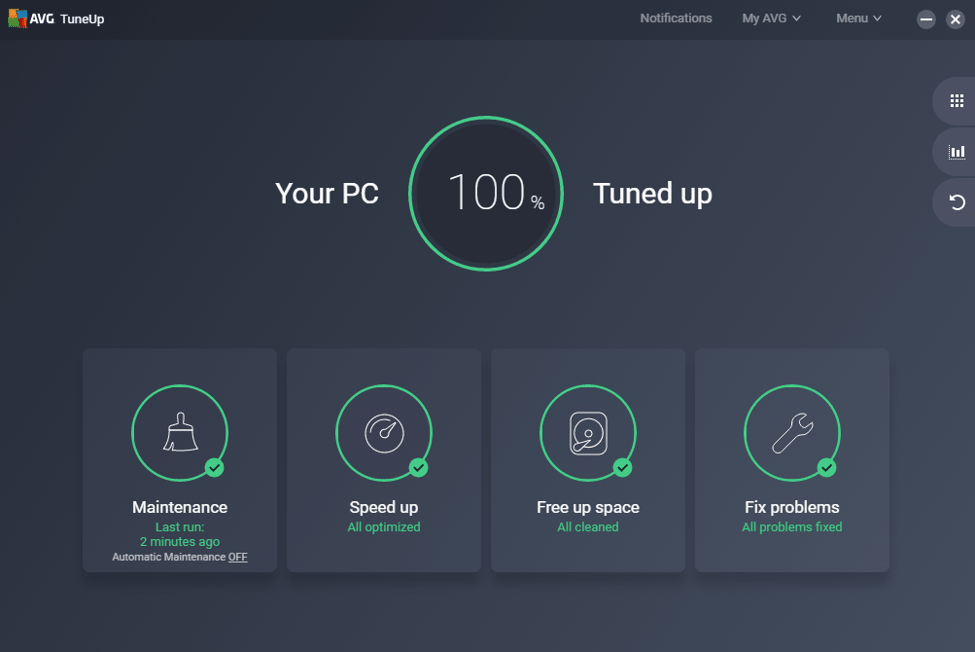 Essential Features:
Offers all-round automatic maintenance of your Windows PC.
Removes bloatware and temp files from your system.
Uninstalls unwanted software.
Updates programs automatically.
Identifies registry issues and troubleshoots them automatically.
Speeds up your system.
Disk Cleaner deep-cleans the system hard drive.
AVG Tuneup offers a one-stop solution when it comes to choosing a decent PC optimizer and junk remover software. This app uses the Sleep Mode technology to boost your PC performance. The Disk and Browser Cleaners free up storage space and a lot more.

Pros
One-click software update tool.
Multilingual app.
Cons
License limitations.
Not suitable for business or commercial use.
---
6. Clean Master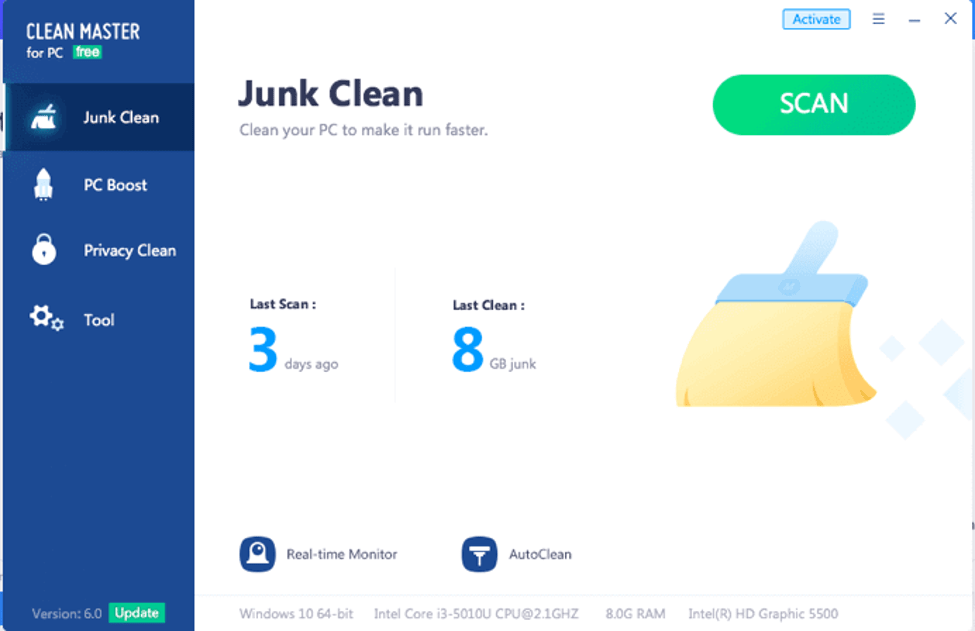 Essential Features:
The auto-clean feature helps to erase junks effortlessly.
Real-time notifications to clean junk files.
Boost your system performance with a one-click boost feature.
This is a free junk file cleaner for meeting regular needs; however, the professional version is chargeable. The most appreciable feature of this tool is that it's complete in itself and doesn't inundate users to install add-in apps.
Pros
Light on advertising.
Quick to install and straightforward to use.
Cons
Incompetent technical support.
Read Also: Best PC Optimizer Software For Windows
---
7. Iolo System Mechanic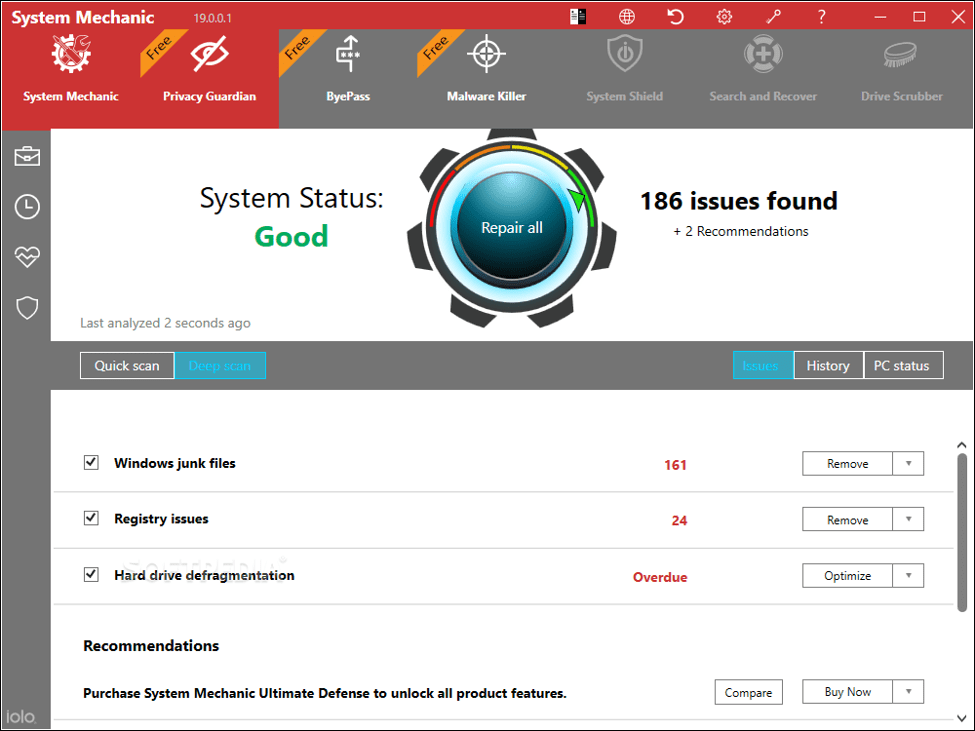 Essential Features:
Deletes junks and unused apps.
Blocks bloatware and unnecessary auto-run settings.
Cleans the RAM.
PC optimization toolkit enhances start-up speed immensely.
Removes traces of browser activity.
This tool has rightfully earned its place amongst the best junk remover tools for Windows PC because other than removing temp files, it also removes the under-performing hidden Windows Internet settings and also enhances gaming performance.

Pros
It offers multiple choices in the types of available scans.
It provides a detailed analysis of issues.
Cons
Some features can only be availed in the premium version.
---
8. Total PC Cleaner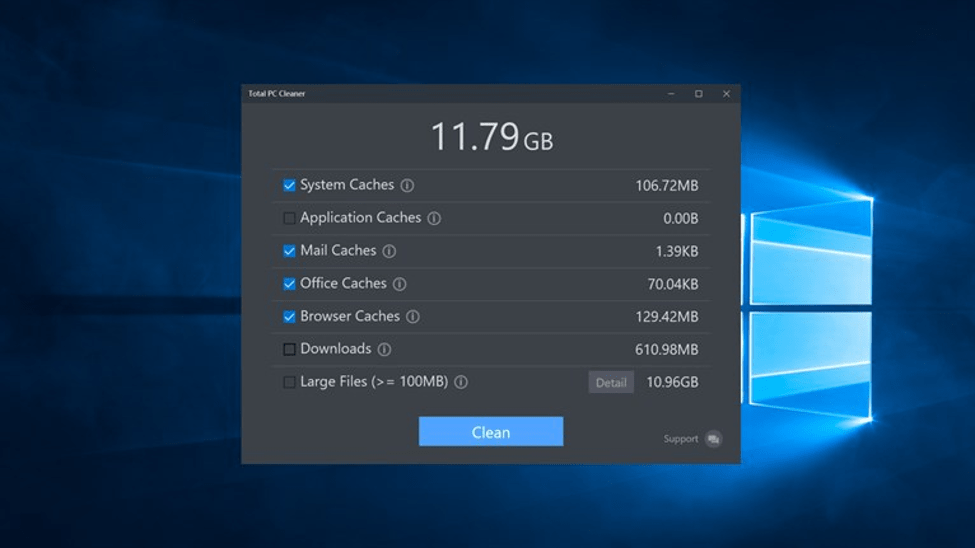 Essential Features:
Removes caches from the system, apps, emails, Office apps, and browser swiftly.
Erases large unwanted files.
Speeds up your PC.
There can be no second thoughts when it comes to considering this application for cleaning junk files from your Windows PC. Do you know why? Because this software is a product from Microsoft. Hence, which other app do you think will most perfectly fit with your Windows system than this one.

Pros
Best free PC cleaner available in the Microsoft Store.
Cons
Only compatible with Windows 10 version 14393.0 or higher and Xbox One.
---
9. Avira PC Cleaner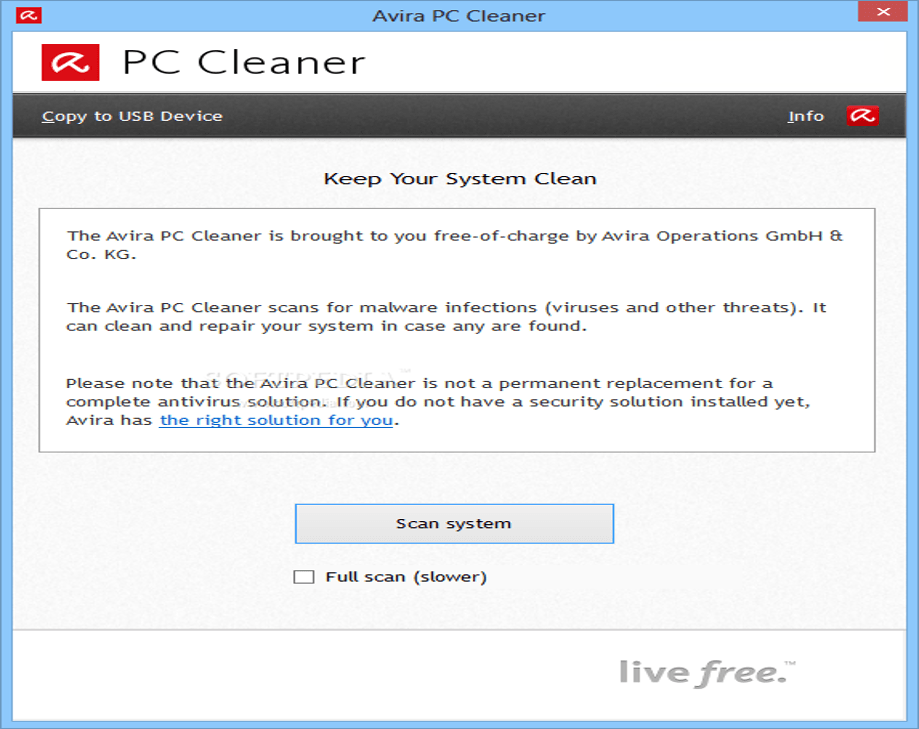 Essential Features:
Frees up memory.
Minimizes system crashes.
Blocks unwanted apps.
You can choose to download this free junk file cleaner software for PC as it streamlines the apps and programs to run on your system smoothly.

Pros
Claims to keep your data secure.
Blocks malware effectively.
Cons
The on-demand scan is slow.
It offers browser protection only for Chrome and Firefox.
Read More: Best Disk Defragmenter Software for Windows
---
10. Glary Disk Cleaner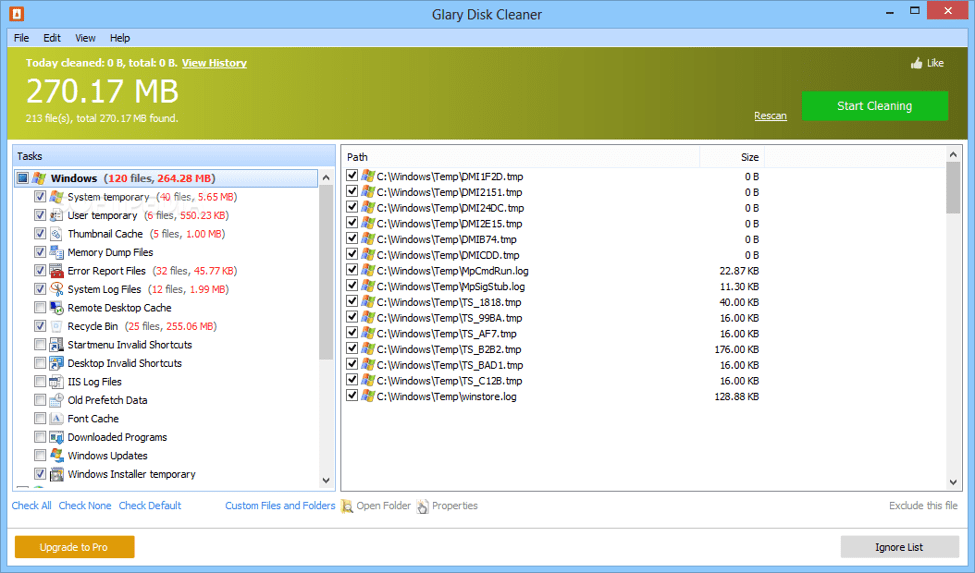 Essential Features:
Supports the Ignore list feature to exclude files from the junk removal process.
Customized options are available for removing temp files.
A brilliant junk file cleaner, this app is apt for novices as well as skilled users due to its extremely easy user-friendly interface. The tool rapidly scans your system for temp files and bloatware with the help of the professional rapid scanning kernel.

Pros
Clean up history displays information about the removed files.
It doesn't affect necessary files during the removal process of junk files.
Cons
Minimal optimization features.
---
11. SlimCleaner/Slimware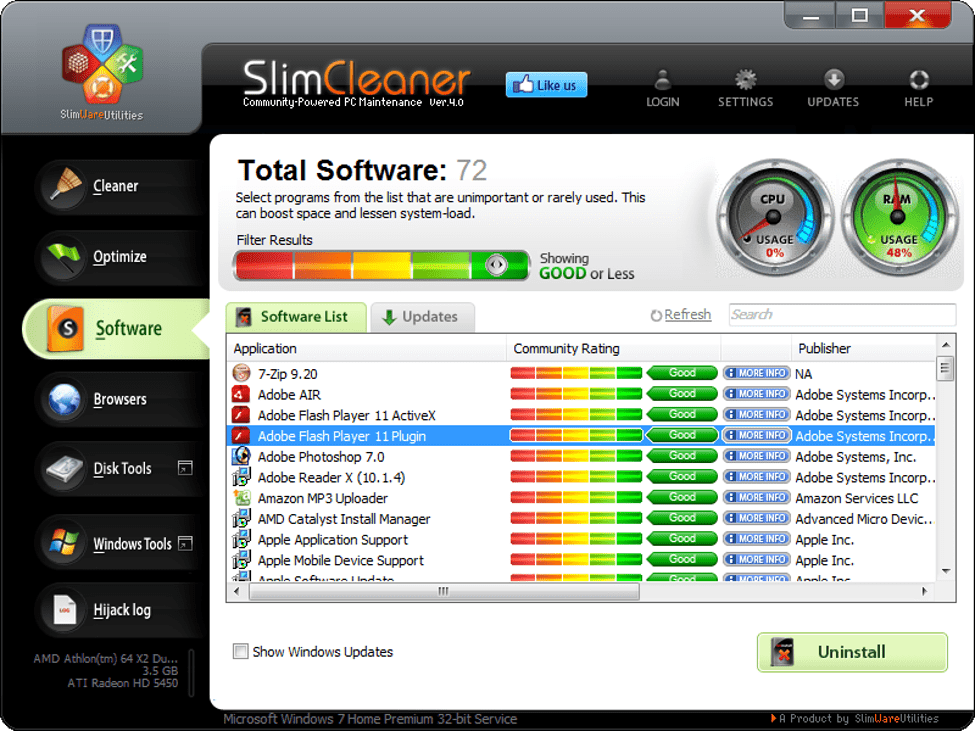 Essential Features:
The battery life can be extended.
Manual cleaning and optimization.
Optimizes startup items.
It is a very user-friendly Junk Files Cleaner. Slim cleaner ideally facilitates the removal of junk files & elimination of browser history. It is an ideal tool for your Windows Personal Computer.

Pros
Power management mode helps in preserving battery life.
Cons
Unable to delete duplicate files at once.
---
12. R-Wipe and Clean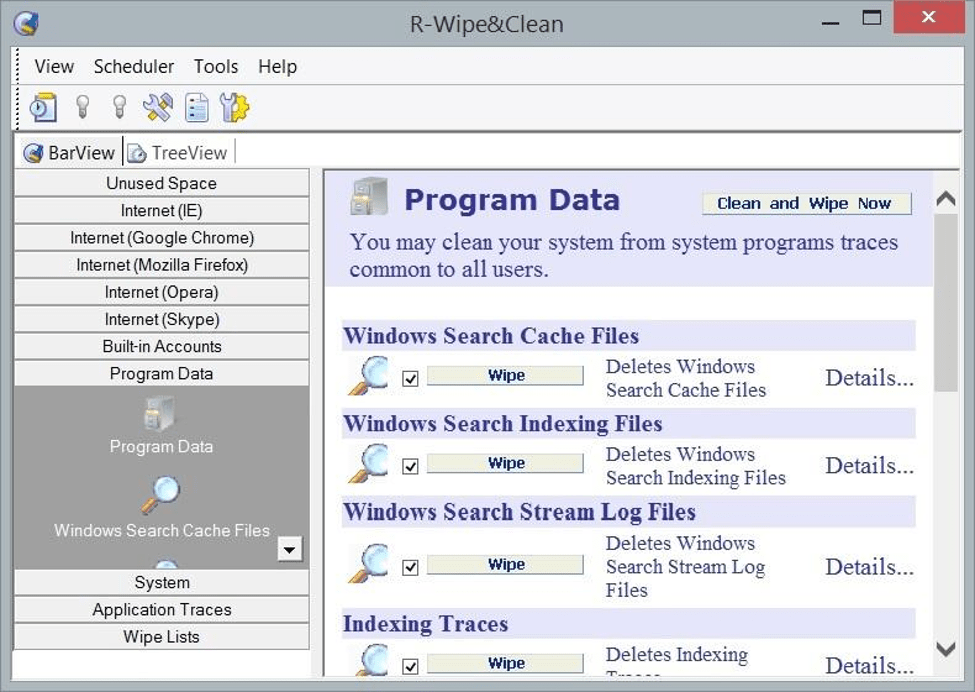 Essential Features:
It removes your browsing history thus ensuring that it keeps your secrecy intact.
Traces of activity of third-party applications are removed like the interim folders, data from the system, and others file types like the scratch files and folders.
It is another best Junk Cleaner for Windows 10. It has a very updated and highly protective algorithmic feature. Junk files are removed in the blink of an eye.

Pros
Highly interactive graphical interface.
---
13. Razer Cortex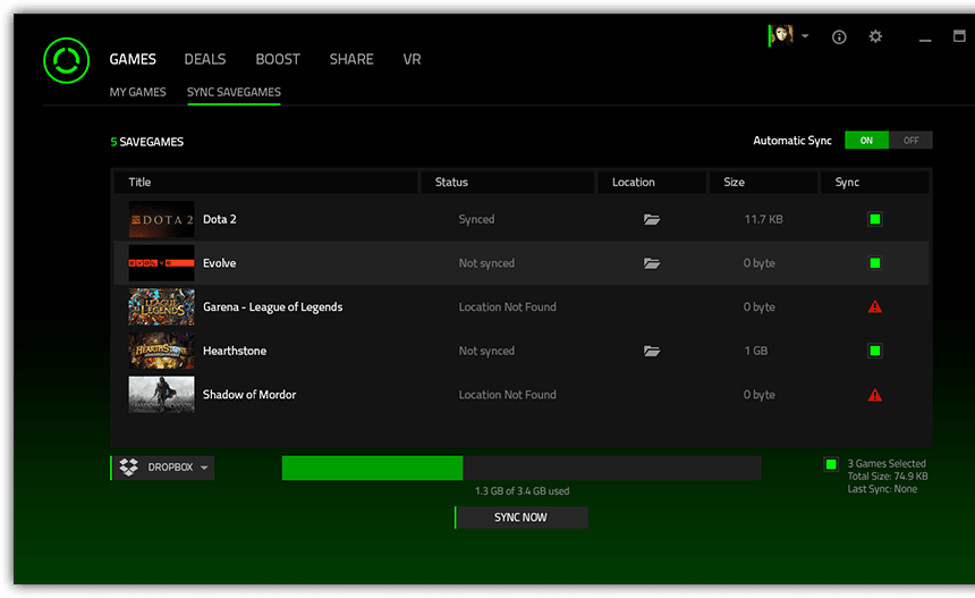 Essential Features:
Clears out unwanted junk files.
Optimizes the PC for supporting high-end activities like gaming and streaming online movies.
This is the ultimate app for removing junk files especially when you need to boost the system for gaming. It is capable of automatically turning off unnecessary software and services during gaming.

Pros
The tool is frequently updated.
Supports gaming by releasing RAM.
Cons
It offers some unwanted extra features.
---
14. File Cleaner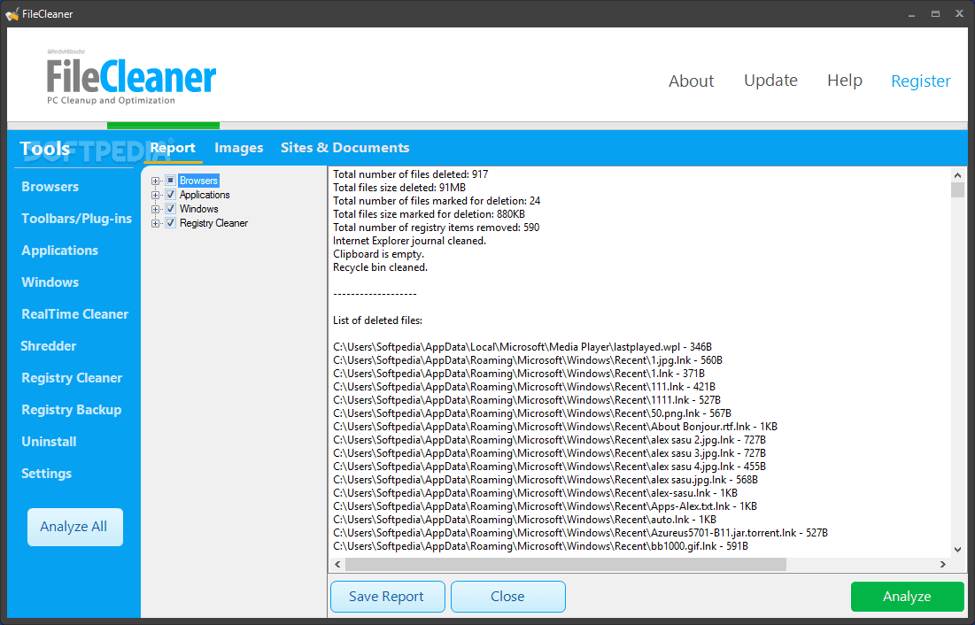 Essential Features:
This is not just a junk remover tool as it also repairs system settings.
Detects rogue software and facilitates their removal.
Now get a faster, secure and stable system with the help of this junk file cleaner program for PC. It cleans the browser and system in real-time. Users may face a slight hiccup in using the tool when they are upgrading to Windows 10 from the previous version of Windows.

Pros
Compatible with a huge range of browsers.
Cons
Users would need to activate the product again when upgrading their system to Windows 10.
---
15. BleachBit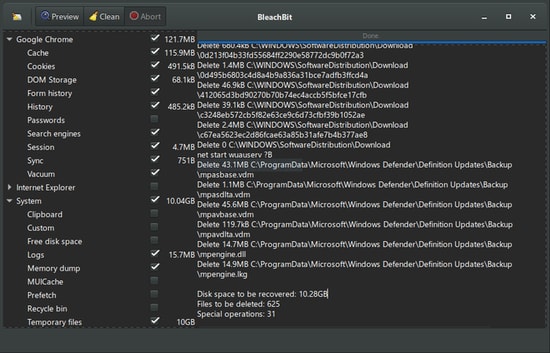 Essential Features:
Every bit of file is deleted
Simple and user-friendly interface
Free to use software
Support 64 languages excluding American English
Frequent updates for bug fixes
When cleaning the junk files they may have left some of their residuals in the PC but with BleachBit, every bit of the files will be deleted. It has an advanced algorithm that has strong capabilities to clean out thousands of logs, cache, cookies, and other data including history. Now cleaning junk is easy with its easy to use interface.

Pros
Maintains privacy
Improved system performance
Cons
It is compatible with Windows 10,8 and 7 only
Frequent updates can be frustrating
---
16. Wise Disk Cleaner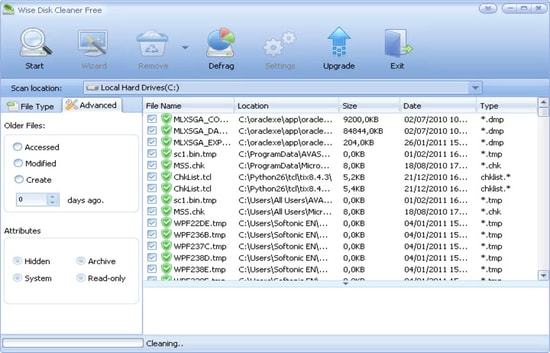 Essential Features:
Free to use software
Multi-language support
24*7 support
Wise Disk Cleaner keeps the device fast and clean. The software is free to use and it can clean different extension files and junks from your device. Every file will be deleted whether it's hidden junk or from the corner of your hard disk. Other than this the software will speed up the processing without even increasing the load.

Pros
Compatible with almost all Windows OS
Compact software
Schedule disk cleaning
Protects the privacy of the user
---
17. The PC Decrapifier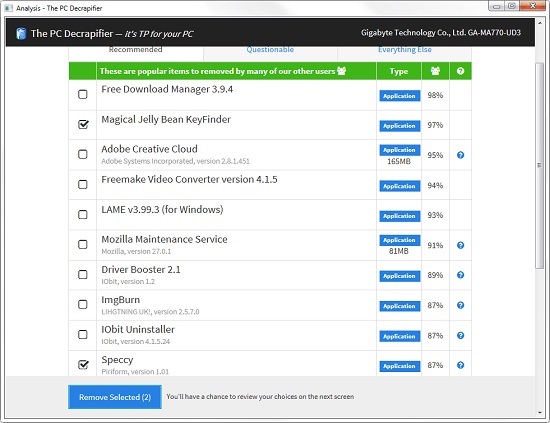 Essential Features:
Portable junk file cleaner for your PC
Scan the system for unnecessary programs
Separate and easy to access program categories.
Allows you to deeply delete the programs.
Can also restore the programs if required
Improves the speed of the system
The PC Decrapifier is one of the best junk remover tools for Windows PC as this is one of those few effective tools that offer a lot of features to you. One of the unique features of the tool is that it also allows you to manage junk quite easily.

Pros
Easy to install
Uninstall multiple apps at once
Lightweight tool
Best for old and new systems
Cons
No option to search the software
Outdated UI
Ineffective at times
---
18. Cleaner One Pro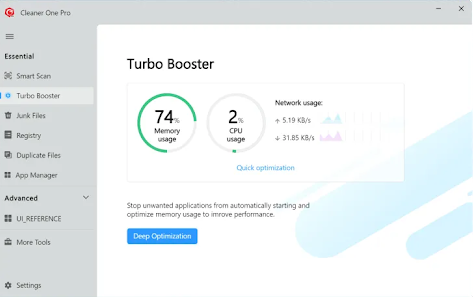 Essential Features:
Single-click junk cleaning
Deeply scans the system
Allows you to uninstall apps
Cleans the registry with ease
The next name on this list of the best junk remover tools for Windows PC is Cleaner One Pro. This is a viable alternative that you can try and improve the performance of your device.

Pros
Easy to use
Feasible and smart features
Quite Lightweight
Turbo booster for quick cleaning
Supports duplicate cleaning
Disk cleaning features
Cons
Better alternatives available
Ineffective at times
---
19. KCleaner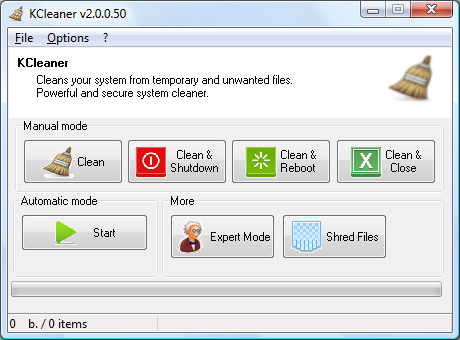 Essential Features:
Finds and removes junk and temporary files like unused setup files, cache, and more.
Robust and fully secured file removal functionality ensures that all junk files will be deleted safely.
Internationalization support.
Automatic mode works in the background.
Comes with an Expert Mode which lets PC users completely control any file deletion done by the utility.
Next, KCleaner is another best free junk cleaner for Windows 10, 8, 7 PC. It functions quickly and allows you to find and delete every byte of unwanted files, and data from your system. The utility tool works effortlessly in the background as it allows you to schedule scans as per your preferences. Additionally, constantly keep a track of all your PC's resources to find what can be deleted in order to ensure the smooth operation of your machine.

Pros
User friendly.
Full automatic mode.
Data security.
Multilingual support.
Cons
Offers basic cleaning features compared to other cleaning options.
---
20. Privacy Eraser Free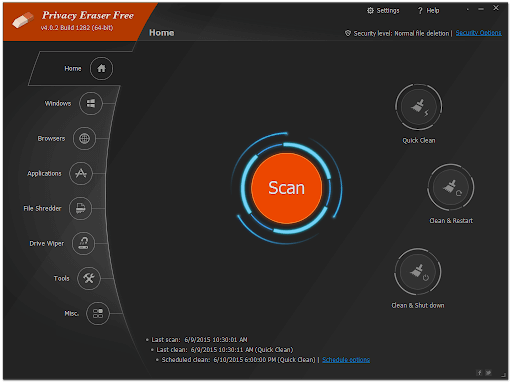 Essential Features:
Internet cache cleaning, cookie, and browser history cleaning, and all other tools to clean your browser
File shredder to erase files permanently
Drive wiper to free up drive space
Active monitoring to monitor and clean your computer in real-time
Next, we have Privacy Eraser Free to conclude the best free junk file cleaners for Windows. In addition to the features listed above, this software boasts high-level security, custom wipe methods, 250+ free plugins to remove traces of popular apps, a registry cleaner, and many other useful tools for complete Windows cleaning.

Pros
Multiple scanning options
Complete PC cleaning
Multi-user support
Quick scan speed
Cons
No registry backup before cleaning
Lags a bit when shredding files or folder
---
21. Wise Care 365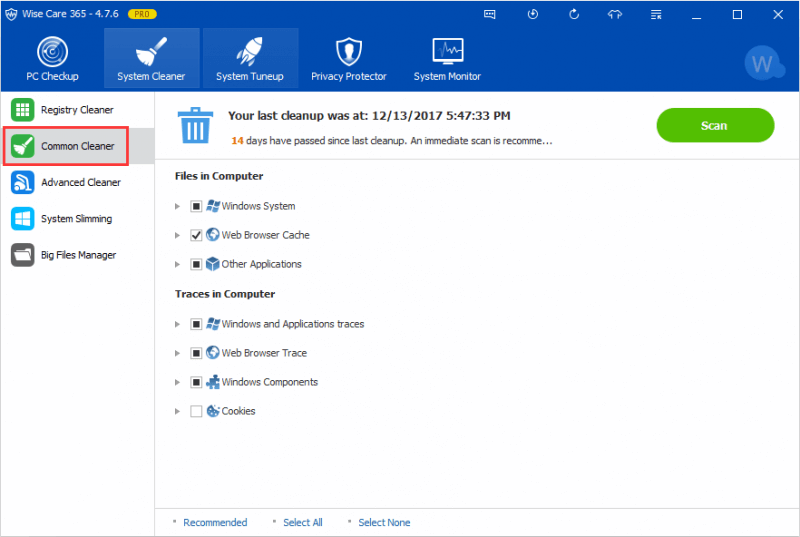 Essential Features:
Thorough junk cleaning of systems running on Windows 11,10,8,7, Vista, or XP.
Clears Registry and temporary files on regular intervals.
Automatic Registry backup before cleaning
Offers a Floating Windows to optimize your device memory manually.
The next one here on our list of best junk file cleaners for Windows is Wise Care 365. The freeware optimization software includes a variety of applications at one place to enhance the working of your device. The best feature of the tool is it automatically cleans temp files, browsing history, invalid Registry, etc.
Pros
Automated tools
No installation is required.
No extra software installation in setup.
Multiple free tools with advanced utilities.
Cons
For additional tools, you need to upgrade to the Pro version.
---
22. Microsoft PC Manager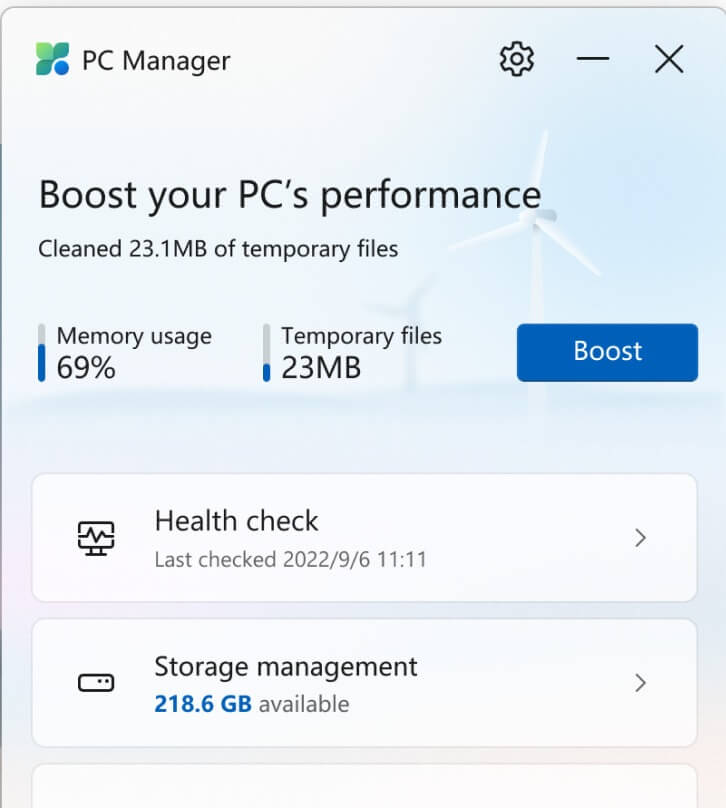 Essential Features:
Comes integrated with the Health Check tool from Windows
Deletes junk with a single click.
Informs about critical and damaged areas and sectors.
The next best junk file cleaner for Windows is Microsoft PC Manager. This is free software from the house of Microsoft. The tech giant developed and offered the product after taking into consideration the working and performance of Windows. Hence, the tool easily targets the impacting spaces.
---
Frequently Asked Questions (FAQs): Junk file Cleaner
Q1. What are the Junk Files?
The hard disk houses the entire Windows operating system, important data, and files. Junk files come into existence from various sources like
Operational activities of the Windows.
From various other programs that are being installed and operated on your system.
From browsing activity.
With time, the hard disk of a system gets cluttered with uncountable garbage files from several sources that disrupt its normal functioning.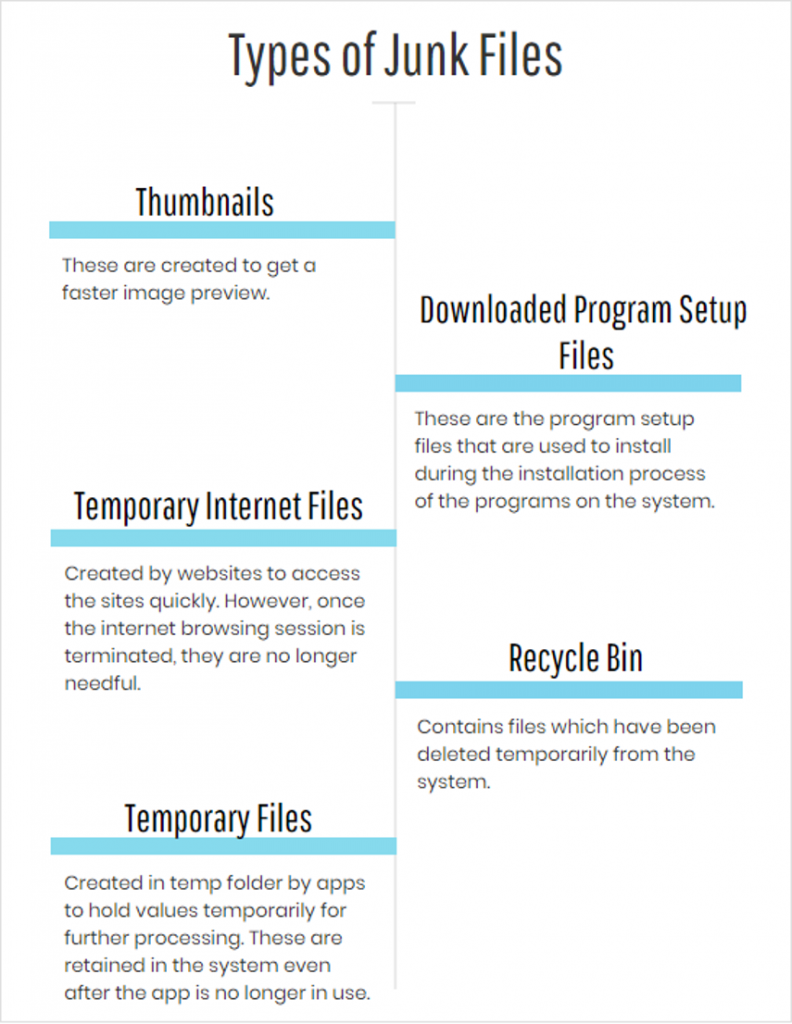 Therefore, the more the number of files on the hard drive, the longer the hard drive takes to access those files. The result of this is a sluggish system with various other issues like frequent system crash downs and even start-up failure.
As temp files are like a by-product of the operational activities of a system, therefore getting rid of such garbage files is a necessity. Doing away with junk files ensures that the space on the hard drive is not wasted by unwanted resources, and also the system is not wasting resources to update redundant apps.
Q2. Is It Safe to Delete Junk Files?
Yes absolutely, deleting junk files is safe and is the best practice as it helps in increasing the free space in the disk. However, manual methods can be tough, which is why you can use the best junk file cleaner software.
Q3. How to Delete Junk Files in Windows 10?
You can either take help of the Windows built-in maintenance utility (Disk Cleanup) to delete useless junk files or you can get a dedicated third-party junk file cleaner software to perform the task in a jiffy.
Q4. How can I clean junk files for free?
If you want to clean junk files for free, then you can use the Windows integrated Cleaner tool for some basic cleaning. You can run this tool by opening the drive partition properties and then selecting the option of Disk Cleanup. Alternatively, you can also use the best free junk cleaner for Windows available above for more features and functionalities.
Q5. How do I scan for junk files?
You can scan for junk on your system quite easily by using CleanMyPC, CCleaner, AVG TuneUp, and various other best and trusted junk file cleaners for Windows listed above. Download and use the one (or more) tools you want.
Q6. Which Is The Best Junk Cleaner For Windows 11, 10, 8 & 7?
The best junk cleaner for Windows 11, 10, and other systems is AVG TuneUp, Advanced SystemCare 15, CleanMyPC, CCleaner, and others listed above. Check out the features of all the tools and then download one or more as you want.
Q7. What is the best free junk file cleaner?
If you are looking for a free junk cleaner, then Avira PC Cleaner is the one you can use. The software makes sure that your computer runs faster than usual. Additionally, it comes with a wide range of optimization features to keep your system in tip-top shape.
Q8. Should I delete junk files?
However, having junk files on your mobile device or computer is not your fault. They are ubiquitous and inevitable. Luckily, they are not the same as a computer virus or bloatware, but junk files might slow down your device and directly impact your PC performance. Therefore, to ensure the consistent and smooth performance of your computer, deleting junk files frequently is necessary.
Q9. How are Junk Files Created?
Junk files are cache, temporary files, and residual files and are created by background running programs or during the installation of apps. Such files are created only for temporary use but are left behind once the process completes.
Q10. Does Windows 10 have a built-in cleaner?
Windows 10 comes with a Disk Cleanup tool to clean junk. You can access it by typing Disk Cleanup in the search bar and then selecting the search result appearing at the top. It is a decent disk cleaning utility available for free. However, it lacks some advanced features present in the best PC junk cleaners discussed above.
---
Conclusion
Thus, you became familiar with some great junk file cleaners that are capable of not only keeping your system free from trash but can also optimize your PC in a way so that it performs better.
Apart from the above-suggested junk remover applications, there are some manual ways to deal with the clutter of your system like taking the help of the in-built System Restore tool, manually deleting temp files from the temp folder of your system, and manually emptying the recycle bin on regular intervals.
If such fixes don't seem to boost your system performance then, alternatively you could also use defragmenter tools to fix your system's hard disk.
Snigdha is a technical content writer with expertise in the field of science & technology. Though she has a very diverse academic and professional profile yet she finds writing to be a creative form that she was unable to explore so far. When not writing, she can be found indulging in other forms of creativity like painting or travelling.
Subscribe to Our
Newsletter

and stay informed

Keep yourself updated with the latest technology and trends with TechPout.
Related Posts