Have you ever wondered why your PC lags and works slow? Most of the individuals would say a big NO because they never pay attention to it before. But the answer to this question is probably the filled disk space. Perhaps, the dupe shots causing the issues and snatching the efficiency of your system.
If you are searching for the best duplicate photo cleaner & remover then Awesome Duplicate Photo Finder must be listed on priority. Here's a complete and honest review of this software. Without any further delay, let's get started!
What is an Awesome Duplicate Photo Finder?
This software is uniquely designed to find and delete duplicate pictures from your system. Plus, this amazing tool searches for the dupe shots on your device, gives you a bunch of options, and then lets you eradicate all the unwanted images from your device absolutely free. Plus, to accelerate the performance speed of your system.
Application Specifications
Be sure that your system meets all the requirements of it. Here is the full specification!
Operating system:- Windows 10, 8, 7, XP, Vista
CPU:- 400 MHz or higher
RAM:- 512 MB or higher
Now, let's move forward towards the notable features that the software promises.
---
Notable Features
As its name suggests, the application is just an awesome approach to deal with the issues that occur because of the duplicate pictures. Plus, to easily and instantly eradicate duplicate pictures.
1. Detects Multiple Versions of Equivalent Picture
No matter if the image is available in diverse sizes. The application can easily detect all the images and delete them all. JPG, BMP, GIF, and PNG are the image types that are supported by it.
2. No limitations for files
With this application, you can add multiple folders or drives at a time for scanning. There are no limitations for adding up the number of files, folders, or drives. Thus, it saves a lot of time as well.
3. Available in Portable Variant
This software lets you run the program on your system even without the installation. The program permits portability, which means you can carry the application on your portable devices.
4. Time Consuming
The application is a fully automatic tool that frequently searches for the dupe shots and provides the results instantly. And, within a single click, it lets you eradicate the duplicate pictures. Thus, it saves users much time and effort.
Also Read: How to Delete Duplicate Photos in Google Photos? Check Useful Ways!
---
How to Use it?
Now, finding and deleting duplicate pictures becomes an extremely easy task. This application lets you do so quite quickly. Within the series of steps, you can delete duplicate pictures using this app. Read along to know how it works!
Step 1: Firstly, download and launch the software.
Step 2: And then upload your files and folders to the application or just drag & drop the folder or files at the upper-division of the window.
Step 3: After this, click on the Start Search option and wait for some time until the completion of the scanning process.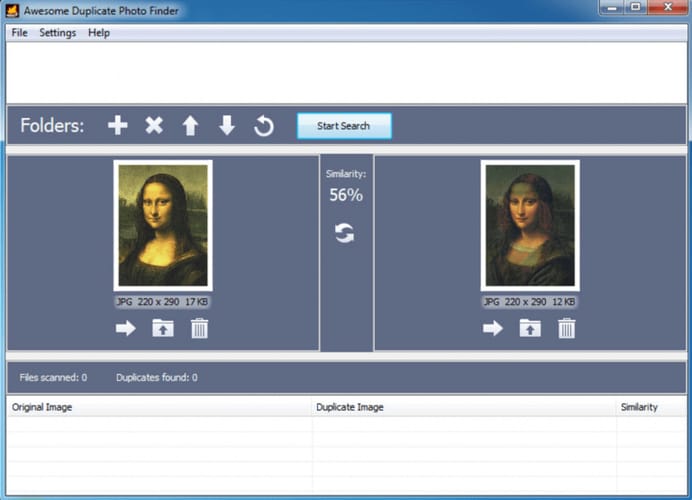 Step 4: Now, click on the OK option when the prompts window appears displaying the total number of duplicates.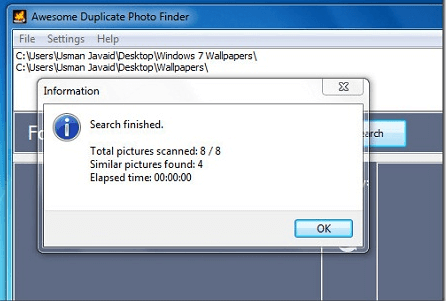 Step 5: Thereafter, the next window will show the similarity percentage and displays the original or duplicate both photos.
Step 6: Now, to move the photo to another location, see its current location, or delete it you can choose the respective options.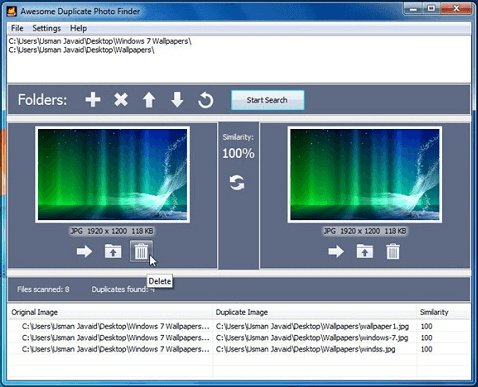 In addition to this, it shows both pictures i.e, the original and the duplicate one in the panel. Apart from this, the tool also presents you with additional pieces of information about image resolution, file type, and file size.
---
Advantages & Disadvantages
While reviewing the product, we've come to know about the advantages and disadvantages of using this software.
Pros:
Impressive user interface and quite easy to use for newbies.
Easily & quickly detects duplicates of different file formats and deletes them as well.
You can access all its features at no cost.
Moreover, it is available in the portable variant as well.
Robust algorithms to scan for duplicate pictures.
Cons:
Takes a lot of time for installation.
Doesn't provide any special features.
Other applications provide more high-end features.
Also Read: Best Photo Stitching Software for Windows 10/8/7
---
Frequently Asked Questions (FAQs)
Here are some common questions which usually strike in the head of every individual. Let's read them!
Q1. Is Awesome Duplicate Photo Finder Secure?
This software is a completely free tool but a robust one. Plus, it is safe and reliable to use. In addition to this, the interface of this software is neat and ad-free. And, it is not malware, 100% safe to use it.
Q2. Can this Software Delete all Dupe-Shots in One Go?
The application is a lightweight tool that easily finds and deletes duplicate pictures. However, it takes a bit more time to detect all the duplicates than usual. It allows you to delete the dupe-shots in one click.
---
That's a Wrap!
We agree that organizing a photo gallery is not an easy-to-do task. But, after using this software our verdict has changed completely. Now, you can organize your photo gallery. And, it is crucial too, as it clutters the hard disk and slows down the overall system as well. Hence, downloading and installing this sort of software is crucial. Plus, this application has everything that you require to get rid of duplication trash.
So, that was our unbiased review of this software. Hopefully, you have got the answers to all your queries. And, yeah, if you have liked our review then do subscribe to our Newsletter to stay informed. Do share it around your circle too. Plus, share your views on this in the comment box below!
Harshita Sharma is a technical writer with quite a distinct understanding of the tech realm. She is a tech enthusiast who believes that tech knowledge should reach one and all and tries to convert the sketchy knowledge into the simplest possible form for making people understand the tech world better. When not playing with words, she loves to travel and explore new places. And, is a coffee & cricket connoisseur.
Subscribe to Our
Newsletter

and stay informed

Keep yourself updated with the latest technology and trends with TechPout.
Related Posts