20+ Must-Have Software For Windows 10, 11 In 2023 | Best software for PC

If you are a computer-savvy person, know about the must-have software for Windows 10 you should use in 2023 to make the most out of your brand new PC and laptop.
Microsoft's beloved operating system – Windows 10 – comes with an array of most up-to-date features and functionality to give you a better and personalized computing experience. From work to gaming, we rely on a bunch of Windows 10 apps to cater to all our computer needs.
In spite of that, every now and then you may find yourself on the lookout for some additional apps for Windows 10 depending upon your requirements.
To solve this problem once and for all, you should start loading your system with all the essential and useful Windows 10 programs that would create a great impact on your work and play.
Keeping all this in mind, below we have mentioned some of the essential apps for Windows 10 that you need to make a note of ASAP. Move down the list and download the must have software for Windows 10, 11, or older version devices.
What Are the Must-Have Software For Windows 10, 11 In 2023?
Here we present you our curated list of must-have apps for Windows 10 and 11 that everyone should install on their PC right away. Let's check out the best PC programs for Windows 10.
1. Driver Update Software
"A must have program for Windows 10 to update outdated drivers"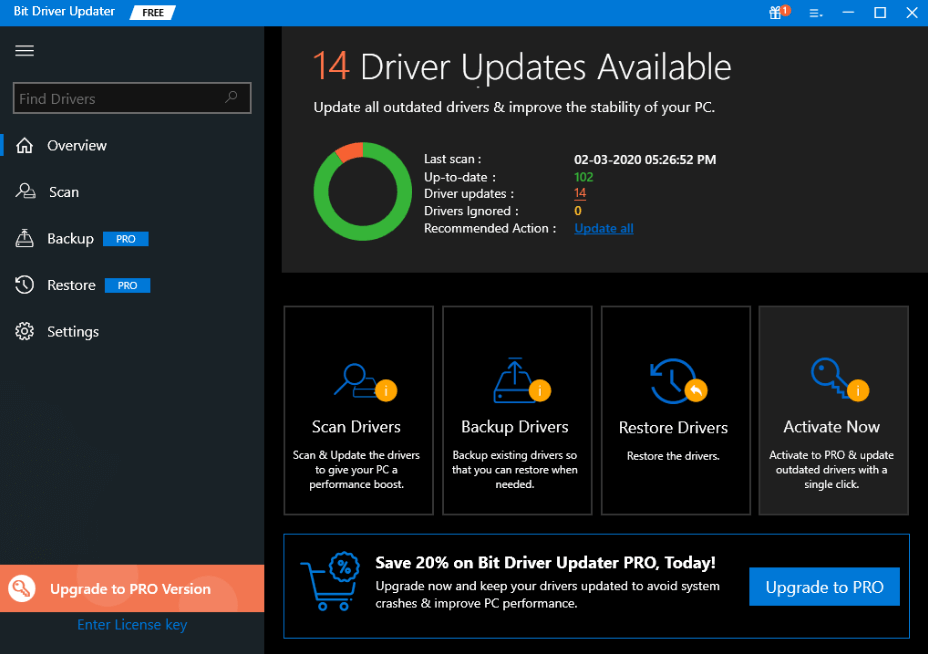 A driver or a device driver is a computer program (also known as cluster of files) that allows one or more hardware devices such as speaker, printer, graphic card, etc. to build connectivity and communicate with the computer's operating system.
Without the correct drivers, the operating system would not be able to know what kind of a device is attached to the computer and how to operate or control its functions.
Therefore, it is extremely important to keep your Windows drivers up-to-date always for a smooth and healthy functioning of hardware components.
Using corrupt or out-of-date system drivers, you may face various compatibility or driver-related issues such as no sound, blue screen of death, shuttering or crashing problems, Wi-Fi connectivity issues, or some of the devices like printer may completely stop working.
The safest and easiest way to prevent such device conflicts is to use the best free driver updater software for your Windows 10 PC. Moreover, the driver updater is also an important software for Laptop Windows 10, 11, or older versions.
It is a powerful and extremely user-friendly utility that effortlessly auto-scans your entire PC and helps users install the latest, manufacturer-recommended drivers in just a blink of an eye.
Taking all the essential features of an ideal driver update into consideration, we suggest using Bit Driver Updater that can not only takes care of all driver-related issues but also maximizes the performance and processing speed of your computer. The best software for Windows 10, 11, 8 or 7 updates drivers on your system with minimal effort.
The best thing about this product is that you don't need to shell out a fortune for it, it's FREE!

---
2. Duplicate Photo Finder – Free Up Disk Space
"A must-have program for Windows 10 to clean duplicate photos"
With the rise of widespread adoption of smartphone technology, taking selfies and pictures of everything that catches our attention has become more than just a trend.
However, these identical-looking selfies and duplicate photos tend to get piled up over time, consumes up to gigabytes of disk space, and makes it extremely difficult to manage your digital collection of albums. What if you find out basic software for Windows 10 or other versions that can clear up all the clutter and duplicate data from your device automatically?
To keep your photo gallery and system optimized, all you need is a dedicated duplicate photo cleaner software.
Since Windows 10 PC doesn't come with an in-built duplicate photo remover tool, it is important to add this utility to your list of must-have apps for Windows 10.
Quick Photo Finder is one of those nifty, renowned software available in the marketplace that can make your job much easier.
It effortlessly finds and removes the multiple copies of duplicate ones, plus also helps you recover a significant amount of lost storage space that you forgot you ever had, all in just a matter of seconds!

---
3. VPN (Virtual Private Network)
"A must-have software for Windows 10 to keep online identity secure"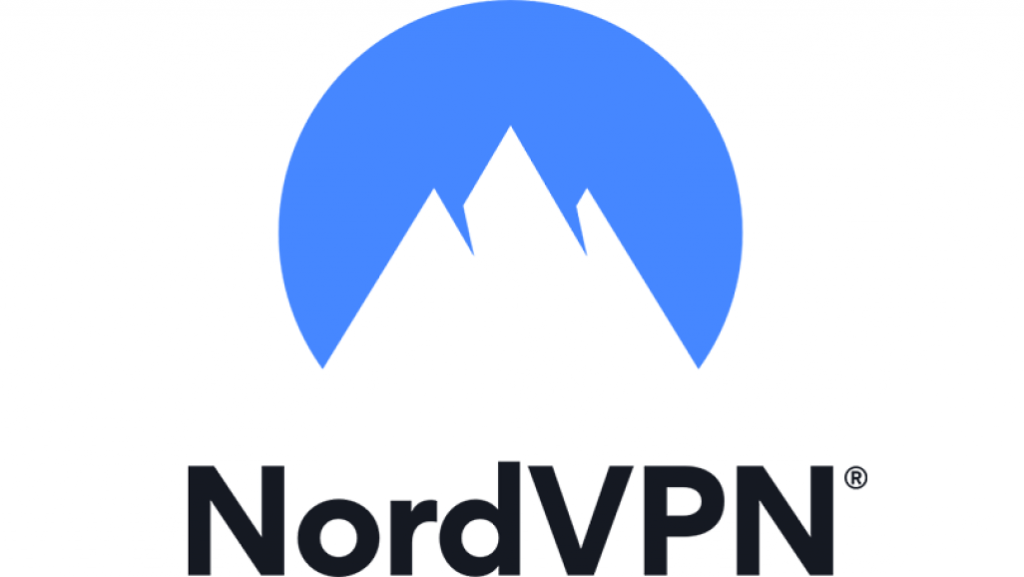 Next on our list of essential software for PC is NordVPN. Depending on the country you reside in, there is a chance you might have to put up with geo-restricted content or your government blocking certain websites.
What if the list contains your favorite social media platforms or movie streaming sites?
So, have you ever wondered that your IP address, browsing activity, location, and online identity could be at risk? Well, cybercriminals and spies around the world can see everything you do online such as the websites you've searched for, the pictures you're posting, the movies you've been watching, and lots more.
Therefore, it is important to use a good VPN service to hide your IP address and encrypt sensitive data to keep it secure from prying eyes.
The best thing about VPN is that it not only provides a safe passage for your internet traffic but also lets you bypass the censorship to access blocked websites from anywhere in the world along with superfast streaming and unlimited bandwidth.

Having trouble shortlisting the ideal service provider, see the list of Best Free VPN for Windows 10.
---
4. Cleaner Software
"A must-have software for Windows 10 to unleash its maximum performance"
Cleaner Software is another must have programs for Windows 10. You don't even want to know the amount of junk your computer can store up and how it can make your system lag behind in its functioning. All those files, caches, and digital debris that you most definitely don't need.
To avoid that, you need an effective cleaner software. To save you from the hassle of finding one, we have below mentioned a couple of best Windows 10 software which are a must-have Windows applications for cleaning your PC and laptop efficiently.
IObit  Advanced SystemCare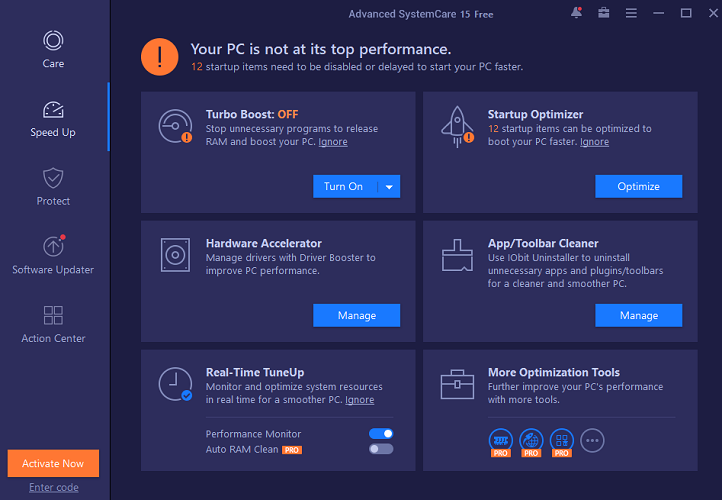 When the talk is about the best cleaning apps that you must have on Windows, we cannot skip IObit Advanced SystemCare. The best Windows software is a powerful and easy-to-use software has many interesting features, such as more than 30 troubleshooters ( for example, AI Mode, firewall protection, anti-tracking, and large file cleaner) to clean, protect, and speed up your computer.
You can make a click on the link below to download this cleaner-cum-booster to get the ultimate PC performance.

---
CleanMyPC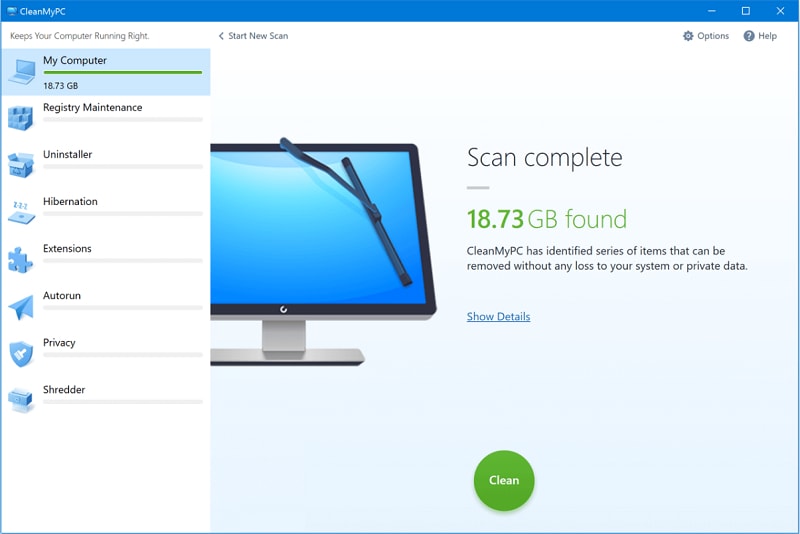 CleanMyPC is a powerful tune-up utility tool developed by MacPaw Inc. to help you get a safer and cleaner PC. With the help of this tool, you can effortlessly scan every nook and cranny of your computer to delete megatons of junk files and boost the speed and overall performance of your PC.

---
CCleaner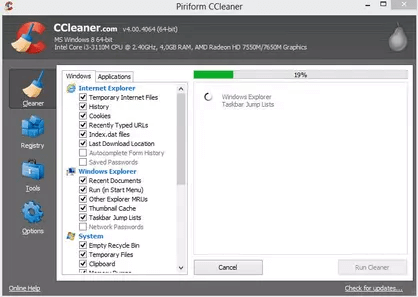 This powerful cleaning utility from Piriform is one of the best PC software on the face of the earth. It automatically deletes broken Windows registry entries and the temporary files. It also detects and identifies all the software that your system doesn't require.
Bid those extra bits and bobs goodbye, and work with a fast functioning computer.

---
5. File & Photo Recovery Software
"An essential app for Windows 10 to recover lost or deleted data"
It happens a lot of times that we delete some important files obliviously and then regret this action for quite a long time.
But we might just have something that would ensure that this doesn't happen again.
Whenever you delete a file, even from the Recycle Bin, the file isn't actually wiped off the face of the earth. Its sector is still on the hard drive, and you can use that to recover your file (Yay!).
Now, let's take a look at some of the file/ data recovery software & programs that you must have in Windows 10.
Stellar Data Recovery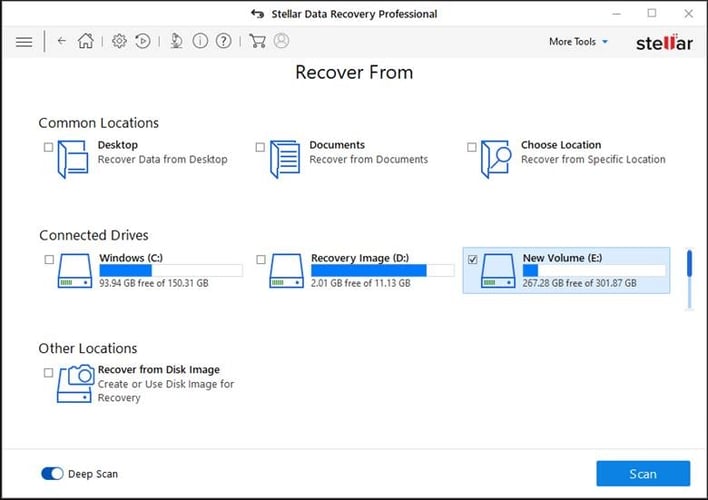 The next on our list of PC software list for most essential apps os Stellar Data Recovery. It is one of the most capable and popular software used by Windows users to recover lost or deleted data. With the help of the free version of this program, you can easily retrieve up to 1 GB of lost or deleted files from Windows PC, laptop, USB stick, hard drive, etc.

---
Recuva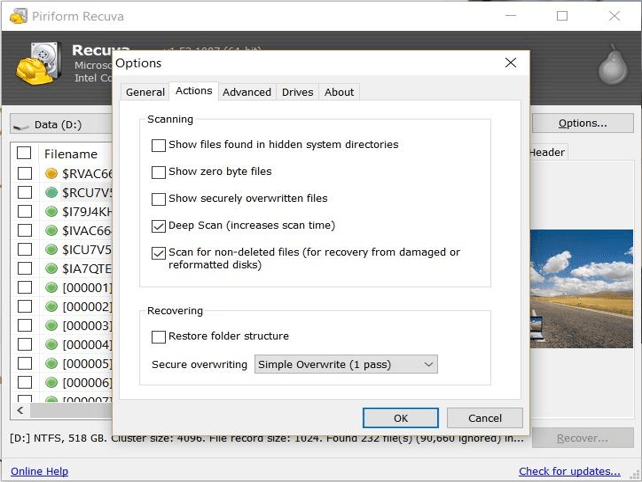 Image source: Cloudwards
Recuva, a file recovery tool, assists the user to recover and restore her/his deleted files in the system.
After loading the software, the user just needs to choose which file she/he wishes to recover and from which location. Once the search is configured, the software will start a scan process and find the files matching the entered criterion. The user can, subsequently then, select the desired files to be recovered. There is one another file recovery software named EaseUS which also works fine.

---
6. Utility Software
"Must-have Windows app for managing and improving the performance"
Another one on the list of best programs for Windows 10 is a Utility software. It is a one-stop solution for maintaining your PC. The software offers many tools which can help you in managing, optimizing, and analyzing the performance of the PC. The list of tools includes a disk defragmenter, backup utilities, disk cleaners, disk compression, network utilities, virus scanner, and many others.
By reviewing Utility software we have shortlisted the best must-have software for Windows 10 and an older version which you can install for maintaining your PC.
Revo Uninstaller Pro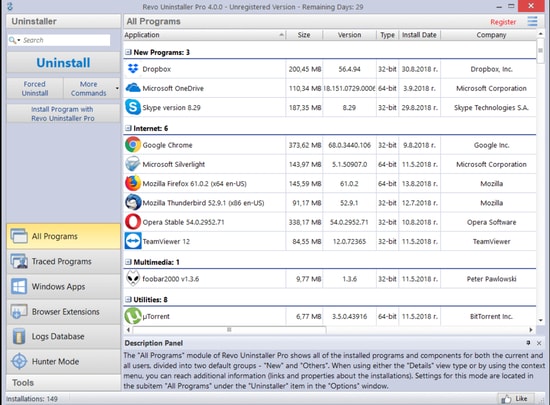 Revo Uninstaller is a great software that can help you in various aspects of protecting and maintaining your PC. The best part about this software is that it can be used on mobile devices as well. It moreover offers some of the best tools like Windows app remover, force uninstaller, installation monitor, advanced scanning for residuals, logs database, and many others. We would recommend you to try this software for better performance and improve the life of the PC. All these features make Revo Uninstaller as best software for personal computer to improve the performance of your device.

---
7. Multimedia software
In the present day world, having multimedia software installed on your computer is quite a necessity. You need these programs for a variety of purposes, such as playing, downloading, and converting videos from one form to another.
Hence, if you wish to have a multimedia program on the PC, you can pick one from our top recommendations shared below.
ByClick Downloader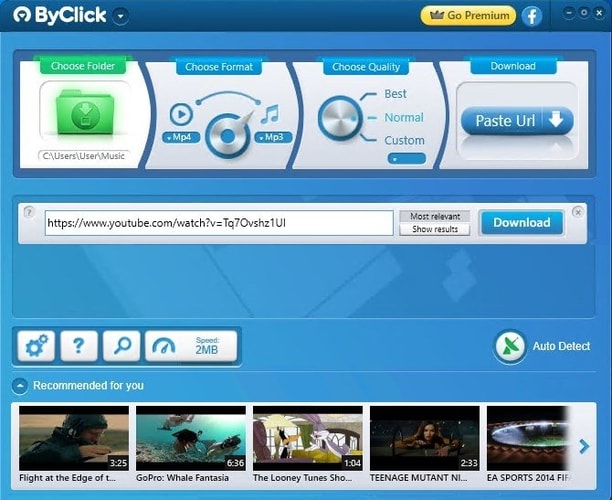 For all those who want top-notch software to download videos from a variety of platforms, like YouTube, Facebook, Vimeo, Dailymotion, etc., ByClick Downloader is among the great picks.
In addition to downloading videos in multiple resolutions (for example, 720p, 1080p, 4K, and 8K), it also lets you convert them into formats, like MP3, MP4, AVI, FLV, WMV, etc.
Moreover, the best thing about this software is that it not only lets you download YouTube playlists/channels but also Instagram pages with a single click.

---
4K Video Downloader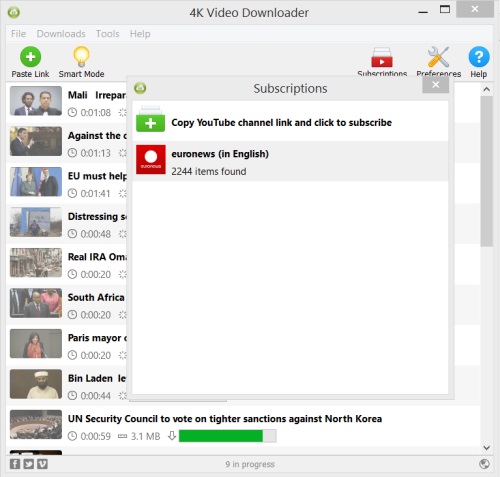 If you are looking for the must-have multimedia software to watch videos offline and download private YouTube videos (accessible to you), the 4K Video Downloader can be a perfect choice for you.
It offers some incredible features, such as downloading videos (in various resolutions, such as HD 1080p, HD 720p, 4K, and 8K) from YouTube or other websites (like Facebook),
Moreover, you are surely going to like it for its other features, like 3D and 360º video downloads.
Furthermore, it also boasts a unique Smart Mode that saves and applies your preferred settings to all future downloads.

---
8. Security Suite
"A must-have software to protect your computer from virus and malware attacks"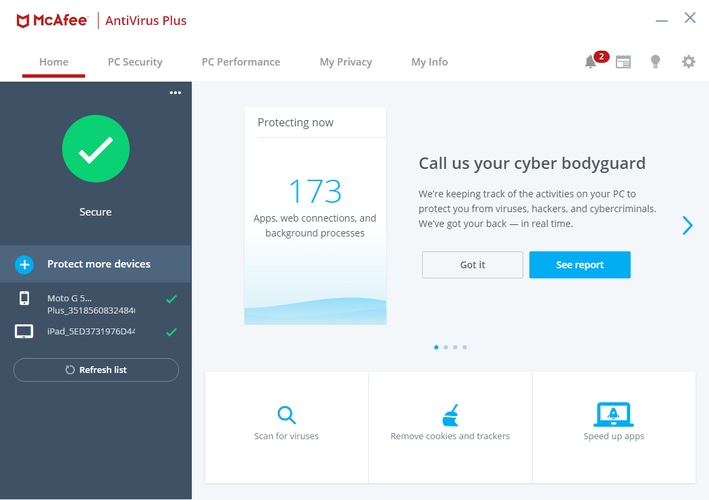 Your system's security should be the foremost crucial thing that you should take any step towards. Always remember, prevention is cheaper (sometimes free) than cure in the case of computer damage by various threats. So it is always better to opt for a strong 'Anti-virus Software' that would cater to all your needs.
Our pick for the security suite is McAfee Antivirus. This software is one of the most popular and most successful antiviruses. The antivirus is one of the best software programs and has been used by more than 600 million device owners. This Antivirus protects financial information, data extraction, and threat entry on your device. You can choose the plan depending on your usage, it offers Individual, Family, and Multi-Device plans.
---
9. Internet Browser
"An essential app for Windows 10 for fast and secure web surfing experience"
What are we without the Internet in our lives? Just a shell of a 21st-century human being. And nobody can't change this fact.
Browsing is a necessary daily activity for more than half of the computer users in the world. So logically, there has to be a perfect browser to resonate with these needs and tasks. It should be fast, secure, and obviously easy to use.
Is there a perfect browser out there? We think there is.
Here are some of the must-have apps for Windows 10, designed exclusively for all Internet users to experience the web in a much faster and safer environment.
Google Chrome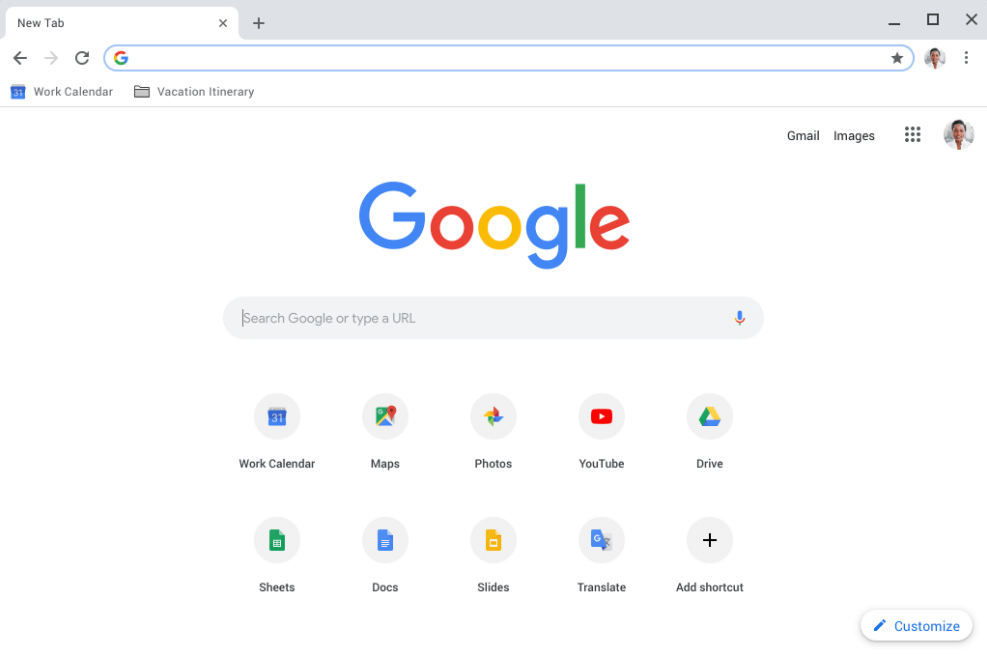 Image Source: Google Chrome
Google Chrome tops the position in the list of Windows software must-haves. All hail the king of the browsing world. It's not just a favorite; it has become a part of people's lives. It's free, fast, and efficient — and comes with an abundance of add-ons so you can customize it to your liking. And the option of incognito windows helps to keep the data and history private. What more does anyone want?
---
Brave Browser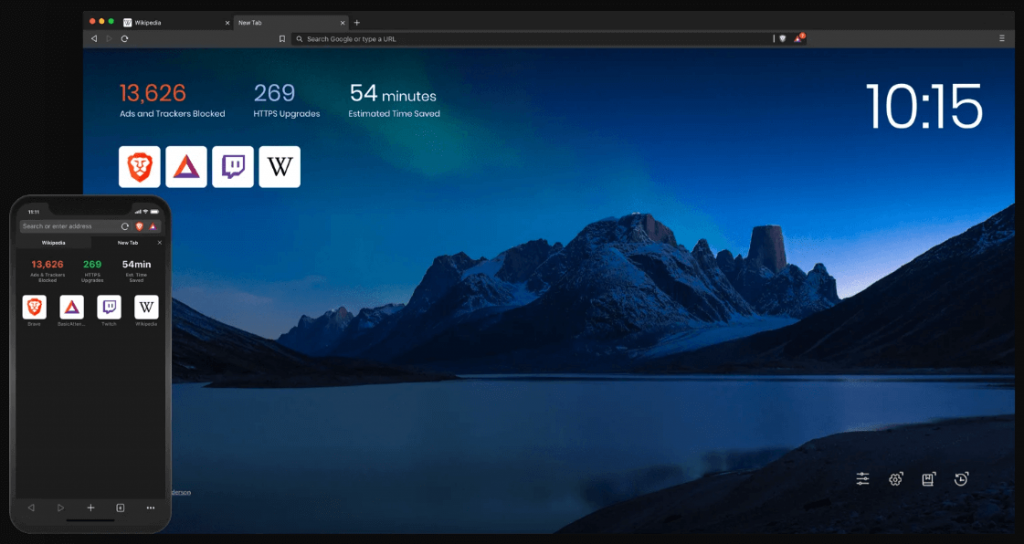 Image Source: Brave Browser
Brave is another famous name in the world of web browsers. It's completely free to use and offers support for every major operating system (Windows, macOS, Linux, Android, and iOS) out there.
It comes with a plethora of privacy and security features that focuses on blocking online trackers and harmful ads to provide you a top-notch Internet experience.
The interface is intuitive and elegant allowing you to track your every move on the Internet and surf the web more privately. If you're tired of using Chrome, you can give Brave browser a try and it surely won't disappoint you.
Another popular alternative to Google Chrome and Brave browser which offers similar features is Firefox. It has tons of incredible plugins and makes the browsing experience very personalized.
Read Also: Google Chrome vs Mozilla Firefox: Which Web Browser is Better
So, if you no longer desire to use the Microsoft Edge web browser, then these are amongst the best Windows 10 apps you should use in 2023.
---
10. Media & Entertainment Software
"Must-Have software for Windows 10 to satisfy entertainment cravings"

Image Source: Dreamstel
Media and entertainment are an integral part of our lives. We seek out some fun and recreation everywhere we go. Then why not incorporate this fun on our Windows system?
In addition to this, we have below-mentioned some of the essential programs for Windows 10, especially for people who love to listen to the hottest music videos and binge watch Netflix shows anytime, anywhere.
---
VLC Media Player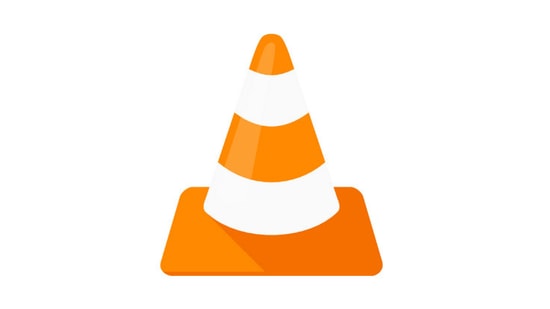 A media player like VLC is a must have app for your Windows 10 PC. Its ability to play all sorts of files without installing any third-party codecs makes it a favorite all over the globe and indeed a useful software for PC and laptops.
---
Spotify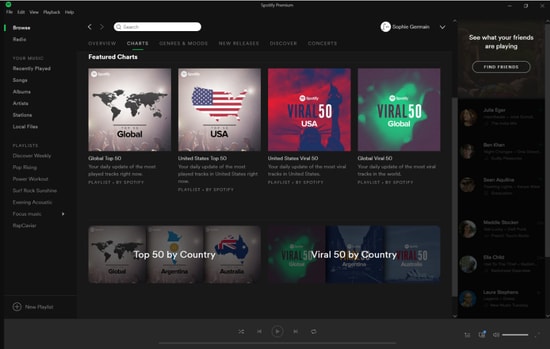 One of the major issues that people have while working on their computers is the lack of good music. Long gone are the days when an individual had to download songs and play them on her/his computer for a joyful ride.
But it isn't the same now. You have flooded with an array of music streaming apps for literally each and every one of your devices.
And our, as well as many others', the favorite is 'Spotify'. One of the most recommended apps for Windows 10, Spotify is a music streaming application that works wonders and is updated with all the new and the old songs quite rapidly as compared to their counterparts.
---
Netflix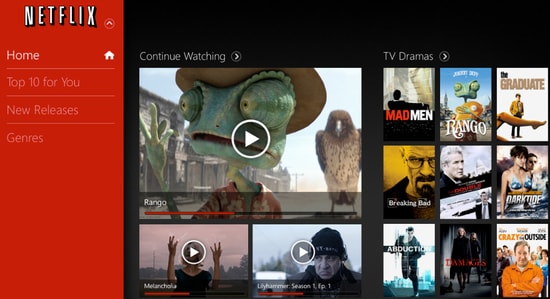 How can you watch popular web series (like Stranger Things, Dark) on your PC? With an app like Netflix, obviously. Netflix is a one-place destination for all the most talked about movies and TV shows, all of which you can either watch online or stream right to your Windows 10 laptop, smart TV, mobile, etc. No need to say anything more. Its power and user base speak for itself.
In a nutshell, all we can say is that Netflix currently ranks among the top Windows 10 apps for binge watching your popular TV shows and movies.
---
11. Social and Communication Apps
"The most popular, essential apps for Windows 10 to communicate with others"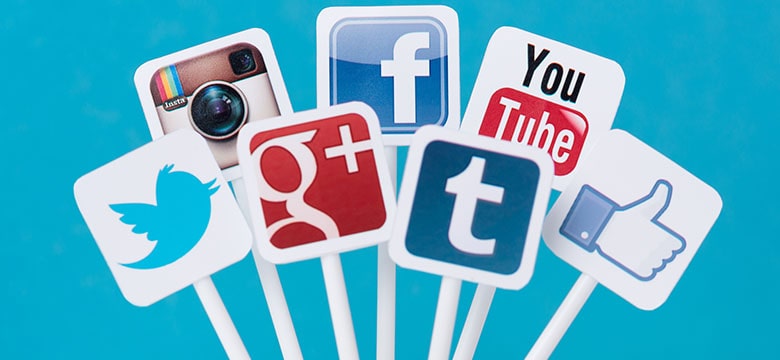 Image Source: Better Internet Kids
It is a given that you can't stop socializing ever. And by socializing, I don't mean actually meeting people and talking to them. I am referring to our constant social media and online connectivity. And who says we can't continue with it even when we are on our PCs. You can install some of the best Windows 10 applications through the Microsoft store and have fun networking.
Skype
Everyone's go-to choice for chatting, video calling, and long-distance communication.
Whatsapp
Everyone's one-stop application to be connected with their loved ones all around the world.
Instagram
Everyone's favorite social media application.
---
12. Office Suite
"Must-Have software for Windows 10 to carry out everyday computing tasks"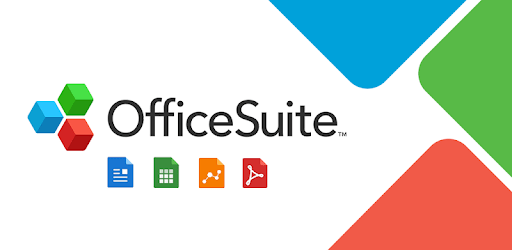 Image Source: Play Store
Most likely, you will need to work on documents, files, presentations, spreadsheets, and other work-related things at some point in time. And you can't do all these without having a tool that adheres to all your needs.
This is where an office suite comes for your rescue, just like a knight in shining office features.
LibreOffice is the best knight of this kingdom. One of the essential apps for Windows 10, LibreOffice includes alternatives to Microsoft Word, PowerPoint, Excel, Access, and other more applications.
It includes a few little aesthetic differences from MS Office, but there's just that. Every Windows and ex-MS Office users will love it and work through its interface smoothly.
Read Also: Microsoft Office Mobile App Combines Word, Excel, PowerPoint in One
---
13. Reading Application
"Must-Have Windows 10 apps for all the book lovers out there"
With the advancement of technology, eBooks have now taken over the traditional reading style for several good reasons.
In addition to this, below we have mentioned some of the must-have apps for Windows 10 that you should install right away for reading books of your favorite authors.
Adobe Reader (PDF)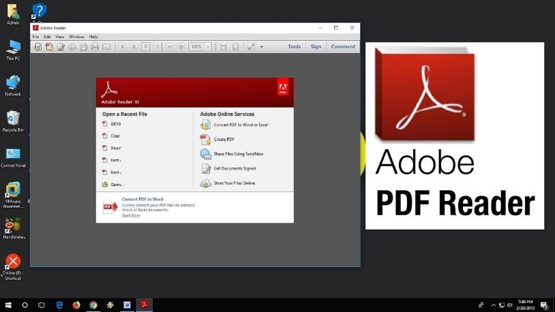 Image Source: You Tube
If you don't have this installed, then my friend, what are you even doing? Most of the files, or books we find online, are available in PDF format. This software has different reading modes, features like highlighting text, adding notes, digital signatures, etc.
It also supports a tabbed view.
---
EPUB Reader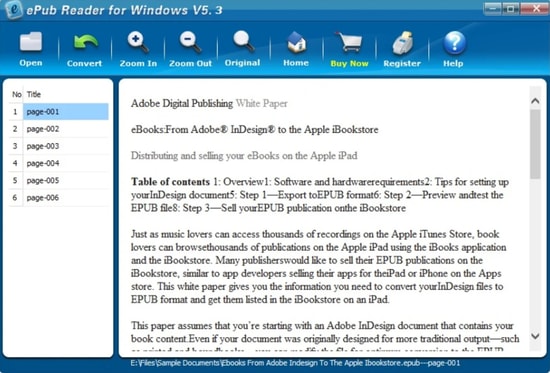 If you find yourself as an EPUB files aficionado (because of their super small size and great availability), then getting an EPUB reader should be on top of your priority list.
Some other great reading applications for Windows 10 users are:
Icecream eBook Reader Pro
Kobo
Caliber
FBReader
Bibliovore
MOBI Reader
DjVu Reader (for viewing DjVu files and documents)
---
14. PC Optimizer Software
"An essential program for Windows 10 to make it run faster than ever before"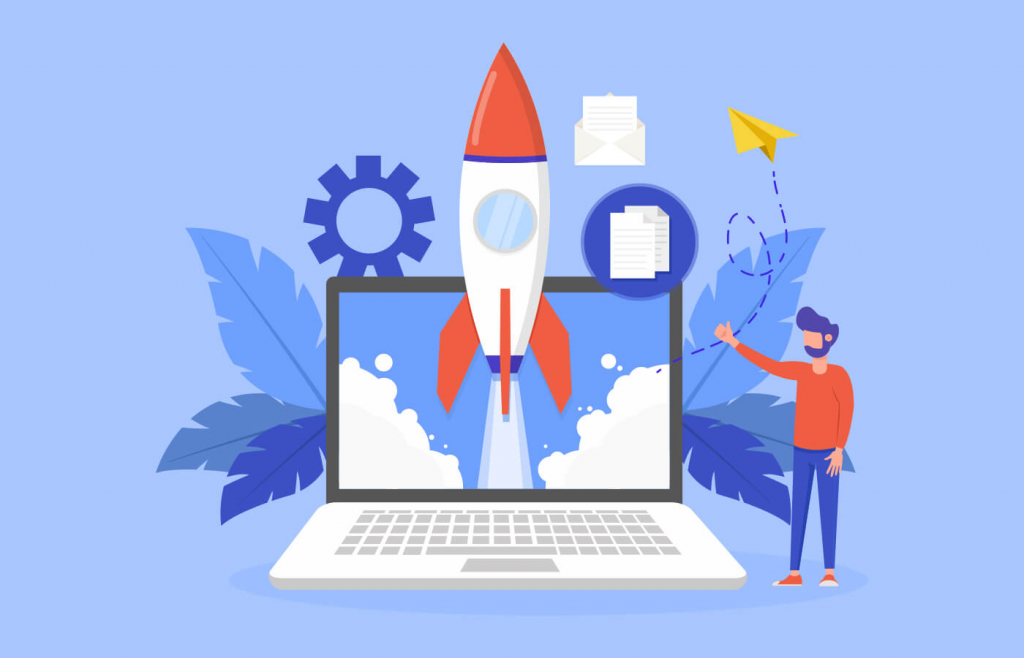 Image Source: Your Story
Is your computer system lagging behind in its tasks and actions? Do you feel like it needs an optimum boost?
Then a PC optimizer is your best bet to treat it. They are one of the best PC software as they remove various kinds of junk from the hard drive and make the computer more efficient.
If you want to know which is perfect for you, then you can take the help of our write-up on best PC optimizing software for Windows 10.
---
15. Video Conferencing Software
"One-stop solution for businesses to host virtual meetings"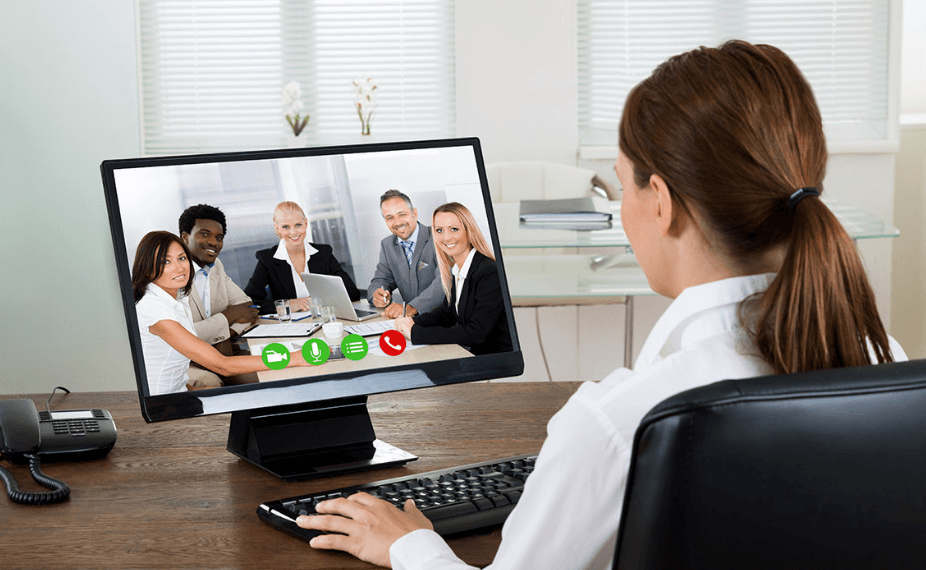 Image Source: Computer World
Since working remotely is becoming a common workplace trend, having a dedicated video conferencing app installed on your Windows 10 PC is need of the hour.
It comes with a wide array of video conferencing and collaboration tools that you can use for face to face interactions, host live webinars, chat with colleagues, and what not.
With an app of such caliber at your disposal, you don't have to worry about wasting your time and money on soul crushing commute. And that's what makes it one of the must-have programs for Windows 10 PC.
Having trouble finding a perfect one for your Windows 10 computer? Check out the list of Best Video Conferencing Software.
---
16. Email Client Software
"Must have apps for Windows 10 users to manage multiple accounts effortlessly"
If you're not already using a webmail client on your desktop PC, we would like to recommend Mailbird as the best Windows 10 application to manage all of your email accounts with great ease and hence manages to retain its place in the list of must have apps for Windows.
Something that makes it stand out from the crowd is that it allows you to access all of major apps (Such as Twitter, WhatsApp, WeChat, Facebook, etc.) from one screen.
If you want to see a complete list of the world's leading email clients, you can then take the help of our write-up on best email clients for Windows 10 PC.
---
17. PDF Creation and Editing Software
"A must-have Windows 10 software to create and edit PDFs"
Portable Document Format, commonly shortened to PDF, is one of the most widely-used document formats in the business world. Like many large and mid-size businesses, if you're also striving towards a paperless office, then having a dedicated PDF editing software installed on your system is a must for you.
Nitro PDF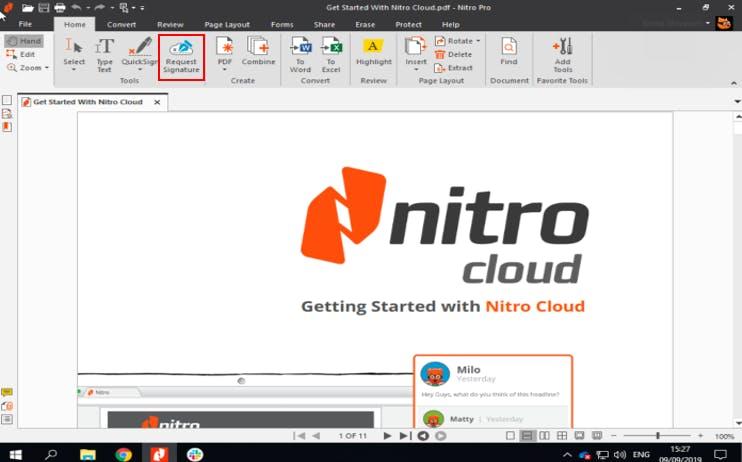 If you wish to create, edit, or protect PDF documents, then it may be the right time to move beyond a plain PDF reader to a more feature-rich PDF editor. However, if you're not sure which one is right for you, then you can use our favorite – Nitro PDF. It is one of the best Free PDF Editing Software available on the marketplace currently. With this software, you can create, edit, convert, sign, and protect PDF files and digital documents.
---
18. Educational Software
"Must-have software for Windows 10 users for teaching or self-learning"
Educational programs are a must in the list of essential programs to have in 2023. Whether you are young or old learning never stops, and to make learning more interesting. The developers have created programs that can help everyone learn new things easily with the help of new programs and different interfaces.
Below we have listed some of the programs which can help in making learning easy, check them out.
Duolingo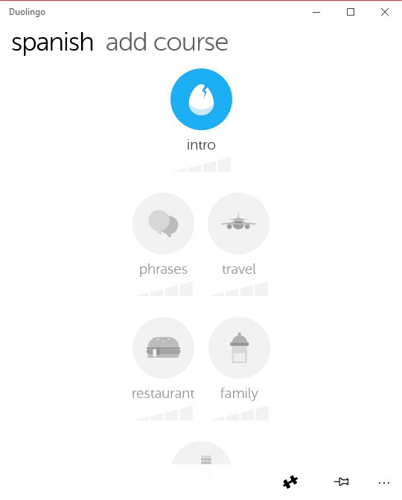 Duolingo is a very essential program for Windows that can help you in learning new languages without any tutor. You can easily pick the language that you wish to learn and start learning them at home. The program includes languages like Spanish, French, German, Portuguese, and many more. The best part about the software is that it is available for free.
Also Read: Best OCR Software to Extract Text from Images and PDFs
---
WeDo 2.0 LEGO Education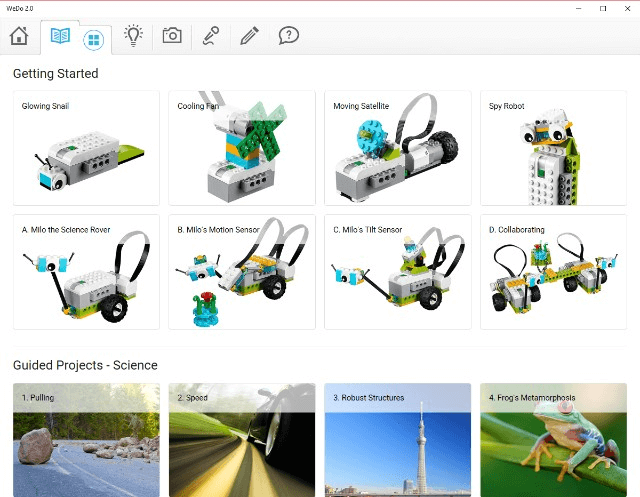 The next essential educational software is WeDo 2.0 LEGO Education. This can be the ideal program for kids who wish to learn coding. The unique interface of the software helps kids in learning the basics of coding easily using LEGO bricks.
Other than this the program also has crucial science and engineering practices that can help them in real life. This software can teach your kids every essential skill that can help them in the future which is why we have kept this software on the list of best essential programs to have in 2023.
---
19. Cloud Storage
"A must-have program for Windows 10, and 11 to back up and securely access all your files from any device."
File storage should not be something we often think about, but with the pictures & videos we all capture with our friends & family, and of course, those funny memes we save, our device's storage capacity can get full pretty quickly.
And, here comes Cloud Storage as a savior. It can certainly make your life much easier by keeping your precious and important files safe and also, saving storage space on your smartphone, computer, or tablet.
The most interesting thing about cloud storage is that even if you forget to back up your files before upgrading or just lose your phone in an accident, all your files or data are still in the cloud and you can easily access them.
Cloud Storage is especially useful for people working from home who have to frequently share files with their colleagues.
Google Drive
Talking about the best cloud storage, then Google Drive is a safe palace to back up files and securely access them from any device. It offers rich features and affordable backup and sync services. Google Drive comes with the collaboration of apps like Google Docs, Sheets, Photos & Slides (which together are known as Google Workspace).
Using this platform, you can seamlessly create, store, edit, view, and sync files, without any hassles. Google Drive gives you a free storage space of up to 15GB when you create a new account. And, the paid plans start at $1.99 (monthly) for 100GB. In addition to this, one can also upgrade their storage to a maximum of 30TB which costs $299.99 monthly. Google Drive can be used on iOS and Android, as well as on macOS and Windows.
Also Read: How to Find and Remove Duplicate Files in Google Drive
---
20. Image Editor Software: Paint.NET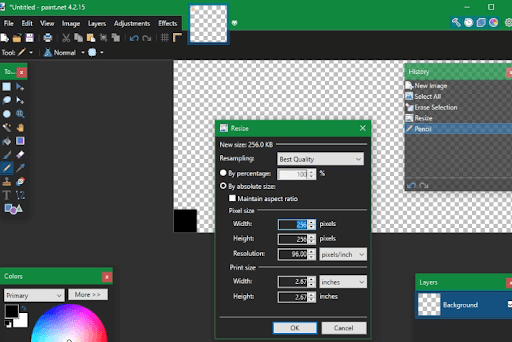 Images have become a great source of keeping memories intact. Capturing screenshots, enhancing them, or trying basic image editing is needed by almost all the tech users. And here comes the need for Image Editor Software. Photoshop is a common tool but is not available for free. But there are plenty of alternatives for image editing software. Paint.NET is one such reliable software to edit images on your Windows devices.
The tool is powerful enough to meet the basic needs of editing. Blur out the extra sections of the image, level images to make the appearance better, and edit them by adding text. Also, you can add numerous plugins to expand the core functionality of the tool.
---
21 Screenshot Software
"A must-have program for Windows 10 to capture the contents of the visible screen"
A few years ago, screenshots or snapshots were not that vastly popular among PC users. At that time, it was only utilized for sharing the error codes on the screen.
But, nowadays, screenshots are widely & routinely used in our day-to-day life. For example, capturing a screenshot of a particular post available on any social media platform or a funny message. Students also capture a screenshot for education purposes. Now, if you are wondering how to do that with ease, then you can use our top recommendation mentioned below.
Greenshot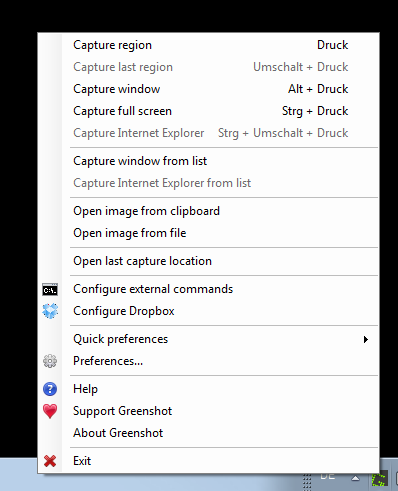 Greenshot is one of the popular and best screenshot software for Windows that you can use to take snapshots or screenshots. With the help of this utility tool, you can easily and quickly take screenshots of a particular area, window, or full screen. Not only that, but you can also capture entire web pages from Internet Explorer.
In addition to this, you can even highlight or annotate parts of the screenshots. It is an easy-to-use and configurable tool for software developers, testers, project managers, technical writers, or anyone else who wants to take screenshots.
---
22. File Compression and Extraction Software
"A must-have tool for Windows to easily compress files to save space"
With limited Storage availability on systems, it is important to manage data. And to do so you can use the best compression tools. Compression tools help in compressing and decompressing files to make more space in the system. It is basically a data reduction technique that reduces the file size. Now, let's proceed with the best file compression and extraction software available in the market.
WinRar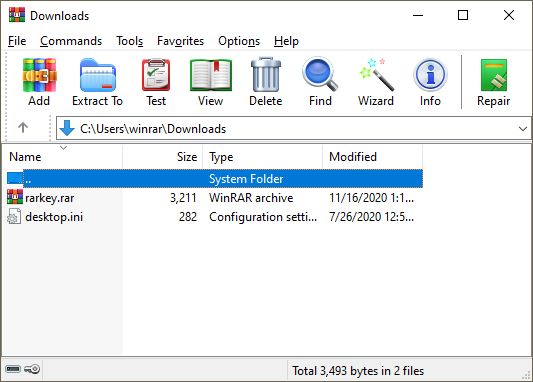 WinRar is one of the most popular file compression and management software. This utility tool is great for file compression, encryption, sharing, and backup. Using this windows program, you can archive and compress files so that you can save or distribute them more effectively. The tool lets you easily and quickly zip or unzip files, saving time and space.
WinRar is an easy-to-use and powerful tool that one must have installed on their Windows PC. The program offers a free trial and enables you to access all the features of WinRar free for 21 days. However, once the trial period is over, you will have to buy a license to continue using the tool.
---
23. Professional Messaging Tool
"A must-have software for Windows to control all the messaging platforms and apps."
To connect with any individual or user in this world of technology, you can take the help of a messaging app. A messaging tool is surely part of the Must-Have Software For Windows 10. Especially if you are working with the corporate sector, then a messaging app becomes a must to manage all the messaging platforms in a single palace. Let's have a look at one such tool.
RamBox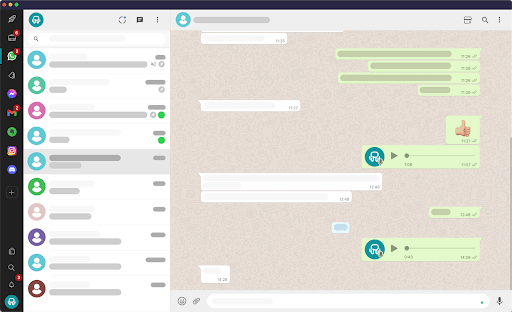 RamBox is one of the most reliable and trusted messaging apps of the decade. With the help of this tool, you can easily control all the messaging apps and platforms in a single space. This tool is generally used by businessmen and working professionals who want an entire control of the messaging platforms at their fingertips.
The platform is available for Windows, Mac, and Linux-based devies and operating systems. You can use this tool for free. However, you may need to pay some money to get the ability to add unlimited messaging apps after a certain period. This workspace simplify is just the thing you need if you have multiple social media and messaging platforms to control your DMs.
---
24. Backup Utility Programs
"Must-have Windows app to protect your PC from physical threats by creating smart and easy backups."
The last category on this list of the best programs for Windows 10 is a backup utility. The personal or physical computer is vulnerable and exposed to a lot of different threats. These include attacks from hackers, physical damages, system failures, etc. All these threats can very well affect the important files or data present on the PC's storage. Hence, to stay ahead and protect yourself from such threats, you should install reliable backup utility software.
To help you with the same, we have shortlisted the best must-have software for Windows 10 for backup purposes. Check these out.
AOMEI Backupper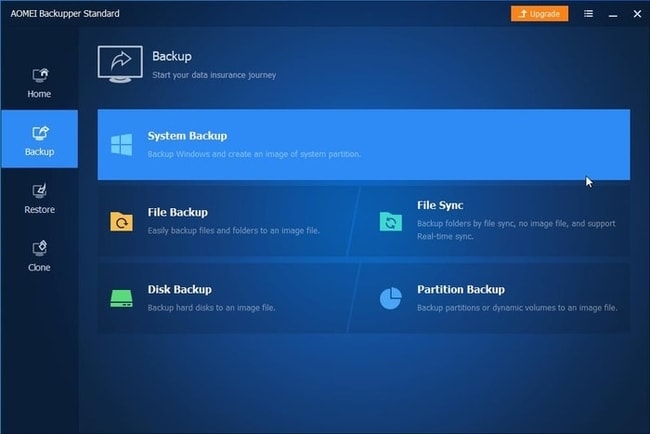 Whenever it comes to creating or taking a backup of the Windows OS or its files, the name of AOMEI Backupper shines the brightest. This is the best free backup software for Windows that allows you to back up everything and anything from your Windows device. You can also use this software on Mac. The strong backup capabilities of the software make it one of the best ones ever. With the tool, you can also avail yourself of free cloud storage of up to 1 TB. Using the AOMEI Backupper, you can back up data on SSD, HDD, and various other internal and external devices.
---
25. Some Bonus Must-Have Apps for Windows 10
Below are a few additional useful programs for Windows 10 that every user should install in 2023:
A. F.lux
We are all guilty of embedding our eyes onto our computer screens till the late hours of the night. But there's one app that will help in reducing eye strain and improving the sleep patterns.
f.lux, a multi-platform application, adjusts the brightness and screen light automatically depending upon the color of the room one's in, time of the day, and the light sources around.
B. LastPass
Don't tell me that you don't feel flustered and overwhelmed about the sheer amount of accounts you have and the passwords that you have to remember? I am so sure that you do.
A password manager will ease all your troubles indefinitely. LastPass is an apt choice.
You require only a 'master password', for the password manager and all the other passwords will be uniquely generated for every website being used.
All the information and data are stored in the cloud with AES-256 bit encryption.
C. Unchecky
You know how when you are installing software in your system, and suddenly you realize that there has been a lot of junk downloaded as well? Super annoying, right?
Unchecky is an application that dynamically watches check-boxes while you are installing software and keeps checking to see that you don't install any third-party junk.
D. ClipClip- Clipboard Manager
Another best free and must-have software for Windows 10 or 11 devices in 2023 is ClipClip. With the help of the software, you can copy multiple texts, images, or other files on the clipboard. These multiple files can be browsed and Saved under specific names. To view the list of files copied on your clipboard use the keyboard shortcut: Ctrl + Shift + V.
Manage your Clipboard and use it as a screen-capturing tool. Additionally, you can perform multiple actions through in-built editor; such as transforming images, formatting text, and so much more with just a few clicks.
And these were the must-have software for Windows 10. If you don't have them in your system, then man you are surely doing something wrong. If we missed out on any, do let us know in the comments.
Now go and install them!
Diksha Lalwani is an aspiring content marketer and a self-declared bibliophile. An English honors graduate, she likes to keep up with the recent happenings around the world and form an opinion. Her interest in anything and everything tech made her follow the path into becoming a technical writer.
Subscribe to Our
Newsletter

and stay informed

Keep yourself updated with the latest technology and trends with TechPout.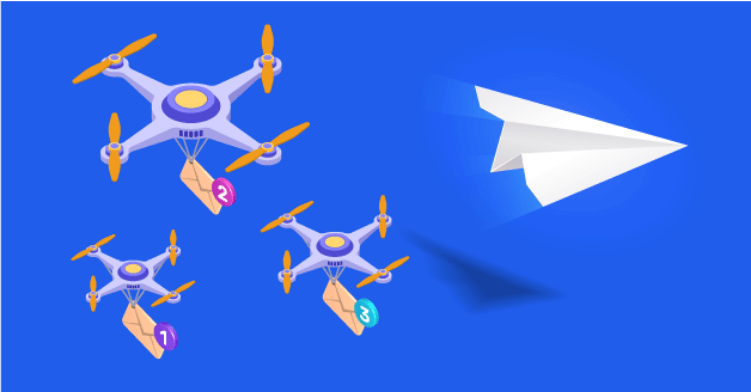 Related Posts