CCleaner Review 2021: Product Details, Features, Price & More
Published Date :
May 07, 2021

Is Piriform CCleaner worth downloading or not? Read our honest and comprehensive review of CCleaner 2021 latest version to know the answer to this question.
We are living in the 21st century but still, we are no closer to eradicate cybercrime from the Internet. So, now more than ever, it is important to ensure that your computer has the best optimization and cleaning software.
In today's highly competitive marketplace, Piriform's CCleaner is one such tool that ranks among the most powerful PC optimization software for several good reasons.
CCleaner is an award-winning PC optimization and cleaning software that aims to keep your machine clean, safe and fast.
Before going deeper into the CCleaner review 2021, let's first discuss a little bit about the software and its key specifications and system requirements.
What is CCleaner? [Brief Introduction]
CCleaner is one of the world's most popular PC cleaner software with over 2.5 billion downloads since its launch in 2004.
According to the Piriform, CCleaner cleans more than 35,000,000 GB of junk files each month to help you keep your computer functioning at its best.
This product is available in more than 55 languages and claims to hit 5,000,000 desktop installations every week.
CCleaner not only clears your online tracks but also frees up valuable disk space to make your computer perform faster than ever before.
CCleaner is packed with numerous powerful security features that are reviewed below in this article.
Also Read: 17 Best Duplicate Photo Finder & Cleaner Software In 2021
Specifications and System Requirements of CCleaner
Developer: Piriform
Latest Version: v5.78.8558 (25 Mar 2021)
Operating System: Windows 7 and later/ OS X Mountain Lion and later/ Android Lollipop and later
Platform: IA-32-bit and x64-bit versions
Available in: 58 menu languages
Software License: Free, Professional and Professional Plus (14-day trial)
Website: https://www.ccleaner.com/ccleaner
Now that you have gone through the introduction and general details of the program, let's take a deeper dive into our CCleaner review and look at its prominent features, pros & cons, and pricing plans.
CCleaner Review 2021: Features, Pros & Cons, Price & Other Info
Below we have genuinely and comprehensively reviewed Piriform's CCleaner software. So, read this article right till the end to make a better decision on whether to download CCleaner latest version for Windows or not.
Noteworthy Features of CCleaner
CCleaner comes with an array of cleaning and optimization features which makes it a must-have software for Windows 10 and older versions of the OS. Below are some of the award-winning features that the software offers to make your PC faster and more secure.
1. Faster Computer 
Living up to its name, CCleaner offers complete cleaning of unused files that clogs up your operating system to makes it faster instantly.
2. Safer Browsing
CCleaner does an excellent job of clearing out cookies and browser search history, so you can browse the web in complete anonymity.
3. Fewer Errors & Crashes
CCleaner comes with a powerful registry cleaner feature that lets you fix errors and broken settings to make your computer more stable and optimized.
4. Quicker Startup
You may have noticed that whenever you start up your computer, some programs are always there running silently in the background.
CCleaner helps you speed up & optimize your PC by killing those unnecessary background programs. 
5. Duplicate File Finder
Over time, you may end up with multiple copies of the same photographs, videos, work documents, or other files. These duplicate files can eat up a lot of storage space of your drive and make your PC sluggish.
With CCleaner's File Finder feature, you can quickly locate space-hogging duplicates on your device and delete them with a click of a button.
CCleaner Pricing Plans: Simple Cleaning or Fully Automated PC Maintenance?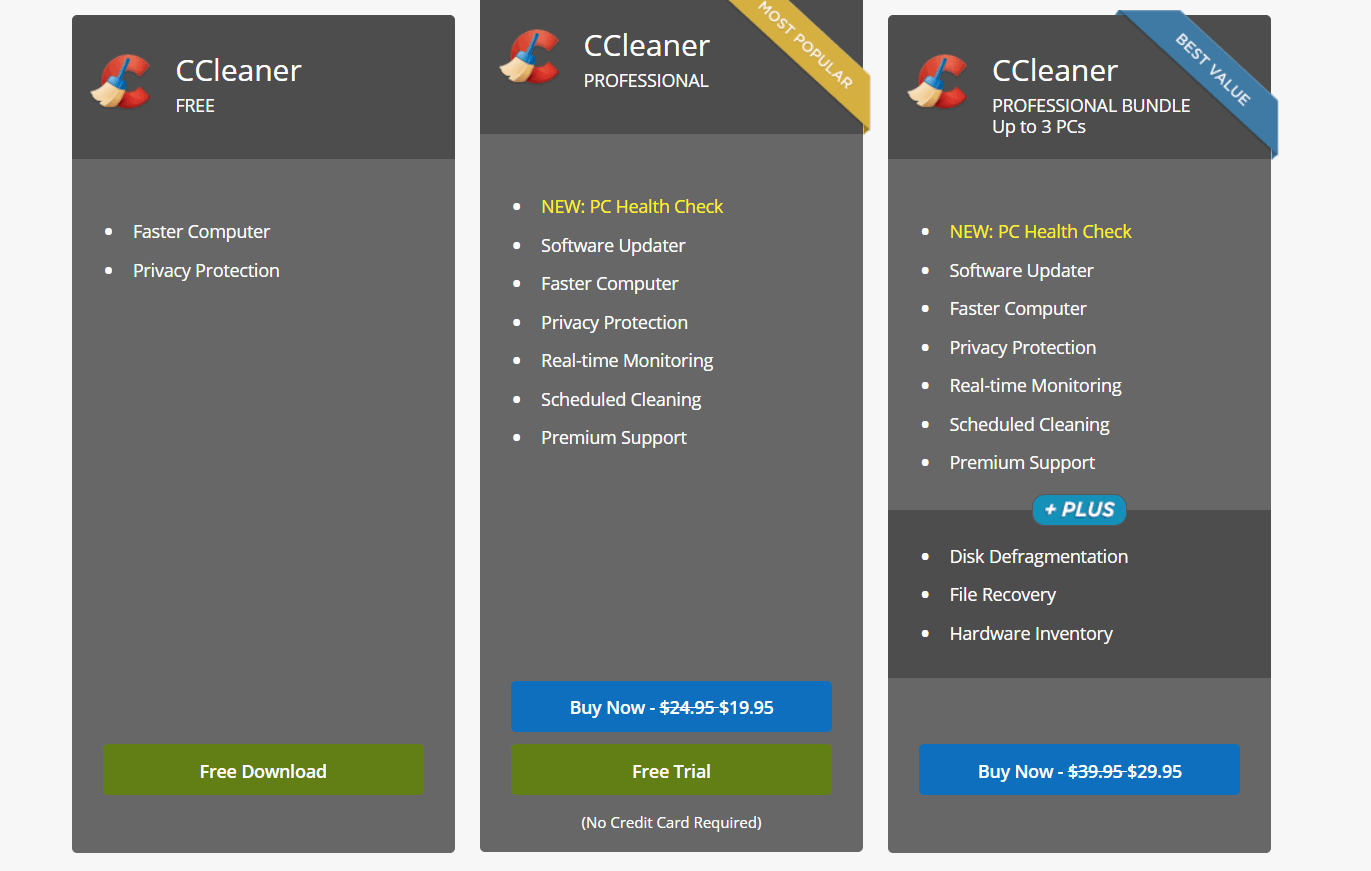 CCleaner Free
CCleaner is one of the most popular PC optimization tools in the market. However, its free version barely offers the most up-front set of features.
It comes with the basic privacy protection and PC cleaning abilities that can free up valuable disk space and can also help you delete cookies, browsing history to make your computer work faster.
CCleaner Professional – $19.95
CCleaner Professional is the most popular version of Piriform's PC optimization tool which comes handy at a very competitive price that starts with $24.95 a year. 
However, there is an additional $5 discount, making it accessible for just $19.95.
Unlike its free version, CCleaner Professional plan offers an additional set of powerful features like Real-time Monitoring, Scheduled Cleaning, Automatic Updates, and more.
CCleaner Professional Plus (Bundle) – $29.95
If you're looking towards protecting more devices, Piriform's CCleaner extends its offers to $29.95 a year for Up to 3 PCs, making it the most cost-effective product available in the market.
With the CCleaner Bundle Edition, you will get all its professional features plus a few more options like Disk Defragmentation, File Recovery, Hardware Inventory, and a one-click Software Update.

Piriform's CCleaner Pros & Cons
Let's take a quick glance at some of the major advantages and disadvantages of using Piriform's PC Cleaner:
Reasons to Download CCleaner:
Easy to use and setup
Real-time protection against junk files
Clears cookies and browser history
Automatically cleans your web browser when you close it
Frees up valuable disk place
Up-to-date operating system
Faster and efficient hard drives
One-click software updates
Reasons to Avoid CCleaner:
CCleaner free version barely offers the most up-front set of features
You need to pay for their Professional or Bundle Edition versions to get priority customer support
Also Read: 13 Best Disk Space Analyzer Software for Windows in 2021
CCleaner Review 2021: Is Piriform's CCleaner Still the Best PC Optimizing Software?
Piriform's CCleaner, known as the most powerful PC cleaner has an interesting past or maybe saying it as a controversial one might justify it correctly.
Upon its release, the Active Monitoring feature of CCleaner was used to collect personally identifiable information from the computers without the permission of their owners.
After Piriform was acquired by Avast, users reported that installing CCleaner would also trigger the automatic installation of Avast antivirus without their consent.
Well, don't feel disheartened. After criticism, the later versions of CCleaner have successfully countered such issues.
Piriform's CCleaner with its well-designed interface and powerful features has managed to garner a great deal of positive feedback across a wide spectrum of users.
So, now if you're looking to speed up and optimize your PC, then CCleaner should be your go-to-choice which not only protects your privacy but also help you make your computer faster and more secure.
This concludes our CCleaner review 2021, choose its free or premium versions as per your needs and make your computer much cleaner, safer and faster.
Monil is a professional writer whose forte is absorbing a lot of data and help large technical organizations convey their message clearly across multiple products. An engineer by qualification, his affinity for design enables him to write to inspire, energize, and influence various audiences to uncover their true potential. When not writing, Monil is likely to be found listening to music, traveling, or simply excavating into his favourite cuisines.
Subscribe to Our
Newsletter

and stay informed

Keep yourself updated with the latest technology and trends with TechPout.
Related Posts