Best OCR Software to Extract Text from Images and PDFs

Optical Character Recognition or commonly known as OCR technology provides an easy and quick way to digitize handwritten and printed text. So, if you want to electronically convert your PDF images to text, then OCR software should be your go-to-tool.
With these dedicated tools, you can effortlessly manage your paperwork. Moreover, they support several image formats along with file formats such as plain text, word, and excel.
This article talks about 10 handpicked and best OCR Software that can assist you in converting images to text. So, if you have been looking for methods to extract text from images and PDFs, then you are at the correct place.
Best OCR Software FREE For Windows, macOS And Linux
Here is our list of top-notch, reliable, and best OCR software for free to convert images and PDFs to text.
1. ABBYY FineReader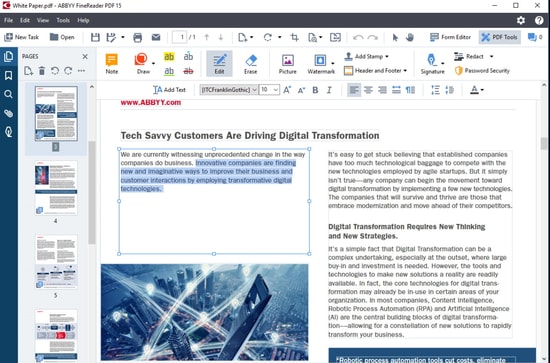 Compatibility: Windows and Mac
ABBYY FineReader is backed with a host of useful features that blend perfectly with its intuitive interface. It earns a permanent spot on our list of top OCR software and has been helping small and large enterprises for quite some time. Though beginners and home users might go for a lightweight option.
It comes with all the prerequisites functions that one would require to convert images to text. It offers a simple way of digitizing documents, organizing them, and making them fully readable. It uses advanced AI for better character recognition.
Read Also: How to Change a PDF Document to Word
Features: 
Bundle scanning and conversion with minimal efforts..
This best OCR software can convert an image to the text within seconds.
It can convert documents to PDF and, add annotations and comments, compare documents, and much more.
Supports multiple output formats along with multiple languages, to be precise 192 languages.
It also works pretty well as mobile apps.
Automatically detects the PFD section with extractable text. Extract full or specific text portions using this incredible OCR tool.
Image correction functionality, extensive language support, and numerous fonts/ sizes and styles add on to its overall beauty.
Pros
Comprehensive software with useful features.
Multiple output formats including TXT, EPUB, PDF etc.
Uses AI while extracting text from multilingual documents for character recognition.
Free 7 day Trial available.
Cons
Not an affordable option for beginners.
---
2. Soda PDF Anywhere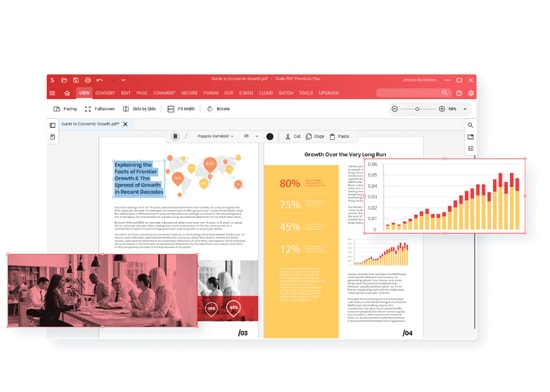 Compatibility: Windows & Mac
Next on our list of best OCR software is this highly powerful and professional tool. Soda PDF Anywhere is best known for its simple and user-friendly working. This image to text software can also be used to convert, merge, sign & secure, and edit your PDF documents within seconds.
In addition to this, this cross-platform tool also aids faster working with its batch scanning functionality. Set access permissions and password protect your files with this incredible OCR tool.
Features: 
Cross-platform and best OCR Software. Works well on both Mac and Windows.
With its OCR feature, you can easily extract and edit text from the scanned documents and PDFs.
Page Flipping Technology.
Secures documents with its password protection feature.
Pros
Easy to use PDF tool.
Quickly converts scanned images and documents to editable PDFs.
It can split files into individual PDFs and single pages.
---
3. Tesseract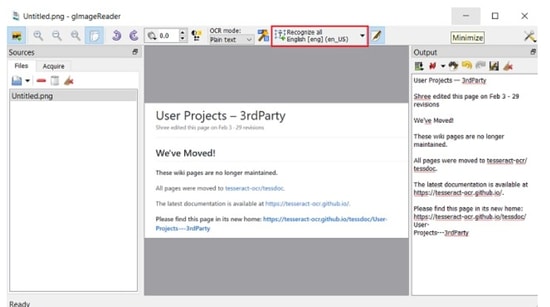 Compatibility: Web, Windows, Linux and macOS
Next on our list of best OCR Software for free is this highly advanced and power-packed tool. It uses deep learning techniques to convert images to text and deliver high-end results. It supports multiple image formats such as JPEG, PNG, PDF, TIFF, and BMP files.
What makes this stunning tool even more popular is that it is completely free of cost, which means you can use it to extract text from images and PDFs without worrying about the cost.
Read Also: How to Remove Passwords From PDF Documents
Features: 
It can process multiple documents and images at one time.
It uses both automatic and manual techniques for data recognition.
Edits both searchable PDF and editable text.
Supports around 60 languages including Spanish, Japanese, English, German, etc.
Batch conversion functionality.
Pros
Extremely fast and easy to use.
Multiple Language support
Intuitive Interface
Cons
Does not offer GUI interface.
---
4. Readiris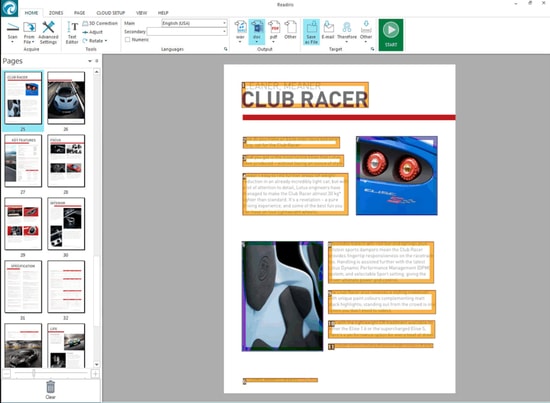 Compatibility: Windows and Mac
If you are hunting for a feature-rich and best OCR tool that can work wonders with minimal efforts, then take a look at Readiris. This professional-grade tool supports conversion into multiple formats including PCX to TIFF, BMP to PNG, and much more.
With this stunning OCR tool, you can also set basic processing parameters including DPI adjustment and smoothening. It determines the text sections in your document and can easily extract the entire file or limited text for you. The extracted text is fully editable and can be saved in various formats including HTM, PDF, DOCX, etc.
Features: 
A class apart editing feature along with robust text extraction functionality.
With this best OCR software, you can quickly and easily extract the embedded text from your images.
Provides a password protection mechanism to secure PDFs.
An intuitive tool that helps you edit, split, annotate, sign and aggregate your PDFs.
Pros
Multiple text and editing features.
Free 10 day trial period.
Can process lower resolution images upto 300 dpi.
Cons
Can result in errors while processing complex documents.
Cloud saving feature is only available with its Pro version.
---
5. Microsoft OneNote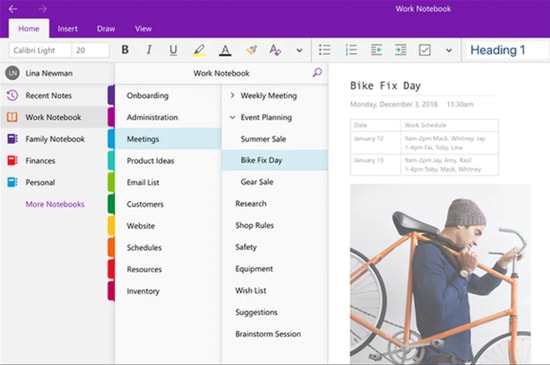 Compatibility: Windows and Mac
Although Microsoft OneNote is most known as a note-taking application, it is also loved for its OCR goodness. With this best OCR software for free, you can accomplish all the basic text extraction activities at the utmost ease.
Using it is ridiculously easy, and if you are using the desktop version of the application it's even better. All you need to do it.
Add the image using the Insert option.
Then right-click on the image and choose the option Copy Text From Picture.
This will extract the entire textual content from your image and paste it.
Features: 
User-friendly interface.
Reliable and best OCR Software for free.
Cross-platform image to text tool.
Pros
Free of cost
Supports multiple image formats including JPG, PNG, TIFF, BMP and much more.
Feature rich note taking and OCR application.
Cons
It fails to give accurate results for complex images having textual content in the form of tables.
---
6. Google Docs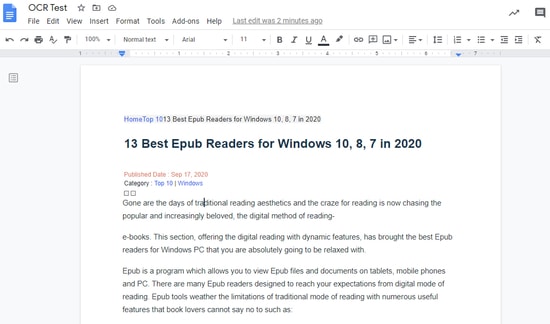 Compatibility: Windows, Linux, macOS and Web
Surprised? For those who don't know, Google Docs also comes with an in-built OCR functionality. Although it is not as feature-rich as most of the dedicated tools, it still provides an easy way to convert PDF documents into editable text.
The whole process can be done within a few seconds. Just upload your PDF file, right-click on the uploaded file and choose the "Open With" option. And finally, click on the Google Docs option, and that's it. The entire PDF text will be converted into editable text and can be accessed from Google Docs.
Read Also: Best Free PDF Editor for Mac
Features: 
Simple and straightforward working.
Extract text from images easily and quickly with this image to text software.
Cross-platform the best OCR software for free.
Pros
Top- rated and free OCR software powered with an Intuitive interface.
Simple working. It can search , edit and save the extracted text in several formats.
Cons
Fails to convert scanned images to PDFs.
---
7. Online OCR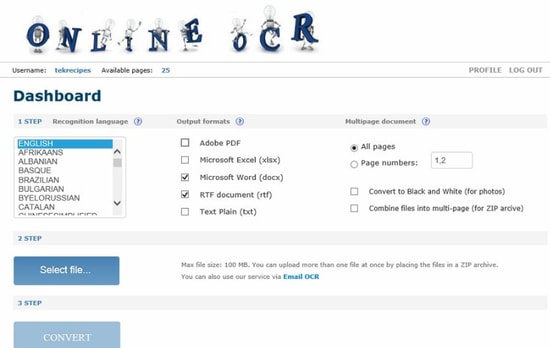 Compatibility: Windows
Yet another popular and best free OCR software is "Online OCR'. It works ridiculously well and can easily convert digital images and photos into text. If you are looking for a feature-rich tool that can extract text from JPG, GIF, TIFF images, and PDFs and convert it into various editable formats then Online OCR is your go-to too.
Features: 
Supports multiple output formats including Word, Excel, and Text.
It can convert up to 15 images in one hour.
It can recognize 32 different languages including Japanese, Korean, Chinese, and many others.
Pros
Powerful OCR software with free download.
Fast and efficient working.
Cons
It can only support input files upto 200 MB size.
---
8. SuperGeek Free Document OCR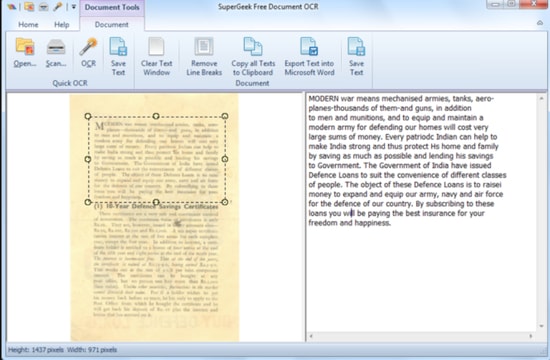 Compatibility: Windows
Next on our list of best OCR software for free is this incredible tool from SuperGeek. Using this professional tool is extremely easy. It is highly popular for its accurate results and seamless working.
With this top-rated OCR tool you can easily convert your scanned images in BMP, EMF, WMF, TIFF, TIF, JPG, JPEG, PDF formats to fully editable Word and TXT files. This free OCR software also allows you to extract text based on particular search criteria.
Read Also: Best Epub Readers for Windows
Features: 
Provides multiple scanning parameters such as File type, Color format, contrast, and brightness.
This best OCR software for free also comes with Zoom features to provide better inputs.
It also gives you an option to make alterations in the text window, you can copy text to the clipboard, remove line breaks, add words, and much more.
High recognition accuracy.
Pros
100 % free OCR software.
Supports multiple images and output formats.
Easy and efficient working.
Cons
Only work on Windows platforms.
---
9. Adobe Acrobat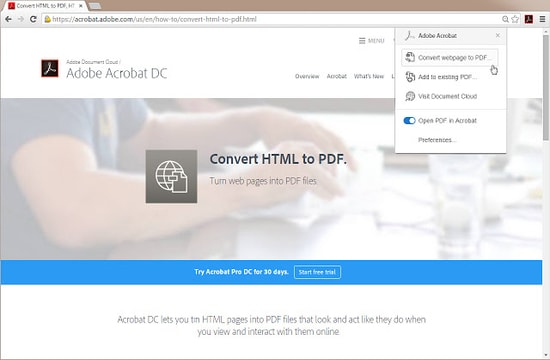 Compatibility: Windows, Mac, iOS, and Android
Adobe is popular for its amazing software like Photoshop, Lightroom, InDesign, and many more. The software offers the user immense opportunity and tools to create amazing art. One of the greatest software which the company has made is Adobe Acrobat, the software offers easy to edit, convert, share, and many more tools. 
Features:
Easy to create accessible PDFs 
Meet ISO standards, convert PDF to PDF/X, PDF/A or PDF/E 
Customer support available 24*7  
Pros
Create and apply custom action for all your documents.
Convert Docx, PPTX, XLXS, jpg, and HTM to PDF with ease.
Edit, reorder, delete or adjust the files, the way you want.
Free trial available.
---
10. LightPDF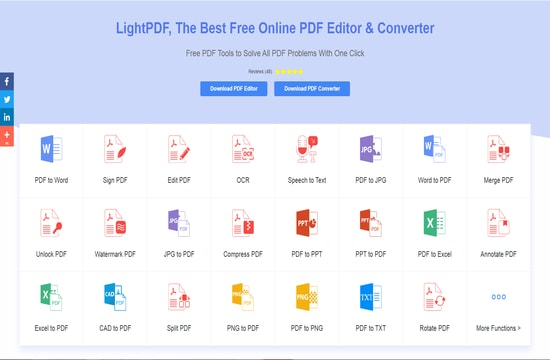 Compatibility: Windows, Mac, and Linux
Light PDF is the best OCR software as the user can edit and convert various documents with these tools with ease and without even downloading them. The software can be accessed online, and it's easy to use interface is the USP. 
Features:
No download required to perform an action with this software. 
Easy to convert PDF and Images into different formats including the PPT, TXT, RTF, etc
The software supports many languages 
Pros
Free to use software.
No installation required for converting files.
Every minute a user concerts one file using this software, which means safety guaranteed.
Many input and output format supported.
Cons
Large files take time to convert.
---
Conclusion
Digitizing handwritten and printed textual content is the need of the hour and can be saved and shared easily. The above mentioned best and free OCR software are specifically designed to cater to this specific need and come with an array of useful features and offerings.
If you want a professional and highly advanced image to text software then we recommend you go with BBYY FineReader, Readiris, and Tesseract. While SuperGeek Free Document OCR, Google Docs, Online OCR are good enough to meet all the basic requirements.
Refer to the above mentioned paid and free OCR software and choose the one that best suits your requirements.
Prachi Dani is a technical content writer who specializes in areas of science and technology. She is highly up to date with technological transitions and transformations. Writing is not her passion but the only thing that carries satisfaction in life. If not writing, you may find her engrossed playing action games on her treasured smartphone.
Subscribe to Our
Newsletter

and stay informed

Keep yourself updated with the latest technology and trends with TechPout.
Related Posts