Download Best Free Antivirus Protection for Windows in 2021

Cybercriminals spare no one and cyber threats loom on everyone's head nowadays. Wondering which could be the best free antivirus for protecting you from cyber exploitation in the upcoming times?
At the dawn of this new decade, the cyber world has evolved with machine learning, artificial intelligence, and blockchain technology. In a similar way, the cybercriminals are upgrading their exploitation skills and techniques with the help of these emerging technologies.
Therefore, enhanced cybersecurity offered by an all-in-all best free antivirus is the only way to ensure safety and security from these advanced cyber threats. Don't worry, we are here to offer you the best solutions for traversing safely through the cyber world, fraught with dangerous traps. 
This article aims at providing you a thorough understanding of an efficient antivirus software, how it functions, and how it can offer protection against ransomware and other malicious programs.
At TechPout, we have tested some of the best free antiviruses of 2021 using a sample of 500 malware on a new Windows machine to determine which tools were able to detect and fix the maximum number of infections and issues. 
Thereby, the tools which had resolved the highest number of issues were considered the most effective antiviruses for Windows computers. Here are the results:
| | |
| --- | --- |
| Antivirus | No. of infections detected   |
| McAfee | 207 |
| Kaspersky Total Security | 426 |
| Norton Security | 429 |
| Avast Free Antivirus | 411 |
| F-Secure Anti-Virus | 411 |
| BullGuard Antivirus | 357 |
| Panda Dome Antivirus | 308 |
| Defencebyte Antivirus | 162 |
Unravel more about these Windows antivirus applications to find out your best fit.
Best Free Antivirus in 2021 for Windows Computers:
Let us look at some of the top-class antivirus solutions for Windows systems available in 2021. 
As mentioned earlier, out of 500 samples, the products that were capable of fixing the highest number of infections and issues on a new Windows machine have been deemed as the most effective antivirus protection provider among 10 prominent antivirus tools.
Thereby, the product offerings have been elaborately explained in a decreasing order of performance. Let us, therefore, look at the first product – McAfee which resolved the highest number of issues out of 500 test samples. 
1. McAfee
 OS: Windows, Mac, Android, iOS
McAfee is in the market for a long time and it has been providing internet security worldwide. This program is more than just an antivirus for the system. The most minimal plan supports a single device. 
You also get an encrypted storage facility (128-bit encryption) with this tool. Let us find out the different features that this best antivirus for windows 10 offers.
Notable Offerings:
Optimizes the performance of your personal computer.
Avail comprehensive internet security and surf the web with the web safety tools.
Includes a spam blocker.
 Analyze your own data in real-time.
Pros
Effective at blocking zero-day attacks.
Manage your passwords with the password manager feature
Cons
The interface is not very user friendly.
Read More: List of Best Bluetooth Software for Windows 10 in 2021
---
2. Kaspersky Total Security
OS: Windows & Mac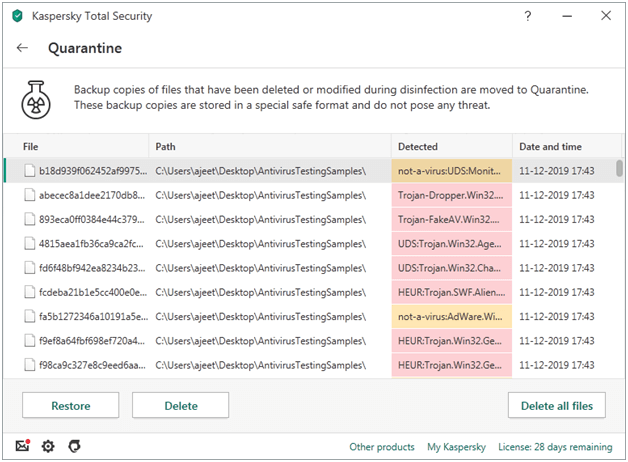 This is another excellent antivirus protection from Kaspersky Labs that protects your essential files and backs up your data securely. The basic plan covers two user accounts at a time. 
Being an award-winning antivirus tool, it offers top-notch privacy protection features to keep your system safe from all sorts of malware attacks. 
Notable Offerings:
Efficiently blocks viruses, cryptolockers, and other online threats.
Payments are protected with bank-grade encryption.
Smart self-protection routine, anti-ransomware feature and webcam security.
Encrypts data with VPN services.
Advanced parental controls.

Pros
Performs fast scans
Scans can be configured
Cons
Lacks additional features
Read More: 11 Best Password Managers Software For Windows 10
---
3. Norton Security
OS: Windows & Mac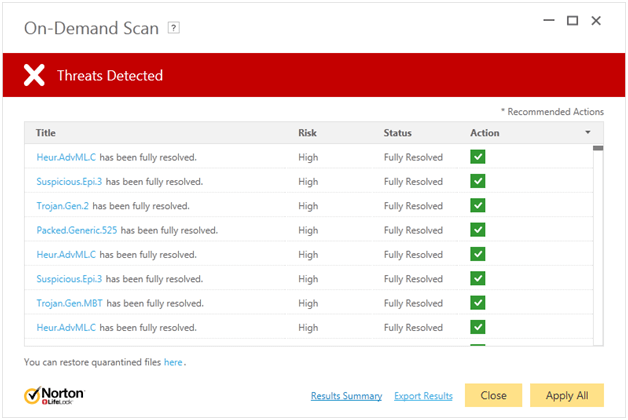 Norton has been in business for quite a long time and offers multi-layered protection to your Windows PC. This is another best free antivirus application to shield your Windows PC from all kinds of cyber threats. 
This tool offers antivirus, malware, anti-spyware, and ransomware protection along with plenty of other features. With top-quality virus definition, the Norton Security app is extremely easy-to-use.
It allows experts to configure custom scans with the help of multiple control features. You can also backup your PC with the help of the Cloud Backup feature. 
Notable Offerings:
Impressive browsing protection.
An intelligent firewall further enhances internet protection.
Comes with a Startup Manager and bundled backup tool.
Covers a minimum of 1 device which increases as the plan upgrades.
Pros
Doesn't slow down a PC
Offers a password manager feature, parental control, and a VPN to benefit users.
It also comes with a safecam feature to prevent spying through your webcam.
Cons
Expensive subscription plans
Free trial period is missing
Anti-ransomware has scope for improvement
---
4. Avast Free Antivirus
OS: Windows, Mac, Android, iOS
With a heuristics engine, Avast Free Antivirus is a free antivirus software having multiple awards in its kitty. This product has received the Gold Award for precise malware detection and protection capability.
Avoid data breaches with the best free antivirus with numerous utilities and enjoy excellent built-in features. It's easy to install and can be used effortlessly.
The new passive mode runs multiple security products simultaneously and also features Game Mode as well as Do Not Disturb Mode. It also comes with a ransomware shield, and real site DNS hijack prevention.
Notable Offerings:
Enabled with machine-learning virus protection.
Real-time analysis of unknown files.
You can avail protection against phishing and web browsing with this tool.
The Smart Scan feature detects malware and network threats effortlessly.

Pros
Highly configurable
Help to manage passwords and also optimizes PC performance.
Covers up to 10 devices
Cons
Tries to uninstall unwanted software
Contains ads
To avail enhanced features you need to purchase them
---
5. F-Secure Anti-Virus
 OS: Windows, Mac, Android, iOS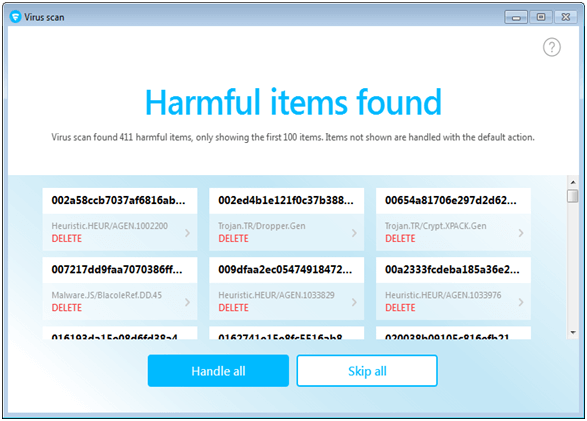 Ostensibly one of the best free antivirus software for all the complicated cyber threats, this antivirus protects you from viruses, infected email attachments and different sorts of malware.
Notable Offerings:
This antivirus technology offers complete protection against all potential forms of malware and cyber threats.
Constant customer support available.

Pros
Offers decent banking protection
Simple and clean interface
Cons
Is not a complete cybersecurity solution
Doesn't block malicious URLs
---
6. BullGuard Antivirus
 OS: Windows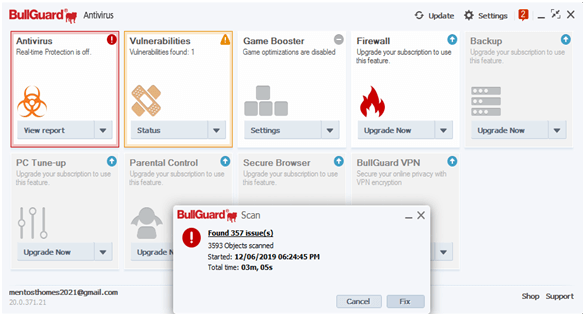 BullGuard is a popular household name and is one of the best free antivirus hosting a number of services making it one of the best cybersecurity platforms. Simplified services, easy-to-use features, and a lot more is what this antivirus product offers. The basic plan supports a single device.
 Notable Offerings:
Advanced machine learning and deep learning methods identify malicious codes.
Vulnerability scanner alerts you against unauthentic apps and unsafe Wi-Fi networks.
 Next-gen antimalware feature gives triple-layer protection.
Pros
It speeds up your game by blocking pop-ups
You can customize the scans
Cons
Advanced features like cloud backup and parental control are available at the highest tier plans
Has a cluttered interface
---
7. Panda Dome Antivirus
 OS: Windows, Mac, Android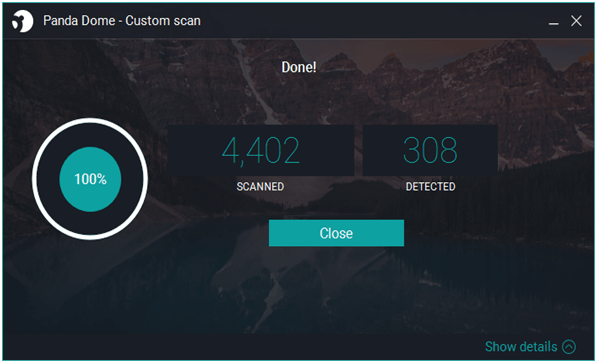 Panda Dome is the best free antivirus you can download for your system. Appealing UI, easy to install and use, this tool imparts a 100% virus detection ratio. It's absolutely light on your system as everything is done from the cloud.
 Notable Offerings:
USB protection helps scan the USB drive as soon as inserted into the port.
The panda rescue kit offers a free PC recovery system.
Experience no interference from the antivirus while watching games or videos.

Pros
This tool offers a completely customizable personal firewall.
Cons
Round the clock technical support is not available in the basic plans
---
8. Defencebyte Antivirus
  OS: Windows
Product of an Australian based company, this effective antivirus for windows 10 offers you a range of services and facilities along with round the clock customer support to help you get rid of problems arising from the use of this antivirus.
Notable Offerings:
Scans and identifies rootkits and other harmful apps.
Deletes useless files and fixes different PC issues.
Identity theft protection is facilitated along with the removal of all chat records and browsing history.

Pros
The tool is absolutely easy to install and comes with a clean UI
Cons
Pay exorbitant charge for availing the tool's services
---
9. Avira
OS: Windows, Mac, Android, and iOS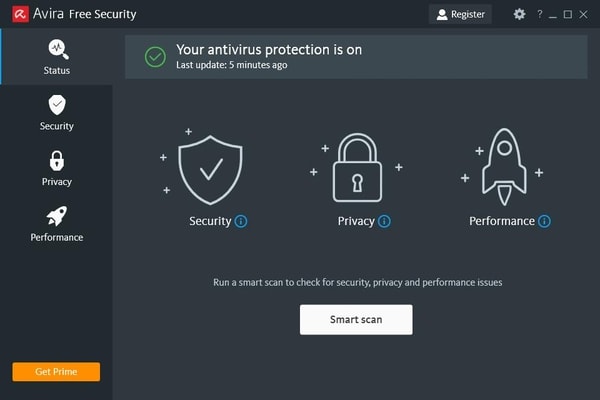 Avira is one of the best Kaspersky Antivirus alternatives that can offer you the best tools for protecting your PC. The antivirus offers the best free version which has tools to identify threats and remove them to some extent. Apart from this, the premium version is what gives you full protection tools.
The recent update has given a new look to the interface which is catchy yet easy to adapt. The free version of Avira apart from offering security tools offers VPN upto 1 GB for free. Other than this the software has various other add ons like Internet Security Plan or the Prime Plan, Pro version, and Plus Prime version. You can choose the version depending on your usage and requirements.
Notable Offerings:
The software offers great anti-phishing and web protection tools
You can easily configure the software as you like
The PC is protected from every threat
For gamers, it has a gaming mode that lets you play games without any interruptions

Pros
You get 30 days money-back guarantee
There are many plans to choose from
You get loads of offers and discounts on every plan
The free version offers VPN
Cons
The scan and protection as compared to competitors are weak
---
10. AVG
OS: Windows, Mac, Android, and iOS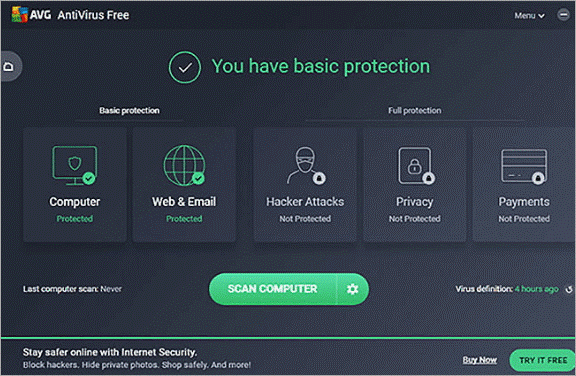 AVG Antivirus is great security software that offers the best tools for protecting the system. Though the software cannot be considered as the best lightweight antivirus, it can definitely help you in boosting performance and security. The antivirus software has two paid plans from which you can choose.
The plan includes AVG Internet Security that is compatible with every device. The price range of the software starts from $39.48 to $47.88. The difference in the price is because of the number of devices that can use the software. On the other hand, the software has an AVG premium ultimate package. In this plan, you will get VPN and AVG PC TuneUp as an addition. The plan costs $79.99 for 10 devices.
Notable Offerings:
The software offers loads of tools for protection including AI Detection, Turbo scan, etc
It helps in boosting the performance of the system
You can clean the system registry, pre-installed bloatware, and junk files
It automatically checks and updates more than 50 renowned applications

Pros
It is a very easy to use software
You can easily clean up your PC using various tools
The software offers separate VPN, privacy, system optimization, and other protection tools
Cons
It offers no parental controls
For VPN you need to take the premium plan
---
How Does Antivirus Work and Improve the Performance of the PC?
What Do You Understand by the Term Antivirus? 
The easiest way to define an antivirus (also abbreviated to AV program) is to describe it as a computer program capable of detecting and removing malware if a system has been infected by a malware already. 
Other than this, a good antivirus program also prevents malware attacks on a system with the help of advanced functionalities and features.
The free antivirus applications are responsible for keeping an eye on the web pages, apps, and files travelling over the network to your devices and monitoring the behavior of programs to flag suspicious ones.
Now, let me ask you another question.
What Do You Understand by the Term Malware?
Malware is an umbrella term for malicious software variants that can deliver its payload in various ways to infect and damage a system, steal its data, gain control over a system, and ultimately disrupt the services of the infected systems.
How Does an Antivirus Work?
The best antivirus software solution operates in the background to scan computers, servers, and mobile devices to detect threats in real-time, protect against the potential attacks as well as remove the existing infections. It performs the following functions:
Scans directories, files, folders, and in fact, the whole system.
Scans USBs such as pen drives, external hard drives, etc.
Performs real-time scans, launches a new scan as well as schedules a scan.
Detects and removes malicious codes from your system.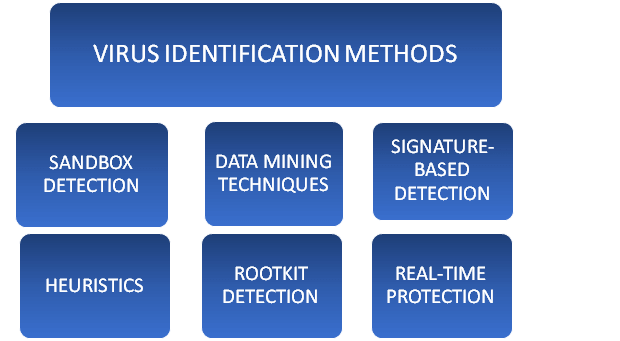 Why is an Antivirus Important for Your Windows?
Did you know that there is about 60000 new malware created every day? 
Where would your PC or your enterprise be without the support of an effective antivirus program?
Let's take a look at the largest data breaches of recent times and the monetary losses caused due to several cybercrimes.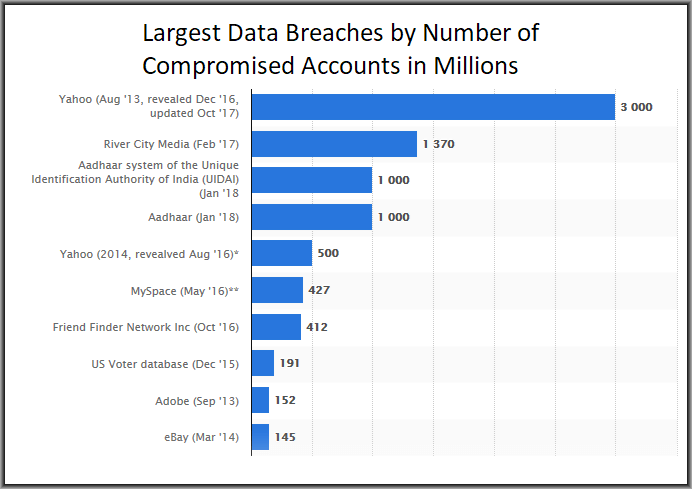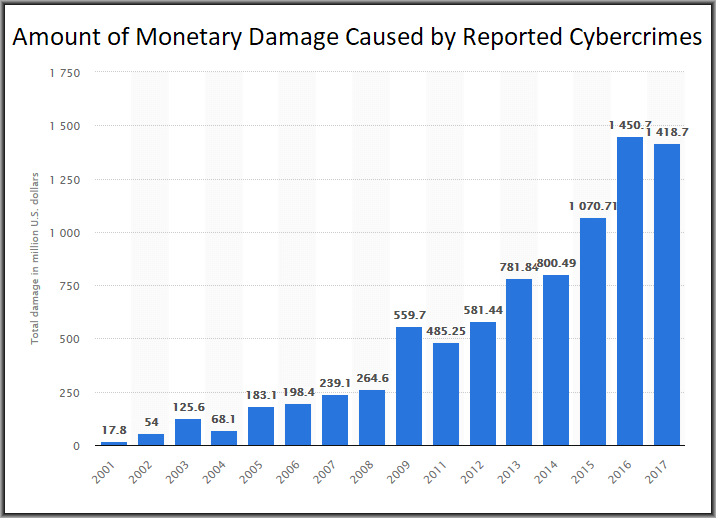 Malware nowadays reprogram quickly to avoid detection. With constant cyber attacks and ambushes, it becomes crucial to have a free antivirus protection that can defend you against the following:
Spyware 
Ransomware
Viruses
Worms
Trojans
Adware
Spam
Rootkits
Botnets
Keyloggers
Thus, the best free antivirus is going to maintain the overall health of your system and ensure the safety of your devices.
Traits of a commendable antivirus solution:
Protects your system against zero-day attacks.
Protects your system from web and email threats.
Protects your system against prevalent malware.
Should automatically update virus definition to keep the application up-to-date.
Should be capable of performing heuristic analyses to detect new threats before a virus definition exists.
---
Frequently Asked Questions (FAQs)
Q1. When was antivirus introduced?
The first computer virus of the world known as the "Creeper" virus was deleted in 1949 by a program known as "The Reaper" which was created by Ray Tomlinson. 
However, in 1987, the first antivirus product for Atari ST computers was developed by Andreas Lüning and Kai Figge who established the German company G Data Software. 
In the same year, the company released Ultimate Virus Killer (UVK) 2000. This was, thus, deemed as the first industry-standard virus killer for Atari ST and Atari Falcon.
Also, in 1987, the McAfee company was founded by John McAfee. He created and released the first version of VirusScan.
Meanwhile, the first version of the NOD antivirus was also released in the same year.
Q2. Can antivirus stop hackers?
Hackers largely rely on malware and phishing scams to take control over a device and damage it. Therefore, an ideal antivirus protection capable of blocking zero-day malware attacks can protect your system against hacking effectively.
Antivirus providers also utilize behavior-based detection techniques to impart multi-layered protection and safeguard users against hackers.
Q3. Can an antivirus detect trojans?
The clear-cut answer is, 'Yes.' An updated and powerful antivirus software can track the trojans and remove them from the computer.
A trojan horse sneaks into a system masquerading as a legitimate software that you download on your system without any realization.
Thus, the right antivirus program can detect, block as well as remove trojan infections smoothly.
Q4. Can antivirus detect keylogger?
Installing a modern antivirus software is your best solution to protect against keyloggers and other rootkit malware.
Keylogging is an activity-monitoring spyware that logs keystrokes without your awareness to access personal information such as login details, credit card information, passwords, etc.
The best antivirus software in the market uses a combination of signature-detection methods and behavioral techniques to catch keyloggers.
Q5. Can antivirus detect spyware?
Yes, the best antivirus software is capable of detecting and removing malware that spies on your devices and system to rob sensitive information.
Q6. Can antivirus stop ransomware?
Yes, is the direct answer to this question.  A highly evolved antivirus application is capable of preventing multiple kinds of ransomware. 
However, if ransomware has already infected a system and encrypted important files, then even for the best antivirus program it's a bit challenging to stop it. 
Antiviruses can detect known forms of ransomware based on its behavior but 2nd generation ransomware is a bit difficult to track down.
Q7. How can I protect Windows 10?
You can protect your Windows system with the best in class antivirus tool or with the usage of the Windows Security default app.
Q8. Can antivirus cause lag?
This is an old tale as advanced antivirus software is quite efficient and fast. However, it is true that all applications use CPU, so while scanning it is quite obvious that a detailed analysis of the system's condition utilizes processing power but in an optimal way.
---
Final Verdict
Ultimately it can be said that without a decent antivirus software, your system is like an open vault that can be damaged and looted within minutes. 
Although Windows 10 systems have an in-built antivirus protection in the form of Windows Defender, yet it is not adequate in imparting ransomware protection and safety from advanced malware. It is also not effective against infiltrations via the phishing routes.
So, hopefully, you have now identified the best free antivirus for your Windows system that can provide the strongest defence against the emerging cyber threats. In addition to this, awareness regarding cyber scams and implementing the best practices of cybersecurity is indispensable to keep your system malware-free.
Snigdha is a technical content writer with expertise in the field of science & technology. Though she has a very diverse academic and professional profile yet she finds writing to be a creative form that she was unable to explore so far. When not writing, she can be found indulging in other forms of creativity like painting or travelling.
Subscribe to Our
Newsletter

and stay informed

Keep yourself updated with the latest technology and trends with TechPout.
Related Posts