10 Best Free Video Conferencing Software in 2020
With the current outbreak of the coronavirus (aka COVID-19) disease, video conferencing software have become the need of the hour. In light of this, a large number of companies from around the world are now accommodating remote working to maintain productivity during this unprecedented global crisis.
As telecommuting, or working from home is becoming a common trend in the workforce, having a reliable video conferencing and messaging solution has become more important than ever.
Video conferencing services can empower employees to communicate with other team members that are situated in diverse locations. And you must be amazed to know that these apps can be used for more than just face-to-face interactions.
These services can be utilized by users to conduct live audio and video conferencing sessions, webinars, and comes with a wide array of built-in features such as screen sharing, recording, chat, remote desktop sharing, exchange files, presentations, reports, and lots more.
With the plethora of video conferencing software apps available in the marketplace, it gets extremely difficult to choose an ideal one for your business.
To help you with the process, we've prepared a well-researched list detailed around the best free video conferencing software so you can make the right decision.
10 Best Video Conferencing Software for Your Business In 2020:
The marketplace is filled with plenty of best-in-class video conferencing services that allows you to connect with your virtual teams, no matter where you are in the world.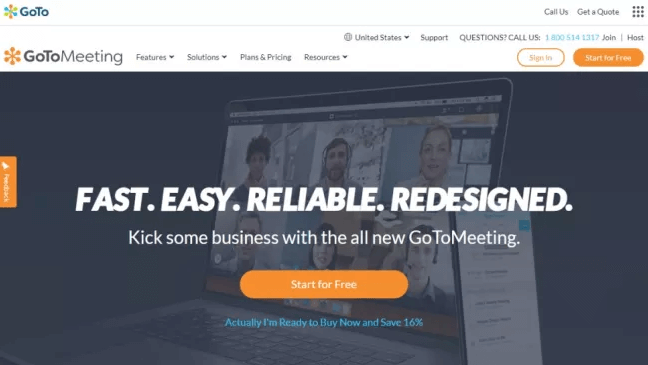 It is undoubtedly one of the best video conferencing platforms, trusted by a wide spectrum of users for seamless communication and collaboration solutions. Developed by LogMeIn, GoToMeeting focuses on providing fast and reliable online meeting solutions for businesses of all sizes. 
Users can join and host a video or audio meeting sessions, share screens and presentations, chat with team members from anywhere in the world, all with one-single click of a button.
Notable Offerings:
One-click online meeting sessions with up to 250 people
Conduct live webinars
High-definition video conferencing with up to 25 faces at once
Instant business messaging
Real-time screen sharing with other attendees
Supports PC, Mac, Linux, Chromebook, and both Android and iOS mobile platforms
Read More: 11 Best Free Video Call Software For Windows PC (2020)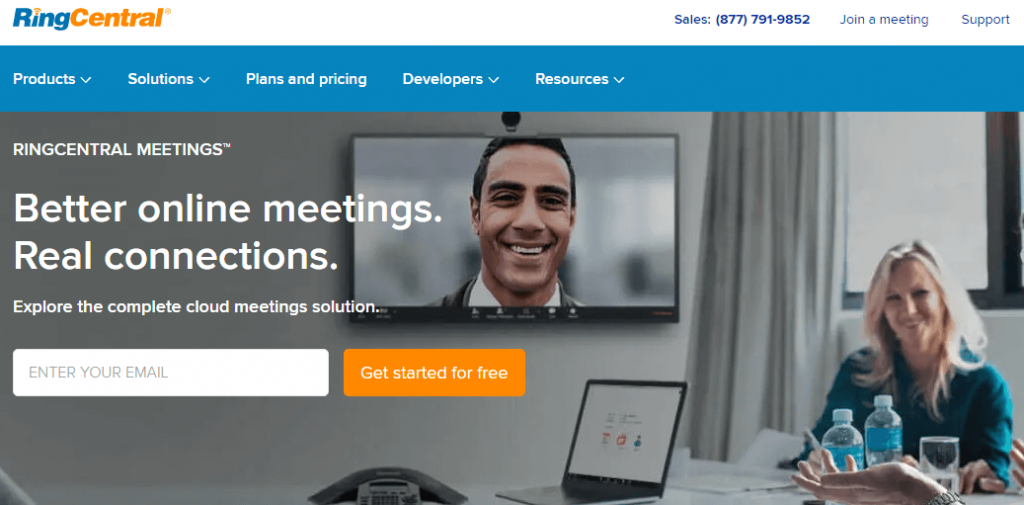 You can't talk about the free video conferencing services without including RingCentral Video. This cloud-based video collaboration platform comes with a plethora of powerful tools necessary for engaging face to face meetings and quality communications.
In terms of pricing, it has an essential plan for small and growing businesses which costs $14.99 per month and includes almost all standard features required for effective online meetings.
An advanced plan is available for large business enterprises for $19.99 per month which increases the number of call me minutes (Outbound PSTN minutes for local Meetings) to 2500 and includes SLA and real-time dashboard for reporting.
Notable Offerings:
Unlimited one-on-one meetings
Desktop and screen sharing
Host video meetings in high-definition with up to 100 participants
In-meeting chat options for private and group messaging
Allows users to connect using desktop, laptop, and mobile devices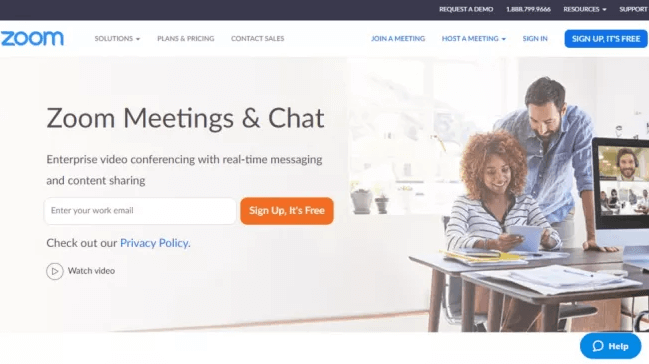 Zoom has recently managed to garner a great deal of positive feedback from millions of people around the world, making it the most popular web conferencing solution for its user-friendly interface, collaboration features, and affordability. 
Apart from regular huddle, training and online meeting rooms, it provides an intelligent and professional video conferencing and messaging solution to help you collaborate with people that are not even situated in the same geographical location.
Users who want to host or attend personal meetings can use its 'Basic' plan which is free of cost. 'Pro' plan is available for a monthly cost of $14.99 for teams with fewer members and includes all basic features along with few additional controls for admin and user management.
The 'Business plan costs $19.99 per month per host and includes all the pro features, plus offers dedicated phone support, custom emails and increases the number of participants to 300.
Notable Offerings:
Audio and video conferencing, trainings, and face to face interactions
Easy-to-use video webinars
Desktop, application, and screen sharing
Private and group messaging options
Cloud recording and custom emails
Active speaker view options
Read More: Zoom Cloud Meeting App Review (Best Video Conferencing App)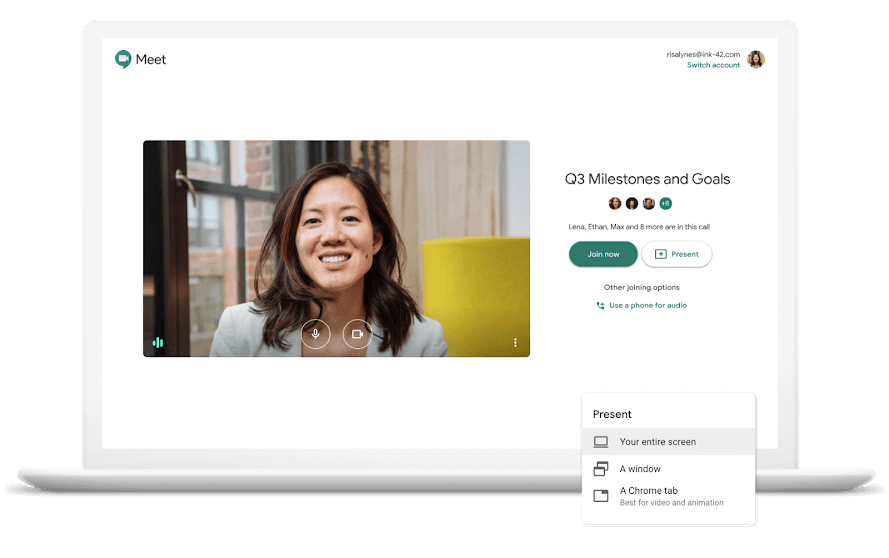 Google Hangouts Meet is part of the G Suite collaboration and productivity tools and currently ranks among the best video conferencing software available in the world right now. Meet aims to offer easy-to-join, secure video meetings, so you can communicate with your team right from the comfort of your home without wasting time on soul-crushing commute.
Google Hangouts Meet includes three pricing plans. Though it does not have a free tier but it does offer a fully functional 14-day free trial.
The 'Basic' plan is available for a monthly cost of $6 per user and includes up to 100 people at a time. The 'Business' plan costs $12 per user per month and allows users to host live group meetings involving up to 150 people at once. The 'Enterprise' package costs $25 per month and allows users to have up to 250 participants and conduct video webinars involving up to 100,000 viewers at a time.
Notable Offerings:
Video conferencing and online meeting sessions are encrypted
Meet is integrated with G suite
Share screen, presentations, documents, etc. with other attendees of meeting
Live streaming your marketing and other virtual events with up to 100,000 participants
Host or join meetings via conference room, computer, or mobile devices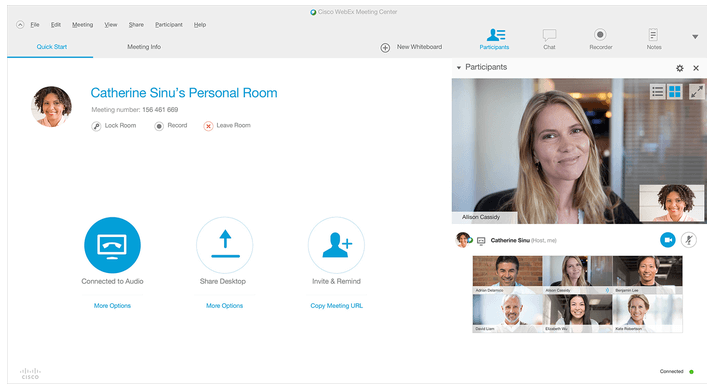 Cisco Webex Meetings brings together all the premium video conferencing and collaboration tools into this easy-to-use platform to aid users host or join high-definition video meetings, engaging webinars, live training sessions using any supported device.
The best thing about Cisco Webex Meetings is that it comes with an intuitive and user-friendly interface that gives users the accessibility and reliability to hold virtual meetings with fellow teammates, managers, or customers, no matter where the participants are physically situated.
Notable Offerings:
Host large-scale, interactive web and virtual events for up to 100,000 viewers
Conduct live webinars with HD video support for up to 3,000 participants
Video conferencing, live chat support, and remote desktop control options
Speedy real-time technical support for customers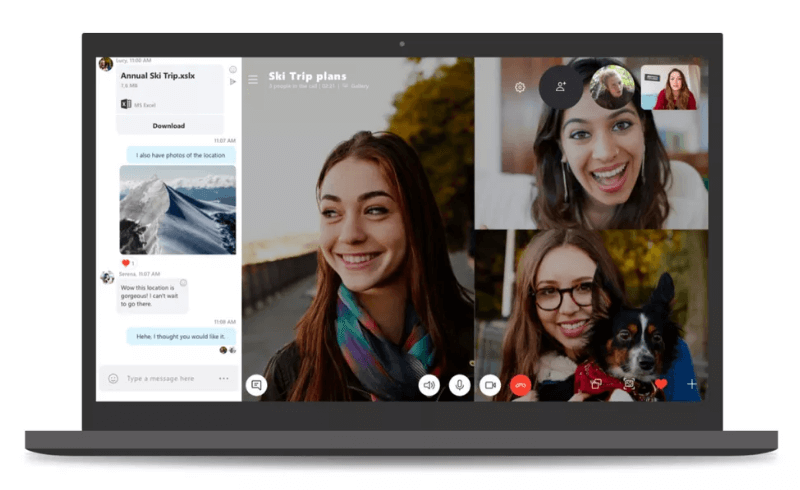 Skype is a Microsoft's renowned video chat tool used by millions of people around the world to send instant messages and make audio and video calls to friends, family, or fellow coworkers, all for free.
Skype also enables users to host or join unlimited video meetings involving up to 50 people without the need of any sort of registration or signing up process, making it the best video conferencing for small businesses.
Also, you don't need to install the Skype app on any of your devices as it comes with a web version which you can access via Microsoft Edge or Google Chrome browser.
Skype is indeed an excellent free video conferencing app, but if you need to host large-scale video meetings with more than 50 attendees, then you can use its paid subscription service 'Skype for Business' for a small monthly fee.
Notable Offerings:
Free conference calls and video meetings from anywhere in the world
Share your screen and exchange photos, spreadsheets, presentations, etc.
Interesting 'Live Subtitles' feature for speech-to-text conversion
Users can encrypt the conversions to keep them private
Record your meeting calls for future references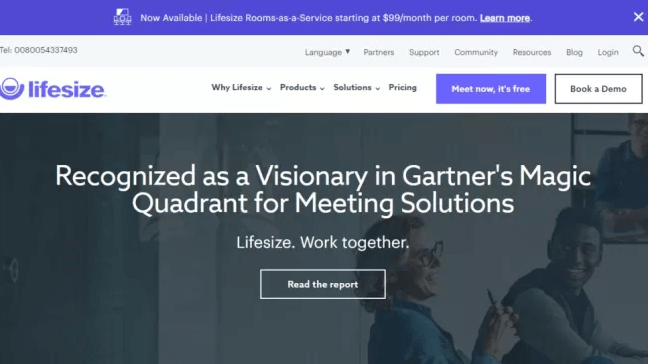 Founded in 2003, Lifesize has been long recognized as the world's first-ever 4K video conferencing software, designed to provide best-in-class features such as cloud-based video collaboration solution, wireless presentation, live meeting insights, and lots more.
People who want to host video conferencing for small businesses with up to 25 participants can use its 'Basic' tier which is available free of cost for 6 months. The 'Standard' plan is available for small teams for $16.95 per month per host, allowing users to host group meetings involving up to 100 people.
The Lifesize Plus plan is excellent for small and medium-sized businesses available for a monthly cost of $14.95 per host but requires a minimum of 15 hosts. It allows to host unlimited meetings with up to 300 people, along with phone and email support, Microsoft product integrations, and delivers real-time meeting insights.
The Lifesize Enterprise plan is suitable for large companies and costs $12.95 per host per month but requires a minimum of 50 hosts. It allows users to live stream events involving up to 1000 viewers and offers additional features like unlimited US voice phone calls, unlimited meeting or session recordings, premium voice conferencing support, etc.
Notable Offerings:
Unlimited free video conferencing meetings
Easy-to-manage tools for live streaming events
Integrates almost all Microsoft products
Dedicated apps for desktop and mobile devices
Read More: 13 Best Audio Recording Software For Windows PC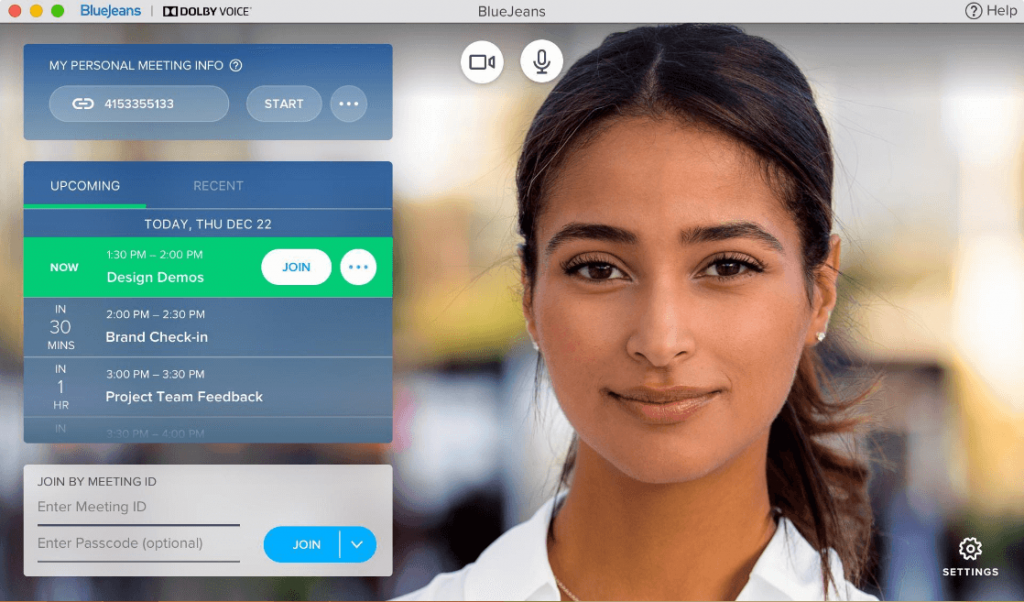 Founded in 2009, BlueJeans occupies a prominent position in the list of the best video conferencing software available in the marketplace today.
The company is headquartered in San Jose, California, and aims to provide cloud-based video conferencing solutions and collaboration tools to help users stay connected and productive even when they are working outside of an office environment.
BlueJeans has three priced versions of their product. The 'Standard' plan is available for a monthly cost of $9.99 per user, when paid annually. It allows users to host or attend online meetings with up to 50 members, plus includes smart video, web, and mobile conferencing features required for seamless communication.
The 'PRO' plan is available for a monthly cost of $13.99 per user (when paid annually) and includes all Standard features along with Canvas & CirQLive integrations, 25 hours of cloud storage for recordings, command center analytics, unlimited meetings involving up to 75 participants.
The 'Enterprise' package is suitable for large organizations and includes all the Pro features along with a few additional ones like unlimited meetings recordings, live command center, H.323/SIP room system and up to 100 Participants. Users need to contact the company and submit a request for quotation in order to get this plan.
Notable Offerings:
Unlimited private and group meetings
Real-time meeting highlights
Video conferencing features like active speaker view, Dolby audio, content slider, etc.
Web conferencing features like remote desktop, annotation, chat, etc.
Advanced encryption algorithms to keep meetings secure and private
24/7 phone and chat support for customers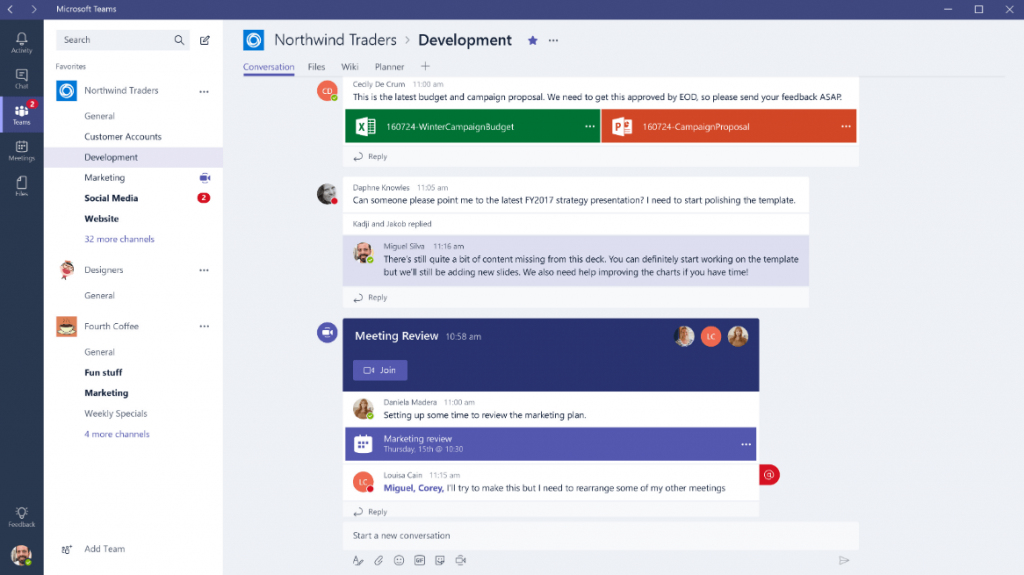 Microsoft's video conferencing app offers a fast, professional and secure communication and collaboration platform to let employees chat, meet, call effectively from anywhere on any device. This video conferencing service is a part of Microsoft's office 365 suite.
Microsoft Teams does have a free tier but it includes only basic chat and collaboration features. However, the company offers three-priced versions of their office 365 suite for customers to choose from: Business Essentials, Business Premium, and Office 365 E3.
Notable Offerings:
Unlimited audio and video conferencing meetings
Private and group chat, file sharing, 250+ integrated apps, etc.
Screen sharing, record and schedule meetings, host large-scale online events, etc.
Office 365 productivity apps and services including SharePoint, Stream, and Yammer
Advanced data encryption, multi-factor authentication, auditing and reporting, etc.
Round-the-clock phone and chat support for customers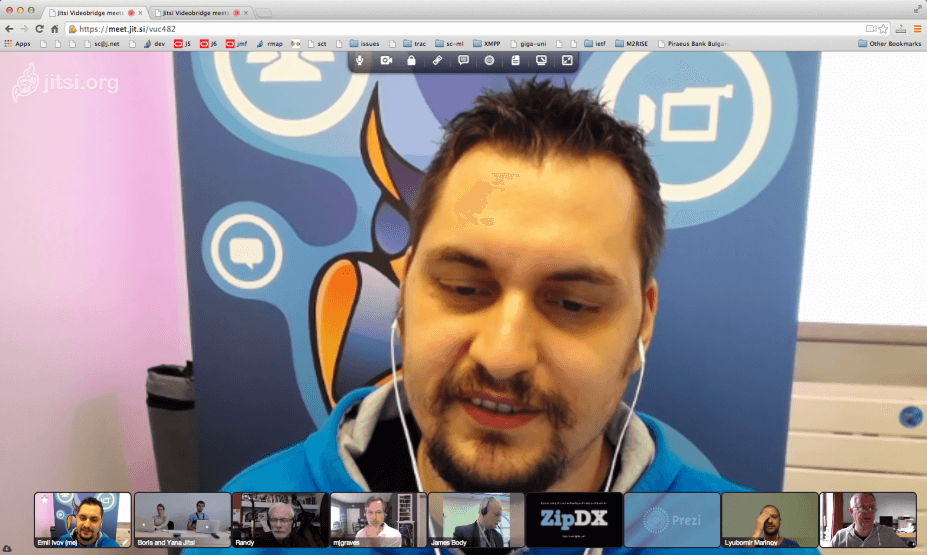 Jitsi Meet is a completely free video conferencing software that provides easy-to-use instant messaging and online meeting solutions aimed to accommodate small and midsize businesses.
Unlike other premium video conferencing solutions, it's a fully encrypted, 100% open-source VoIP platform that enables users to meet face to face, chat with colleagues, share desktop, all without the need of having an account.
Available for Mac OS X, Windows, Linux, Android and Web platform, Jitsi Meet has pretty much everything you need to get started.
Notable Offerings:
Instantly share your desktop, photos, documents, spreadsheets, presentations, etc.
Invite other members of your team to an online meeting using a simple custom URL
Edit all your business documents together in real-time using Etherpad
In-meeting private and group chat options
So, this was all folks! These are some of the best video conferencing software on the basis of popularity, ease-of-use, and affordability.
All of these aforementioned paid & free video conferencing services offer a wide range of flexible solutions necessary for professional online video meetings, seamless virtual communication, and effective team collaboration.
So, this concludes our guide, download your favorite application now and host or join video meetings from anywhere in the world in just a matter of seconds.

Monil is a professional writer whose forte is absorbing a lot of data and help large technical organizations convey their message clearly across multiple products. An engineer by qualification, his affinity for design enables him to write to inspire, energize, and influence various audiences to uncover their true potential. When not writing, Monil is likely to be found listening to music, traveling, or simply excavating into his favourite cuisines.
Subscribe to Our
Newsletter

and stay informed

Keep yourself updated with the latest technology and trends with TechPout.
Related Posts