13 Best Email Clients For Windows 10, 11 PC In 2023 (Free & Paid)

We are living in a modern age of information where emails have a huge impact on our daily work life – they are among the most reliable forms of communication in the world of business.
However, keep in mind that communicating via emails isn't all rainbows and unicorns.
If you're using multiple email accounts, you must have been aware of how hard and overwhelming it can get to manage your chaotic inbox from a web-based interface. 
An email client can come in extremely handy, especially if you want to manage and sync all your emails from multiple accounts in one unified Inbox.
A number of email clients available in the marketplace come only with a blend of basic features, while a few paid ones support exceptional things like data encryption, phishing protection, auto-backups, direct messages, etc.
While shortlisting the best email client for Windows 10, it is important that you pay close attention to the productivity-boosting features that it claims to provide. 
To help you decide which is right for you, we made a comprehensive list of the best Windows email clients 2021 has to offer. 
Before we move on to them, let's take a glimpse at the email client usage data of some of the most popular email service providers:
Email Client Market Share
According to the Litmus Email Analytics report, here are the top leading email clients used by people around the world (Statistics as of 1 December 2020):
Apple iPhone – 38%
Gmail – 27%
Apple Mail – 12%
Outlook – 9%
Yahoo! Mail – 5%
Samsung Mail – 2%
Apple iPad – 2%
Google Android – 1%
Windows Live Mail – 0%
Outlook.com – 0%
These email clients can be used for both personal and commercial purposes. Now, without further ado, we present you our choices for the best email programs for Windows 10. Let's check them out.
---
Best Free & Paid Desktop Email Clients For Windows In 2021
Below are some of the best email clients for Windows 10 available in the industry. Let's scroll through the list!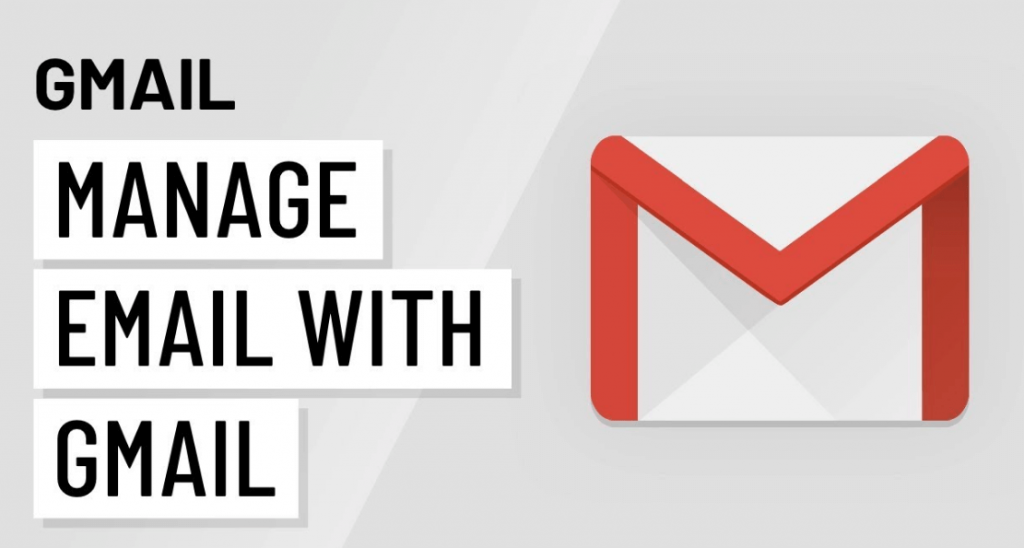 Supported platforms: Windows, Mac, Linux, Mobile, and Web
Google's webmail juggernaut, Gmail first came into existence in 2004 and now after almost 16 years still ranks among the world's leading free email services available today. 
Gmail is available completely free of charge for personal use, but if you want to enjoy additional business-oriented collaboration tools, you can purchase a G Suite license for a cheap price, starting at $6 per user.
Read More: 11 Best Email Marketing Software To Grow Your Business
Notable Offerings: 
15GB of free storage space
Automatically blocks spam messages to keep your account clutter-free
It lets you manage multiple accounts through a single inbox, including non-Gmail ones such as Yahoo, Outlook, etc.
Social and marketing messages are neatly sorted into different categories
---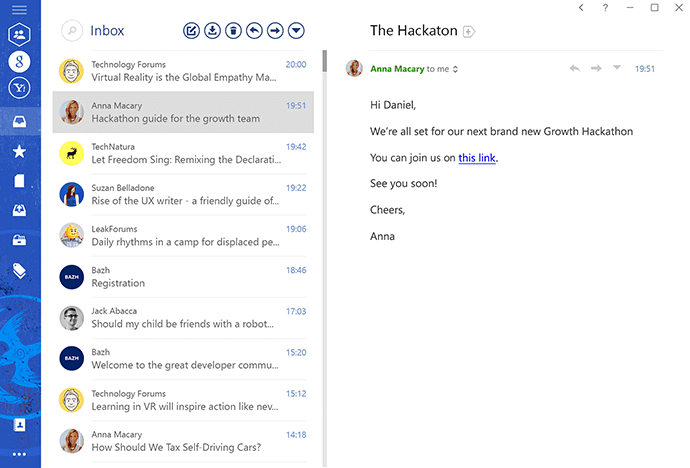 Supported platforms: Windows 7, 8 and 10
In today's competitive marketplace, Mailbird is one of the world's best Windows email clients, trusted by millions of users for managing multiple accounts effortlessly.
An intuitive and beautifully designed interface that comes with a lot of useful features and lets you connect with all of your favorite apps (Facebook, WhatsApp, Twitter, Google Docs, etc.) from one screen. 
Notable Offerings: 
Unified inbox 
Email speed reader
Connect via Linkedin in just one-click
The excellent attachment search option
Powerful inline reply feature
Multi-language support
Round-the-clock email support for free
---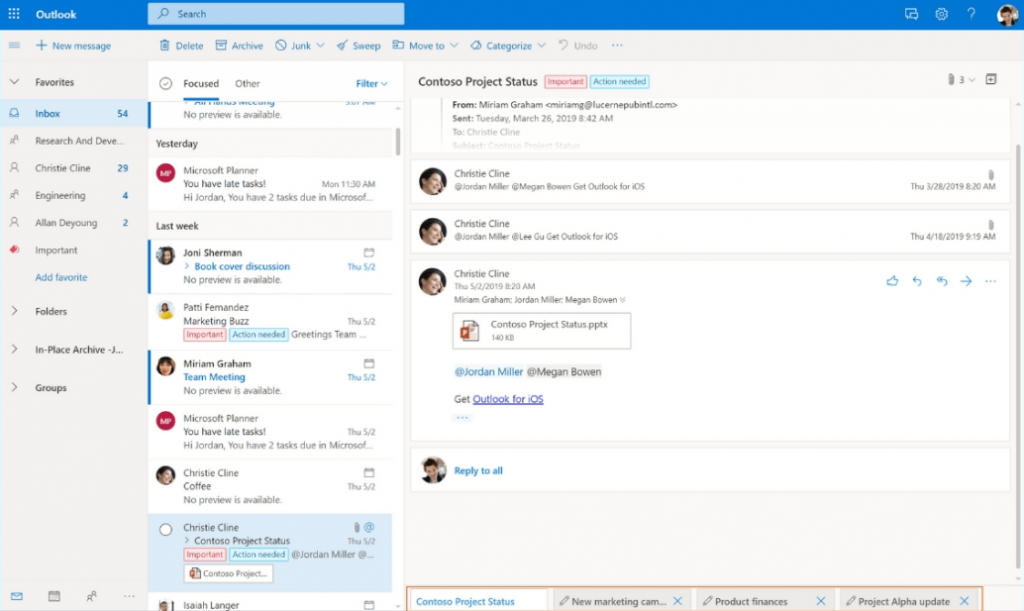 Supported platforms: Windows, Mac, Mobile, and Web
Microsoft Outlook, originally known as Hotmail, is a globally renowned email client program, used by many of the world's largest corporate firms to stay connected and conduct business. 
The program is a part of the office 365 suite, and can either be used as a standalone service or work with Microsoft SharePoint and Exchange Server for a wide spectrum of users in an organization.
Notable Offerings:
Easy access to emails and calendar 
15GB of mailbox storage with 5GB of OneDrive space 
Office app integrations (Microsoft Word, Excel, PowerPoint, etc.)
Data encryption and protection from ransomware and dangerous links
Create and register domains for your email accounts
---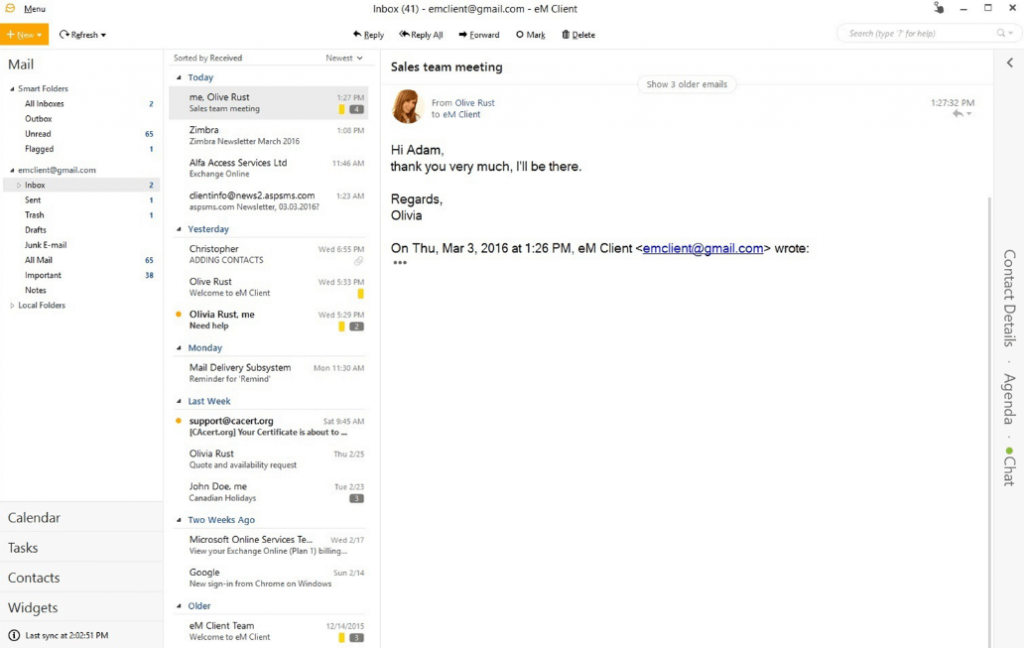 Supported platforms: Windows and macOS
Developed in 2006, eM Client is another famous name in the world of best email apps for Windows and Mac devices. 
What's great about this software compared to its competitors is that it includes a unique sidebar option that provides quick access to the communication and attachment history, live chat, and agendas. 
Notable Offerings:
The application has a modern, user-friendly interface
Fast and customizable search options
Supports PGP encryption to provide the utmost security 
Automatically takes a complete backup of your data while you're working
Multilingual support
---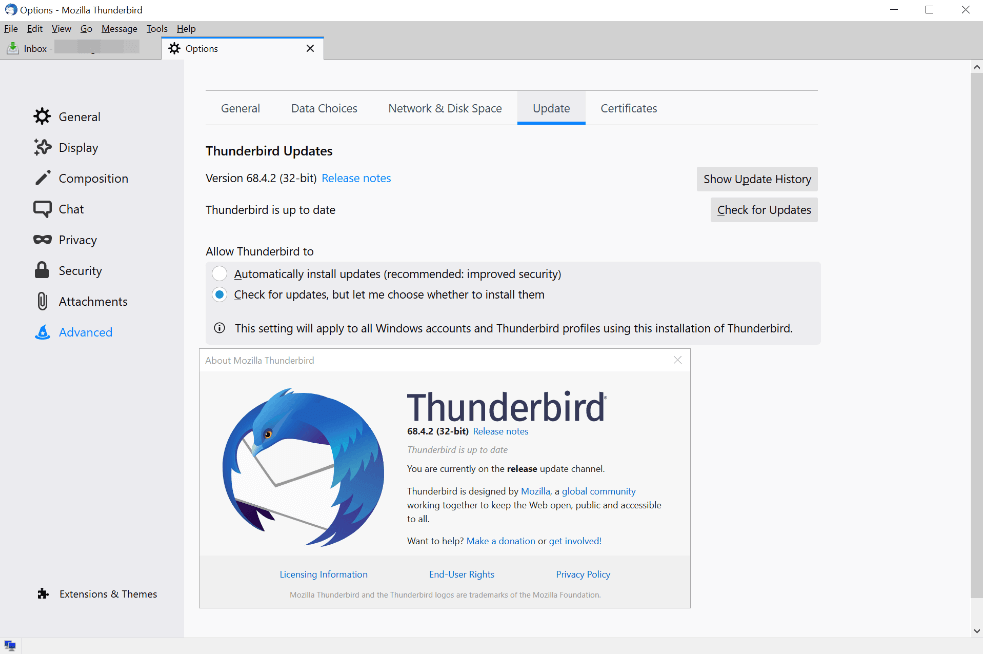 Supported platforms: Windows, Mac, and Linux
The perfect combination of potent features and an easy-to-use interface makes Thunderbird one of the best email programs for Windows 10 available in the current marketplace. 
Developed by Mozilla Foundation in 2003, Thunderbird attempts to make the email experience better for you by bringing lightning-fast speed and top-notch security together in one place.
Being a free email client, it focuses on ease of use instead of providing a jumble of needless features.
Notable Offerings:
Tabbed email option to let you open multiple emails at the same time
Quick filter toolbar to help you filter your emails instantly
It lets you optimize your inbox by archiving your messages
Amazing attachment reminder option
---
6. Hiri (Paid)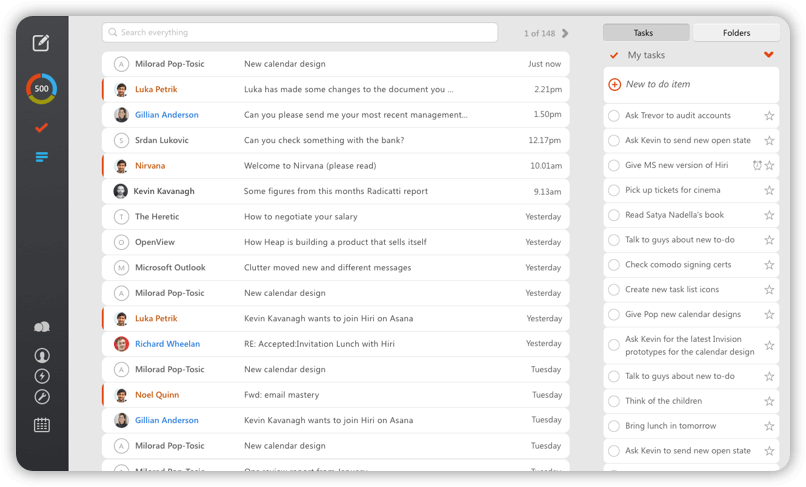 Supported platforms: Windows, Mac, and Linux
Hiri is a business-centric premium email client service that was launched in 2012 as an effective alternative to other best email apps (such as MS Outlook and Thunderbird) of that time. 
It's easy to use and configure and has a highly responsive interface that makes it one of the best Windows email clients of all time. 
Read More: 15 Best Social Media Apps For Your Business Marketing
Notable Offerings:
Task list to ensure you never forget your important emails
Split your emails effectively with Action/FYI filters
Decent subject lines
Snooze emails for a later time
---
7. Inky (Paid)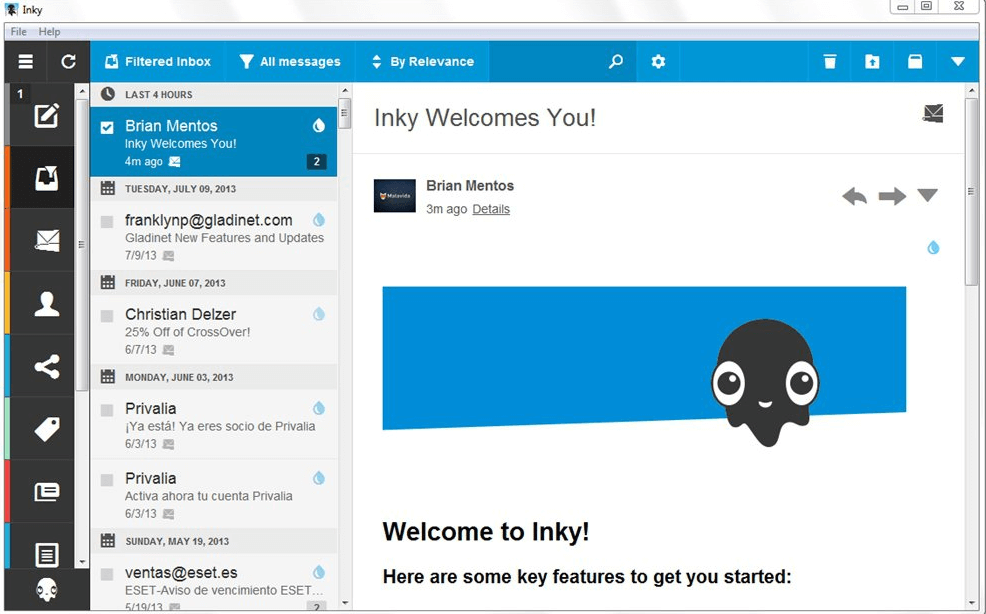 Supported Platforms: Windows, Mac, Mobile
INKY is a cloud-based email client program that's designed primarily to protect your emails against phishing attacks with the help of artificial intelligence (AI) and machine learning. 
The intuitive and seamlessly designed interface with top-notch security solutions against emerging phishing threats makes INKY one of the best email clients for Windows 10 and older editions. 
Notable Offerings:
Easy-to-use, modern dashboard that provides you with complete visibility 
Blocks malware, spyware, and other harmful infections
Next-generation email protection with computer vision, AI, and machine learning algorithms
INKY is easy to integrate into Exchange, Office 365, and G Suite
---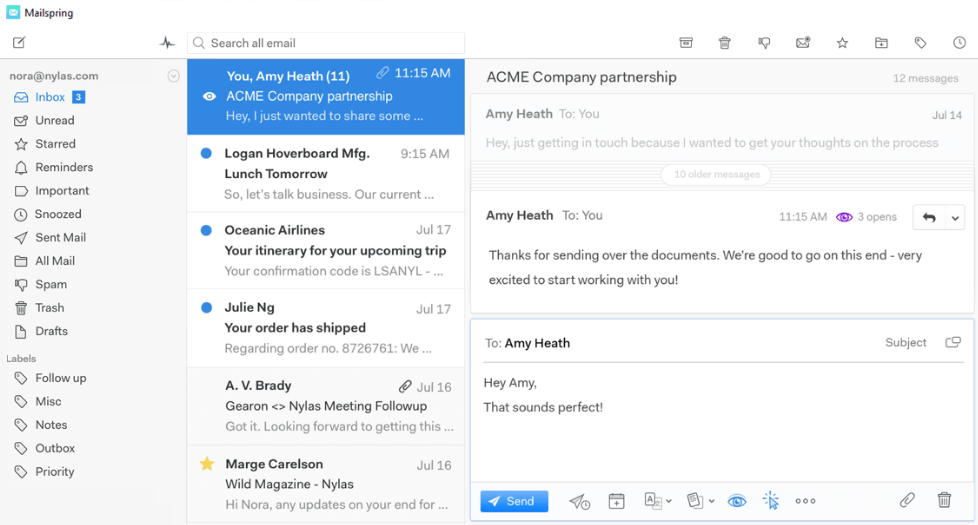 Supported platforms: Windows, Mac, and Linux 
One of the most prominent options for the best email clients for PC is Mailspring. It offers a host of features, including link tracking, quick search, customizable themes and layouts, and many others.
The interface of the program is clean and is available in 9 languages, including French and Russian. For a free email client program, Mailspring definitely offers more than it should. 
Notable Offerings:
It supports all popular email service providers (such as Gmail, Outlook, Yahoo, etc.)
It lets you create beautiful signatures with your pictures
Automatic spell-check  features to easily spot misspelled words
Advanced search, Undo and dark mode theme options 
---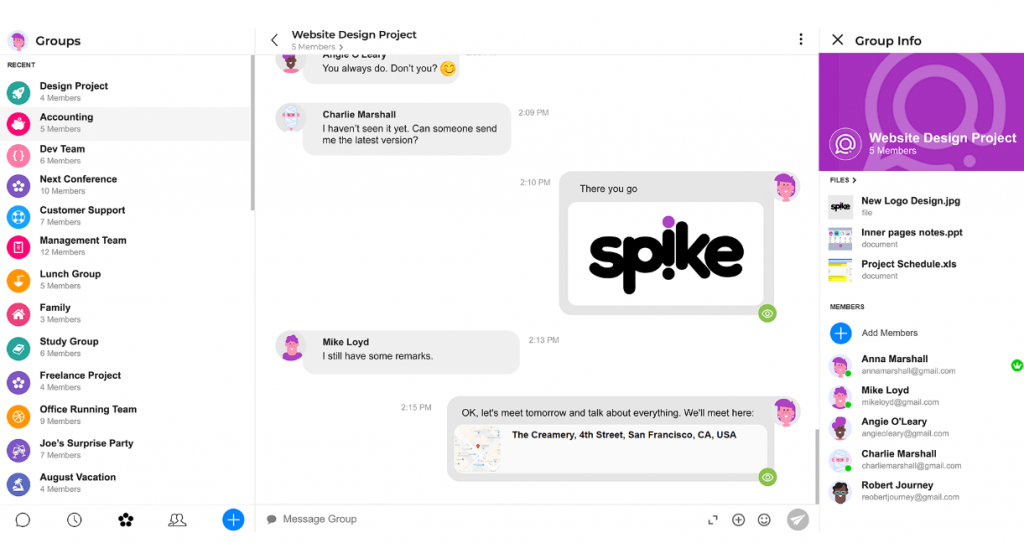 Supported platforms: Windows, Mac, Web, Android, and iOS
If you are looking for the best email client for Windows 10, you should definitely consider exploring the features of Spike's conversational email app. Unlike other desktop email clients, it focuses on a unique concept that allows users to manage emails via a messenger chat app-like format.
Notable Offerings:
Conversational email format
Saves a lot of time by allowing you to communicate in real-time
Live, group chat options
Voice and video calls
Powerful file management features, including drag and drop
---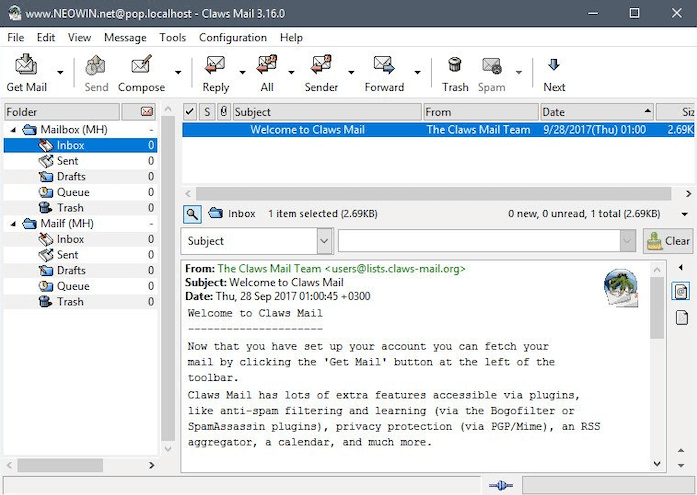 Supported platforms: Windows and Linux
Anyone unsure about where to look for managing multiple email accounts should try out Claws Mail. It offers a wide array of features despite the fact that it's a free tool. That's why Claws Mail has become a quite popular name among a wide spectrum of Windows users. And that's the main reason behind it being rated as the best Windows email client program.
Notable Offerings:
A lightweight program with a user-friendly interface
Anti-spam and anti-phishing protection 
Multiple templates for emails
Email archiving, customizable toolbars, themes, and search filters options 
---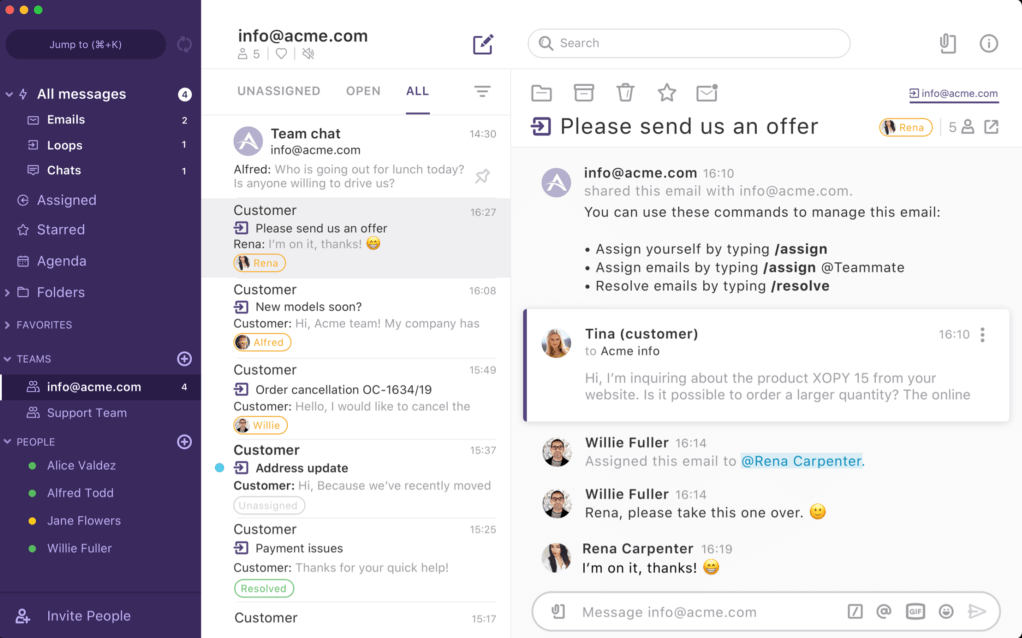 Supported platforms: Windows, Mac, Android, and iOS
Are you still searching for the best email clients for Windows 10? If you've come this far, you should definitely give Loop Email a shot. It's packed with a lot of tempting features that not only allow you to chat with your coworkers but also let you email your clients in the most efficient manner. Loop Email makes working remotely simple and that's why it is considered one of the best email apps for Windows.
Notable Offerings:
Manage multiple email accounts with its easy-to-use features
It lets you integrate virtual assistants 
It seamlessly works with your existing email services such as Gmail, Outlook, etc.
---
12. Postbox – The Power Email App (Paid)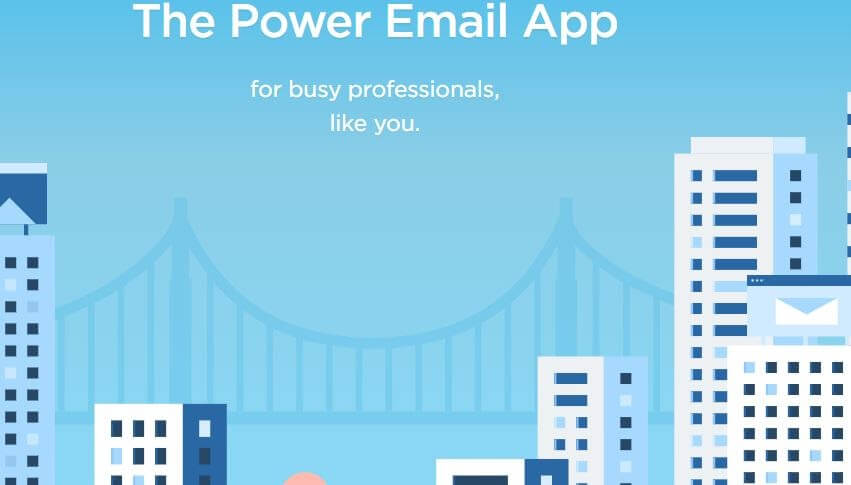 Supported Platforms:- Windows and macOS
Now, next on this rundown, here is one of the powerful email apps – Postbox. It is the perfect bet for professionals. Effortlessly, you can manage all your email accounts in one place i.e, Postbox. The impressive but simple and clean user interface of Postbox makes it easy to understand the functionality, even for beginners as well. Moreover, Postbox lets you personalize templates directly to the recipients. Undoubtedly, it is one of the best email apps for both Mac and Windows. Write like a pro with PostBox – The Power Email App. 
Notable Offerings:
Natively integrated with OneDrive and Dropbox.
Equipped with the in-built HTML editor.
Allows you to create personalized templates.
Attarctive and simple UI.
Comes with a professional-class composition tool that enhances writing efficiency and style as well. 
Task list to make sure all-important emails.
---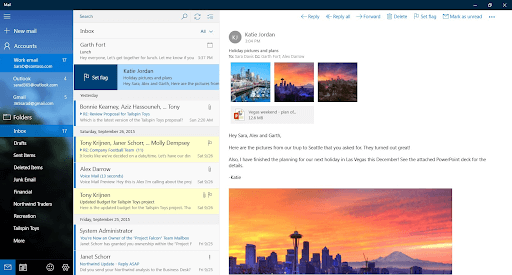 Supported Platforms:- Windows
The last name on this list of the best email clients is Mail and Calendar. This is a free alternative from the house of Microsoft. With the help of this tool, even a beginner can easily manage all the emails received. Additionally, the interface of the software is quite simple and minimalistic. The app works in integration with other platforms like Microsoft Outlook, MS Office 365, Gmail, Yahoo, and more.
Notable Offerings:
Easy to use.
Shows all emails unitedly.
Interface Customization options.
Multiple handy features and buttons.
Easy to access and maintain multiple accounts.
Shows important emails at the top.
Also Read: Best Email Extractor Online Tools
---
Manage Your Multiple Email Accounts with Best Email Clients
Now that you know how to manage all your contacts and emails from multiple accounts through a unified inbox, we advise you to compare different email apps from the aforementioned list and choose the one which is best suited for you. 
We hope our curated list helped you sort out the best email client for your Windows 10 PC. 
So, which email client did you end up getting? Let us know in the comments section below! 
Monil is a professional writer whose forte is absorbing a lot of data and help large technical organizations convey their message clearly across multiple products. An engineer by qualification, his affinity for design enables him to write to inspire, energize, and influence various audiences to uncover their true potential. When not writing, Monil is likely to be found listening to music, traveling, or simply excavating into his favourite cuisines.
Subscribe to Our
Newsletter

and stay informed

Keep yourself updated with the latest technology and trends with TechPout.
Related Posts