Google Chrome vs Mozilla Firefox: Which Web Browser is Better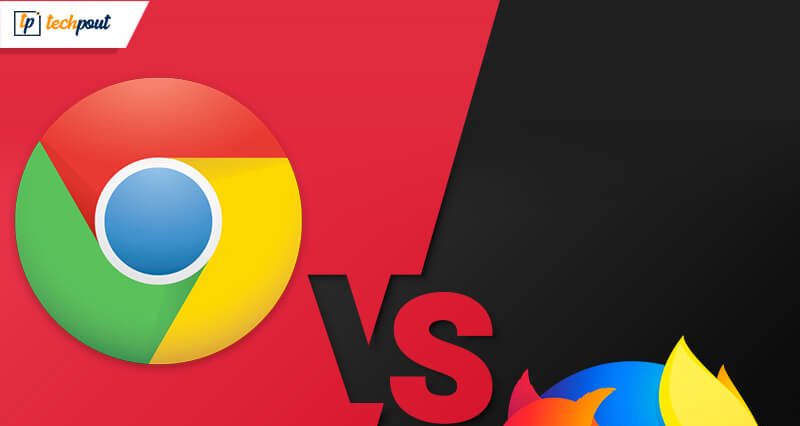 Nowadays our daily life starts running only when our browser starts running. Gone are the days when Internet Explorer was our only browser option. But when it comes to deciding which web browser is the best, most of us prefer going with Google Chrome as it is a household name nowadays.
However, in this article, we present a clear comparison between Google Chrome and Mozilla Firefox by looking at the performance of both the browsers in various categories. 
Firefox vs Chrome: Design Comparison
Chrome – Although both browsers have a similar design, yet Chrome has an accessible user interface but with fewer customization options available from the Chrome store. 
Firefox – Firefox is more user-friendly as it has the following features like the larger back button, customizable menu bars, and simpler setting options. The default interface is accessible and navigable, but customization capability is moderate.
Recommended: Top 5 Ways to Speed up Your Web Browser & Internet Speed
Firefox vs Chrome: Speed and Performance
Chrome – With faster benchmarks, the pages load quickly and give the user a smoother operational experience. Users can also start interacting with the page before it is loaded completely.
Firefox – With slow benchmark performance, slowness is observed in page loading. Also, users need to wait before beginning interaction with the page until it is completely loaded. 
Firefox also uses more RAM than Chrome, hence slows down the computer, although the claim of RAM usage is lesser than that of Chrome. 
Firefox vs Chrome: Rendering and Accuracy
Chrome – Chrome renders most pages accurately with fewer rendering bugs and errors.
Firefox – Pages can sometimes not be rendered accurately. Users can't fix the rendering bugs by themselves. Websites are tested lesser in Firefox in comparison with Chrome.
Firefox vs Chrome: Privacy and Security
Chrome – User tracking activities on this browser is too extensive. Though some of the tracking activities can be turned off manually from the settings of the browser, yet it is cumbersome and time-consuming. Even using the incognito mode doesn't offer a complete shield. 
Firefox – This browser doesn't track the user activities and it has its own built-in support for "Do Not Track" and built-in tools for online tracking protection. In Firefox, the browsing history is private. Firefox's company Mozilla is a non-profit organization that aims to protect the people who use it.
Firefox vs Chrome: Video Streaming
Chrome – As Google owns YouTube, therefore the video streaming features and delivery quality is better optimized in Chrome. The desktop browser performs better in streaming high definition videos while in comparison to the laptop due to high power consumption on the laptop. Additionally, Chrome has a "casting" feature which supports sending videos on a page, or the whole page to cast on a Chromecast TV. For instance, if you want to play your favorite YouTube videos, then you can cast it on your Chromecast TV by tapping on the casting button labeled as "Play on TV" within the video frame on YouTube.
Firefox – The "casting" feature is not supported on this browser.
Firefox vs Chrome: Extensions and Customization
Chrome – The number of available extensions is more however, customization is minimal. One major drawback here is that the Chrome Store often becomes an easy target for hackers and scammers due to the large size of the store and more popularity of the Chrome browser among users across the globe.
Firefox – Customization options are more here when compared to the availability of extensions.
You can find a wide range of extensions like password managers, VPNs, ad blockers, video downloading software etc. in both the stores.
Firefox vs Chrome: Additional Features
Chrome – It lets the user create multiple accounts and switch between them easily. Also, it helps to sync various devices with the same Google account.
Firefox – The reader mode can be easily customized. The "Pocket" feature helps in suggesting posts and "save-for-later" features too. Also, the screenshot tool can help take screenshots of the full screen easily.
Firefox vs Chrome: Modern Standards Support
Chrome – Supports most web standards efficiently. This browser also supports HTML/CSS features.
Firefox – This browser supports lesser web standards and doesn't support HTML/CSS features.
See Also: Chrome will Use AI To Describe Images For Users With Sight Impairment
Firefox vs Chrome: Search Autocompletion
Chrome – This browser helps in searching about queries directly from the address bar. The address bar is basically "Google.com". Chrome has a better AI suggestion feature for words and phrases to complete our search queries and thus eases our typing efforts. Chrome also lets you use other search engines but for this, one has to search for the same in the browser settings.
Firefox – The desktop version of Firefox does provide a separate search box option which is located on the right side of the address bar. But the AI function here is not too great. Toggling between different search engines is easier here, as it appears in the drop-down of the menu system.
Firefox vs Chrome: Mobile Compatibility
Chrome – Chrome lets the user easily sync everything from their desktop or laptop browser to their mobile phone via their Google account.
Firefox – Syncing through devices is also available even in this browser by creating an account.
Chrome no doubt still wears the tag of being the best web browser, yet Firefox is often considered to be the best Chrome alternative especially when it comes to privacy and security matters. However, as a user, you can decide for yourself about the browser that works best for your daily web use.
Snigdha is a technical content writer with expertise in the field of science & technology. Though she has a very diverse academic and professional profile yet she finds writing to be a creative form that she was unable to explore so far. When not writing, she can be found indulging in other forms of creativity like painting or travelling.
Subscribe to Our
Newsletter

and stay informed

Keep yourself updated with the latest technology and trends with TechPout.
Related Posts