CleanMyMac X Review: Pricing, Features, Pros, Cons & Expert Advice

CleanMyMac X review 2021, read the entire write-up to know whether you should give it a try or not. 
Do you have a Mac laptop? Then, you should be aware of the unwanted files, system junks that are eating up an ample amount of space, and making your Mac run slower as expected. On this note, many users report that they tend to skip downloading the apps or files, and just in case, if they do, they delete them immediately.
Even though you deleted the files, but numerous backend files still hog up your storage space. Such kinds of files are harder to find and remove, hence, we use CleanMyMac X, a complete Mac cleaner to get rid of all unwanted files and clear junks across all the edges of the machine.

In this penned note, we will make you walk through the cleaning software, discuss its features, and what it can do for making your Mac faster & more efficient. In addition to this, we will also let you know the pros and cons of giving the tool a try. Now, without wasting a bit of time, let's start reviewing CleanMyMac X with its quick overview.
What is CleanMyMac X?
MacPaw's CleanMyMac X is the best way to optimize your complete MacBook. It offers a vast variety of tools that includes a real-time performance monitor, virus protector, malware detection & remover, and many more. In the simplest term, it is the software that every Mac user require to clean all the junk and unnecessary files, or apps to run the machine faster than usual.
Apart from this, the Mac cleaner manages your applications and closes those that kill your CPU power.
---
Full Specifications of CleanMyMac X:
Developer: MacPaw
Compatibility: macOS 10.10 or higher
Size: 74.4 MB
Price: Free and Offers in-app purchases
Available in: 12+ Languages
---
Prominent Features & Highlights of CleanMyMac X
The cleaning tool only aims to help Mac users in order to keep the machine optimized and enhanced. Now, have a closer look at the features offered by CleanMyMac X:
1. Junk Removal
There are a plethora of media files, internet log files, installation files, system files, and unwanted apps stored on your device that make the respective machine run slower than usual. Here comes, CleanMyMac X with a built-in tool called, Junk Removal to identify and erase all the system junk.
2. Malware Detection
Unlike others, the tool has a special feature, malware detection. It frequently scans your Mac for viruses and malware, automatically deletes them to ensure the good health of the machine.
3. Smart & Deep Scan
This mac cleaner app has a smart assistant that provides tips or hacks regarding how to find system junk and clean the disk securely. The tool uses the latest AI technology to recognize the crucial files and junk.
4. Optimization
In order to enhance Mac's performance, optimization is one of the major factors. CleanMyMac X boasts plenty of optimization tools to detect the applications running in the background. Also, let you stop them, so they don't make your machine slower and vulnerable. In addition to this, the cleanup tool also finds the apps that need an update, which eventually optimizes your Mac and leads to performance improvements.
5. Maintenance
To maintain your Mac even more orderly, the software comes with an in-built Updater and Uninstaller. By keeping a track of every bit stored on your Mac, the tool removes unwanted apps and installs the required software updates. This helps keep the machine organized and ensures its smooth running.
6. Complete Privacy
Unlike others, the tool instantly deletes your browsing history. In addition to this, it also traces every bit of activity in terms of both online and offline. Thus, it is a complete protection kit to keep you safe over the web.
Also Read: MacKeeper Review 2021: Clean and Protect Your MacOS

---
Why Should you Use CleanMyMac X?
While reviewing the CleanMyMac X, we found some excellent features that make it a great Mac optimizer utility. We have listed them below, take a look at them!
Super Cool UI
It boasts an extremely clear and smooth user interface that makes navigation a super easy task, even for newbies too.
Free Version
If you want to unlock the complete strength of CleanMyMac X, then you have to rely on the pro version of the software. But, if you are bound to your pockets, then it has a free version as well with basic features, so you can use it.
Multilingual Support
Language won't be a barrier in order to optimize your Mac. CleanMyMac X is available in more than 12 languages that include English, French, Spanish, Italian, German, and more.
Takes One Click
Resolving glitches on Mac may require a long while, but after the arrival of CleanMyMac X, it is just all about a single click. The utility has everything to provide ease of access to its Mac users.
Variety of Clean Up Options
It has dozens of in-built tools to enhance your Mac. CleanMyMac X can be anything for you: a Mac cleaner software, a real-time performance monitor, malware detection, and junk removal.
Also Read: CCleaner Review 2021: Product Details, Features, Price & More

---
How does CleanMyMac X Works?
Here is how CleanMyMac X runs to detect junks in all edges of your Mac. Follow the steps below to speed up your Mac:
Step 1: To get started with, download CleanMyMac X. You can do so for free from the button below.

Step 2: Launch the utility on your Mac, click on Scan and wait until it finishes scanning your machine for junk and unwanted files.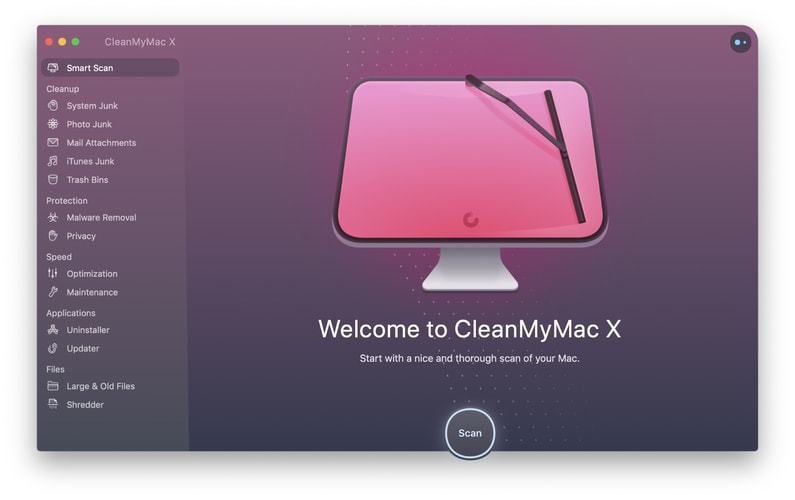 Step 3: Navigate to the Optimization from the left menu pane. Then, go through the Login items. Likewise, you can also choose Malware Removal, Maintenance, and anything else you wish to remove.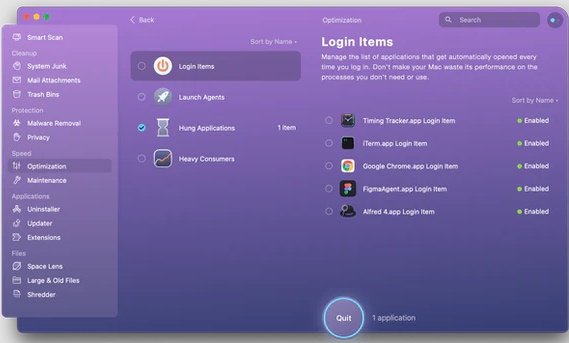 Step 4: Remove the items you no longer want by clicking on Run.
Step 5: Click on Quit.
That's all you need to follow in order to free up an ample amount of space on your Mac.
Also Read: 11 Best File Shredder Software For Mac in 2021

---
What are the Pros & Cons of using CleanMyMac X?
Before trying CleanMyMac X, it would be better to know about the benefits and drawbacks of using this cleaner software.
Pros
Simple installation and easy-to-use interface.
Multilingual support.
Amazing customer support services.
Several in-built tools and products.
Complete protection from malware and viruses.
Free version.
Speed booster.
Cons
It is a bit more expensive than other alternatives.
No support for a duplicate file search.
Pricing Structure:
If we talk about the pricing of CleanMyMac X, it completely depends on the number of devices you wish to connect it on, and upon your preference of having either a one-time purchase or yearly subscription.
| | | |
| --- | --- | --- |
| Number of Devices | One-Time Purchase | One-Year Subscription |
| 5 Macs | $199.95 | $89.95 |
| 2 Macs | $134.95 | $59.95 |
| 1 Mac | $89.95 | $39.95 |
Also Read: 15 Must-Have Apps and Software for Mac of All Time

---
That's A Wrap: CleanMyMac X Review 2021
Taking good care of Mac is as essential as servicing the car uniformly. And, there is no better way of doing so than relying on a reliable professional-like cleanup tool.
CleanMyMac X, one of the best Mac cleanup apps, is specially designed for Mac users with the aim to keep MacBooks enhanced and optimized. The cleanup tool understands that MacBooks are formed oppositely from Android or Windows PC.
So, that was a quick but complete review of CleanMyMac X. Now, we can say, it is one of the most promising cleaners for Macs available in the market.
We hope the above shared information helps you make a good decision. Lastly, do share your suggestions, opinions, or further queries in the comments below.
Before you go, do subscribe to our Newsletter for staying up-to-date and informed with the latest tech updates. Along with this, follow us on Facebook, Twitter, Instagram, and Pinterest. Here you will receive updates, latest tech releases, or news quickly.
Harshita Sharma is a technical writer with quite a distinct understanding of the tech realm. She is a tech enthusiast who believes that tech knowledge should reach one and all and tries to convert the sketchy knowledge into the simplest possible form for making people understand the tech world better. When not playing with words, she loves to travel and explore new places. And, is a coffee & cricket connoisseur.
Subscribe to Our
Newsletter

and stay informed

Keep yourself updated with the latest technology and trends with TechPout.
Related Posts