13 Best Uninstaller for Mac to Completely Remove Unwanted Apps in 2021

Removing apps from mac is not as easy as it sounds. It may look like a simple drag and drop task, however uninstalling an application may leave several supplementary files on your device.
Manually finding out these files and deleting them can be a frustrating and time-consuming task, also they do not guarantee desired results. The use of the best uninstaller for mac is what will help you in such scenarios.
Over time these residual and cache files build up and add up gigabytes of junk which eat away a lot of system space
An uninstaller application is designed to delete the required applications and neatly clean all the leftover files associated with it. Doing this will not only reduce system load, boost its performance but also optimize your mac. 
To make your task easy and help you pick the best uninstaller for mac, we have prepared a well-researched list of the most efficient tools. Let's have a look at these dedicated tools to remove apps from mac. 
13 Best Mac Uninstaller Apps to Remove Apps From Mac in 2021:
1. Cleanmymac X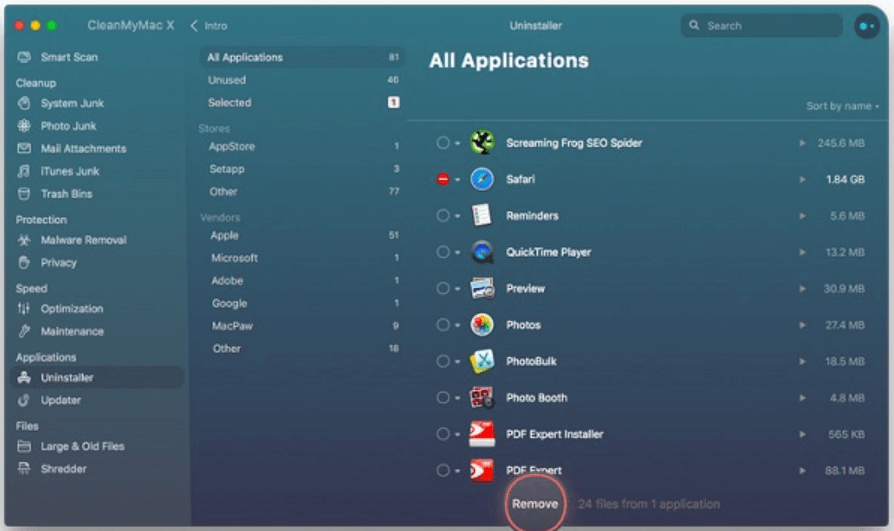 Cleanmymac X earns the first place on our list of mac cleaners for fairly good reasons. It is a powerful tool and comes with several utility functions including speed optimization, malware protection, and comprehensive file management capabilities.
It makes the task of uninstalling apps highly easy and can effortlessly scan and sort all your downloaded applications. It can sort them based on their category, last use, vendors, etc. 
Use it to perform a system scan and check the health of your device. After a successful scan cleanmymac X will display a detailed list of all your applications along with the details of data cache, app leftovers and supporting files of each application.
Cleanmymac X is an ultimate deep cleaner utility tool. Use it to locate the unwanted apps and delete them permanently with their supporting files to reduce the system, retrieve space on your mac and boost overall system performance.

---
2. MacKeeper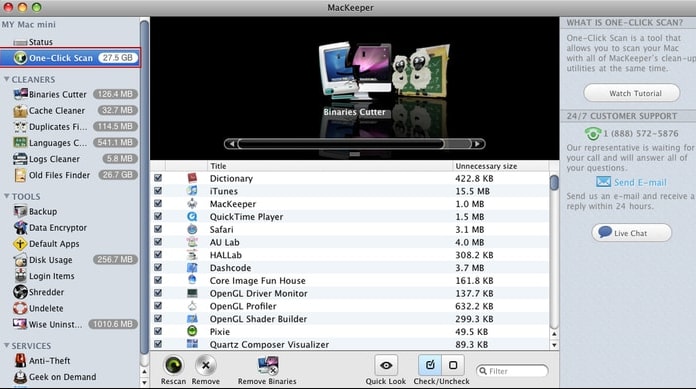 Encountering issues with your Mac? If so, then you should seek help from MacKeeper. It is one of the most promising cleaner apps for macOS. It can boost the overall performance of your Macbook. In addition to this, the app can protect you from data leaks, malware, and online threats. And, the best thing is MacKeeper is an ISO-certified cleaner solution and provides excellent results to its users.
Read More: Best Free Mac optimizer and cleaner tools
Within just a few seconds, the tool can free up disk space around 7GB. It optimizes your Mac so the machine can run even more swiftly and smoothly. Its smart uninstaller automatically deletes the unused apps with a single click. The tool comes with a website tracker that stops the annoying ads and lets its users enjoy ad-free browsing. MacKeeper users can find 3 data breaches. And, the support team of MacKeeper is available 24/7 to help its users.

---
3. CCleaner for MAC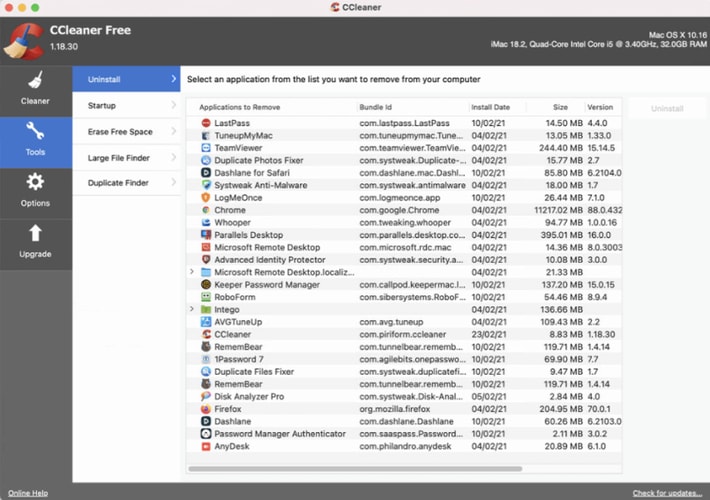 CCleaner for Mac got the third position on our list of best uninstallers for Mac. Whether it is for Windows, Mac, or smartphones, this cleaning program performs well on all devices. The program is majorly known for its brilliant features and advanced optimization techniques that detect and clean all the similar files hogging up space. The best thing about CCleaner for Mac is it can delete multiple unwanted files and apps within a click. In addition to this, the tool finds and removes unwanted logs and cookies.
It is one of the most dedicated cleaning programs with the potential to speed up overall performance. CCleaner for Mac is available in both free and paid versions. To unlock its complete functionality you need to rely on the paid version.

---
4. App Zapper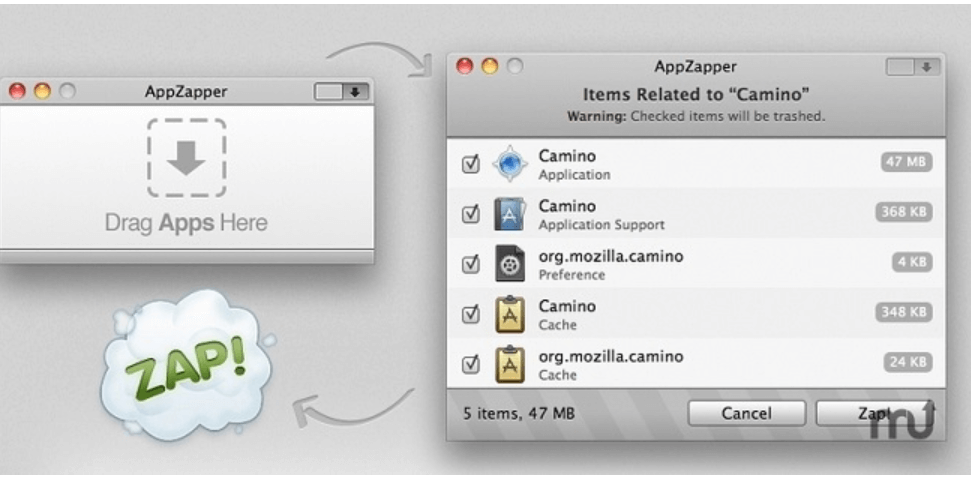 App Zapper is known for its simple working and in-depth system cleanup. With this compact uninstaller tool for mac you can simply drag and drop applications into its interface and look out for supporting files. 
You can also refer to its Hit List which gives details of the apps consuming maximum space on your system. To delete apps from your Mac, simply select them along with the associated files and remove them. Apart from this, it's Undo feature also gives you an option to recover accidentally deleted apps. Use this simple yet efficient tool to get rid of junk files, plugins, widgets and many more.

---
5. App Cleaner and Uninstaller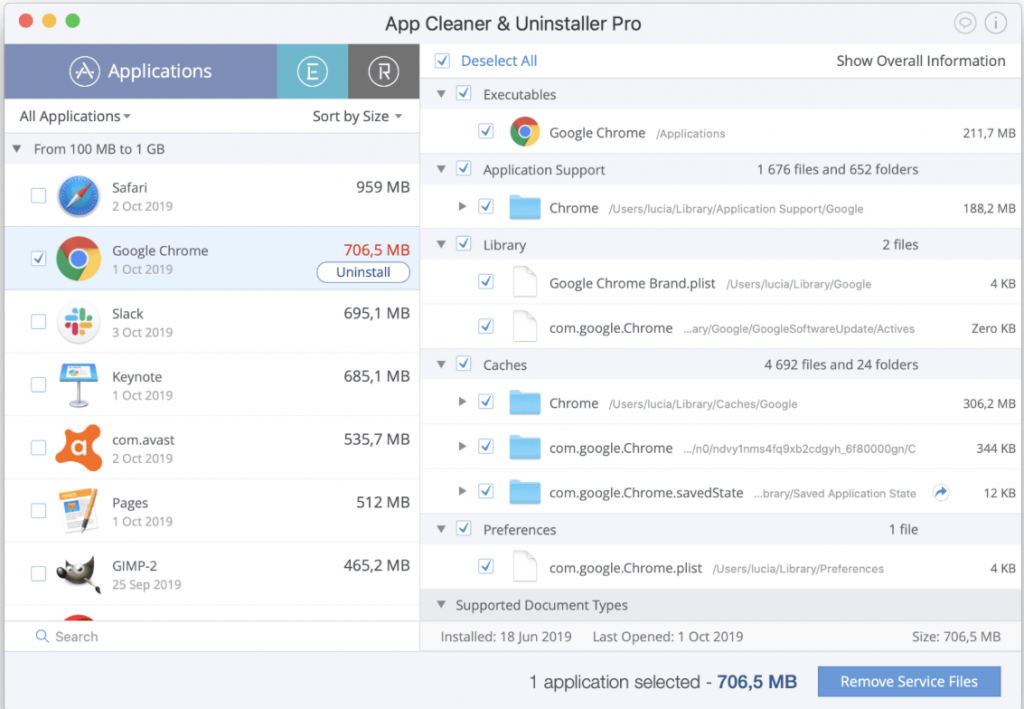 Another incredible uninstaller for mac that effortlessly deletes apps from your Mac is "App Cleaner and Uninstaller". Use it to recover space on your mac, remove supporting files along with system junk, residual files, cache and much more. 
To remove a particular application, simply select it from the application list and uninstall it. The best part about this tool is that, even if you are deleting the application manually, it will automatically remove all the supporting files. However, during this process, it ensures that no important system app is deleted. 
Use it to get rid of browser extensions, plugins, unneeded installation files, prefpanes and other junk and unwanted files on your Mac. 
If you want to fully optimize your mac, pick App cleaner and uninstaller for class apart results.

Read More: 7 Best Disk Cloning Apps For Mac
---
6. App Delete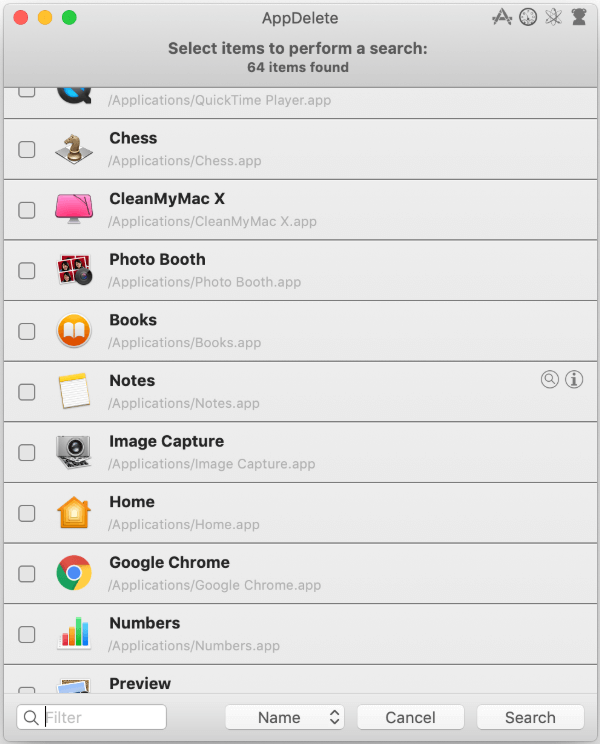 If you are still searching for an app cleaner for mac, you can pick App delete. With this power-packed tool you can not only remove supporting and leftover files of the uninstalled app but also get rid of various screensavers, widgets, plugins, preference panes. 
This helps in recovering precious system space and makes your Mac perform faster. It comes with a simple yet effective working and can effortlessly find unwanted files. Apart from the basic functionalities App Delete also comes with advanced features like Clear Logs, AppReset and Library folder. 
This uninstaller for mac application comes with a Trash monitoring feature, which automatically starts deleting supporting files as soon as you uninstall an application from your device.

---
7. Umate Mac Cleaner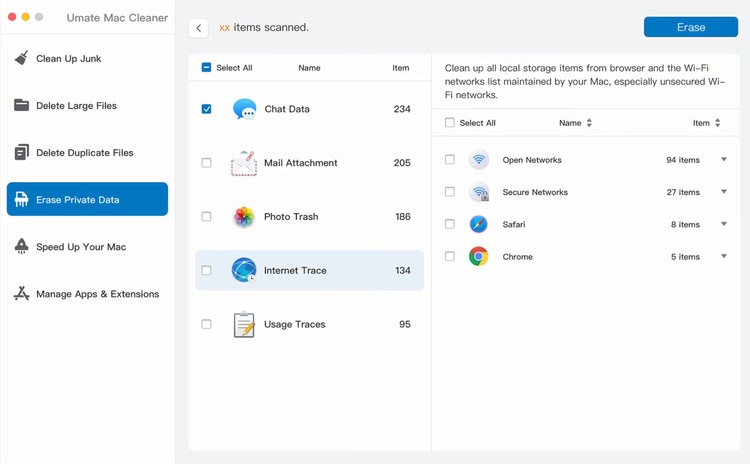 Image Source: imyfone
Umate Mac Cleaner is a one-stop solution for all your cleaning needs. This software lets you clean all the junk files, duplicate and unused files from your PC. with just a scan you can witness a huge list of files that you need to remove in order to get better performance from your Mac. the interface of this software is easy, you just have to scan for the files which you wish to remove.
The best part about this software is that it takes very less time in finding the useless files which are taking space. The deep scan technology finds the files from the deepest corner of the storage easily. Once the scan is completed you can see the results on your screen. From the list, you can easily eliminate the files and make space on your system storage.
Some of the major reasons that make this the best uninstaller are that it scans for more than 40 types of files with 2X better performance as compared to others. You can easily use this software and remove all the unused and unwanted files from your Mac.

---
8. Trash Me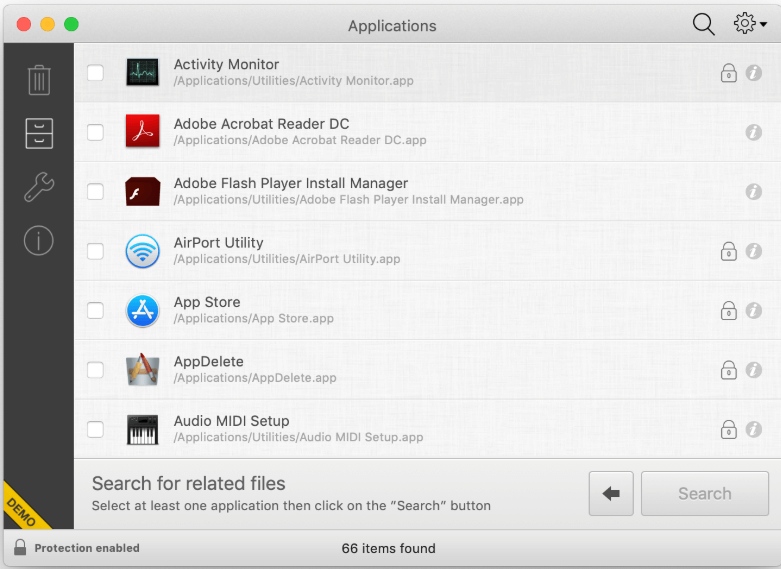 Next on our list of best app removers for mac is Trash Me. If you want to remove and uninstall apps from your mac it can be a great pick. Use this intelligent tool to get rid of supporting files, system cache.
The app comes with a Smart Detection Feature which when enabled will automatically start the file cleaning process as soon as you delete an app from your device. Apart from this it's alert button also keeps sending notification messages whenever the trash bin is full. 
Use the best uninstaller apps for your Mac to revoke system space by removing cache files, system junk and other unwanted files.

---
9. Hazel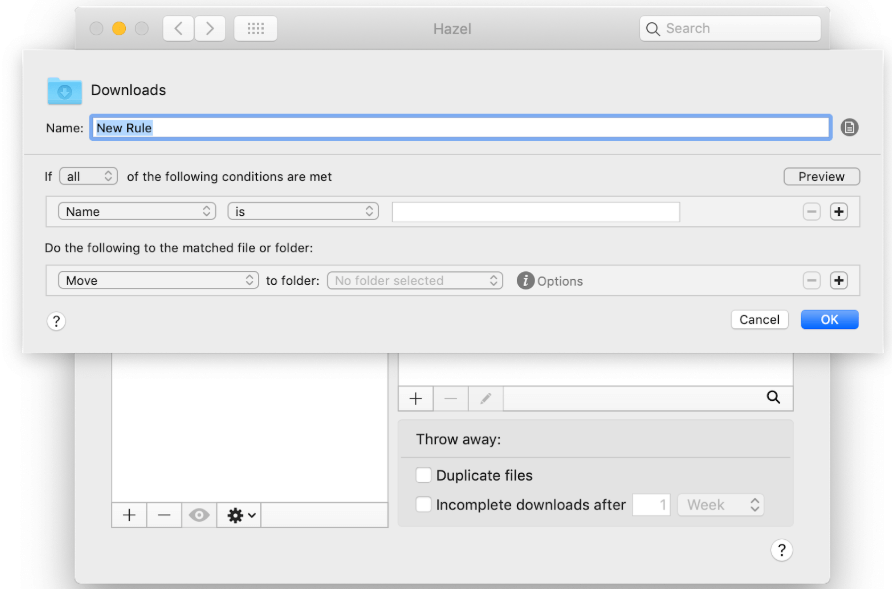 If you are still searching for an efficient app cleaner tool for mac than Hazel. This handy uninstaller for mac earns it a place on our list because of fairly good reasons. 
It comes with a condition-based rule which starts functioning as soon as you perform certain tasks. This feature is particularly beneficial for file organizing, archiving, photo naming, for keeping your desktop clean and most importantly for deleting apps. 
Apart from this it also comes with special rules and app configuration features which allows you to set limits and automatically delete files from the trash. 
Powered with a simple and user-friendly interface, Hazel is a good pick if you want to keep your mac optimized.

---
10. CleanGeeker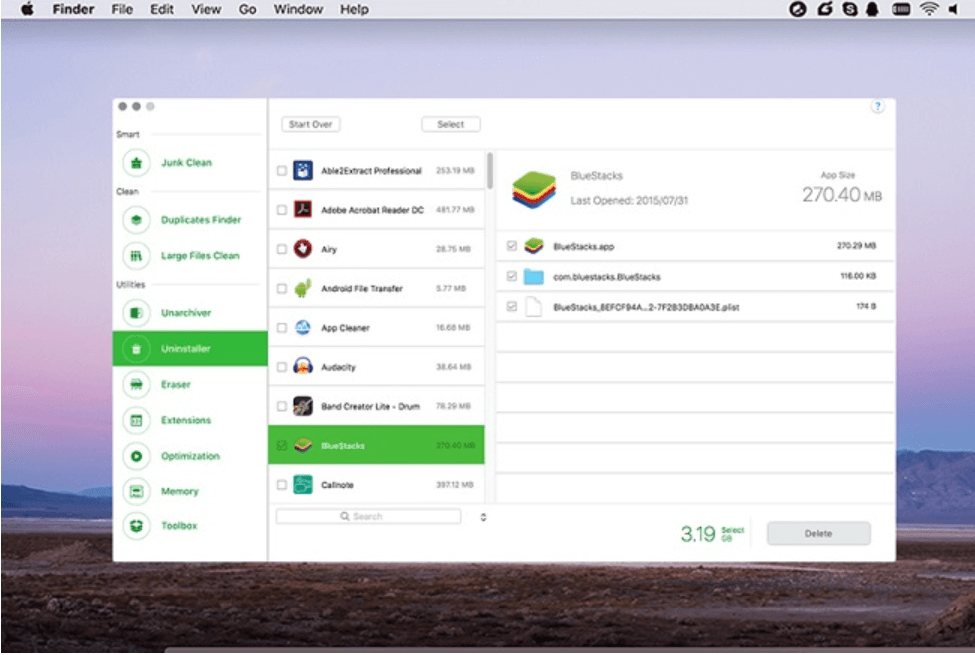 Next on our list is this best free app uninstaller for mac. With this powerful tool, you can effortlessly remove apps from Mac along with their supporting files. Apart from this it also comes from a one-click feature that allows you to remove unwanted files and system junk. 
Use it to optimize your Mac by deleting old downloads, duplicate files, login items, and large files. If you are struggling with the slow speed of your device, CleanGeeker will not only help you to recover disk space but will also boost its overall performance. Besides the free trial version, you can also buy its advanced version at a premium price.

Read More: 10 Best Photo Organizer For Mac
---
11. Osx Uninstaller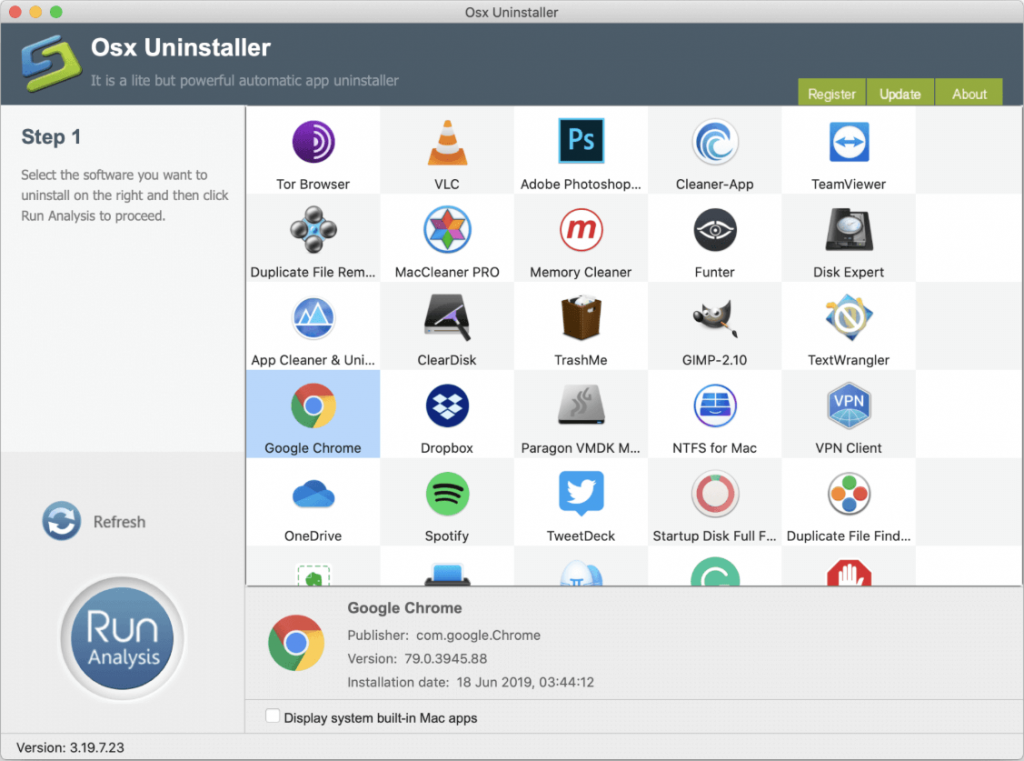 If the above-mentioned applications have not been of great help to you, try Osx Uninstaller to remove apps from your Mac. It comes with a clean and convenient interface with simple working. The Application intelligently displays an elaborated list of all the installed apps.
Simply select the app you wish to remove from your device, then click on the Run analysis button and press the Complete Universal button. Doing this will not only remove the app but also remove all supporting and leftover files associated with it. Keeps Your Mac protected with Osx Uninstaller.
The only drawback of this multi-functional tool is that it comes at an unreasonably high cost.

---
12. Smart Mac Care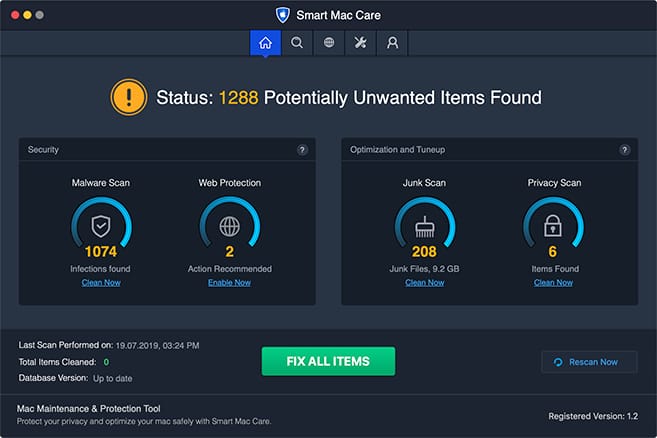 When finding the best uninstaller for Mac, you can never leave Smart Mac Care out of the list. The software offers the best uninstaller feature which keeps it in the list. Smart Mac Cafe is a one stop solution for all the Mac users as it not only deletes the app but also removes the associated files with the app which is useless without the app. 
The software keeps the system clean as well as protected, as it offers tools to protect Mac from Malware. While using the software users can choose from different modules to clean and protect Mac.
Read More: 11 Best File Shredder Software For Mac in 2021
The free version only allows you to scan and detect the files, for uninstalling users who need to purchase the software. 

---
13. IObit MacBooster 8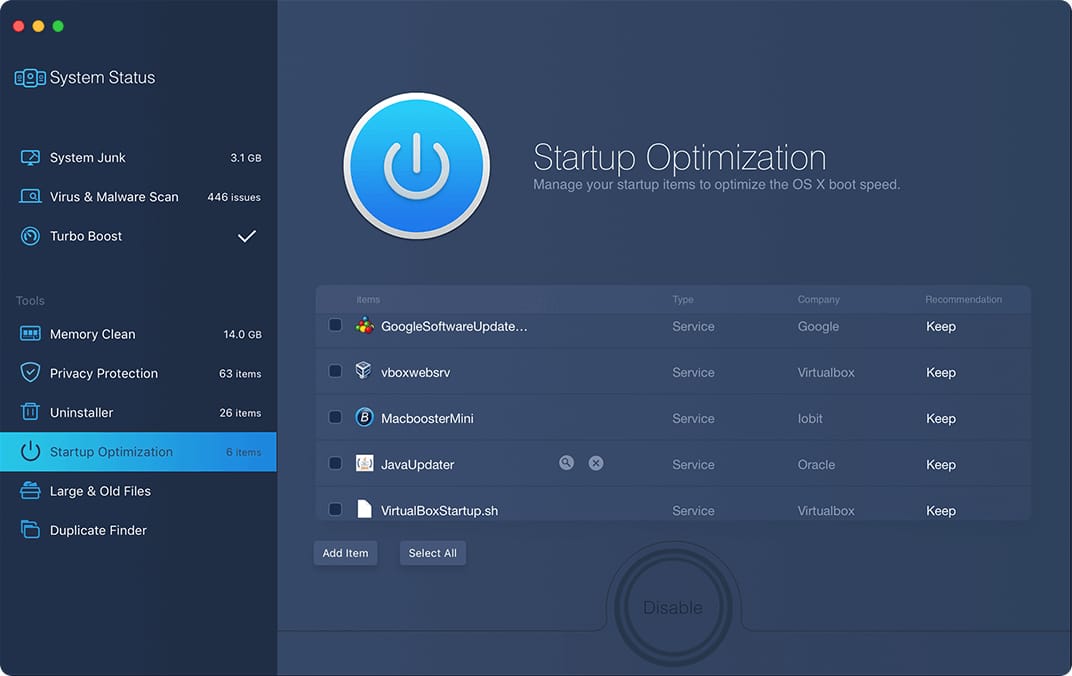 For running a device smoothing you need to keep cleaning the junk and unnecessary files from the device. Mac users can sit back and relax as IObit MacBooster is all in one solution for uninstalling apps and keeping it safe from Malware. The software can clean more than 20 types of files from your Mac.
With a user friendly interface and pocket friendly subscription the app is one of the best uninstaller for Mac. The only negative point is technical support is not active enough. 

---
Wrapping Up
So this is it Mac users. We hope that our list of uninstallers for mac has answered all your related questions. Refer to our list and pick the best-suited app remover for mac.
All the apps mentioned above are loaded with advanced functionalities and features. Use them to delete app and system junk, recover memory space and optimize your Mac. 
Prachi Dani is a technical content writer who specializes in areas of science and technology. She is highly up to date with technological transitions and transformations. Writing is not her passion but the only thing that carries satisfaction in life. If not writing, you may find her engrossed playing action games on her treasured smartphone.
Subscribe to Our
Newsletter

and stay informed

Keep yourself updated with the latest technology and trends with TechPout.
Related Posts