An accurate and 100% unbiased review of MacKeeper. Read the complete review guide to know whether you should give it a try or not.
Facing problems with your Mac? Or simply wants to boost the performance of your Macbook, MacKeeper is one stop for all such problems. But, there are mixed opinions available on the web about this utility software that leaves users in dilemma with a question mark whether they should try it or not. Therefore, we have decided to test and review this software. Look no further and come along with us to this review ride.
What is MacKeeper?
Basically, MacKeeper is the best Mac cleaner app that was created for macOS users. The main aim of MacKeeper is to optimize the PC's performance as well as protect the users from online threats, malware, data leaks, and so on.
MacKeeper is ISO certified and has given fabulous results to lacs of its users. Just after a single scan of MacKeeper, many users have reported of following changes:
Cleaning around 7 GB of junk files
Detecting three major data breaches
Eliminating six malware or adware
Optimizing the PC's performance
Faster operations and so on.
However, doing all the above-listed wonders requires a lot of time and effort which was invested by ZeoBIT, the one who developed the MacKeeper.
---
A Complete MacKeeper Review Guide 2021: Features, Pricing, How to Use, Pros & Cons
Now, without wasting a tiny bit of time, let's get started with the MacKeeper review.
Core Features of MacKeeper
MacKeeper has a plethora of amazing features and these features cover all the aspects of proper utility software. The core features of MacKeeper includes:
1. Integrated with Avira's anti-malware scanning system
Malware is intentionally developed software, created in order to cause harm or put a threat to the computer or the user. MacKeeper has integrated with Avira for its anti-malware scanning engine and both are thriving together to make sure that you do not get victimized by any frauds or cybercrime. The MacKeeper creates an impenetrable wall that keeps the malware out of your PC and keeps check on the security of your computer.
2. File Encryption Tool
Most of the time there is some information stored in your PC that's confidential or you just don't want the others to invade your privacy. With MacKeeper you can encrypt and lock files and folders of your computer. So, your data and personal life become safe even if you don't have a personal computer.
3. Data Recovery Tool
MacKeeper also possesses a top-notch data recovery utility that allows the user to recover any piece of unintentionally deleted data. This can happen often if you delete a pile of files in one go and results in deleting an important file or folder. You can recover the lost file by using MacKeeper.
4. Backup Software
Backups can sometimes prove a boon in case of any mishaps. MacKeeper's list of features also contains backup software as it helps in emergencies and accidental damages. That's why MacKeeper contains a Backup system that you can use to copy files in a USB flash drive, External HDD, or FTP server.
5. Data Erasure
When selling a PC or giving it to a friend we always fear that he/she may get their hands on our data and we delete all the possible files and folders. But as humans, it is natural to make mistakes and you can make one too if you try to delete the data of your PC, manually. MacKeeper has got a data erasure as well that permanently deletes all the files and folders that your PC contains.
6. Disk Cleaner
When we use a PC for a considerable amount of time it is natural that the PC starts filling up with unwanted and junk files and it is not humanly possible to delete all of the files, manually. MacKeeper's disk cleaner can be used for such tasks as it excels in finding and eliminating junk files in order to clear disk space in your PC.
7. VPN Service
VPN is quite crucial if you have the bad habit of using those free public or open WiFi available at restaurants, cafes, etc. Using public wifi can prove fatal for your online privacy and can also lead to data leaks as well. MacKeeper provides VPN services in their software as well which helps with handling the problems as we have discussed above. The cherry on the cake is that there's no data limit in the MacKeeper's VPN which means – no need to worry while streaming movies or music.
8. Duplicate Finder
Mostly, duplicates and copies remain beside the original file which results in wasting the hard disk space of your PC. MacKeeper's bouquet of features also has a duplicate finder that scans your Mac for all the possible duplicate files and copies that you might not need and deletes them. This will save you a lot of hard disk space and it may also tweak your Mac's performance.
9. Ad Blocker
 We all fear creepy ads walking right into our screen while we are browsing the net and once they start arriving then the sequence of closing ads, again and again, begin which seems like an eternity to most users. The adblocker can be quite a useful feature for anyone who surfs the net and doesn't want to be disturbed by ads again and again. MacKeeper has an in-built ad blocker utility that allows the user to block the ads while using the internet.
Also Read: How to Take Screenshots on Mac – Capture Your Macbook Screen
---
Pricing Model of MacKeeper
As a subscription-based product, MacKeeper has a subscription price and you can get the most out of MacKeeper after purchasing its license. Although you can scan your PC with MacKeeper for free, to unlock the full potential of MacKeeper and get your hands on the bouquet of features that MacKeeper provides, you have to buy the MacKeeper's plan as per your preference and pocket.
Currently, MacKeeper is providing three plans for its users and these plans are as follows:-
A 12-month plan for 3 Macs will cost $7.45/month, billed $89.40 every year.
A 12-month plan for a single Mac will cost $5.95/month, billed $71.40 every year.
The monthly plan for one Mac will cost $10.95/month, billed $10.95 every month.
---
Why to use MacKeeper?
During the MacKeeper review, we realized that MacKeeper is a great choice, if you're looking for a PC optimizer as well as an antivirus. MacKeeper is an all-rounder if considered as utility software. MacKeeper can be used to create additional space in your Mac and optimize Mac's performance even though it is low on hard disk space. While reviewing the software, we found that there can be various reasons why you should opt for MacKeeper for the safety and wellbeing of your Mac. We have listed some of the points that you should consider before getting to any kind of judgment. These are some of the reasons why you should use MacKeeper as a utility software.
Security remains the topmost concern while browsing the net or using our PC. The main part of the security section is the antivirus, to activate it you must have to pay.
MacKeeper provides real-time protection for your PC against all the possible online threats. MacKeeper will alert you instantly as any unwanted element enters your system. It also provides two real-time scanning modes; you can perform a full scan, or a custom scan(to scan certain files or folders).
Another magnificent security tool stuffed in the security package is Adware Cleaner that scans the system for adware and other malware. Adware Cleaner also performs real-time scanning to give accurate results.
MacKeeper has a Track my Mac feature that is similar to the Find my feature available in Apple products. But, this feature comes with an extra edge and that's a picture of the intruder who will be shot when he tries to login into your PC and fails to do so.
Cleaning & performance are what MacKeeper is all about. In MacKeeper there are certain tools that tend to have everything needed to optimize your PC to the fullest.
In the cleaning section, there's Safe Cleanup which searches for undesired data like language files, logs, and caches.
Users also get Duplicate Finder which has the power to find and delete all the possible copies of the original file.
There's an additional tool referred to as Smart Uninstaller which smoothly removes any app or software you desire, without any residue. You can also delete files left over from previous uninstalls.
In the Performance section, there is a Memory Cleaner that optimizes your RAM by shutting background apps and helps you to handle your memory well.
Login items help you to keep track of which apps should have been launched as soon as you login into the system.
The best fruit in the basket of performance modules is Update Tracker which helps the user to keep his system updated, by finding updates for the apps that are downloaded from outside the AppStore.
In the privacy section, the user gets access to a certain number of tools whose main task is to keep the identity of the user safe from any possible danger.
StopAd does the task of installing ad-blocking extensions on safari or chrome to make sure that any ad may not be able to disturb the user while using the browser. This set of tools also got ID Theft Guard which offers the service of monitoring email addresses and other sources for potential data leaks.
Theft Guard shows you how your privacy or passwords have been compromised using your email addresses.
You can add as many email addresses as you want as long as you can prove that these addresses belong to you.
The most prominent tool of the pricey module is a VPN named Private connect. There are dozens of countries available in this VPN and you can access any one of them as per your preference. There is also the Best Server option that helps you to get the best possible speed available. Also, there is no data limit to this VPN which is enough to make you smile if you love to stream movies and music online.
So, these are the benefits you get when you decide to use MacKeeper for your Mac's optimization and security needs.
Also Read: 10 Best Glary Utility Alternatives for Windows and Mac
---
How to use MacKeeper?
MacKeeper can be the best Mac cleaner app that is able to satiate all your privacy, optimization, and security needs. But, now the question arises how one can use MacKeeper? Don't worry we have got you a step-by-step guide that briefs you about the MacKeeper installation and operations.
Download and Install MacKeeper
Step 1: The first thing you need to do is to install MacKeeper from the button below.

Step 2: After the download gets completed, install the MacKeeper in your Mac by following the on-screen instructions.
Step 3: Once the installation gets done, open the app from your Applications folder.
Setup The One-Click Scan
Step 1: After the setup is completed, Click on The One-Click Scan icon located at the left section of the MacKeeper's window.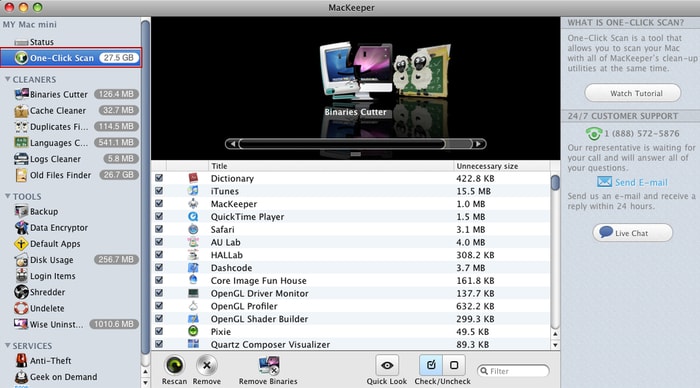 Step 2: After that, all the utilities stored in the MacKeeper launch all at once.
Step 3: Then, all these tools will run different scans on your hard drive and PC for cleaning space and other optimizations. A one-Click scan will show you the total space that can be cleared.
Also Read: 10 Best CleanMyMac Alternative to Clean and Optimize Your Mac
---
Select Files from the Results for Removal
Step 1: Review the scan results below the horizontal scrollbar. Decide which files you want to keep and which you want to delete.
Step 2: Select the files by clicking on the Check button or keep all the files by simply clicking on the Uncheck button.
Step 3: Preview the file content by clicking on the Quick Look button.
---
Remove The Undesired Files
Step 1: After selecting, look through the files once again in case you don't delete any necessary files, accidentally.
Step 2: Then, click on Remove to get rid of all the unwanted files.
Warning: Be sure that you delete only useless and unwanted files.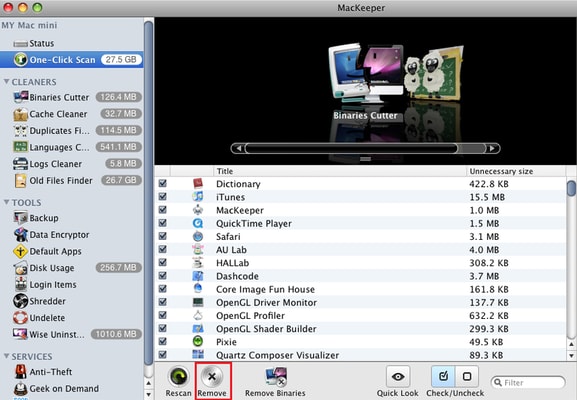 Customize The Tools In Preference
You can also customize the utilities to be included in the Preferences window in MacKeeper.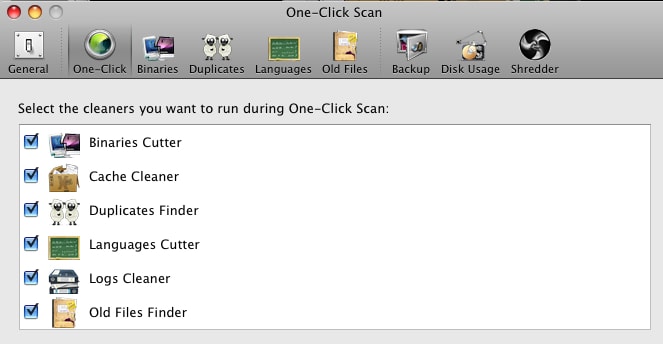 ---
Is MacKeeper Safe?
MacKeeper is a quite safe utility software that allows the user to get the most out of his Mac by cleaning the junk files. The security aspect of MacKeeper is also quite tight because of its integrated antivirus scan engine. Privacy has always been MacKeeper's top priority and there are various tools like ID Theft Guard, StopAd, etc to protect the user's privacy and data.
There may have been some defamatory acts that have deteriorated MacKeeper's reputation. But the time has changed and so does MacKeeper and we can assure you that it is safe to use.
---
What We Have Liked About MacKeeper
Below are some prominent reasons that we have liked about this cleaning utility software.
Secure Data Encryption
ID Theft Guard
Ad Blocker
Fast Cleanup
---
What We Haven't Liked About MacKeeper
Not Everything has good sides, similarly, MacKeeper also have some shortcomings and these are:
Price is high as compared to other alternatives
Malware protection could be better
Some features that are available for free elsewhere
Also Read: 13 Best Free VPN For Mac in 2021
---
Frequently Asked Questions
In the next section of this MacKeeper review guide, we have answered the most asked questions about the software. Let's read them!
Is MacKeeper Worth the Price?
MacKeeper provides a gamut of security and performance-boosting features. Most of these features cover all the security and optimization needs of your Mac.
The 24/7 customer support is also quite impressive and helpful as well. Currently, the technical support is available for English speakers only but we hope that they will increase the range of languages for the support.
MacKeeper identifies and cleans junk files at an exceptional scale which helps you to save a lot of hard disk space which otherwise would be wasted.
MacKeeper contains a plethora of cybersecurity measures like an Antivirus scanner, integrated VPN, ID Theft Guard, and StopAd that protect your privacy and also give you peace of mind while browsing the net. Also, the virus scan is fast and effective which competes with the top players in the market.
By considering all the above statements we can conclude that the MacKeeper is worth its price. However, if you want you can go for other cheaper or free alternatives that are less effective and have fewer features.
Can MacKeeper be trusted?
Yes, MacKeeper can be trusted for the security and optimization of your PC. We agree that it may have faced a blow to its reputation in the past few years but we assure you that the company has done a magnificent job in developing the product and the company's marketing tactics as well. All these steps have been made in order to revive the trust of their consumers in the MacKeeper.
Does MacKeeper protect against malware?
Of course, MacKeeper has possession of certain trial and tested tools whose main task is to scan and knock malware out of your Macs. MacKeeper's integrated virus scanning engine can be trusted to find and destroy any kind of malware, adware, and trojans for good.
MacKeeper provides real-time protection for your device, it will alert you instantly if there has been any malware downloaded on your PC.
Is there a MacKeeper free trial?
No, MacKeeper doesn't have any kind of free trial or other such concepts. If you want to test the MacKeeper before making any commitments then you can buy the one-month subscription plan, then test the software and ask for a refund as per their 14 days refund policy.
Does MacKeeper offer a mobile app?
Currently, MacKeeper doesn't offer a mobile app for its services.
What is the data limit on the MacKeeper VPN?
There's no data limit on the MacKeeper's VPN which means the user doesn't have to worry about the data limit of the VPN; perfect for those who like to stream music and movies online.
---
That's A Wrap!
So, that was an instant MacKeeper review. After reviewing and testing the software, we may say that trying MacKeeper is not a bad option. If you want to make your Mac clean and stable then, you can use this amazing best Mac cleaner app.
Hope, this review guide will help you make a good decision. Do subscribe to our Newsletter for reading more software review guides just like this one.
Harshita Sharma is a technical writer with quite a distinct understanding of the tech realm. She is a tech enthusiast who believes that tech knowledge should reach one and all and tries to convert the sketchy knowledge into the simplest possible form for making people understand the tech world better. When not playing with words, she loves to travel and explore new places. And, is a coffee & cricket connoisseur.
Subscribe to Our
Newsletter

and stay informed

Keep yourself updated with the latest technology and trends with TechPout.
Related Posts