13 Best Reading Apps For Android & iOS That You Can Use In 2021

Books are a man's best friend, confidante, and a true escape from reality. It's always difficult to travel and go without a book in your hand, just because it's heavy and uncomfortable to hold.
But behold, eBooks are there to solve this problem. You just need your mobile or tablet to fall into the world of stories. And for that, we have eBook reader apps.
What Are The Best Apps For Reading Books?
Go through this list of 13 best reading apps, to enhance and enrich your reading experience.
1. Aldiko Book Reader
Aldiko Book Reader app is ranked high amongst the best apps for reading books around the world. Even though it doesn't fashion its own bookstore, it does allow you to seek books at low prices and in different formats. It doesn't even take up storage as it doesn't save any book on your mobile device. 
Read Also: Best Free Offline Dictionary Software For Windows 10/8/7
The range of features is extensive and varying. You have the chance to adjust the font size, customize background effects, personalize the reading interface, and do global text searches inside the books. 
It features eBook support for Adobe DRM encrypted eBooks, PDF files, EPUB format, and even library books on rental.
---
2. Amazon Kindle
Amazon Kindle app is shifting the goalposts for eBook reading apps. It has reached new heights in the market, as well as in the reading space. 
It is a completely free app, with a library of millions of books either free or for purchase. You get a built-in dictionary, Wikipedia and Google assistance, customizable reading settings including the ability to shift from reading to listening and vice-versa.
And did I mention that you don't have to even purchase Kindle to get this app? You can easily download it in your smartphones and fulfill all your reading dreams.
---
3. Google Play Books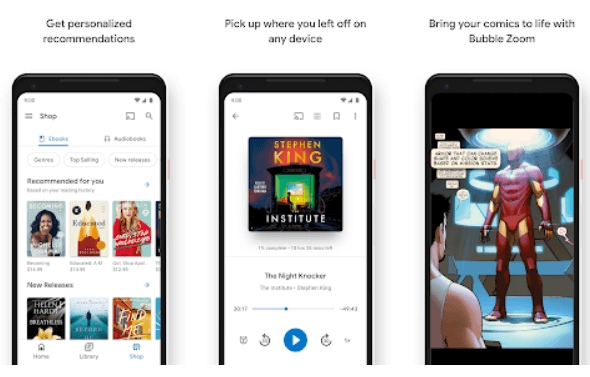 Next on our list is Google Play Books, one of the best options for all readers. The app supports ebooks, comics, and audiobooks for all readers. You can download the book for convenience and read them wherever you want just like real books. The app has millions of books with various genres. You can easily choose the book which you wish to read and later the app suggests automatically according to your readership.
Read More: Best Cooling Apps For Android
The app has both free and paid books to read, you can even preview the samples of the book before purchasing it. The app is a delight for the readers as they can also take notes that can be synced with Google Drive. Moreover, you can even adjust the brightness and modes like a night light for eye comfort.
---
4. Wattpad
Wattpad is not just a reading app; it's also a crucial element in one particular phase of life for everyone who loves to read. Don't lie and tell me that you've never been addicted to Wattpad at least once in your life. 
Don't worry. Wattpad does that to you.
This eBook reader app for Android and iOS is best known for one reason: ORIGINALITY.
Young, amateur writers (especially the ones who like to write fan fiction) use it as a medium to showcase their work to the world as well as gain honest critiques.
It allows you to change the text color and background to your preference. And you even have offline access. 
If you are low on space, you can download the books in parts.
---
5. Goodreads
Hands down, the most popular reading community in the present times. 
Goodreads is majorly referred to as a 'book recommendation' portal. But I can assure you; there's so much more to it than just that. 
Firstly, you can find a lot of FREE and incredible books to download and read. Secondly, you can play trivia, access quotes, post reviews, and even participate in giveaways.
And most importantly, you have a plethora of books to find, track, and review. It is a literal paradise on earth for avid readers.
If you aren't 'Goodread-ing', then seriously, what are you doing?
---
6. Audible
If you don't consider listening to audiobooks as reading, then you shouldn't call yourself a reader anymore. 
With the ever so changing technology and the world, you can easily see changes in mundane things like reading as well. Audible is a promising initiative towards that.
Read More: Best Notification Apps For Android Smartphone Users
It boasts a collection of over 180,000 audiobooks, podcasts, and a lot more. The user simply has to pick a book from the list, pay for it, and then start reading it by simply listening to it.
Audible supports subscriptions starting from $14.95.
---
7. ComiXology
Comics are not just for kids. Period.
And I am sure lots of comic books aficionados would vouch for this fact.
ComiXology is one of the most popular services that feed this comic love. It has a massive spread of digital comic books, old and new, in its interface. It features both major publishers like Marvel and DC Comics, as well as a few smaller brands. These digital comics can be either red in Cinematic Guided View or the traditional full-screen view.
Turning pages in a comic book have never been this smooth!
---
8. Scribd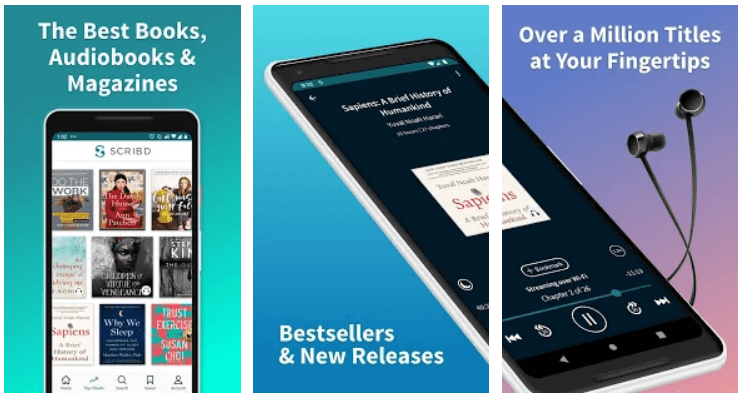 Another great pick for all the reading enthusiasts as they can enjoy an ad-free experience with a free trial for new members. You can read millions of books, magazines, and comics with this app. Not only this the app has a separate library for studies, reports, and case studies. 
For ease of the user, the app offers to download and read the books whenever they want. Now if you want to select the best ebooks app then you can try and choose this app and enjoy reading and listening with offline access to books as well.
---
9. Kobo
Rakuten's Kobo is a major player amongst the best apps for reading books. It boasts an extensive collection of ebooks and magazines, with an incredible range of features to personalize and streamline your reading experience.
It also has a growing number of audiobooks on its platform, almost surpassing the Kindle's account of ebooks.
Surprisingly, there's also an official Kobo app for Blackberry. Shocking, I know!
Read More: Best File Sharing Apps For Android
There's also a special feature called Reading Life that connects you to the world of social reading. You can discuss books, share notes, and even quotes with your Facebook friends.
The list of Kobo's amazing features and functions is never-ending.
---
10. Epic!
Epic! is regarded by parents and kids alike, as a Netflix of books, especially customized to be kid-friendly. 
It provides a massive collection of eBooks and audiobooks. And parents can make unique profiles for their children so that it can be customized later by the kids themselves. 
A lot of classic children's books can easily be found in this app, with a good amount of modern releases as well.  Again, it's up to the children to choose the selection of books that they are interested in and would like to read.
There is a lot of in-app gamification, which keeps things interesting and encourages users to invest more time in reading. It is seriously one of the best reading apps for kids.
---
11. Apple Book‪s‬

For Apple users, this can be the best option to choose from the list of reading apps for iOS. Apple books are compatible with iPhone, iPad, Apple Watch, and iPod Touch. You can access millions of books with this app including loads of audiobooks. Though the app does not support offline mode you can enjoy the book with an internet connection.
The app has some prominent features which every reader looks for in an app including automatic recommendations, read and listen books, auto night theme, and many others.
---
12. Nook
Barnes and Noble's Nook always ranks high in the list of the best apps for reading books (especially for kids). It has an inventory of over two million books, newspapers, magazines, and kids' books. 
You can easily sync your reading experience to both your smartphone and desktop without any hassle. 
Read More: Best Dictionary Apps For Android & iOS
The full range of features is immense, like Parental Mode, rotation lock, font style and size changer, brightness adjustment, the search function for words, and the ability to bookmark pages. 
This free reading app has everything that a voracious reader would ever need.
---
13. Pocket
Now this one is not a book reading app per se, but it is highly amazing for people who love to read articles and wish to save the ones that can be read on the go. 
Pocket is an archiving offline reading tool that lets you select and save articles, pages, pictures, and videos so that you can read them later. And did I mention you can use it while offline?
That means, whenever you are stuck deep into some work that can't be ignored, and you just encountered a good article, you can easily go the Pocket app to add it to your list.
---
And this is it. These are the best reading apps for books and articles that you will ever find in the market. Quickly pick one out of them, or more, and go on with your reading spree.
Diksha Lalwani is an aspiring content marketer and a self-declared bibliophile. An English honors graduate, she likes to keep up with the recent happenings around the world and form an opinion. Her interest in anything and everything tech made her follow the path into becoming a technical writer.
Subscribe to Our
Newsletter

and stay informed

Keep yourself updated with the latest technology and trends with TechPout.
Related Posts