10 Best Free Offline Dictionary Software For Windows 10/8/7 PC

Every language has unique words, every word has a different meaning. For new words and their meaning, humans use a dictionary. Every day humans are discovering new words. One must have encountered new words while watching movies, news, songs, or reading books. In such cases, a dictionary can help in finding the real meaning of those words.
Dictionaries can make it easy to find new words and their meaning, but in this article, we are not talking about the old hard copy of dictionaries. We are talking about the new technology advanced software for dictionaries. In this article, we will share the best free offline dictionary for PC. Using which one can easily find meanings without even using the internet.
Whether traveling or reading in the no service zone, finding the new words and their meanings won't stop.
List Of 10 Best Free Offline Dictionary Software For Windows PC In 2021
Looking at people's needs, the developers have created offline dictionary apps to help them in every corner of the world. Here is the list of dictionary apps.
1. Wordweb Free Dictionary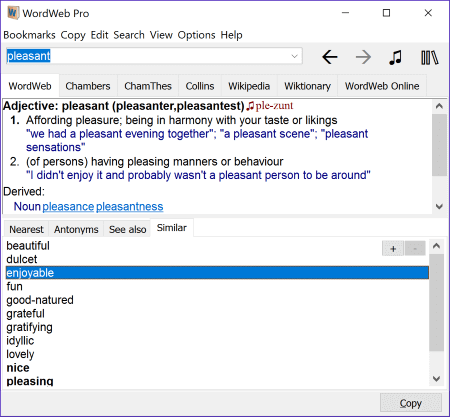 Wordweb Free Dictionary is at the first position in the list of best free dictionary software, as it offers users more than 15000 words in the database. One can easily find new words and their meanings using this amazing app. It not only states meaning for English but has a translation feature that can help in finding the right word from other languages too. The translation features offered by the app make it a great language learning app.
Using the software user can listen to the pronunciation, meaning, and synonyms. The app has two versions including free and pro versions. The free version offers limited features to the user.
Read Also: Best Dictionary Apps For Android & iOS
Prominent Features:
15000 words source and 12000 combinations of synonyms
Translate words from other languages
Easy to access through many apps including MS Word
Compatible with Windows, Mac, Android, and iOS
---
2. Ultimate Dictionary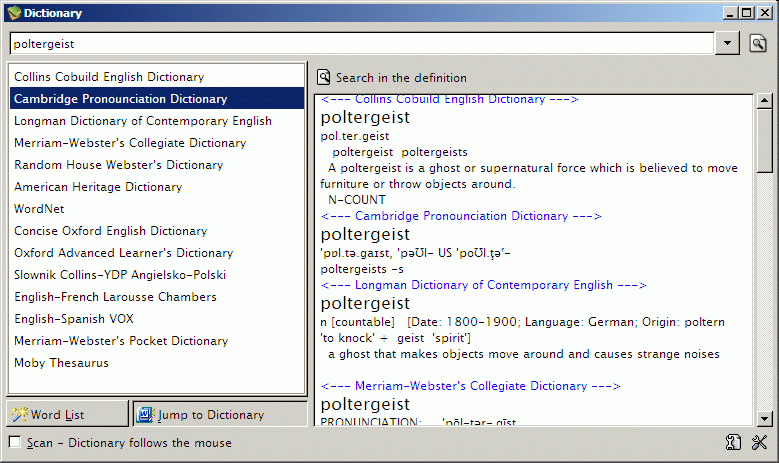 Next on our list is Ultimate Dictionary which has many inbuilt dictionaries to help the users. The dictionary plus language translation app support including English, French, Polish, and Spanish. The user just has to search for the word and the app will extract the best from 61 dictionaries.
The app is good to compare meaning from various dictionaries and has a very clean user-friendly interface. Try this offline dictionary for PC for a variety of results and language compatibility.
Prominent Features:
Collection of 61 dictionaries to choose
Multi-language support
Simple and user-friendly interface
Available for Windows users
Free to use software
---
3. TheSage's English Dictionary and Thesaurus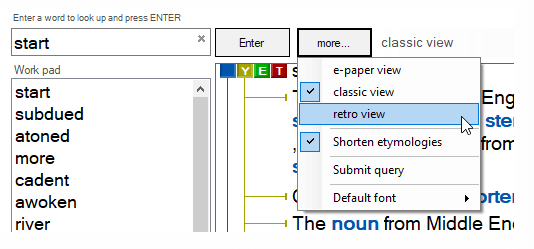 Another best offline dictionary, TheSage's English Dictionary, and Thesaurus offer 210,000-word meanings and 140,000 links of synonyms, hypernyms, holonyms, antonyms, etc. The app lets the user search easily offline and online from Google and Wikipedia. They also get various search options including real-time search and anagram search.
The app has two versions including the free and paid version. The paid version costs $10.
Read More: Best Context Menu Editors For Windows 10
Prominent Features:
210,000-word meanings, 140,000 synonyms, 70,000 phonetic notations and 50, 000 illustrations
Record of words used
Simple interface
Compatible with Windows XP and later versions
---
4. LingoPad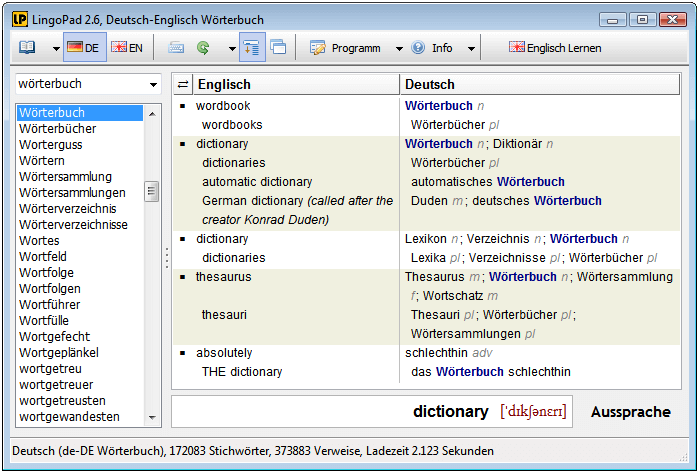 The ones who are looking for an offline dictionary for PC and a German to English glossary can pick this app. LingoPad is a free offline dictionary having multiple language support including French, Turkish, Spanish, Norwegian, Italian, Arabic, and Japanese. The user can choose different languages and can also import their own words to find meanings.
Prominent Features:
Free to use software
Multiple languages support
Search for more details on various search engines
Phonetic transcription for many words
---
5. Perfect Dictionary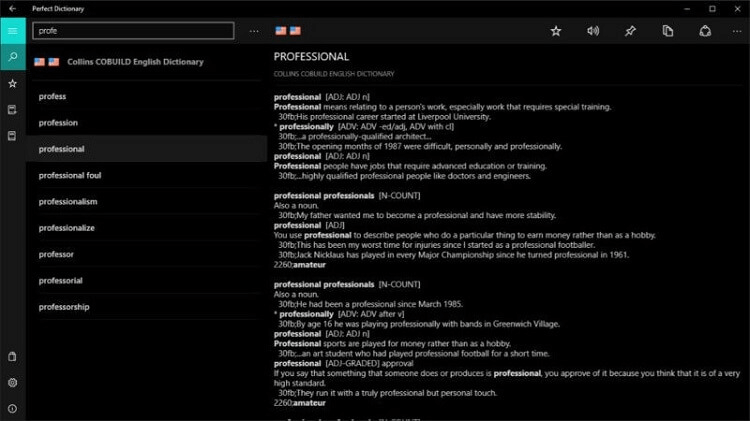 Perfect Dictionary is a free dictionary app for Windows 7, 8, and 10 which lets the user find meaning from various dictionaries. The app has a very user-friendly interface and loads of features. The most impressive feature is that the user can pin the favorite words from 50 languages in the dictionary.
Prominent Features:
Suggests words while typing
Pin favorite words
Audio pronunciation of the words
Multi-language support
---
6. WordBook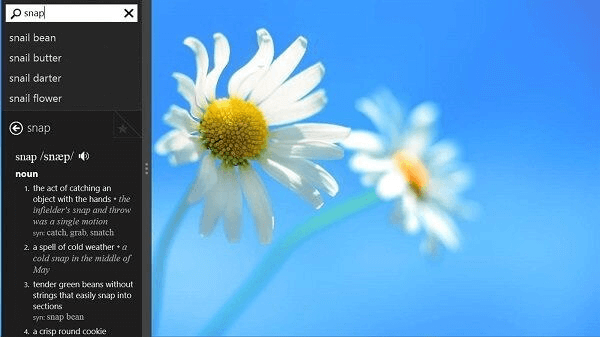 In the list of offline dictionary software for Windows 10, 8, and 7, WordBook is a permanent name. The app has been rewarded for its amazing and unique features like human voice pronunciation, usage samples, content navigation, and many more.
Read More: Best Image Converter Software For Windows
Prominent Features:
Inbuilt word links and thesaurus
150,000 words and 220,000 definitions
70000 usage samples
Voice pronunciation with over 150,000 human voice pronunciation
---
7. The Oxford Dictionary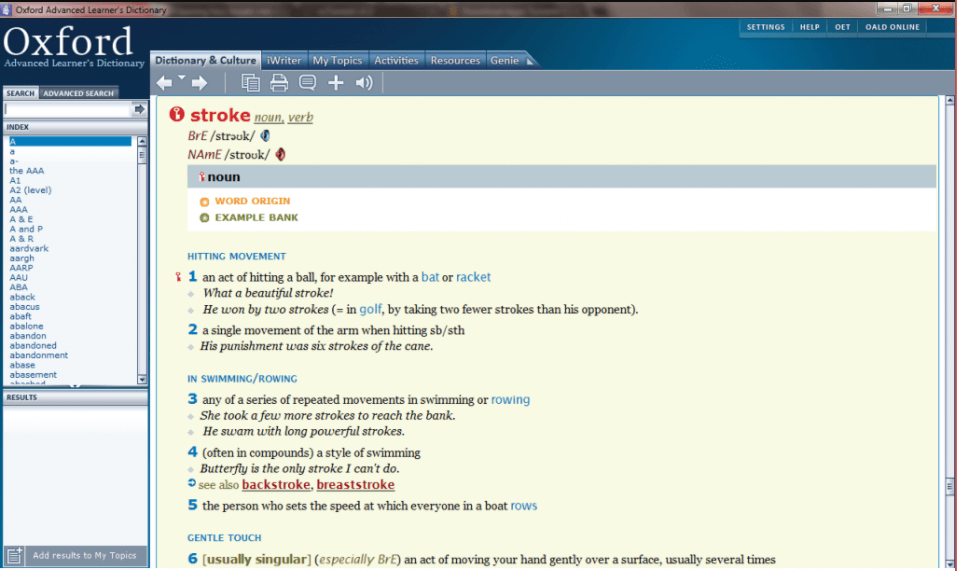 Oxford is a well known and old brand name for dictionaries. Users can trust the brand with a closed eye, as it delivers correct usage and meanings of the words. The Oxford free dictionary app for Windows can help in increasing the word knowledge and vocabulary of the users.
Prominent Features:
Regular updates for new words
350,000 words database with meanings and phrases
Autocomplete feature to predicts the word
---
8. The Free Dictionary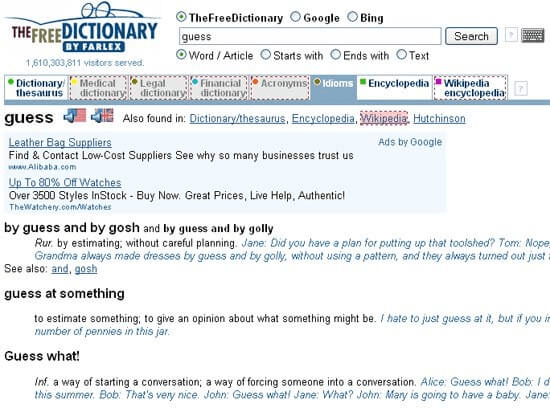 This app has been in the market for a very long time and now the user can enjoy its offline version. The new update of the offline version has made its place in this list of best offline dictionary apps for Windows. Finding a word is easy as the app has more than 14 dictionaries and 40 language support. Moreover, the user can search for words in 4 different ways.
Prominent Features:
13 homepage sections
More than 14 dictionaries
Multi-language support
Search for words using different methods
---
9. Advanced English Dictionary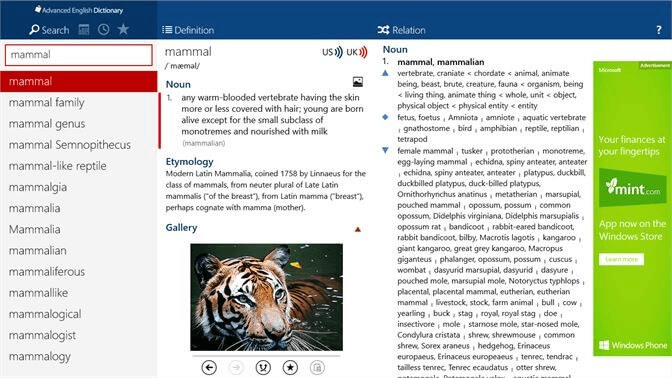 The Advanced English Dictionary is a great app that can help the user find words, meanings, and relations as well. It is a free offline dictionary software to use with a very simple and attractive interface. Let's have a look at its features.
Read More: Best Uninstaller Software For Windows 10, 8, 7
Prominent Features:
400,000 words database
Audio pronunciation
Copy-paste the word for details
Bookmarks words for future use
---
10. Sidebar Dictionary
Last in the list but best in its feature offerings. The app lets the user search for meaning without even switching apps. It will stay on the side while the user is using any document and with just a click the user can find the meaning and usage of the word.
Prominent Features:
Meaning without switching apps
Multi-language support
User-friendly interface
Copy-paste words for meanings
---
Lets Wrap: Best Free Offline Dictionary Software For Windows 10, 8, 7 PC
Dictionaries have been a very crucial part of human life in finding and improving knowledge about words and languages. The process of learning should never stop which is why having an offline dictionary for PC is important.
The list above has the best offline dictionary for Windows 10, 8, 7 which a user can try. Above all the features and offerings the apps are free and very easy to use.
Tanmay is a technical writer from the field of mass communication. He aims to communicate the best of the technology to the readers through his write ups. If not writing you can find him with his camera capturing nature and exploring the unexplored world.
Subscribe to Our
Newsletter

and stay informed

Keep yourself updated with the latest technology and trends with TechPout.
Related Posts