If you are on the lookout for the best dictionary app and are wondering which one to download for your mobile, then you have come to the right place. Below mentioned list of apps would surely help you make a decision.
List of 8 Best Dictionary Apps in 2020:
1. Merriam – Webster Dictionary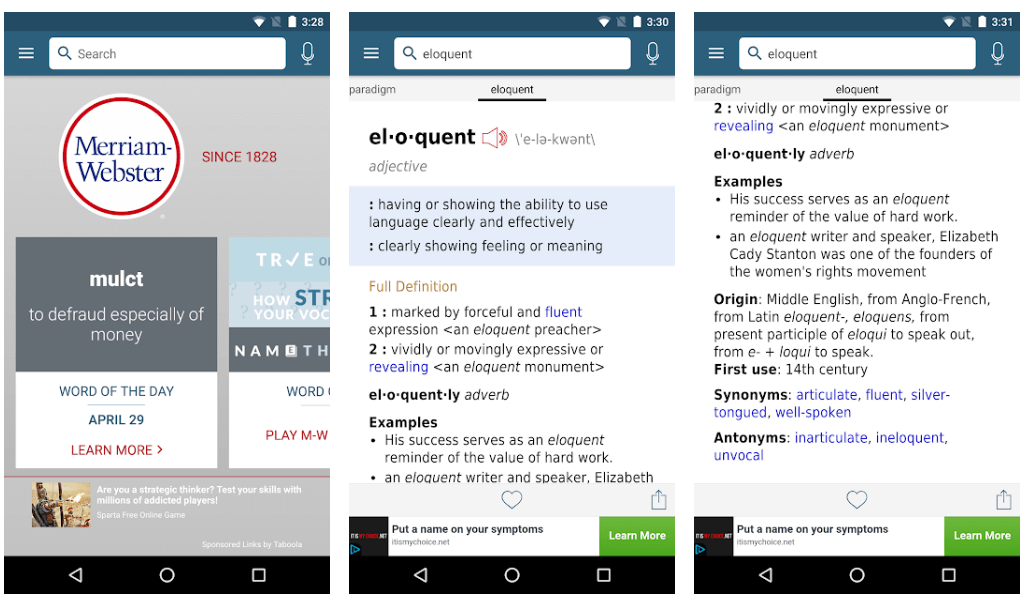 One of the best and most used dictionary app that is available online. Its name speaks for itself. 
It's completely saturated with features that help every individual that uses it to learn, speak, and understand vocabulary easily. It offers add-ons like word games to further elucidate on its vision. Other features include audio pronunciations, integrated thesaurus, examples of sentences, audio pronunciation, and many more.
This dictionary app can be downloaded for your mobile for free (much better than the $2.99 book version) on both iOS and Android.
Read Also: 7 Best Free Language Learning Apps 2019
2. Oxford Dictionary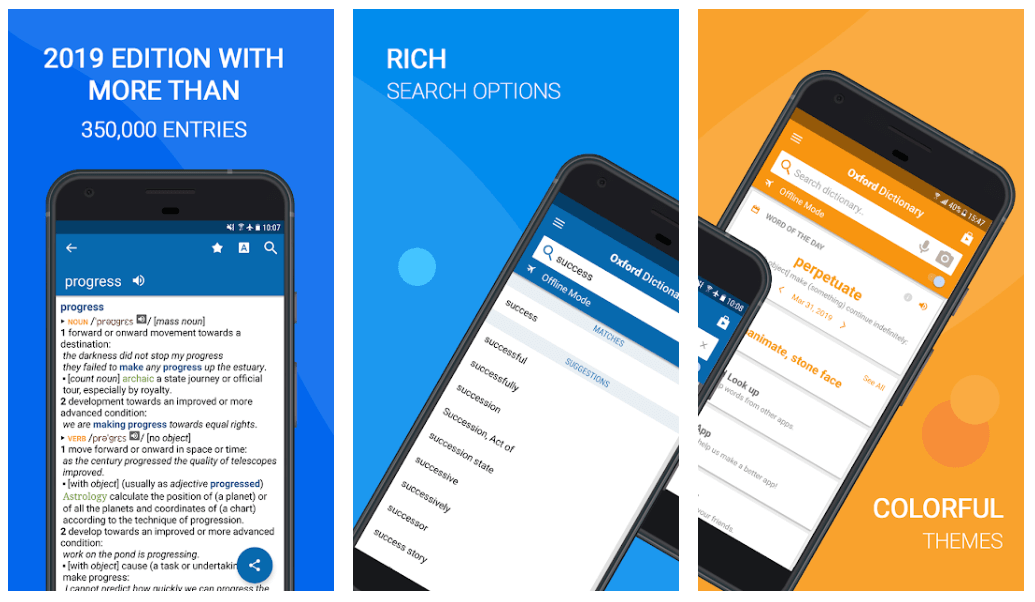 Since the time we have known the world of dictionaries, there has been one name always constant, and that is Oxford. 
The book version still exists in many households, even though most people have shifted to the online version. They prefer it over the offline dictionary. 
The dictionary app is very easy to use. The interface includes a search box, where you just have to enter a word, and you'll get its meaning instantly. 
The app also supports voice input, as well as incorporates features like random words every day.
3. Dictionary.com: English Words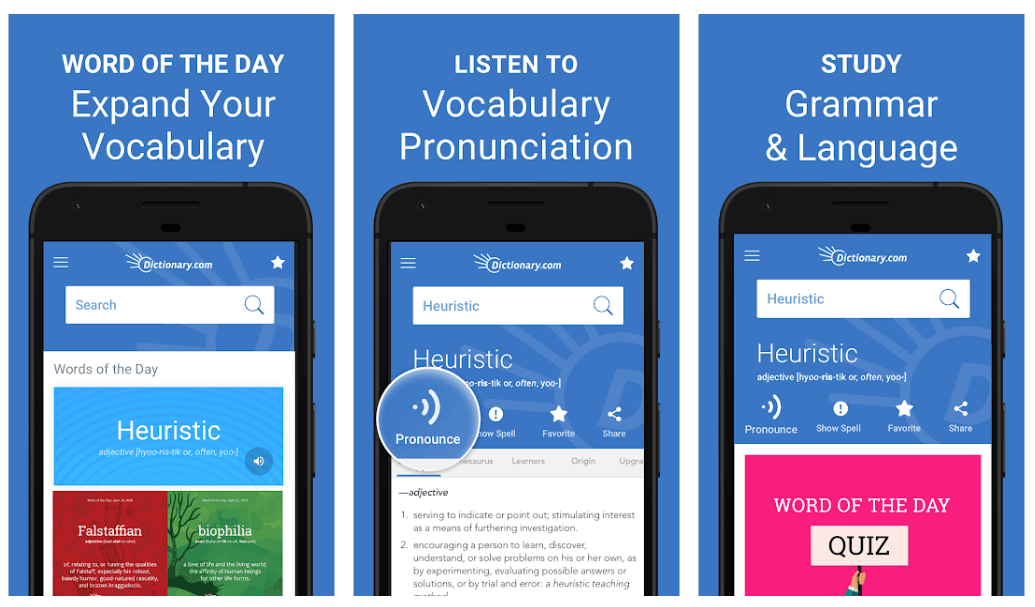 Dictionary.com app is regarded as the best dictionary (online/app) by its millions of users worldwide. It is available as a website, as well as can be downloaded as a dictionary app for mobile. 
Even the company claims it to be the number one dictionary app on the Android OS. 
It is replete with fascinating features such as Articles, Word of the Day, Spelling suggestions, Word origin, Slideshows, and even some special content for EFL and ESL language learners. 
You can never go wrong with this amazing dictionary tool on your smartphones.
4. Google Translate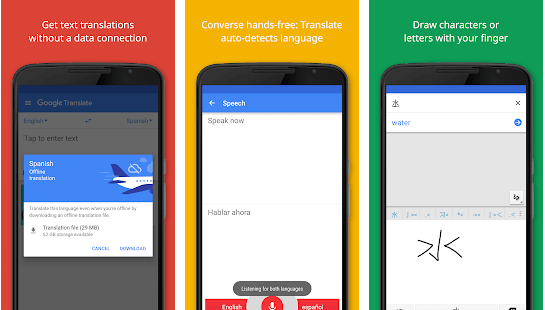 Google Translate is not exactly a dictionary that most people are used to, but it is a very useful tool. We can even call it, Google dictionary app.
It's just perfect for when you want to translate something to and from your native language, or when you want to know which word to put into a sentence. 
It supports the voice-to-text format as well as has a feature of image translation. That means, if you see a picture with English on it, you can point your camera on it, and Google Translate will tell you what it means. 
And did I tell you that it can translate up to 103 languages?
5. Vocabulary.com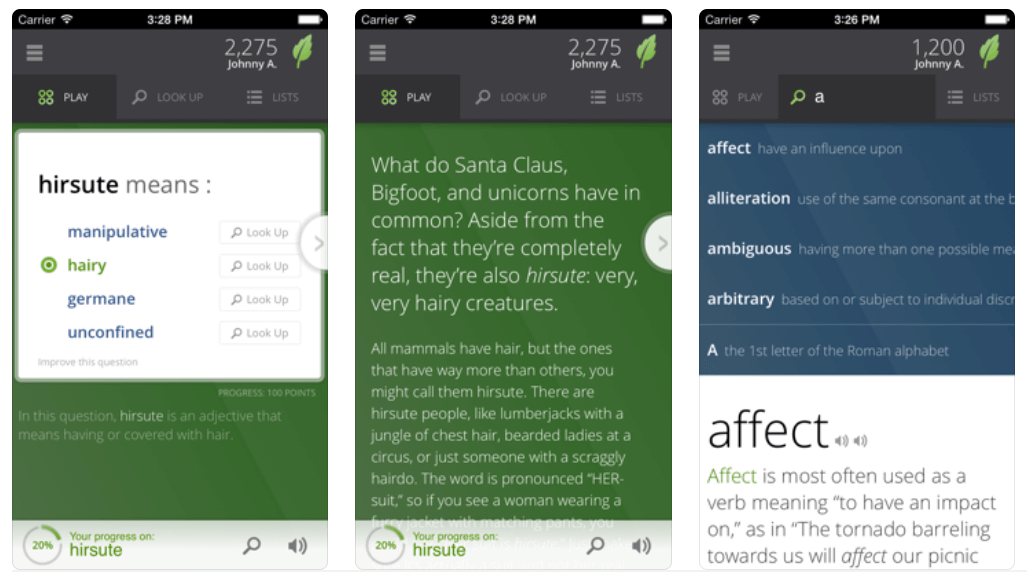 Now, this app is amazing for the individuals who are beginning to learn English as it comes with very easy-to-understand definitions and explanations. Even the app claims that you will be able to learn English very easily because you'll feel "as if your favorite teacher were explaining to you."
Every single definition has an explanation of the meaning of the word as well as its usage. That means it's not just a dictionary app; it's also a vocabulary-building app. 
You can also customize the interface of the app on the basis of your learning habits. 
6. English Dictionary – Offline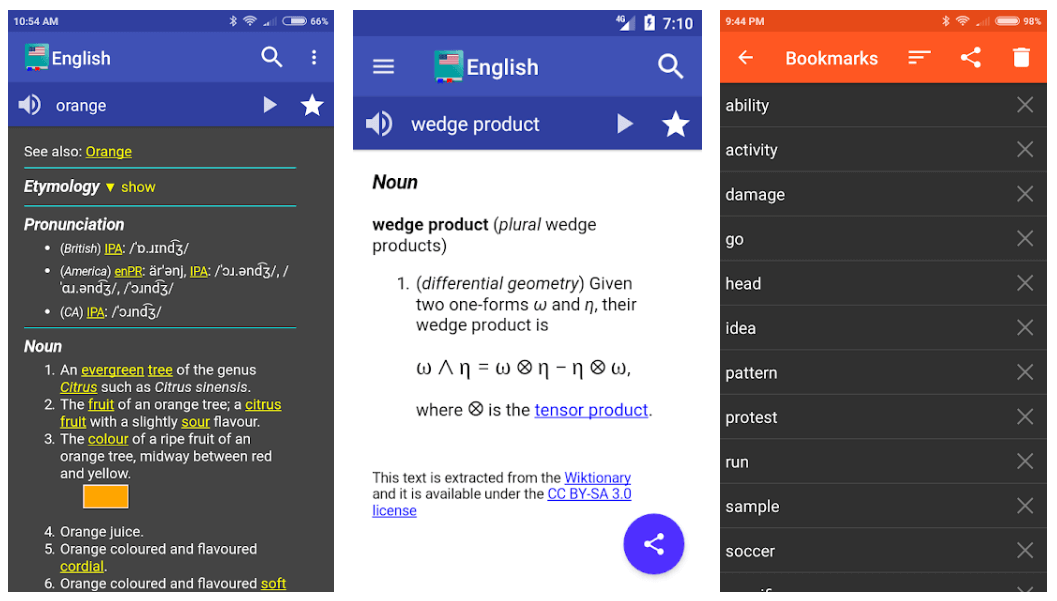 People feel that offline dictionaries exist only in the form of thick, hard-bound, extremely heavy books that can take up a lot of space, both in mind and in storage.
But what if I tell you that you can have a dictionary with you at all times, that isn't a book and is available without an internet connection?
I know, I know. It sounds too far fetched, too much of a long shot. But, my friends, it's extremely true because we have an app for it.
The English Dictionary-Offline, or OED, is an incredible application with the simplest interface. It is ad-free too, as you don't require internet connectivity to operate it. It maintains and updates its list of words (more than 239,000) and even offers features like voice to text, random word shuffle, and change some aspects of the app.
The major flaw of this app is that it's available only for Android.
Read More: 13 Best Lyrics Apps For Android & iOS in 2020
7. Pocket Thesaurus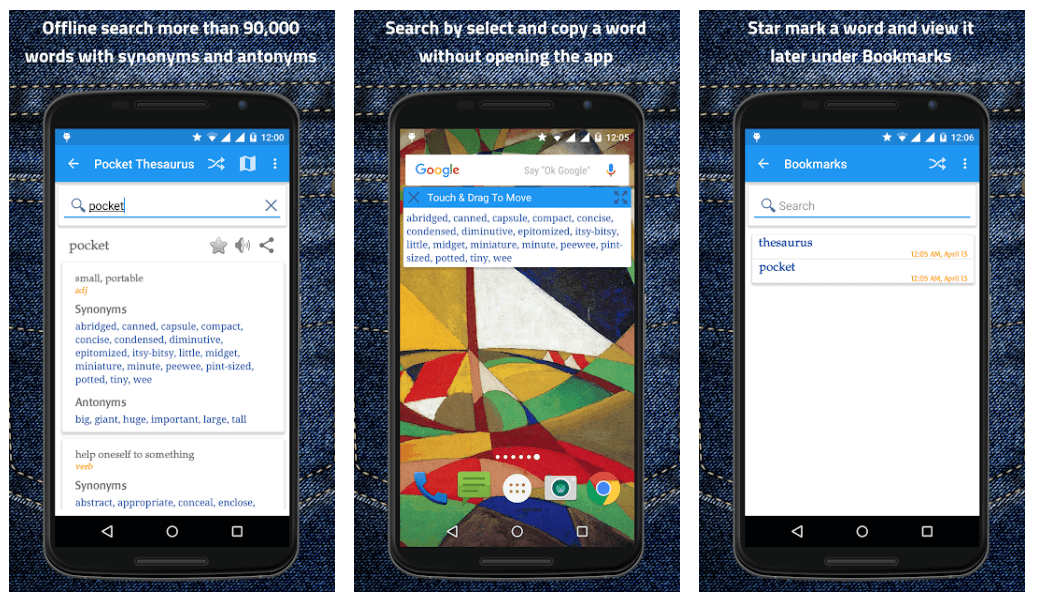 Now, this is not a dictionary app in the traditional terms but can be used to get a broader understanding of the English language. It can be termed as a dictionary cum thesaurus application. It covers over 90,000 common words and has a size of 20MB, which is just amazing. It comes with a floating thesaurus feature that provides multiple synonyms of any word. 
It also helps out in pronunciation of words so that you master not only the reading and writing aspect but also speaking one.
Although, while using this application, there is always a lurking need of another dictionary app because we only get synonyms out of it, but not the actual definitions. 
8. Dictionary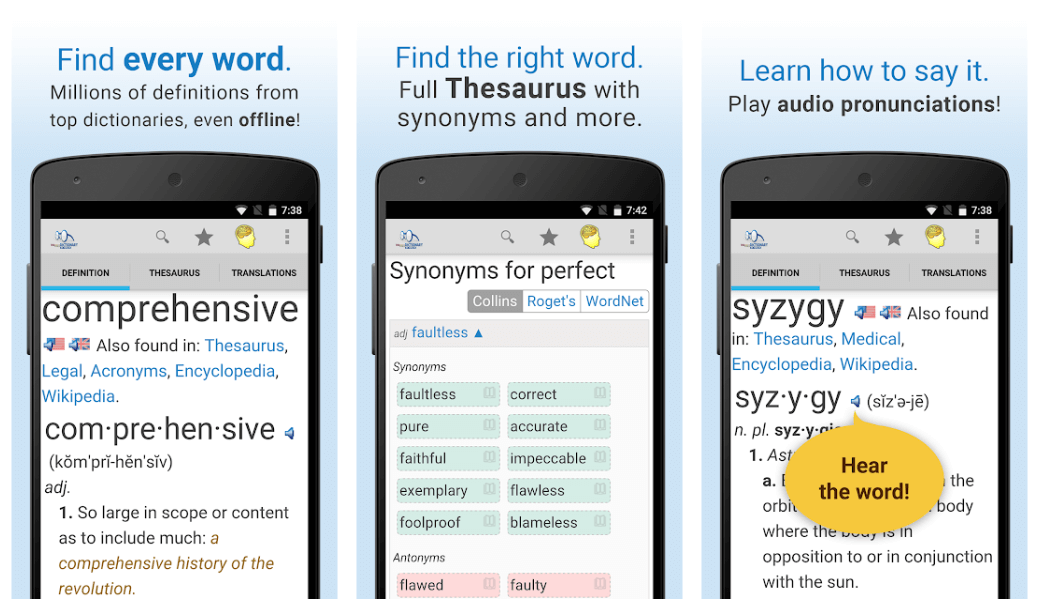 This dictionary is as simple and decent as its name. It comes with three sources- Roget's Thesaurus, Webster's Dictionary, and The American Heritage dictionary. It is also one of those on and offline dictionaries that aren't always dependent on Internet connectivity. 
Dictionary app gives you the freedom to look for millions of definitions, slang, and idioms. You can also translate the English language into 40 different languages. That means it is a boon for those who wish to be multilingual. 
Some of its amazing features also include audio pronunciations and etymology, idiom videos, subject dictionaries, and many more.
So now you can learn to love the English language in a very fun way.
And we have come to the end of the list. These best dictionary apps would surely be of great use to you, online and offline. Just pick one of your favorites from the list, and have fun learning the English language.
Image Source: Play Store
Diksha Lalwani is an aspiring content marketer and a self-declared bibliophile. An English honors graduate, she likes to keep up with the recent happenings around the world and form an opinion. Her interest in anything and everything tech made her follow the path into becoming a technical writer.
Subscribe to Our
Newsletter

and stay informed

Keep yourself updated with the latest technology and trends with TechPout.
Related Posts