8 Best File Sharing Apps For Android Smartphones in 2020
Long gone are the days when file-sharing was limited to just using USB, disks, drives, and beloved Bluetooth. With a spike (a huge one) in the usage of smartphones, everyone is dependent upon their portable devices to transfer data. 
And hence seeing that trend, we present you a list of top 8 Android file transfer apps that will fulfill all your file sharing needs.
Here is the list of Best File Sharing Apps for Android:
1.) ShareIT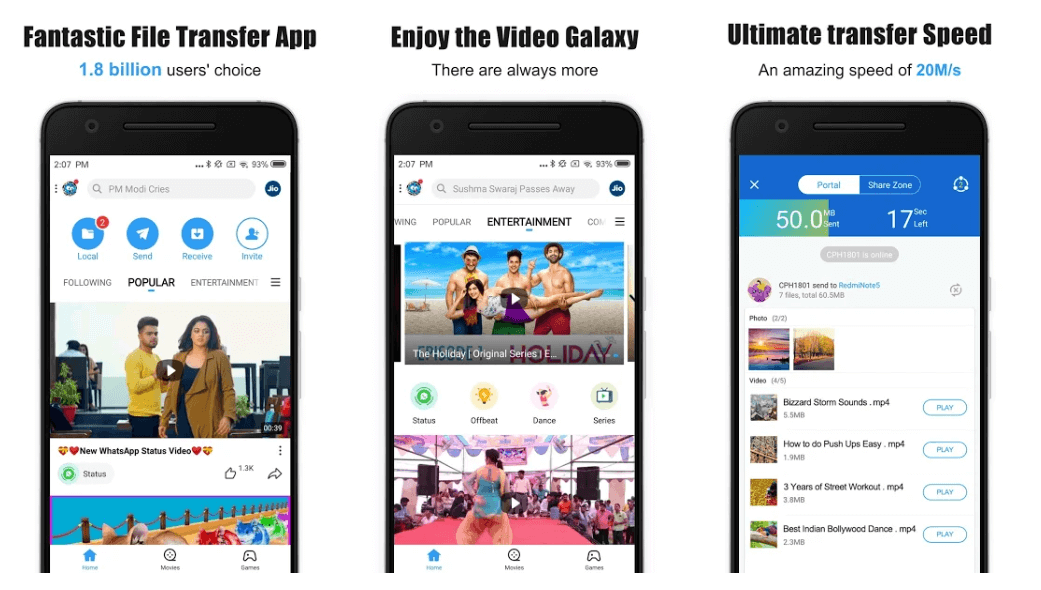 Anyone who's anyone has used this app. It is the world's most popular file-sharing app (choice of 1.8 billion users worldwide), and rightly so. 
It claims to be 200 times faster than your average Bluetooth with a speed of up to 20 Mb/sec and can connect up to 5 devices simultaneously.
It shares files of any format using WiFi direct feature. After the connection is created, receivers can choose whatever files they want without the sender's interference.
Its "My Share Zone" feature forms a shared hotspot connection on the user's device. This way, the user can send files to another device.
You also get a plethora of online videos, HD and selective, which are continuously updated (you can watch them offline too!). And you can also discover tens of millions of songs and high-quality playlists. The feed also includes wallpapers and interesting GIFs.  It is a complete entertainment package, isn't it?
Although the new update is receiving a bit of backlash, it still remains to be one of the best file transfer apps for Android to Android as well as to PC.
2.) Xender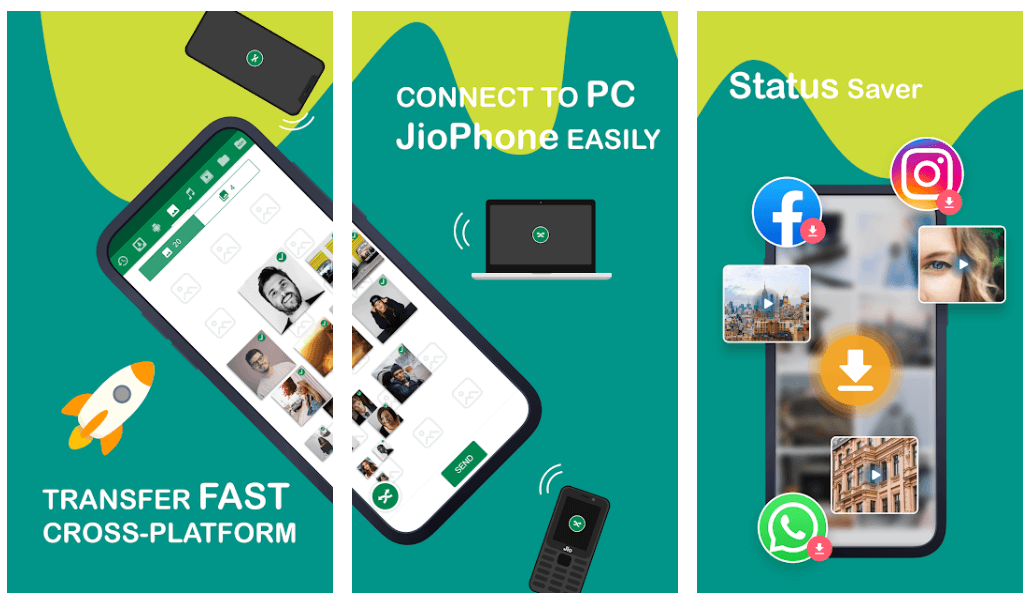 Xender is one of the most appreciated and loved file transfer apps on the face of the Earth. It allows file sharing at an exceptional speed. By simply dragging and dropping, multiple contents can be shared.
The app is free, does not contain in-app purchases, and has a user-friendly interface.
It has some great features like phone replication, which a user can use to copy files from one phone to another. One can also share files to their PC without installing any PC software.
It supports cross-platform transferring between different OS and functions in more than 15 languages. Users can also manage their data saved on the SD card or on the phone's ROM. 
Xender file transfer sharing can be done with up to 5 devices simultaneously (by forming a group). And both sending and receiving of data can be done without re-establishing a connection.
All the sending and sharing can be done without even turning on your mobile data. File sharing has never been this easier!
Read Also: Best Free Movie Apps For Android
3.) Zapya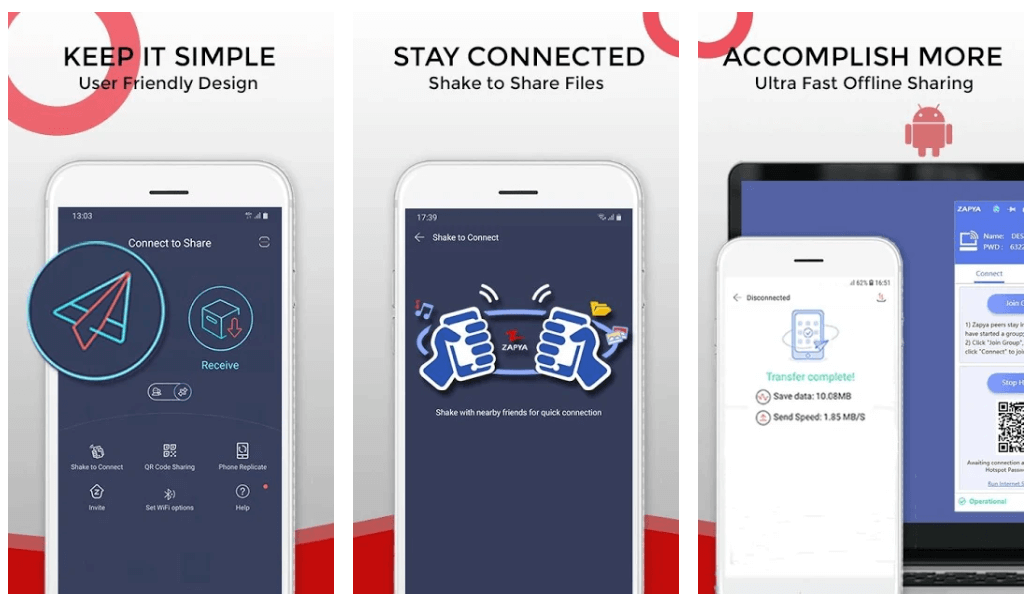 Zapya, an odd name indeed, is one of the best file transfer app for Android to Android. It has high-speed sharing capabilities and is also a cross-platform transfer software.
It claims to be 128 times faster than Bluetooth speed and can connect up to four devices simultaneously (group file sharing has never been this easy!)
It makes a transfer of large files super easy and also allows the user to play WiFi multiplayer game with her/his friends.
A unique QR code is first generated during file transfer, along with a hotspot name and password on the screen. To complete the transfer, the receiver must either enter the hotspot details into her/his device or scan the QR code.
One can even watch the latest videos and chat with other people at the same time in the same app.
This high-rated Android file transfer app has no display ads (a great relief!), no in-app purchases and is free to download. 
Like some other similar apps, Zapya also generates a special download link that is shareable on social networks.
4.) Superbeam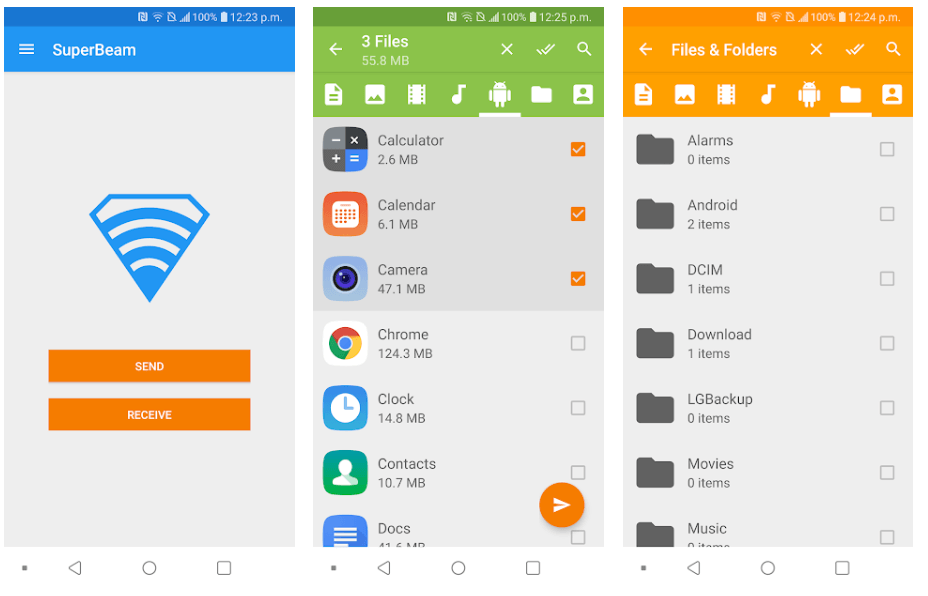 This visually stunning app uses WiFi direct to share files and comes with dark, light, and AMOLED themes to take your pick from. One can share all types of files like audio, video, text, images, apks, etc.
File transfers are done in three ways: by scanning the QR code, connecting to NFC, or entering a manual sharing key. 
If the devices don't support WiFi direct, SuperBeam automatically switches to hotspot mode.
By using web interface, one could also transfer data with their PCs. 
The feature that distinguishes it from others is that it uses an existing WiFi network connection between devices in the case of WiFi direct failure.
So be superfast in file-sharing with SuperBeam.
5.) Send Anywhere (File Transfer)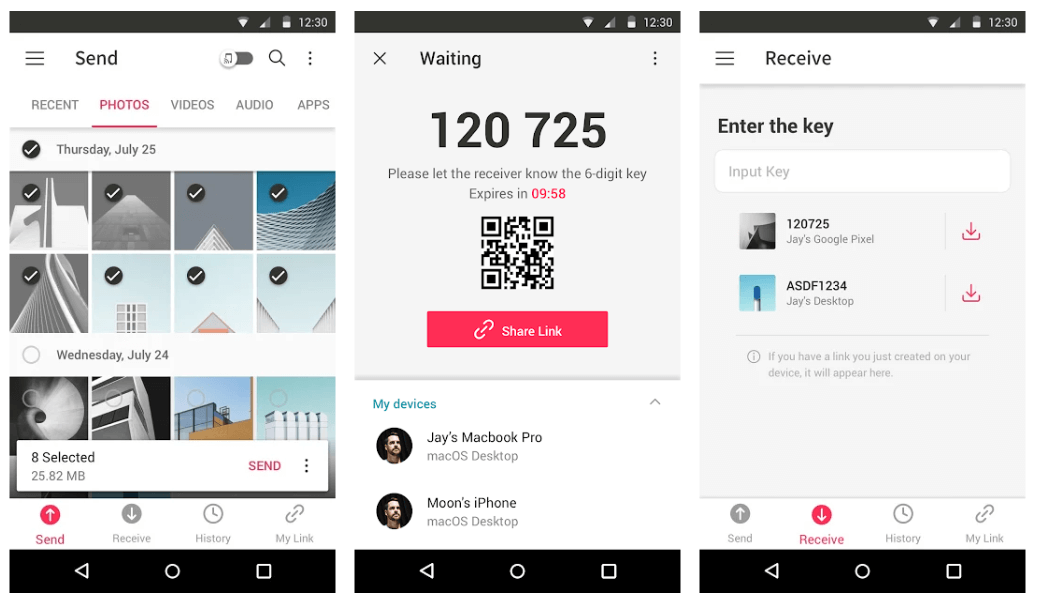 Send Anywhere app helps you to send and share files in an instant. It transfers files via WiFi direct and has a cloud storage service.
All the data shared is original without any alterations.
This versatile app has a beautifully tabbed interface and also supports file encryption. It lets you preview your files before sending, lest you send some private ones by mistake.
You just require a one-time 6 digit key or QR code scan to easily complete the file transfer. There is no cap to the number of files shared or the file size and the transfers are not stored on any server.
6.) MI Drop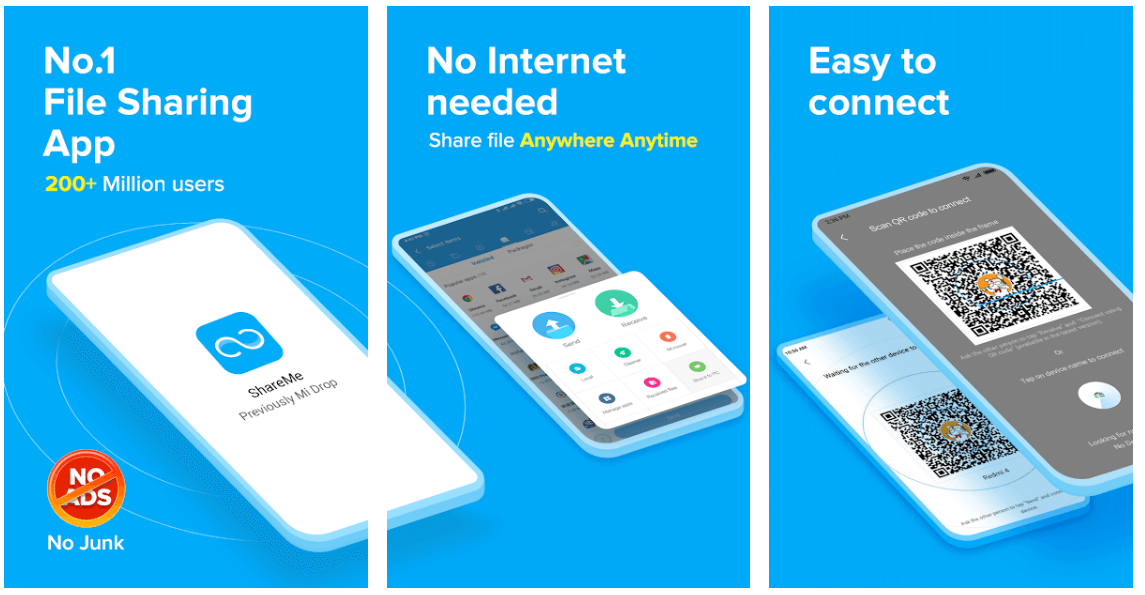 With 190+ million users using this app worldwide, MI Drop shares files at a lightning-fast speed. It has a simple and user-friendly interface and lets you resume interrupted transfers without starting over.
It has a clean look as it is ad-free, which makes it superior to most apps. And there's no need of network connection to transfer data. It also supports different languages making it easier for users around the world.
The only drawback of this app is that it is just available for Android devices and doesn't support multi-device sharing.
7.) AirDroid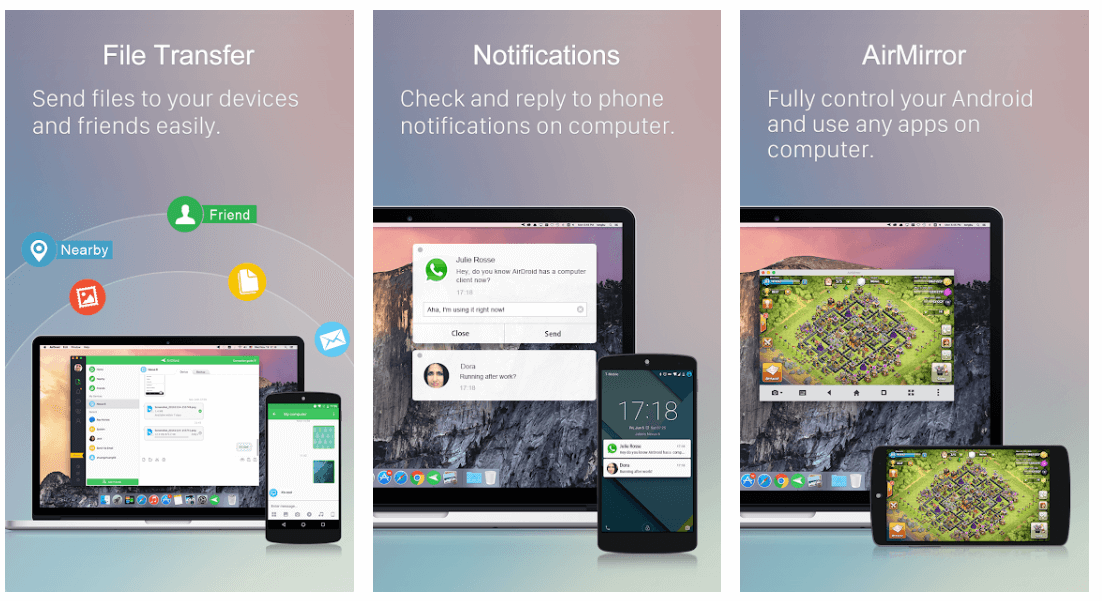 AirDroid is a power-packed multi featured application that takes smartphone usage to a different level. It lets you access your Android device wirelessly from your PC, and transfer files in-between at fast speeds.
The AirDroid program on your PC acts as a mirroring dashboard to your Android device. It means that you can even operate various social networking apps like Whatsapp, Instagram, etc. through your computer. Further, you can easily transfer files to and fro and browse your phone's internal storage over this interface.
It has various more functions like screen mirroring feature, device locator, messaging dashboard, and a contacts browser. A user can even view and respond to her/his messages and calls directly from their PCs.
8.) WiFi File Transfer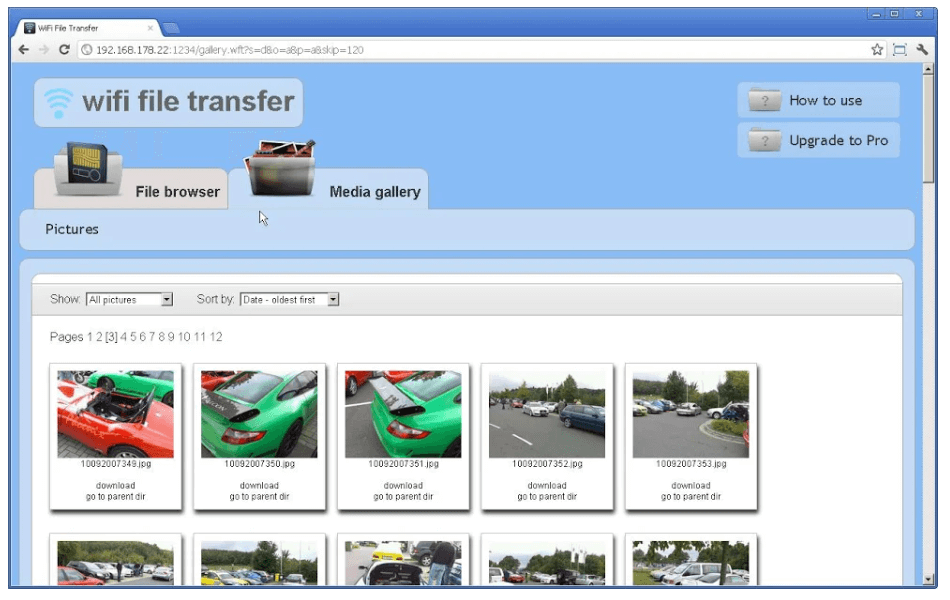 WiFi File Transfer is not in the same league as the other file-sharing applications in this list, but it offers something different that they don't. This app is best suited to transfer files between an Android device and computer wirelessly. 
To transfer files from Android to PC WiFi, one needs to connect her/his phone and computer on the same WiFi network. 
After that, they could upload or download multiple files, view photos directly in web browser, create shortcuts to media directories, provide access to USB storage devices and external SD cards, and do many other tasks.
This application works while the device is in hotspot mode and the user can also use password protection during file transfer.
We can also use password protection for file transfer. 
And this was our take on the best Android file transfer apps. So go on, and share your files with your friends using any application from this list.
Diksha Lalwani is an aspiring content marketer and a self-declared bibliophile. An English honors graduate, she likes to keep up with the recent happenings around the world and form an opinion. Her interest in anything and everything tech made her follow the path into becoming a technical writer.
Subscribe to Our
Newsletter

and stay informed

Keep yourself updated with the latest technology and trends with TechPout.
Related Posts