11 Best Cooling Apps For Android You Can Use In 2023

Overheating can ease its way into annoying the overall health of any device and that is just unbearable. It comes natural to fret over your device when you catch it getting heated and performing trivially which lands you on the search for cooler apps that can assist you in bettering the temperature of your device back to its healthy state. 
This article names the best cooling apps for Android that you can consider to look after your phone. Whether it is an app running in the background to hinder the pace or the battery health, these apps certainly have the solution for storage cleaning to battery health.
How To Cool Down Your Phone?
There can be multiple reasons behind the overheating issues in your phone. If your phone is heating up, you can cool it down by shutting down the running applications, turning the flight mode or simply by switching it off. If your phone is overheating while being charged, you should immediately remove it from charging. 
Do Cooling Apps Really Work?
You can install a cooling app to assist yourself in monitoring the temperature of your smartphone. Besides, cooling apps notify you whenever the phone begins to cross ideal temperature and shuts off the apps running in the background.
What Are The Best Mobile Cooling Apps For Android In 2023?
Here are the best phone cooler apps that will certainly help you in looking after the temperature of your device. Some of these devices function cleaners that help declutter your device's storage, leading to enhanced health. 
Here are our best apps to cool down Android device: 
1. DU Battery Saver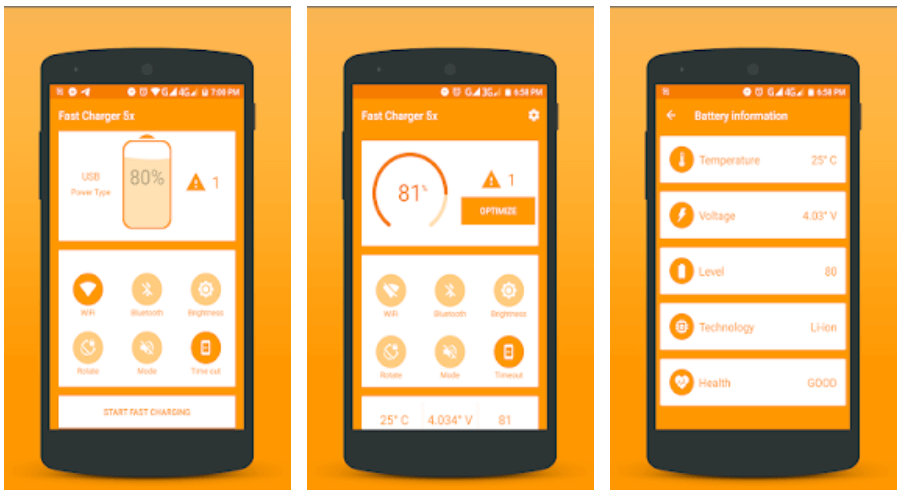 DU Battery Saver is unarguably spotted among the popular battery saver and cooler apps and is used by over 10 million people. If you are looking for an app to better the battery life of your Android device then this one qualifies to be your go-to one. It not only helps you with your phone's battery health but also looks after the clutter in your phone and helps clear the unwanted files and caches from the storage and letting it breathe.
It has a Phone cooler app, allowing you to detect the phone temperature level and stop the apps that drain the power. You can also use its Battery Saver Widget to manage functions including Wifi, Data and Brightness and you can even set power conserving modes. These powerful features explain the reason behind the popularity of DU Battery Saver.
---
2. Cooling Master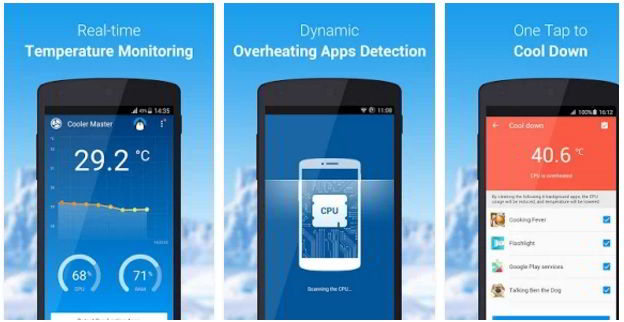 Cooling Master-Phone Cooler, designed by PICOO, is the next best phone cooler app in this list. It allows you to maintain the calm of your phone by decreasing the temperature. This app also shuts off the apps running in the background that drain the energy of your device and lead to heavy CPU processing which can cause overheating in your phone. 
This phone cooling app monitors the device temperature and instantly alerts you to cool down your device. It shuts the apps down that it finds consuming the battery and CPU. You must select the option to automatically shut down the apps by going to this tool's settings or you can close them manually. So if you are looking for the best cooling apps for Android then here's the one for you.
Read Also: 12 Best Game Booster Apps For Android 
---
3. Battery Doctor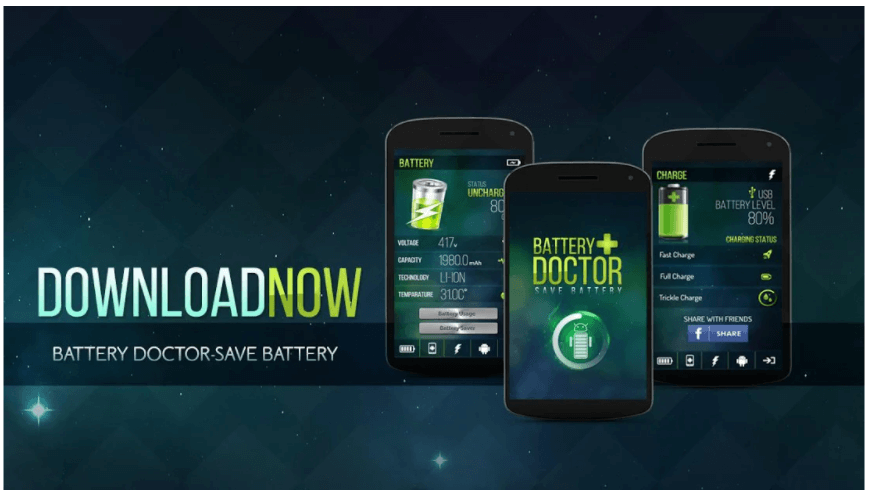 Battery Doctor is yet another best battery cooling app for your Android device. It helps in saving the battery of your device and cools it down by stopping the app that runs in the background and works as a battery drainer. Battery Doctor features one-touch optimization and provides healthy tips to enhance the battery life.
Another amazing feature is that it turns off the Wi-Fi or Bluetooth automatically when they are left On. It even helps in adjusting the brightness of your phone in order to save the power. Besides, Battery Doctor detects the phone phone temperature and disables the apps that produce heat, allowing your device's battery to maintain its cooling.
---
4. Smart Cooler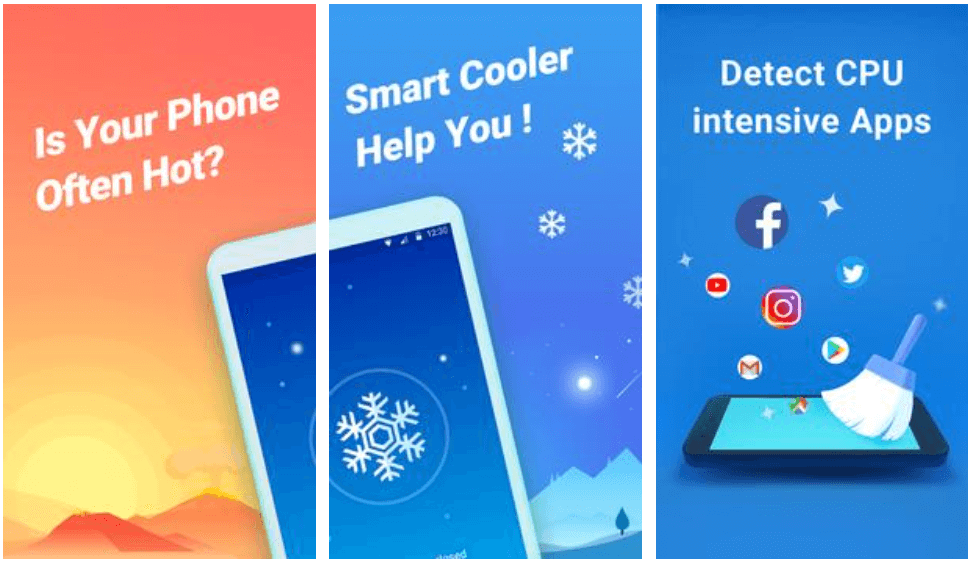 Smart Cooler comes in the list of the best phone cooling app Android and it is a smart cooler which allows your device's CPU to cool down. This app makes a good phone cleaner and detects the CPU temperature smoothly and accurately and also notifies you when it begins to cross the threshold of ideal temperature.
Smart Cooler helps in maintaining the cool of your phone by watching over the operation of apps which seems to overheat the CPU and reduces the CPU utilization. It features the real time temperature monitoring and allows you to check your phone temperature whenever you want. With all the major features of a cooling app, Smart Cooler is worth considering for your device.
---
5. Finally Clean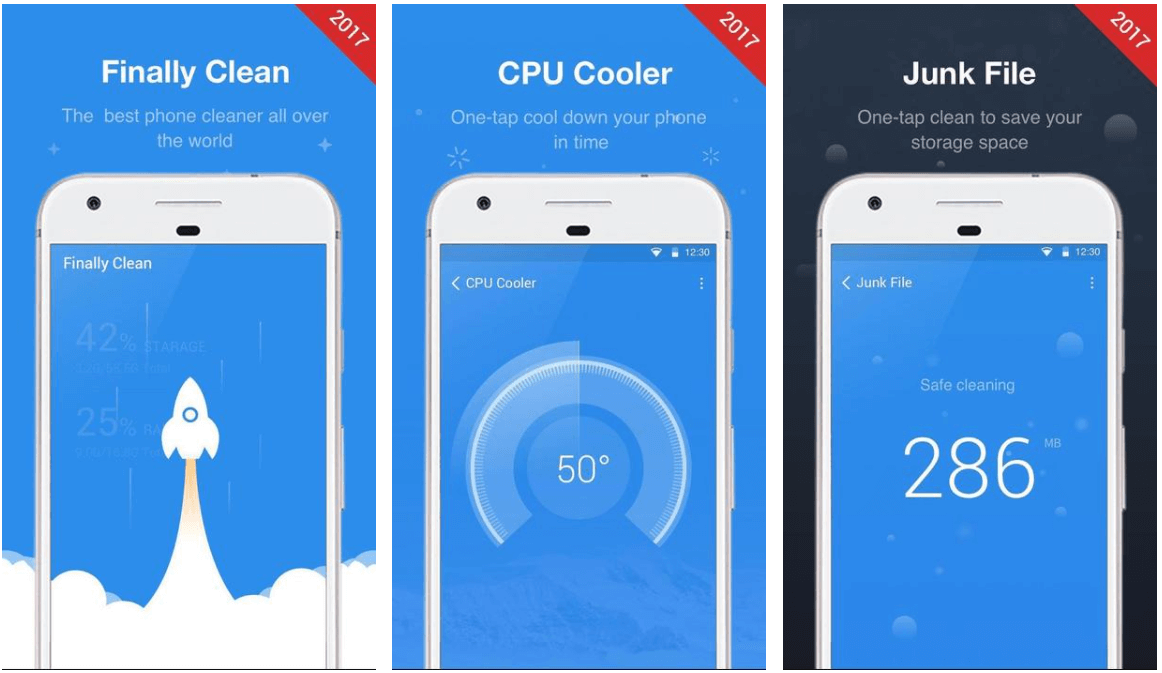 You can count on Finally Clean while searching for the best cooling app for Android. This tool helps you to come to the perfect check on cooling and storage cleaning solutions. This app features quite a simple interface which displays the storage and RAM status of your device. On the dashboard, You will find the CPU cooler on the dashboard, which you can tap in order to easily view the phone temperature and if you want to reduce the temperature, all you have to do is simply tap the Cool down.
Besides, this app helps you clear the Junk files and boost phone memory. Its App manager feature allows you to uninstall the apps from your phone. So, this one makes feature-rich cooling apps for your device.
---
6. CPU Cooler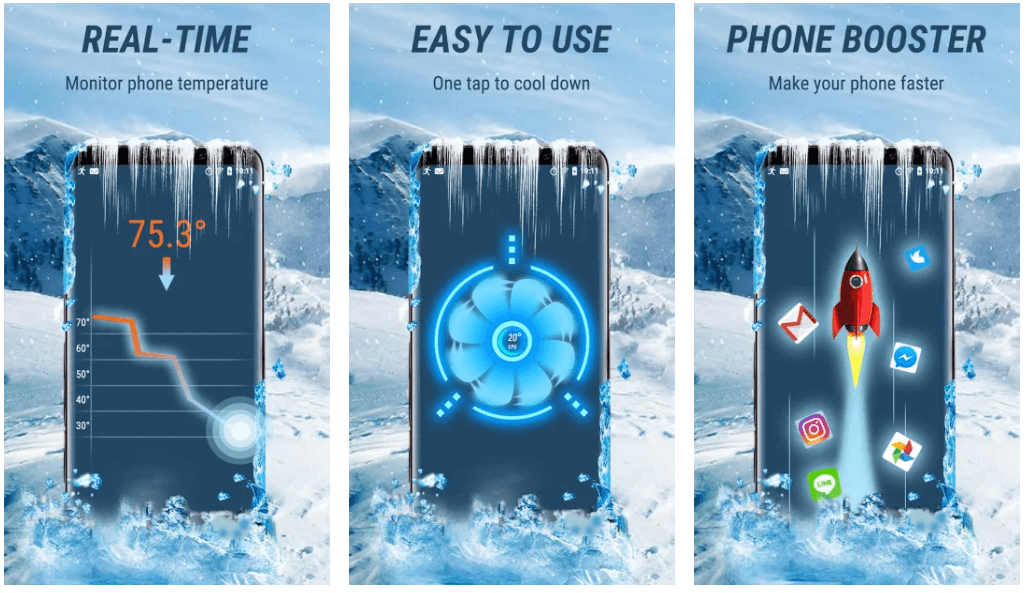 You can consider CPU Cooler as a helpful cooling app for your Android smartphone. It brings almost every important feature for you to ensure the cool temperature of your device. It also makes one of the best phone cleaners and boosters performs the clean-up on your device's RAM which helps reduce the CPU usage and better the calm of your phone's temperature. This useful CPU cooler app offers real time CPU monitoring and also helps in maintaining the battery performance.
---
7. Super Phone Cooler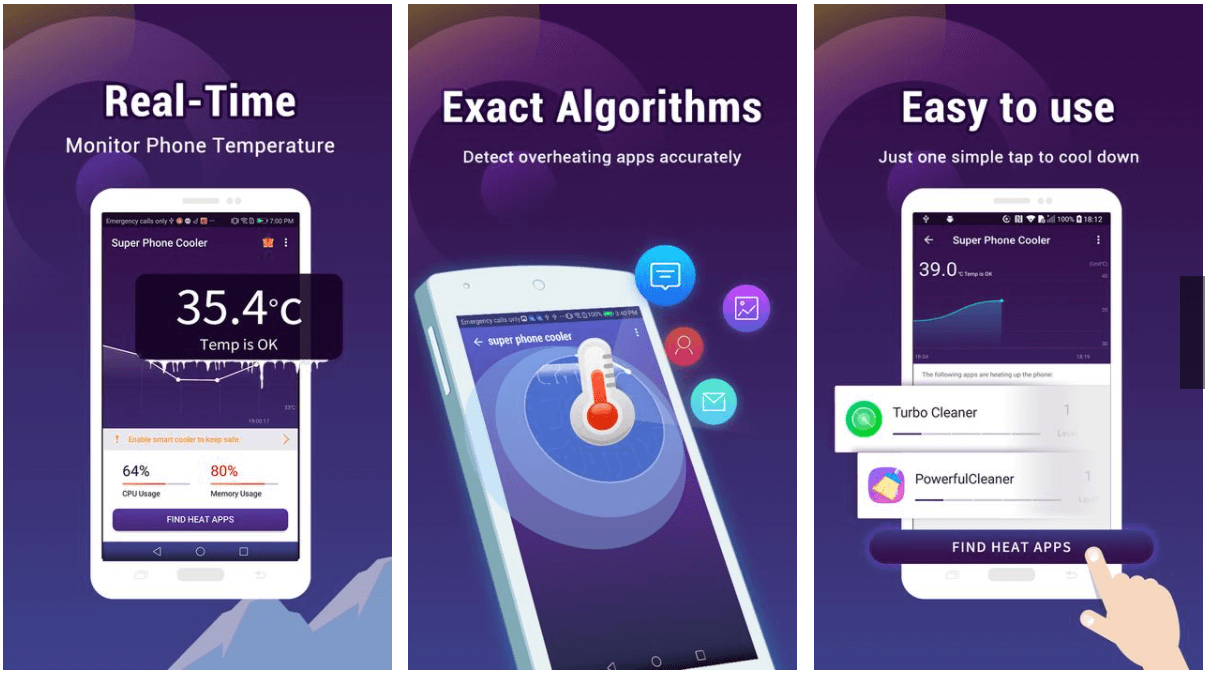 You can make use of Super Phone Cooler in order to monitor the real-time temperature of your Android smartphone. It is one of the best cooling apps allowing you to go into the details and it allows you to view the temperature in graphical as well as numeric form. What makes this feature a relief is that the data keeps updating in order to show up accurately.
Apart from that, you can easily find the apps that cause overheating and you can use its Clean Heating apps feature which performs a countdown. Once the time is over, you get to see the extent to which the temperature has decreased. It also reminds you to keep your device cool whenever it begins overheating. It has a Smart Charge feature, allowing you to monitor the temperature and see whenever the phone is overcharged.
Read More: 14 Best Free Android Dialer Apps
---
8. All-in-One Toolbox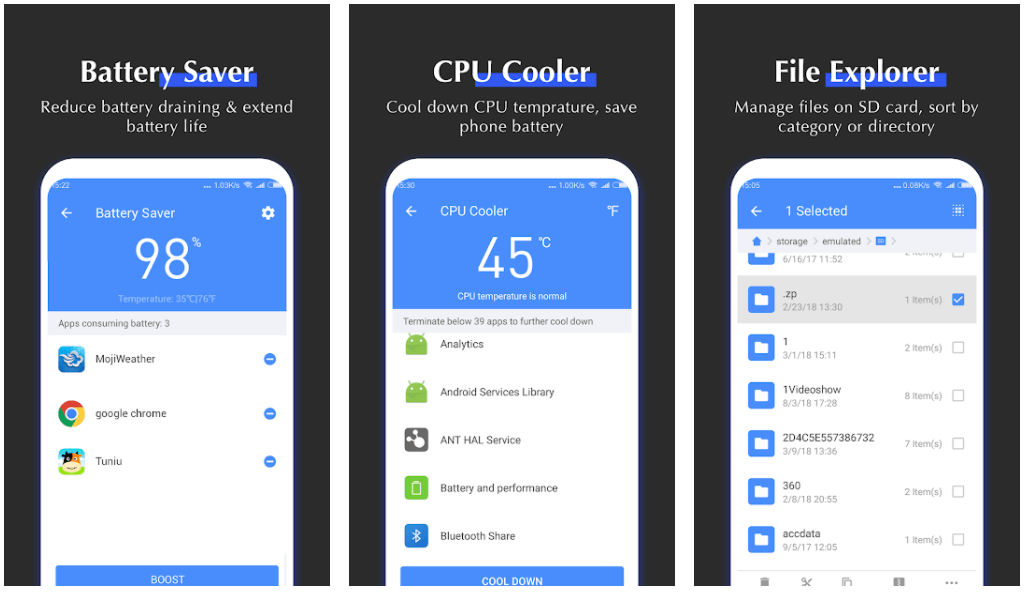 Super Phone Cooler is one of the apps that can calm the temperature of your device down and looks after the overall performance of your device. It is an effective junk cleaner, functioning to keep the phone from reaching exhaustion by clearing away the unnecessary data and cache. This one is ultimately  useful when it comes to taking care of the temperature of your device.
---
9. EaseUs Coolphone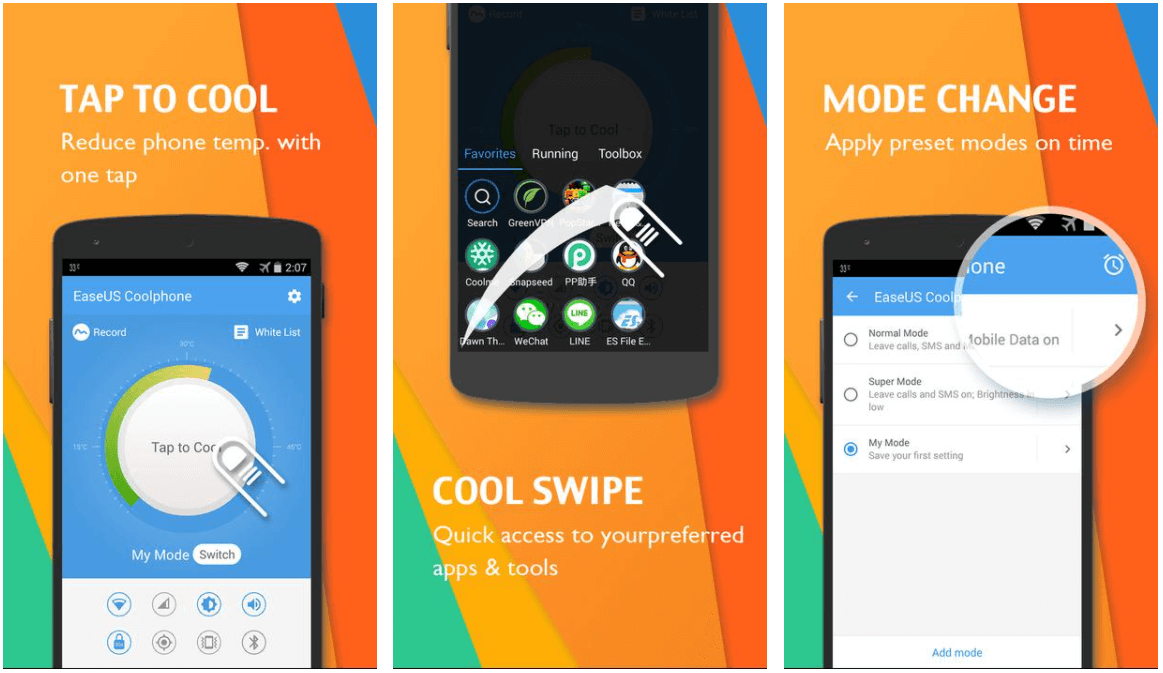 Another Best Android Phone Cooler App is EaseUs. This one is there to guard you with features that fight the issues related to overheating and battery health. It has an easy-to-use interface with the display of storage and RAM status of your device. It helps you clear the cache and thus, increases the phone memory. Its App supervisor option has got your back when it comes to uninstalling multiple apps from your phone.
You can use its clockworkmod to accelerate the speed of your phone. However, its requirement for rooting may cost the loss of your phone's memory. Overall, Tidy is packed with major features including cleanup and the prevention from overheating which makes it worth checking out.
Read More: Best Screen Brightness Control Apps For Android
---
10. Phone Master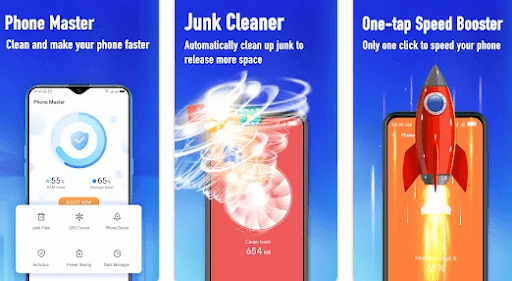 Phone Master is one of the best cooling apps for Android that you can use to look after your device. It is an excellent phone clean master that makes your phone faster than usual. Clean junk files, speed booster, app locker, data manager, battery saver, virus cleaner, and CPU cooler are the prominent features of Phone Master.
The application is multipurpose, as it works as an app locker as well as an antivirus scanner to keep you protected against all malicious and suspicious activity. The app cools your device's CPU temperature by automatically detecting and closing the applications that can cause a temperature rise in your mobile phone.
Moreover, Phone Master also boasts App Management and Data Management features. These features help you better handle your mobile phone's apps & data, which is also crucial to preserve the space and battery of your device. In sum, it is a perfect cooling app for Android devices.
---
11. Cooler Master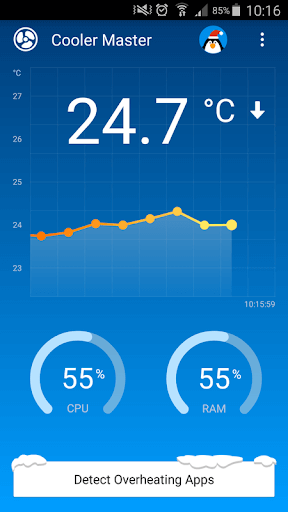 The last name on this list of the best cooling apps for Android is Cooler Master. The app notifies you every time the temperature of the battery increases suddenly. Moreover, the app also informs you about the reasons behind the sudden increase. With a single tap, the app closes all the apps or services cursing the temperature increase to cool the device.
One of the best features of the app is that it shows the percentage of space used by RAM and CPU at any given time. You can just open the app to see the present temperature of the battery or even add a widget with multiple features. The app has numerous features and filters to cool your device's CPU and battery temperature.
---
Cool Down Your Android Phones With the Best Cooling Apps
The most important to-do is to immediately cool off the phone the moment you catch it dashing into the heat. So, you just went through various phone coolers for Android phones that you can incorporate into usage to track and maintain the temperature of your device. Then you have got clean-up and battery health features that only add to the devoted modes of your device's CPU and battery. What's your take on CPU coolers? Which app do you use to ensure the cool temperature of your Android smartphone? Let us know everything in the comment box.
Jyotsana is a technical writer with a non-technical background. An eye of detail and a knack for writing helps her to write technology related content.Apart from writing, she is a coffee connoisseur and an aesthete who rejoices in poetry and music during leisure.
Subscribe to Our
Newsletter

and stay informed

Keep yourself updated with the latest technology and trends with TechPout.
Related Posts