10 Best Screen Brightness Control Apps For Android in 2021

"An average person looks at their smartphone 150 times or more during a waking day of 16 hours," a research by the Eye Center of Texas found. All that excessive use of smartphones with poorly optimized screen brightness settings can often lead to eye strain, blurred vision, and headaches.
To eliminate the risk of incurring eye damage and protect your vision, you need nothing less than the best screen brightness control app for your Android phone.
To help you decide which is best suited for you, we've rounded up a selection of best Android apps for controlling screen brightness. 
10 Best Apps for Managing Screen Brightness on Android:
Here we present our top choices for the best Android screen brightness adjustment apps. Let's check them out: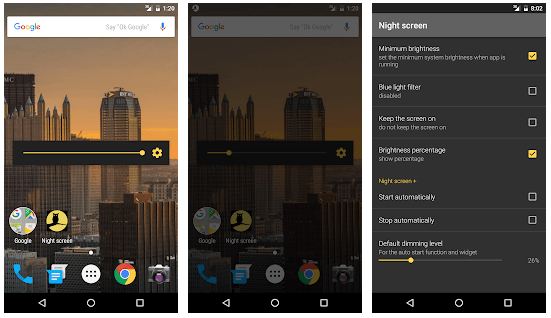 Anyone who wants to reduce the Android screen brightness lower than the minimum default limit should install the Night screen app without wasting any time. It applies an overlay filter that acts as a screen light dimmer to provide relief from eye pain at the time of night. 
Key Features of Night screen:
Fast, intuitive and easy to use
It auto-adjusts the screen brightness to minimum
It comes with a blue light filter to help people sleep better at night
It offers support for dimmed and transparent navigation bar
Rating: 4.5
Read More: Best Utility Apps For Android Smartphones
---
2. Dimly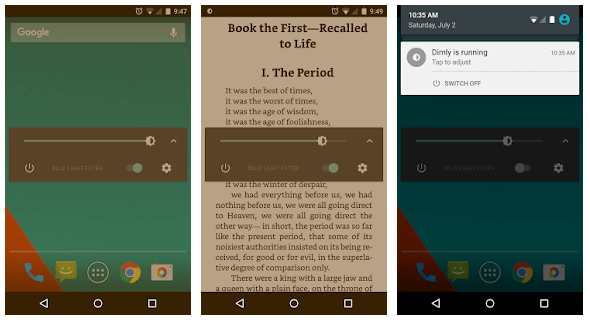 Many people have the question, 'What is the best Android app for brightness control?, and the simple answer to it is Dimly. With this incredible app, you can easily adjust the brightness of your screen and protect your sensitive eyes from the radiation emitting from blue light. 
Key Features of Dimly:
Lightweight application with a simple user interface
Backlight dimming
Blue light filters for better sleep at night
Shake motion sensitivity sensor
Auto stop timer  
Rating: 4.4
---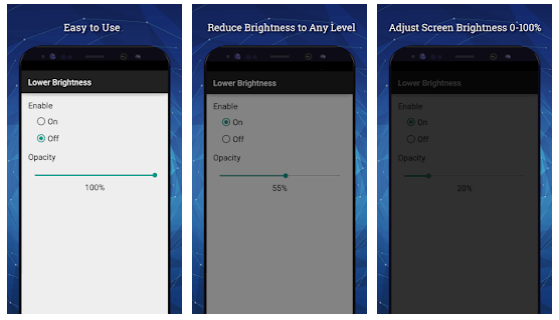 The next screen brightness control app on our list is called 'Lower Brightness Screen Filter.' 
Developed by Wormhole Space, it gives you the flexibility to set the percent of screen brightness at a level (0-100%) that is ideal for watching movies online, chatting with friends, reading books, and more. 
Key Features of Lower Brightness Screen Filter:
Straightforward and simple to use 
It lets you reduce the screen brightness below the phone's minimum limit
The application automatically starts working after reboot
It allows you to set brightness level as per your requirements
Rating: 4.3
---
4. Night Shift – Bluelight Filter for Good Sleep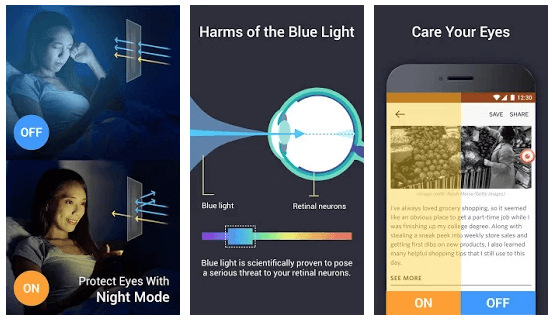 If you're looking for Android screen brightness apps that can do more than just adjust your screen to warm light, Night Shift could be the best app for your needs. It offers a host of easy to use features that not only protect your eyes from strain and fatigue, but also helps you save your phone's battery.
Key Features of Night Shift:
Night filter helps you reduce blue light
24-hour eye protection
Prevent eye strain in just one-click
Extend your smartphone's battery life by at least 15%
Rating: 4.3 
---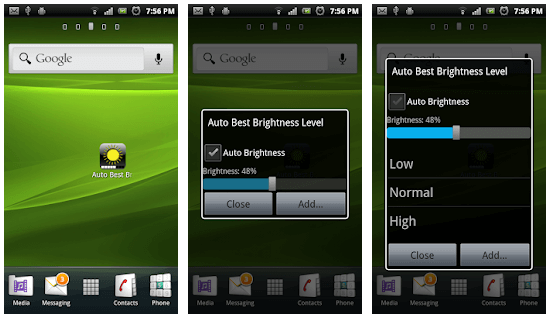 Are you looking for a way to control screen brightness for Android phones? If yes, all you need is a dedicated brightness management app.
And 'Display Brightness Level' is one such nifty app that configures the device's brightness settings correctly, making it one of the best apps for managing screen brightness on Android.
Key Features of Best Display Brightness Level:
Users can easily control the display brightness
Allows users to create custom brightness profiles as per their requirements
Protects your eyes from hurting and saves your phone's battery
Relatively lightweight application that's completely free of annoying ads
Rating: 4.3
Read More: Best Data Monitoring Apps For Android
---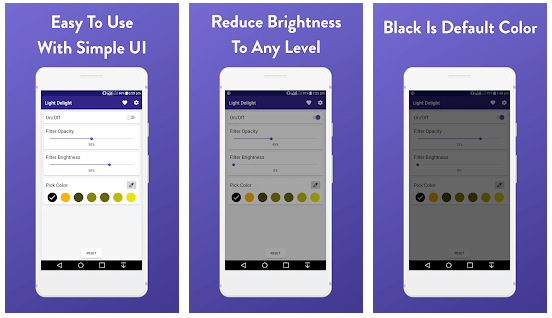 One of the most globally renowned options for best screen brightness control apps is Light Delight – Blue Light Filter. The application has an intuitive, user-friendly interface that acts as a low brightness filter and aims to protect your eyes from harmful blue light radiations.
Key Features of Light Delight – Blue Light Filter:
It has more than 10 anti-glare, blue light and low brightness filters
Users can reduce the intensity of blue light coming out of their phones using Temperature Control option
Users can dim screen brightness directly from the notification bar
It helps you reduces your phone's power usage by 30%
Rating: 4.2
---
If you want to make your Android screen darker beyond the minimum brightness limit, then you should give 'Brightness Control & Dimmer' a try.
Despite being a free application, the performance of the app when it comes to protecting your vision from high intensity blue light is exceptional. And that's what makes it one of the best Android apps for controlling screen brightness. 
Key Features of Brightness Control & Dimmer:
Allows users to reduce the display brightness lower than the device's minimum limit (e.g. -75%, -50%, etc.)
Adjust screen brightness in just one tap
Protects your eyes from dark or low light conditions
Brightness controls of the app are much easier than the default settings of Android
Rating: 4.0
Also Read: 17 Best Root Apps For Android Smartphones In 2021
---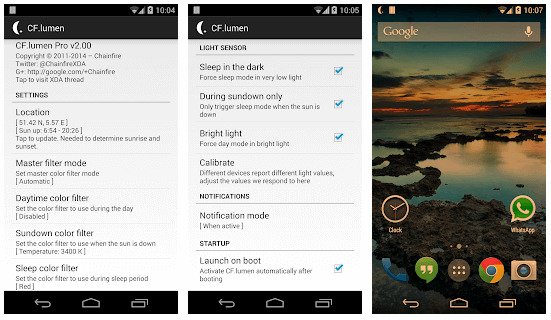 CF .lumen is a great app that you can use to adjust screen brightness. The app smartly adjusts the color by directly manipulating gamma values, unlike other applications that use tinted transparent overlay. The automatic adjustment of the phone is also changed according to the location and time. You can even customize some of the nifty options according to you. Options like Force sleep in the dark mode and Force day mode in the night can be adjusted easily with this app.
Key Features of CF .lumen
You can adjust brightness according to your preference
The app has a Freeload setting which offers the user pro features without any extra charges
The interface of the app is very simple even beginners can use it
Adjust theme as per requirement
Rating: 4.1
---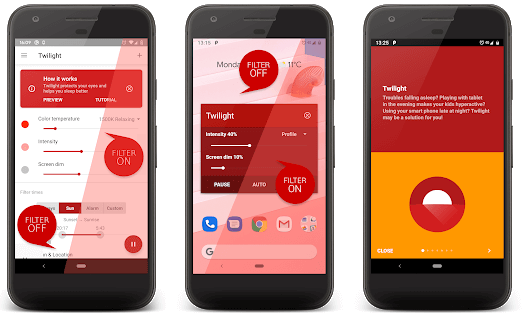 Twilight is another great app that can be used for adjusting the screen brightness of your mobile phone. The app automatically adjusts the light according to the time frame and adjusts it in such a way that your eyesight is not affected. After sunset, the software dampens the temperature of the screen by using blue light filtering. The app has a free as well as the pro version, you can choose the version as per requirement and need. The pro version cost $4.99.
Key Features of Twilight
The pro version of the app offers perfect adjustment of the brightness according to the outside side.
You can even customize the settings and adjust them according to your ease.
The app uses blue light filtering which dampens the bright light which can affect eyes and make your screen eye-soothing.
The application interface is also simple which can be adapted by any user easily.
Rating: 4.6
Also Read: 13 Best Reading Apps For Android in 2021
---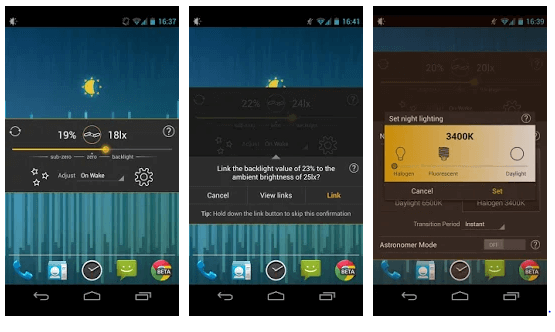 Lux is a great app to use for screen brightness adjustment. Just like Twilight this app also offers blue light filtering to offer you eye-soothing color on your mobile screen. The setup guidance requires no guidance, moreover, the Lux wizard is very straightforward. The auto-adjustment of the backlight makes it one of the best among the competition.
Key Features of Lux
The app offers many modes which you can select to adjust the brightness.
Using the app you can adjust the brightness level, modify the intensity, and switch to sub-zero brightness.
The app offers both free as well as pro version. The user who wishes to use the additional advanced features can opt for the pro version.
Perfectly adjust the brightness according to the lights.
Rating: 3.8
---
Protect Your Sensitive Eyes with Screen Brightness Control Apps
Now that you know how to protect your eyes from harmful blue light radiations, we suggest you compare aforementioned brightness management apps and choose the one that fits best for your needs.
This brings our article to an end. We hope our well-researched article helped you sort out the best apps for managing screen brightness on Android.
Monil is a professional writer whose forte is absorbing a lot of data and help large technical organizations convey their message clearly across multiple products. An engineer by qualification, his affinity for design enables him to write to inspire, energize, and influence various audiences to uncover their true potential. When not writing, Monil is likely to be found listening to music, traveling, or simply excavating into his favourite cuisines.
Subscribe to Our
Newsletter

and stay informed

Keep yourself updated with the latest technology and trends with TechPout.
Related Posts