Which Kindle To Buy? Here's The Guide
Ever thought about what if you could have all the greatest books in the world at one place, and with you at all times? I believe not. Most of us would think that it's too farfetched, too wild a thought to wrap your head around. 
But Amazon turned this fantasy into reality more than 10 years ago with the launch of its first "Kindle". From then onwards, it's only been an uphill ride. All their efforts have been fruitful and focused on making every sort of book (old, new, classic, Sci-fi, educational, fiction, etc.) super accessible to book-lovers all over the world.
Undoubtedly, Kindle is one of the best eBook readers that can be found anywhere. Its global fan-following speaks for its high-end features and fantastic deliverance. 
There are mainly 3 Amazon Kindle models that are still available to purchase, namely
Amazon Kindle
Amazon Kindle Paperwhite
Amazon Kindle Oasis
Amazon has ensured that there's an eBook reader to meet every bookworm's needs and budget.
But still, the main question everyone has is Which is the best Kindle for me? Don't worry; we have done all the heavy lifting for you.
For when you are on a tight budget.
Kindle E-readers – Specs Comparison
Product Name
Amazon Kindle
Kindle Paperwhite
Amazon Kindle Oasis
Price
From: $89.99
From: $129.99
From: $249.99
Ratings
 
 
 
Screen Size
6″ glare-free
6″ glare-free
7″ glare-free
Storage
4 GB
8 GB or 32 GB
8 GB or 32 GB
Resolution
167 ppi
300 ppi
300 ppi
Front light
4 LEDs
5 LEDs
25 LEDs
Weeks of battery life
Yes
Yes
Yes
Audible (via Bluetooth)
Yes
Yes
Yes
Flush-front design
 
Yes
Yes
Waterproof (IPX8)
 
Yes
Yes
Adjustable warm light
 
 
Yes
Auto-adjusting light sensors
 
 
Yes
Ergonomic design
 
 
Yes
Automatic rotating page orientation
 
 
Yes
Page turn buttons
 
 
Yes
Wi-Fi Connectivity
Wi-Fi
Wi-Fi or Wi-Fi + Free
Cellular Connectivity
Wi-Fi or Wi-Fi + Free
Cellular Connectivity
Color
Black or White
Black or Twilight Blue
Graphite or Champagne Gold
3 Best Kindle To Buy in 2020
1. Amazon Kindle
So Amazon just upgraded its old basic Kindle model with the inclusion of "backlight", and other aspects. With backlight feature, readers would be able to read in the dark and even have the better reading ability in direct sunlight. But it's not as good an experience as it only has 4 LEDs.
It is actually lighter than its counterparts, notable easy to hold in hand and has a plastic body, all of which makes it compact, durable and less premium. It gives a good space to hold on to the device from. 
Amazon Kindle price is just $89.99 (a lot less than the other models).
It's great for when you're stepping into the world of eBook reading and have just parted ways from traditional books. It is not heavy on the pocket and nor does it completely rear you off features. It is priced accurately, and the functions are straightforward and user-friendly.
There's no water-resistance, no page turn buttons and the storage is not a lot as compared to other models. It has a micro USB port that is used for charging it up. 
You can't read books with it while on the beach or while having a bath, just yet. Sand might get into the USB port. 
The design of this eBook reader is quite basic. There are no shaved off areas or curves formed on its structure. There are also big bezels (a bit bigger than what should be) with a lip that keep the screen less likely to stretch.
Why should this be my Kindle?  Because high-end features (waterproofing!) and latest designs don't entice you much, and you have a limited budget to invest in your passion for reading.

For when you are searching for a perfect balance of pricing and features
---
2. Amazon Kindle Paperwhite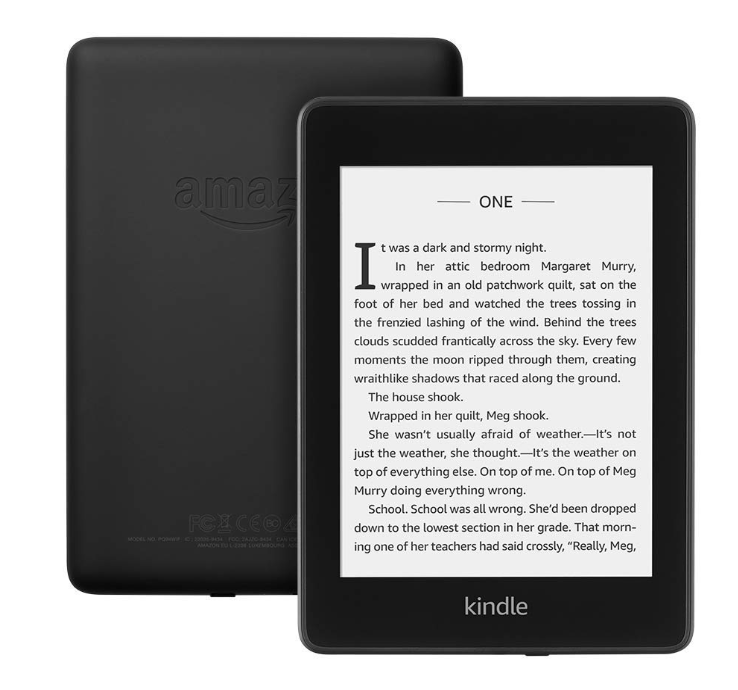 This is the highly opted Kindle for a book reading and has a string of amazing features. It is greatly optimum in terms of value and performance. 
It's a bit heavier than the other two models but is a near-perfect amalgamation of a cheap (relatively) and an expensive e-reader. There's a reason why it has been ruling the charts for the last few years. It is the closest one could get to real paper while on an e-book reader. You also have access to a vast library of books through Amazon, and there's also a Kindle Unlimited rental service. 
The screen is to write home and rave about. The 6-inch HD display is beautiful and fantastic while reading. The built-in light blocks any screen-glare in sunlight and allows to read in the dark (5 LEDs).
It can be almost compared to Kindle Oasis too, as it has waterproofing and Audible compatibility now. (best value for money!)
Why should this be my Kindle? Because you want one of the best screen experiences from your e-reader and want to upgrade from your previous one. You also don't want either of the extremely priced gadgets.

For when you want to feel luxurious while reading
---
3. Amazon Kindle Oasis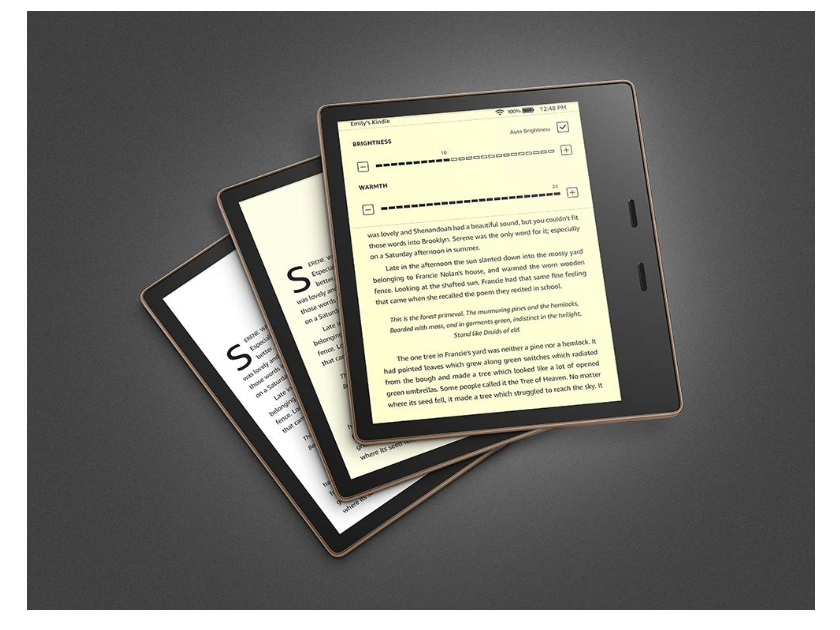 This is the luxurious and top-notch Kindle that deserves all the respect and appreciation anyone could ever give to it. The most expensive e-book reader in the market, Oasis is the future of reading. It offers plenty of functions and delivers them in a very fluid way. 
Obviously, many people have issues with its pricing (almost three times the cost of standard Kindle). But the amount of high-end specifications and the lavish experience one gets using it is much more worth than the price.
It might not be the best option for the newbies with fewer demands and needs, but it's perfect for bookworms who read every day and already have gotten their full out of previous models of Kindle.
There's good news for audiobook lovers too as it also works with Audible audiobook titles. It consists of Bluetooth support, so one can listen to these audiobooks with the use of a headphone or a speaker.
The new Kindle Oasis is also waterproof (quite a contradiction to its name). It can stay unharmed up to an hour if submerged deep up to two meters.
There's an addition of color adjustable front light in the model so that the customers can read in warmer tones and transition smoothly from daytime to nighttime.
The look of Kindle Oasis is mostly what gets people to fall in love with it. It is made up of glass and aluminum (very fancy!). It is thinner on one side, making it easier to hold and be carefree. 
Despite its extra size, it's lighter than Kindle Paperwhite and has 12 LEDs for glare-free reading.
Why should this be my Kindle? Because you want just the very best and are bored of your previous models of Kindle. You also don't have a limited budget.

---
What is the Special Offers Discount and Do I Need It?
Do you know the advertisements that appear on the Kindle's lock screen? The ones which are quite bothersome? Well, those are what Amazon terms "special offers". You can pay an additional $15-$20 to discard these ads. This extra payment can be made only when the product is put in the shopping cart. 
Now the question arises, whether removing "special offers" is an expenditure you need to make? And the answer to it is that it depends on preferences. Someone might not feel as annoyed with those advertisements, while a different person would have a hate relationship with them. So choosing to shell out some extra bucks is totally on what impression the ads make on you.
And this was our guide to finding the perfect Kindle for yourself. Amazon Kindles are priced at varying costs, but there's one for everyone. They just are the best eBook readers to sate the reading habits of bookworms all over the world.
Diksha Lalwani is an aspiring content marketer and a self-declared bibliophile. An English honors graduate, she likes to keep up with the recent happenings around the world and form an opinion. Her interest in anything and everything tech made her follow the path into becoming a technical writer.
Subscribe to Our
Newsletter

and stay informed

Keep yourself updated with the latest technology and trends with TechPout.
Related Posts