12 Best Android PC Suite For Windows 10,11 In 2023

Why do you need Android PC suite for Windows 10, 11 or older version devices? Nowadays we keep our whole life on a smartphone. All the important documents, passwords, personal messages, pictures, videos, contact details, and much more are saved on our Android devices. Losing such files and documents can have a lasting impact in our everyday lives.
Therefore, it is important to backup your entire phone to a computer or cloud storage app to prevent any kind of data loss problems. 
And that's where the Android PC suite for Windows 10 comes in extremely handy. Now one might ask, what is Android PC suite? Well, it is an excellent program used by millions of people to easily back up and transfer data from phone to computer and vice-versa.
With the plethora of PC suites for Windows available in the marketplace, choosing an ideal one is an extremely painstaking task.
To help you assist with the process, we've put together a well-researched list detailed around the best Android PC suites so you can make the right choice with ease.
What Is Android PC Suite?
Transferring data through USB cable and other wireless methods can be lengthy and needs the device to be near for transfer. Whereas, an Android PC Suite for Windows 10 is the best option available for the user to transfer their files, photos, videos, and other data to their PC. The software can easily help with backup and data transfer for all Android devices. The software is compatible with Mac and Windows PC. With just one click the user can transfer files from phone to Mac. 
If the phone is damaged or lost, the user can get the data using the Android PC Suite easily.

---
Why Do You Need Android PC Suite?
For recovering data or transferring files this software can be very useful. This software will help the user to keep their devices empty and have a secured backup on their PC. Having a backup on the cloud can cost much but on the other hand, using an Android PC Suite for Windows 7, 8 or higher version devices is a way cheaper and safe option to save the backup on a PC. 
With the software, the user can also solve the problems of the device like unlocking the password-protected device. You are just a click away from making space in your mobile. In the future, you will never get storage space issues.
---
12 Best Android PC Suite For Windows 10, 11 or Older Versions In 2023
Managing and transferring Android files to a computer has never been this easy, thanks to the arrival of PC suite software. Without further ado, let's jump right into our list of best PC suites for Android:
Developed by Compelson Labs, Mobiledit is one of the easiest and fastest solutions to organize your phone's data. It comes with plenty of useful tools to aid users clean up phones, transfer data, backup and restore deleted files, remove duplicates, and much more. Also, it supports a wide array of handsets and devices, including Apple and Windows phones. 
Now, let's take a quick glance at some of its other key features.
Notable Offerings: 
Simple, intuitive design with a user-friendly interface
Excellent product for forensic analysis
Supports phone to phone data transfer
Allows users backup entire phone's data on a computer
Quickly finds and removes duplicate or similar-looking contacts
Read More: Best Utility Apps For Your Android Smartphones
---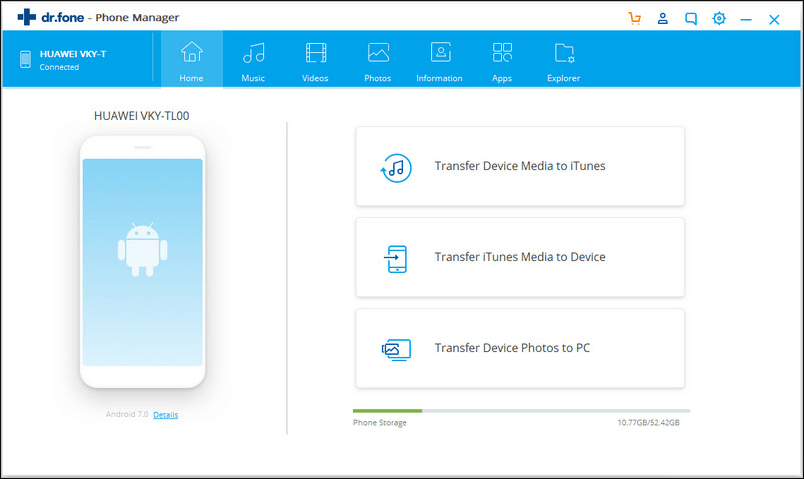 Next in the list of best android manager for PC is Dr.fone. It is undoubtedly one of the best Android PC suites available in the industry today. By using its file manager and transfer feature users can effortlessly copy or move files from Android to PC, Mac, and iPhone, including media, documents, and contacts.
Notable Offerings: 
Fast, reliable, and easy to use application
Transfer every kind of file from PC to Android, and vice versa
Take backup of all messages and contact details from your Android smartphone to a computer
Get rid of unwanted files from your computer
Install, uninstall, backup, and remove pre-installed (bloatware) apps in just one-click
---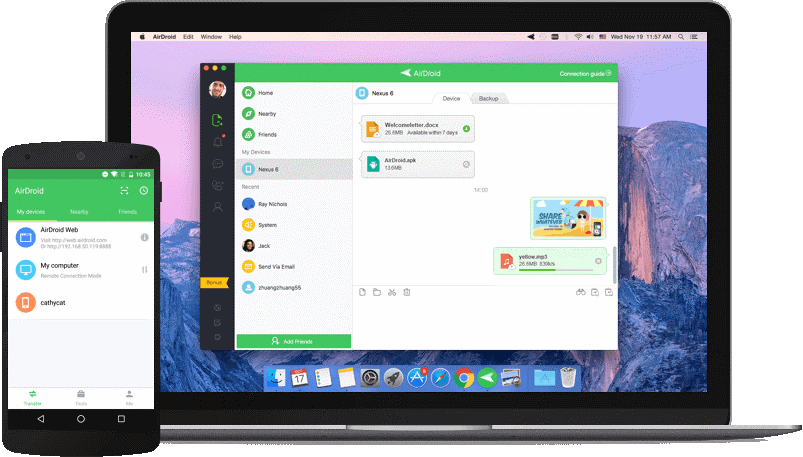 AirDroid is another excellent Android PC suite for Windows 10, 11 (or lower versions) that allows you to remotely manage your Android smartphone, move or copy files, receive and view SMS on your computer.
Notable Offerings: 
Manage your chat conversations from your computer
Control your device remotely on PC
Transfer all type of media files from Android to PC, and vice versa
---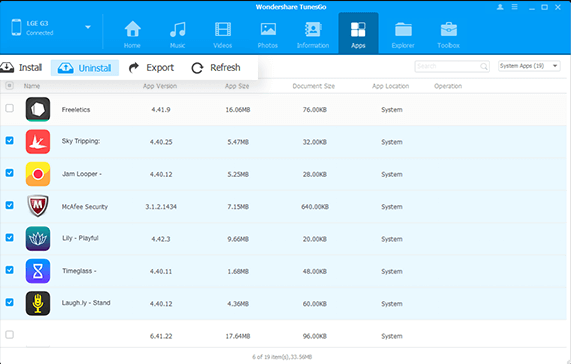 TunesGo from Wondershare is another highly-rated Android PC suite which not only allows users to transfer data from Android/iPhone to computer but also lets them take a complete backup of contacts and chat messages in the most efficient manner. 
Notable Offerings: 
Convert videos and live photos to amazing, funny GIFs
Supports all kinds of media files, including music, podcasts, and playlists
Easily import contacts from Microsoft Outlook address book to your Android phone
Access your phone's entire data under Disk Mode
Allows users to store phone's directories on PC
---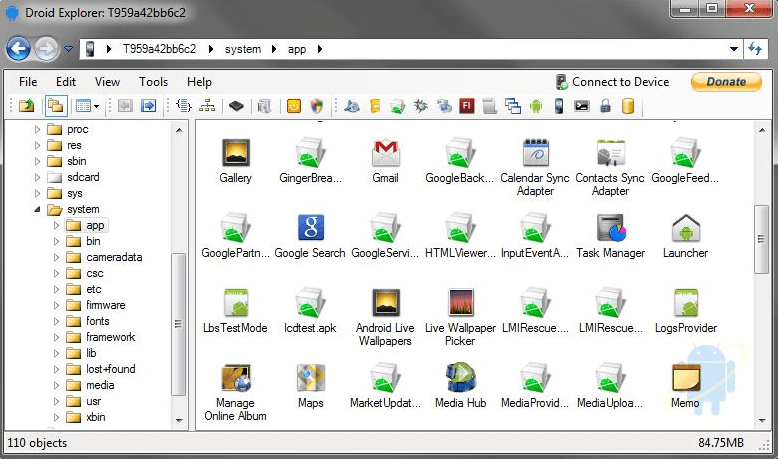 You can't talk about the best free Android PC suite software without including the Droid Explorer. It allows you to connect your Android device with your computer with ease. Apart from organizing and transferring data, users can also install, uninstall, and disable Android phone apps directly from PC. 
The best part about Droid Explorer is that it works seamlessly on root apps for Android devices.
Notable Offerings: 
Quick and easy to set up
Install and uninstall APK files
Supports a wide range of mobile phone brands
Save screenshots from Android to PC
Read More: List of Best Bluetooth Software for Windows 10 
---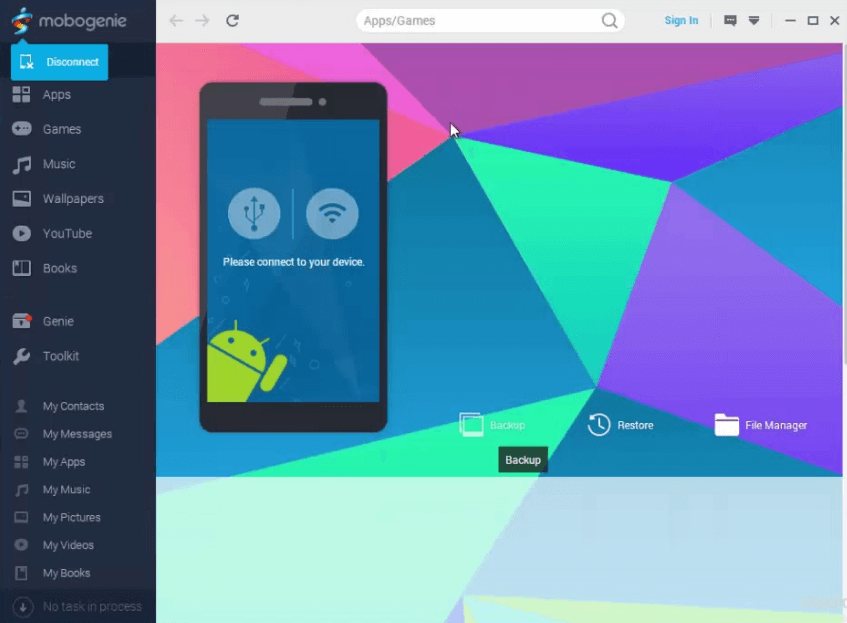 In today's competitive marketplace, Mobogenie currently ranks among the best Android PC suite for Windows due to its fast speed, rich features, and beautifully designed interface. It allows you to perform basic file management operations such as backup and transfer photos between your Android devices and your computer (or vice-versa). 
Notable Offerings: 
Lightweight app with sleek and intuitive interface
Backup contacts, SMS and other files or folders from Android phone to computer
Remove every kind of junk files to boost overall performance
Download free games, mp3 ringtones, live wallpapers, etc. 
---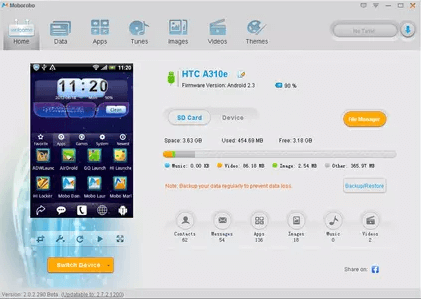 Moborobo brings all the powerful file management options at one place to help you send messages, install and uninstall apps, backup contacts, and copy or transfer data from your Android to computer, or computer to Android.
Also, this program is excellent for even novice computer users as the interface is very easy to understand and doesn't require much technical skills. And that's probably the main reason behind why people rating this product as one of the 'best PC suites for Android' of all time. 
Notable Offerings: 
Simple, fast, and easy to use software
Install or uninstall apps on your Android phone in bulk while connected to a computer
Backup your phone's contact list and messages in just a few taps of your fingers
Supports both Android and iOS devices
---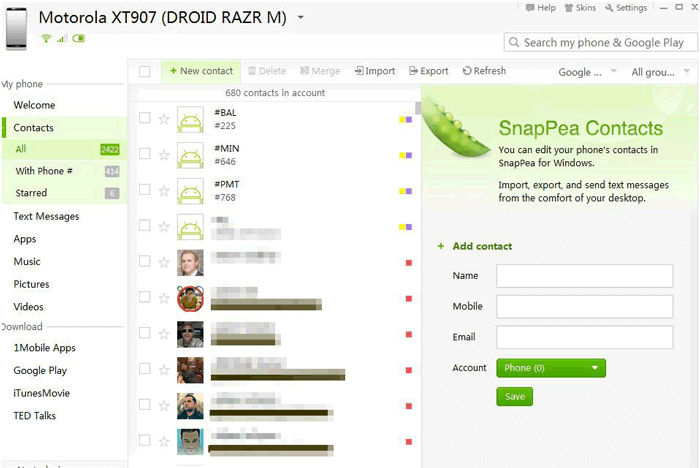 SnapPea has been long recognized as one of the world's best Android PC suites, designed specifically to help you explore your Android phone from the comfort of your desktop computer. 
So if you're looking for a simple yet an effective solution to manage your phone's data from your Windows computer, then this PC suite software is certainly a great option for you.
Notable Offerings: 
Straightforward and user-friendly interface
Remotely control your Android phone on PC
Highly compatible with all Windows operating systems 
---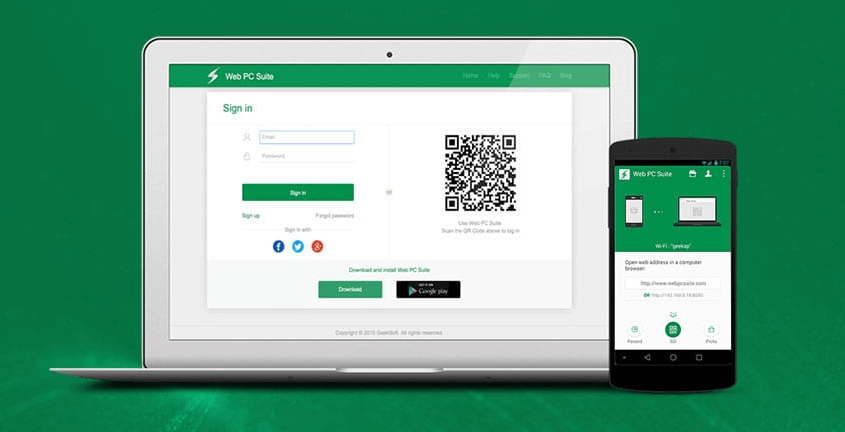 It is another free Android PC suite for Windows 10, 11, 8, or 7 which allows users to transfer files wirelessly between Android and PC. It uses a secure HTTPS connection in order to send files across devices, making it one of the best wireless file transfer apps available in the industry. 
Notable Offerings: 
Drag-and-drop option to help you quickly transfer data
Allows you transfer files in bulk wirelessly
100% safe and completely free from viruses and spyware
Read More: 11 Best Free Video Call Software For Windows PC
---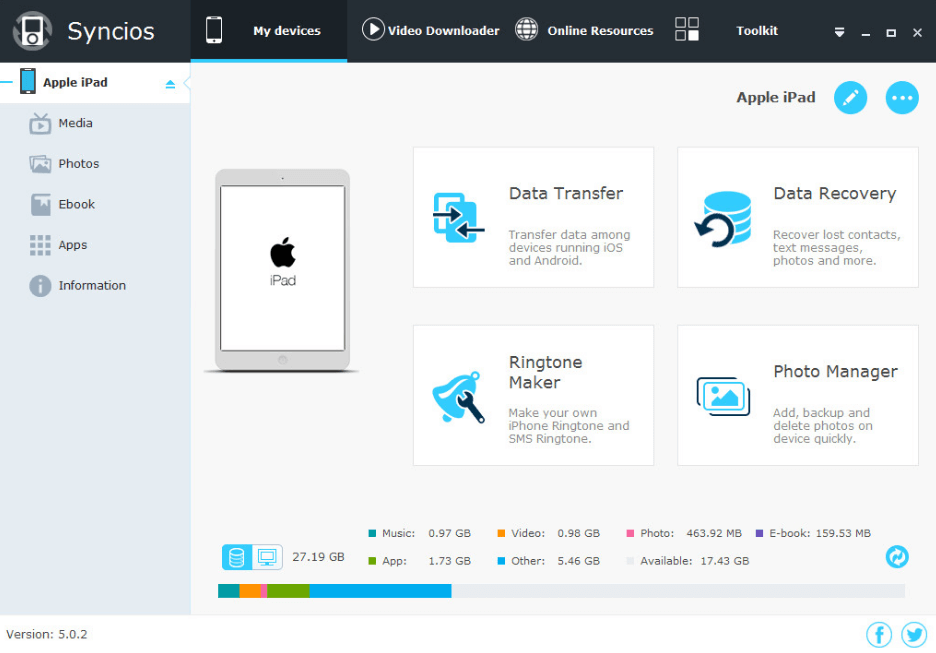 Want to transfer files from your Android smartphone to a computer? But, don't know how to connect Android to PC? To make it possible, all you need is the best Android PC suite for Windows 10, 11, or older version devices.
Syncios from Anvsoft Inc. is one such nifty tool that can help you transfer data from your Android/iOS devices to the computer.
Notable Offerings: 
Synchronize your Android/iOS device with your computer in just one-click
Recover any corrupted or accidentally deleted files 
Easily transfer data from phone to phone or computer to phone, without any data loss
---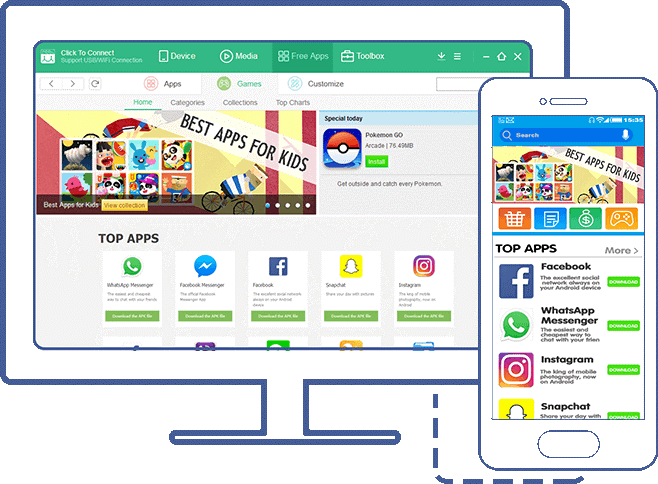 Moboplay might be the last tool on our list of top Android PC suites, but it's undeniably an excellent one as it allows you to manage your Android device on a PC with great ease.
Notable Offerings: 
Lightweight doesn't consume much resources
Easily manage any files, apps, music, and images on your mobile phone from PC
Backup contacts, call logs, messages, etc. from your phone onto the computer
Download your favorite apps and games for free, no registration required
---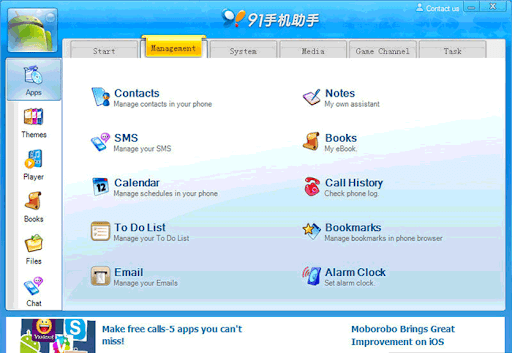 91 PC Suite is another best Android PC Suite for Windows 10, 11, or older version devices. The Suite offers some exceptional features like the ability to back up your Contacts, Messages, and other important documents. The UI performance of the PC Suite is perfect and easy to use. Moreover, to improve the user interface you can add wallpapers, themes, ringtones, etc. Additionally, you can schedule your calendar and manage it easily through the 91 PC Suite
However, the only limitation is that it supports a limited range of Android mobile phones. However, it runs fine on Windows 11, 10, 8, 7, Vista, and XP.
Notable offerings:
Apart from Windows, the software is available for both Android and iPhone platforms.
Can store backups of all your crucial data including photos, applications, videos, images, etc.
Automatically update mobile applications and games through your Windows PC
Uses WiFi to download applications
Can send and receive messages once connected to your mobile phone.
---
So, these are some of the best Android PC suite for Windows 10 64-bit or can also be used for older version devices. in 2023. All of these aforementioned programs come with plenty of useful tools to help you easily backup and transfer files from phone to PC and vice-versa, without any data loss. 
So, what are you waiting for? Download your favorite app now and manage your Android phone from the comfort of your desktop computer.
Monil is a professional writer whose forte is absorbing a lot of data and help large technical organizations convey their message clearly across multiple products. An engineer by qualification, his affinity for design enables him to write to inspire, energize, and influence various audiences to uncover their true potential. When not writing, Monil is likely to be found listening to music, traveling, or simply excavating into his favourite cuisines.
Subscribe to Our
Newsletter

and stay informed

Keep yourself updated with the latest technology and trends with TechPout.
Related Posts