File Manager app is the easiest and fastest solution to manage and keep track of all your files. Though every smartphone comes with a default file manager and explorer app but if you don't like it, you can always get the one you love from the Google Play Store.
With the plethora of Android file managers out there, finding the perfect one is not an easy task by any means.
To help you with the process, we've put together a well-researched list detailed around the best file manager apps for Android platform to help you make the right decision.
Best Android File Managers to Organize Your Files in 2020:
If you've no longer desire to use the default file manager of Android, then check out our latest list of file manager apps and download the one that lives to your requirements.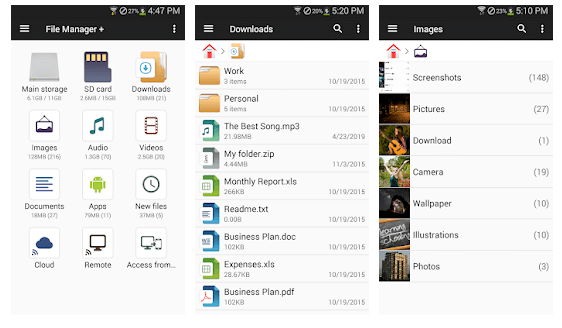 File Manager + is undoubtedly one of the best file explorer apps for Android devices. This lightweight application comes with a fairly intuitive, clutter-free interface which makes it extremely fast and easy-to-use. The best thing that makes it a stand out is that it supports both media and major file formats including apk. Let's take a look at some of its prominent features:
Key features:
Simple, fast, and completely free file managing app
Organizes files on both internal and external storage devices
Automatically sorts all available files and folders on the basis of file type
Manage storage apps by clearing out useless files
Built-in features such as text editor, music player, and image viewer.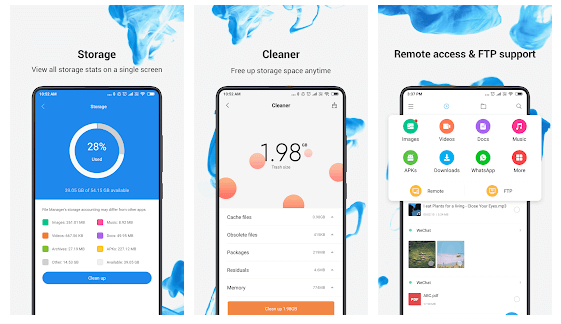 Developed Xiaomi Inc., Mi File Manager is one of the best free file manager for Android devices. It comes with a plethora of powerful file management tools such as quick search, unzipping, sharing, moving, and deleting files, renaming, copy-paste, and lots more. Apart from that, it also supports a wide array of file formats including zip-files.
The presence of these flexible features makes it easy for users to manage phone's storage space and organize and share files offline with others.
Key features:
It lets users to check recently accessed files
All files are organized in folders and subfolders on the basis of their format
Allows users to quickly allocate and manage storage memory
Supports more than 10 languages including Chinese and Portuguese
Read More: 13 Best Utility Apps For Your Android Smartphones in 2020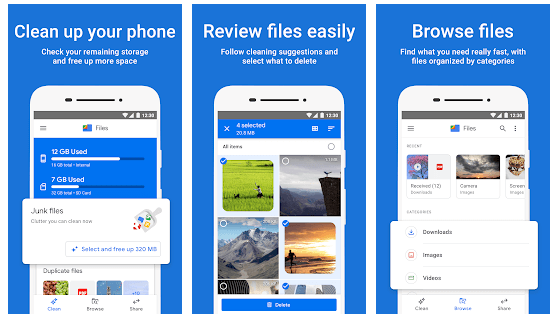 As the name suggests, it's a Google's file manager app that only aims to let you browse and organize your files on your device but also helps you free up unnecessarily occupied phone's storage space by moving them to an SD card.
Along with the basic file management options like move, cut, copy, paste and share, it also helps users quickly find and remove duplicate photos, erase old data from unused apps, and clear out junk items present on your device.
Key features:
Fast, powerful, and easy-to-manage file explorer app
Frees up a significant amount of phone's storage space
Share files or even entire folders with others without the need of internet
Advanced WPA2 encryption algorithm to keep file sharing safe and secure
Users can back up their important files to any cloud storage app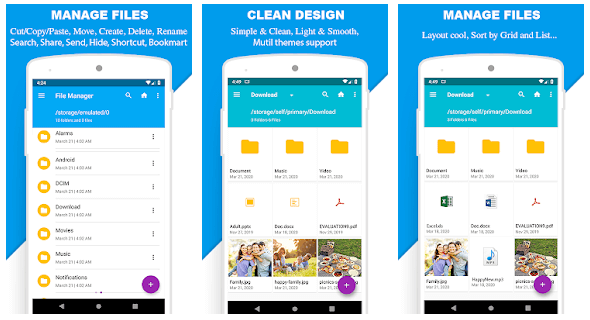 File Manager from Mobile Clean System Lab, currently ranks among the best Android file manager apps due to its simple, fast, and user-friendly interface. It also comes with a dedicated application manager that allows you to create app shortcuts, backup, uninstall, and categorize the apps.
The File Manager app also incorporates three icon sets for over 80 file formats, menu items and toolbar. Now, let's take a quick glance at some of its other remarkable tools:
Key features:
Effective options like quick search, rename, move, cut, copy, paste, share to manage files and folders
Users can compress and decompress files with ease
Supports different types of resolutions
It allows users to display files and folders in list and grid view
Includes Navigation drawer to provide quick access
Multilingual support
File Commander brings all the powerful features and latest functionalities at one place to organize your files, making it the 'best file manager app for the Android platform' of all time. File Converter, Recycle Bin, Storage Analyzer, and Vault security are some of its notable features.
Unlike other Android file managers, File Commander provides users 5 GB of cloud storage space for free on MobiSystems Drive to help them organize their large files and folders in the best possible manner.
Key features:
Simple and intuitive interface with plenty of options for quick and easy management
Highly-customizable home screen to help users get quick access to important tasks
Bookmark your favorite files and other stuff to get quick access
Provides access to hidden files stored on your device
It comprises Audio Video players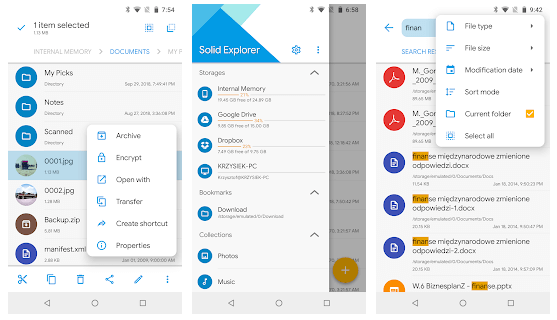 Solid Explorer developed by NeatBytes is another one of the best file explorer apps that keeps a track of all your files and folders and lets you manage them in the most efficient manner.
However, unlike other free file managers for Android, it's not a completely free tool and offers in-app purchases for additional, modern features.
Key features:
Easy to use app with sleek and modern interface
Supports various cloud storage apps such as OneDrive, Google Drive, Dropbox, Yandex, Mediafire, etc.
Find your files in a matter of seconds using Indexed search option
Plenty of customization tools such as color schemes, icons sets, and themes
Solid file encryption and fingerprint lock option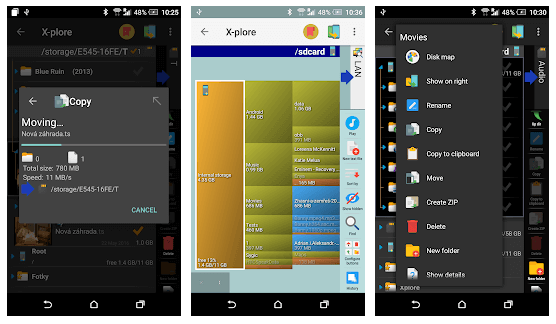 It is another one of the best Android file manager apps, trusted by a wide spectrum of users for keeping all of their files organized.
X-plore File Manager brings together the most powerful features that are incomparable to any other file explorer app available in the market.
Key features:
Application manager support
It comes with built-in viewers for text, audio, and photo
Thumbnails for videos, photos, and other file types
Support for USB OTG devices
Allows users to organize files directly from a web browser
Cloud storage options such as Amazon cloud drive, Google Drive, Flickr, Dropbox, OneDrive, etc.
Read More: 13 Best Data Monitoring Apps For Android in 2020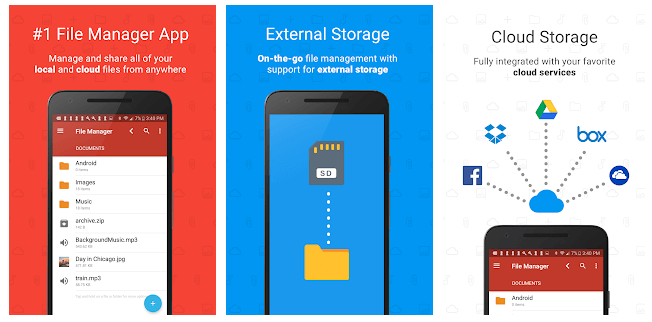 File Manager developed by Maple Media, is another excellent application that comes with a wide range of powerful file management and cloud storage options such as file transfer, file viewer, compressor, and more to help you keep all of your files organized in the shortest possible time frame.
Users can also save or release valuable phone's space by extracting compressed files in RAR, ZIP, TBZ, BIN, and APK format using the 'Storage Manager' option.
Key features:
Quickly move and copy files from one location to another
Provides easy access to all files, folders, USB Flash Drive manager, and storage backup
Comes with an 'Audio Manager' that helps keep track of mp3 or ringtone files.
Allows users to uninstall apps to manage storage space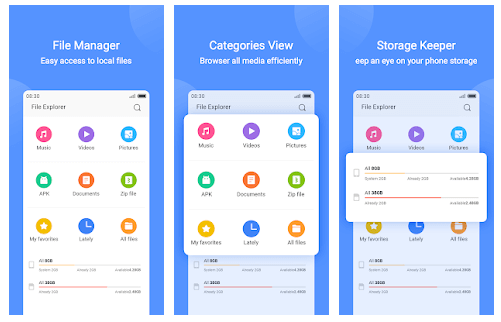 File Manager from Smart Tool Pro is a lightweight application that comes with a beautifully designed interface and plenty of easy to use, customization options to help you search, move, copy, paste, rename, unzip, save or delete files easily.
Unlike other Android file managers, this application is relatively new to the market, but it is still a pretty solid option for your device.
Key features:
Simple, safe, and easy to manage file explorer for Android
Provides easy access to all of your files and folders
Keep track of used and remaining storage space of your phone
Apk Manager to help you quickly find all apk files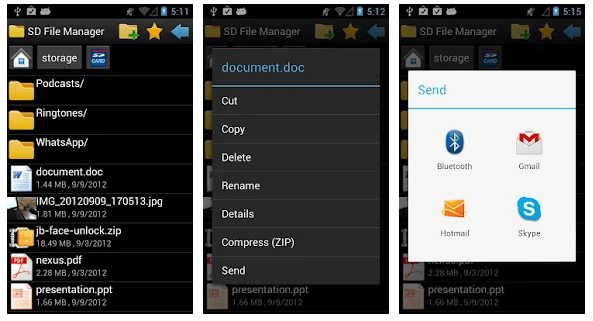 You can't talk about the best file manager apps for Android without including this globally renowned application. The SD File Manager does an excellent job helping you perform all basic functions like copy, move, delete, and rename files, create directories, send and share files, and more.
It also comes with an effective Root Explorer, making it a great choice for people who still uses Android rooted devices.
Key features:
Sort all of your device files by name/size/item type/last modified
Compress and extract files or folders into ZIP
Quickly browse and play your favorite media files with the apps of your choice
Thumbnails for image files
Multilingual support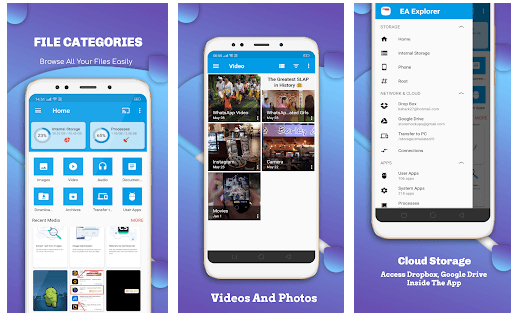 This File Explorer EX from Meditation Inc. occupies a prominent position in the list of the best free file manager for Android available in the marketplace today.
The application comes with a variety of file management features such as basic cut, copy, paste options, USB OTG and cloud storage support, file transfer, and more to help you keep all of your files and folders organized.
Key features:
Application manager to help you delete unused apps
Allows users to save files on Dropbox and Google Drive
Interesting 'Disk Map' option to help you identify which files are eating up space on your device
Displays all APK File contents in ZIP format
Multilingual support
File Explorer by Astro has been long recognized as the world's best Android file manager app, designed to clear out cache and junk files, clean up phone memory, and boost the overall smartphone performance.
So if you're looking for a powerful yet an efficient way to manage all of your files, then this File Explorer app is definitely a perfect option for you.
Key features:
Allows users to copy, move, delete, send, rename, and compress files on SD card, cloud and internal storage
Make your Android faster by saving photos to cloud storage space
Easily compress the files into ZIP and RAR formats
Sort and categorize all of your stored files and folders effectively using the file organizer option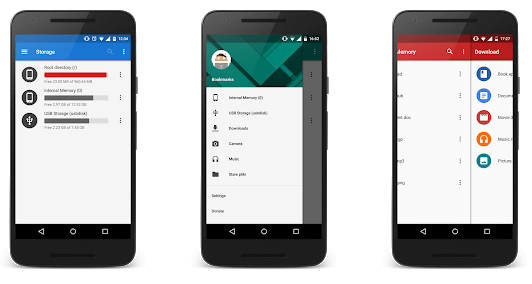 When it comes to managing storage space and keeping track of Android files, MK Explorer is indeed an ideal option for your smartphone. It includes two separate panels that allows you to view files side by side.
Apart from basic copy, move, and delete options, MK Explorer comes with a built-in music player, gallery, and text editor.
Key features:
Simple and easy to use file manager
Allows users to compress and extract ZIP and RAR file formats
Finds files faster via its quick search engine
Works seamlessly on rooted Android devices
Video, pictures, APK files thumbnails
Supports more than 20 languages
Read More: 11 Best Battery Saver Apps For Android Smartphones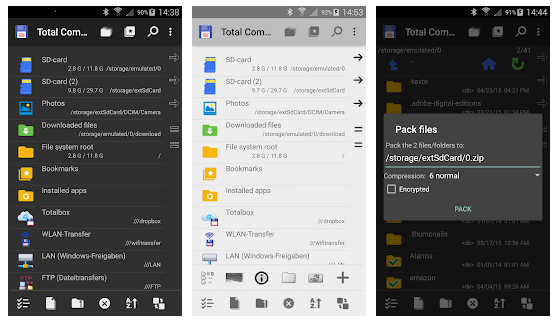 Total Commander is one of the best free file managers for Android that can help you optimize your large collection of files and folders with a few taps of your fingers.
The best part about this file manager and explorer app is that it's completely free and does not contain any kind of annoying ads. If you don't fancy the default file manager of Android, Total Commander is what you need.
Key features:
Compress and extract files (ZIP & RAR)
Drag & Drop files or entire folders
Dual-panel mode
Plugins for cloud storage apps: Dropbox, Google Drive, and Microsoft Live
Built-in music player and text editor
Bookmark option to help you quickly access your favorite files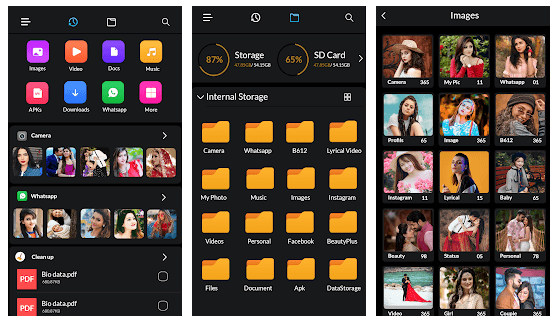 It is a simple file explorer but still has managed to make its way into the list of best file manager apps for Android. The application comes with an incredibly-designed interface and plenty of useful features that aid users manage files on Android devices effortlessly.
So, if you're looking for an alternative to default file management app, then this awesome file explorer is definitely worth a try.
Key features:
Open-source, dual-pane file manager
Multiple Android themes with exciting and unique icons
Sort all device files using excellent file organizer
It supports all kind of media files and popular file formats
So, this was all folks! These are some of the best Android file manager apps of 2020 on the basis of ease-of-use, popularity, and user ratings.
All of these aforementioned file explorers offers a wide range of flexible and powerful fie management features to help you manage device storage and keep all of your files organized.
So, download your favorite application now and get rid of the dreary default file manager of Android.
Image Credit: Google Play Store

Monil is a professional writer whose forte is absorbing a lot of data and help large technical organizations convey their message clearly across multiple products. An engineer by qualification, his affinity for design enables him to write to inspire, energize, and influence various audiences to uncover their true potential. When not writing, Monil is likely to be found listening to music, traveling, or simply excavating into his favourite cuisines.
Subscribe to Our
Newsletter

and stay informed

Keep yourself updated with the latest technology and trends with TechPout.
Related Posts