Why is My Ping So High All of Sudden? [Fixing Guide]
Published Date :
Aug 21, 2021

Struggling with high ping issues while playing games on Windows PC? Then, this troubleshooting guide will be going to help you. Here you will learn why is my ping so high and how to fix it easily & quickly.
Everybody loves to play games with their friends but a lag is enough to spoil this most happening and entertaining thing. Apart from that, you have to rely on a stable internet connection. The game lagging issue could have occurred because of the high-ping. It could have happened due to the problems related to the network latency. This issue results in freezing, lagging, and different problems with online games.
In this write-up, we are going to share how you can fix the high-ping problems while playing online games. Along with this, we also explain what ping is. So, read the entire write-up for complete information.
What is Ping?
Ping refers to the network latency between your gaming server and gaming device. Sometimes, it is also called lag. Basically, it is all about the amount of time your machine requires to send and receive signals from the network servers. And, the ping is not only limited to the networks, but delay in any kind of signal referred to as Ping. The ping can be differentiated as high ping and low ping.
Now, you must be wondering what high and low ping actually mean. When fps (Frame Per Second) is approximately 20 ms or a bit more then it is low ping. And, when the fps rate is around 150 ms or a little higher then it is called high ping. Talking about normal ping, then the frame per second rate should be around in-between 75 to 100 ms.
Reasons of Why your Ping is High:
A lag in the game ideally occurs when the ping is high. There could be many reasons behind the high ping. We have mentioned the core ones below:
Due to slow internet speed.
Conflict with third-party antivirus.
Maybe, your router is placed too far from your computer.
Router type might be a culprit.
Unnecessary devices connected to single Wifi.
Faulty Windows connection settings.
Outdated or faulty graphics drivers.
Well, whatever the reason is, the best thing is the issue can be fixed. There are various workarounds available that can fix the high ping issue.
Possible Workarounds to Fix Why is My Ping So High
Below mentioned are some of the easy but effective tactics to fix why my ping is so high issues while playing online games on the computer. However, you do not need to try all of them, just work your way down until you find the most suitable solution that works for you. Now, without further ado, let's read the solutions below:
Solution 1: Use Ethernet Cable
No doubt that ethernet connection is more stable and active than WiFi. Talking about high ping issues, then using an ethernet cable can help you to fix this problem and let you play the game smoothly. So, we recommend all the professionals as well as new gamers to use Ethernet cable rather than WiFi. All you need to do is just buy an ethernet cable, plug the ethernet cable into the router and then link the cable with the LAN port on the back of your system.
Also Read: How to Fix Ethernet Port Not Working on Windows 10 – Quick Tips
---
Solution 2: Reboot your Router
It is obvious but effective to restart the router in order to improve the internet connection. So, you should see the internet speed signals on the edge of the router and if you see the signal is low then reboot it. Rebooting the router revives the internet connection and enhances the internet speed which resolves higher ping issues while playing online games. If restarting the router doesn't work in your case, don't panic, there are multiple workable solutions explained below that can help.
---
Solution 3: Check Router and System Distance
High ping issues usually happen when your system is placed far from the router. If the router is placed too far from the system, then it will surely reduce the internet speed which heads to higher ping issues. So, you should ensure that the router is placed very near to your system in order to experience a proper internet speed. Once done, then try to test internet speed, if it does not work, then apply another solution.
---
Solution 4: Close Background Programs
If none of the above solutions worked for you, then try to close all unnecessary programs that are running in the background. Unnecessary background running applications or websites use the internet and slow down the internet connection. So, to use the internet to its full potential, you should close all the unnecessary programs or websites that are running in the background. You can do so with the help of the simple methods mentioned below.
Step 1: Altogether press CTRL + SHIFT + Esc keyboard buttons.
Step 2: This will launch the Task Manager.
Step 3: Then, head over to the Processes tab.
Step 4: Now, choose the unnecessary applications you wish to close and then make a click on the End Task option to close the application.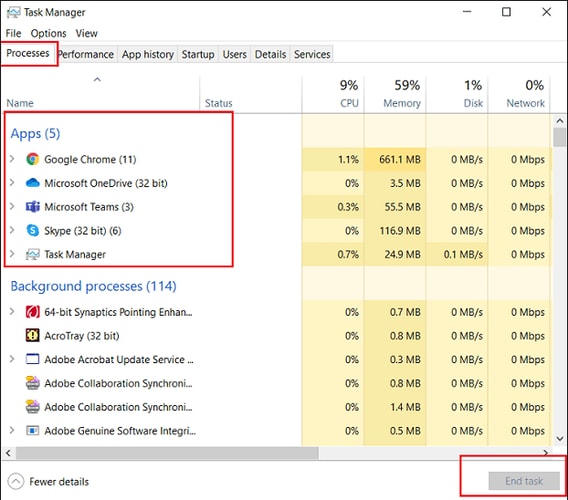 Step 5: Once completed, then reboot your computer.
Now, check to see if high ping issues are resolved. If the issue still persists, don't worry, just apply the other advanced methods mentioned below.
Also Read: Windows 10 100% Disk Usage In Task Manager [Fixed]
---
Solution 5: Update Graphics Drivers
Outdated graphics drivers are responsible for all major gaming issues like high-ping, frequent crashes, and more. Therefore, one should always keep their graphics drivers always up-to-date. The user can do so either manually or automatically. However, updating the drivers manually can be troublesome and a bit challenging, especially for the ones who have no technical expertise. Therefore, a lot of users seek help from the best driver updater tool like Bit Driver Updater to automatically update the outdated drivers.
Bit Driver Updater is a globally recognized software that can replace all broken, missing, or outdated drivers with the latest ones within a click of the mouse. Not only that, but with this driver updater, you can resolve numerous Windows-related issues like BSOD, frequent system failures, security patches, and whatnot.
The software is equipped with a built-in system optimizer tool that can clear all the junk from your system and revive the overall performance of your PC. Now, here are the steps one need to follow in order to update graphics drivers via Bit Driver Updater:
Step 1: First of all, download the Bit Driver Updater on your PC. To do so for Free, make a click on the button below.

Step 2: After this, double click the downloaded file and follow the on-screen instructions to get the software installed on your system.
Step 3: Once done, then open Bit Driver Updater and wait until it finishes scanning for outdated or faulty drivers.
Step 4: Later, it lists all drivers which need to be updated. You need to check the list and click on the Update Now button presented next to the problematic graphics drivers.
Step 5: Alternatively, you may click on the Update All button to perform driver update for all outdated or broken drivers with just a single click of the mouse.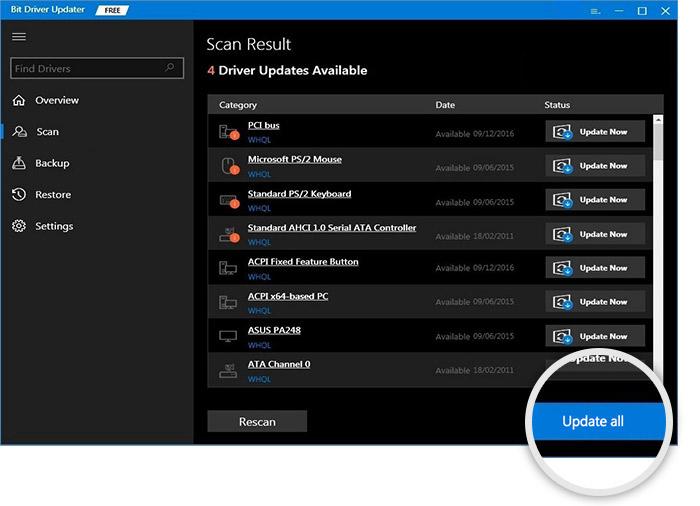 Although, do keep in mind, to unlock the one-click driver update functionality you need to rely on the pro version of Bit Driver Updater. Along with this, the pro version will let you access the advanced features of the utility that includes, scan scheduler, 24/7 technical aid, backup & restore, and automatic updates. Unlike others, this driver updater utility offers a 60-days of the complete money-back guarantee.
Important: In addition to this, you should also keep your network adapter drivers in good condition to enhance gaming experience.
---
Solution 6: Decrease Number of Devices Linked to Single WiFi
If you are thinking of why is my ping so high, then this can be one of the reasons. If there are so many devices connected to single Wifi, then, it can slow down the internet speed. So, in order to fix the high-ping problem on your Windows, PS4, and Xbox, you should remove all the extra devices tagged to Wifi.
---
Solution 7: Temporarily Disable Anti-Virus Program
Sometimes, the antivirus or firewall software installed on your PC causes high ping issues. Because these programs can block internet access to some online games, which can eventually lead to issues, high ping is one of them. So, you should check to see if your antivirus software has excluded online games. If yes, then it would be great to disable the antivirus software installed on your machine for some time.
---
Solution 8: Use Correct Router Type
Why is my ping so high all of sudden? Router Type can be the answer to this question. There are basically two types of router, i.e., Wireless router and Wired router. Wireless router renders low speed and vulnerable network facility as compared to a wired router. So, in order to fix higher ping issues, you should try to use a wired router if possible.
Also Read: How Do I Know Which Intel Graphics Driver Do I Have

---
Wrapping Up: Why is My Ping So High All of Sudden
So, the above suggested were some of the easiest and appropriate solutions to fix issues associated with why my ping is so high. These solutions help you to adjust the ping level within a few minutes. Execute the solutions until the high ping issue gets resolved.
Do tell us in the comments which solution worked for you. Also, if you have any questions or suggestions then let us know that too, through the comments.
Lastly, if you liked the troubleshooting guide then do subscribe to us for more such guides. For quicker updates, you can follow us on our Social Media handles: Facebook, Twitter, Instagram, and Pinterest.
Harshita Sharma is a technical writer with quite a distinct understanding of the tech realm. She is a tech enthusiast who believes that tech knowledge should reach one and all and tries to convert the sketchy knowledge into the simplest possible form for making people understand the tech world better. When not playing with words, she loves to travel and explore new places. And, is a coffee & cricket connoisseur.
Subscribe to Our
Newsletter

and stay informed

Keep yourself updated with the latest technology and trends with TechPout.
Related Posts