13 Best Firewall Software For Windows 10/8/7 in 2021

In this advanced era of cyber exploitation you surely can't miss on having a promising firewall software for your Windows PC. The Windows system unlike Mac is heavily prone to continuous online threats. 
Although the Windows systems come with an in-built firewall, yet when it comes to dealing with the constant online cyber attacks by viruses, Trojans, hackers, and a dozen other malware threats, the in-built Windows firewall is not sufficient to guard the system for long.
Therefore, you can't compromise on getting an external Windows firewall program to keep your system safe and sound. Making up your mind to pick the best firewall software can be a painstaking task. Hence we have thoroughly researched and come up with some truly effective firewall software in this blog for personal use. 
But let us first know what a firewall program is and how is it different from an antivirus solution?
What is Firewall?
The best firewall software can be imagined like a physical fire barrier protecting a private network from unauthorized access. 
The internet is a hub of malicious programs. As soon as a Windows machine gets connected to the internet or LAN, it immediately becomes vulnerable to millions of malicious programs and cyber exploiters lurking in the cyber space just in a matter of a few seconds or minutes.
In the cyber world, data transfers happen between the Windows PC and the servers & routers.
So, what firewall software does is- monitor the data that's being transferred to your system constantly to block data-based malware threats. When a firewall system checks a data and finds it to be in compliance with the rules of data packets, only then it approves those data packets to travel through, otherwise it rejects them.
Types of Firewall Software:
There are two types of firewall programs viz; appliance firewall and client-based firewall.
1. Appliance Firewall 
I am sure we all remember the famous scene from Mission Impossible: Ghost Protocol where IMF agent Ethan Hunt (Tom Cruise) climbs the iconic Burj Khalifa to disable the firewall security system of the hotel.
Well it's probably the most relevant reference of a hardware-based version of the firewall that most of us have ever witnessed in real life. 
So, appliance firewall is a physical version of the firewall that includes a device placed between a user's network and the internet or any other outside network. These are used primarily by bigger organizations, businesses, enterprises, government facilities, etc.
Examples include Cisco ASA, Palo Alto Networks, Cyberoam, etc.
2. Client-Based Firewall
It is the software form of firewall installed on a device for information traffic monitoring of that particular device. These are meant for home-based use at a personal level.
Examples include Comodo Firewall, GlassWire, etc.
Three methods by which firewall software works:
Packet Filtering
Proxy Service
Stateful Inspection
Difference Between Antivirus & Firewall:
| | | |
| --- | --- | --- |
| Comparison categories | Antivirus | Firewall |
| Definition | Cyber security mechanism to scan, detect, inhibit, and block malicious programs, files from the system. | Shielding software between the World Wide Web and your network. |
| Nature of action | Providing security and treating an infected system. | Inhibition |
| Implementation | Only in the form of software. | Available as hardware and software. |
| Performing operations | Scans corrupt files and programs. | Monitoring data and filtering. |
| Concerns | Effective against internal and external threats. | Effective against external threats. |
| Counterattacks | Counter attacks are not possible once the malware is removed. | IP spoofing and routing attacks. |
| Basis of attack inspection | Malicious software existing in the system. | Incoming data packets. |
| Level of operation | Removal of corrupt files and programs at the system level. | Protection at network protocol level. |
13 Best Firewall Software For Windows PC:
Now let us understand how each of the below-mentioned client-based firewall software for Windows function and what are their distinctive attributes.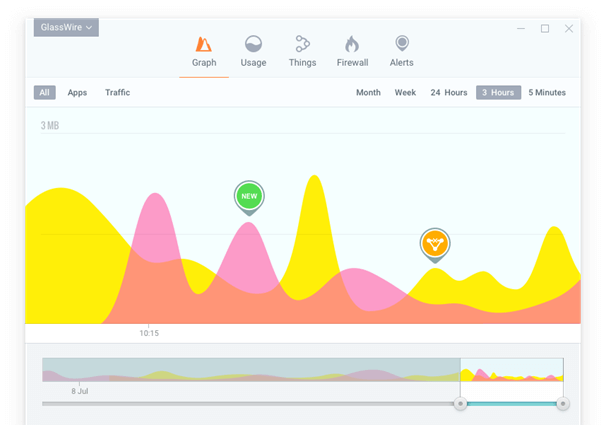 GlassWire is the best firewall software that has several features to give it a unique shape. How much bandwidth is being used every minute is clearly visible with this free firewall app.
Visual network monitoring feature monitors your network like no other. You can always check upon the apps when they accessed your internet, so that you can keep an eye on it.
Key Features include:
You can monitor the network activity of a local computer in the same way you monitor the network of your system.
You can always know which host is communicating with your apps.
Basically, you can always know if anyone is trying to hack your system.
When new Wi-Fi appears with the same name near your network you would be alerted immediately with the discreet alert and WiFi-evil twin detection feature.
Other features include lock down mode, mini graph, etc.
Read More: 12 Best Disk Space Analyzer Software for Windows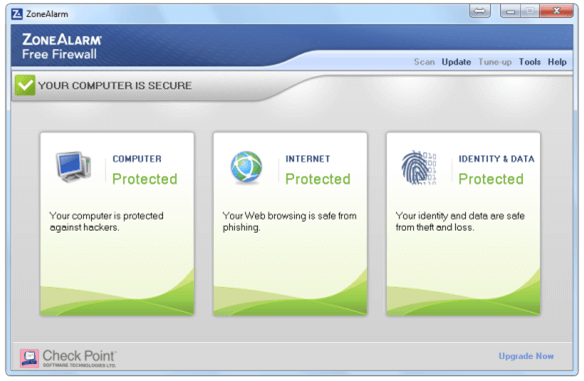 ZoneAlarm is an absolutely free firewall software and is essential for safeguarding the identity of your personal computer and even your own identity.
Malware, spyware, protection from viruses and other threats are to be dealt smartly in today's age when things are more complicated than one can imagine. This tool is capable of protecting you from every sort of virus, spyware, Trojan horses, worms, robotic invasions and also other malicious threats. Internet attacks could be frequent and often might serve your purpose of risk free browsing through smart features.
Key Features include:
Identity theft is a major issue in today's world. You can call upon a 'credit education specialist' and validate your identity as per your requirement.
It blocks suspicious documents from downloading.
It alerts you of those websites that seem to be potentially harmful.
Firewalls, antivirus and anti-spyware features can be personalized as per your needs.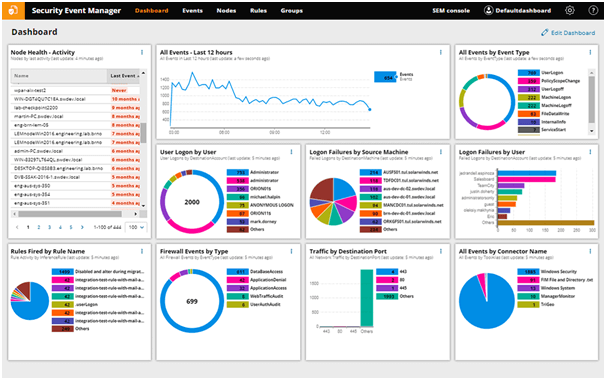 With SolarWinds you can continuously monitor the system to keep a track of your firewall activities. Intrusion activities like port scans can be prevented using this app. This best free Windows firewall software is laden with plenty of useful features like real-time event-correlation feature to track and trace suspicious activities and much more.
Key Features include:
Detects security violations by using policy checks.
If there is a security violation, it ensures  a check run on the system for the same. 
Security filters for the customized firewall can help monitor devices, protecting them from the malicious software that has eyes on your device.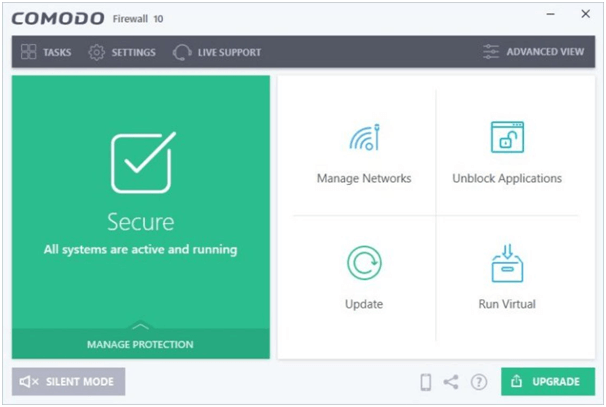 Comodo Firewall is a good replacement of the Windows in-built firewall system and has a very modern interface and is quite navigation friendly. This is not just an effective firewall software for Windows 10 but much more than that because it includes a host of features like a virtual kiosk, custom DNS servers, ad blocker, and so on.
Key Features include:
Hassle-free online experience.
Traffic management.
Monitors input and output connection.
Blocks malicious traffic on the internet.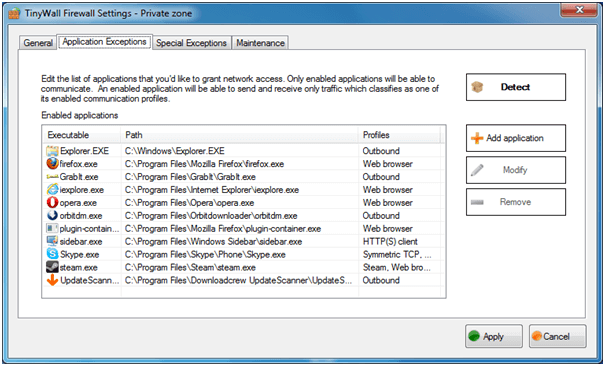 Well, here is the best firewall software recommended for Windows 10 users. This will protect your device from the different types of threats available online. It helps block your ports from hackers by putting them on the stealth mode and prevents the infectious agents from transferring your data through the internet.
It also offers Wi-Fi protection, providing you alerts in real-time if the tool senses something has gone wrong in the system. LAN is completely under the control of TinyWall and your files are completely protected all the time by this tool.
Read More: 11 Best Overclocking Software For Windows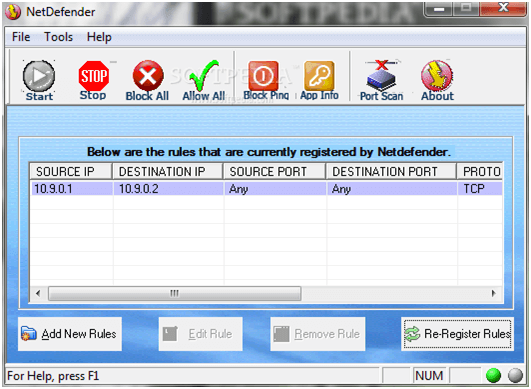 Net Defender is another free firewall program that has again a huge number of features that make the software user friendly. The settings options are simple to use and the tool is perfect for newcomers into this cyber world. 
Pop ups are annoying and they can be rendered non- functional with the use of this app. It blocks FTP connections and port scanners. It can prevent spoofing by ARP and other methods of manipulation used for connecting devices.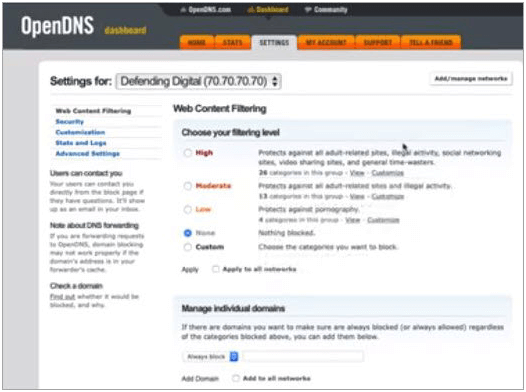 Open DNS is a strong and free Windows 10 firewall. There are quite a lot of features that make Open DNS distinctive from the others. The interface is extremely simple and straightforward. 
Content that cannot be trusted is usually blocked and the controlling options over the internet are really good. It also has a flexible method to change the way your internet router would act. It is not at all an intrusive firewall security system and has a huge lot of filtration options.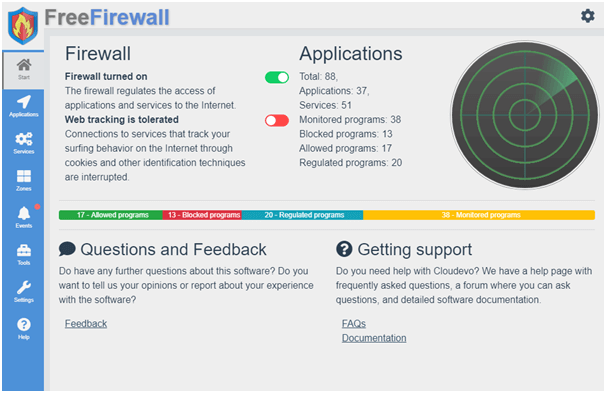 Evorim firewall is a complete package with professional features. This free firewall software is enabled to detect viruses and malware apart from its usual functions. 
Besides regulating internet traffic, notifications will alert you against any non-regulated program trying to access your internet. The UI is touch sensitive.
This Windows 10 firewall software has several modes like the paranoid mode that prevents any software from accessing your network without your consent and cooperative mode to make this firewall work in cooperation with other firewalls.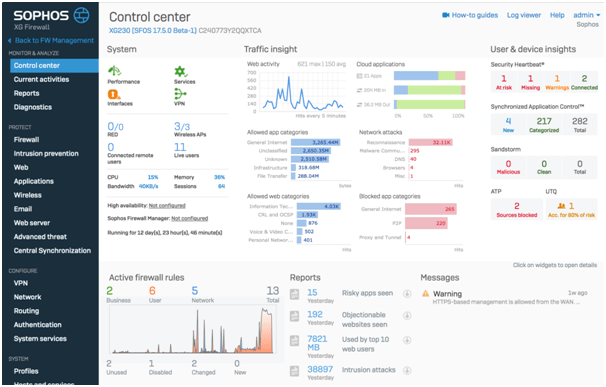 A free firewall software equipped with Sophos UTM firewall for home users, this app has its own OS and therefore, needs a spare PC for installation.
This firewall software includes splendid features like web filters, mail spam filters, and a VPN (Virtual Private Network) provider. This tool is not only capable of increasing the internet bandwidth but also features dual scanning engines to stop virus downloads, unauthorized file downloads, email attachments, etc.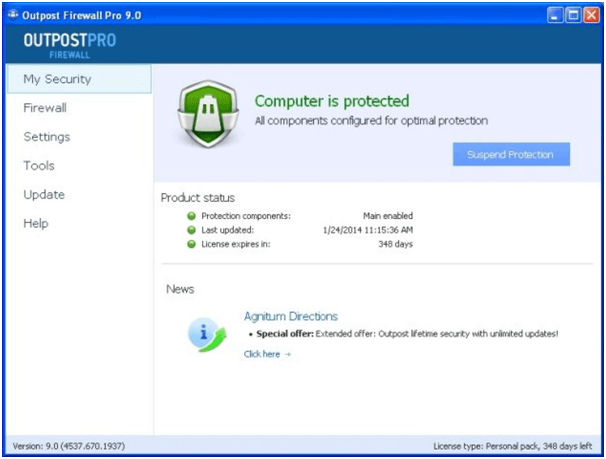 Our next pick in the category of best Windows firewall software is Outpost Firewall Pro because it is capable of adding multiple layers of security to the system without degrading its performance.
It offers a bunch of smart features like system & app guard, file/folder lockers, program activity tracker, etc.
With an intuitive interface, this best free Windows firewall software enables its users to customize and add up to four security layers.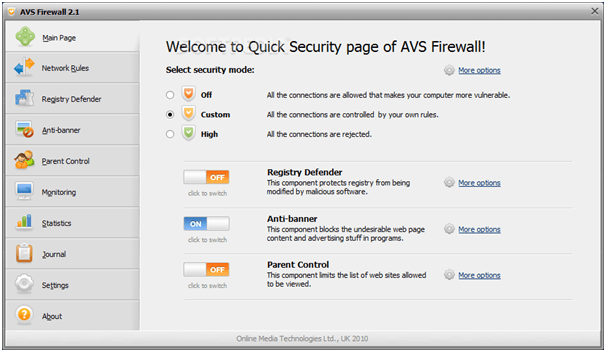 The next best free Windows firewall software that's worthy of being included in our blog is AVS firewall. It offers easy-to-use features and ability to offer protection against registry changes, flash banners, pop-up windows, and malvertisements.
Being a feathery light firewall software, it offers parental control alongside a list of malicious IP addresses to block them effectively.
Read More: 6 Best Ways to Hide Your IP Address For Free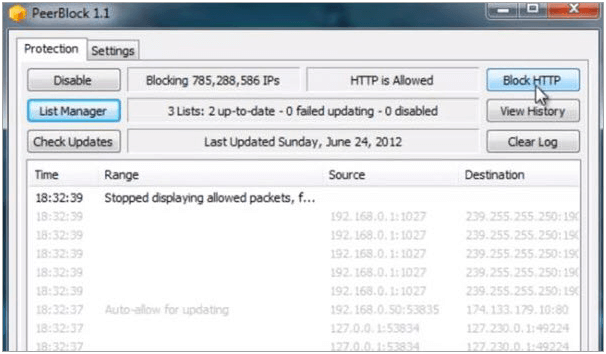 Do you want the highest level of security against inbound and outbound threats? Then, try PeerBlock as it is not only a free firewall software to safeguard users against harmful internet traffic but is also capable of blocking spywares, adware, etc.
You can customize the blocklist as well as clear history, user logs, and other notifications for smooth operation of the system. It's ideal for people who share a lot of files and data regularly.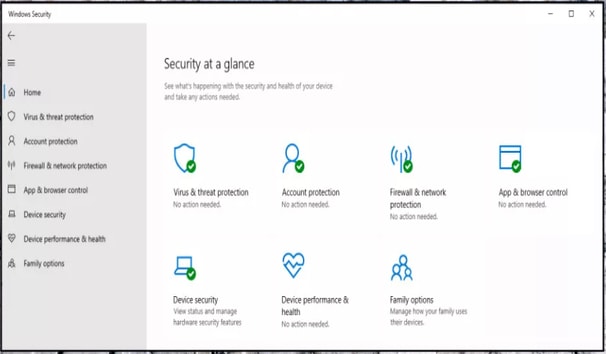 Having the Windows OS means having the inbuilt firewall which you have not noticed. The Windows Defender is not just built in but it also is active and defending your PC, unless you have not turned it off. 
Windows Defender works irrespective of having any other firewall in the PC. Microsoft also recommends to keep it on.  
Windows Defender was first introduced in 2006 which is now renamed as Microsoft Defender. Windows Vistas and later versions are compatible for the Windows Defender and can find it in the security section. 
It offers on-demand and real time malware protection. Other than that the defender provides low level exploit protection which makes it hard for malware to attack. The best part about the Windows defender is that every Windows user can use it and being free doesn't drop the performance stats, the detection rates are very impressive compared to some of the commercial antivirus. The accessibility and protection makes the Windows Defender one of the best firewall softwares for Windows. 
The only problem which the user faces is that the Defender is not very configurable and the URL filtering only works with the Microsoft Edge and Internet Explorer.
Wrapping Up
With 65% identity theft incidences and 17% of account accesses reported in the first half of 2018 alone, enterprises and individuals are not at all safe today from the multiple and dangerous variants of cyber threats.
How do you think you can be safe in the cyber world without the first line of defense and that's a firewall? 
"An ounce of prevention is worth a pound of cure." 
Therefore, even before you decide to get a VPN, antivirus solution and implementing the best practices of cyber security, it's important to get yourself a suitable Windows firewall software.
Hopefully, our article on the best firewall software enhanced your perspective about firewall programs, so that you can take a pick and gain a smart defense system for your Windows PC.
Snigdha is a technical content writer with expertise in the field of science & technology. Though she has a very diverse academic and professional profile yet she finds writing to be a creative form that she was unable to explore so far. When not writing, she can be found indulging in other forms of creativity like painting or travelling.
Subscribe to Our
Newsletter

and stay informed

Keep yourself updated with the latest technology and trends with TechPout.
Related Posts