Best Way to Copy DVDs to Hard Drive on Windows and Mac
Published Date :
May 08, 2023

The reasons why people want to copy DVDs to hard drive are varied. One of the primary reasons is preservation. DVDs can get scratched, lost, or damaged over time, and copying them to a hard drive ensures that the content is always accessible. Additionally, copying DVDs to hard drive increases convenience. Rather than having to locate and insert a physical DVD, the content is easily accessible from the hard drive. Finally, storing content on a hard drive increases portability. With content stored on a hard drive, it can be easily shared with others or transported.
If you have a homemade DVD, copying it to your computer's hard drive is a straightforward process. First, insert the DVD into your computer's DVD drive, then open File Explorer and select the DVD drive. From there, you can copy the files you want to save either by dragging and dropping them onto your hard drive or using the copy and paste function.
However, if you want to copy a commercial DVD, this method will not work, as these types of DVDs are usually copy-protected. In this case, you will need to use third-party DVD ripper software that can bypass the DVD copy protections. This kind of software offers several benefits, such as giving you more output formats to choose from, allowing you to edit the video, and adjusting the quality of the final output. A great option that can handle all of these tasks is WinX DVD Ripper Platinum. And it's really easy to rip a DVD to hard drive with WinX DVD Ripper. If you're also interested in copying a DVD to a blank DVD, WinX DVD Copy Pro – an easy-to-use and fast DVD copier from the same company is worth considering.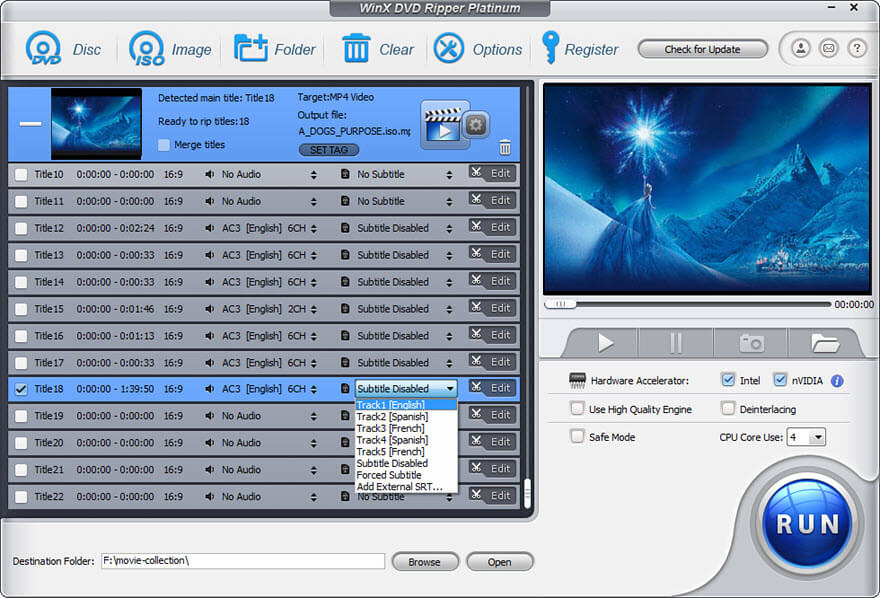 Why WinX DVD Ripper Platinum is the Best Choice for You?
There are many tools that can rip DVDs, such as HandBrake. Why we choose WinX DVD Ripper Platinum? Below are the reasons.
1. Able to go past copyright protection
Unlike some DVD rippers, such as HandBrake which cannot handle copy-protected media, WinX DVD Ripper Platinum is capable of removing copy protection from DVDs, allowing you to rip copy-protected DVDs to hard drive for personal use.
There are a variety of DVD copy protections, such as CSS, Sony ARccOS, APS, and Disney X-project. These schemes are intended to prevent unauthorized copying of DVDs, but they can also make it difficult for users to make backup copies of their own DVDs. Some DVD rippers may struggle to handle these schemes. WinX DVD Ripper Platinum, on the other hand, has a robust DVD decoding mechanism that can handle even the most challenging copy protection schemes. Additionally, the developers of WinX DVD Ripper Platinum are constantly updating the software to ensure that it can handle new protection schemes and new DVDs as they are released.
In addition, WinX DVD Ripper Platinum can bypass region code restriction. This means that no matter where your DVD is from, Europe, Asia, North America, or other regions, you can still use WinX DVD Ripper Platinum to extract the content.
It's worth noting, however, that the legality of ripping commercial DVDs to a hard drive for personal use is a somewhat contentious issue. While it is generally considered legal in many jurisdictions, there are some countries and regions where it is not allowed. To avoid any legal issues, make sure to research the laws in your area and proceed with caution when using DVD-ripping software.
Also Read: Best Free DVD Burning Software For Windows
2. Support for any type of DVD
Whether you have a movie DVD, TV series DVD, workout DVD, documentary DVD, or any other video DVD, WinX DVD Ripper Platinum can extract the content and save it to your hard drive.
Even if your DVD is damaged or scratched, you can still try ripping it with this tool.
3. 1 fast speed
WinX DVD Ripper Platinum can leverage multi-core CPU and GPU hardware acceleration to boost DVD ripping speed. It can speed up to 500 FPS. This means you can copy a DVD to your hard drive in just a few minutes. This feature is especially beneficial for those who have a large DVD collection to digitize.
4. Retain original quality
When copying a DVD to your hard drive, you want to make sure that the quality is not compromised. WinX DVD Ripper Platinum can copy the DVD to ISO image and DVD VIDEO_TS folder with no loss of quality, so you get an exact copy of the original.
Even if you choose to convert the DVD to other output formats, such as MP4, WinX DVD Ripper Platinum can still give you a high-quality output thanks to the support for High-Quality Engine.
5. 350+ output presets
WinX DVD Ripper Platinum offers a wide range of over 350 output presets for different devices, including popular smartphones and tablets like iPhone, iPad, and Android devices. Additionally, it includes presets for social media sites such as YouTube, and popular video editing software such as Final Cut Pro. This means that you do not have to spend time figuring out the best settings for your target platform, as WinX DVD Ripper Platinum has already optimized the settings for you.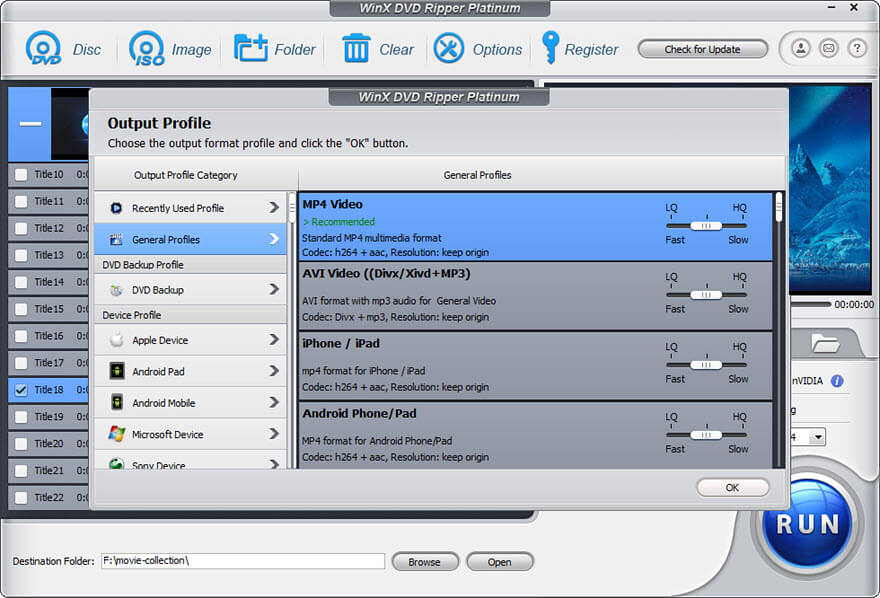 6. Allow simple video editing
WinX DVD Ripper Platinum offers simple yet useful video editing tools that allow you to customize your output. You can trim the video to remove unwanted parts, crop the video to remove black bars or adjust the aspect ratio, merge multiple videos into one, and add subtitles to your videos. These features enable you to create a more personalized output that suits your preferences.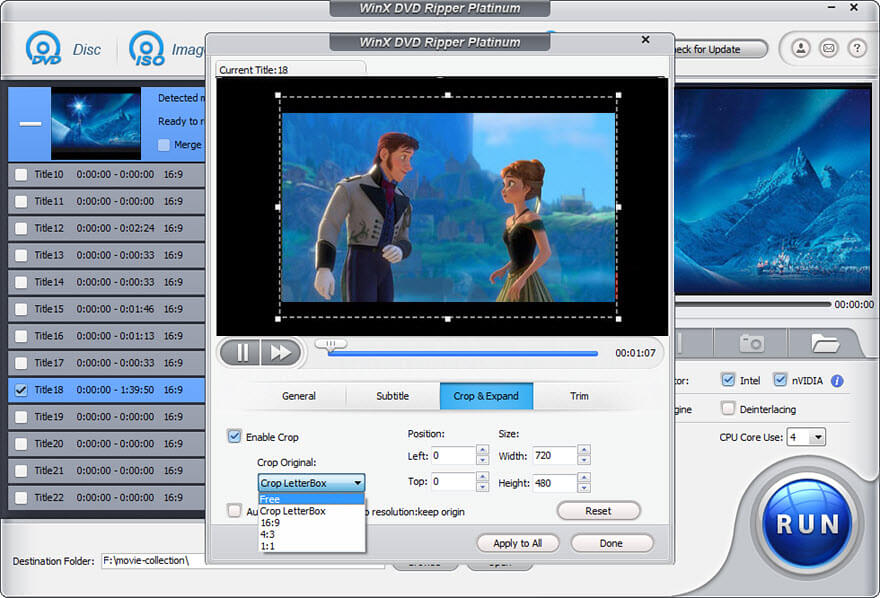 7. Offer advanced setting options
To cater to experienced users who want to have more control over their output, WinX DVD Ripper Platinum offers advanced settings options. You can adjust the resolution, frame rate, bit rate, and other parameters to achieve your desired output quality. With these settings, you can fine-tune your output to meet your specific requirements.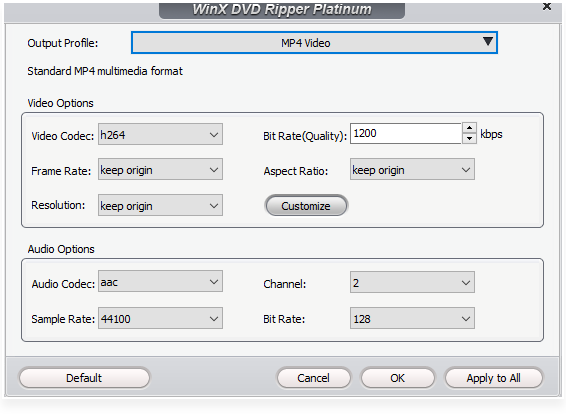 8. Easy to use
Despite its advanced features, WinX DVD Ripper Platinum is straightforward and easy to use. The intuitive interface guides you through the process of copying a DVD to your hard drive, even if you've never used DVD ripping software before.
Also Read: Best Free DVD Player Software For Windows 10, 11
---
How to Copy DVD to hard drive with WinX DVD Ripper Platinum
To copy your DVD to your hard drive using WinX DVD Ripper Platinum, follow these simple steps:
Download and install WinX DVD Ripper Platinum on your computer. It is compatible with Windows and Mac.
Insert the DVD you want to copy into your computer's DVD drive. If your computer doesn't have a DVD drive, you can use an external one.
Open WinX DVD Ripper Platinum and click the Disc button to load the DVD.
Choose an output format from the Output Profile window. WinX DVD Ripper Platinum offers a wide range of output formats to choose from, including popular video and audio formats, as well as presets for various devices.
Click the Browse button to specify a destination folder for your output. If you want to copy the DVD to an external hard drive, connect it to your computer and select it as the destination.
If you want to customize your output, you can click the Edit button to access the editing options, or click the gear icon to access the advanced settings.
When you're ready, click the RUN button to start copying the DVD to your hard drive. WinX DVD Ripper Platinum will display the progress of the copying process, and you can choose to shut down your computer when it's done.
Remy is a technical writer at TechPout. Being an IT enthusiast, he inclines to write about contemporary technology and growing security for machines. One steadfast follower of Baseball, Remy is an active social worker and a gastronome.
Subscribe to Our
Newsletter

and stay informed

Keep yourself updated with the latest technology and trends with TechPout.
Related Posts