Certainly old school but if you have ever been in need of the best DVD burning software for Windows, then you would already be aware that the Windows supports basic disc burning but a third-party tool can offer more in terms of advanced features and powerful functions.
DVD burning and DVD ripping software have certainly lost its popularity with the advent of HDDs, SSDs, and cloud storage solutions. But a good DVD burner can still offer the longest data storage ability in comparison to the magnetic storage solutions which suffer from data perishability. These can thereby serve as indispensable backup mediums to store and reuse important files and data.
DVD burning refers to the process of writing data on a CD or DVD with the help of a CD/DVD burner. But finding an effective tool can be as challenging as finding a needle in the haystack. Therefore, we have curated a list of the 12 best DVD burning software in this article.
List of Best DVD Burning Software For Windows:
With an impressive DVD burner software, you can easily burn audio, image, and video files to CDs, DVDs, and Blu-ray discs and store them securely for a long time.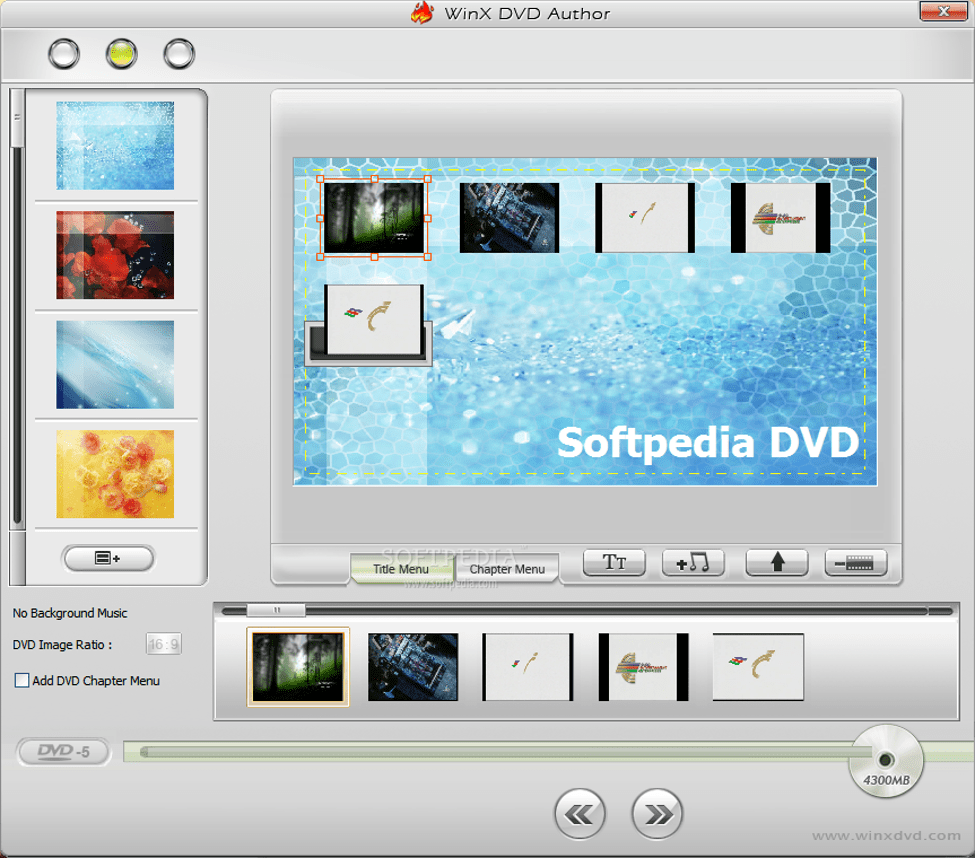 This tool can help create video DVDs and burn data files into discs. It can easily convert video files into VOB format. It also helps to collect a number of VOBs to make a complete DVD with menus.
WinX DVD Author also supports a tool to download videos from YouTube. The DVDs burned with the help of this best and free DVD burning software for Windows usually have a high output quality.
This tool also supports basic video editing activities like trimming. It is enabled with a powerful in-built video encoder. It also lets you add subtitles and can help you set the aspect ratio accordingly.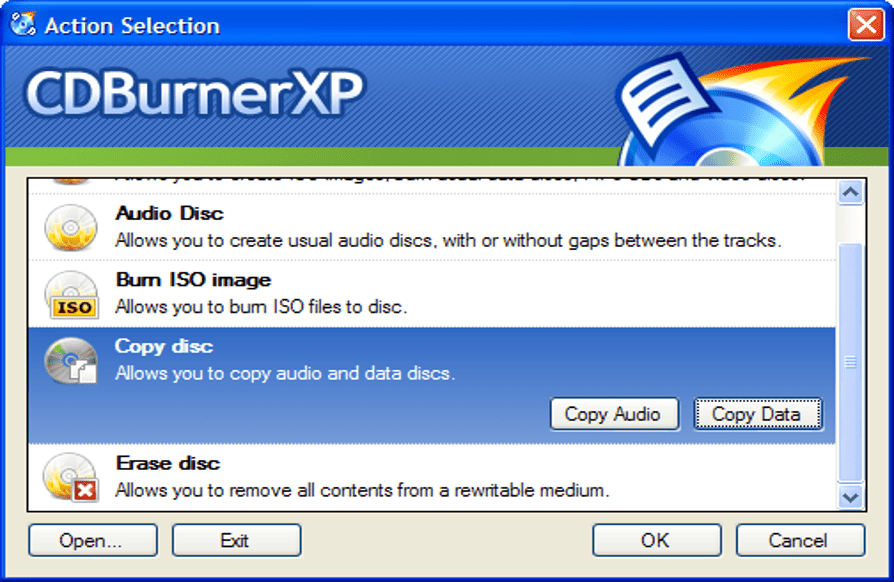 This is an excellent free application for burning CDs and DVDs. It has a simple, multi-language UI and is lightweight. The tool supports burning several types of discs such as DVDs, CDs, Blu-ray discs, and HD DVDs.
It lets you burn and create ISO files to CD. It supports rewritable discs and is capable of verifying data after completing the burning process.
The tool can also burn various types of file formats including MP3, AAC, WAV, OGG, etc.
Read Also: 11 Best Disk Defragmenter Software for Windows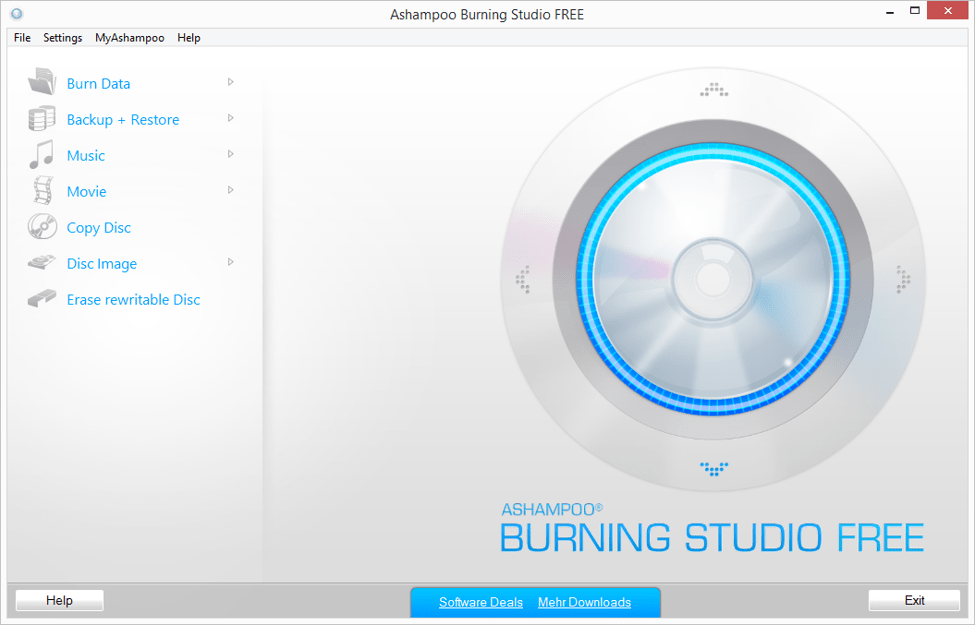 You can do plenty of tasks with this wonderful DVD burning software like you can burn and rip audio CDs, data discs, video discs, and Blu-ray discs. Apart from this it also lets you burn HD and Full HD movies (720p and 1080p) completely free of cost.
You can also store and create password-protected backups of your data on discs and external drives. The built-in compression helps to compress files.
It also comes with a scratch protection facility to create data discs which will remain readable even after sustaining scratches and tampering. To add to the usability of the application, it is enabled with an in-built video editor.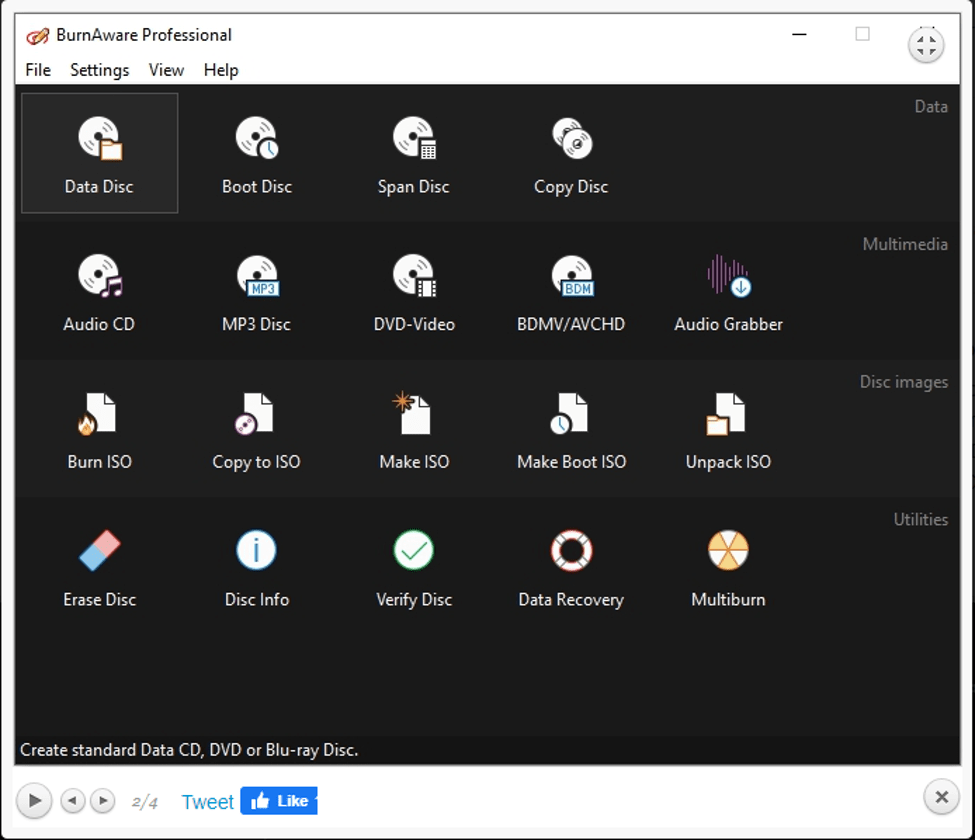 If you are looking for an impressive DVD burner program with efficient features and enhanced data editing capability, then go for BurnAware Free. 
This app can help users write all types of files such as digital photos, documents, archives, music and videos to CDs, DVDs and Blu-ray Discs. It lets you create high-quality bootable and multisession discs.
The tool can also help in extracting audio tracks, erase and verify data, copy and backup discs, and burn ISO images. It can even recover data from the multi-session or unreadable discs.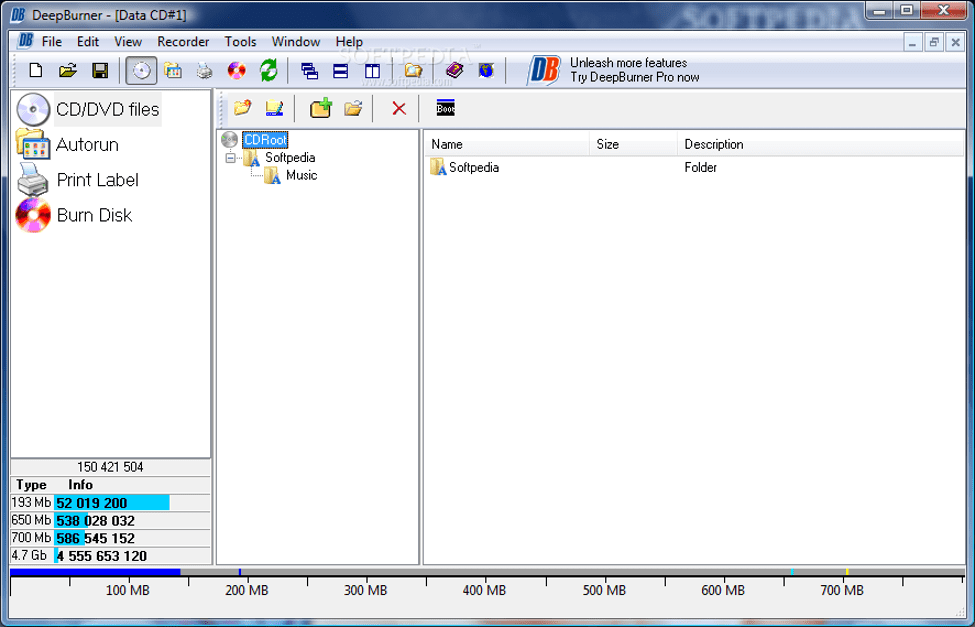 Being another free DVD burning software for Windows, this program is available as a portable app that makes it easy to be carried on USBs and used across various systems. 
It can be used to burn data CDs, audio CDs, DVDs, and bootable discs. This application can create multiple disk copies and also help to handle external as well as internal CD/DVD writers.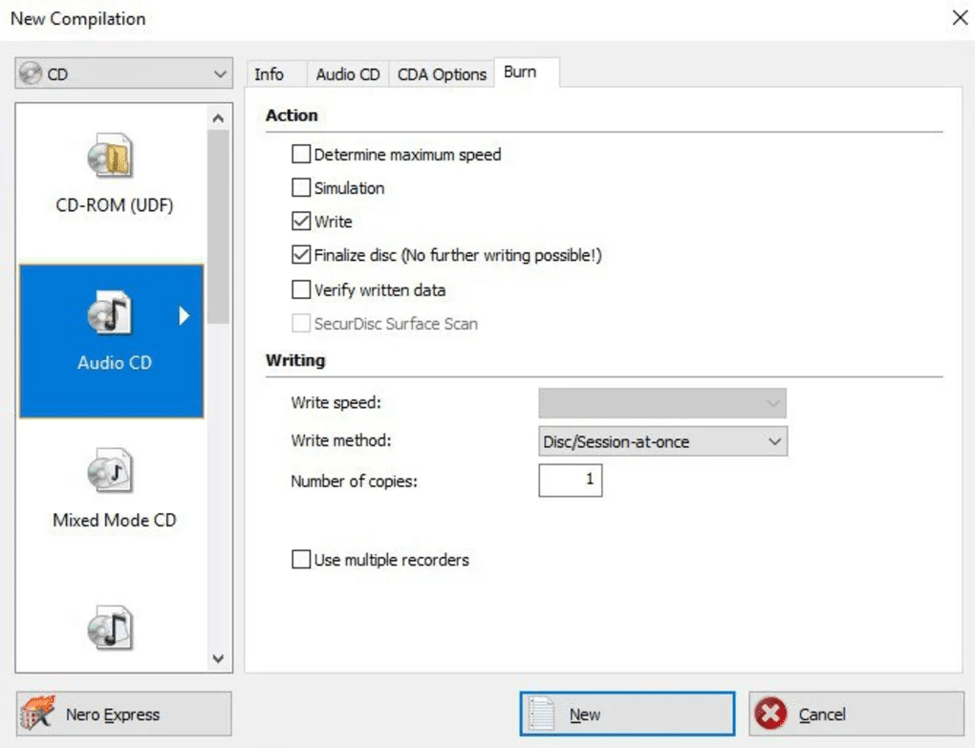 This CD and DVD burner has been in business for quite a long time and is highly suitable for professional use. This software has an intuitive interface with advanced features.
It can be used to copy CDs, DVDs, and Blu-ray discs. The burning process is very fast with this tool.
It offers the SecureDisk feature with password/digital signature protection. The DiscSpan feature allows spreading excess content into other discs. The app also offers tech support via live chat.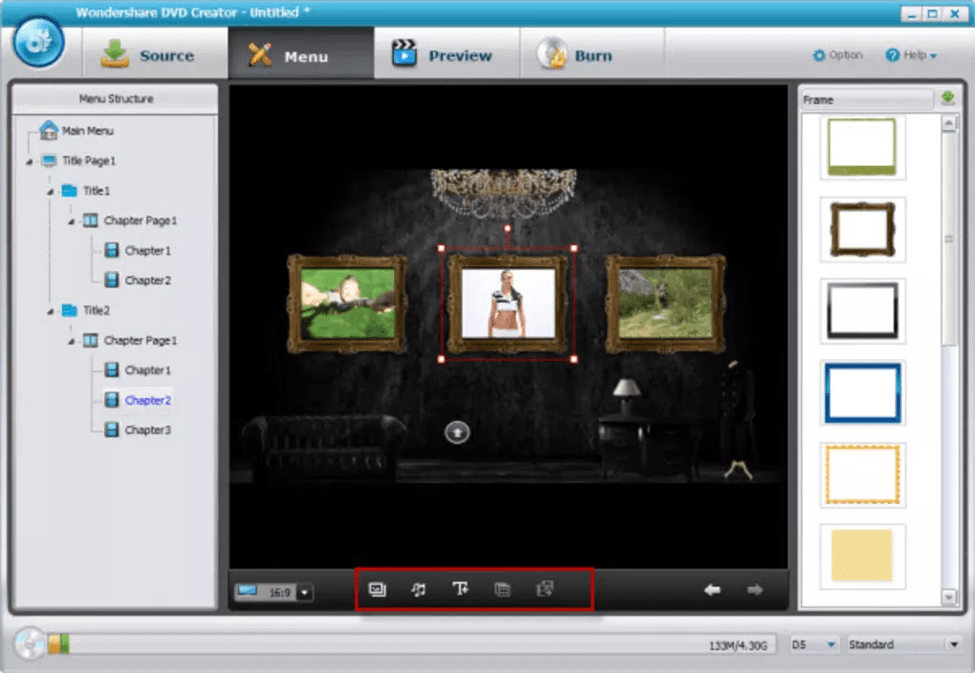 This is a complete solution for mitigating all DVD related issues and hence we have put it in our list of best DVD burner software. With an attractive UI, you can use this tool to burn videos in 150 formats to DVD/Blu-ray disc/folder/ISO, etc.
It allows you to edit DVDs with the built-in video editor like trimming, cropping, adding watermark, and also adding subtitles. It also supports burning music to CD.
You can also easily convert DVD to Video Converter and burn data disc for backup.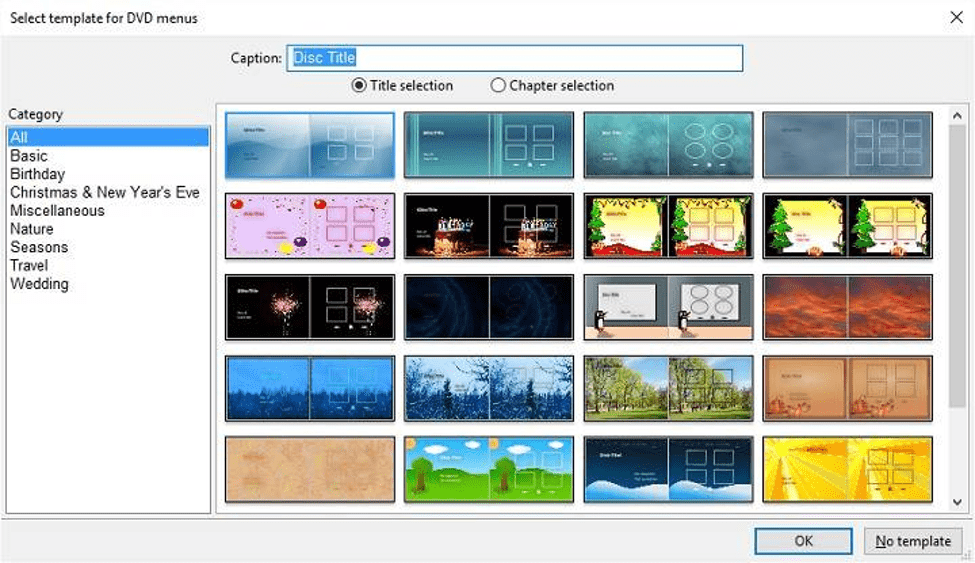 This is the best free DVD burning software for Windows as it comes with a lot of menu templates and the DVDStyler installer includes a copy of Avast Free Antivirus.
It doesn't support audio and focuses completely on the creation of video DVDs. It is also enabled with the cross-platform capability and is a Linux-based open-source freeware.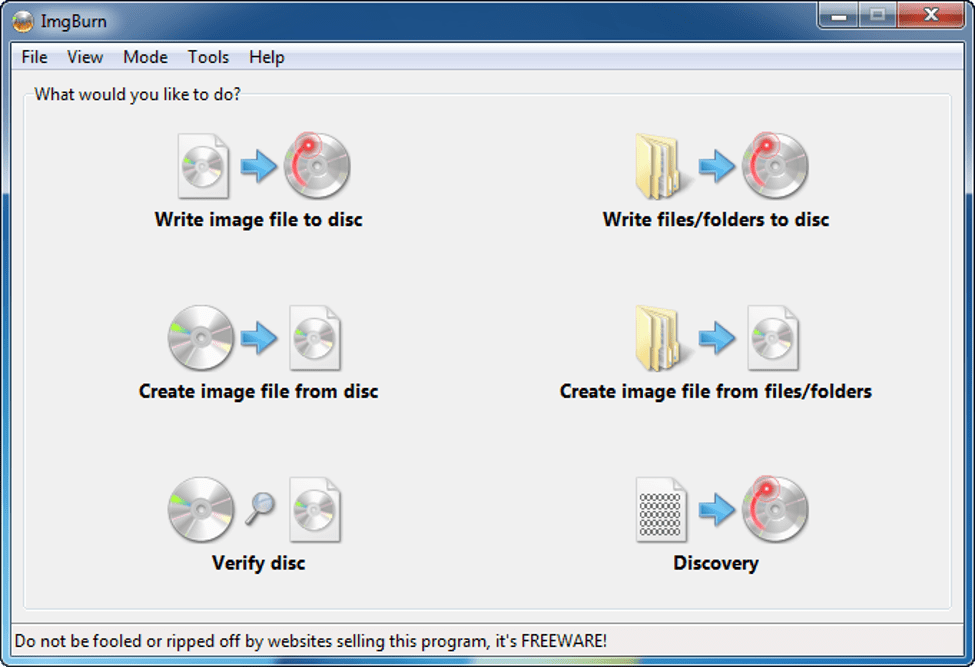 If you are still in search of a free tool for burning DVDs, then IMGBurn is worth trying as it burns data and files instantaneously. It supports all discs along with different sorts of formats.
It also supports Unicode folder/file names. The application is also capable of verifying if a disc is 100% readable and it can also be used to compare an image file to ensure if the data is correct or not.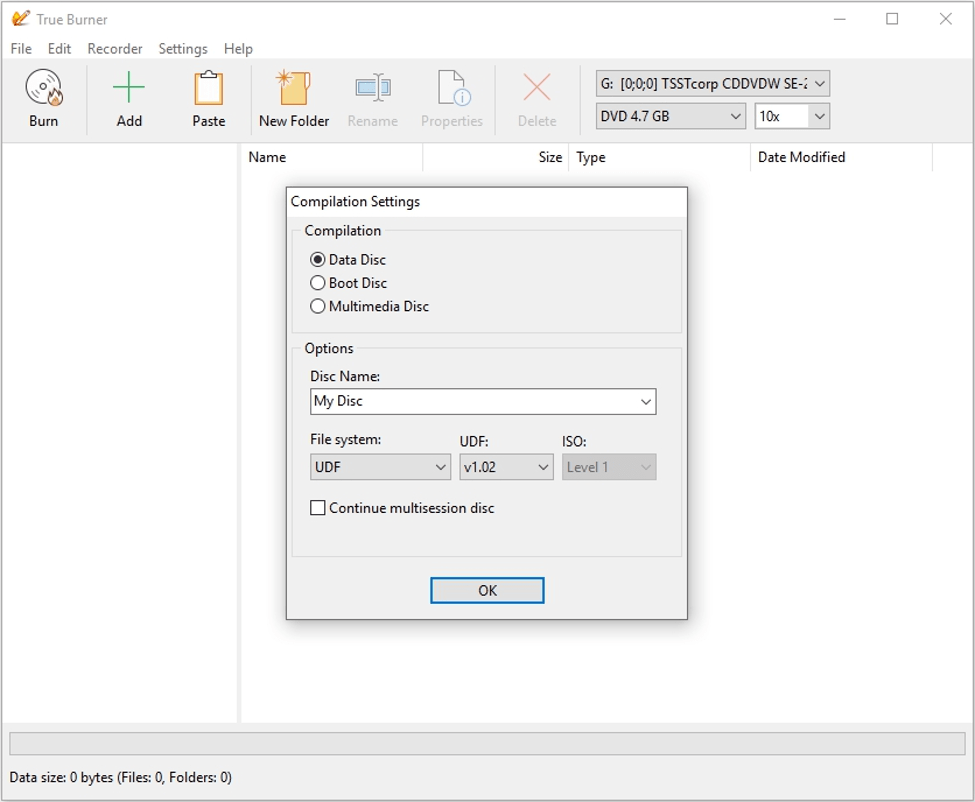 This is an easy-to-use free DVD burning software that can burn standard and multisession CD/DVD/Blu-ray discs. It also supports burning bootable CD/DVD/Blu-ray discs.
It is capable of checking written files and discs for errors and can also erase rewritable CD, DVD, and Blu-ray discs effortlessly.
Read more: 13 Best Free Media Players For Windows in 2020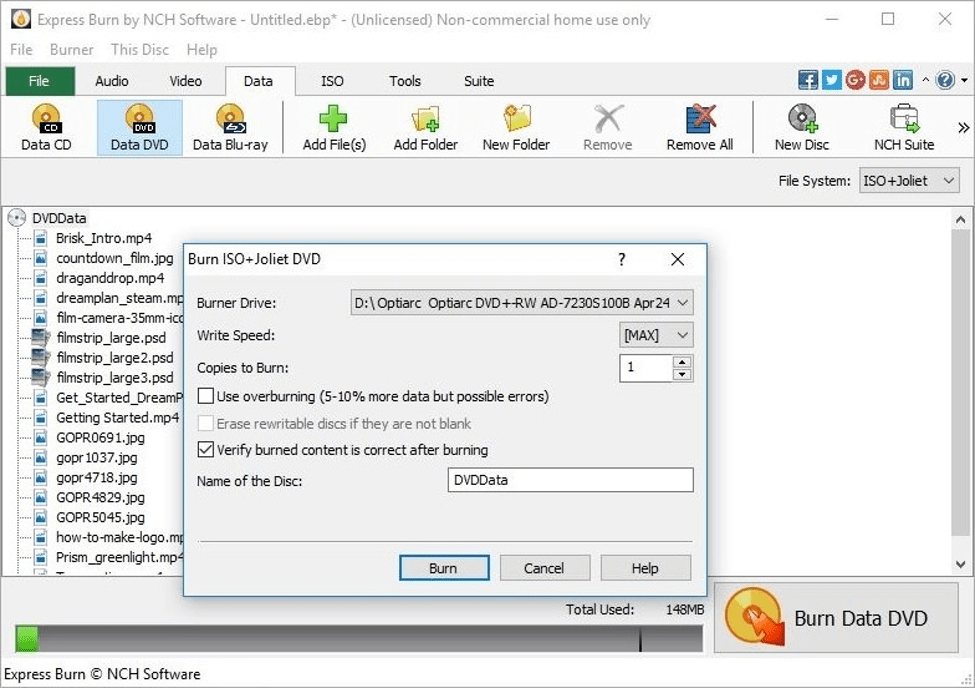 This super-fast, user-friendly DVD burning tool burns audio, video, and data files to CD, DVD, or Blu-ray.
It is enabled with a myriad of advanced features for automation and integration with other applications. It also supports dual-layer DVD/Blu-ray burning.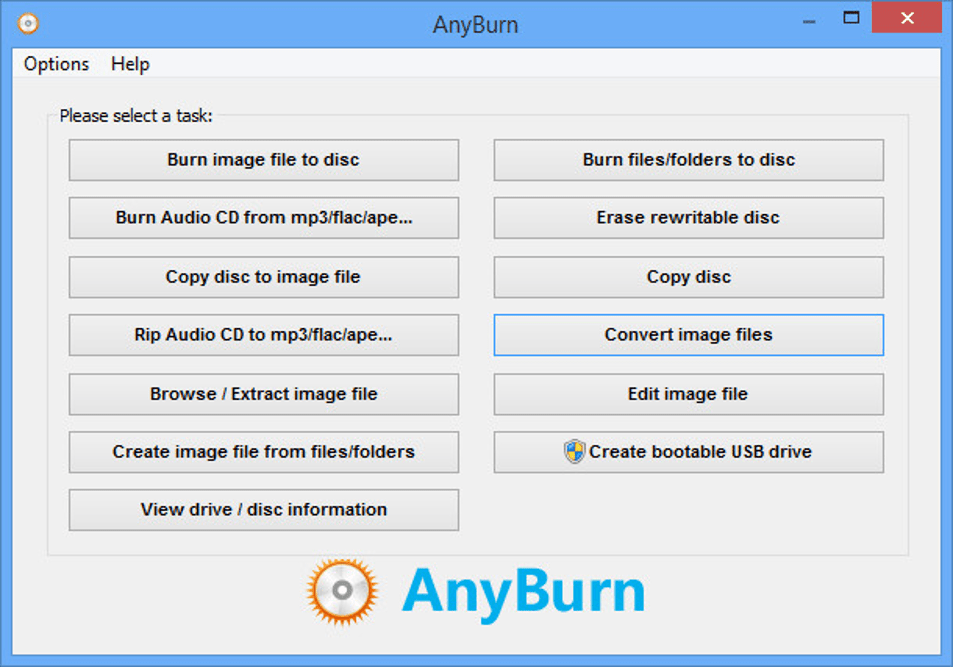 Even though this best free DVD burning software for Windows is last in our list of best DVD burning programs, it is still one of the best freeware available in the market.
With a responsive UI, this tool supports burning all kinds of disc types and all sorts of formats. This tool is light on resources, yet it doesn't deter it from supporting some professional features that are difficult to find even in some other significant freeware tools.    
Conclusion
You have hopefully found the best DVD burning software for Windows from this article that can help you perform the day-to-day tasks easily.  
In Windows 7 computers, the in-built Windows Media Centre can be used to burn files onto a DVD. 
You can also take the help of the File Explorer in Windows to burn files into discs. The File Explorer pops open as soon as the DVD is inserted into a DVD drive.
Undoubtedly, making use of the Windows File Explorer tool offers an inexpensive and simple method to burn files; however, third-party DVD burner freeware offers plenty of customized advantages in the form of a myriad of features and benefits.