The post explains 7 best free photo printing software to try in 2023. Here is everything you need to know about the tools. Continue reading for more information.
You may have put in a lot of time and effort to create a stunning picture collection, but what should you do next? How can you make a beautiful photo book or framed collection of your favorite pictures? Because of this, having the best free photo printing software is really helpful.
There are a variety of tools available in the market that provide some unique printing functionalities. These programs include picture editing software that also comes with dedicated photo printing tools, highly advanced printing utility, and web-based software from online photo printing services that lets you create products such as photo books & calendars.
A List of Top 7 Free Photo Printing Software For Windows 10/11 in 2023
Are you all set to print photographs that are crisp and clear? You may improve and embellish your pictures by printing them using one of the programs listed below. Check the functionality, editing capabilities, printing utility, and other important elements of these best free photo printing software for Windows 10, 11 to make sure that print meets your expectations. This will ensure that the print is of the highest quality. Now, without further ado, let's get started!
1. Adobe Photoshop Express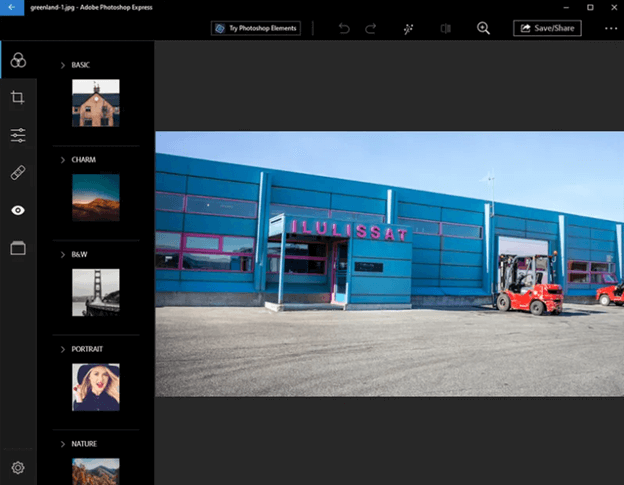 You may edit your images and print them out like a pro with this user-friendly and totally free photo printing software. Adobe Photoshop Express gives you the ability to customize and tailor your picture printing experience, along with providing you with a wide variety of editing tools and photo effects.  One other great feature of this application is that it enables you to improve photographs and make collages straight from your mobile device, Creative Cloud, Dropbox, or even Facebook.
This is an extremely convenient feature. A pop-color tool that is powered by Adobe AI is also available, and it makes suggestions and offers assistance as you work to improve the professional appearance of your photographs. Therefore, if you are an experienced photographer who is seeking software that can print great photos, Adobe Photoshop Express can be the right choice for you.
Also Read: Best Duplicate Photo Finder & Cleaner
---
2. GIMP

If we try to compare the editing features of the various best photo printing software for Windows 10/11, there is no contest between GIMP and the other programs. Printing high-quality pictures is a breeze when you use this free & open-source photo editing tool. Graphic designers, illustrators,  photographers, and other creative professionals may all benefit from its usage.
It allows for the modification and transformation of photographs in many good-quality formats. In addition to that, it provides a wide variety of color management options for making modifications to pigmentation.  One of the primary factors that make GIMP the best printing software for Windows 10/11, OS X, Linux, and a variety of other operating systems is that it is extremely compatible with various platforms and has a wide range of platform support.
---
3. HP Smart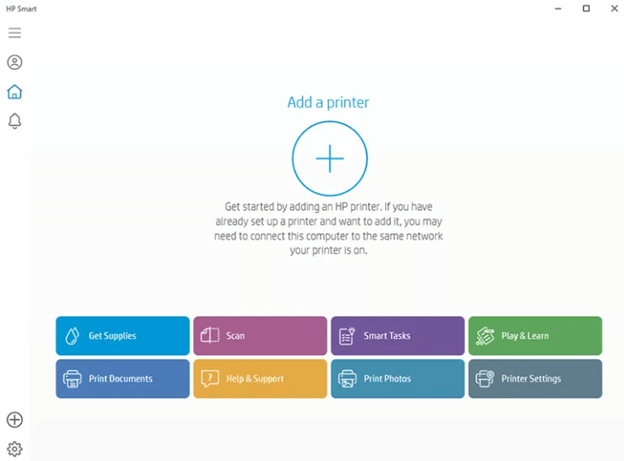 The HP Smart software is exclusive to HP printers and is widely considered to be among the industry's top free photo printing software. It is worth noting that this photo printing software is only compatible with printers made by HP. (After you have completed the initial setup for the application, you will be prompted to install the printer. In the event that your computer is unable to recognize the HP printer, you'll be unable to utilize the printing features & functions.)
The printing choices are easy-to-use and provide you the ability to print your pictures in a short amount of time. HP Smart is capable of supporting a wide variety of specified picture sizes & templates. In addition to that, it provides excellent color management & resolution choices. This is the perfect piece of software for everyone who has HP printer. This HP photo printing software is convenient and functions well with all HP printers.
Also Read: How to Fix Photos App Not Working in Windows 10, 11
---
4. Epson Print Layout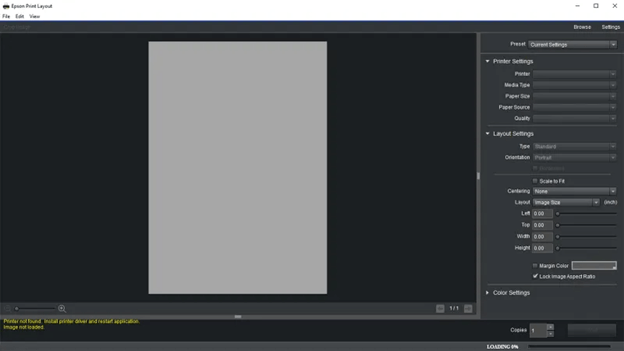 The next best free photo printing software for Windows 10, 11 is Epson Print Layout. Epson is undoubtedly one of the most well-known printer manufacturers all over the globe. It is thus not surprising to learn that the firm also provides one of the most reputable photo printing software packages. Epson Print Layout is a cutting-edge printing application that enables users to produce high-quality picture prints. It is compatible with computers running Windows, Mac OS X, & iOS, and it is quite simple to use.
Although this program operates most smoothly when used with Epson printers, additionally, this Epson photo print software is compatible with a variety of other devices. There is a thorough layout area that gives you the ability to pick from a number of different predetermined alternatives. Moreover, you have the option of customizing your own settings, and you also have the choice of saving printing presets for later use. Additionally, you have the opportunity to pick several color choices, such as sRGB and Adobe RGB.
You can download the Epson Print Layout from the link provided below:
---
5. Canva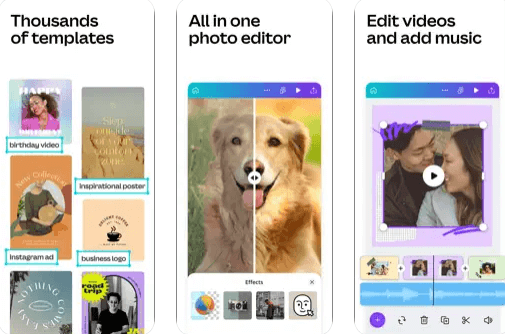 Canva is an all-inclusive platform for the creation of graphics that enables users to generate a variety of objects that can then be printed. This web-based photo printing software also allows you to make and manage conventional picture prints. You don't have to pay anything to join up for Canva or utilize its service, but the website does offer premium subscriptions for usage in commercial settings and collaboration with teams.
Canvas' printing capabilities are exceptional due to the flexibility and scope of customization they provide. It offers a vast template library with hundreds of stock pictures that you may use for canvas printing. You may also upload your own photographs and alter them with the help of a simple drag-and-drop editor. This gives you the ability to personalize your photographs and transform them into unique print designs.
Additionally, the program is simple to use. Another aspect that appeals to us is the wide selection of print services. You are able to produce a wide variety of items, from canvas prints, postcards, and picture books to business cards and photo mugs, by using Canva. In particular, the picture albums and paintings are of excellent quality and provide a fair level of personalization. For instance, you have the option of selecting mirrored sides for the canvas print, and for picture books, you may go with either a hard or a soft cover. In sum, Canva is one of the most popular and useful photo printing software that you can use to get excellent & high-quality prints.
Also Read: Best Free Photo Recovery Software to Recover Deleted Images
---
6. Shutterfly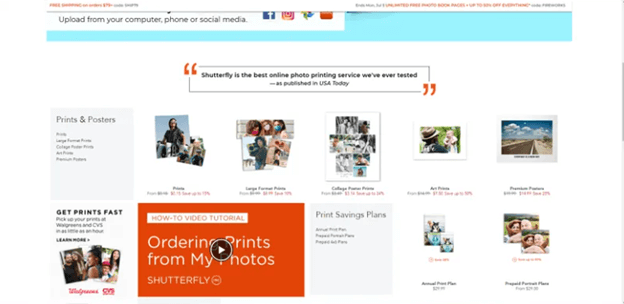 Shutterfly is an excellent web-based photo printing software. You have the ability to print your photographs in a number of different ways thanks to the multi-layered printing service of this program. It offers a wide variety of choices for even the most fundamental of picture printing needs. You may pick from a wide range of paper finishes, and the company's basic picture paper prints are available at a reasonable price. Additionally, you are able to make collages, posters, prints on canvas, and even framed prints from your photographs.
You should be aware that in order to use Shutterfly, you are required to have an account; sadly, you are unable to use it with a guest account. After creating an account, you will have unrestricted access to various print services. Through a user-friendly and straightforward online interface, you will have the ability to upload, manage, and arrange your images in preparation for printing.
In addition to the more traditional picture prints, Shutterfly provides customers with an extensive selection of other print products. If you want to print images to give as presents, we recommend using this tool since it offers one of the greatest catalogs that we have seen. You may print photographs on a variety of items, such as coasters, calendars, blankets, and stationery. In general, this web-based program is quite user-friendly, and it is excellent for printing simple photos as well as photos with creative effects.
---
7. Adobe Lightroom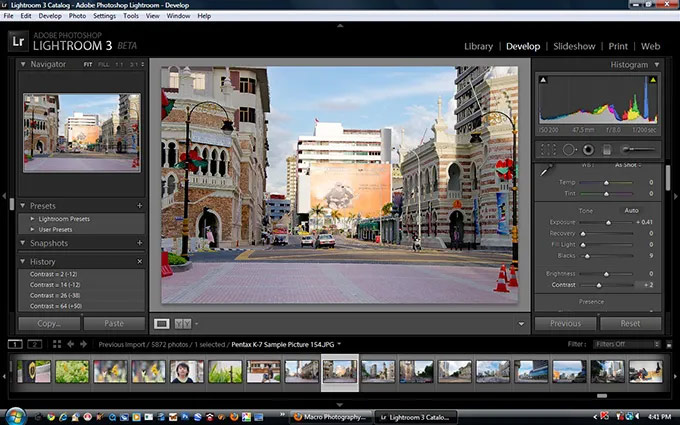 Adobe Lightroom is our last recommendation for the best photo printing software that you can try. It is quite famous among professionals and comes with sophisticated features for managing and manipulating photos. In addition to this, it may assist you in organizing your picture collection and developing new categories tailored to certain tasks. Due to the absence of any restrictions, you are free to post an unlimited number of pictures.
You may make it simple for others to locate your photographs by labeling each one with keywords or other pieces of information in Adobe Lightroom. By utilizing the extensive RAW photo editing tools, you can completely edit your stills. That means you can make your pictures pop so that they look far better when printed.
Also Read: Best Photo Organizer Software For Mac to Organize Photos
---
Best Photo Printing Software to Use in 2023: Closing Words
The above-mentioned are the 7 best free printing software for Windows 10/11 that you can consider in 2023, and these programs have the capacity to completely change your photographs, make larger-than-life images, and achieve ideal color balance all at no cost to you. The free photo editing program can give you crisp and captivating images that not only grab the attention of the viewer but also leave an indelible mark on them. This software is appropriate for use by novices as well as professionals. Therefore, give them a go, and then share your experiences with utilizing various photo printing software in the comments area down below.
If you found the information helpful, then do subscribe to our Newsletter and follow us on Social Media – Facebook, Twitter, Instagram, & Pinterest.
Niharika is a passionate soul who finds immense satisfaction in putting all her thoughts in writing. Being a technology enthusiast, she loves learning new things about tech and making everyone technologically literate through her articles. When not composing tech articles, you can find her bringing characters to life in her fictional stories, reading something intriguing, or spending time with her near and dear ones.
Subscribe to Our
Newsletter

and stay informed

Keep yourself updated with the latest technology and trends with TechPout.
Related Posts