15 Best Meal Planning Apps For Android & iOS In 2021

Meal planning apps are a blessing for working professionals who want to save some time from their daily cooking routine, eat something healthy more often, and save a few dollars as well. 
Based on your lifestyle and eating habits, you can choose a good food planner app. These apps suggest you with either a weekly or monthly plan. 
You can either plan to do it on your own or else you can leave the job for an expert. Get ready to set up a nutritious plate for yourself with our list of best meal planning apps in 2021. 
These apps offer an excellent way to plan healthy meals, lose some extra pounds, and cut down on unwanted calorie intake. Refer to our list and choose one to create and prepare a healthy meal for your family. 
List of 15 Best Meal Planning Apps For Android & iOS Devices
1. Veganized – Best Meal Planner App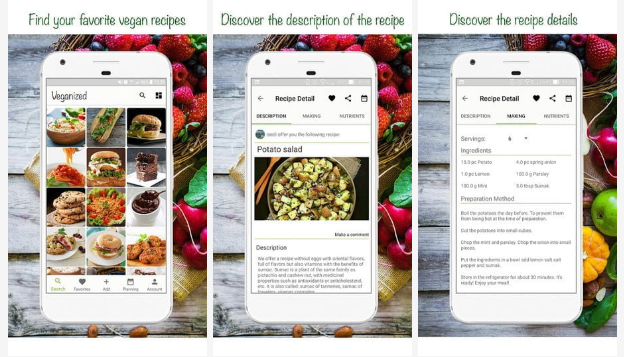 A mass population of nog-vegetarians is turning vegan nowadays. If you are new to a vegetarian diet and are struggling to find the right guide for yourself, then Veganized is the best option for you. 
This plant-based meal planner app helps to plan, shop, and prepare vegetarian meals. You can use it to make your shopping list, gather cooking items, and also track your nutrition. 
Read Also: Best Calorie Counter Apps To Lose Weight
With this recipe app, you can not only find but also share your recipes on various social media platforms. Moreover, this stunning app is known to give personalized meal plans based on age, gender, weight, and the physical routine of a person. 
Turn vegan and stay healthy with Veganized. 
Download App: Android 
---
2. MealBoard – Meal Planner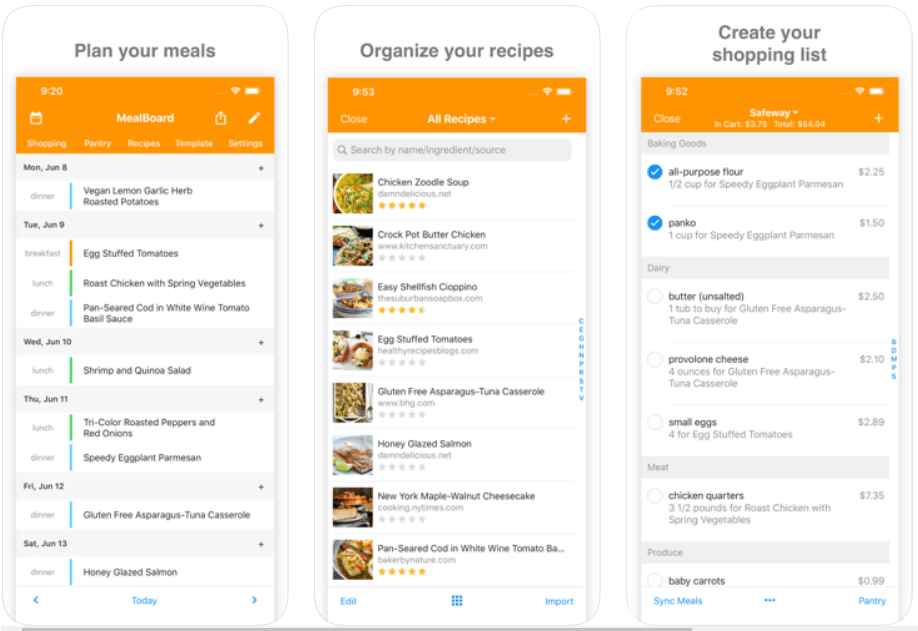 Mealboard is a must-try family meal planning app. It comes in a customizable form and provides class apart dietary solutions. From meal planning to grocery management and from pantry management to recipe management, this app works well in all situations. 
With its Digital pantry feature, you can easily track and monitor your requirements and raw material lists. It is a lifeline for busy parents who want assistance in planning their grocery shopping. Dependent on your upcoming food routine Mealboard suggest you with a list of required ingredients. 
Download App: iOS 
---
3. Allrecipes Dinner Spinner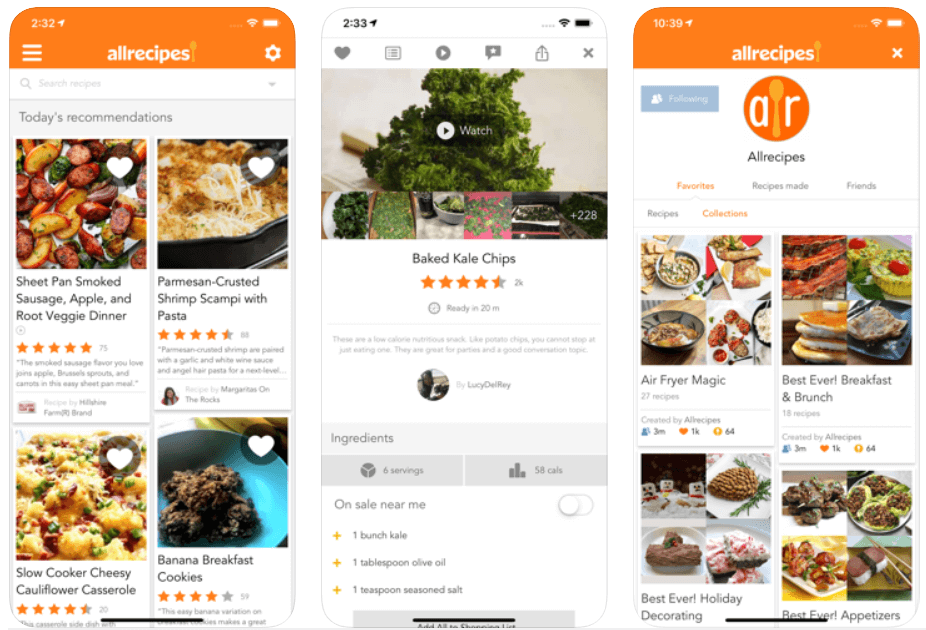 Allrecipes Dinner Spinner is the best food-centric app for struggling professionals. It is highly popular among masses and is known to bring million of home cooks on a common platform. Get personalized help to add some variety in your routine food habits. 
You can use it to tailor your search results based on your dietary needs and also use it to create, save, and share your recipes. 
Get step-by-step cooking instructions and a massive collection of various recipes with this incredible Meal Planning App. To download use the below link.
---
4. Mealime – Meal Planner, Recipes & Grocery List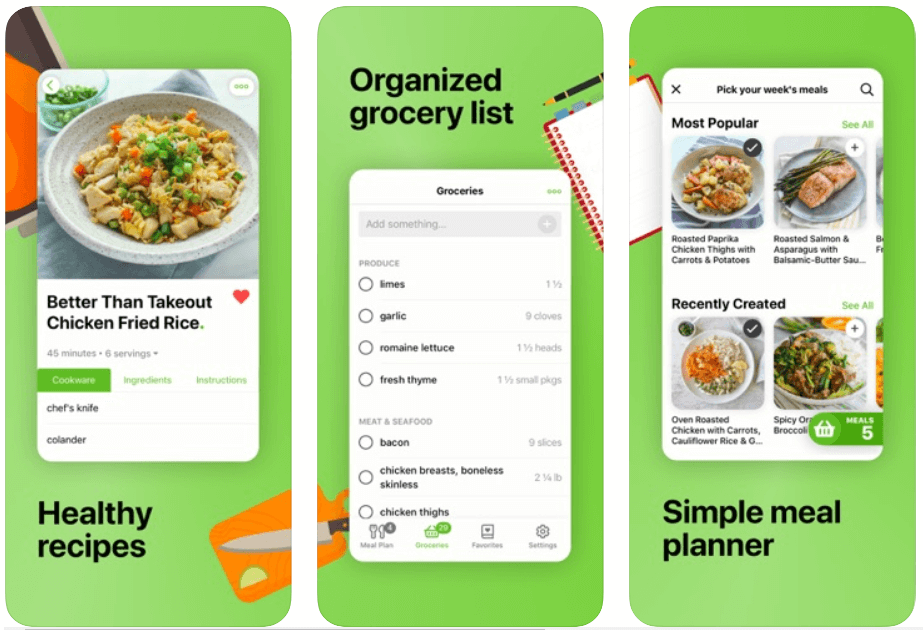 Are you looking for an easy way to manage your guest meals and daily eating routine, then Mealime can be the right choice for you. With this incredible food planner app, you can create an individual profile of your family members, add details about their eating habits, likes, dislikes, and allergies. 
Read More: Top 10 Apps To Stay Healthy and Fit
Use it to check and create a well-planned food routine for your family members keeping individual details in focus. Mealime is known to provide fast cooking recipes to suit our busy lifestyles. 
With this simple meal planner app, you can keep track of all requirements, prepare a grocery list, get new recipes, and also learn about custom serving sizes. 
---
5. Paprika Recipe Manager 3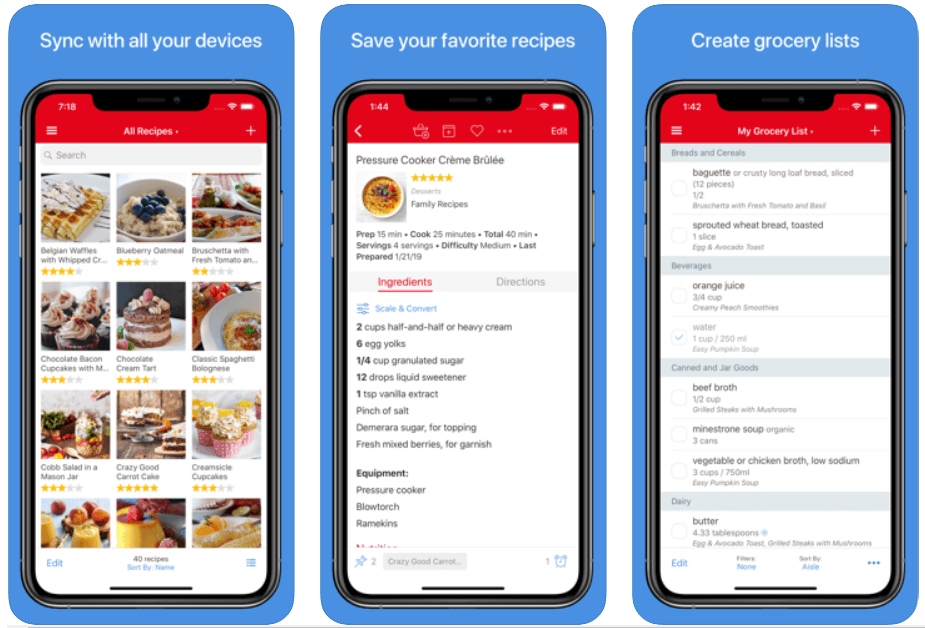 Paprika recipe manager is one of the best meal planning apps in 2019. It not only assists you in planning your daily meals but also helps in preparing grocery lists and tracking recipes. 
With this stunning app, you can easily find and save your favorite recipes and scale ingredients. It comes with a clean and convenient UI and an easy download process. 
Get it today for customized menu lists. It works seamlessly well on both android and iOS platforms can be easily synchronized with various devices. 
---
6. Food Planner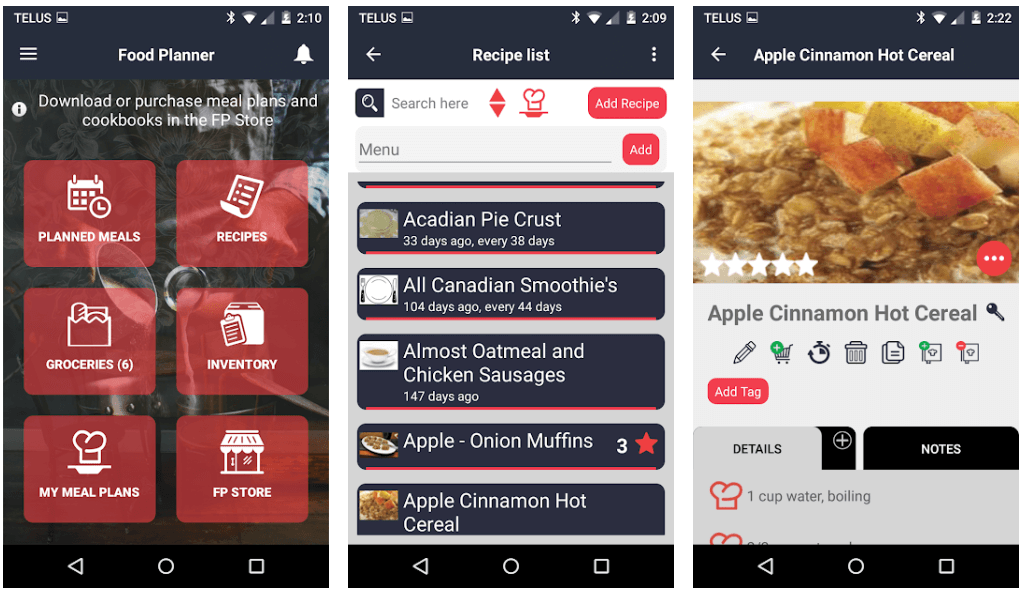 Based on thousands of recipes, a food planner is a useful app that one can consider for getting nutritional and tasty meals. Use it to search recipes suitable for you and save them on your device. 
This incredible food planning app helps you track your nutritional intake and also create a grocery shopping list. If you are genuinely a foodie, then Foodplanner is the best choice for you. 
If you wish, you can also share your recipes on it. Plan your breakfast, lunch, dinner, and party meals with it. To download it, use the below link. 
Download App: Android 
---
7. Cozi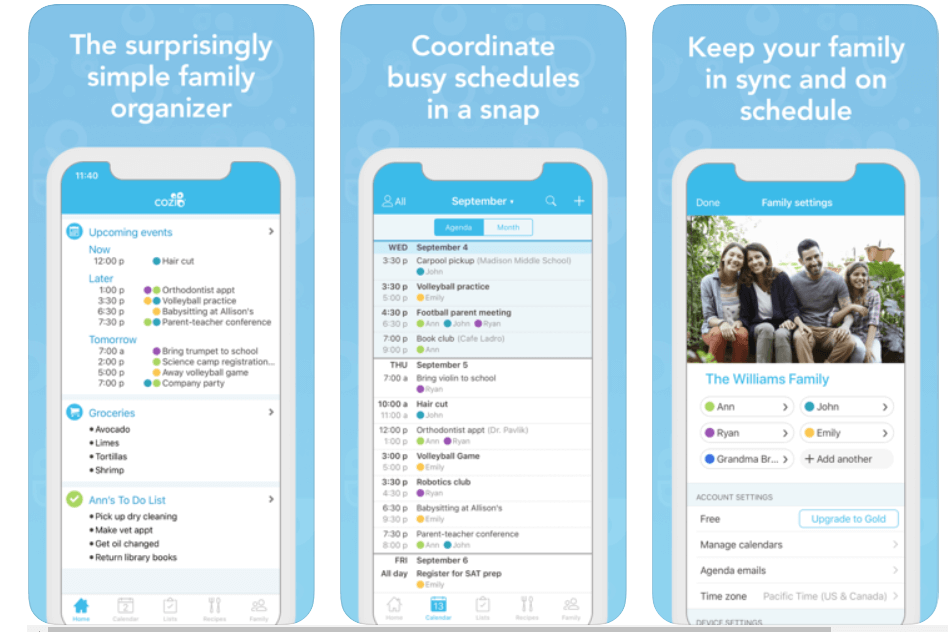 Know what you eat with this stunning meal planner app. It is suitable for people with families of all sizes and efficiently tracks everything for you. It is compatible with both iOS and Android devices. 
With Cozi, you can get a bigger picture of your weekly and monthly diet plan. If you are using it while preparing a meal, opt for its "Cooking mode," which does not allow the screen to sleep while you are busy cooking. 
---
8. Lose It!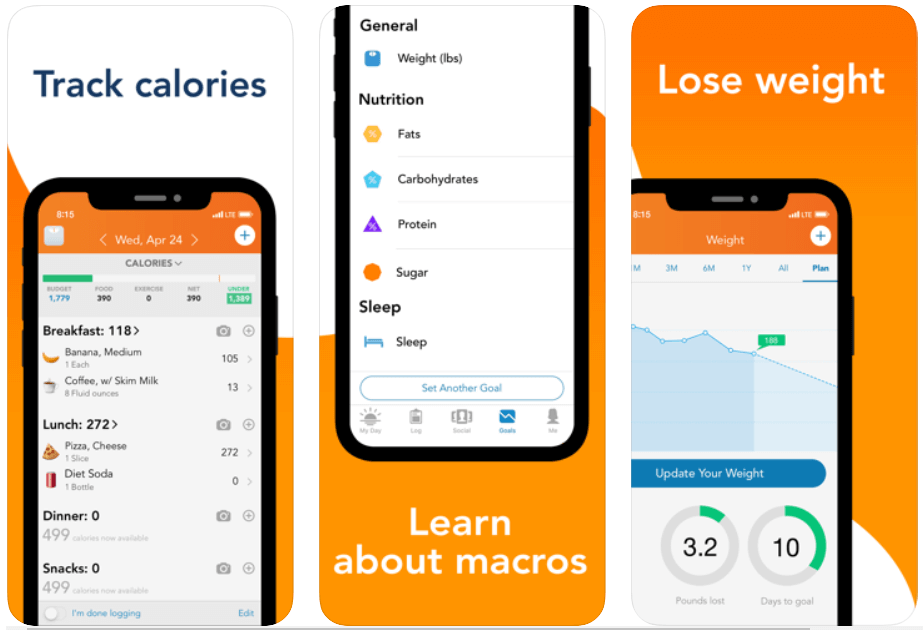 Read More: Best Free Zumba Apps to Get a Toned Body
Are you worried about your excess weight? Choose Lose It! as your weight loss partner. It is a perfect meal planning app for weight loss. While planning your diet chart is keep in mind your body weight targets, specific goals and then prepares a suitable diet plan for you. 
It also comes with an extensive food database for you. To download, use the below links and set your weight goals. 
---
9. Yummly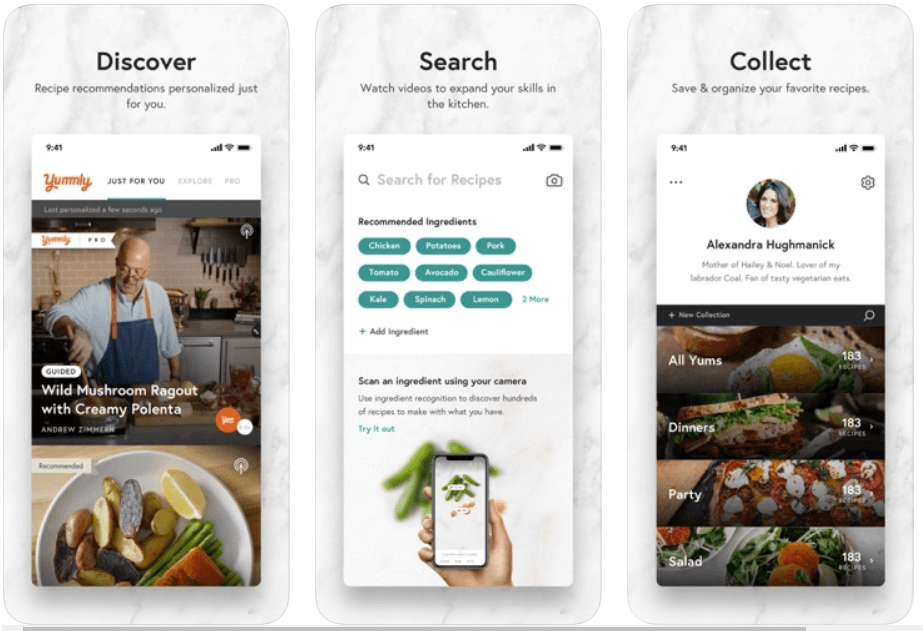 With Yummly, you get delicious recipes suited to your food preferences and restrictions. It comes with an extensive index, from sweet dishes to main courses you get recipes from all categories.
It also guides you with the most suitable food for you, which is not only delicious but also healthy. You can also consider its video tutorials to prepare healthy meals for your family. 
---
10. BigOven Recipes & Meal Planner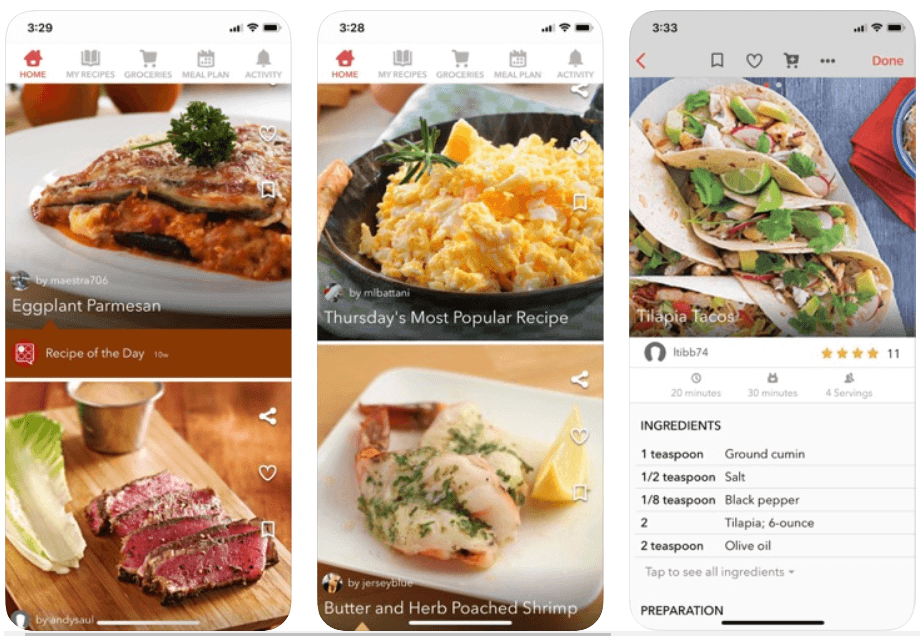 Bigoven is known for its simple and easy meals. It comes with an extensive list of recipe options along with their blueprints. 
It also allows you to add your recipe on its website. You may either write it down or copy-paste it along with useful clippings and pictures. It also keeps into account your dietary restrictions before suggesting a food plan for you. 
---
11. Eat This Much – Meal Planner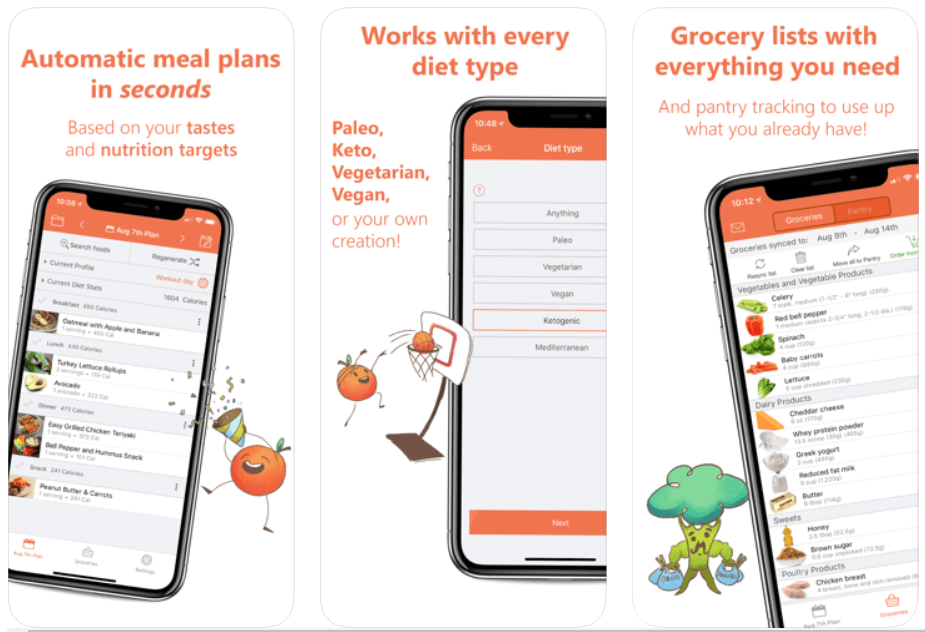 If you are worried about your excess weight, then Eat This Much can help you in losing weight and setting your food preferences. This stunning application works incredibly well in planning your meals, tracking calorie intake, and in preparing a well-defined eating routine for you. 
With it, you can quickly check your carbs intake during the entire day. Browse through its massive categories and find suitable eating options for yourself. If you wish to download it, use the below link
---
12. Side Chef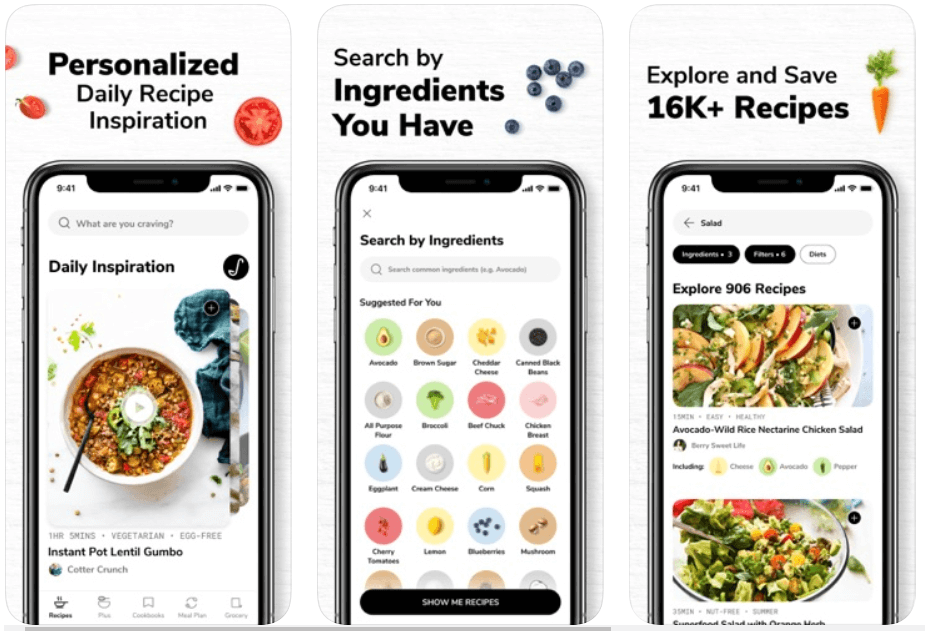 Another helpful food planner app is Sidechef. Besides being a good food planner app, it also works relatively well as a recipe app. While creating an account, it will ask you about your eating habits, allergies, and liking, according to which it gives suggestions. 
Read More: Best Free Yoga Apps For Android & iOS
With it, you can plan your weekly meal, including your breakfast, lunch, and dinner. It has a well good curates recipe house to suit all requirements. 
---
13. LaLa Lunchbox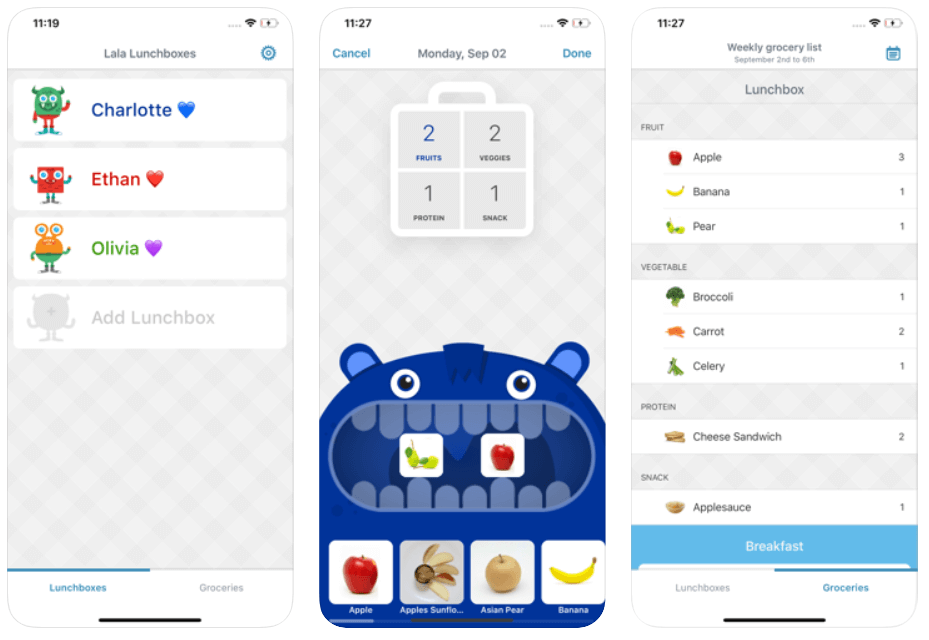 Lala Lunchbox meal plan is the best investment for parents who want their children to eat healthily. It is dedicated to providing meals that are not only nutritious but also easy to prepare.
It is a kid-friendly app that is specially designed keeping kids in mind and aims at teaching about the nutritional value of specific food items. 
Plan a balanced diet for your growing kid with Lala Lunchbox. 
Download App: iOS 
---
14. PlateJoy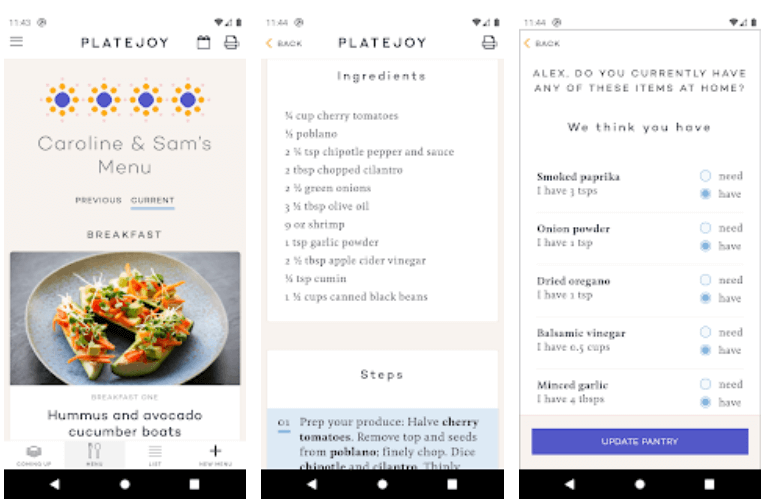 PlateJoy is yet another best meal planning app for Android and iOS platforms that fetch you customized meal plans based on your dietary requirements. You can implement your weight loss planning using the useful customization features. This meal planning app features a user-friendly interface showcasing colorful pictures along with a detailed guide to nutrition for each recipe.
You can use this app to view the necessary amount of grocery. However this app does not allow you to input your own recipe and it is quite expensive than other meal planning apps on the list.
---
15. Prepear
Read More: Best Running Apps For Weight Loss
Prepear is one of the most feasible meal planner apps to be available on iOS and Android phones out there. This app offers useful features including the recipe presets and an option to add your recipe manually or online. This meal planning app comes with an easygoing interface and offers you information on nutrition. Besides that, you can extract custom shopping lists and filter recipes according to your preferences alongside an option to share your culinary routine with your loved ones on social media. 
---
Conclusion
These best meal planning apps on the list have made life easier to a notable extent, giving a number of users the privilege of meal planning in just a few taps. With a proper breakdown of nutritional information and meals based on different preferences, these apps can be a great hand in helping you achieve your health goals and checking up on the weight standards that you would like to achieve. If you know any such amazing meal planning app for Android and iOS devices, you may drop the name in the comment box. 
Prachi Dani is a technical content writer who specializes in areas of science and technology. She is highly up to date with technological transitions and transformations. Writing is not her passion but the only thing that carries satisfaction in life. If not writing, you may find her engrossed playing action games on her treasured smartphone.
Subscribe to Our
Newsletter

and stay informed

Keep yourself updated with the latest technology and trends with TechPout.
Related Posts