In the middle of a mundane routine, taking charge of your healthy lifestyle is worth every minute. A healthy lifestyle promotes harmony between body, mind and soul alongside the fulfillment of medical requirements. From intake of nutrition to regular exercises, from a few minutes of meditation to a break for complete mindfulness, every effort commenced in order to take care of your health counts.
Fortunately, the technology has come forth as a notable contributor to encourage a healthy and peaceful lifestyle, disguised as some of the best healthy lifestyle apps. This section offers you a gathering of 10 best health apps. If you are confused where to begin, here are some worthy ideas to kick start your journey to a healthy lifestyle.
Best Apps For a Healthy Lifestyle
1. MyFitnessPal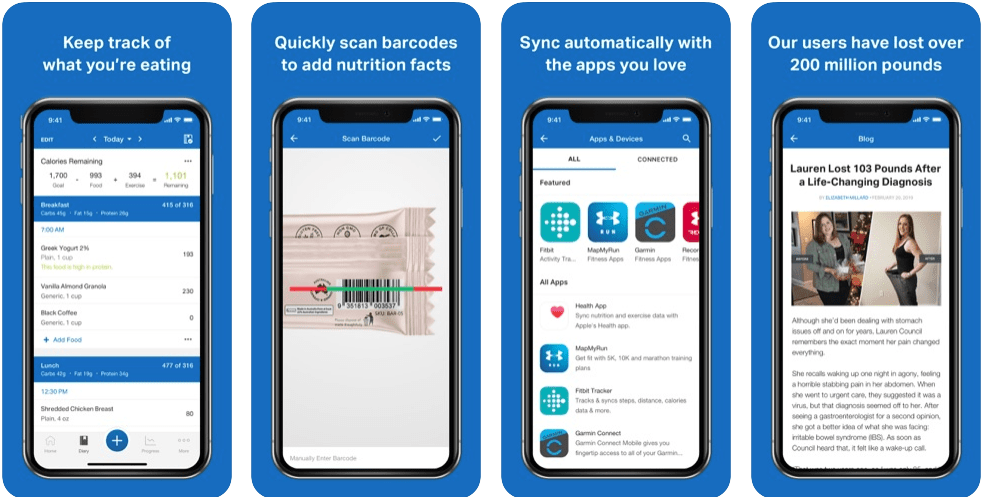 Ranking top for the past few years, this app has become the talk of the fitness town. It is the first choice for most health enthusiasts. It is one of the best apps for a healthy lifestyle, apt for motivation, and tracking. iTunes even ranks it as the #1 Health and Fitness app for everyone. It is also one of the best fitness apps for Android.
 It helps the users to keep a check on their diet plans and customize food intake. The app also offers nutrition information for more than 5 million food items.
Read Also: Best Calorie Counter Apps to Lose Weight & Boost Immunity
Simply enter in suppers you've eaten for the duration of the day and it will work out the calories against your day by day target and will disclose to you the amount you've left. This educates the user about the number of calories in his everyday food.
It also lets you set proper goals, with a graph showing your daily progress.
---
2. MyPlate by Livestrong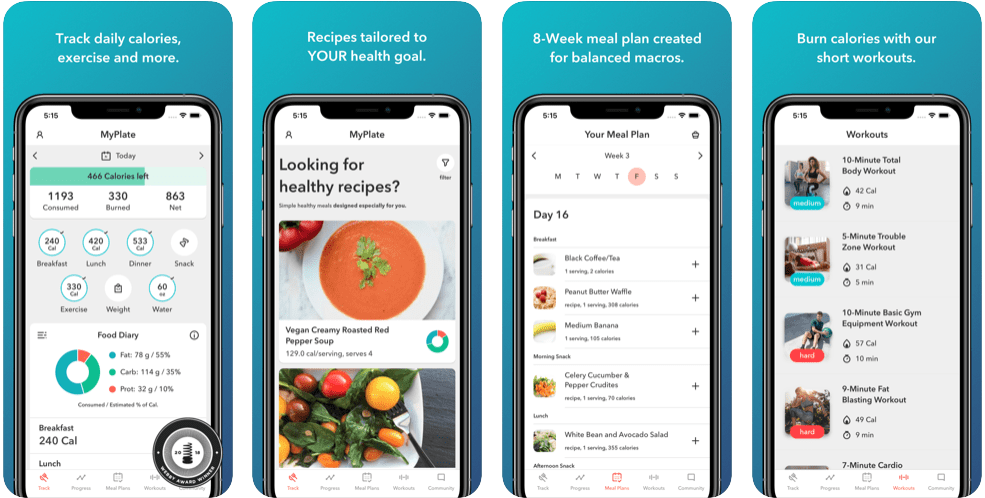 This is one of the best healthy meal planning apps. It is a simple nutrition tracker, free of cost, and has detailed eight-week meal plans that are customized for the user. These meal plans are designed upon the weight and needs of the user.
After selecting a meal plan, the user has to choose a starting date, then he/she receives daily emails, with weekly grocery lists for the healthy dishes of the week. He/she gets a personalized everyday calorie goal, water intake tracker, meal-time reminders, and constant checks on progress.
Also, there are some exercises in the portal for quick workouts. They can also be customized by the user easily.
---
3. Strava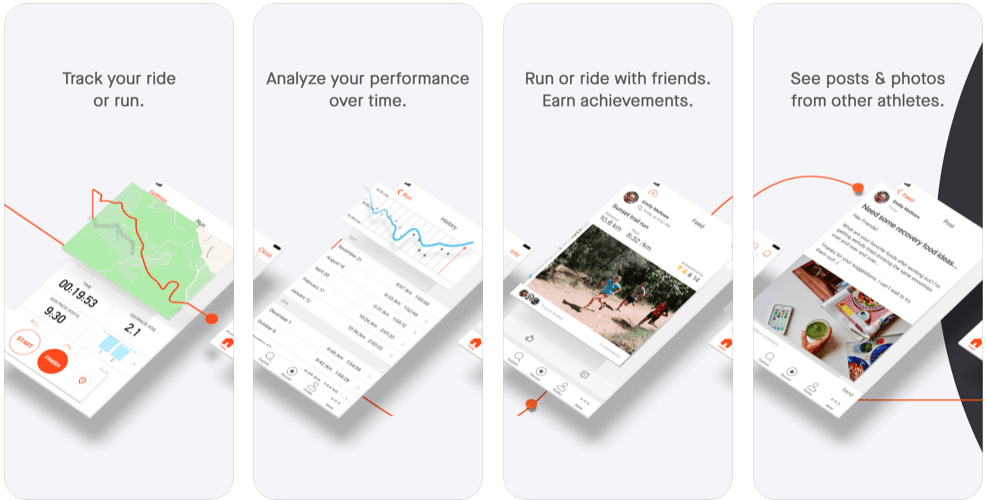 Feel like going outside and running? Then this app is a perfect choice. Majorly for runners and cyclists, it tracks speed, distance, elevation, pace and burned calories. It even records your routes and bike trails, while analyzing your exercise. 
It also creates a social network for its users, where they can share stats and join clubs with other users on the app. Friends can even like, share, and comment on each other's progress.
It's compatible with most GPS run trackers and with its segments feature, lets you look at specific points in your workout.
Your outdoor cardio is sorted with this.
---
4. Home Workout – No Equipment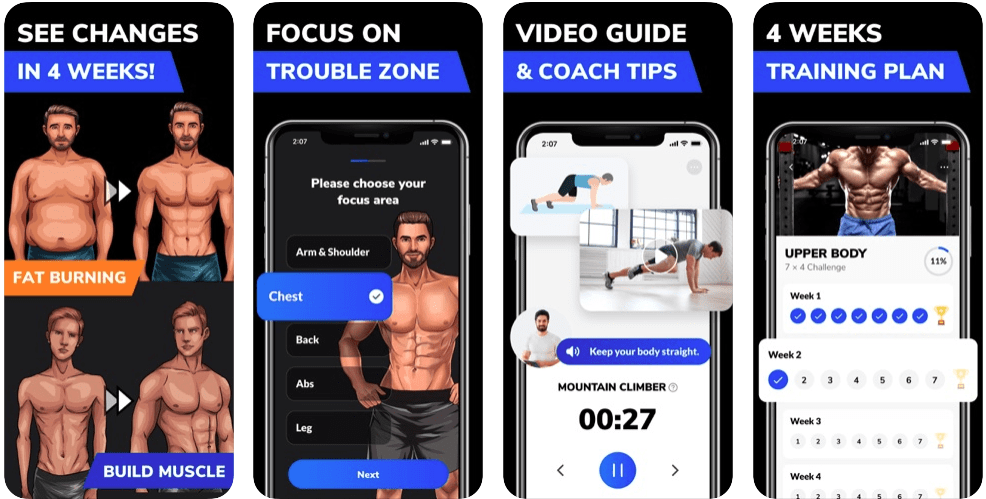 Hands down, the perfect workout app for beginners and pros alike. It is an alternative to gym workouts. It has a collection of tons of exercises that one can follow easily at home. There's no need for any equipment. In just a few minutes, you keep fit without having to step out of the house. 
Exercises range from leg workouts, weight training to a full-body workout. It also has video and animation guides to make a routine more efficient. You can also choose to track your weight trends through charts.
And the best thing is that it is free of cost.
---
5. Lifesum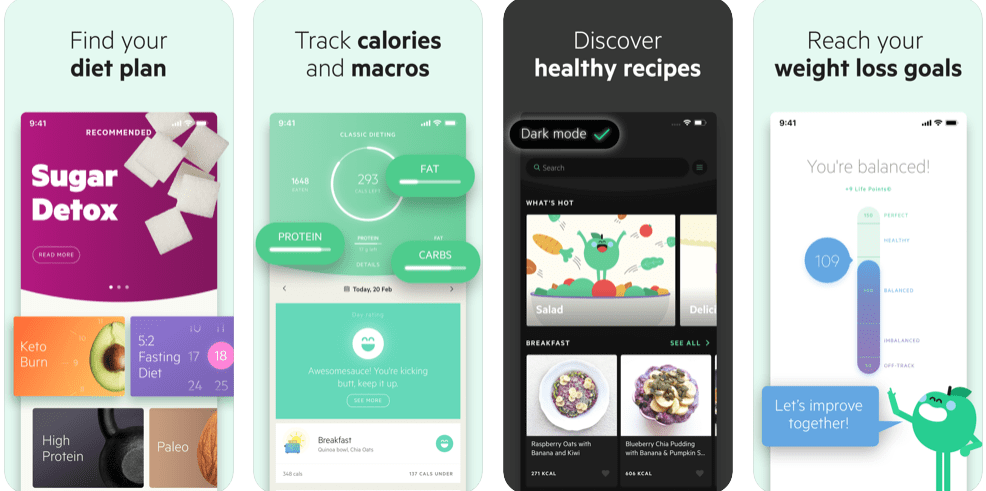 One of the best free diet apps in digital space. It has diet tips, recipes, calorie counter, and your own food diary, in one place. It provides lifestyle adjustments based on the user's daily routine. 
Read More: Best Running Apps For Weight Loss
It plans out an accurate diet plan for users by a test. This test has questions about weight loss goals, food cravings, diet problems, and all the general options in the diet plan. 
 It also acts as a diet coach while giving reminders to eat and drink water throughout the day. You can also track your calories, nutrients, and macros using the features in the app.
---
6. Fooducate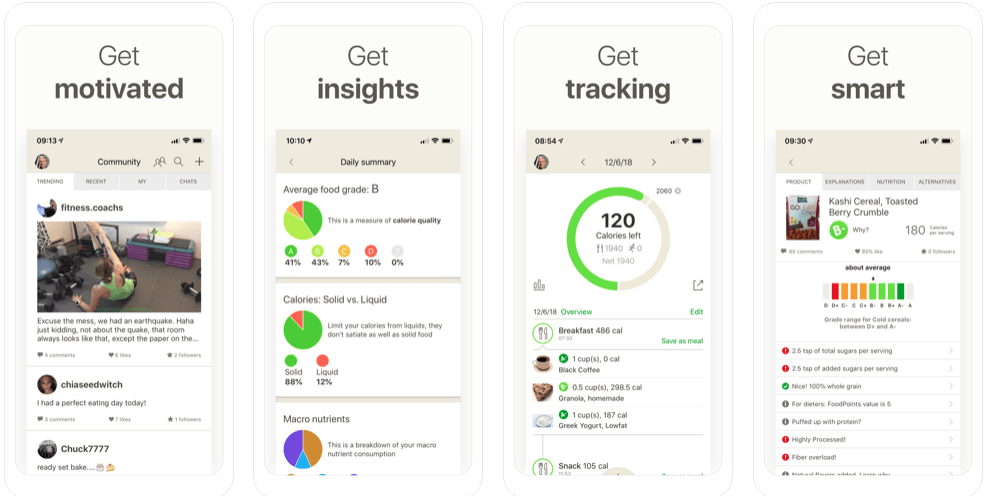 This is one of the best fitness apps for Android and iOS, excellent nutrition and diet app, and is termed by everyone as 'my diet coach.' It makes it easier to have a balanced diet. It educates the users about nutrition grade (A, B, C, D) and the value of the food products they purchase and eat.
It helps to track your calories, food intake as well as your macros (protein, fats, carbs). You learn which food is healthier and has more required nutrients. And differentiate the good and the bad. The food database in the app is above 250,000 items. 
It is also one of the best weight loss apps and even tracks your workouts.
---
7. Headspace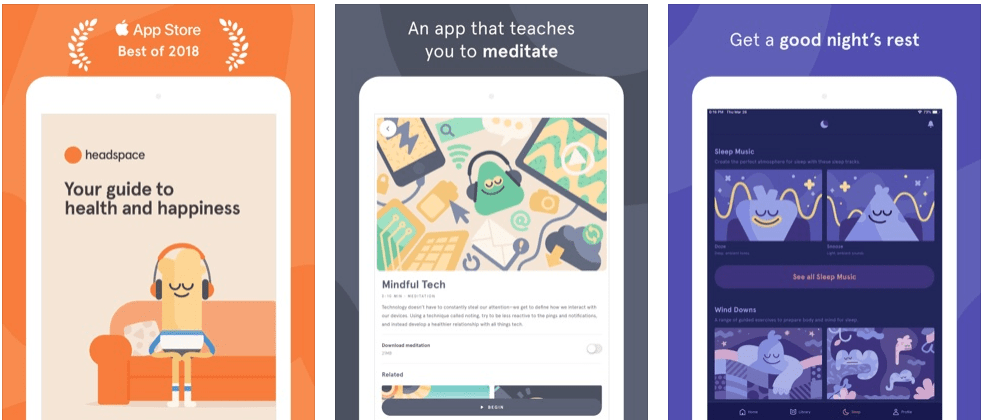 This is a meditation app because mental health is just as important. It is one of the best apps for a healthy lifestyle on the internet. Used and recommended by celebrities and people all around the world, this app changes the rules of the game.
It consists of varieties of guided meditations and programs for calming needs. It teaches you how to "breathe, meditate, and live mindfully."
 It even sends notifications to chill out and breathe a little a bit. How chill is that!
It has tons of themed sessions to de-stress and calm users down. It has SOS exercises for "sudden meltdowns" as well as sleep sounds to have a good night sleep.
You can even track your progress and share it with your friends and family.
This app is a perfect tool for a happy soul.
---
8. Happify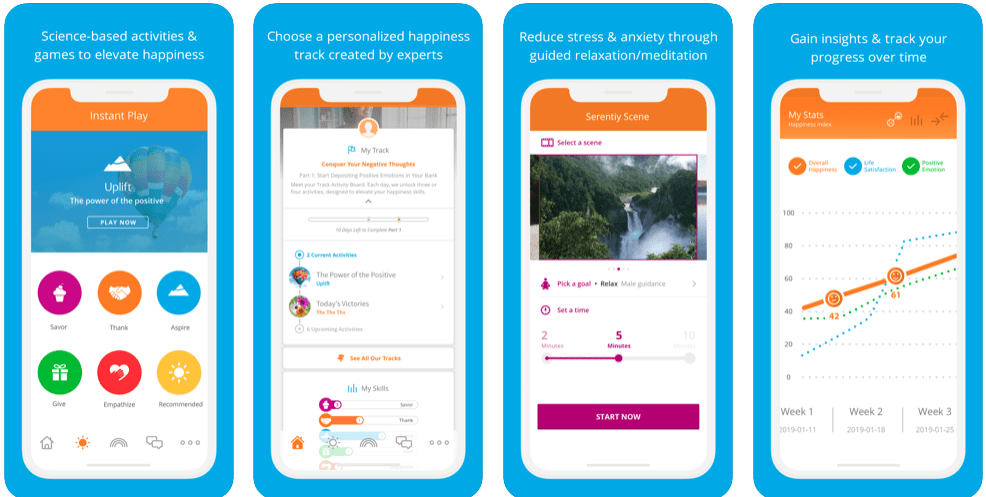 Another app that supports mental health, it does what its name suggests. It works on making users happy in a wholesome way. It provides a positive outlook on life every day with its science-based games and activities and helps users overcome negative thoughts and stress.
It asks users to choose a "track" to follow, based on their goals like building self-confidence or coping through relationship issues. Then it starts to work its magic. Every day it increases the emotional well-being of users, making them happy.
---
9. Sworkit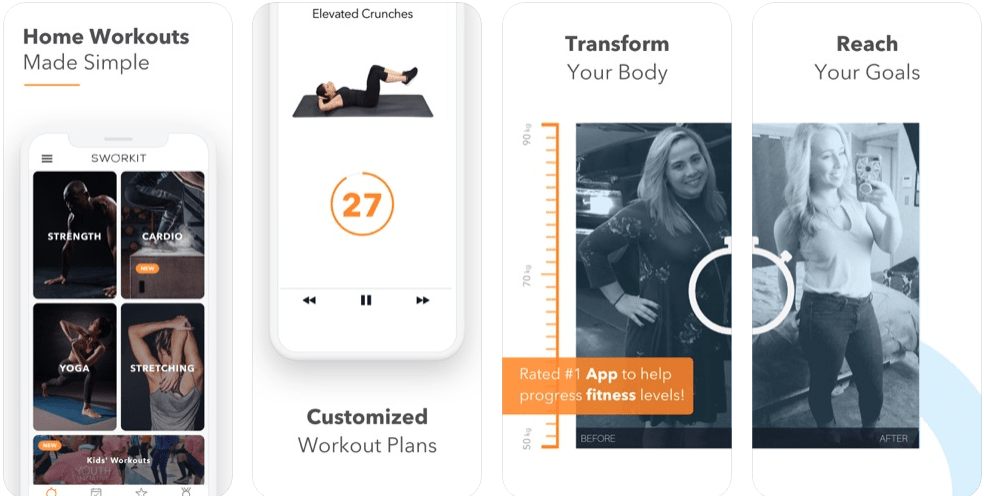 With a base of more than 25 million people, Sworkit ranks higher in almost all health apps surveys. It is your own health assistant, helping you to get leaner, stronger, and fitter. Everything is tailored to your interests and needs.
It consists of exercise videos performed by personal trainers, which guide users efficiently.
Read More: Best Free Zumba Apps to Get a Toned Body
Want to do crunches but only have 10 minutes? No worries because Sworkit will plan it for you. It proposes a workout according to your time schedules.
You get a six-week program with weekly goals, and you can even design your own exercises.
Now there's no chance you can say no to exercise.
---
10. Sleep Cycle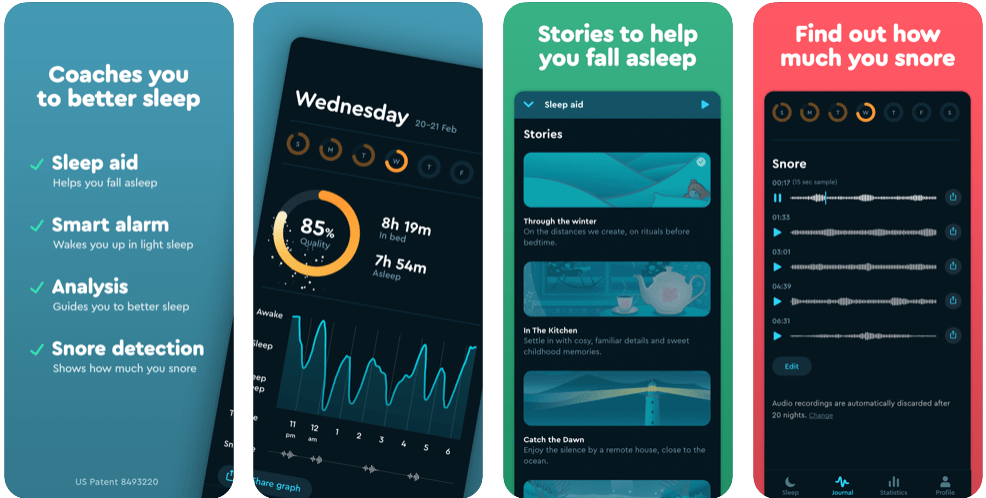 Everyone knows the importance of sleep for a healthy lifestyle. It is the time when both body and mind regenerate, dreams come into being, and after which our day starts. If you wake up on the wrong side of the bed, all groggy and grumpy, it's a sure thing that your day is not going to go any better.
This is where Sleep Cycle comes for the rescue. It is a sleep tracker and an intelligent alarm clock.
While you're asleep, this app tracks your sleeping heart rate, quality of sleep, and forms a sleep pattern for you, all through your phone. And finally selects a perfect time for you to wake up. It is usually when your sleep is the lightest. 
And now there won't be any grouchy wake-up days anymore. 
---
Conclusion
So, now you know a number of best free health and fitness apps for Android and iOS devices. Hopefully, you have already found the perfect gateway to a healthy journey in this list. Apart from using these apps, consistency and determination to keep up with a healthy routine are ingredients to never avoid. Which health and lifestyle app is your go-to? Have any recommendations to add here? Tell us everything by writing in the comment section.
Diksha Lalwani is an aspiring content marketer and a self-declared bibliophile. An English honors graduate, she likes to keep up with the recent happenings around the world and form an opinion. Her interest in anything and everything tech made her follow the path into becoming a technical writer.
Subscribe to Our
Newsletter

and stay informed

Keep yourself updated with the latest technology and trends with TechPout.
Related Posts