17 Best Free Zumba Apps to Get a Toned Body in 2021 (Android/iPhone)

Are you looking for a fun way to attain fitness? Then, dance your way to fitness with Zumba as we present a comprehensive list of the best Zumba apps that can help you get in shape and stay healthy from the comfort of your private space.
So, if you are someone like me who loves to perform self-care activities in solitude, then you can download these excellent Zumba dance apps for yourself on your smartphone and start twirling and grooving towards fitness with the best dance beats. 
Before we take the discussion any further, let's first take a closer look at the major fitness and workout goals and how Zumba helps you achieve them to live a healthier life.
What Are the Most Important Fitness Goals In 2021?
Here are the five key areas to focus on if achieving overall fitness is your ultimate goal:
Being physically fit and active with healthy organs and cardiovascular endurance.
Being mentally fit.
Having stamina, muscular strength, and adequate muscular endurance.
Having an adequate weight, body composition, and BMI (Body/Mass Index).
Being flexible.
How Does Zumba Take Care of Your Overall Fitness?
If you are seriously contemplating on becoming fit and planning to join the best Zumba class in town, then you should first understand the benefits that Zumba offers.
Zumba sessions help to de-stress and yield aerobic as well as anaerobic benefits.
Unlike traditional fitness programs, Zumba exercises offer a fun way of getting into the right shape.
Helps you burn calories and lose weight.
Zumba workouts target all oblique muscles at once and help you get a toned body.
Now that you know the health benefits these Zumba at home apps brings, it's time to start using them. Check out the complete list of best Zumba apps below!
Toning Up Your Body With the Best Zumba Dance Workout Apps
Read on to find the best Zumba dance app from the below-listed ones and install one for yourself today to get back in shape and lose weight.
1. Zumba Fitness
Shed out the unwanted weight with this best Zumba app for Android and iPhone devices. The Zumba Fitness program has helped more than 14 million people to get into shape in more than 140000 locations in over 150 countries.
Want to get fitter? Then, "Ditch the Workout and Join the Party!" 
You can easily find the best Zumba classes near you and check-in a class conveniently with the help of this app. Rock the Zumba dance floor with your friends by inviting them to join your fitness-parties and share your classes with them without any hassles. 
Never miss a beat with the help of precise dance instructions and movement directions. You can search for classes by location and facility name and the app displays the locations in the form of a map or list view.
The app also allows you to set reminders. You can also contact instructors for class details, and save and access your favorite classes effortlessly. Additionally, the app also prompts real-time notifications about upcoming events, new products, etc.
---
2. Body Groove
Groove into fitness with this excellent Zumba dance app. It has over 100 dance routines coupled with live sessions to achieve your fitness goals. With this app, you get access to tailored dance sessions by seasoned professionals. 
Read Also: Best Workout Apps For Android To Get A Fit Body
The app offers a high range of workout methods like you get separate collections for cardio workouts and grooving meditation workouts. With the mindful movement workout collection, you can de-stress yourself to attain a calm mind. 
---
3. Sync Go
Sync Go is, without a doubt, one of the best Zumba apps for iPhone and Android devices. Sync Go offers a one-stop solution for people who wish to tone down their belly and attain fitness in all forms. However, you need to be a premium member of the 'Sync' program to avail Sync Go benefits.
Developed by Zumba's instructor network, you can create a tailored playlist and gain access to music and video content on a monthly basis. Additionally, this application offers Zumba instructions offline too. 
---
4. 900+ Aerobics Dance Exercise
Can't find time from your busy schedule for following a fitness regime, then here's a wonderful way to tone down your muscles and shed the excess fat with this amazing Zumba app for Android.
The app contains the best Zumba videos for fat burning workouts. It is perfect for exercising from home and is suited for both beginners and experienced professionals. Apart from basic exercise routines it also contains numerous advanced training sessions too.
---
5. Dance Workout For Weight Loss
Do you want to lose weight in 30 days and get in the right shape before a big event? Download the dance workout for weight loss app today to get the benefits of doing aerobic exercises and Zumba from the comfort of your home.
What's best about this Zumba dance app for Android is that it's totally free and lets you create a customized workout schedule for yourself. Especially suited for women who don't find time from their professional and personal commitments, this app can help you tone down your body conveniently even if you are running on a tight schedule.
---
6. Zumba Dance for Beginners
Are you a beginner and have no idea of how to perform Zumba? Lose weight with this Zumba app for beginners. You can easily workout at home in a fun way. 
The fitness sessions that this Zumba dance workout app offers have been curated by professional dancers, choreographers, and highly acclaimed fitness instructors from around the world.
---
7. iDance
Dance is a wholesome way to not just attain physical fitness but it also helps to refresh your mind and uplift your spirit. With a complete package of various dance forms like Zumba, Salsa, Hip Hop, etc, this application can be regarded as the best dance app.
Read More: Best Free Yoga Apps For Android & iOS
With over 225 animations with precise movement instructions, this app helps you to practice the dance forms perfectly without any sloppiness. It has 40 preset classes integrating these steps into complete dance routines.
---
8. Dance Fitness
Do you hate going out to dance class on bad weather days? Then, here's a solution for you to stay back at home and yet maintain your fitness routine with the help of this effective Zumba application.
With 100 dance workout videos having detailed instructions about each and every step, this app can help you tone your body and improve your cardio easily.
---
9. Zumba Dance Offline & Online: Daily new Videos
Get in perfect shape with this Zumba dance exercise app offline. Burn the calories from the comfort of your home and improve your physical fitness with the help of the professional videos of this app.
To install this application, click the Zumba dance app free download link given below.
---
10. Dance Fitness with Jessica
The Zumba dance app can help you acquire a well-toned body like Jessica Bass. It is a 10-minute routine exercise cum dance and its users range from beginners to the ones at the advanced level.
It also includes an extensive guide to bodybuilding and includes special content to carve out abs.
---
11. Aerobics Workout at Home
You may never need a gym instructor again if you have installed this aerobics workout app. You can tune in accordingly. 
Burn fat from within the confines of your home and also exercise with the aid of a number of different exercises present in the app.
---
12. Weight Loss Dance Aerobic
A thin frame is always an amazing experience. You may have always felt that if you had access to a huge collection of music, you could have danced around losing weight easily. Practice Zumba and other aerobic exercises using the guidance offered by this app.
Well, weight loss is not easy but having a huge collection of music by your side may be very easy with this best Zumba app. Lose weight and transform yourself with the help of motivational music. 
---
13. Aerobics Dance Workout For Weight Loss
Weight loss is no longer a far fetched dream with this superb Zumba dance app. Music is available from almost all zones like Spanish, Latin and Reggaeton music. This app helps you to perform difficult dance steps very smoothly.
---
14. Dance Fit Happy
A fit body is a way to a fit mind. There is an awesome timer that helps you with your workout sessions immensely. The best part of this Zumba dance and exercise app is that it comes at your disposal absolutely free of cost.
To add to the benefits, this app provides warm-up and cooling down videos too. There's a new video for you every day to make your workout sessions interesting and exciting.
---
15. Zumba Dance Workout For Weight Loss Offline
This app is our next pick in the category of the popular Zumba dance workout apps. It has a huge range of offerings ranging from fitness and workout videos to Zumba dance videos for weight loss. 
---
16. Aerobic Dance Workout for Weight Loss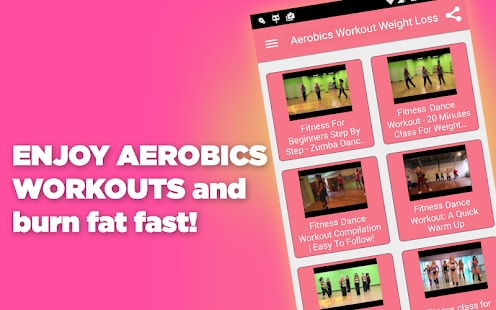 Whether you are new to aerobic or you have done it before, this app will offer the best and unseen videos for you to improve your fitness and get toned. This app has tons of videos and it keeps on updating the stock so that you can never get bored. 
Choose the video you like and start the Aerobics class with the best app to get your body toned. Nothing is going to stop you this year as this app is free for all. The Aerobic Dance Workout for Weight Loss app is available for Android users on the Google Play Store. 
---
17. ZIN Play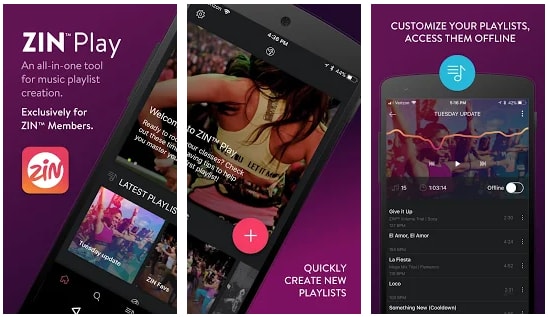 Zin Play is a great app, that's what the users of this app say. In the App Store and Google Play Store, the app has a rating of 4.7 out of 5. It is one of the best Zumba apps as it is free for all and is also compatible with every iOS and Android device.  The user can easily follow the tutorials on the app and can also create their playlist for quick access to them in the future. 
With a list of amazing videos and music, your new year's resolution is not far. Check out the store to download the app for free. 
---
Frequently Asked Questions (FAQs) about Zumba Dance & Workout Apps
Q1. Is Zumba a good way to lose belly fat?
The shortest answer to this question is 'Yes'. Zumba is one of the best fun exercises to lose weight and get back in good shape while staying at home. Zumba helps you shed the excess fat and get a perfectly shaped, toned body without diet by dancing.
Q2. What is the best Zumba app?
Here are the top 3 Zumba apps to keep your body in good shape:
Zumba Fitness
Body Groove 
Sync Go
Q3. Is Zumba good for beginners?
Yes, absolutely! There are dozens of best Zumba apps available on the Google Play and App Store, curated specifically for beginners. These applications offer effective video tutorials of Zumba Dance Workout for beginners to help them stay fit and healthy forever. 
Q4. Can I do Zumba at home?
Yes, you can enjoy your Zumba dance exercises from the comfort of your home. All you need to do is download a dedicated Zumba dance workout app on your Android or iPhone device.
---
Final Words: Stay in Shape with Best Zumba Dance Apps (2021)
So, if you think you are someone who gets bored of running, jogging, and gymming swiftly just because it's the same monotonous routine every day, then Zumba dance workout can prove to be your sure short way to fitness. It breaks the monotony and helps you burn away calories just by dancing.
So what are you waiting for? Download the best Zumba app from the ones we have recommended in this article and get a toned body with a happier mind today.
Snigdha is a technical content writer with expertise in the field of science & technology. Though she has a very diverse academic and professional profile yet she finds writing to be a creative form that she was unable to explore so far. When not writing, she can be found indulging in other forms of creativity like painting or travelling.
Subscribe to Our
Newsletter

and stay informed

Keep yourself updated with the latest technology and trends with TechPout.
Related Posts