Our smartphones are filled with hundreds and thousands of photographs that need proper management.
All Android phones come with a built-in stock gallery app but they certainly aren't the best and tend to get slow and dull with time. Some suffer from low loading time while others are not good at sorting multiple pictures.
If you love clicking pictures and capturing moments, a dedicated Android gallery app is what you need. Here, in this article, we have compiled a list of some of the best Gallery apps for Android smartphones that promises unmatched experience and fast response time.
Top Android Gallery Apps in 2020:
1. Google Photos

Google Photos is certainly the most advanced and feature-rich Gallery apps that one can probably find in the market. It is usually pre-installed in most Android devices and offers a clean and simple working.
It can store unlimited pictures and support videos within 1080p and pictures up to 16 megapixels. With Google Photos you get a backup feature along with an inbuilt editor, visual search option, trash folder, and integrated Google Assistant.
Download this best and free gallery app directly from the Google play store and enjoy seamless scrolling through your photo gallery. You can also use it to create stunning albums and collages and categorize your pictures based on people, places and the common things.
Well, that not it, you can also edit your images with its powerful photo-editing features.
Read More: 13 Best Free Live Wallpaper Apps For Android
2. Piktures Gallery

Next on our list of top-rated and best Android photo gallery apps is Piktures. It is packed with several intuitive features that support easy navigation. The app screen is divided into two portions, all your albums are displayed on the left side while the right edge displays the tags and filters.
The Calendar and Location view are two of its most-loved features, which divides and portrays various pictures taken on similar calendar dates and the same locations.
Along with the features mentioned above, you can also use its Secure Drive functionality to protect your private pictures with a PIN. GIF player, GIF maker, slideshows are few of its other notable offerings.
3. Foto Gallery

If you are looking for a lightweight but feature-rich Photo Management tool that can Manage and Organize your picture Gallery, then choose Foto Gallery. Enjoy a fast response time and properly arranged albums with this stunning tool.
You can use it to transfer and move images within various folders, change app theme, scan folders and much more. Not just that, it also allows you to sort photos in various orders and supports easy viewing.
Additionally, it also comes with an in-built GIF player, photo editor, and video editing tools and can be used to make creative GIFs from your videos. It also comes with a trash folder, which gives you a chance to recover accidentally deleted photographs.
4. Simple Gallery Pro

Our next pick in the list of top Android Photo Apps is Simple Gallery Pro. It is quite similar to QuickPic from heydays but is completely free from bloatware and annoying ads.
You can use this simple and user-friendly app to organize your albums, recover deleted pictures and hide private files and images. Along with this, you can also use it to crop, edit, rotate, resize various images as per your requirements. The app is available in almost 30 different languages and does not require any internet connection.
You can directly download this light-weight Offline Gallery App from Google Play Store using the link below.
5. F-Stop Gallery

Another fast, simple and powerful Picture Gallery App for Android smartphones is the F-Stop Gallery. It offers a perfect way of organizing your ever-increasing image gallery.
The app is completely free of unwanted ads and is packed with several beautiful material designs and features.
Besides, you can also use it to bookmark photos, add folders and save tags. With its drag and drop mechanism, you can custom sort various images and hide private files with its password protection feature.
6. A+ Gallery

Next on our list of most recommended Gallery apps for Android devices is A+ Gallery. It is known for its speed and quick response time.
Power-Packed with countless features it can not only support seamless organization but can also be used for viewing, editing and synchronizing your photo gallery.
Its search engine is quite similar to the one offered by Google Photos and can easily sort your pictures based on their location, date, colors, etc. With A+ Gallery you can also sync your images and videos with online cloud galleries.
7. Focus – Picture Gallery

If you are looking for an app that can offer a perfect combination of efficiency, speed, and clean UI then Focus- Picture Gallery can be a good pick for you. The app not only allows you to organize photos but also supports videos and GIFs.
Its responsive material design supports seamless browsing and navigation. Apart from this, you can also use its password protection feature to hide your private images and videos from unwanted eyes.
8. Memoria Photo Gallery

Another Android Photo App that you can try is Memorial Photo Gallery. It comes with smart material design and simple UI which supports smooth, fast and organized browsing.
You can hide your albums in an encrypted vault and restrict their access only to authorized personals. With its integrated slideshow feature, you can enjoy watching your favorite images and media.
Organize your memories with this incredible photo gallery app for Android devices.
Read Also:  15 Best Free Stock Photo Sites To Use in 2020
9. Slidebox- Photo Organizer

If you are a big fan of gestures, then Slidebox is the tool for you. It not only helps you to organize your photo gallery but also identifies duplicate images, compares and sorts them based on their location, people, color, etc.
Enjoy the full-screen view of your favorite images in a single tap with this incredible tool.
10. Focus Go

Focus Go comes from the developer of Focus App, Francisco Franco. It aims at providing big frame views that can showcase all necessary information included in your photographs.
It offers a simple way of viewing multiple images chronologically. It's a completely free app.
11. QuickPic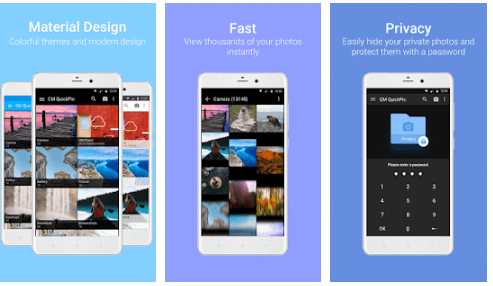 If you're looking for the best gallery apps For Android device, then QuickPic can be a good choice to consider. It's simple and clean UI supports hassle-free working.
Apart from being a photo-organizer tool it also works as a photo editor tool. It can easily sync with cloud-management platforms like Google drive.
Pick QuickPic to organize your countless images and you can also password protect them with a security pin.
12. Best Gallery

Enjoy a wide range of image management features with this relatively new app. With it, you can easily sort your images enjoy the quick search, multiple editing options, and gesture support.
Choose this intuitive photo management tool to enjoy a hassle-free image organizing experience. The app is available in 30 different languages and is completely free to download.
13. Scene

Manage and Organize Photo Gallery with Scene. You can use it to organize your photo gallery, sort multiple images, add captions and view your albums in a calendar and smart slider view.
Final Words
So, this was all guys! These are some of the picture gallery apps for Android devices in 2020. Each one of the above-mentioned applications is packed with unique features and aims at providing a fast and smooth experience of organizing your images.
What are you waiting for? Download your favorite app today & get an organized photo gallery in just a matter of seconds.
Image Source: Google Play Store