11 Best Photo Stitching Software for Windows 10, 11 in 2023

Does creating stunning panoramic photos require professional photography skills and an expensive camera? Not, necessarily. To create a perfect panorama, all you need is good photo stitching software.
With image stitching software at your disposal, you can easily stitch multiple photos together and create one breathtaking view in just a matter of seconds.
Today, in this article, we will discuss some of the best photo stitching software for Windows that you should consider in 2023 for creating professional panoramic photos.
Before we take the discussion further, let's first understand what exactly a photo stitching tool is and how it can help you produce perfect panoramic images.
What is Photo Stitching Software?
A photo stitching tool provides an easy way to help you combine multiple photos together into one beautiful panoramic image. With the help of various modules offered by these applications, you can easily combine overlapping photos and produce nice panoramic shots even from scattered images with varying resolutions, perspectives, and angles.
Now that you know how to create panorama pictures, let's move on to our curated list of the best photo stitching tools and find the perfect one for your Windows computer.
11 Best Photo Stitching Software for Windows in 2023:
Below are the best photo stitching apps for Windows that you can use to stitch your multiple photos and turn them into one masterpiece.
1. PTGui – Panorama Photo Stitcher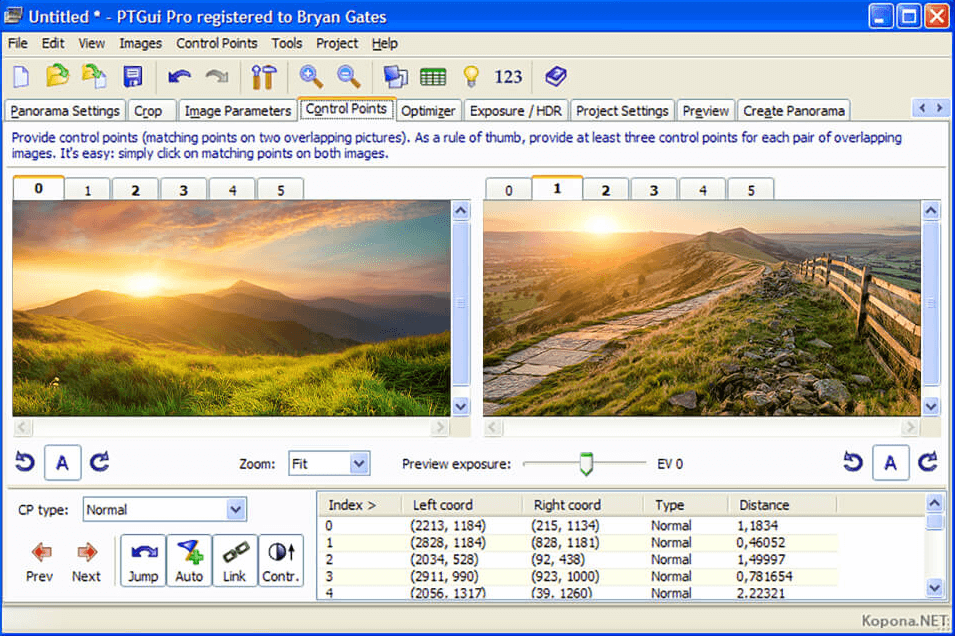 Cost – Free Trial with Watermark and Price is $195
PTGui is one of the most renowned Windows photo stitching software available in the current marketplace. The program relies on GPU accelerated stitching that allows you to stitch a 1 Gigapixel panorama in just about 25 seconds. One of the most interesting abilities is to create fully spherical (360° x 180°) panoramic photos.
Also, it supports a wide variety of panoramic projections, including Rectilinear, Cylindrical, Circular, Equirectangular, Mercator, and Stereographic.
Notable Features of PTGui:
PTGui can automatically stitch overlapping pictures
The program lets you see a live preview of the selected effect
Allows you combine multiple rows of rotated and tilted images
It supports raw images of many different camera models
Powerful 'Batch stitcher' option that lets you join photos together even when you're not using your computer
Read Also: Best Duplicate Photo Finder and Cleaner Software for Windows
---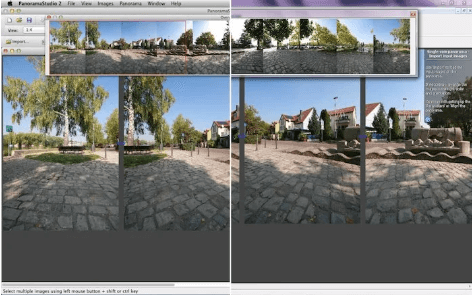 Cost – Free 30 Days Trial and Price is $39.95
The next best photo stitching software for Windows and Mac is PanoramaStudio. It has both Standard and pro versions available. However, it is recommended to use the Pro version of the software to avail of the complete list of features that include ultra-wide angle support, fish eye lens, etc.
Use the software to export your panoramas to your HTML5. Also, you get several editing tools that can help you fix flaws and enhance images. Add hotspots to your images or generate virtual tours.
If you are familiar with Lightroom then this can be a perfect choice. Use the Panorama Studio software as a plugin for your Adobe Lightroom.
Notable Features:
The user interface is simple and can offer previews in 2D and 3D.
Image editing through a library of exceptional features.
Blend images seamlessly in the form of a panoramic image.
Correct the image exposures automatically
Postprocessing of all the steps is possible manually
---
3. Hugin – Panorama Photo Stitcher (Free)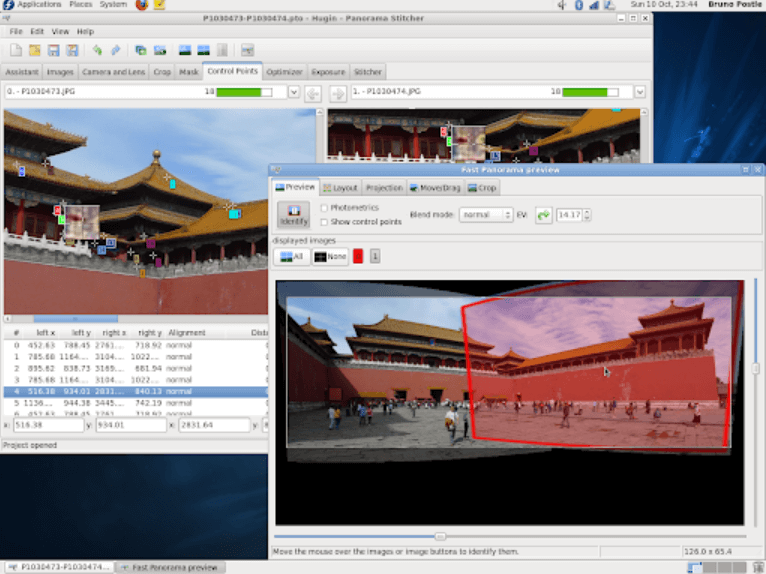 Cost – Completely Free Panorama Photo Sticher
Hugin is another highly-rated panorama photo stitching software that you can use in 2023. Despite being a free software, it offers a host of impressive features that makes the process of producing high-quality panoramic pictures simple and effortless.
Also, the program has a clutter-free interface that is designed with ease-of-use in mind. So, if you're looking for a free photo stitching software for Windows 10, Hugin should be your best bet.
Notable Features of Hugin:
Hugin is a lightweight application with low usage of system resources
Users can combine any type of overlapping pictures with great ease
It supports more than 20 languages, including Russian, Chinese, and French
It's absolutely free! Easy to use tool that's recommended for personal use
---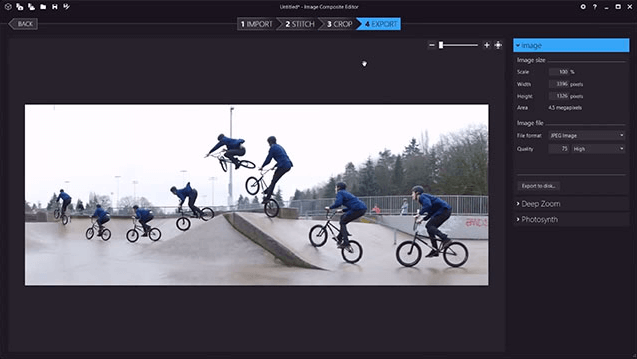 Cost – Totally free Image Stitching Program
If you want to create a panoramic image, then use this Microsoft photo stitching software to compile a set of overlapping images of a scene which is shot in a single location. Developed by Microsoft Research Computational Photography Group, Image Composite Editor (ICE) is an easy-to-use panoramic image stitcher tool to help you create professional panoramas in the blink of an eye.
With a state-of-the-art engine, it supports input images with 8 or 16 bits per component. Supported output image format includes JPEG, TIFF, Photoshop's PSD/PSB format, etc.
Notable Features of Image Composite Editor:
Create panoramas from panning video by overlaying the background
You can get a full-resolution preview to see every detail
Supports structured panoramas (100 photos in a rectangular grid of rows and columns)
Supports very large images by stitching gigapixel panoramas
Blends exposure automatically
---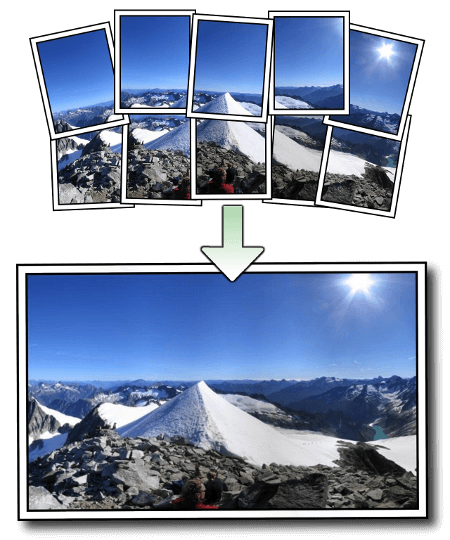 Cost – Free Demo Version Available
The next Windows photo stitching software on our list is called AutoStitch.
The best thing that makes AutoStitch stand out from the crowd is that it automatically recognizes matching images, and then combines them together to produce a much wider-field image. Also, the program is extremely easy to use and has a simple user interface.
So, whether you're a professional photographer or just a newbie, you can use AutoStitch any given day to create awe-inspiring panoramas with great ease.
Notable Features of AutoStitch:
It turns your digital photos into panoramas without any manual interruption
It automatically finds similar-looking images using it's SIFT algorithm
It supports two dimensional stitching
It automatically aligns images varying in size and perspective and angle
---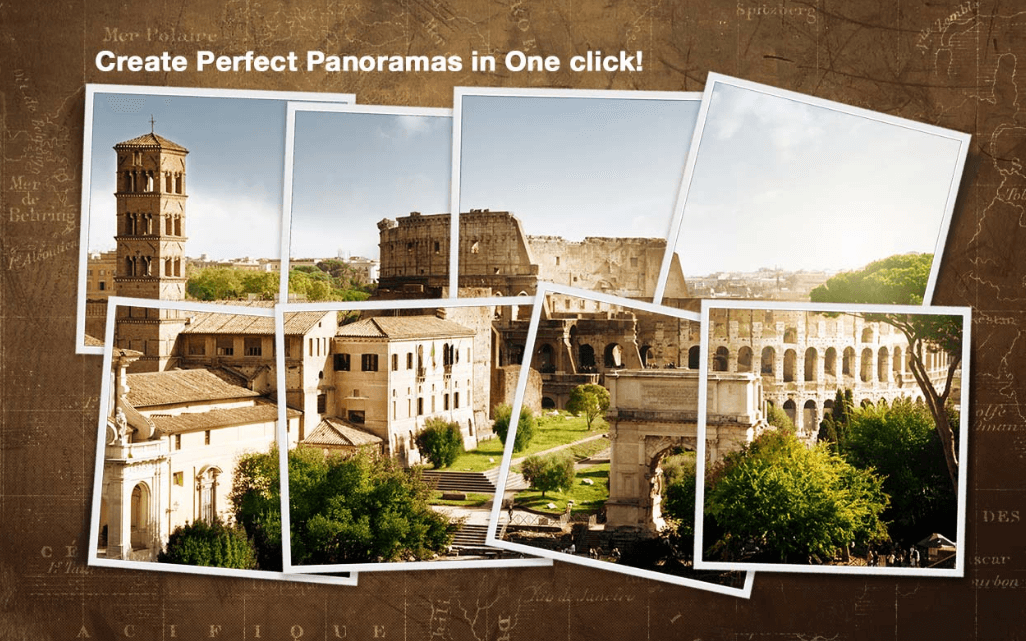 Cost – Free Download PhotoStitcher a Panoramic Image Stitcher
Want to create perfect panoramas with just a click of a button? With PhotoStitcher, you can effortlessly turn your multiple images into one picturesque panoramic picture.
What's great about this program compared to other photo stitching tools is that it can scan oversize images and can combine them together without the need of any human intervention.
Also, PhotoStitcher can fill in the missing pixels around the boundaries of panoramas to avoid transparent areas and produce high-quality end results.
Notable Features of PhotoStitcher:
Extremely fast and user-friendly tool
Users can automatically stitch overlapping images without any hassle
Users can create professional-looking panoramas without having any professional skills
Automatic image completion and exposure blending
Read More: Best Free Stock Photo Sites To Use
---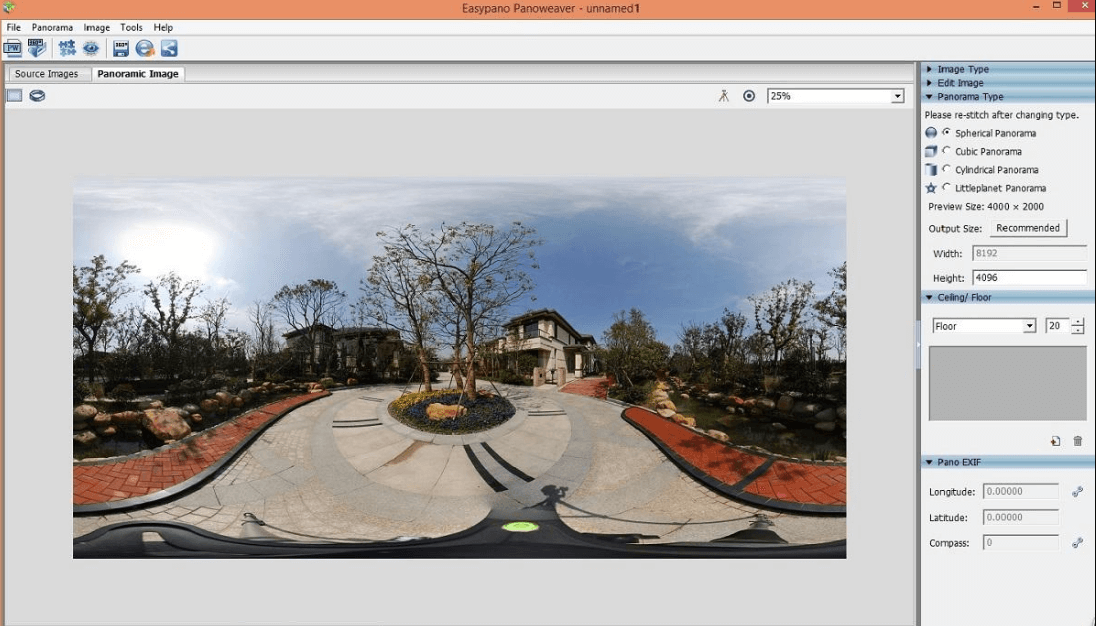 Cost – Free Trial Available and One Time License is for $399.95
Anyone who wants to create professional-looking panoramic images should install the panorama stitching software of Easypano right away. Available for Windows and macOS, it supports various panoramic image projections, including spherical, single fisheye, cubic, and cylindrical.
The program has a clean and elegant interface and is capable of creating HDR (High Dynamic Range) images to help you resolve issues like overexposure and underexposure.
Notable Features of Panoweaver 10:
It supports numerous image formats, including png, jpeg, tiff, RAW, etc.
It offers free publishing platform for panoramas and lets you share them in just one-click
Visualized editor, batch stitching, GPS customization are few other standout features
Multilingual support – English, French, Spanish, Japanese, etc.
Read More: Best Free Photo Slideshow Software For Windows
---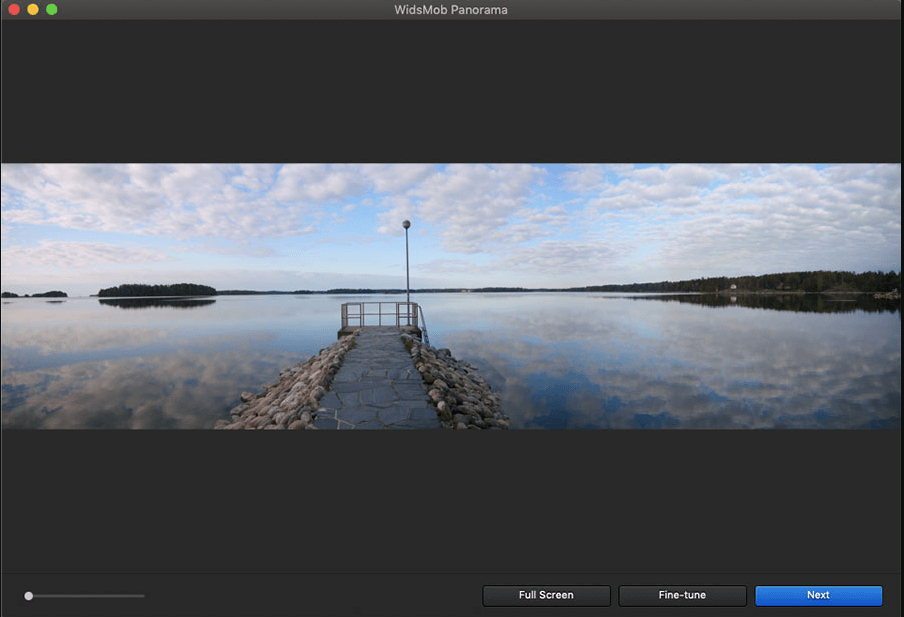 Cost – Free Download Available and Lifetime License is available for $45.99
If you love creating panorama images, then try WidsMob Panorama. This is a professional photo stitching software to produce high-quality panorama pictures in just one click.
You can stitch normal photos having varied image formats into a panoramic shot with the help of this tool. The tool can be downloaded for free; however, the Pro or HDR version can be purchased at a cost of $19.99.
Notable Features of WidsMob Panorama:
Supports creating a sharp image even if thousands of images are stitched together
Stitch Raw and HDR images into a panoramic image with superb visual quality
The tool is capable of stitching normal images as well as wide-angle images
Images can be stitched in vertical, horizontal, tile, and 360 panorama mode
---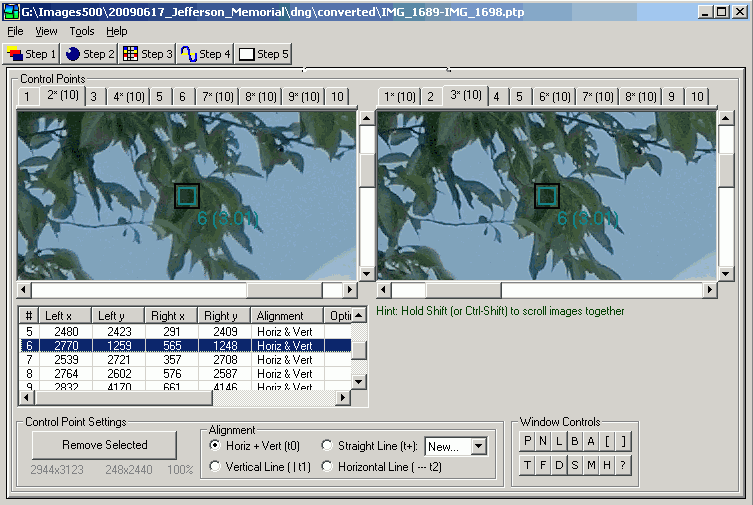 Cost – Completely free for 30 days. After this can purchase the program in $49
One of the best photo stitching software, PTAssembler comes with a number of powerful features to help you produce single and multi-row panoramic images.
PTAssembler is actually a bit complex compared to other panorama-stitching programs in terms of features. However, it is undeniably much more flexible and potent, allowing users to produce panoramas of the highest quality.
Notable Features of PTAssembler:
Easy to use steps to create panorama automatically
Join multiple photos together without any human intervention
It offers support for focus and exposure-blended panoramic pictures
Auto-Align, preview viewer, batch processing are some of its other major offerings
---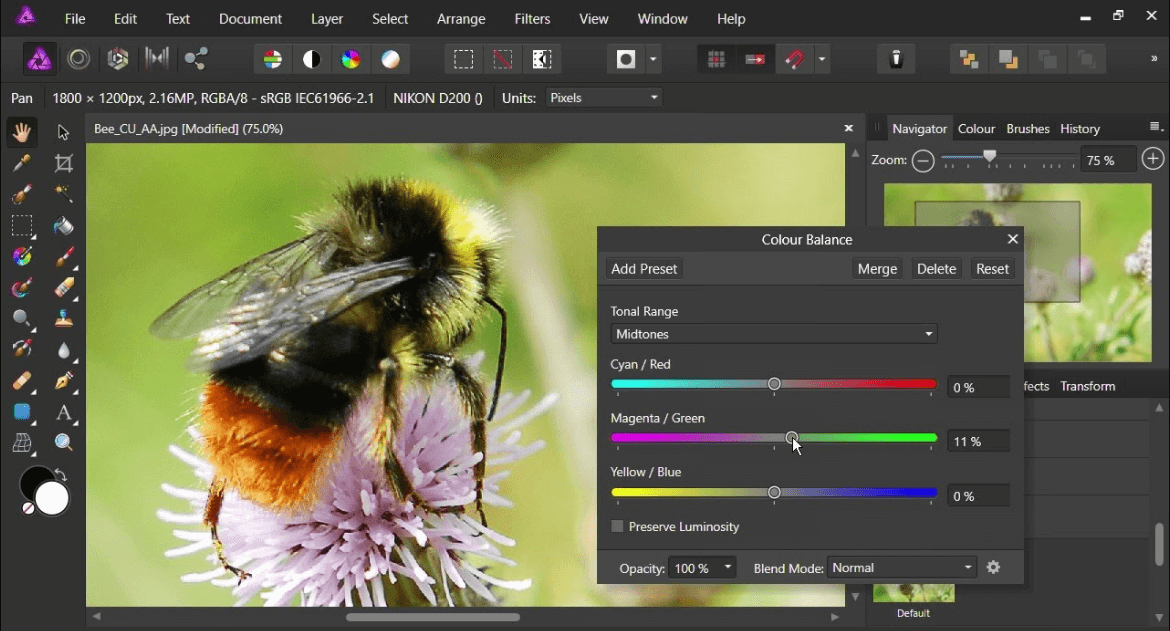 Cost – $41.99 One time payment
Affinity Photo is an advanced panoramic image stitching software, designed to stitch multiple photos together to produce professional-looking panoramas on both Windows and Mac devices.
Besides flawless photo stitching functionality, the tool comprises a wide variety of effects and live filters that can change the look and feel of your pictures in just a few seconds.
Notable Features of Affinity Photo:
It works on advanced image stitching algorithm to produce seamless results
Auto-image alignment and perspective correction options are available to create stunning panoramas
Supports powerful photo editing plug-ins – Nik Collection 2.5 by DxO
---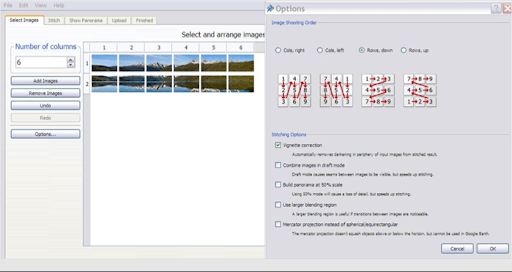 Cost – Free Download Available
Taking this list of the best photo stitching software further, we have GigaPan Stitch as the next addition. The tool works quite well on both Windows and Mac operating systems. As it is completely free to use for all, it becomes quite easy for beginners to learn the tool and then start image stitching as required.
The tool supports RAW images apart from JPEG, TIFF, PNG, and various other image formats.
Notable Features of GigaPan Stitch:
You can use the stitching option of the tool on resized images.
The tool can work on an image of up to 300,000 pixels.
As the uploading speed of the software is quite good, it creates images very quickly.
With its variety of features offered and easy interface for creating a panorama, the app makes space in the list of best photo stitching software for Windows.
Read More: Best Photo Organizing Software For Windows 10/8/7
---
Create Beautiful Panoramas with a Professional Photo Stitching Software
Since there are plenty of options out there, finding a perfect panorama stitching app to combine overlapping photos can often get extremely difficult and cumbersome for most Windows users.
Thus, we've covered a bunch of the best photo stitching software 2023 has to offer, along with their notable offerings. So, what are you waiting for? Compare the aforementioned photo stitching tools and choose the one that suits perfectly to your needs.
Don't forget to tell us which software you liked the most in the comments section below!
Monil is a professional writer whose forte is absorbing a lot of data and help large technical organizations convey their message clearly across multiple products. An engineer by qualification, his affinity for design enables him to write to inspire, energize, and influence various audiences to uncover their true potential. When not writing, Monil is likely to be found listening to music, traveling, or simply excavating into his favourite cuisines.
Subscribe to Our
Newsletter

and stay informed

Keep yourself updated with the latest technology and trends with TechPout.
Related Posts