Best Free Android Cleaner Apps to Optimize & Speed Up Your Android Phone

Is your android running slow? If yes, then this article is for you. We have mentioned in this article, a list of best Android cleaner apps to help you choose the best app to clean and optimize your Android phone. Cleaning an Android phone makes it run faster, removes junk data and also improves battery life.
Why Do You Need Android Memory Cleaner Apps?
Manual selection of the junk and cache files, unused files, music, video and photo files can be an extremely time consuming process. Thus, use of Android cache cleaner apps is the best way to swiftly clean your phone.
---
Other Benefits of Using an Android Cache Cleaner App?
There are several other benefits of using a phone cleaner app, apart from removing junk files from your device. Here they are:
It boosts your Android phone's battery life
It generates a lot of free space for your device
It acts as a RAM booster and increases your phone's performance and speed
It helps to organize and declutter your smartphone
---
Clean Your Android Phone with the Best Android Cleaner App:
We have penned down a list of 14 apps in the category of best phone cleaner for Android that can help get the device back to its original speed.
---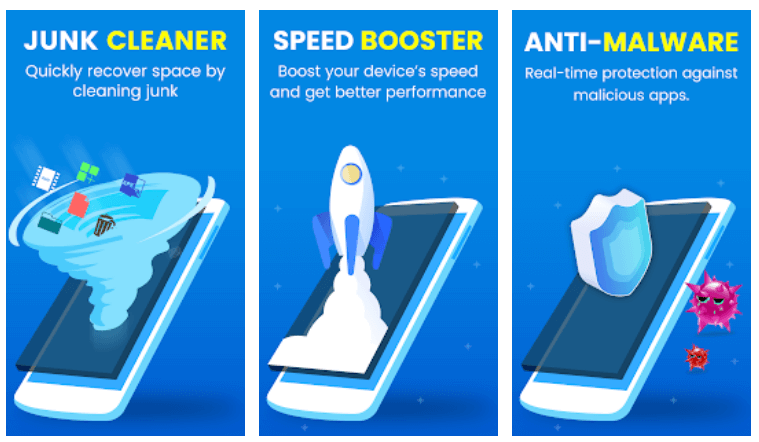 If you are looking for the ultimate Android optimizer tool to clean your Android phone, then here is the Advanced Phone Cleaner app to take care of your smartphone's cache, junk files, and duplicate photos efficiently and effortlessly.
It will create free space in your smartphone, besides boosting the speed, battery, and gaming performance of your smartphone. 
Additionally, this best Android cleaner app is capable of removing unwanted media files that auto-downloads on your phone from various social media apps like WhatsApp, Instagram, etc.
The Advanced Phone Cleaner app not only declutters your Android smartphone but also offers an in-built anti-malware feature to protect your smartphone from malware attacks.
This robust and sturdy tool is available for free and has the ability to cool down the CPU of your constantly used smartphone.
Notable features include:
Junk File Cleaner

Speed Booster

Battery Booster

Application Manager

Duplicate Photos Cleaner

Social Cleaner

Anti-malware
---
2. App Cache Cleaner: Best Android Cleanup App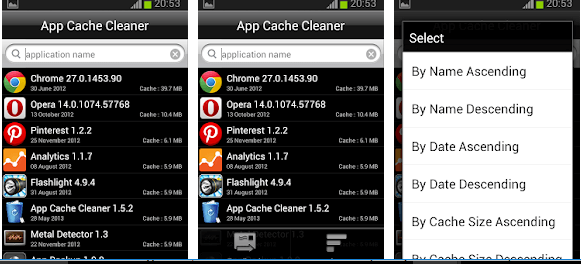 App Cache Cleaner is one of the top Android cleaners that works best on your android phone and is an absolutely free app at your disposal. You can clear all those cache and unnecessary files from your Android phone with the help of the App Cache Cleaner.
The redundant files can pile up on the back end for a long time, and consumes more of your phone's battery and energy. App cache cleaner can also recognize the high power consuming apps on the basis of the junk file size constructed by the apps.
The best part of having the app cache cleaner is that you can get reminders from the App cache cleaner whenever they detect a lot of junk files in the background.
---
3. DU Speed Booster: Comprehensive Cleaning Tool for Android
DU speed booster is the best cleanup app for Android and has everything that you would be searching in a Cleaning app. It will not only remove the junk but also would help clean app caches, junk files and the internet search history of your Android phone.
DU Speed booster improves the power of your battery, serves as an antivirus, a one-touch accelerator and also works as an app manager. DU speed booster can also serve as your secrecy advisor and can improve the speed test of your internet. It serves as a great optimization tool.
DU Speed booster can boost your game, as well as accelerate your phone's speed.
---
4. 1Tap cleaner: Powerful RAM Booster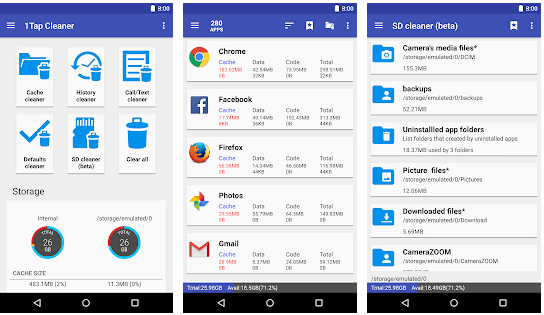 1Tap Cleaner is possibly the best cleanup app for Android that cleans your smart phone with just a single touch thus enhancing the performance of your Android phone immensely. What does it clean? It cleans your cache, history and your call/text log, default cleaner, SD Cleaner and much more efficiently.
The in-built apps can also be cleaned using the 1Tap cleaner by the process of default cleaning of these apps. All you have to do is set an interval at which you can clean your app and then forget all about cleaning.
Read Also: Best Junk File Cleaner For Windows 10/8/7
After this, the Android phone cleaner can keep on cleaning your Android phone all by itself without disturbing you with messages for permission to carry on cleaning. It is absolutely free and it is quite user friendly even though it has limited functionalities.
---
5. SD Card Cleaner: Efficient Android Cache Cleaning App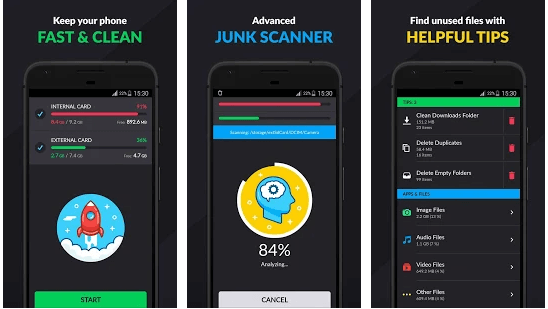 SD Card Cleaner is a top Android cleaner and acts both as a file maintenance and file managing app. The SD Card Cleaner has basically two types- free version and the premium version. SD Card Cleaner can identify all those orphan files or widow files that were either never used or were used long back.
SD Card Cleaner cleans up these files increasing the space for your more important files. The app is effective and simple to handle and manage. It is capable of purging unimportant files, call logs and various histories from the device.
---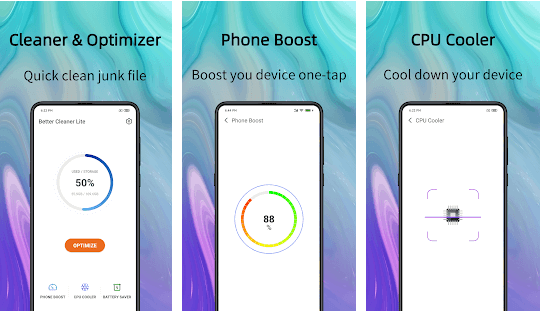 The Better Cleaner Lite is an effective cleaning app for Android that works best for those people who fear losing important data during cleaning. Better Cleaner Lite is a free app that handles and removes junk files without disturbing any of the data stored in the phone. You can actually save data and power on your phone with the help of this app.
Use just one tap to clean your phone. This app is designed in such a way that it would ask you to choose your files that you want to delete, while it would take care of the rest of the operations. Since you are entitled to choose your files that you would want to manually delete, hence there is no fear of losing data at all.
---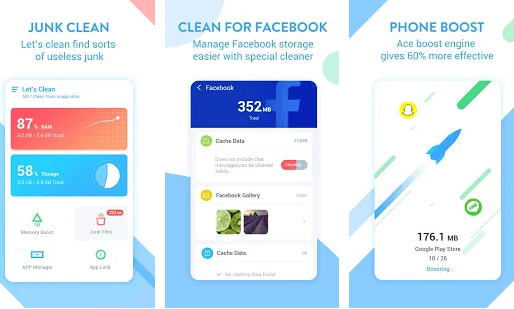 Ace Cleaner is one of the best cleaning apps of Android that you can use to speed up your smartphone. It can help you uninstall the unnecessary apps. It helps you with app locks and it is also a one tap app that notifies quietly and does not disturb you too much with unnecessary notifications.
---
8. CCleaner: Cache Cleaner, RAM Cleaner, Booster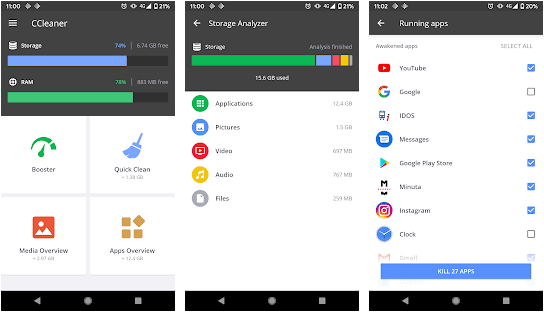 CCleaner is one of the best cleaner apps used for cleaning almost everything including computers, laptops and smartphones. It releases a lot of space by cleaning temp files, cache, junk files, downloaded folders, call and SMS logs, etc.
It incorporates a number of powerful features like application manager, RAM booster, app hibernation, storage meters and more. It also has a separate option for indicating battery and temperature of the phone.
---
9. Phone Master – Junk Cleaner Master, Battery Cooler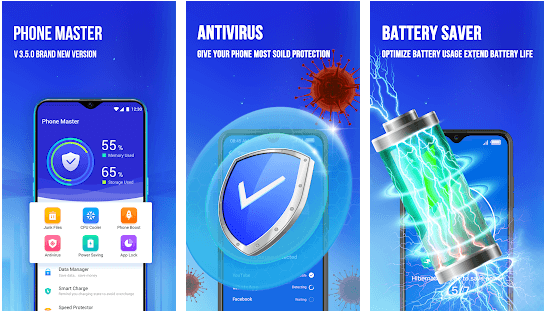 If you want your Android device to function in a way you like, then you must try Phone Master. With this app installed on your device, you can easily save power with CPU tuners and can also improve your phone's performance immensely.
Phone Master often requires asking you basic permissions in order to run on the phone. This app can however, turn a little perilous if you do not have much idea about the various tolerance zones of Android. It is a great app for those users who are well versed with the Android device though.
---
10. Avast Software – Booster, Storage & Memory Cleaner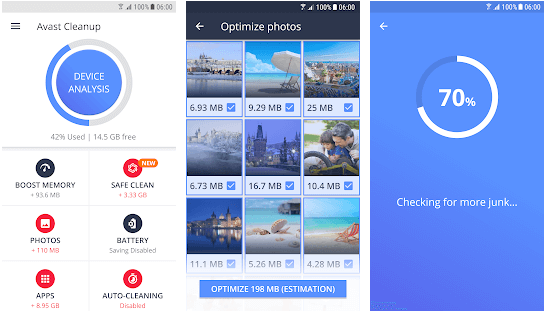 This is one of the best Android cleanup apps for Android as it cleans your phone in no time and makes it run faster.
All you need is just a single click to clean extra junk and trash from your Android smartphone.
One of the biggest advantages with Avast Cleanup and boost app is that you can organize your phone's picture library in no time. Furthermore, you can also analyze your images and apps.
You can improve your battery life by removing the junk of those programs in the phone that eats away your battery more. With Avast Cleanup you can actually make the high energy demanding apps dormant thus saving more of your battery.
---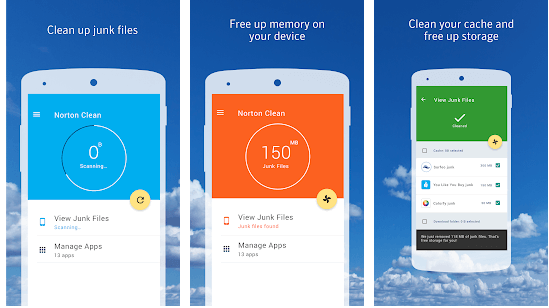 Norton is undoubtedly one of the best cleaners for Android. With the help of this app, you can successfully remove the junk and trash from your Android.
Apart from cleaning, Norton would always inform you whenever you are trying to establish a connection with an unsafe public Wi-Fi. You can always try to block all those calls that you do not want to take with the help of Norton.
Read More: Best Battery Saver Apps For Android Smartphones
With Norton Clean, junk removal you can uninstall any unnecessary apps and also find out more about those apps that can harm your Android phone in any which ways or have higher probabilities of stealing information from your Android phone.
---
12. AVG Cleaner – Clean Out Junk & Free Up Storage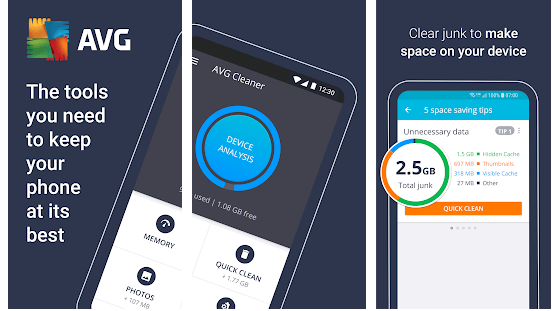 AVG Cleaner is one of the best cleaning apps for Android that can not only clean up the junk but can also increase the speed of your Android phone largely. AVG Cleaner could be your single stop solution for cleaning junk and for boosting your phone, in order to achieve an optimum performance. Delete unnecessary apps that serve you no purpose.
Chop off the unnecessary picture files and video files from your phone using AVG Cleaner. AVG Cleaner can increase the cell life of your phone remarkably. You can make those apps dormant in your phone that you are not using at that point of time with the help of AVG cleaner.
---
13. Speed Booster – Super Clean, Master of Cleaner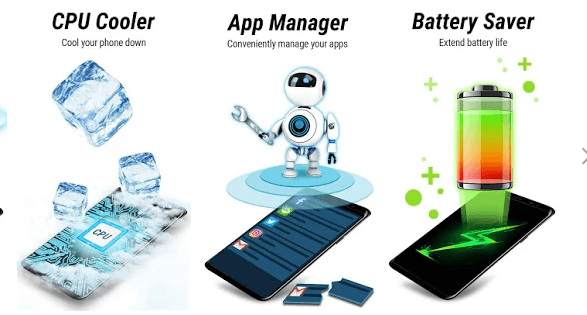 With Speed Booster you can clean junk files and remove messages from your phone. It is extremely lightweight and user friendly. You can remove any number of files and also boost your phone's battery life and also cools down your phone. Speed Booster is one of the best phone cleaner apps that can optimize your smartphone in no time.
---
14. 360 Cleaner – Speed Booster & Cleaner Free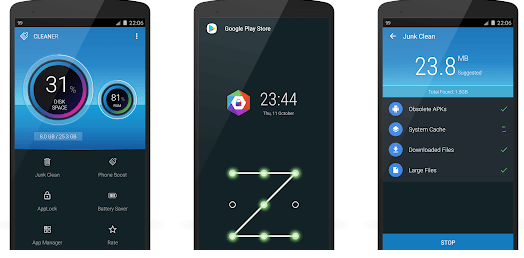 360 Cleaner is one of the best Android cleaner apps and helps to increase your phone's storage space. It also helps you to clean the cache and also boosts your memory. It serves as the app manager, processor cooler and also saves power immensely. It helps your phone work as an optimizer and also frees up memory and cools your phone.
---
Frequently Asked Questions:
Q1. Which is the best Android cleaner app without ads?
Among a myriad of best Android phone cleaner apps, you can use 1Tap cleaner app for an ad-free cleaning experience.
Q2. How to speed up an Android phone?
Android smartphones tend to become slow over a period of time after constant usage due to accumulation of numerous types of junk files.
Therefore, if you want to speed up your Android phone, then you can easily use Android cache cleaners apps to delete redundant temp files and free up memory as phone storage to speed up your Android smartphone.
You can refer to our article above for learning about some of the best applications in this category.
Q3. How to clean Android phone cache?
Android phone's can be cleaned using competent cleaning apps that can delete cache files, junks, and unused apps. You can refer to our article above to decide which app best suits your requirements.
Q4. How to make an Android phone faster through an optimizer app?
Optimizer apps cleans RAM, and uninstalls unused applications, deletes apps which hog the memory and battery, as well as remove unwanted files, videos, etc from the smartphone, thereby making the Android phone fast and stable.
---
Best Android Cleaner 2020
So, after reading about all these above-mentioned best Android cleaner apps, I am sure by now you know which one to use to clean RAM and improve your phone's performance.
Go to the Play Store and download the app of your choice. After downloading and using these renowned Android optimizers, your phone's performance would improve manifold.
We would love to hear from you. You can forward your queries and suggestions to us by putting them in the comment's box below. Subscribe to our newsletter or follow us on social media to get the latest updates from the world of Information & Technology.
Snigdha is a technical content writer with expertise in the field of science & technology. Though she has a very diverse academic and professional profile yet she finds writing to be a creative form that she was unable to explore so far. When not writing, she can be found indulging in other forms of creativity like painting or travelling.
Subscribe to Our
Newsletter

and stay informed

Keep yourself updated with the latest technology and trends with TechPout.
Related Posts