If you are a fan of customization and love to play around with your phone screen appearance and other features, then try customizing the built-in stock dialer for your Android phone with the help of Android dialer apps. 
Ever since Alexander Graham Bell won the first patent for the telephone in 1876, this device has undergone constant modification and up-gradation. In recent times, you can do so many things with your smartphones, but even to this day, what remains the primary function of a phone is to dial a number and make a call. 
Nowadays, with the advent of smart technologies, users have more customization options to make their phones even smarter and better. Using free dialer apps is one such way to enhance the features of the basic dialer app on your phone. In this blog, you will come across some of the best Android phone dialer apps available in 2020.
What Are the Best Dialer Apps For Android in 2020?
If you're not completely satisfied with the default dialer of your smartphone, here's a well-researched list of the best Android dialer apps that you can use in 2020.
1. Dialer, Phone, Call Block & Contacts by Simpler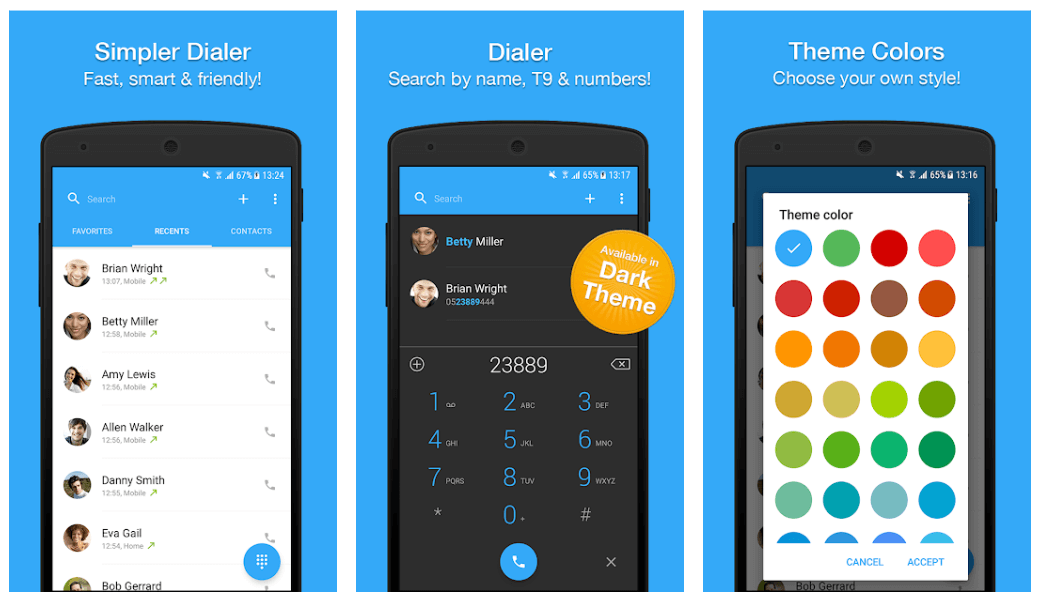 This app is developed by Simpler and is available 15 different languages like Spanish, Deutsch, and 13 other languages, including the English language.
Key Features:
The user interface is elegant, intuitive, and simple. You can choose from 40 different themes.
There is a caller ID with the option to block spam calls.
The T9 dialer provides a quick search option by name and number.
Frequently contacted numbers can be easily accessed. 
---
2. Contacts, Dialer and Phone by Facetocall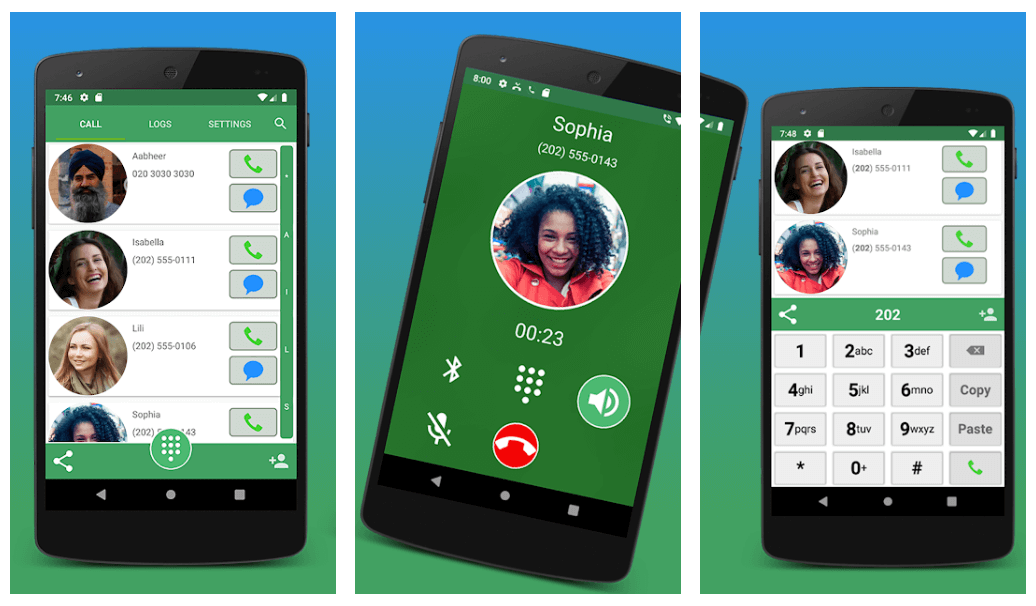 Developed by Gazman, this app supports dual sim and is enabled with smart contact management techniques.
Read More: Best Call Recording Apps For Android!
Key Features:
You can call a contact, send a text message, email, and also a WhatsApp message in one click. You can block calls with a single click too.
The user interface is large with larger appearing names and photos and a large dialing keypad, which can make it easy to spot contacts even in a haze.
The Facetocall smart algorithm makes it easier to see a call history associated with a particular contact selectively.
You have the option to select specific contacts whose calls you cannot afford to miss. It could be a call from your family, business partners, or any other important contact. These numbers will be categorized as VIP contacts, for which the phone will ring in full volume on receiving calls from them, even if your phone is in silent mode.
---
3. Phone X Full i Call Screen With Dialer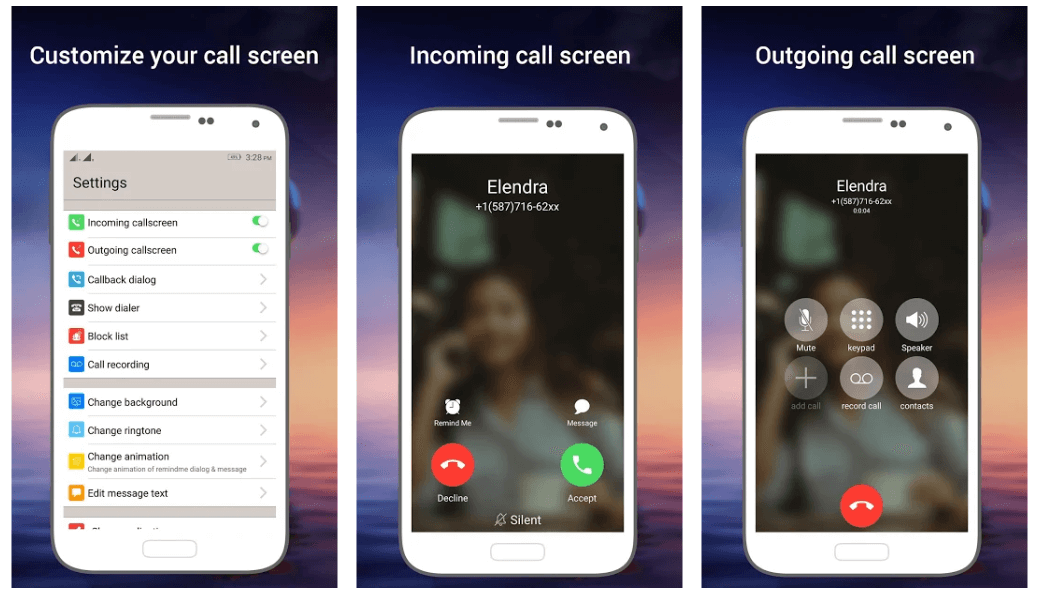 This app by Tritons can completely make the dialer and call screen of your Android phone look like iPhone's dialer and call screen. It supports dual sim too.
Key Features:
The HD callback screen is convenient to use.
Calls can be blocked, and also calls can be recorded.
Smart T9 search is enabled along with options to customize HD backgrounds, and set popular free ringtones.
---
4. Pure Phone
This app by Melons Caller Lab makes an excellent choice for a free dialer app as it doesn't store any user information and gives complete privacy to the user.
Key Features:
T9 dialer provides a quick search option by name and numbers.
You can search and quickly open other apps on your phone with this app.
---
5. My Photo Phone Dialer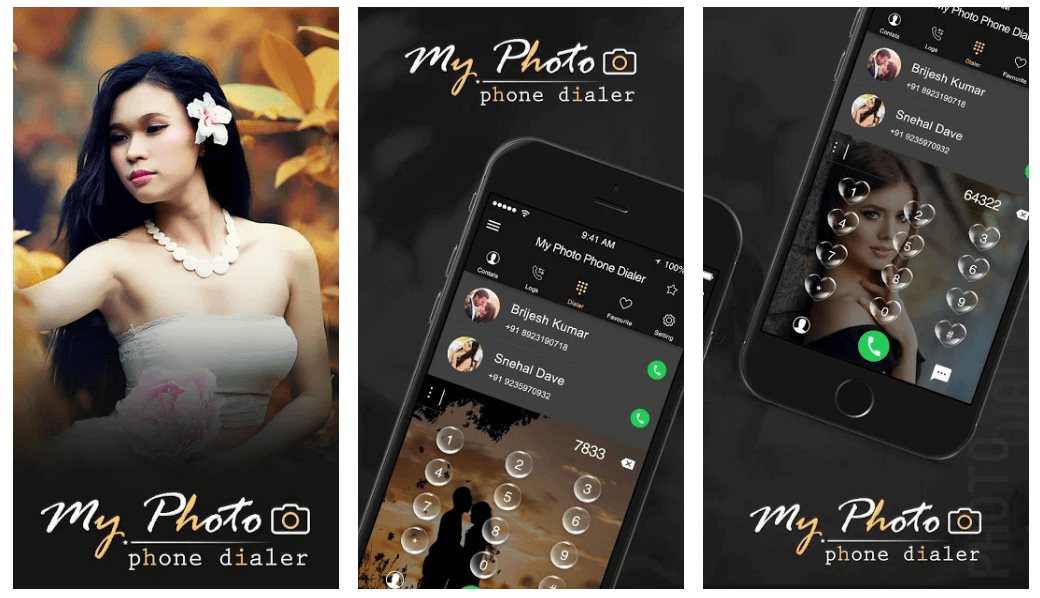 Offered by Color Flash App Studios, this app helps to personalize the dial and calling screen as per your choice.
Key Features:
Apart from regular dialer functions, what's most attractive about this app is that you can customize the dial screen, caller, as well as the dial pad as per your choice with HD display.
You also get a full-screen image of the caller to identify the caller.
---
6. Dialer+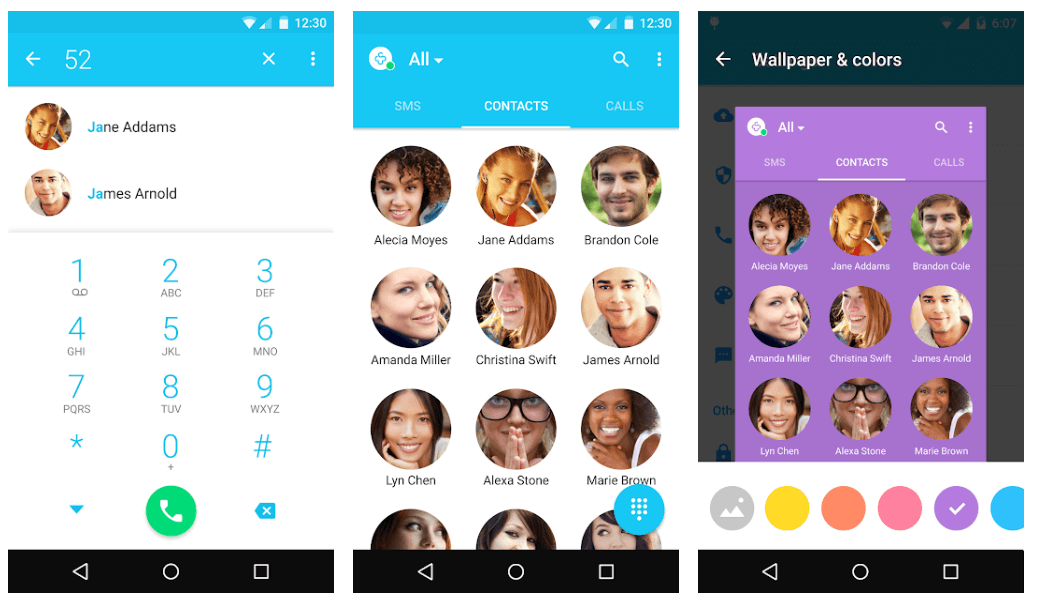 An offering from the Contacts Plus Team, this app is rather the launcher app of Contacts+ app.
Read More: Best Free Video Calling Apps For Android
Key Features:
What you get is a contact app in combination with a dialer app.
You can back up your contacts list and also block unknown callers effortlessly.
You can customize the dialer app as per your choice using the preset themes.
---
7. Truecaller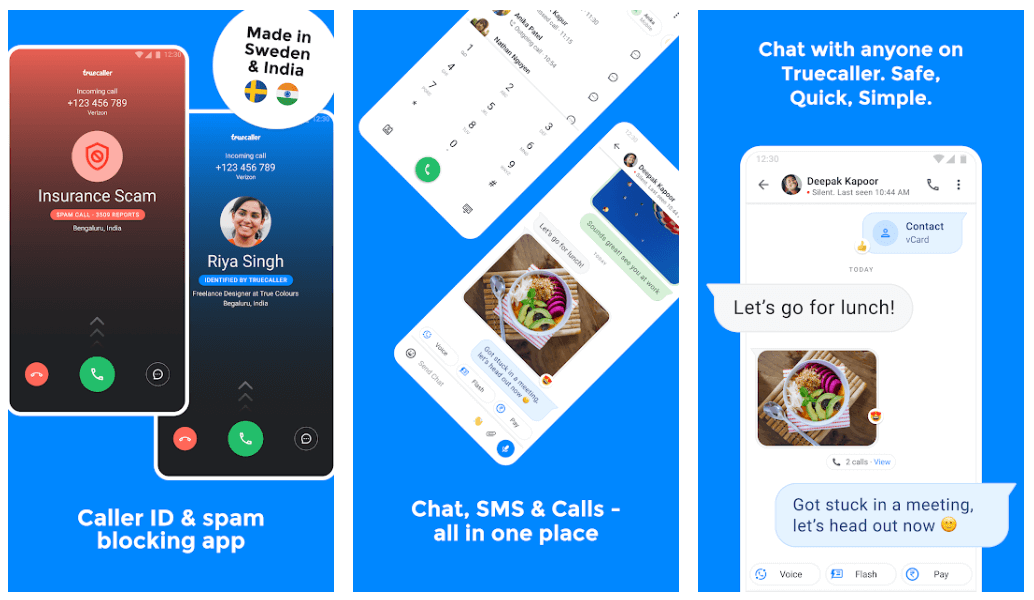 Truecaller has been one of the most well-known apps when it comes to identifying the caller ID and blocking unknown callers. This app is brought to you by True Software Scandinavia AB and is compatible with Android as well as an iOS platform.
Key Features:
With Truecaller, you can have a sound sleep as it is very efficient in blocking the telemarketer calls.
You can record calls with the premium version and also know who has viewed your profile. You can also prevent ads from annoying you and even choose to stay anonymous while viewing other profiles.
Money transfer features, smart messaging, backup contacts, call history, and much more can be done with this app. This app is growing into an all-rounder app slowly to manage many of your phone's functions.
---
8. Hangouts Dialer – Call Phones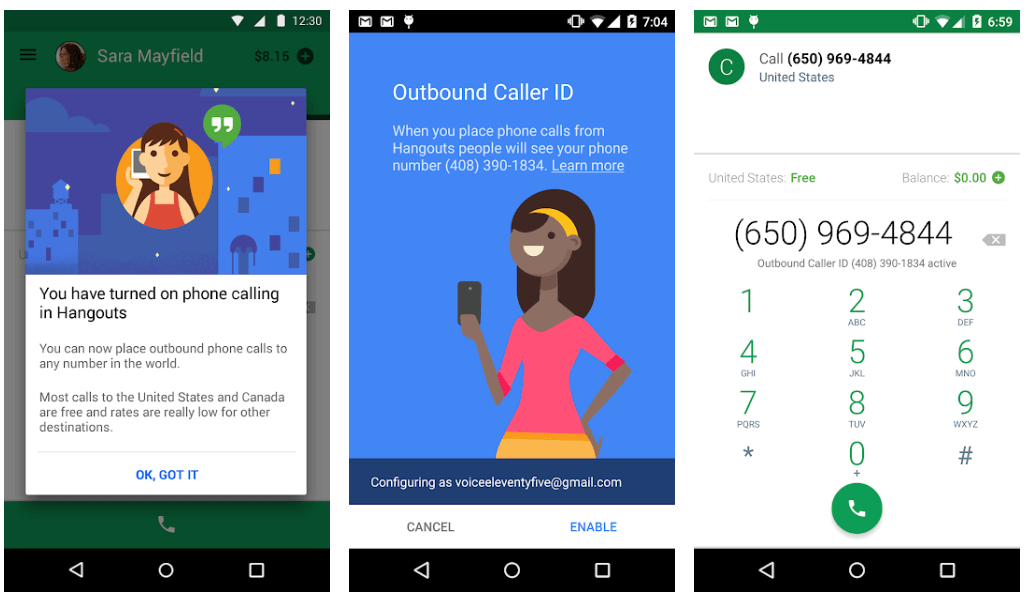 Directly from Google, this app has grown from being just a messaging app to a caller app now as well, and most calls can be made to US and Canada for free.
Key Features:
You can connect to mobile numbers as well as landline numbers.
You can use your own Google Voice number to make VOIP calls using internet data.
The Outbound Caller ID will show a verified number to whoever you are calling.
---
9. Old Phone Dialer Keypad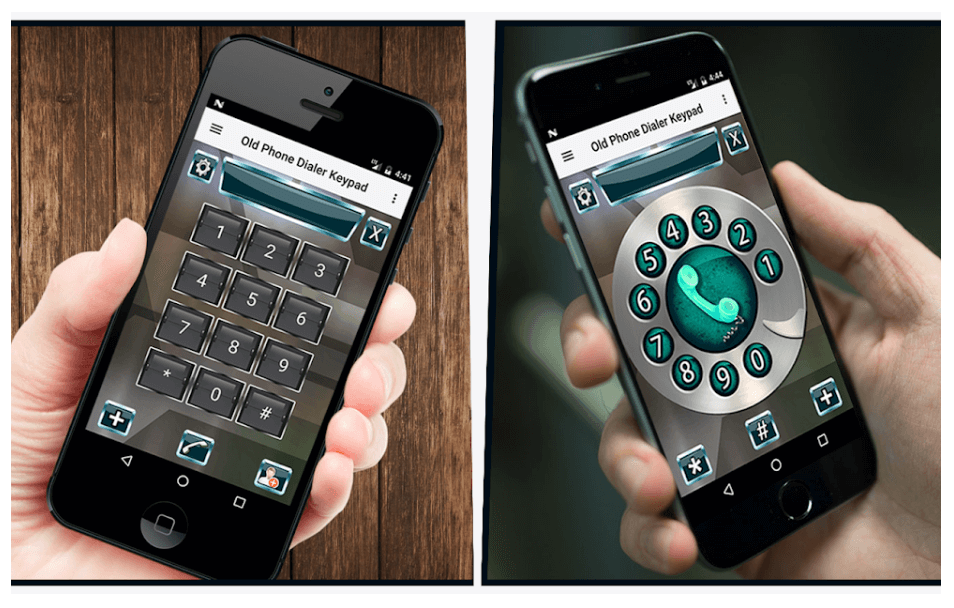 Brilliant App Studios offers this app, which has a unique user interface.
Read Also: Best Free Voice Changer App During Call
Key Features:
This app interface resembles the yesteryear table landline phones with a rotary style dialer keyboard.
This app also has a 3D Contacts list with four themes, such as the black dialer, metal style, wooden, and sand blue dialer themes.
---
10. Zeo Dialer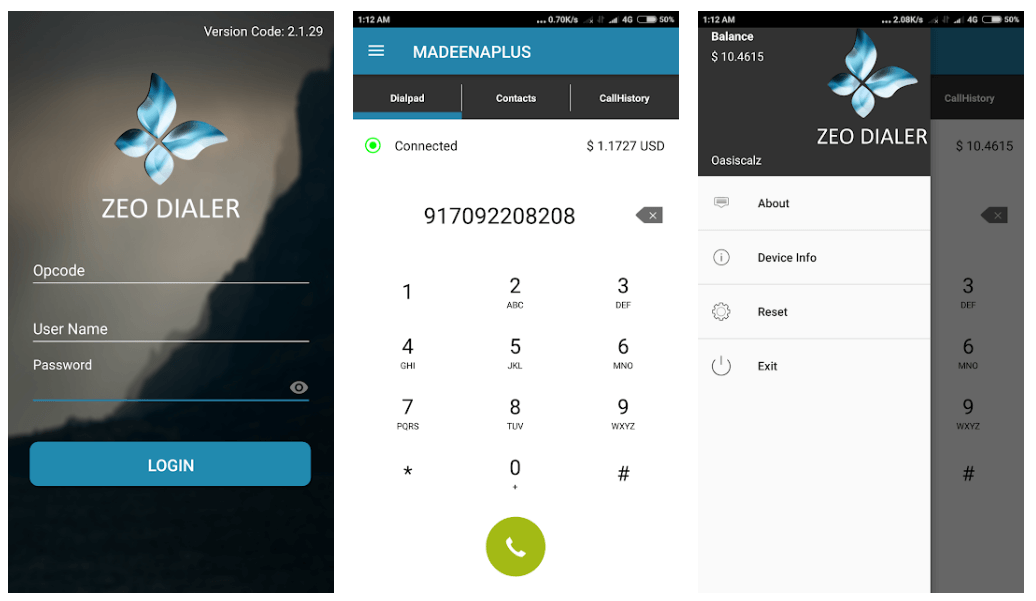 Developed by Zeo Dialer, this app has a stunning interface.
Key Features:
This app enables a user to make VoIP calls with WiFi or mobile internet data.
This app is compatible with most OS platforms.
This app supports Nat Traversal, major Codecs, and standard SIP RFC.
You can also get real-time SIP status from the dialer.
---
11. AppDialer Pro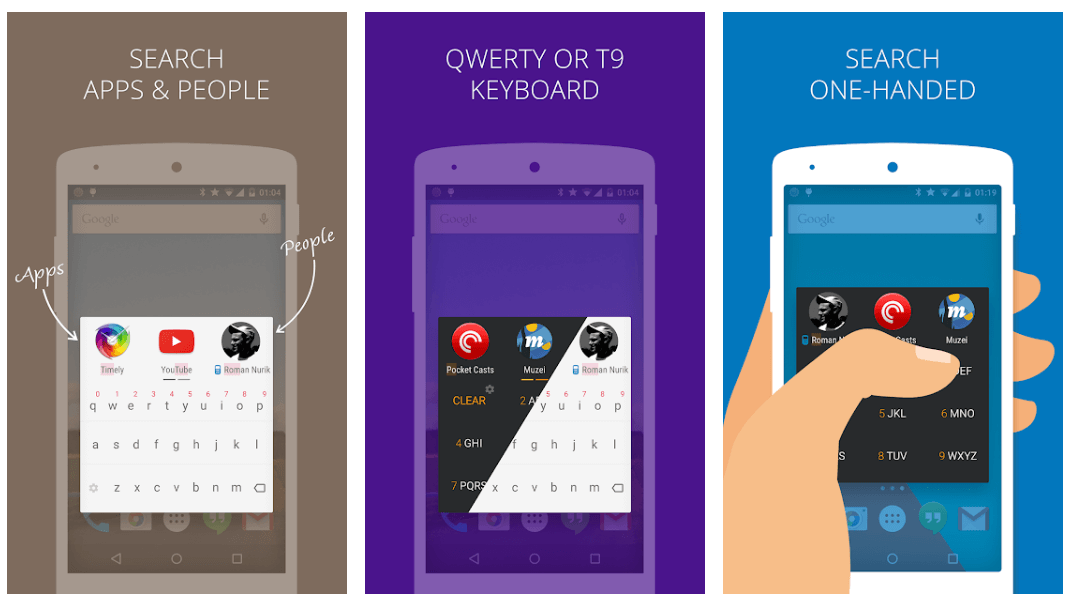 This is another easy to use an app from Oleksii Masnyi.
Key Features:
You get a predictive QWERTY keyboard.
This app can be used to search other apps on your device very conveniently apart from searching for contacts with their names or phone numbers. This is very helpful when you have too many apps on your phone.
The user interface is stylish looking.
---
12. Dark Theme Dialer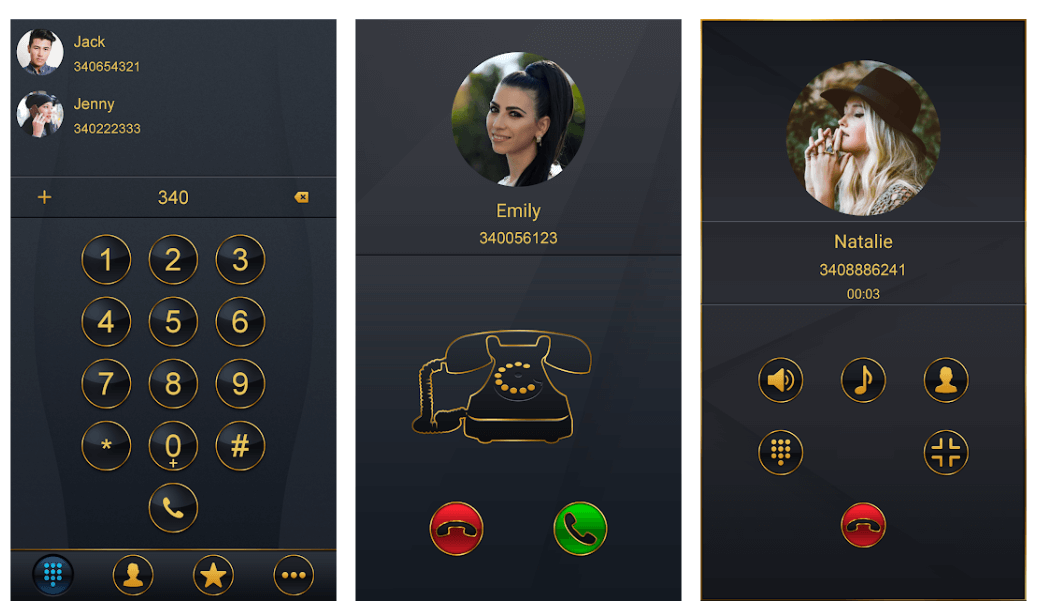 Dark theme is trending right now with all major apps opting for incorporating it, starting from Twitter, Instagram, YouTube. It certainly changes the look of the app from boring to gorgeous. This app is from Thalia Premium Photo Montage.
Key Features:
Apart from customizing the dialer screen and dial pad, you can also personalize the caller screen.
You can also block calls from unknown callers.
To make a call or message, you can slide a contact towards the left.
---
13. Dialer, Phone, Call Block & Contacts by Simpler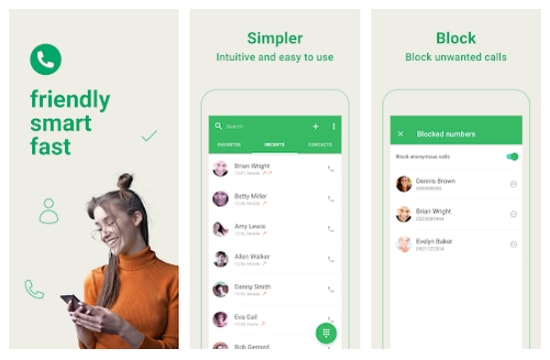 Presented by Simpler Apps Inc, this app is not compatible with Android 8 and 9 and some more devices like Mi, Motorola, etc.
Key Features:
This app is easy to use with great customization capability.
This app offers complete management support for Android.
---
14. True Phone Dialer & Contacts & Call Recorder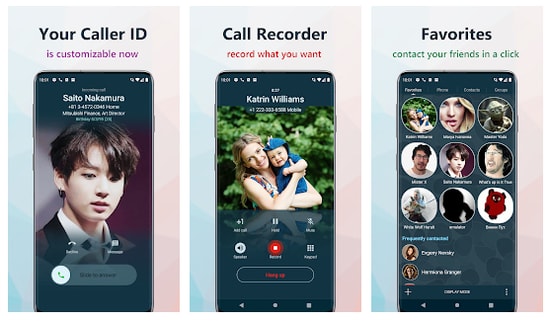 Here's another best Android dialer replacement for your default dialer application, True Phone. It focuses on elevating your calling experience by providing you quick and easy access to your contacts list, favorites, and recent calls history. Let's talk about some of its rich features.
Key Features:
True Phone is highly customizable and easy to use dialer application for Android smartphone users.
Beautifully designed screens for incoming and outgoing calls.
It allows you to record phone calls with just a click of a button.
Built-in themes, extended dual SIM, and multilingual support.
---
Conclusion
Hopefully, the above article gave you a fair idea about which are the best dialer apps for Android. Each of the above-listed Android dialer apps can enhance the functionality and fun factor of calling someone. They also help in identifying phone numbers with the help of dedicated caller IDs. Blocking spam numbers and managing phonebooks also becomes convenient with the help of such apps.
Snigdha is a technical content writer with expertise in the field of science & technology. Though she has a very diverse academic and professional profile yet she finds writing to be a creative form that she was unable to explore so far. When not writing, she can be found indulging in other forms of creativity like painting or travelling.
Subscribe to Our
Newsletter

and stay informed

Keep yourself updated with the latest technology and trends with TechPout.
Related Posts