12 Best CleanMyMac Alternative to Clean and Optimize Your Mac

Here in this blog, we're going to talk about the best CleanMyMac X alternatives for Mac in 2023. Keep on reading to know about the best software for cleaning & optimizing your macOS.
A lot of junk and cache can slow down your MacBook completely. So, sooner or later, you would come across the message that reads "your disk is almost full."
Cleaning your MacBook manually can seem like a daunting task in itself. Thus, the solution to this problem would be a cleaning app compared to a manual removal of files.
CleanMyMac is the most widely used tool for cleaning the MacBook. But, given it is expensive and the free trial period is quite short therefore we are putting forth CleanMyMac alternatives through this article.
In this article, we have brought together 12 best alternatives to CleanMyMac that will make your life easy in many ways whenever you are thinking of cleaning your MacBook.
List of Top 12 Best CleanMyMac X Alternatives For Mac in 2023
Find the detailed description and features of the top paid and free alternatives to CleanMyMac X for Mac below.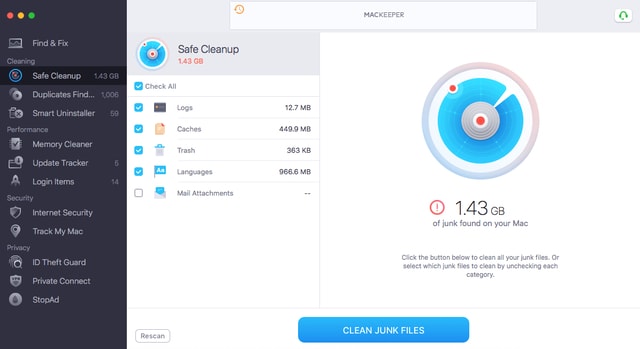 MacKeeper is, without a doubt, one of the most popular and the best CleanMyMac X alternative for macOS. The software offers all the required features which you would need in order to improve the performance and security of the system. It offers an in-built antivirus that lets you protect the system from all possible threats.
The software serves as an excellent alternative to CleanMyMac due to reason that it takes only a few minutes to present you the list of files that you can delete and make space on your Mac.
Pros
24/7 full technical support.
Safe and secure browsing.
Provides you with daily auto-scans.
Cons
Lacks of protection against malicious websites.

---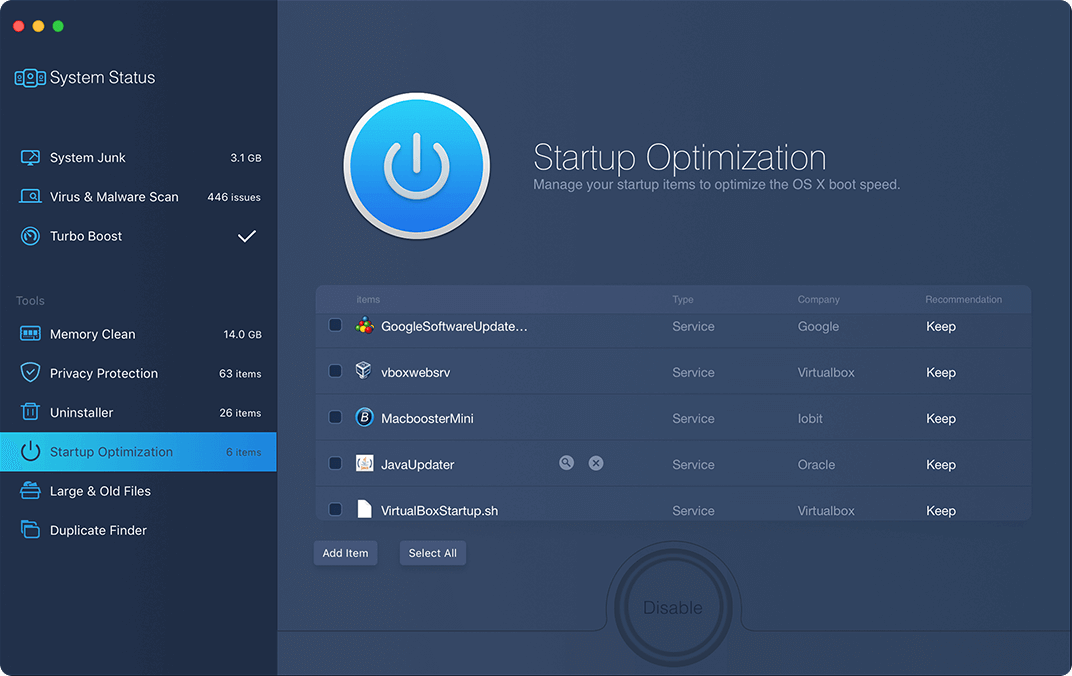 By using MacBooster 8 Pro, you can comfortably clean up cache, junk files, cookies, temp files and all those duplicate files, photos and videos that mar the space within your MacBook. You can remove 20 different kinds of junk files using MacBook 8 Pro, alongwith malwares, bugs, Trojan horses and different viruses.
This CleanMyMac alternative will help you boost the Mac hard disk that would optimize your Macbook's performance immensely.
Pros
Cleans 20 different types of junk files.
Provides complete protection against potential threats and malware.
Robust scan engine.
Finds and deletes duplicate files.
Cons
Not compatible with older versions of macOS.

Read More: Best Easy Ways to Speed Up Your Slow Mac
---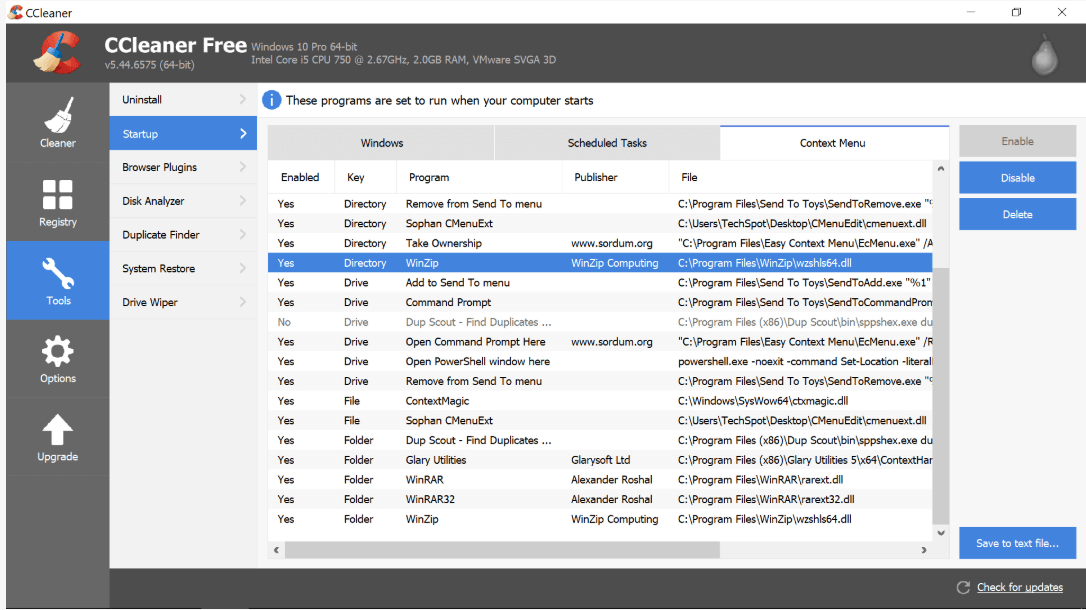 If you're on the internet all day, then this app is made specifically for you, a perfect alternative to CleanMyMac. Apart from cleaning your device, CCleaner would also remove search histories and cookies from your system. Removal of broken files can help boost your Macbook's performance. It also helps the removal of unwanted files from your storage and drives.
The free version of your CCleaner, would protect your privacy, and boost your applications of your system, whereas the advanced version would provide automatic updates and also ensure a premium end-to-end support system.
Pros
Budget-friendly.
All-in-one solution for Mac optimization & cleaning.
Runs deep clean and recovers GB's of space.
Round-the-clock technical assistance.
Real-time monitoring.
Cons
The interface could have been better.
Navigation is complicated.
---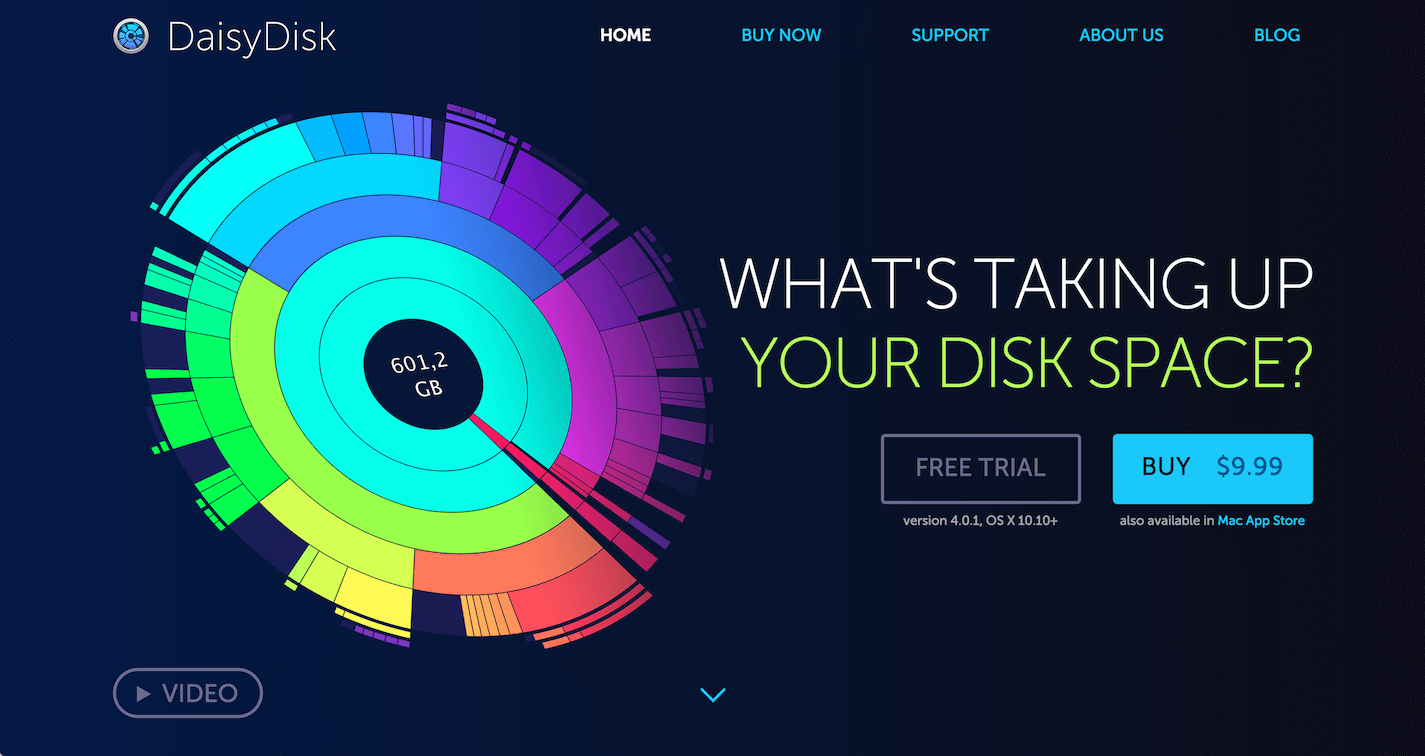 Daisydisk is another CleanMyMac alternative application that helps you manage your disk like none other. It is also a disk management device that helps you in managing space within your MacBook. Daisydisk helps you manage the disk space with the help of a chart. The chart helps you remove the imperfect links that kill the disk space.
It can clean all the unnecessary files that keep accumulating in the device. Starting from cache files, junk files, to cookies and other kinds of stuff, you can clean almost everything very comfortably. You can scan two or more disks any time with Daisydisk quickly.
Pros
Highly customizable.
Innovative Mac cleaner and optimizer.
Perfect fit for budget users.
Lightweight tool.
Cons
Might have compatibility problems with older Mac versions.
Beginners may find it difficult to navigate.
---
Disk Doctor is another one of the powerful disk management apps for MacBook. With this perfect alternative of CleanMyMac, you can clean gigabytes of cache, browsing history, application logs, downloads folder, unwanted files, developer files, old iOS software updates and widowed contents in an instant.
It cleans your trash can and very large files (files larger than 100 MB) as well. Detect all those flaws within your disk space and ensure to optimize it according to your needs with this tool.
Also Read: 13 Best Uninstaller for Mac to Completely Remove Unwanted Apps
Disk Doctor is awarded the 'Mac Gem' award by MacWorld for being the best cleaner app in the year 2013.
Pros
Intuitive interface.
Easily & quickly removes GB's of disk space.
Easy-to-use tool.
---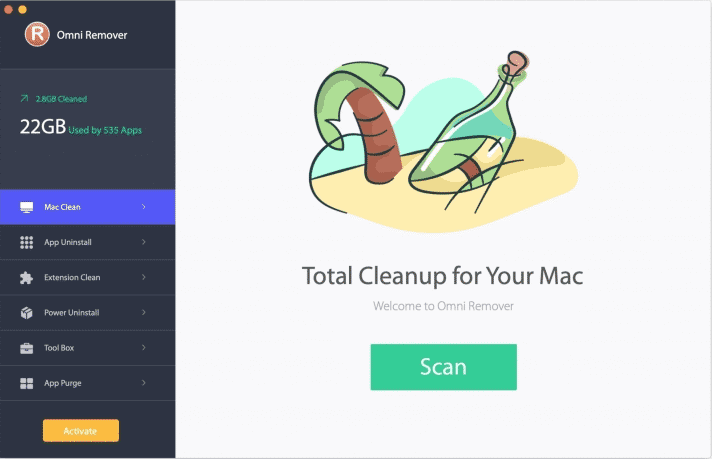 An average MacBook has somewhere 5-20 GB of trash and junk data files at one point of time that can slow down your system's speed largely. Omni Remover 3 is an alternative to CleanMyMac that helps in cleaning your Mac, and in keeping your system in proper shape.
It offers a huge number of Mac cleaning tools that helps optimize your device, bringing it close to the initial performance abilities of your MacBook. You can remove bloated apps and also remove 32-bit incompatible apps with this best Mac cleaner app.
Pros
Keeps your system in good shape.
Provides a decent number of Mac cleaning utilities.
Definite format process.
100% risk-free.
Cons
Less effective than others Mac cleaning software.
---
7. Sensei – MAC Performance Tool
Sensei is a relatively new Mac cleaning app in the market.
With the Sensei's performance tool, you can easily monitor the overall well being of your hardware and uninstall mac apps that are currently not in use.
Read More: Best Apps For Mac That You Can Get With Setapp
Apart from optimizing your Mac, this tool has the following additional features that make it far more superior than the rest of the apps. They are, Mac  performance dashboard, storage health analyzer, storage benchmark, temperature monitor, battery health report, app uninstaller, etc.
Pros
Monitors the overall Mac performance.
In-built app uninstaller to remove the apps that you no longer need.
Shows full battery health logs.
Default storage health detector.
Cons
You may find it a bit complicated.
---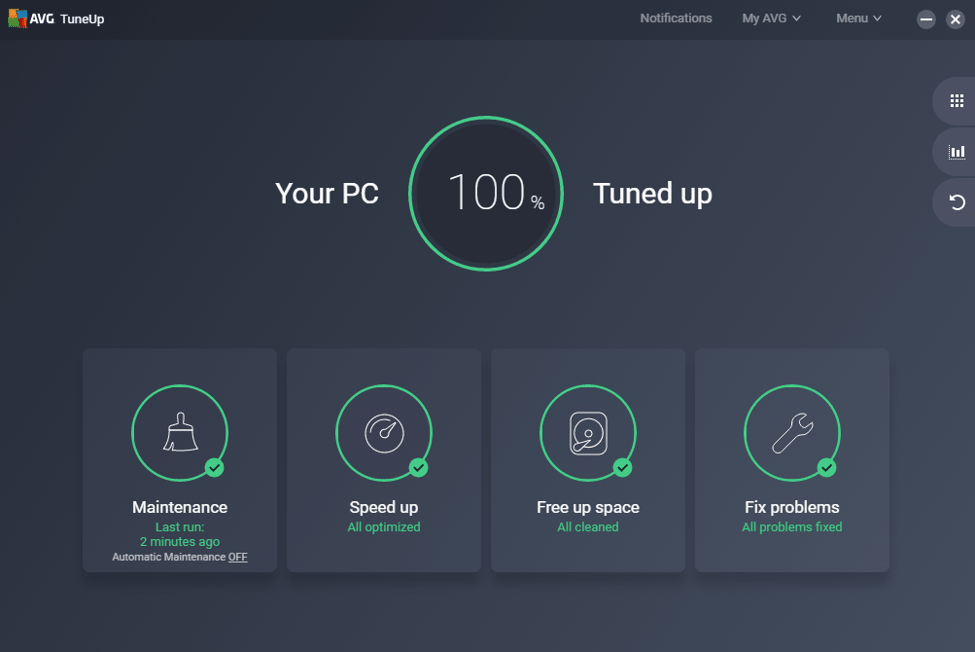 Next software on our list of best CleanMyMac alternatives is AVG Tuneup. This software is one of the market leaders in cleaning and optimizing systems. It effectively scans and finds duplicate files to reduce system storage. Apart from this, you can scan for junk files, bad quality photos, cache files, trash, and temporary files.
It saves a lot of time and effort as you can simply with just a click can clean all the mess from your PC. It finds the junk even from the deepest corners of the storage, which is why it is the most trusted and downloaded software. Though it does not offer security features but that's fine as this is not antivirus software.
Pros
Packed with advanced duplicate cleaner features.
Effectively clean and optimize your Mac.
Simple navigation.
Cons
A bit more expensive than other Mac cleaners available on the market.
Lacks on security features.
---
9. Disk Clean Pro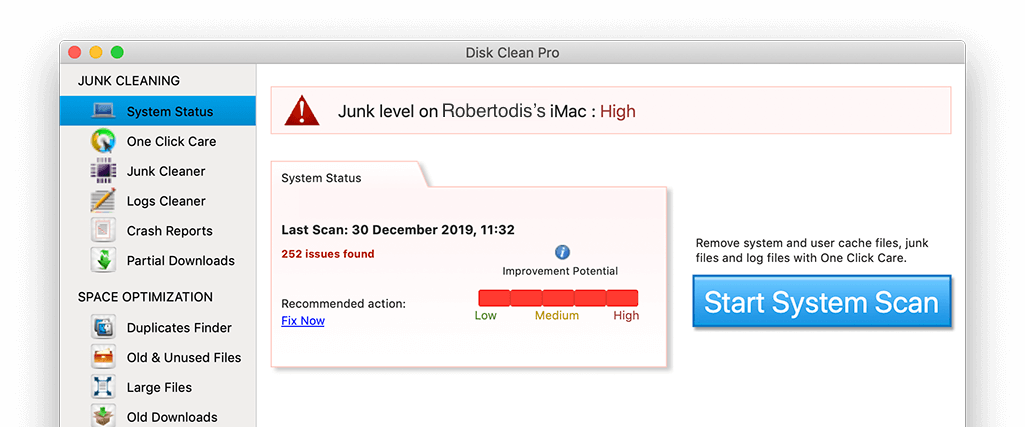 Disc Clean Pro is a perfect alternative to CleanMyMac. It helps make your Mac clutter-free. It removes junk files, redundant files, but at the same time, it also helps retain important data and files. It also helps in file indexing, improves your search rate and boosts internet speed.
Disk Clean efficiently works as a log cleaner, generates a crash report and facilitates removal of incompletely downloaded files. It protects your privacy by removing your past browsing history. Moreover, it cleans trash files, mail downloads, and old backup files.
Pros
Thorough and speedy cleaning.
Possessed with advanced tools to free up ample storage space.
Most affordable Mac optimizer.
Cons
Not compatible enough with older versions of Mac.
---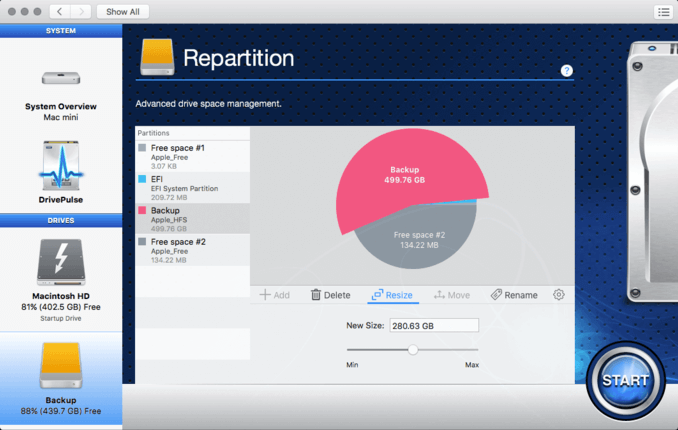 Drive Genius is one of the best alternatives to CleanMyMac that can clean your trash, in addition to the junk files and unwanted files. Its advanced cleaning feature helps you scan the system for active viruses and cleans your Mac deeply.
Starting from finding large files, securely erasing data, performance tuning to disaster prevention, you can do a lot with the Drive Genius application. It helps you manage and optimize your hard drive in the most efficient manner.
Pros
Finds large files.
Securely removes duplicate photos.
Optimizes hard drive.
Deep scan.
---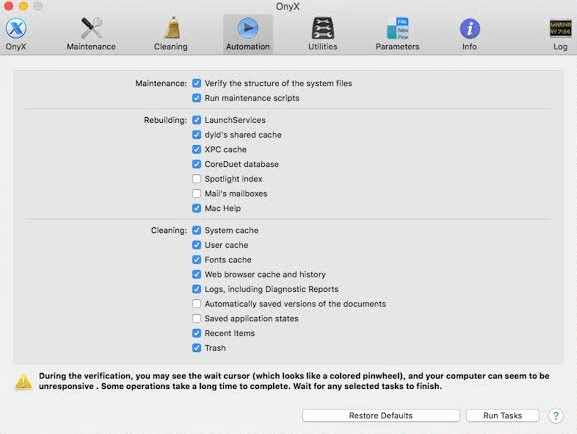 An all-in-one app, Onyx serves as a perfect alternative to CleanMyMac when it comes to maintenance and cleaning.
This app has multifunctional abilities and ensures verification of the startup disk, and can scan to perform maintenance and cleaning tasks simultaneously.
It can rebuild indexes and databases for your system and can appropriately configure Dock, Safari, Mac and several other Apple applications.
Read More: Best Encryption Software For Mac
Pros
Completely free to use Mac cleaner.
Instantly performs all basic cleaning.
Provides good customer support.
Cons
Has only basic cleaning features.
Not suitable for professional users.
---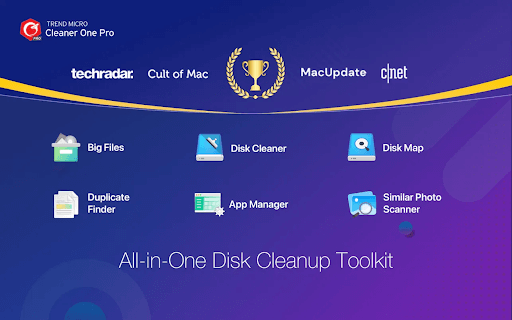 The last name on this list of the best alternatives to CleanMyMac is Cleaner One Pro. With a single click, the tool allows you to clean all the unnecessary and junk files. Additionally, the tool offers smart widgets and icons that allow you to clean files quickly and efficiently.
The tool is quite useful in removing all the unnecessary residual files left behind by any uninstalled app. Moreover, you can also delete duplicate images with the help of this software quite easily.
Pros
Quick scanning
All-in-one tool with multiple features
Single-click execution
Ignore feature available
Cons
Lacks some basic optimization features
---
Closing Lines
I am sure that the CleanMyMac alternatives suggested above would satisfy your needs absolutely. Some of these apps have features that are quite unique. After going through all of them you can select an app that suits your requirements perfectly.
Make sure you choose more wisely if your folders bloat up every other day. Alternatives for CleanMyMac can suffice your time to time necessities if you are not an avid hoarder of files.
We would like to hear from you, so feel free to leave your comments below.
Snigdha is a technical content writer with expertise in the field of science & technology. Though she has a very diverse academic and professional profile yet she finds writing to be a creative form that she was unable to explore so far. When not writing, she can be found indulging in other forms of creativity like painting or travelling.
Subscribe to Our
Newsletter

and stay informed

Keep yourself updated with the latest technology and trends with TechPout.
Related Posts