Top 5 Ways to Speed up Your Web Browser & Internet Speed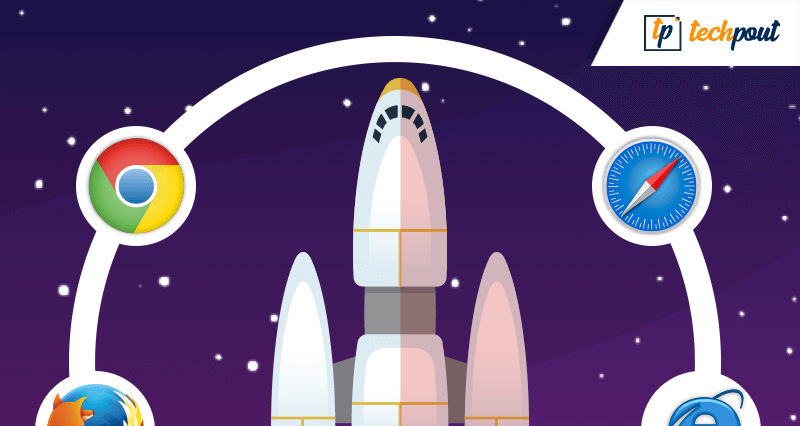 Even in today's interconnected world with high-speed Internet at fingertips, anyone can get stuck with a slow or uncertain connection at home, in the office, or at the worst possible time while traveling.
In today's fast-moving market, everyone knows how frustrating & time-consuming a slow Internet connection can be.
Slow downloads, not being able to watch your favorite TV shows, live streams or play video games are issues that can ruin the online experience.
So, if you're in the company of millions of others speculating why your Internet connection seems to be slow all the time? Then, you don't need to worry anymore as we've got you covered.
Here are some simple tips and tricks that can give you a clear insight on how to speed up web browsing and Internet speed.
Let's jump right in.
Simple Tips & Tricks to Speed up Web Browser 
1. Secure Your Browser
Nowadays, malware or computer viruses are becoming more adaptable and damaging than ever before, constantly developing new tactics to bypass security checks.
With the entrance of such malicious items, the web browser can become slow and your confidential information could be accessible to cybercriminals.  
So, it is essential to keep your system safe from both common threats & modern-day malware infections for faster browsing speed.
In light of this, all you need to do is run a full system scan with a good antivirus product to improve your browser's performance. 
2. Clear Cached Data, Cookies, and Internet History
If your web browser seems sluggish, you can always clear your web browser's cache, cookies, and Internet history in order to prevent or resolve performance issues. 
An extensive browsing history, cache, and cookies take a considerable amount of space, leading to a slower Internet connection. 
So, getting rid of them can significantly speed up your browser and fix certain problems, like loading content or formatting issues on websites. 
3. Disable Toolbars and Unwanted Browser Extensions 
Toolbars are often installed alongside software, affecting not only the browser's appearance, but also slowing down your Internet speed. 
Similarly, some browser extensions can bring new features for your browser & enhance your online experience. On the other hand, too many extensions can drastically decrease the speed of your web browser.
So, whether you're using Google Chrome or Firefox or any other web browser, it is important to uninstall all the unwanted browser extensions or add-ons to keep your computer functioning at its best. 
4. Keep Minimum Tabs and Windows Open
If you're someone who loves to open dozens of browser tabs at once while researching & gathering information online, then it's possible that your browser may become slow or unstable, maybe not now but someday it will.
In such cases, you can always avoid these browser's performance issues & increase your browsing speed by limiting the number of tabs and windows you have open.
5. Block Annoying Pop-up Ads
Pop-up, banner, and video ads are not only annoying but also have a tendency to slow down your Internet speed.
To get rid of such annoying advertisements, you can always use an intuitive browser extension like "Ad-Blocker Pro" for safe and faster browsing experience.
Ad-Blocker Pro does an excellent job in eliminating pop-ups, banners, and false discount offers, so you can see what really matters while experiencing a faster Internet.
So, these are a few simple tips & tricks to boost your browsing speed for a more pleasant browsing experience.
Now that you know how to speed up web browsers, you don't have to worry about the Internet connection, just implement these aforementioned tips & tricks and enjoy the enhanced online browsing experience always.
Monil is a professional writer whose forte is absorbing a lot of data and help large technical organizations convey their message clearly across multiple products. An engineer by qualification, his affinity for design enables him to write to inspire, energize, and influence various audiences to uncover their true potential. When not writing, Monil is likely to be found listening to music, traveling, or simply excavating into his favourite cuisines.
Subscribe to Our
Newsletter

and stay informed

Keep yourself updated with the latest technology and trends with TechPout.
Related Posts