Read to know about the best apps to mass unfollow on Instagram, here is everything you need to know about the concept.
Instagram – a simple and creative way to capture, edit & share pictures, videos, and messages with friends & family. Launched in 2010, the app lets its users post media that can also be edited with effects & filters and managed by trending hashtags and geographical tagging.
Since its release, Instagram has received an overwhelming and positive response from people all over the world. Lately, after introducing a new Reel feature to its platform, the app has become an attractive platform for businesses and content creators.
If you are already familiar with Instagram and have been using it for a while, then you probably have followed a lot of other IG users as well. Being an avid IG user, sometimes, you may find yourself in a situation where someone you follow doesn't follow you back, which can also be quite annoying. And, manually removing all these unwanted users can be a time-consuming and complicated task. Therefore, in order to unfollow all Instagram users in just one click without wasting a lot of time, follow this guide. In this blog post, we have brought a list of the 5 best apps to mass unfollow on Instagram.
5 Top Apps to Mass Unfollow on Instagram
Listed below are the most dedicated apps that you can use to mass unfollow on Instagram. Continue reading for better insights.
1. Fast-Unfollow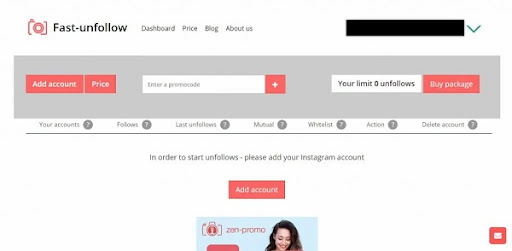 If you are looking for an application that quickly unfollows Instagram accounts at a blazing speed, Fast-Unfollow may be exactly what you need. With this app, you can unfollow 1400 accounts per day in the blink of an eye.
In case you are worried about unfollowing your dear ones accidentally, this app is intelligently programmed to leave the accounts that have followed you back.
In addition to this, the option to add over 50 profiles to the application makes it a unique app to mass unfollow on Instagram.
Also Read: Top Instagram Password Finder Tools
---
2. Mass Unfollow for Instagram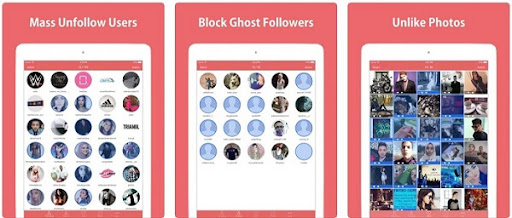 Mass Unfollow for Instagram is an application that is much more than just a tool for unfollowing multiple accounts. It boasts some high-end features that help you do the much-needed Instagram cleaning with ease.
For instance, you can use this application to bulk delete posts, unlike multiple posts simultaneously, and block unwanted accounts. Moreover, the app provides you with a detailed report of all your Instagram posts and followers.
Talking about the interface of Mass Unfollow for Instagram, it is intuitive and works flawlessly to declutter your account.
---
3. Followers-Unfollowers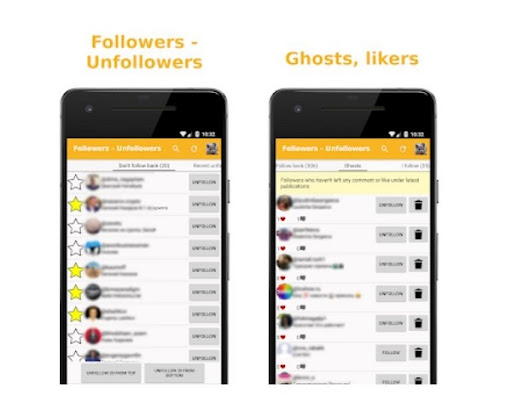 Next, we have Followers-Unfollowers on our list of apps to mass unfollow on Instagram for free. The application has over 5 million downloads on the Play Store for its highly useful features.
A few of its helpful features include a detailed overview of unwanted, ghost, and inactive accounts, mass account blocking, information about followers that don't like or comment on your posts or have unfollowed you, and a lot more.
Also Read: How To Get Blue Tick On Instagram: A Step-By-Step Guide
---
4. Unfollow Users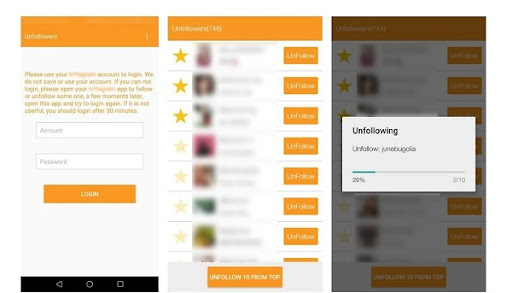 Here is another great application you can use to mass unfollow on Instagram. Unfollow Users is a simple Instagram Manager tool with a lot of beneficial features, such as a full overview of statistics regarding your account engagement and followers. In addition to this, it also lets you get more account followers.
Moreover, the app has an easy-to-use and intuitive interface with an option to sort your list of followers into various categories.
---
5. Followers & Unfollowers
The next name on our list of the best applications to unfollow everyone on Instagram is Followers & Unfollowers. The app is well-known to provide useful insights, such as mutual followers, people whom you do not follow, and who unfollowed you recently.
Moreover, you can use Followers & Unfollowers to unfollow up to 50 people in one go with an option to switch between different Instagram accounts easily.
Also Read: Best Instagram Photos & Videos Downloader Apps
---
How to Mass Unfollow on Instagram: Explained
Undoubtedly, Instagram is a popular social media networking platform, but it still lacks a feature that enables you to unfollow IG users in bulk. Luckily, thanks to the best mass unfollow apps that allow you to unfollow users in bulk on Instagram and save you a lot of time as well.
In this guide, we have explained the top apps that you can use to do mass unfollow on Instagram. Hopefully, you find the article much more useful. If you have any questions or better recommendations, then do tell us in the comments section below.
For more information related to the tech niche, do subscribe to our Newsletter and follow us on Facebook, Twitter, Instagram, and Pinterest.
Harshita Sharma is a technical writer with quite a distinct understanding of the tech realm. She is a tech enthusiast who believes that tech knowledge should reach one and all and tries to convert the sketchy knowledge into the simplest possible form for making people understand the tech world better. When not playing with words, she loves to travel and explore new places. And, is a coffee & cricket connoisseur.
Subscribe to Our
Newsletter

and stay informed

Keep yourself updated with the latest technology and trends with TechPout.
Related Posts