Best Instagram Photos & Videos Downloader Apps 2023

With millions of stories getting uploaded on Instagram every day, people are looking for a way to save their favorite Insta stories and videos. In this blog, we bring the latest utility software best Instagram downloader app, which will enable easy downloading of Instagram videos and photos. 
There are many instances when you come across a few images and stories that stay in your mind for a long time. You wish to save them but are unsure of the method as Instagram does not allow media downloading. But does that mean there is no rescue point for you? 
Well, to your surprise, the market is full of Instagram Photo and Video Downloader Apps, which are developed keeping this specific issues in mind. Here, we have prepared a well-researched list of some of the best Instagram Downloader App for you. 
Stay tuned to learn "How To Download Instagram Photos/Videos." 
Best Apps to Download Instagram Photos & Videos:
If you are still wondering "how to Download Insta Videos and Photographs," then this article has everything that you need to know. Let's now move on the check about some of the best Instagram Video Downloaders. 
Instagram Photo & Video Downloader Apps for Android Devices:
1. Saver Reposter for Instagram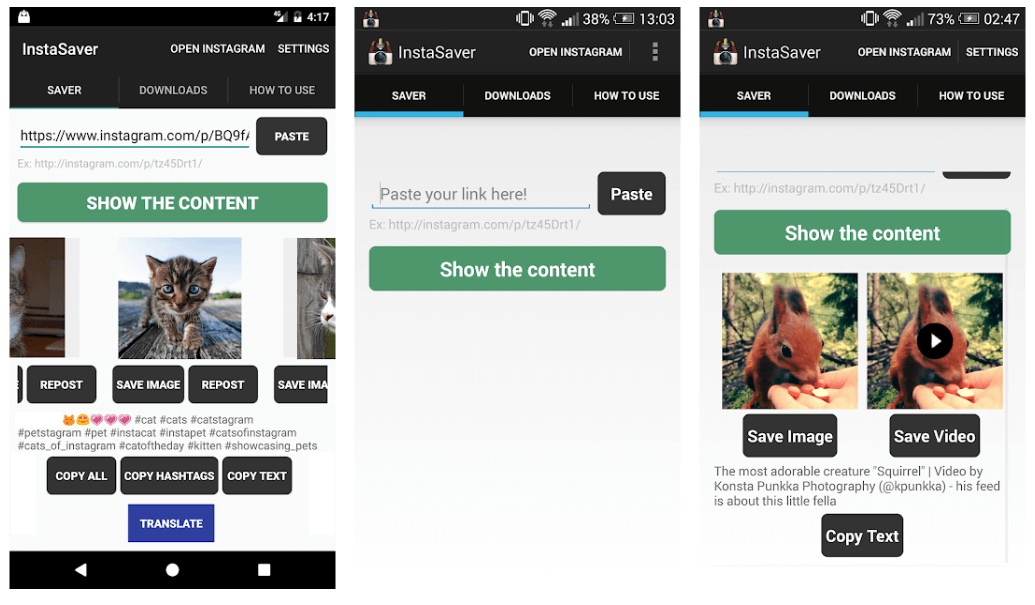 First on our list of Instagram Photo downloader Apps is "Saver Reposter for Instagram." This incredible app allows you to copy text, hashtags from other Insta posts, and save videos and images. 
Once Saved, you can freely use your saved items to repost them on your profile. It comes with a comfortable and clean functionality, which means you can instantly switch between the app and the Saver. 
You can also use it to copy the description of various posts and hashtags. It also supports background downloading, which means that you can continue with your current activities while your video is getting downloaded. 
Read Also: How To Add a Link To Your Instagram Stories
---
2. FastSave for Instagram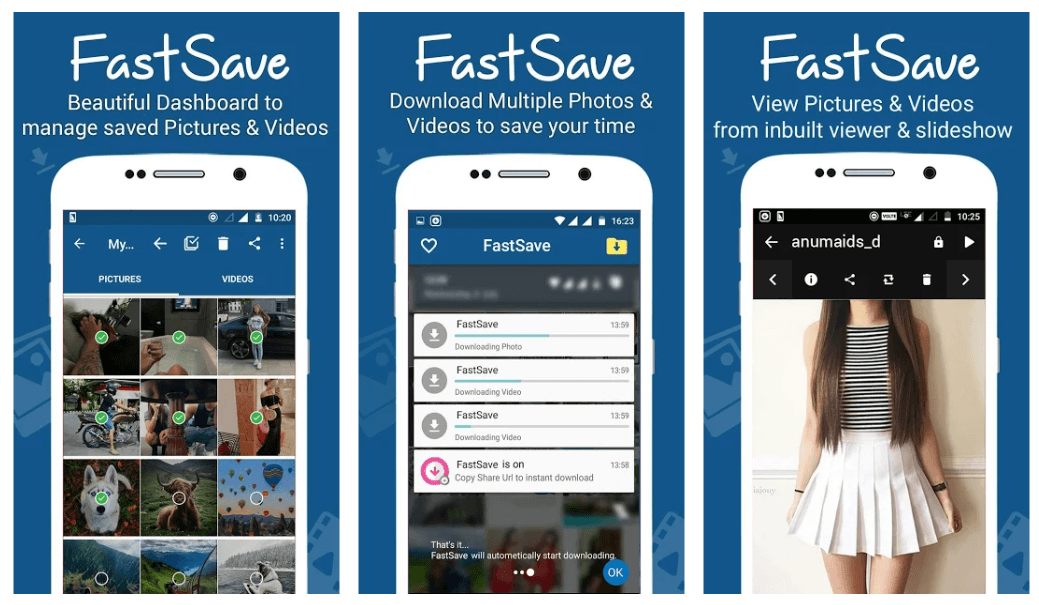 Another most popular app for downloading videos and images is FastSave for Instagram. With this incredible software, you can easily save all your preferred posts and pictures, and if you wish, you can also repost them. 
The most beautiful part of this software is that there is no limit on the number of saves and downloads that you can do. It supports fast downloading, and users can view all their saved posts from the top of the main screen. 
FastSave for Instagram is a perfect way to repost, share, and delete videos and Insta photos. 
---
3. Video Downloader for Instagram Repost App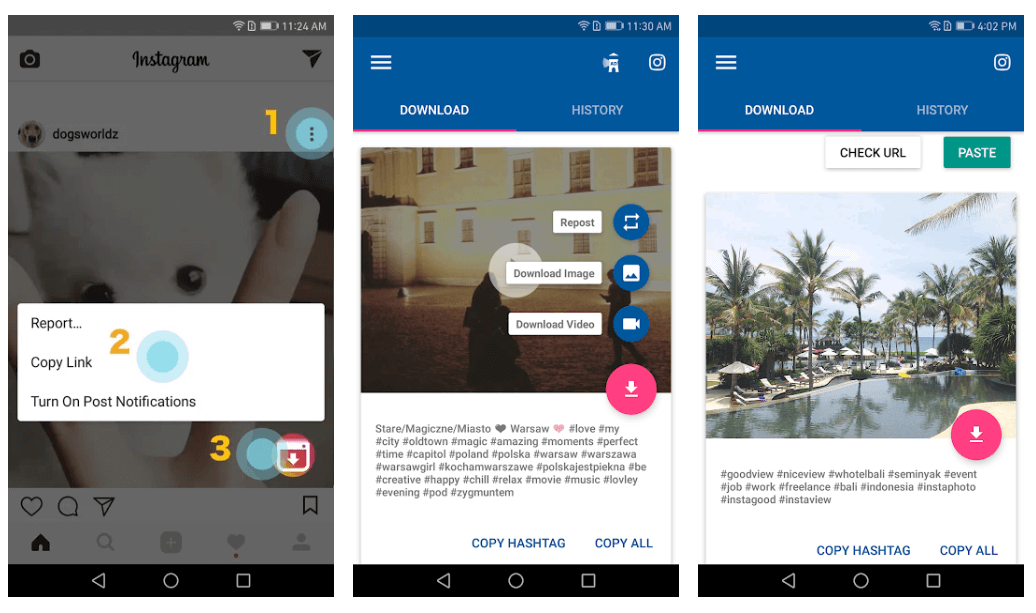 Next in our list of Instagram Video Downloader is "Video Downloader- for Instagram Repost App". With this highly popular app, you can effortlessly download Instagram content and repost it whenever required. In addition to this, you can also use it to copy tags.
On top of everything, it works on a single click mechanism. The downloaded videos and pictures are saved in your phone gallery, which can also be shared on various social media platforms. 
---
4. IV Saver Photo Video Download For Instagram & IGTV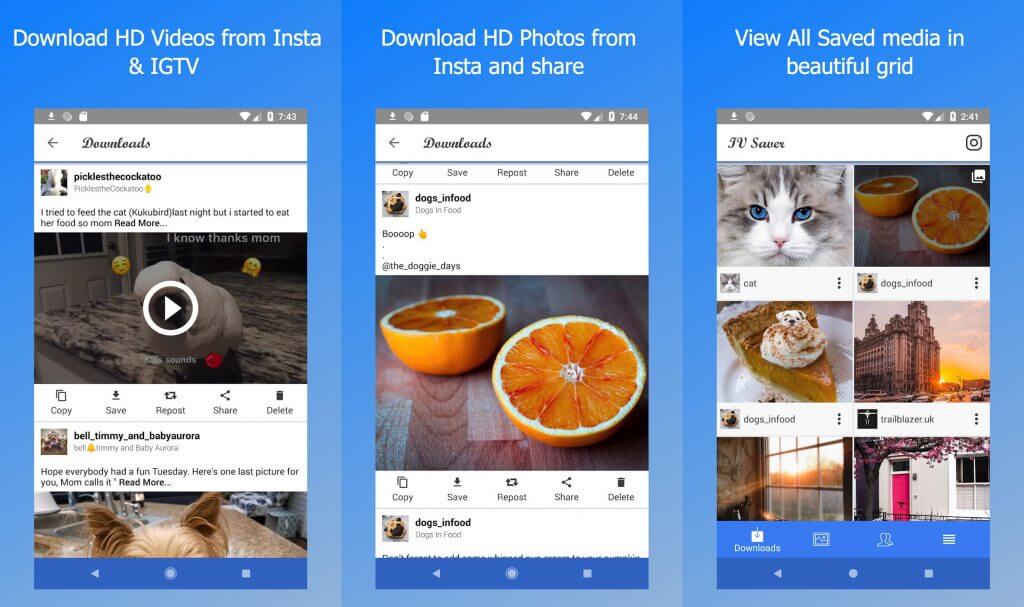 Automatically download videos and pictures from Instagram using this multi-functional app. All you need to do is, click on the "Copy Share URL" and your task will be done. 
This IG downloader app also supports downloading of profile ID, name, public media, tags, and captions.
Another most notable feature that you do not require an account to use this app.
---
5. Repost for Instagram – Regrann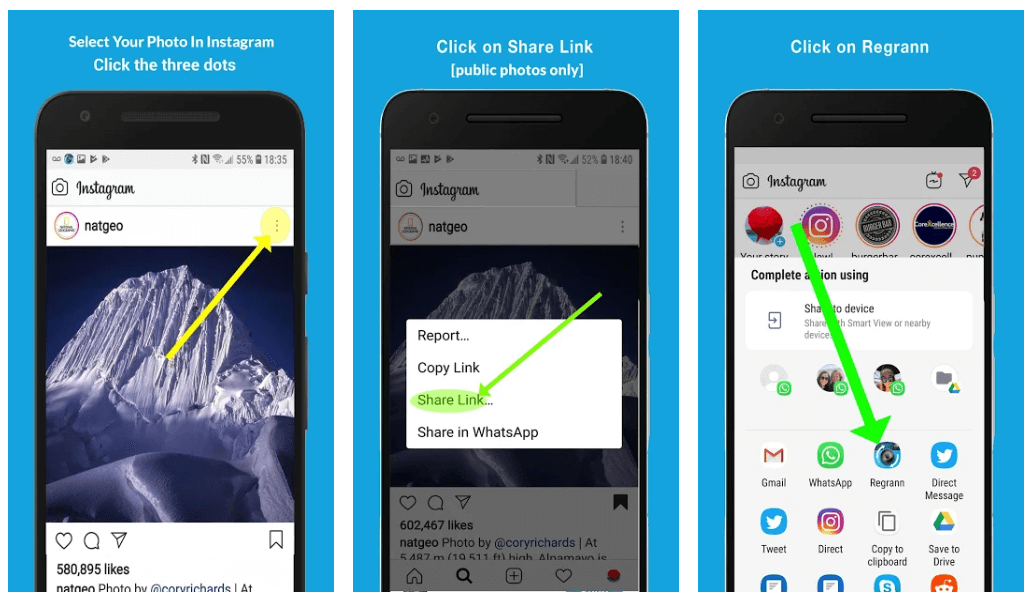 Another incredible app that supports downloading and reposting of Instagram videos and photos is Regrann. Not to forget, the reposted images are without any watermarks. 
Just select the "Copy share URL" to repost all your desired content and videos, furthermore you can also use it to schedule various activities and posts. 
You can also add a signature wherever required. 
---
6. InstaGet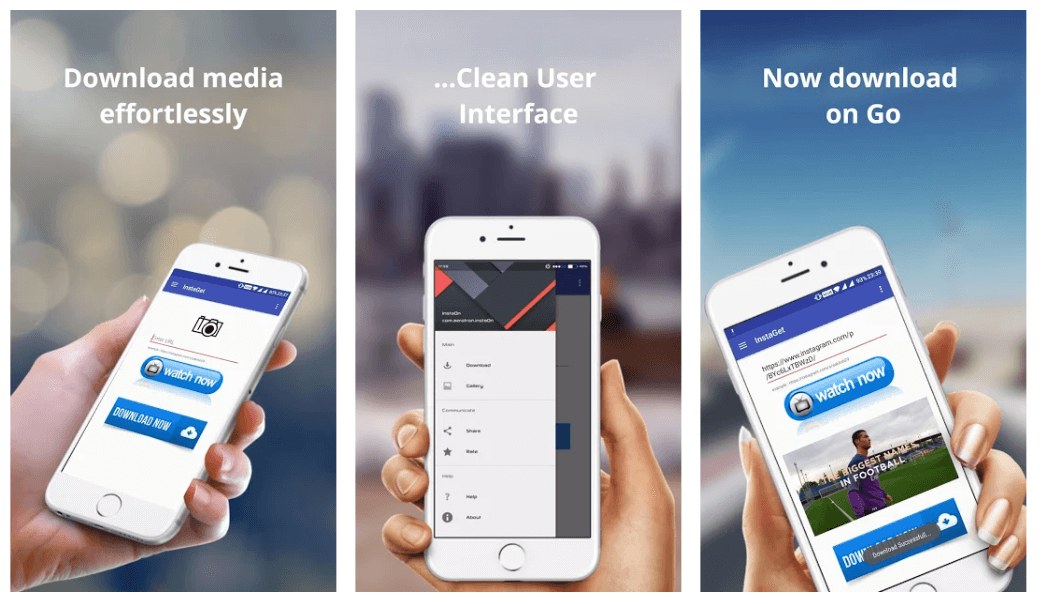 This incredible app keeps you away from repeated login requirements to see your favorite videos on Instagram. With InstaGet, you can download various videos and images and admire them whenever you wish. 
It a must-have tool for anyone who wishes to have their favorite pictures at their fingertips. Instant also supports sharing and reposting, and you can also use it to copy tags. 
---
7. Quick Save
Just like any other Free Download Instagram Videos app, Quicksave allows you to download and save videos and images which you can, later on, repost and share with your friends.
It comes with an easy to use and clean UI. 
However, what makes it different from its competitors is that it has several built-in features, pre-set filters, and editing tools. These tools can be used for photo split and grid styling. 
Read Also: How To Add Music To An Instagram Stories
---
8. Ezrepost+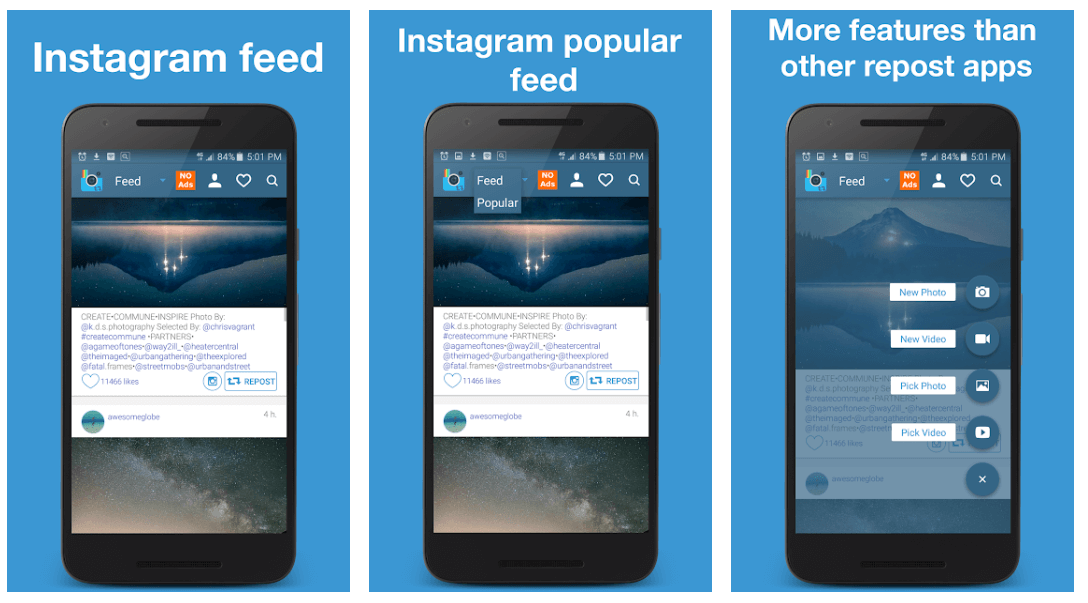 Another most incredible and interesting Instagram video downloader apps. It comes with a basket of cool features and offerings. 
With this impressive application, you can not only download videos and photos but also repost them.
---
Instagram Photo & Video Downloader Apps for iOS Devices:
9. Instant Save from Instagram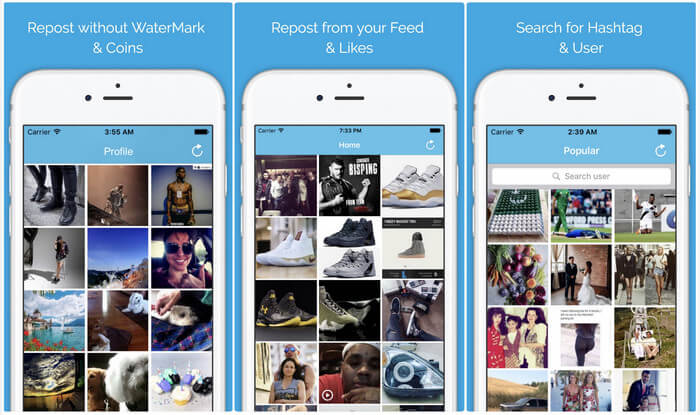 Just like its name suggests, this stunning piece of software assists you in downloading various photos and videos from Instagram. To do so, you have to copy and paste the video URL in the app, and it's done. 
Going a step further, it also allows you to give the picture credit to its original owner, which takes care of all copyright issues.
---
10. Repostly – Repost For Instagram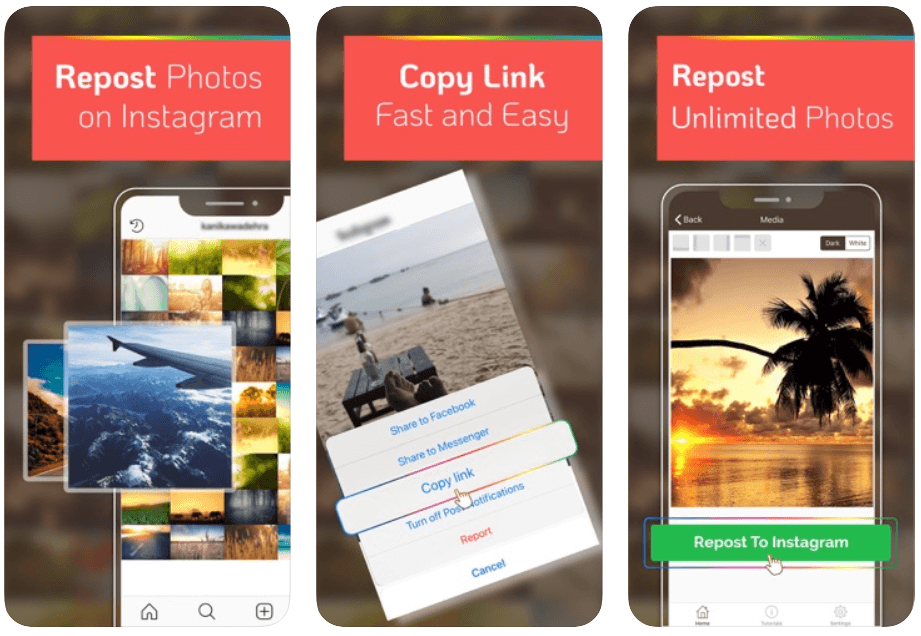 Repostly is another Instagram Photo Downloader. This popular app comes with a clean and convenient user interface that supports easy navigation and functioning. 
Having an account is not a necessity to save and repost videos and images. The most loved feature of Repostly is that you can save unlimited videos and images with it. 
So these are some of the most popular and the best Instagram Photo and Video Downloader Apps for Android and iOS devices. However, if you are looking for a web application, we have it covered for you.
---
Wrapping up 
So these are some of the most popular and leading Instagram Photo and Video Downloader Apps in 2023. Select one to enjoy comfortable and effortless downloading. 
Image Source: Play Store, App Store
Prachi Dani is a technical content writer who specializes in areas of science and technology. She is highly up to date with technological transitions and transformations. Writing is not her passion but the only thing that carries satisfaction in life. If not writing, you may find her engrossed playing action games on her treasured smartphone.
Subscribe to Our
Newsletter

and stay informed

Keep yourself updated with the latest technology and trends with TechPout.
Related Posts