9 Best Weight Loss Apps For Android & iOS In 2021

In this day and age, there are two things people worry about and want the most: money gain and weight loss. Well in the case of money, we can't help you as such. But with weight loss, yes. There are many apps that boast about their prowess in helping people maintain their health and lose weight.
So if you have any questions like, "Which is the best food log app?" "Is My Diet Coach that good?" "Are there any good weight loss apps for Android?". All of them will be answered in this article, right here and now.
Top-Rated 9 Best Weight Loss Apps For Android & iOS
In search of free weight loss apps? Then, this post can help you. The post highlights the 9 most noteworthy weight loss apps that can help you in achieving your weight loss goals. So, just have a look at the list and out of all choose the best one that fits the bill!
1. My Diet Coach – Weight Loss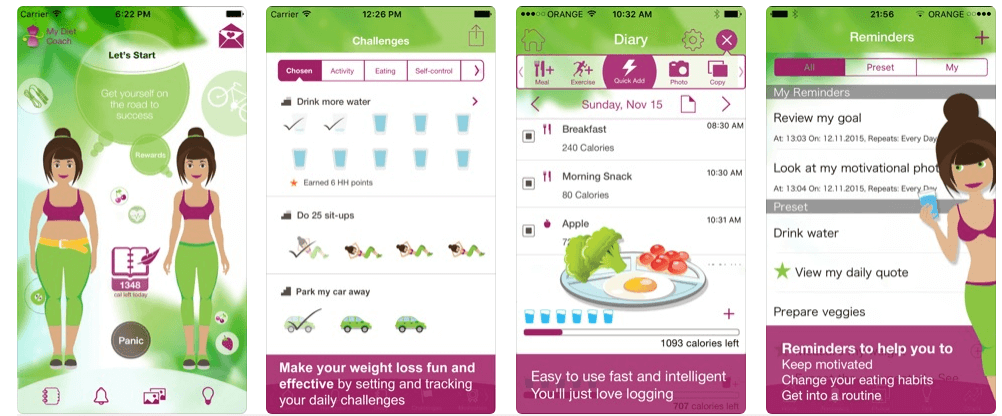 My Diet Coach boasts a rating of 4.4 in the weight loss/health and fitness section for Android and 4.6 for iOS.
Even though it might not rank first in its category, all of its incredible functions and standard features are to write home about.
Read Also: Best Running Apps For Weight Loss
My Diet Coach comes in both a free and a pro version. The free version is adept in four main features, motivational photos, diet diary, perseverance tips, and reminders. While the pro version adds three more features to the original list- points system, weight chart, and panic button. (All of them, very interesting).
It even has the ability to customize an avatar to look similar to the user. In sum, My Diet coach is one of the best free weight loss apps. 
---
2. MyFitnessPal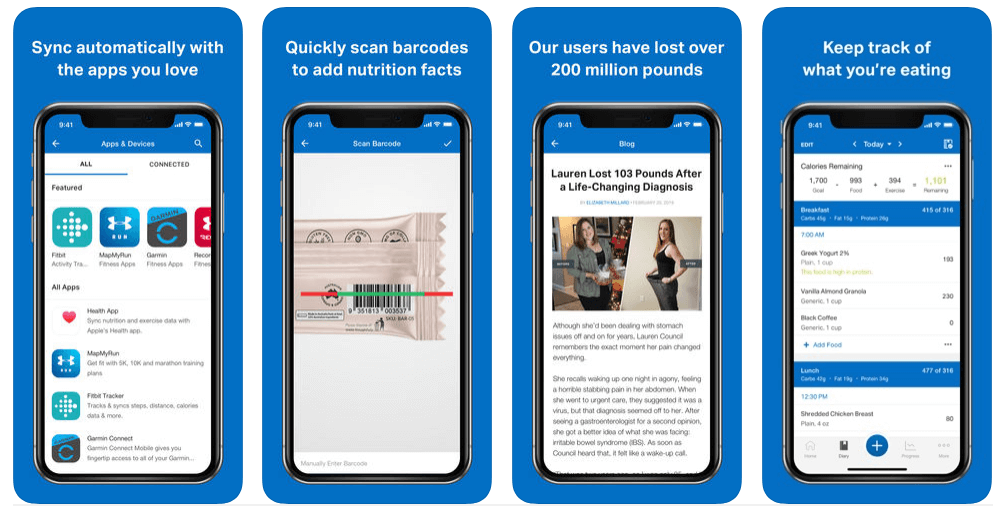 This is one of the greatest weight loss apps for both Android and iOS. The 2,017,194 monthly app downloads and 5-star reviews speak for its supremacy.
It is also a food log as well as a calorie counting tool. It calculates the daily calorie needs of an individual and lets them log in to their food trajectory throughout the day. This is including the restaurant foods. 
This way, the weight loss app MyFitnessPal generates reports that provide an overview of the individual's total fat, protein, and carb consumption. It can sync with other fitness tracking apps too.
So if you are looking for a great route to weight loss, MyFitnessPal should be your top choice.
---
3. WW (Weight Watchers Reimagined)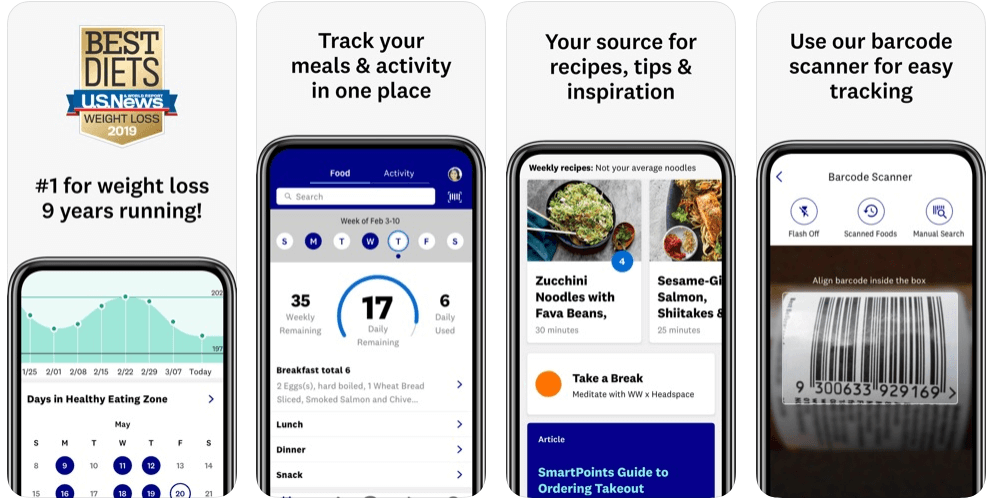 This is number one in the Best Weight Loss Program category on iTunes. Formerly known as Weight Watchers, WW aims to make it easier for its customers to lower their calorie intake by assigning or charting "points". These points are allotted to foods based on their calories, sugar content, and saturated fat. That means, the higher the composition of these components, the higher the points will be.
While using this app, a person would always stay motivated because WW has a "Journey" tab, which gives details about the person's progress. 
Also for the ones who love to eat out, WW has a comprehensive list of restaurant dishes with their total points, that way you can add them to your food log easily.
---
4. Lose It! – For Diet & Weight Loss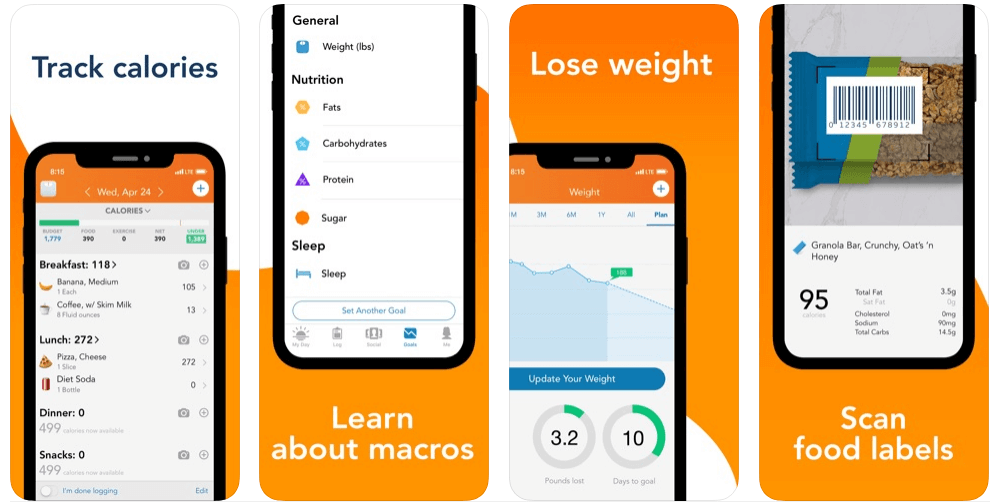 Undoubtedly one of the best weight loss apps in the current market, Lose It! is an app that is majorly focused on weight tracking and calorie counting. It generates a personalized plan for its users based on their daily calorie needs and weight goals.
And as soon as the plan is established, the users can easily log their food intakes in the portal to get a comprehensive database of over 7 million foods, restaurant items, and brands.
Read More: Best Free Zumba Apps to Get a Toned Body
One of the major highlights of Lose It! is the community component. In this, any user can take part in challenges against other users, ask or share information, and a lot more.
But what actually makes Lose It! stand out amongst all its competitors is its "Snap It" feature, using which anyone can easily track their food intake by simply taking pictures of their meals
Although, the only con that it possesses is that it's not one of those food log apps that also keep track of your consumed vitamins and minerals.
---
5. HealthifyMe – Weight Loss Plan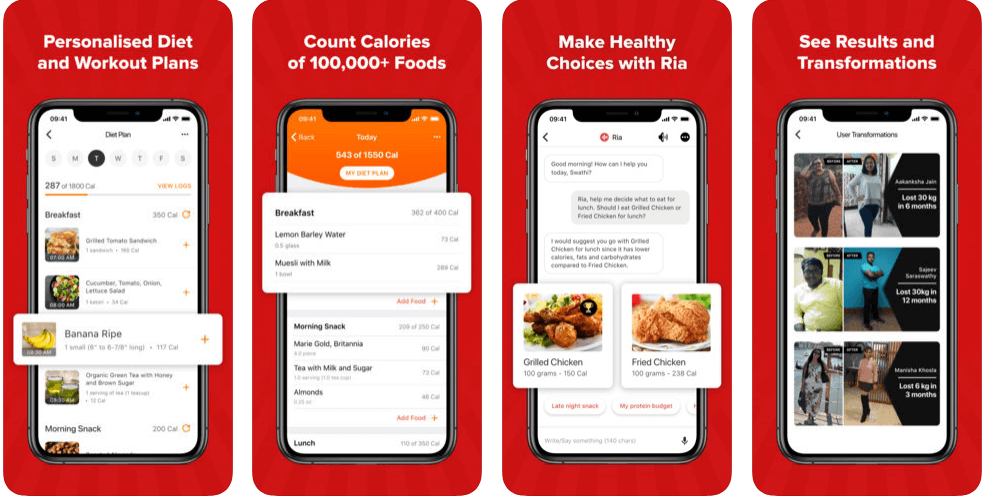 HealthifyMe is a pretty minimalistic app that lets the user document their weight, as well as helps them understand the food they are consuming and what they need to do to reach their goals. It fulfills all these tasks by creating and showing different insights into the food that is consumed.
That means, with this food log app, a person can easily track or check the level of different components like fiber, protein, etc. in their regular diet.
The interface of the app also supports competitive profile levels and leaderboards. And even offers the choice of on-demand health instructors. 
And did I mention that the app is free of cost?
---
6. Noom: Health & Weight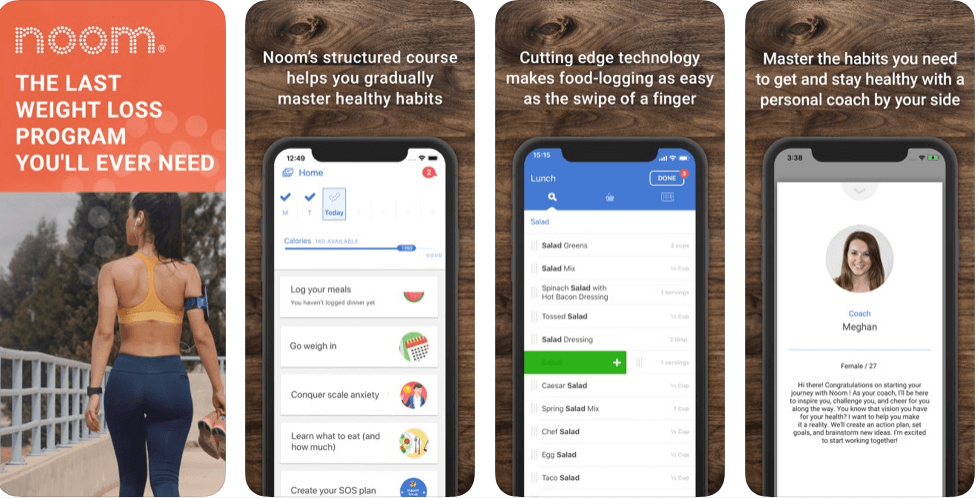 A perfect weight loss app for women, Noom uses a psychological approach to combat unhealthy habits. It gets deep into the psyche to identify a person's beliefs about exercise and nutrition. 
After knowing such opinions, it then forms a customized approach, with the inclusion of a personal coach and a tracker. It aims to focus on the person's relationship with food, rather than the one with numbers.
Read More: Best Free Yoga Apps For Android & iOS
With the user's psychology in its portal, Noom easily creates a plan such that the person can get leaned towards healthier lifestyle habits.
Noom promotes a free as well as a premium version of its application. In the free version, you can set up a plan around your caloric intake, and then further monitor your activities. While in the premium version, you get the additional support of health coaches, support groups, and courses in healthy habits.
---
7. SparkPeople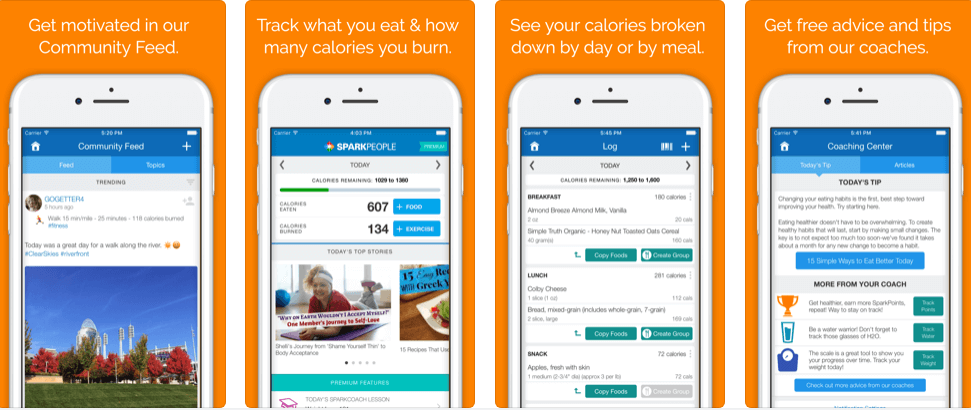 One of the most used weight loss apps by Android users, SparkPeople is also a food log app. It allows its users to keep track of their daily diets, as well as keep check of their exercises and weight. The user-friendly tools make it a lot easier to fulfill regular targets and goals.
There is a "point" system in the app too. It works in a psychological way. As the user completes her/his goals, she/he gets points for them: more the points, more the motivation. 
After signing up on the app (P.S.: The app is available to download for free), a person can access an exercise demo component. It includes images and descriptions, depicting proper techniques of common exercises. 
---
8. Cronometer – Nutrition Tracker
Want to balance your diet for free? Then, here is Cronometer, one of the best weight loss apps in 2021. And, the best thing is that Android and iPhone, both users can access it. With the 4.5 stars ratings, the chronometer is the most accessed weight loss app. Till the present date, Cronometer is the more accurate and comprehensive nutrition tracker application than others. With the help of Cronometer, more than three million individuals have fulfilled their weight loss goals. Chronometer comes with a handful and unique features including an in-built fitness tracker, logs complete meals & exercises, barcode scanner, healthy recipes, diet chart, and many more. 
Read More: Best Workout Apps For Android To Get A Fit Body
Are you want to fulfill your weight loss goals? Or, Are you want to have a slim-toned body? Whether your goal is fitness or having a toned body, Chronometer is the one who helps you in doing so. So, what are you waiting for, try this app now on your Android and iPhone device. You can download this application directly from the link given below. Eat healthier and live smarter with Chronometer. 
---
9. Fooducate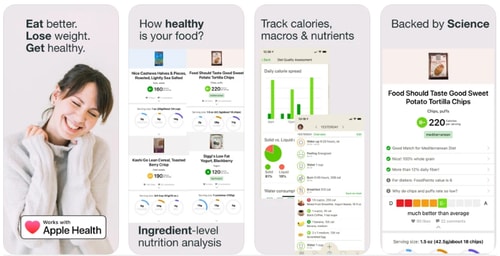 It is next to impossible to lose weight without knowing what actually healthy means. No matter if you are sweating for hours in the gym until you aren't eating healthy food. If you are not sure about it then you can use the Fooducate application that offers almost 50K+ healthy recipes. 
Apart from this, it guides you on what to look for to maintain the nutrition level. Since 2010, the application has helped millions of users around the globe in losing weight and staying healthy. It has an in-built tracker that logs your calories, macros, and nutrients intake. Moreover, it scans for any food/drinks barcode and tells you whether you should eat or not. 
---
What are the Best Weight Loss Apps for Android and iOS?
If you haven't met your weight loss goals yet, then no worries. Through this write-up, we've brought up the list of best weight loss apps for both Android and iOS devices. Out of all, choose the one that best suits your needs regarding weight loss. In addition to this, we would like to recommend to you the two leading weight loss apps that will surely help you no matter what.
So, My Diet Coach and Healthify me are the top-rated weight loss apps that you can easily get from the Google Play Store or App Store. Moreover, these apps include the virtual sessions of the world's top fitness professionals. They'll help you in tracking your meals as well as your workouts. So now, you don't have to stress about losing weight.

That's all up till now, hopefully, you find this write-up helpful. If you have liked our write-up, then share it around your circle, so one and all can know how to lose weight quickly and easily. And, do not forget to share your weight loss journey or goals with us in the comment box below. Lastly, subscribe to our Newsletter to stay updated. Till the next venture, have fun losing weight!
Diksha Lalwani is an aspiring content marketer and a self-declared bibliophile. An English honors graduate, she likes to keep up with the recent happenings around the world and form an opinion. Her interest in anything and everything tech made her follow the path into becoming a technical writer.
Subscribe to Our
Newsletter

and stay informed

Keep yourself updated with the latest technology and trends with TechPout.
Related Posts