13 Best Application Performance Monitoring Tools in 2021
Published Date :
Oct 13, 2021

Performance monitor application like APM helps you in monitoring and managing the performance of a software. There are various aspects about which the software is scanned for, you can easily use any application performance monitoring tool and check the performance effectively. To make the work easy we have shared the 13 best performance monitoring software to try. The software in our list are chosen based on their performance and user reviews. So let's directly jump onto the list without any other delay.
Top 13 Best Application Performance Management Tools to Try
Below is the list of application monitoring tools that you can try. We have shared every possible detail that can help you in understanding the working and effectiveness of the software.
1. SolarWinds Server and Application Monitor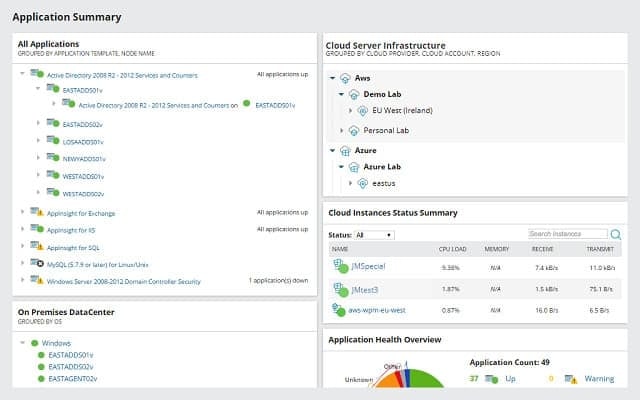 This performance monitor application is ideal for businesses that have integration with various other infrastructure modules. It will help you in getting a better insight into the software and can easily share data among various platforms. The software even bifurcates the information depending on its importance.
It has great adaptability as it offers more than 1200 templates that have the major application of the market. Other than this you can even extend the depth of the information with the SolarWinds Storage Resource Monitor.
Pros
This software is ideal for large businesses
It offers altering features that can balance effectiveness with ease
You get the support of packet analysis and SNMP
Simple drag and drop functionality for customization
Cons
For small businesses, it can be over-featured
Also Read: 18 Must-Have Software For Windows 10 In 2021

---
 2. Datadog Real Time APM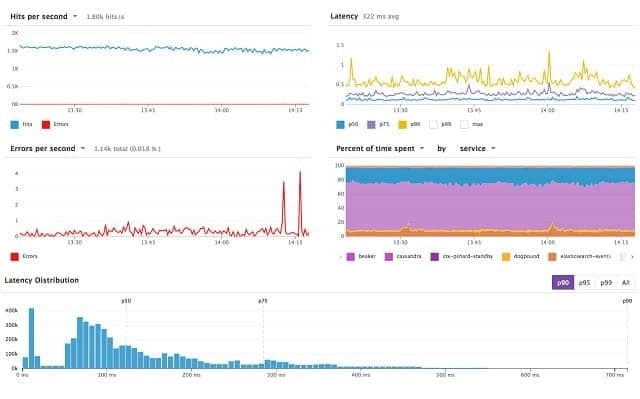 Datadog is cloud-based monitoring for applications and even logs. To monitor the application you can simply sign up and use it for three systems in combination. Though the software is not available for free, you need to buy it depending on the plan you need. The plan charges depend on the number of hosts that would operate.
Talking about the features of the software it can easily monitor cloud-based, on-premises, and hybrid systems. It monitors every request and at the time of anomalies, it drops in alerts to notify you about it. The alerts will be accumulated on the dashboard so that whenever you open the software you will see it first.
Pros
Simple and easy to adapt interface
It easily monitors both internal and external networks for wide perspective to the user
The software even supports auto-discovery
You can easily make changes in the real-time
Cons
Short duration for the trial period
---
3. ManageEngine Applications Manager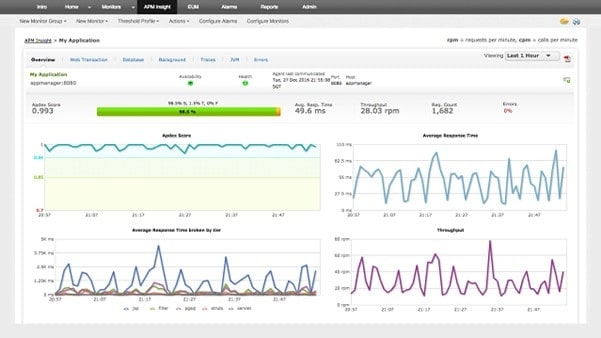 Next performance monitor application on our list is the ManageEngine Applications Manager. This amazing software covers all applications that are running on your cloud servers, production servers, and over virtualizations. It also has services like ERP suites, databases, and web applications. It covers 50,000 or more applications.
The performance monitoring tools help in the analysis of SQL execution to find out inefficiently structured databases. It moreover constantly monitors the performance and drops alerts when problems occur or are expected to occur.
Pros
The software offers cloud deployment and on-premise options
It highlights the errors and delays that to help the business in terms of performance
You get a free 30 days trial to get used to the interface
You even get log monitoring to track metrics
Cons
You might face issues initially with the interface
Also Read: Top 5 Price Tracking Tools You Must Try in 2021

---
4. Site 24X7 Application Performance Monitoring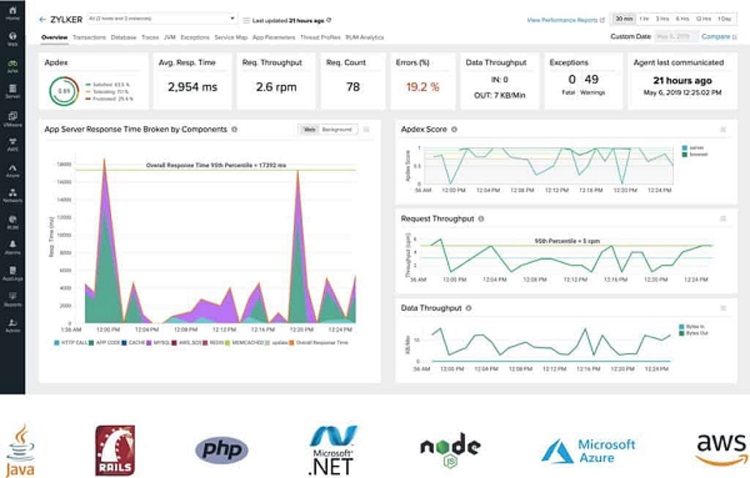 Site 24X7 Application Performance Monitoring software is a great option that you can use for analyzing the performance of applications using platforms like Node.js, PHP, .NET, and Java. The best part about this software is that it can be used remotely so irrespective of your location you can work and monitor the performance of applications. Even if the apps are running on the cloud servers or mobile devices, using the software you can monitor the performance.
It keeps a track of every activity and notifies you whenever there is any delay or mishappening which needs to be considered. Other than this you can even set performance alters as per needs so that the software will notify you once reached the threshold levels. It uses machine learning and artificial intelligence to alert users. The paid plan includes monitoring three applications with more than 50,000 RUM page views.
Pros
The software uses real-time data to show charts, reports, and maps
It supports network, real user monitoring, and infrastructure
The interface is simple, for the first time using it can be a little uneasy but with regular use, it will be simple
It offers a free version
Cons
The software is very detailed, for some businesses it is not useful
Also Read: 10 Best Server Monitoring Software in 2021
---
5. SolarWinds AppOptics Application Monitoring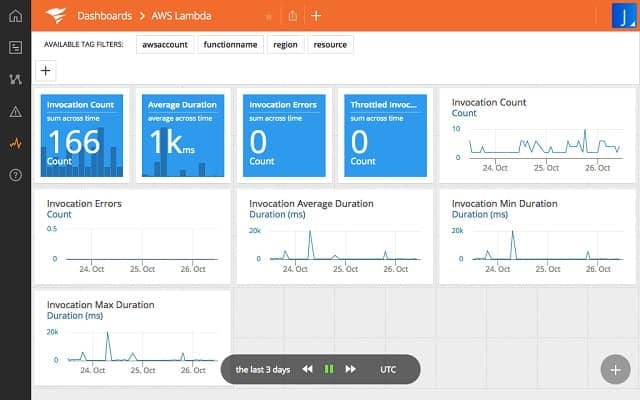 On our list of application performance management tools, we have SolarWinds AppOptics Application Monitoring. If you are thinking that we have mentioned a performance monitor application from SolarWinds above also then let us clear to you that AppOptic is a new entry from SolarWinds that can help you in monitoring performance.
The software offers two levels of service for AppOptics. There are two plans offered by this performance monitoring software. The lower-end plan offers infrastructure monitoring while the higher-end plan covers application delivery and performance monitoring. Other than the plan it has a simple user interface that offers a variety of features. On the dashboard, you get features like analytics tools that help you in combining metrics, thresholds for your own customized data, and set ratios.
Pros
Great visualization of the data to make the interface look better
The software is easily scalable and can be used as a cloud service
It monitors all the major resources of the PC
You can even monitor various platforms like Docker, Hyper-V, and Azure
Cons
It does offer a short trial period
---
6. App Dynamics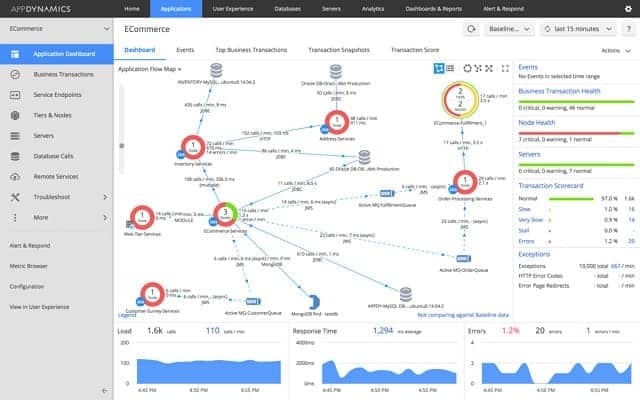 Initially, App Dynamics started as a sole proprietor but later it was taken over by Cisco Systems. The involvement of the giant makes the software more enhanced and the best performance monitor application. On the dashboard, it provides all the information related to the applications and services that are supported.
It monitors the performance of all applications in real-time and builds data based on the performance. Monitoring the performance creates a baseline with standard performance that should a company follow. If the performance declines than the level, it will start to drop in alerts.
Pros
It has a separate free version available named as AppDynamics Lite
You get a mobile app for monitoring in real-time
Great data offered to help you in mapping the progress
It is specially designed for large scale businesses
Cons
The interface is not so easy, you need to take the tutorials to learn about it
Also Read: 15 Best Free Productivity Apps and Software to Be Efficient in 2021

---
7. New Relic APM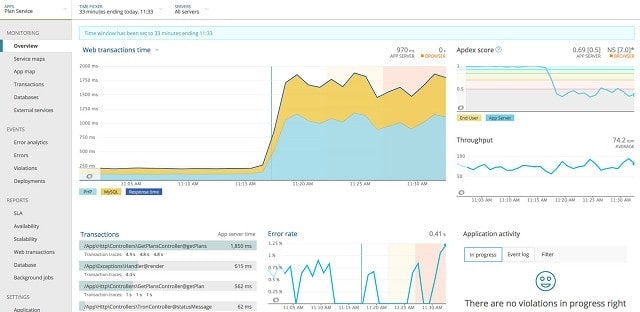 Next application performance management tool on our list is New Relics APM. New Relic offers a great list of monitoring tools, out of the many tools APM is one of them that you can use for monitoring applications. This software does not require any other module to perform. However, you can combine other modules for better and deeper information about the problems.
Irrespective of the server you are working on the software will integrate with it automatically to help you in monitoring easily. It can be integrated with AWS< Microsoft Azure, Rackspace, and Google servers. Other than this you can even integrate the software with on-premises servers.
Pros
It offers a simple and user-friendly interface
The visuals on the software are great to monitor performance
You can easily integrate with the server in no time
The software can be used to collaborate with teammates and improve efficiency
Cons
The filters option needs time to learn
The cloud services monitoring needs improvement
---
8. Dynatrace Application Performance Management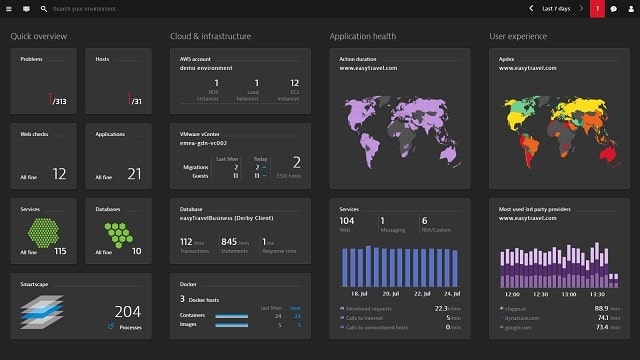 The next software on our list of performance monitoring applications is great for cloud-based systems and we enterprises. It simply gets access to the cloud for monitoring performance. The plan for this software offers an option to choose from. You can either take the annual license or buy the software for a lifetime.
The software even has an online version but for that too you need to install an element. It is supported on all major platforms like Windows, Linus, and Unix. other than the listed platforms you cannot install the entire system in-house. It uses two angle views to monitor performance, one is the mechanics of deliveries and the other is user experience.
Pros
The software interface can be customized as per requirements
It offers great visuals to help in monitoring the performance
Dynatrace operates in the cloud to make it compatible
Using the software you can monitor performance, infrastructure, and user experience
Cons
The software has synthetic monitoring
Also Read: 13 Best Free CPU Benchmark Software For Windows In 2021
---
9. Splunk IT Service Intelligence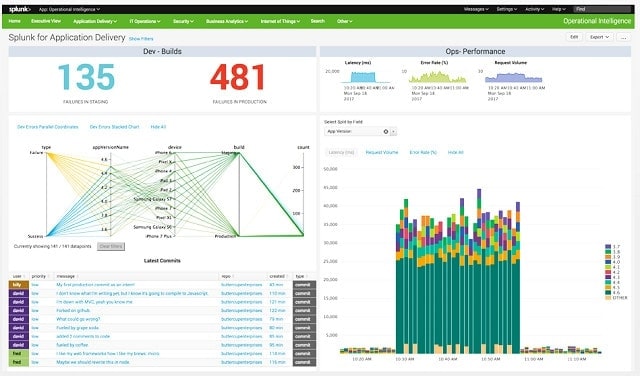 Splunk performance monitor application uses artificial intelligence to monitor software effectively. The company other than the application monitoring tool has many tools like infrastructure management which can help a business in managing and growing. However, the Splunk IT Service Intelligence is a great separate tool for monitoring the performance of the application.
The AI element helps software in generating predictive reports. Other than this it also monitors the peak performance and the worst performance to predict better about the next surge of demand. Though the software is paid, you still get a 15-day free trial that can be used to adopt the working and interface.
Pros
It uses AI to predict future performance and get a deeper knowledge of the current status
Specially developed for large scale businesses
You can easily customize the software as per requirements
The software can be used to monitor both cloud as well as on-premise applications
Cons
Short time period for a free trial
Expensive plans
---
10. WhatsUp Gold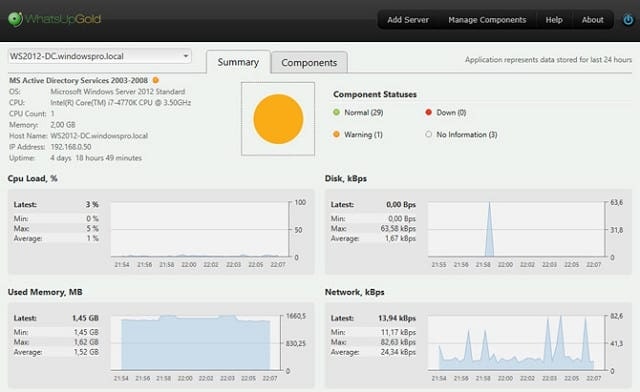 WhatsUp Gold is another great software that you can use in place of the SolarWinds application. This performance monitor application offers various infrastructure monitoring tools supporting options like application monitoring. Though the application performance monitor is an add-on module that can only be used in the gold plan of the software.
Using the software you can easily identify issues that can cause problems to the business. It offers storage monitoring, server monitoring, and various other features to create a map of the system. Every plan offers a variety of new features that can make your work easy. The higher-end plans are great for large-scale businesses as they offer some of the most unique and great features.
Pros
This software supports monitoring infrastructure
It helps in reading between the lines
You can easily expand support network traffic analysis and monitoring
It offers a 30-days free trial
Cons
Text alerts are jumbles and not formatted correctly
Only ideal for large businesses
---
11. CA Application Performance Management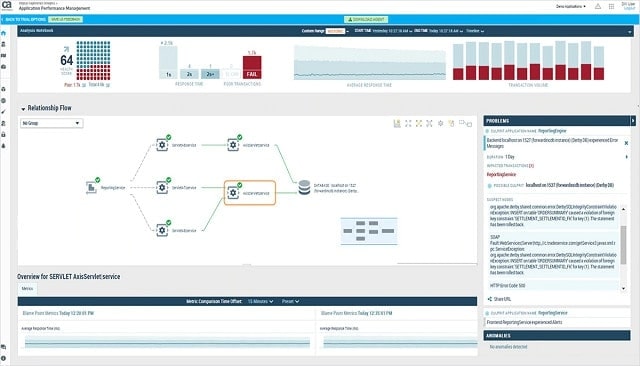 CA Technologies offers great application performance management tools that can help you monitor performance smartly and effectively. The company overall offers three applications that includes Application Performance Monitoring, Synthetic Monitoring, and App Experience Analytics. Every application delivers on the SaaS model and is not available for free.
If you wish to use these software you need to buy all of them separately as the company does not offer a package. The APM software is created for large-scale enterprises for promoting teamwork. It offers graphs to show data of the performance and tracking that you can manage the work and proceed further.
Pros
The interface of the software is very easy and can be adopted easily
SaaS model makes the application accessible to any company
It neatly showcases the data in visual form
You can use baseline analysis for highlighting abnormalities
Cons
On-premise version is complicated
Also Read: 10 Best Payroll Management Software in 2021
---
12. AppEnsure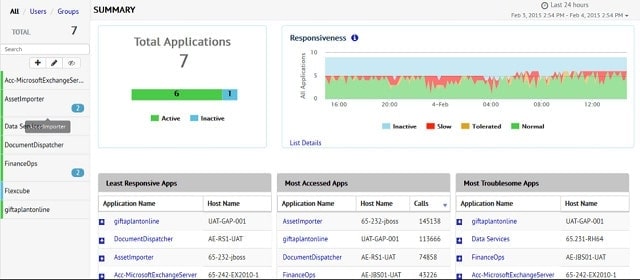 Another great performance monitoring software that you can use is AppEnsure. This is a great application that monitors application delivery stats and user experience. It smartly leaves alerts when the performance graph is declining so that the company does not suffer from negative reviews.
This performance monitor application keeps a track of performance to create a baseline, later the analysis can help in monitoring the performance and deriving the performance graph. The software-based on the baseline alerts the user about performance.
Pros
Alerts notify you whenever the performance is declining
Baseline helps in keeping the performance up
Simple and easy software interface
Free trial offered
---
13. eG Innovations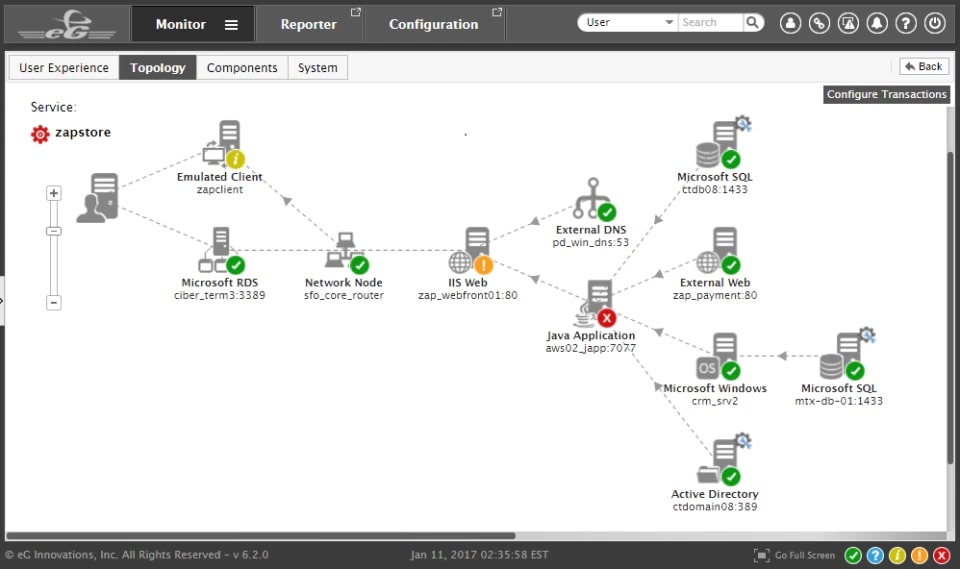 Last application monitoring tool on our list is eG Innovations. The company has been among the best application monitoring and IT infrastructure monitoring. It was founded in 2001 with limited supported monitoring applications but with time the company has grown and now it has more than 180 applications compatible. The list includes .NET, SAP, Java, Office 365, SharePoint, and many others.
The software can easily help in finding problems like slow apps, code-level errors, hardware faults, and others. All in all, it offers a one-stop solution for all your monitoring needs.
Pros
Simple user interface to adapt and work on
Great insight on business to mark progress
It offers support to more than 180 application types
Easily finds out problems for business ease
Also Read: 13 Best Free Flowchart Software for Windows and Mac of All Time

---
Final Words on the List of Best Performance Monitor Applications
To keep your business on track and monitor every progress, application monitoring tools are great. The above-mentioned 13 application performance management tools are the market leaders with positive reviews. You can choose any of the software which suits your business needs. If you wish to use any other software other than the list you can definitely go with it, but research well before choosing any software. So that was it for this article, we hope that you would find the data useful. For more such informative articles, subscribe to our newsletter and never miss any updates.
Tanmay is a technical writer from the field of mass communication. He aims to communicate the best of the technology to the readers through his write ups. If not writing you can find him with his camera capturing nature and exploring the unexplored world.
Subscribe to Our
Newsletter

and stay informed

Keep yourself updated with the latest technology and trends with TechPout.
Related Posts