If you want to check how well your computer is performing, know about the best CPU benchmark software for Windows 11, 10, 8, and 7. Using such benchmarking tools, you can evaluate the speed and performance of your computer hardware and compare the result with other similar machines.
But, before we move on to the list of best CPU benchmarks, let's understand "what is a benchmark computer?" and "what is the purpose of a benchmark test?"
What is
Benchmarking

?

It is a method to test the performance of computer hardware to know the efficiency of the device with the help of software and programs.
---
Why Benchmark Your Computer?
Because by knowing the performance of a device, one can know how to solve hardware issues, learn about needed upgrades, increase efficiency, know technical details about their PC, and much more.
In this below write-up, we will discuss a bunch of the top CPU benchmark programs that you can use in 2023 to determine the stability and hardware performance of your PC.
---
What Are the

Best CPU Benchmark Software

for Windows 11, 10, 8, 7 in 2023?
To assist you in choosing the best CPU benchmarking software for Windows, we enlist a few of the most popular and the best available options below.
1. Speccy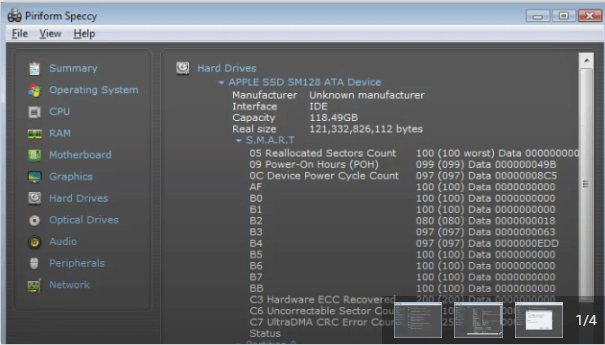 Speccy is always on top of the lists of best CPU benchmark software for Windows. Its name points out that it provides information about the specifications and functions of the PC like cache, temperature, speed, threads, and many more.
It also gives quick results of the data related to RAM, CPU, Graphics card, Storage, and others, providing a rundown of all components.
These scanned results can be saved as a snapshot, text, or an XML file.

---
2. CineBench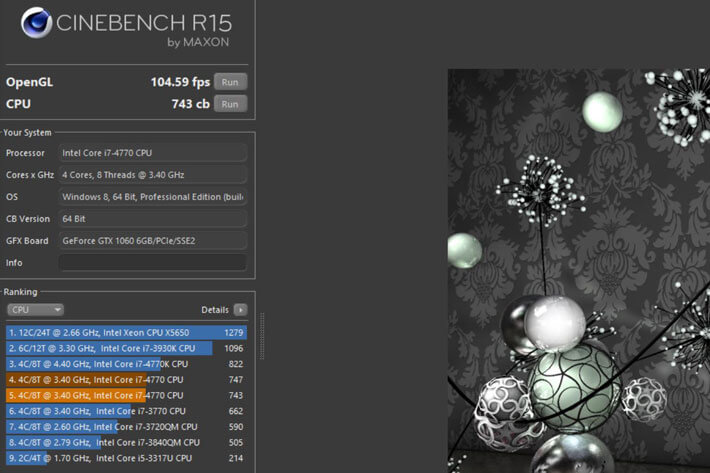 CineBench sets a benchmark in benchmark software because of its multi-tasking abilities. It assesses a PC's performance and capabilities to provide accurate information about the CPU. This PC benchmark software can evaluate up to 16 CPUs or CPU cores (that's a lot!).
CineBench specifically focuses on CPU stress tests. PCs need to go through exams too.
Read Also: Best RAM Optimizer Download for Windows 10
These tests measure the performance of processor in real-world instances. After CineBench test is finished, processor is graded in points. Higher the points, stronger the CPU's performance output.
It is a real winner, isn't it?
---
3. Novabench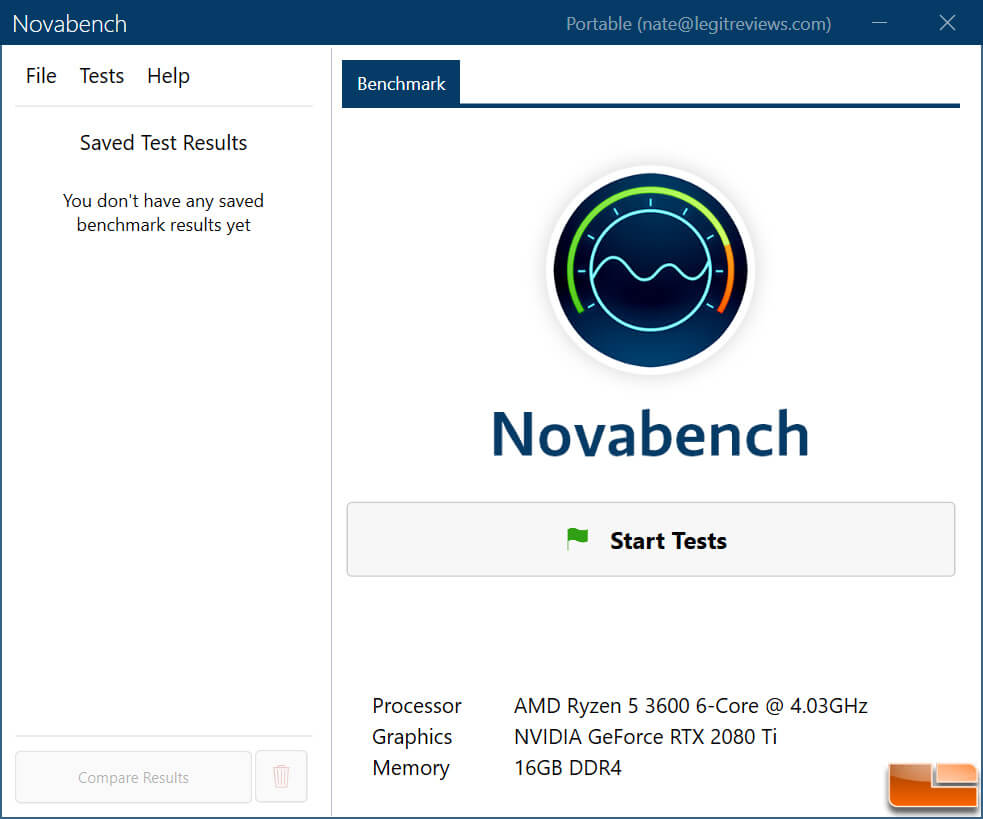 Novabench is a one-stop computer benchmark software to test one's CPU, RAM, GPU, and hard drive. It provides detail specifications about all of them. It assesses both graphic and processing abilities of the computer and assigns it a score.
This score can be compared online (for which you need to register an account) to know how good one's PC is when matched to others'.
Novabench takes only a few minutes to benchmark your PC fully.
---
4. FRAPS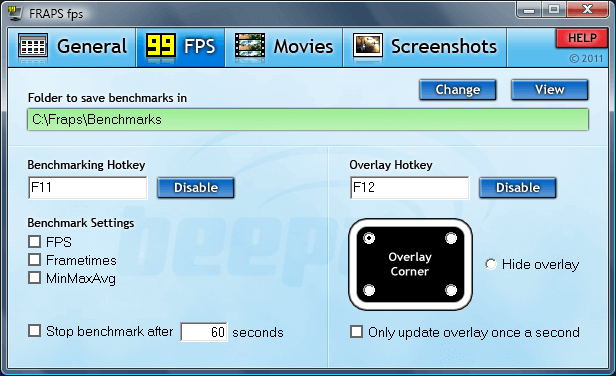 A favorite among game lovers, FRAPS is regarded as a user-friendly and efficient CPU benchmark tool. This real-time benchmarking software for Windows is used to test games and how well they run.
Apart from testing hardware components, it is also used for benchmarking frames per second (FPS) while playing games. Moreover, FRAPS comes with a few additional features like screen recording and video capture that helps you capture screenshots as well as record your gameplay.
It is a blessing for gamers and users alike.
---
5. CPU-Z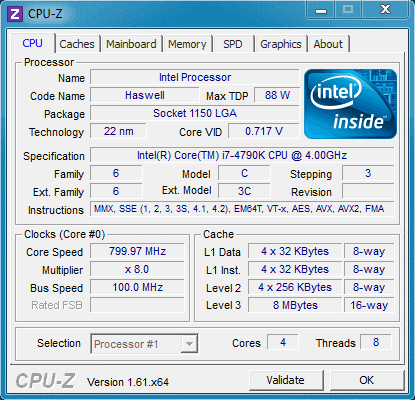 One of the best CPU benchmark software, CPU-Z is concerned about all the happenings and details of CPU. It gathers information about all main components such as cache levels, codename, processor name, number, and package.
It is a great all-around program as it also provides specifications of RAM, graphics card, and motherboard.
Furthermore, this computer benchmark tool has a straightforward graphical user interface, and obtained data can be analyzed without problems.
---
6. SiSoftware Sandra Lite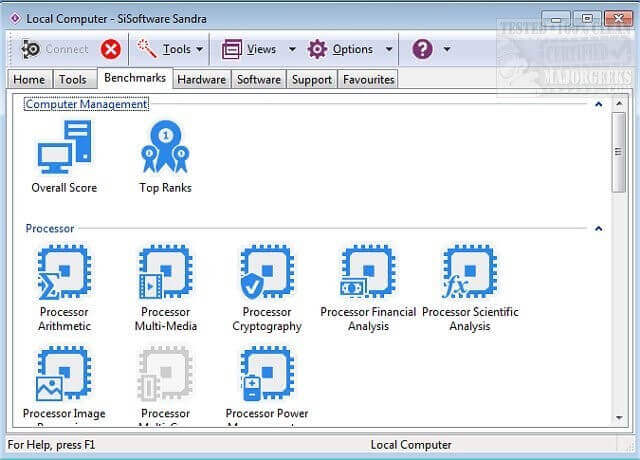 This best computer benchmark software for Windows is mainly targeted towards people who are already aware of the workings of their computers. It gives information about a lot of aspects of PC in accordance with benchmarking your CPU. It contains comprehensive tests that will cover just about everything and anything.
Want to know about your chipset? Done.  How is your network performance? Sure. Your computer's power efficiency? Sandra Lite can test that too.
---
7. RealBench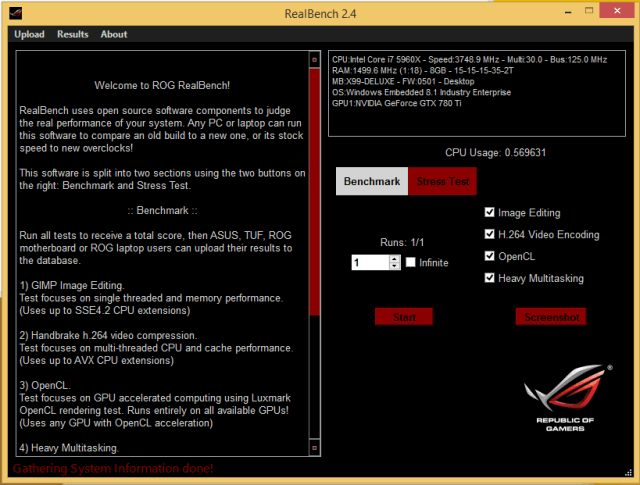 RealBench is a free CPU benchmark software with three tests to get the benchmark results. With the help of these tests, all data of all components of the computer is acquired. This obtained result can also be compared with other configurations by just uploading data online.
Read More: List of Best Duplicate Photo Finder and Remover Tools
One of its best aspects includes no stress testing, just routine and real-time testing on the CPUs regular course to analyze their performance.
All in all, it is a "real" good benchmark software.
---
8. HW Monitor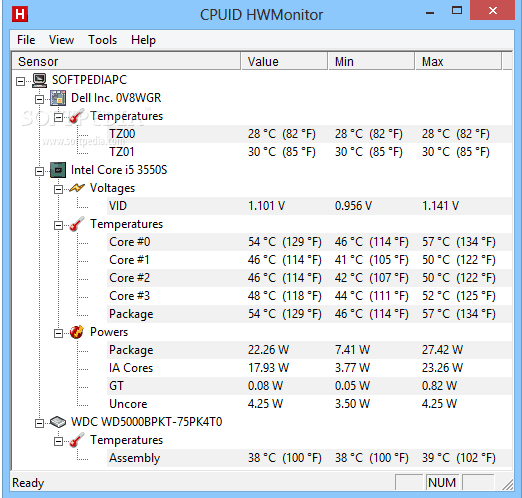 HW Monitor is a powerful benchmark software for Windows 11, 10, 8, and 7. It checks the health of hardware by monitoring parameters like fan speeds, utilization percentage, power consumption and more. It can also detect hard drive temperature and optimize data of thermal sensors with the help of its incredible features, video card GPU temperature and S.M.A.R.T.
It is definitely a champion in benchmarking.
---
9. PCMark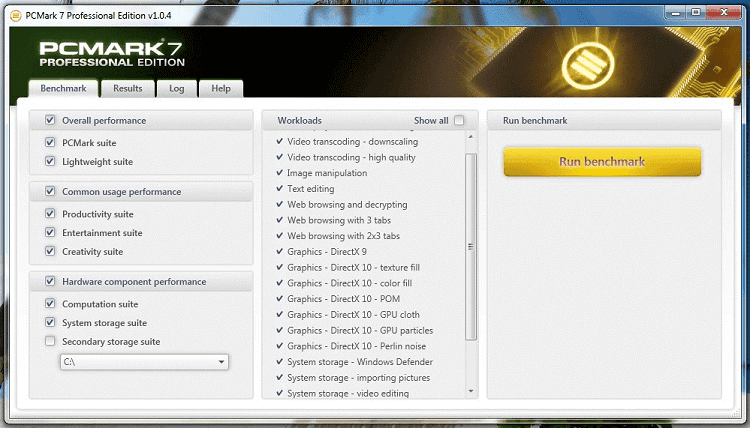 PCMark tool tests your computer's capability in a more real-world setting and in case of everyday tasks like web browsing and office work production. It is like a reality check for your PC.
Read More: Best PC Optimizer Software For Windows 10, 8, 7
It tests system performance, and these tests act out everyday actions to give results. All of it is super fast and efficient CPU benchmarking software for Windows. These scores point out to the health of the processor.
PCMark also includes custom benchmark settings to form the best benchmark for system.
---
10. UserBenchmark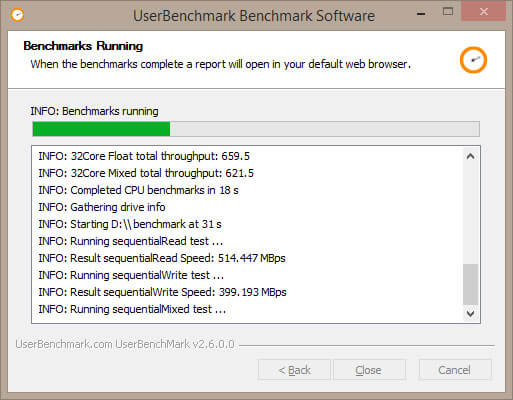 This is one of the best and simplest benchmarking tools for Windows.  It analyzes PC performance to provide user with a performance score along with overall and component-specific percentile score.
This CPU benchmark software can run tests on CPU, SSD, GPU, RAM, USB devices, and HDD.
Your PC's evaluation score can even become your new social media post (by sharing benchmark test report) and you can compete on scores with people online.
---
11. Geekbench 5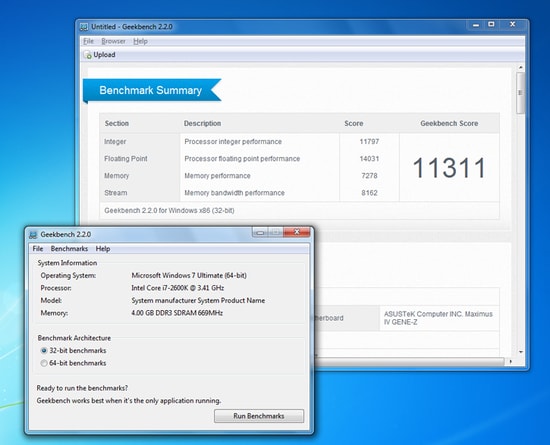 The next computer benchmarking software on our list is called Geekbench. Developed by Primate Labs Inc., this multi-tasking tool does an excellent job of measuring your computer's hardware capabilities. Unlike conventional CPU benchmark tools, which only evaluate limited functions of CPUs, Geekbench incorporates the latest rendering technology to measure the performance of next-generation CPUs from AMD and Intel.
---
12. MSI Afterburner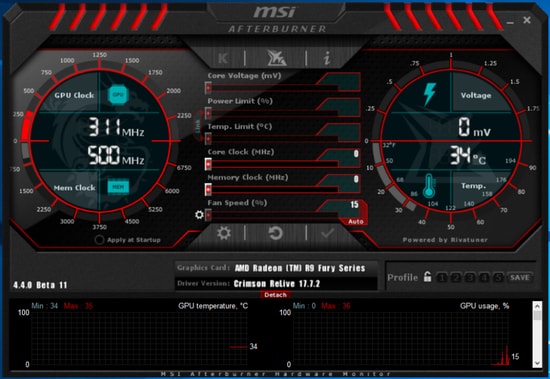 MSI Afterburner is a globally renowned overclocking software but not everyone knows that it also holds a prominent position in the list of best CPU benchmark software for Windows. The PC benchmark software provides real-time information about your computer's hardware such as GPU's clock frequency, fan speed, usage, and voltage. Moreover, it comes with some advanced features such as computer benchmarking, live video recording, etc.
---
13. Unigine Suite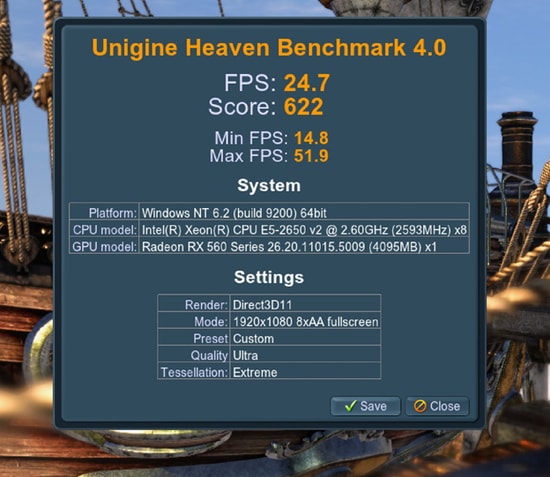 Last on our list is the best benchmark software is Unigine suite. It offers a complete solution for developers, businesses, and consumers. The benchmarking comes under the consumer section. You can use this tool for the stability of PC hardware including CPU, GPU, power supply, and cooling system. With this benchmarking software, you get real performance even under the maximum load. The PC benchmark test offers you in-depth details for better assessment.
The company has offered unbiased results since 2007. It helps you in generating true-in game rendering workloads on various platforms like Windows, Mac, and Linux. Apart from this it even supports both OpenGL and DirectX.
Read More: How Do I Know Which Intel Graphics Driver Do I Have
If you are looking for a CPU benchmark test for free then also this software has covered you. It offers both basic and advanced plans. In the basic plan, you can use its computer benchmark test for free while the advanced plan requires a subscription with a better option for benchmarking. Now instead of looking for how to benchmark my PC, simply download the software and use it for effective benchmarking.
---
14. PassMark PerformanceTest

Last but not least, PassMark Performance Test is an excellent utility tool that lets clients benchmark their CPUs, hard disk, 2D & 3D designs, RAM, and more. This tool is compatible with Windows 10, 8, and other older versions including Windows XP and Windows 7. The software has 32 standard benchmarks. It accompanies almost 8 windows through which you can easily set up custom benchmarks.
It assesses a device's performance and abilities to generate accurate information about the CPU. This CPU benchmark comes with the functionality of the 3D rotating motherboard model which provides a design of different system segments. You can tap on every segment to get better insights regarding the same.
---
15. Catzilla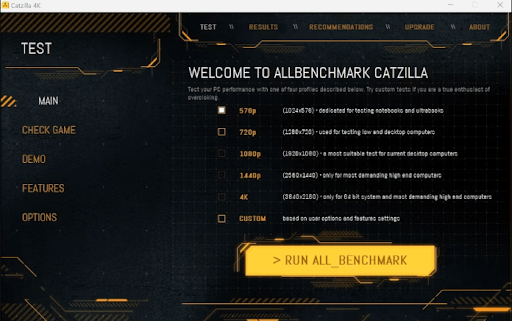 One of the well-known free GPU benchmarking programs for gamers is Catzilla. The software has an outstanding animation and suggestion system that can give a badge and a score (from 1 to 12). After running, it offers hardware and software recommendations, enabling users to immediately make modifications to their computer or laptop to increase power.
From a GPU perspective, it will provide other details such as whether your computer is capable of running the most recent games and streaming HD movies. In sum, Catzilla is a powerful benchmarking software that utilizes algorithms detected in the latest PC video games, so that users can understand how their PCs will run the advanced video games.
---
Frequently Asked Questions (FAQs)
Q1. What should I use to benchmark CPU?
Ans. The write-up mentions a list of the best computer benchmarking software. Go through the features of each one and pick the most suitable computer benchmark software depending upon your requirements.
Q2. How do you benchmark a CPU?
Ans. To benchmark CPUs, there are several CPU benchmarking software available online. The article mentions a list of free PC benchmark tools. Read the descriptive features of each and use any of them to benchmark a CPU.
Q3. What is the purpose of the CPU benchmark?
Ans. The CPU benchmarks help in comparing multiple CPU units to check the performance based upon some standard tests. The benchmark scores are considered when buying a device to check the ability of the system to run multiple applications or games. Find the best performance benchmarking software in the article for your Windows devices.
---
To Sum Up: Best Benchmark Software to Test Your Computer Performance
And there we have it! Each of the aforementioned CPU benchmark software are the best in the market and you should surely take your pick from them soon. In sum, if you want to know about the efficiency or performance of your system, then you must try the best benchmark software. This sort of software will explain to you every bit about your system, execute free PC performance tests, and address hardware issues.
Along with it, ideal benchmark software will elucidate the methods on how to troubleshoot the issues too. And, yeah, if we missed out on anything, please let us know in the comment section below. We'll be delighted to hear suggestions from you. And, we assure you that we will make changes to our list to improve it a bit. So, that's all up till now, hope, you have liked our write-up, if so, then do not forget to subscribe to our Newsletter to stay updated. See you soon, till then, stay in touch with us! 
Diksha Lalwani is an aspiring content marketer and a self-declared bibliophile. An English honors graduate, she likes to keep up with the recent happenings around the world and form an opinion. Her interest in anything and everything tech made her follow the path into becoming a technical writer.
Subscribe to Our
Newsletter

and stay informed

Keep yourself updated with the latest technology and trends with TechPout.
Related Posts