10 Best Payroll Management Software in 2021 [Automate Process]
Published Date :
Aug 15, 2021

There are many things which you need to manage while being in a business or at a managerial post. The toughest part is to manage expenses and keep a check on them, but to make your life simpler we have shared the best payroll management software to help you save time and effort. Keep reading to know more. 
Whether you are working in a large-scale business or you own one you need to manage a lot of things at the same time. Keeping a track of expenses becomes very tough as with time the numbers keep on growing. So you need to use manpower as well as software to ease the work. Every department requires dedicated tools to help them work effectively and efficiently. 
Here in this article, we are going to help you with the tools using which you can manage payrolls. These HR management and payroll system software can help you in reminding at the time of payment and along with that, you can keep a track of all the payments. Are you impressed by the work? If yes then follow this article till the end as you will find the best Payroll system software. 
Top 10 Best Software for Payroll Management in 2021
Here are the best payroll management system software that you can use to manage all the salary expenses. 
1. Quickbooks Pro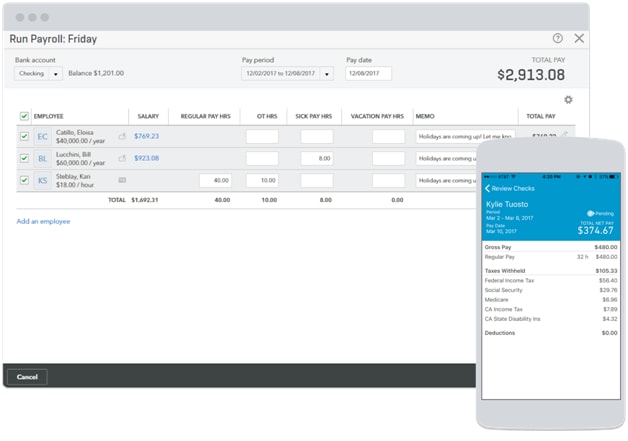 Quickbooks is a great payroll system software that offers various integration. The software is very popular for its convenient interface and offerings which makes the work really easy. The software has ten products including business expenses management, capital flow management, automated accounting, and various others which can help you in every aspect of the business. Apart from this, there are many other features too, we have listed some of them below. 
Notable Offerings of Quickbooks Pro
The software offers automatic calculation of taxes and paycheck

It has a separate workforce portal where employees can check and monitor salary

You can even manage benefits and other compensations

It has a dedicated HR support Center

Other integrations can help with capital flow management 
---
2. Run by ADP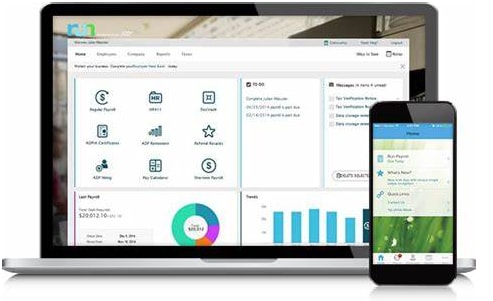 Run is another great payroll system software but unfortunately, you cannot consider it in the list of free payroll management software. It offers various services under four different plans, you can choose the plan that suits your needs and goes with the work. The plans are as follows: Essential payroll, it offers basic tools for managing tax and salary. Enhanced Payroll, in this plan you get additional insurance compliances and benefits that you need to manage with your annual salary. 
The last two plans are very effective for easing the work as they offer the best features. Here is what the plan offers. In the Complete Payroll plan, you get a dedicated module for HR service whereas on the HR Pro Payroll you get enhanced support with legal assistance and many other tools. Apart from these plans, there are several offerings that might interest you. 
Also Read: 10 Best Server Monitoring Software in 2021 with GUI-Based Configurations
Notable Offerings of Run by ADP
Run offers all HR management and payroll system software features 

You can easily use this application on various platforms including PC, mobile, and web 

The higher-end plan also includes automatic employee hiring documentation, an online database, and reports. 

You get loads of features including HR toolkits, modules, and others
---
3. On Pay
Next up we have one of the best payroll management software. The reason why we have considered it the best is because it is ideal for both startup and large-scale businesses. Using the software you can easily work on tax filing, payment schedule, monitoring payments, and many other things that are essential in day-to-day business. 
The software lets you customize your database according to the requirements. You can even create contracts and databases for temporary employees. All in all, you can perform most of the HR work easily with this software.
Notable Offerings of On Pay
Using the software you can easily track and adjust the payment schedule for every employee including the temporary employees

You can maintain data of all your transaction and payments and then analyze them later 

The work gets easy when you can use the automated feature of creating HR documents and offer letters

You can chat with every employee easily using the chat feature of On Pay

The software lets you keep track of cash flow and other calculations
---
4. Wave Payroll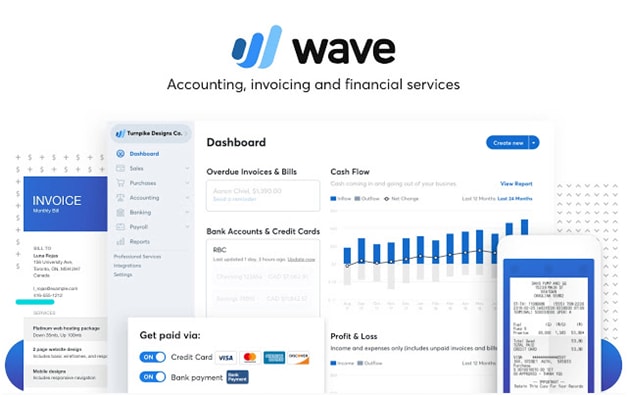 Wave Payroll is another best payroll management software that offers a complete solution for all your accounts and sales management. The software is very easy to use, all it requires is the knowledge of accounts to identify various sections of the software. You can easily monitor profit/loss, cash flow, and other components of accounts. 
The payroll features ease the work by automatically calculating payments and deductions. It offers the result by calculating every expense with all costs. You should definitely try this software as most of the users have given positive feedback for the software and its functionality.
Also Read: 13 Best Open Source CRM Software For Small Businesses
Notable Offerings of Wave Payroll
The software offers you all the payroll tasks including salaries, database, tax deductions, and pay cuts. 

You get to use this software for free and at no extra charges

It offers a brief report of the data so that you can easily monitor and manage

This is a capital management software with tools for payroll management system
---
5. Xero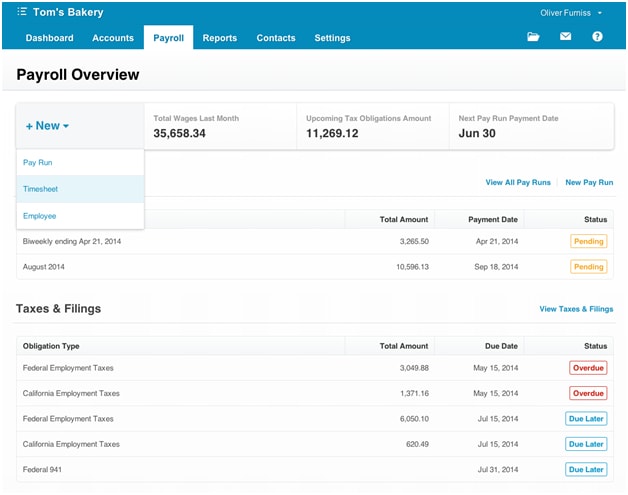 Next up on our list of best payroll management software is Xero Payroll. The software has integration with the accounting software of Xero. Though you can use payroll management as it offers a separate tool for that.  The tools offer features that can help you in managing attendance, calendar, reimbursements, and leaves like HR work. 
The best part is that you can easily adapt to the interface as it is very easy and intuitive. The database of the employees makes it really easy for you to track each payment and work effectively. It moreover has a mobile application that lets you manage payslips, leaves, timing, and other day-to-day activity. You can easily monitor it whenever you want with your device. 
Notable Offerings of Xero
The software offers a great package for managing all the payrolls and other business activities

You can easily add the employee's data and account for automatic payments

It offers features using which you can easily monitor timing and leaves

The mobile application even help you track important tasks and activities through your mobile phone

The software integrates and managers the salary and expenses to offer a detailed report for capital flow management
---
6. Zenefits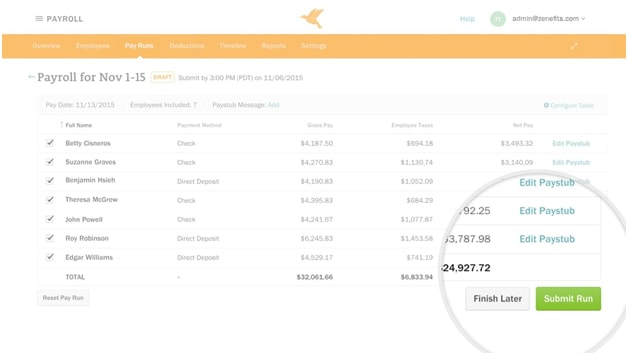 Zenefits is one of the best software for payroll management as it offers features that combine HR and payroll management. You can easily manage and track salaries, changes in salaries, employee work timings, and leaves like important tasks easily. The software even offers features that can be used for keeping track of employee benefits. Later, you can easily have the accurate deductions and addons on the list for better management of the capital. The software is easy and can be used by newcomers too. 
Also Read: 13 Best Invoice Software For Small Businesses
Notable Offerings of Zenefits
The software automatically syncs the salary and payment changes

You get the freedom to add salary benefits for accurate results

It lets you manage various other HR work effectively in no time

For leaves, employees can directly use the application than having a face to face communication 
---
7. Patriot Payroll
Patriot Payroll is another great free payroll management software that can be ideal for small and medium businesses. Here in this software, you need to add payroll depending on the time period and amount. Later the software automatically transfers as per the entered amount. The interface is simple and easy. You can easily work with any tutorials. 
For companies having more than 100 employees can face issues with this software as it is not meant for those. Though you have to pay some amount for this software, but the efficiency and accuracy of the software are worth spending. Just like other payroll system software you can perform every day to day activities and manage all your expenses/payments. 
Notable Offerings of Patriot Payroll
Patriot Payroll is developed for medium and small businesses

The software lets you manage 100 employee portals easily

It effectively calculates and automates the tax filings of every employee

You can easily maintain separate data for contractual or temporary employees

The software can deposit direct salary and printing of checks
---
8. Sage Business Payroll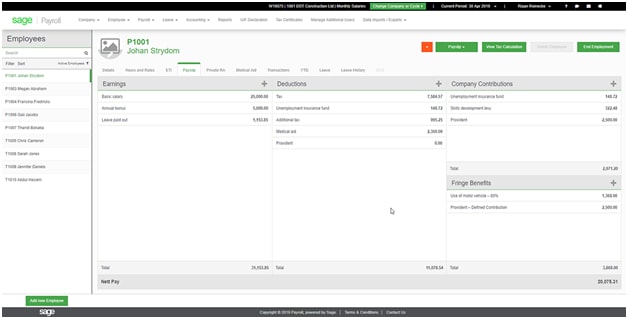 UK's Safe Group developed the Sage Business Payroll software which is great for accounting data of 25 employees. The software might not work properly if the data is increased, the small capacity of accounting is the reason why it is placed at a lower position on the list of best payroll management software. But apart from that, the software works great for small businesses as it offers features that can help in accounting, expenses, and management of inventory. 
This payroll system software is the basic e-payroll platform as compared to other software on the list. Though you get timely monitoring and accuracy with all the tools so that you can easily manage the business work. The interface on the other hand is simple yet descriptive, you can easily use and find all your data. 
Also Read: How To Schedule Emails in Gmail For Free

Notable Offerings of Sage Business Payroll
Great software for small businesses with upto 25 employees

You can easily monitor and manage salary and tax deductions

It offers separate tools for tax filing, and employee leaves for accurate calculation

It lets you share payslips directly through email to every employee
---
9. Paychex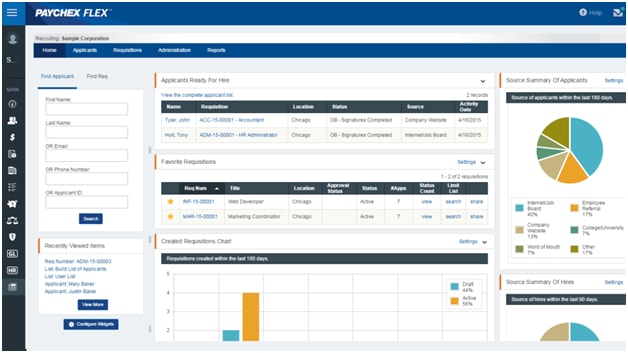 Paychex is another great free payroll management system software that you can use for all HR and payroll services. The software offers features to manage employee payrolls, hiring, attendance, and other expenses. It works great in filing tax and automatic deduction of tax. It works professionally and with utmost accuracy. You can use this software for all the managerial work and can perform them effortlessly. 
Notable Offerings of Paychex
You can keep a track of salary and deductions effectively for all employees

The employees can get help through the portal itself

It offers automated documentation for new employees 

You can track attendance and timing of the employees for record
---
10. Gusto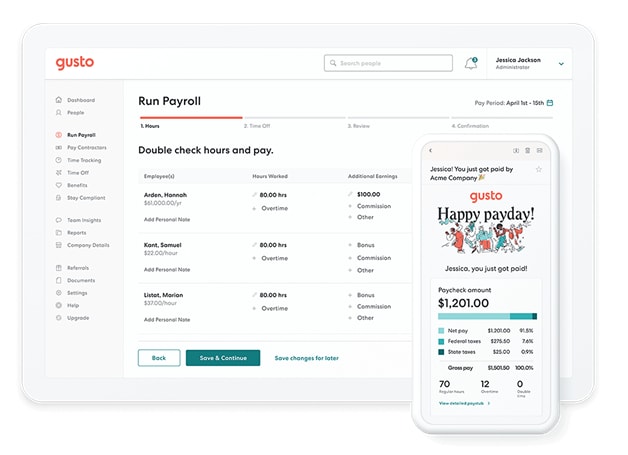 At last on our list of best payroll management software, we have Gusto. The software offers loads of features for keeping track of every account. Using the software you can manage salary accounts, automated deductions/ filings, and other expenses which occur. It offers an integrated platform that can be merged with e-payroll systems like Xero and Quickbooks.  You can easily track salaries and other expenses with Gusto. 
Also Read: 12 Best Free Task Scheduler Software For Windows

Notable Offerings of Gusto
The software automatically files for taxes and deductions for every employee

You can keep a check on employees timings and attendance for accurate paydays

All other benefits and expenses are included in accounts and managed for accurate cash flow

You can use it with other accounting software 
---
Final Words on the List of Best Payroll Management Software 2021
Now that you have read about the best software for payroll management you can easily choose the best software and then use them for keeping your accounts. After using the software you can easily relax as the software will work for you with accuracy and efficiency. The list is created on the basis of performance and reviews by the users. If we missed out on any software please let us know in the comments section below. We will add them to the list. 
Tanmay is a technical writer from the field of mass communication. He aims to communicate the best of the technology to the readers through his write ups. If not writing you can find him with his camera capturing nature and exploring the unexplored world.
Subscribe to Our
Newsletter

and stay informed

Keep yourself updated with the latest technology and trends with TechPout.
Related Posts