ZEGOCLOUD Voice Call – Complete Review With its Features, Pros & Cons
Published Date :
Jan 02, 2023

Here is the detailed ZEGOCLOUD Voice Call review with its notable features, pros & cons, pricing, and everything you should know about this service.
ZEGOCLOUD is popular in over 100 countries for handling complex global network environments, ensuring that users can have more stable, low-latency social interactions no matter where they belong to. Voice Call API is one of the most dedicated products offered by ZEGOCLOUD. This API helps embed high-quality and real-time interactive voice call bots into the application.
Undoubtedly, ZEGOCLOUD's Voice Call is certainly worth-trying API when it comes to enabling in-app voice calling into any app or platform within a few lines of code. The platform is trusted and used by millions of people around the world. The product is completely safe to use, however, to know every bit about it, we think this comprehensive ZEGOCLOUD Voice Call API review will help you.
Here you will find the most popular features of Voice Call API, its price, pros & cons, and other related details. So, without further ado, let's get started!
What is ZEGOCLOUD Voice Call?
ZEGOCLOUD Voice Call is an SDK (Software Development Kit) that provides rich APIs (Application Programming Interface) to quickly build clear voice calling capabilities into your applications and various other platforms. It is a real-time voice SDK that helps users across the globe to add amazing in-app voice calling abilities in order to ensure high-quality voice engagement. Moreover, it supports more than 15,000 end users' devices across all popular OS platforms.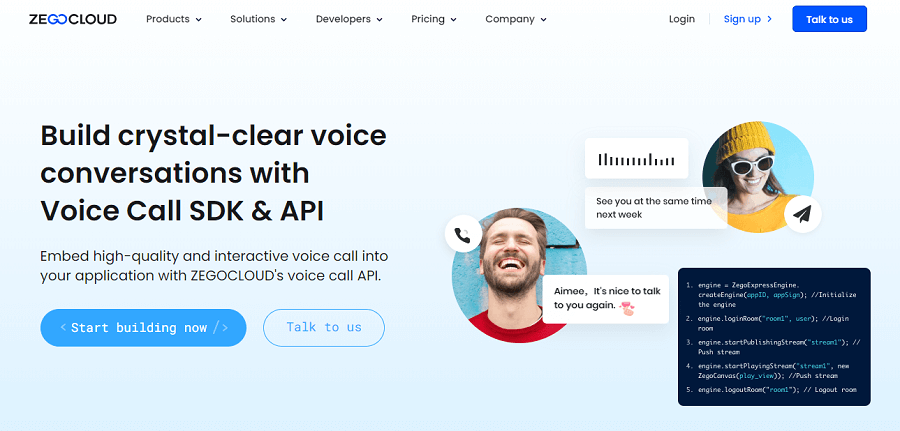 Also Read: ZEGOCLOUD Video Call Product: Complete Review
---
Notable Features of ZEGOCLOUD Voice Call Service

Listed below are the most prominent features of ZEGOCLOUD's Voice Call SDK. Check them out!
Real-Time Call Monitoring
In order to ensure that the user gets the best possible experience the SDK comes with a much-needed feature that monitors the quality of every call of your app in real-time.
Realistic Audio Experience
The SDK service adds proximity voice chat and spatial audio in order to deliver better and more realistic audio experiences for users, especially gamers and metaverse users.
Multiple Audio Effects
It offers numerous engaging audio effects including reverb effects, voice changers, and more in order to make voice conversations immersive and fascinating.
Noise Cancellation
ZEGOCLOUD's Voice Call SDK can quickly detect & remove any type of echo and background noises without even compromising the original voice quality.
Advanced Voice Processing
The SDK boasts intelligent voice processing capabilities to detect connected speakers and automatically modify the volume of active speakers to provide a better user experience.
Audio Recording
The most interesting feature of this Voice Call SDK is the ability to save and record live voice calls or audio for on-demand playback. In addition, users can also configure both the file path and file format for the audio or call recording as required.
Protocol for Live Streaming
Using its RTMP (Real Time Messaging Protocol) you can stream live video to users across the globe. This feature helps you connect or effectively interact with users worldwide.
---
How to Use ZEGOCLOUD Voice Call Platform?
Moving forward, there are two different ways to get started with ZeGo's Voice Call service i.e., UIKits and SDKs. UIKits lets you drop full-fledged features of voice calls into your applications. Whereas, SDKs allow you to upgrade your app with completely customized UI, sophisticated workflows, and personalized functionality.
Embed Interactive In-App Voice Calls via UIKits
Using the pre-built UIKits you can quickly make MVPs or apps for testing. Not only that, but you can also go live under 30 minutes. Follow the procedure below to get started:
Step 1: Using the dependency management tools, you need to first install UIKit for your preferred development platforms.
Step 2: Then, integrate the UIKit SDK securely. This action requires only certain lines of code to load prebuilt views.
Step 3: Now, you can customize the UI components as per your requirements. Once done, run and test the app on your device.
That's it! See how simple and quick it is to embed in-app voice calling into your application via UIKits. Ultimately, this reduces the risk of investment, plus, allows you to attentively focus on your core business.
Make your App Interactive with a Lower-Level SDK
As said, you can make your app with fully personalized functionalities, and customized UI. ZEGOCLOUD's Voice Call SDK powered by lower-level core APIs empowers you to upgrade your interactive applications as per your preferences. You can click here to build real-time engagement into your apps.
---
Pros & Cons of ZEGOCLOUD Voice Call
Below are some of the pros and cons of using ZEGOCLOUD's Voice Call SDK. Use these to make a better and more informed decision about whether you actually want to use the service or not.
Pros
Delivers high-fidelity sound experience.
Real-time voice engagement with low latency (average is 300ms).
Cross-platform compatibility.
Stable communication even in poor/weak networks.
Supports over 50 users in a voice call.
One-on-one or group voice calls.
Fully customizable UI.
In-app plugins.
Different testing tools.
Free version is available.
24/7 live support.
Cons
The free version gives only 10,000 minutes for Free.
Hard to use if you have no idea or experience about coding.
---
ZEGOCLOUD Voice Call APIs Pricing
ZEGOCLOUD's Voice Call APIs offer a pretty flexible and simple pricing range for business teams of all sizes from startups to enterprises. All you need to do is just choose the correct plan with the right solution for your business needs. The Voice Chat API is available in the free version as well as paid version. With the free version, you'll get 10,000 free minutes for voice calls. And, to extend the limit you need to upgrade to the paid version, which costs $0.99 for every 1000 minutes.
Also Read: Best Video Chat and Calling Apps for Android
---
Wrapping Up!
So, that was an instant and complete review of ZEGOCLOUD's Voice Call SDK. We hope now you got everything regarding this API platform.
All in all, it's quite safe to say that the entire SDK is quite reliable and allows you to develop the best and strongest voice-call feature for the ease of users. Once developed, you can integrate the calling feature with your app, software, or any other platform.
Harshita Sharma is a technical writer with quite a distinct understanding of the tech realm. She is a tech enthusiast who believes that tech knowledge should reach one and all and tries to convert the sketchy knowledge into the simplest possible form for making people understand the tech world better. When not playing with words, she loves to travel and explore new places. And, is a coffee & cricket connoisseur.
Subscribe to Our
Newsletter

and stay informed

Keep yourself updated with the latest technology and trends with TechPout.
Related Posts