Top 10 Best Call Recording Apps For Android (2020)
In today's interconnected world, every call coming into your business is important. In light of this, recording calls can be the difference between acquiring and maintaining a successful caller's business or losing them to one of your competitors.
However, finding the perfect call recording app that lives to your requirements isn't as easy as you'd think it would be, but dedicated automatic call recorder apps come handy for people who get too many calls and afraid of forgetting an important conversation.
With the plethora of free call recorders out there, it gets tough to choose the best one.
However, if you don't know which are the best automatic call recording apps, then you don't have to worry about it anymore as we've done all the heavy lifting to help you pick the best call recording app.
Here's a list of the best call and voice recorder apps for Android that makes it easier to record calls or save important conversations that you might want to discuss later.
Best Call Recording Apps For Your Android Phone:
1. Automatic Call Recorder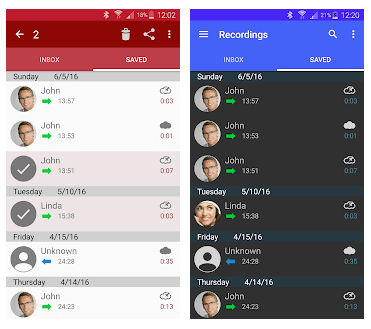 Automatic Call Recorder is undoubtedly one of the best call recorder apps for Android that allows you to record all incoming and outgoing calls with ease.
With this call recorder app, you can choose which calls you need to save or which you want to ignore.
One of the main stand out of this application is the integration with Google Drive and Dropbox which allows you to synchronize all your voice calls to the cloud.
It also comes with three different modes for automatic call recording; you can either record everything (default), ignore everything or ignore contacts (records calls of people who are not saved in your contacts).
So, what are you waiting for? Download Automatic Call Recorder & save all the important conversations discussed over phones.
2. Truecaller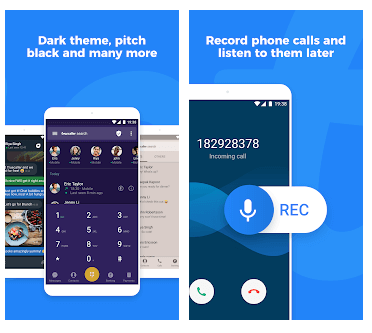 With a database of more than 250 million, Truecaller is without a doubt a huge contender for the top spot in the list of best call recorder apps for Android.
Truecaller is currently rated as one of the world's best Caller ID app which also offers an amazing call recording feature to help you record & save all important incoming and outgoing calls to your phone.
The app not only lets you connect with people who matter by displaying the name of the person calling, but also prevents you from taking junk or spam calls.
That is why having the call recording feature clubbed with this amazing call id app is a boon for the people who wants to record all the important stuff discussed over phones.
However, the recording feature is not free and is a part of Truecaller's premium plan.
Read Also: 11 Best Truecaller Alternative Apps (Android & iOS)
3. All Call Recorder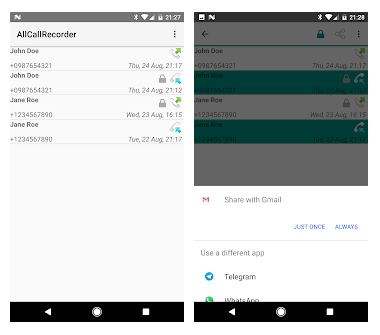 All Call Recorder is a very simple and efficient call recorder solution for your Android phone. 
It saves all incoming and outgoing calls in 3GP format and allows you to share all recorded calls via e-mail, any cloud storage, messengers, Bluetooth, etc.
If you are looking for a lean and light app with some basic features to record your phone calls, All Call Recorder could be the perfect option for you.
4. Call Recorder ACR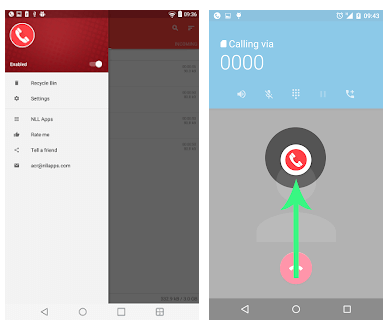 ACR (Another Call Recorder) is a free call recorder app for Android devices which packs-a-punch with some of the best features.
It lets you record calls in various formats such as MP3, M4A, OGG, WAV, AMR, 3GP, FLAC, MP4 and also provides an easy search facility by listing all recordings as mobile number, name, and note.
If you are looking for a reliable advanced call recorder with some excellent features to go with, Call Recorder ACR is a top choice for you.
5. Cube Call Recorder ACR
Cube Call Recorder is one of the most advanced call recorder apps available on the Google Play Store which offers a host of interesting features to easily record your incoming and outgoing phone calls and VoIP.
Apart from recording incoming and outgoing calls, it also facilitates the recording of Skype, WhatsApp, Viber, Hangouts, IMO, Facebook, WeChat, Slack, Telegram, etc.
The best thing about Cube Call Recorder is that it's completely free to use; so start recording your calls and conversations in the best possible quality.
6. Call Recorder – Automatic Call Recorder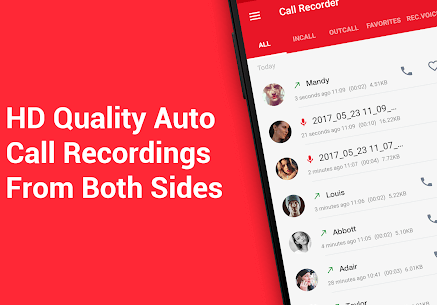 Call Recorder is a simple and smart automatic call recorder & call id app which lets you record phone calls and save all important call recording with ease.
Apart from a free phone call recorder feature, it offers a host of other interesting features like share, play, multiple audio formats & recording strategy, deletes and renames call recordings, adds to favorite, special list, caller id, etc.
With this app, you don't need to worry about losing important call recordings as it automatically backs up your telephone recordings to the cloud.
7. RMC: Android Call Recorder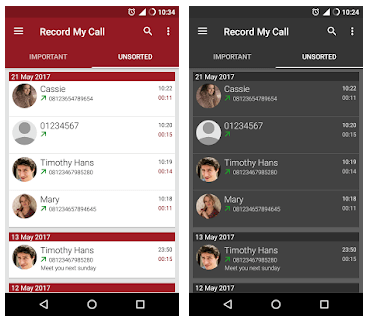 Android Call Recorder is popular for its amazing call recording features. It records all the incoming and outgoing calls on both manual and automatic modes. 
It supports all the major audio formats such as mp4, amr, wav, 3gp, and mp3. It also automatically filters the recordings based on 'Known' or 'Unknown' numbers and the contacts.
It has many advanced search options to find the recordings and also shows a review after every call. You can further automatically upload the recordings to either Dropbox and/or Google Drive.
8. Galaxy Call Recorder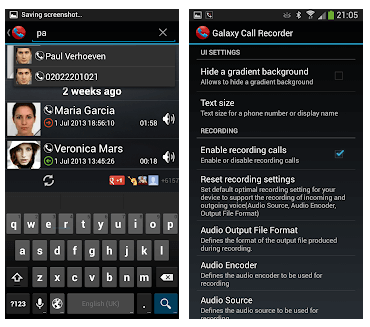 Galaxy Call Recorder is a very simple and easy-to-use call recording application to record all important phone calls and conversations.
This app automatically deletes recorded calls when they become old or when a conversation is not sufficiently long to be saved.
However, this app fails to record calls for S4 and Note 3 with KitKat 4.4.2 if phone call records are being saved on an SD card.
Read More: 13 Best Audio Recording Software For Windows PC
9. Super Call Recorder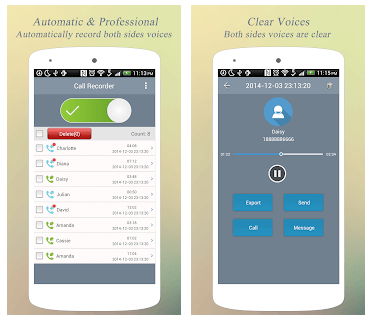 Super Call Recorder is one of the best free call recorder app in the market. Renowned and loved globally, this app records all your incoming and outgoing calls powerfully and in real-time.
It supports all models of Android platforms with version 2.1 and above, and records the calls in mp3 format with a built-in playback.
Moreover, the app built-in playback can be used to easily export the recordings to SD/Memory card and they can be shared over email, WhatsApp or other means.
10. Call Recorder By Lovekara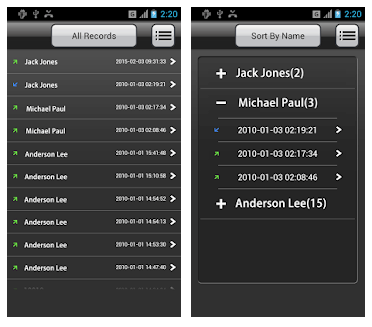 Like many other competitors, this app allows you to record all your telephonic conversations and manage them.
Call Recorder provides you the easiest way to view all your phone calls with preferences such as list by time, group by names or group by dates.
Call Recorder by love kara might come last in the list of best call recording apps, but it is definitely worth a try.
Final Verdict
The apps listed above are some of the best call recording apps for Android on the basis of ease and popularity.
You can get all of these automatic call recorder apps on the Google Play Store for free; pick your favorite and start recording calls & all the other important stuff that you might want to talk about later.
You can also check out our latest Best Voice Changer Apps (Android & iPhone) list by clicking here!
Image Source: Google Play Store
Monil is a professional writer whose forte is absorbing a lot of data and help large technical organizations convey their message clearly across multiple products. An engineer by qualification, his affinity for design enables him to write to inspire, energize, and influence various audiences to uncover their true potential. When not writing, Monil is likely to be found listening to music, traveling, or simply excavating into his favourite cuisines.
Subscribe to Our
Newsletter

and stay informed

Keep yourself updated with the latest technology and trends with TechPout.
Related Posts